| | | | | | |
| --- | --- | --- | --- | --- | --- |
| Load | Speed | Amps | Volts | Notes | Other |
| 1 | 28 | 850 | - | - | - |
Nos. 1, 2 & 3 pistons passing oil
FFF? union leaking
Oil leak on ?? bypass
The 08.10 Birmingham New Street - Cardiff on March 16th was worked by 25034 & 25290.
On August 31st the 07.18 Sheffield - Skegness was worked by 25034.
On the morning of November 13th 25034 was northbound at York with two parcels vans (6E05).
1975
On February 12th 25034 was noted at Manchester Victoria. On February 16th 25005 & 25034 were noted at Manchester Victoria with the 6M06.
To assist the Scottish Region 25033 - 25035 moved to Haymarket in February. Because they were boiler equipped they soon found use on many of the internal Scottish Region passenger workings. On May 28th 25034 was noted working the 17.10 Edinburgh - Newcastle, whilst on July 10th 1975 25034 worked the 22.45 Carstairs - Edinburgh.
1977
25034 returned to Haymarket during May.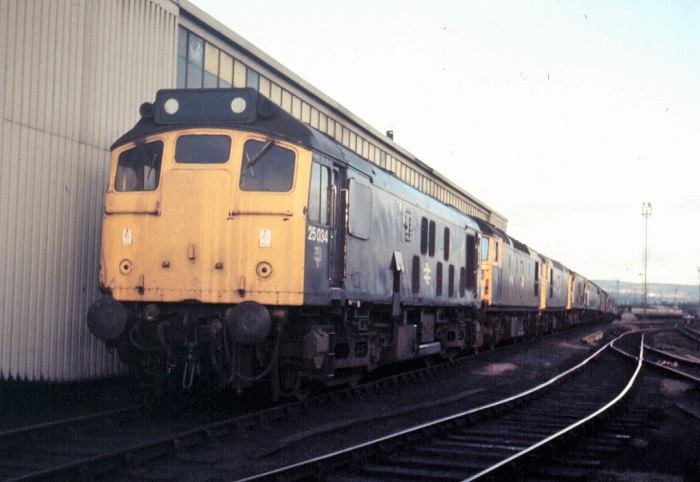 The light is fading fast on the evening of June 26th 1977 as 25034 is seen heading a long line of locomotives at Millerhill depot. 25034 appears ready for a visit to the workshops, though it will not be until the spring of 1978 when this occurs.
On July 25th 1977 the 21.10 Bristol Temple Meads - Edinburgh was worked forward from Carstairs by 25034. On October 12th 1977 the 12.55 Glasgow Queen Street - Oban was worked by 25034.
1978
On a snowy February 18th 25034 was stabled at Perth station.
25034 underwent a heavy repair at Glasgow between late March & June, including the fitting of dual braking equipment.
25034 was noted on Haymarket depot on August 9th - 12th, at lunchtime on August 15th and the morning of August 17th. The Doncaster - Muir of Ord grain train, frequently a Scottish Region Class 40 was noted north of Newcastle behind 25034 & 20219 on August 26th.
1979
On January 27th 1979 the 17.35 Glasgow Queen Street - Aberdeen was worked by 25034 & 27034.
Travelers on February 16th's 22.15 Euston – Glasgow were already running over two hours late when 47185 failed at Dumfries. 25034 was on hand and 25078 was added at Kilmarnock but as neither could provide heat the four and a half hour late arrival at Glasgow must have been some sort of blessing.
Fuel restrictions were imposed from May 11th due to the world crisis affecting oil supplies, these restrictions would affect most of British Rail leading to the running of shorter trains and the curtailment of certain non-essential services. One excursion that did run was the 'Buchan Line' SRPS railtour on May 12th from Falkirk to Aberdeen for a slow run down the Fraserburgh branch. 40061 was used for the mainline running whilst 25034/35 were used on the branch. The Kincardine Junction – Oakley and Dyce Junction – Fraserburgh were to close that week making this the last train over those sections.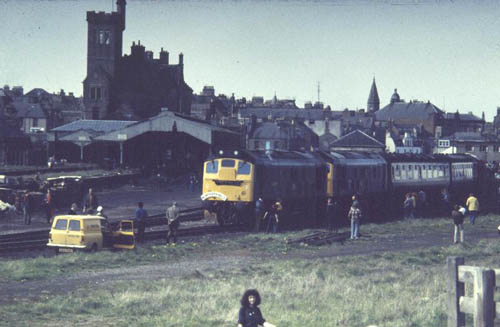 Photograph courtesy Stew Robertson
As mentioned above 25035 (leading) & 25034 visited Fraserburgh on May 11th 1979 with a railtour and are seen here awaiting departure from Fraserburgh.
On September 2nd 25034 was stabled at Haymarket.
On September 4th the 22.45 Carstairs - Edinburgh was worked by 25034. On September 11th 25034 worked an Edinburgh - Carstairs service (1C96).
On October 21st the 20.35 Glasgow Queen Street - Dundee was worked by 25034 and on December 8th 1979 25034 worked the 13.39 Dundee - Glasgow Queen Street.
25034 was at Glasgow for generator (N4) repairs from December to January.
1980
On March 8th 25034 was stabled at Haymarket.
On March 11th the 21.40 Edinburgh - Carstairs was worked by 25034.
On April 7th an extra 17.15 Dundee - Perth was worked by 25034.
On June 24th 25034 was noted all day on Haymarket.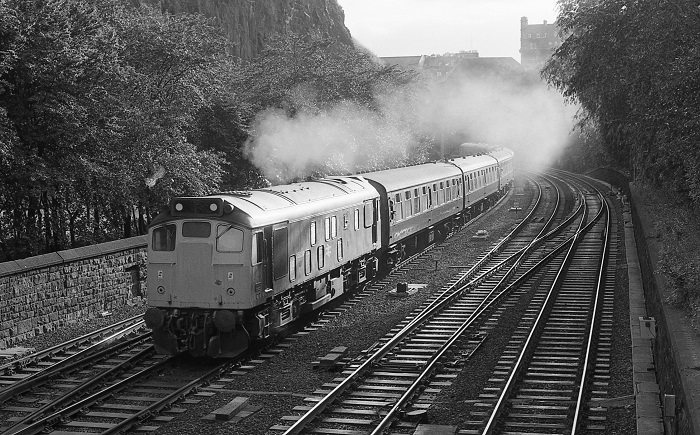 Photograph courtesy CL Caddy / collection of webmaster.
25034 at Edinburgh Princess Street Gardens on August 20th 1980.
On August 21st 25034 was noted southbound at Muir of Ord with a lengthy freight (pipe and grain wagons).
25034 was stabled at Haymarket on September 27th.
On October 8th 1980 25034 worked the 07.40 Edinburgh - Glasgow Queen Street and the 17.10 Glasgow Queen Street - Edinburgh.
Finally on December 8th 1980 the 13.39 Dundee - Glasgow Queen Street was worked by 25034.
1981
After six years on the Scottish Region 25034 headed south to Bescot in February, which brought 25032/33/34 together for the first time.
On a snowy April 25th 25034 was light engine at Settle Junction en-route from Carnforth to ??
On June 23rd 25034 & 25208 were noted at Northampton with a loaded sand? train.
On July 11th 25034 was stabled at Cricklewood.
On August 3rd (?) 1981 the 17.40 Euston - Shrewsbury worked forward from Wolverhampton with 25034.
On September 13th 25034 was at Stratford on Avon with ballast wagons.
On October 10th 25034 was stabled at Cockshute.
1982
On January 6th 1982 the 07.45 Manchester Victoria - Bangor and the diagrammed return working were handled by 25034.
25034 was in charge of the 18.15 Birmingham - Norwich on February 10th. On February 14th 25034 was noted at Bescot.
On March 14th 25034 was stabled at Saltley. On March 20th an Edinburgh - Stafford excursion was worked forward from Crewe, via Stoke on Trent by 25034 & 25234.
On April 13th 25034 & 25117 worked an Oakamoor - St Helens sand train.
25034 covered a Manchester Victoria - Bangor - Manchester Victoria - Llandudno Junction passenger diagram on May 22nd.
On June 4th 25034 was northbound at Warrington Bank Quay with a short freight.
After a Wigan – Liverpool diesel multiple unit became a non-starter on June 10th, 25034 was commandeered from a local trip working to pilot the service. Two days later on June 12th 25034 was noted at Preston with a northbound parcels train.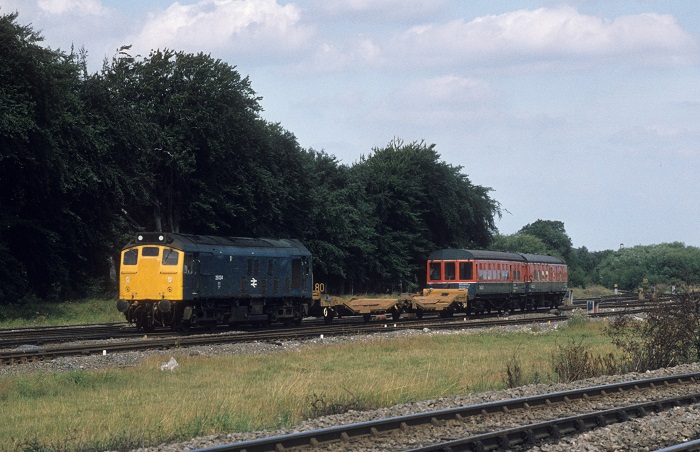 Photograph courtesy Tony Smith.
25034 passes Trent Junction with an unusual train on August 10th 1982, presumably headed for Derby.
During August the 12.35 Northfleet – Toton merry-go-round saw 25202 & 25206 (10th) and 25034 & 25079 (17th). Two days later on August 19th 25034 & 25079 were noted passing Thirsk with a train of merry-go-round wagons.
25034 was noted at Severn Tunnel Junction on October 9th.
The 07.20 Blackpool North - Manchester Victoria was worked by 25034 on December 29th 1982.
1983
On January 3rd 1983 the 08.01 Crewe - Cardiff and the next day's 05.35 Cardiff - Crewe were worked by 25034.
On February 20th 25034 was stabled at Northampton.
On February 26th 25034 & 25190 were noted passing Leamington Spa light engines.
On August 4th 25034 was noted at Crewe diesel depot.
Between late August 1983 & mid June 1984 25034 was out of service at Derby Works with fire damage.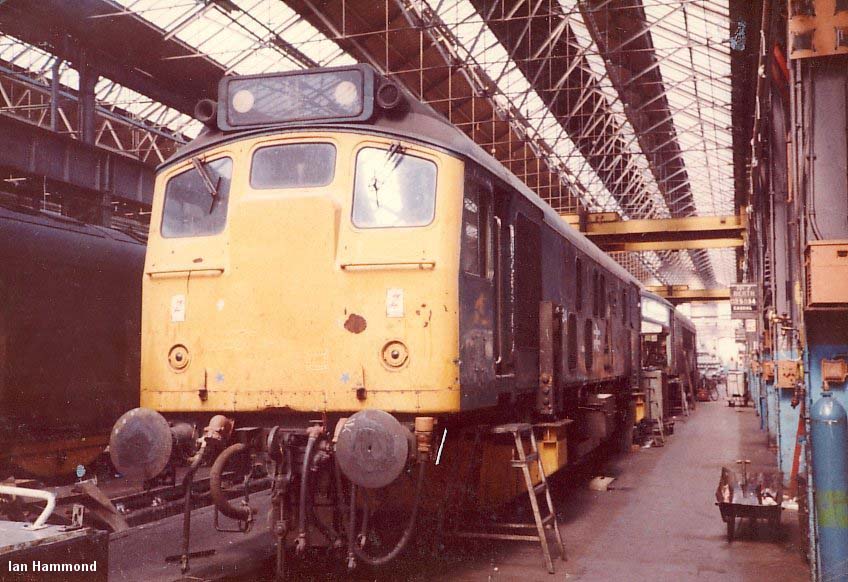 Photograph courtesy Ian Hammond
During 1983 & 1984 25034 spent a considerable amount of time in Derby Works undergoing an unclassified repair. It is seen here on April 25th 1984, its remarkable that it survived such a long stay at Derby so late in the career of the Class 25s. Durings its lengthy stay at Derby Works at least 25 other Class 25s were retired.
On September 29th 25034 & 25089 were noted light engines at Hartford Junction.
1984
The 13.35 Sunday's only Crewe – Cardiff featured 25034 on June 24th. The next day (25th) 25034 at was noted at Gaer Junction, Newport with a short freight.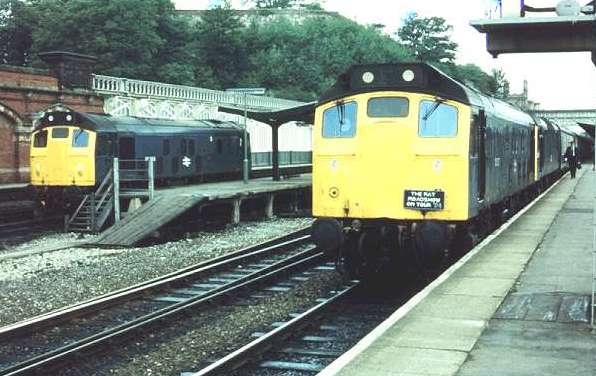 Photograph courtesy Mark Bennett
A scene repeated many times at Shrewsbury as a pair of Class 25s, led by 25034 prepare to head west to Aberystwyth, complete with 'Rat Roadshow' headboard. 1984 was the last year that the Class 25s would be diagrammed for the Cambrian line passenger services. In 1985 WR Class 37s were used with less than a handful of workings being handled by the Class 25s.
On September 6th 25034 & 25181 were noted at Winwick Junction with bogie oil tanks.
On September 11th a defective coupling caused a Wolverton – Hornsey empty stock working to split in two at Cheddington. Tring loop was used to stable the front portion of the train whilst 25034 was sent out to retrieve the rear part. The following weekend (15th) 25034 & 25058 worked the 07.55 Euston - Aberystwyth forward from Wolverhampton, returning with the 14.00 Aberystwyth - Shrewsbury. This was the last scheduled passenger working for the Class 25s over the Cambrian route, next year the Class 37s would be in charge and although the Class 25s would show up from time to time they were not diagrammed for the passenger workings.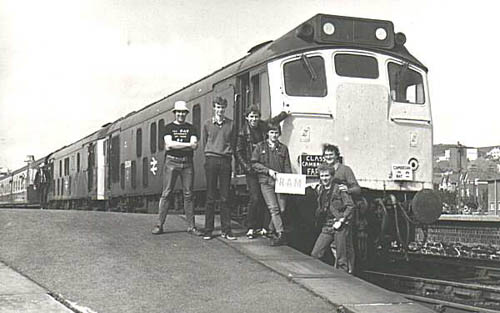 Photograph courtesy Alan Baylis
A few devoted enthusiasts mourn the last diagrammed Cambrian Class 25 working as it waits to depart from Aberystwyth behind 25034 & the charmed 25058 on September 15th 1984. Identified are Alan Baylis, John Cowburn (P51), Mr Cramlington, Phill T, Mark B and Brendan Killgallon. The Class 25s had arrived on the 07.35 Euston - Aberystwyth from Wolverhampton and would depart with the 14.00 Aberystwyth - Shrewsbury.
On the last day of September the 11.40 Manchester – Gatwick behind 47331 became completely derailed approaching Dorridge station, car transporter wagons on an adjacent track prevented the derailing vehicles from tipping completely over. The Bescot crane arrived behind 25298, the re-railing train behind 25034 and a little later the Toton crane appeared behind 45017.
Travellers on October 12th's 19.30 Bangor - Manchester were hauled by 25034 throughout. The 6V93 Mossend - Severn Tunnel Junction Speedlink failed at Hereford behind 25034 on October 27th, 37243 was eventually procured to rescue the service.
On November 4th 25034 was noted with a rake of bogie ballast hoppers at Hereford. A long distance enthusiast's excursion on November 16th started out with 25034 & 25057 on the St Pancras - Derby leg of the 'Grampian Highland' two day railtour to Inverness. This tour used a total of seventeen locomotives, perhaps the most interesting of which was 46026 from Derby to Newcastle, this working proved to be its last.
1985
'The Cornishman' railtour, an overnight trip from St Pancras to Plymouth on January 25th/26th had 25034 & 25192 diagrammed to Leicester, but 25192 failed at Luton, 31154 assisted from Bedford. The following day the return leg from Leicester to St Pancras was worked by 25034 & 25237. Participants on the tour remember a time of very cold weather, with many of the locomotive combinations provided unable to provide any form of heating.
On February 23rd 25034 & 25044 handled an enthusiast special between St Pancras and Stafford (see view below), with the train routed over the north to west curve at Lichfield between High & Low levels. 45048 took over for the run to Attenborough, buses taking the participants for a tour of Toton. The Class 25s returned the tour to St Pancras, for a total of 408 passenger miles.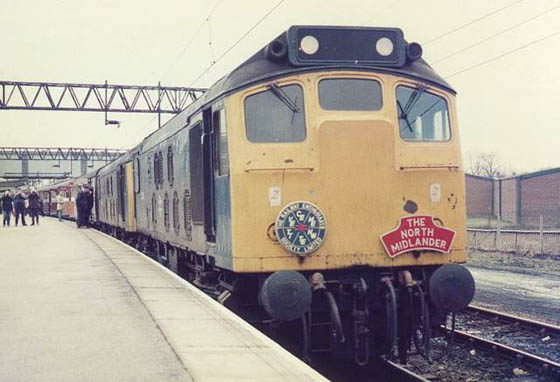 Photograph courtesy Nick Ross
25034 & 25044 wait at Stafford on February 23rd 1985 after working the first leg of a railtour from St Pancras bound for the Nottingham area.
March found 25034 yet again on railtour duty, this time with 25224 on March 9th's RTR's 'Lancashire Linx' working between Southport & Birmingham New Street.
The Liverpool portion of the 18.15 Glasgow – Machester was hauled from Preston by 25034 on May 17th. A week later (26th) this machine was noted at Oxford on the afternoon Longbridge – Cowley freight.
25109 & 25034 were noted eastbound with a trainload of tank wagons through Manchester Victoria on June 4th. 25034 & 25209 were noted in the goods loop at Stockport with a freight on June 26th.  
During July 25034 was transferred to Crewe. On July 3rd 25034 was noted passing Sutton Bridge Junction with a ballast train from Bayston Hill quarry. On July 17th 25109 & 25034 were noted at Hereford with oil tankers. 25034 & 25109 worked the 6E81 20.17 Walton Old Junction - Haverton Hill Speedlink on July 18th. On July 31st 25034 worked a roundtrip freight turn Carlisle Kingmoor - Tyne yard and return.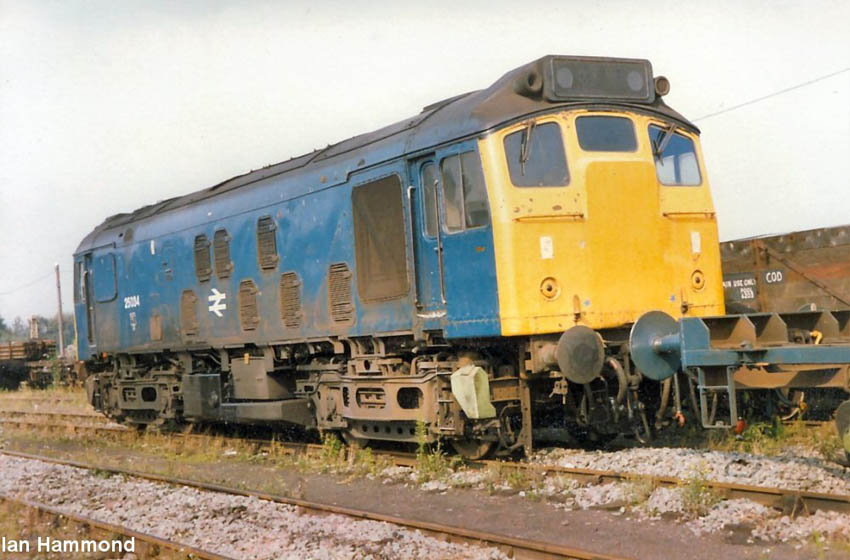 Photograph courtesy Ian Hammond.
25034 presents a striking pose at Northampton Yard on a sunny day during 1985. It still bears indicators of its time in Scotland, the position of the numbers and location of the blue star coupling codes. The hinged ventilators indicate this machine is dual braked. And what does the fitting of the new sandbox indicate?
On August 3rd 25034 worked the empty coaching stock off the 10.05SO Newquay - Newcastle from Newcastle to Carlisle, it forms the 21.15 Newcastle - Euston empty coaching stock move.
25034 was stabled at Warrington Arpley on September 3rd. This day it worked a Warrington Walton Old Yard to Burn Naze Mond ICI with five loaded PCAs. On September 4th 25034 was northbound at Warrington Bank Quay with three cement tanks. On September 5th 25034 was noted at Ince Moss with a Birkenhead ballast trip.
25034 was stabled at March on September 10th. Despite the shrinking empire of the Class 25s many still had their adventures such as 25034 & 25175 on September 21st working the chartered 'Landore Lodger' Bolton - Swindon Works - Swansea special, performing faultlessly on all legs of the 517 mile trip. The railtour had originally been organised without a request for specific motive power, it was only in the final few days prior to the tour that the possibility that Class 25s might be used. The route was Bolton - Manchester - Crewe - Birmingham - Didcot curve - Swindon (into/out of the Works) - Swansea - Central Wales line - Crewe - Bolton. This railtour coincided with an Open Day at Landore depot, where by chance 25213 was one of the locomotives on display.
On September 22nd 25034 & 25175 were noted returning to Springs Branch after completing ballast duties.
On September 28th a Nelson - Carlisle steam special was assisted between Upperby Junction & Carlisle by 25034 & 25181.
On October 16th 25034 was noted passing Ulverston with a mixed freight.
On October 22nd 25034 & 25191 were noted westbound at Ravensthorpe station with oil tankers. The lunch time Severn Tunnel Junction – Mossend freight on October 24th required assistance at Abergavenny from 25034 after 25145 failed there. 25034 was noted at Severn Tunnel Junction on October 26th. After spending four days dumped at Hereford 25145 returned to Severn Tunnel Jct in a local freight behind 25034, before being taken to Crewe in an overnight freight!
25034 was noted at Llandudno Junction on November 22nd with a short freight from Maentwrog Road.
1986
25034 was noted at Bescot yard on January 11th.
Graeme Brown recalls a memorable trip on February 14th which resulted in haulage from 25034. Graeme was travelling from Dundee to Cheltenham, hoping to use the Aberdeen - Penzance service. Unfortunately its locomotive, 47637 had failed just south of Aberdeen, possibly a victim of the extreme cold at this time. So the Dundee - Edinburgh trip was made behind 27049 as far as Haymarket where the late running Penzance express was picked up, now with 47417 in charge and running about an hour late. 47524 made the short hop to Carstairs where 85004 was waiting to take over. The Glasgow portion of this train had long since left. The journey south was quiet until news reached the train that a broken rail in the Warrington area was going to create a detour from Preston.
At Preston the electric remained on the train but now with 25034 in command. There was no heat from the Class 25 so the coaches soon took on quite a chill. We were diverted via Manchester Victoria, this was before the Windsor Link had opened so it was up Miles Platting, only just making the climb, then it was a right at OAGB junction, over to Denton Junction and back on to the mainline at Heaton Norris. At Stockport the electric came back to life but 25034 remained on the train, it was a sprightly run to Crewe, at least there was heat now. 25034 came off at Crewe, 85004 roared on to Birmingham New Street where 47540 took over for the remainder of the journey to the West Country.
When 25032 was withdrawn on March 10th the honour of being the elder statesman of the class was passed to 25034.
Class 25s stabled at Rugby on March 29th for permanent way work were 25034, 25035, 25037, 25058, 25192 & 25202.
Services from Stanlow continued to see paired Class 25s, the Leeds tankers had 25034 & 25190 and 25201 & 25202 on April 18th. 25034 & 31174 were noted on a permanent way train between Stockport & Stalybridge on April 22nd.
On May 12th 25034 & 25035 were noted at Manchester Victoria with the Neville Hill - Stanlow empty oil tanks. On May 14th 25034 & 25035 were southbound at Bescot with BOC oxygen? tanks.
On May 30th 1986 the 06.55 Preston - Glasgow Central failed at Dumfries, 25034 took the service forward to Glasgow Central and returned with the 13.45 Glasgow Central - Carlisle.
25034 was noted at Bletchley on June 21st (Network South East launch day).
On July 3rd 25034 was noted at Bristol Bath Road and later worked the Bridgwater - Sellafield nuclear flasks. On July 16th 25034 worked the lengthy 9T44 Duddeston - Bescot Witton freight. On July 18th 25034 worked a Derby St Marys - Toton trip freight. The 06.30 Wolverhampton - Shrewsbury was worked by 25034 on July 25th 1986. Later that day the 07.10 Manchester Piccadilly - Cardiff failed at Prees, 25034 worked the train through to Cardiff. 25034 was noted at Bristol Bath Road on July 28th, now attached to 25191 after its recent trip over Southern metals on a railtour which had doomed 25181. Possibly the pair worked north on the 1M36 19.35 mail to Derby or the 3E07 21.55 Parcels & Mail to Newcastle Central. On July 30th 25034 was noted at Shrewsbury with coal wagons.
On August 9th 25034 was stabled at Bescot.
On Saturday August 16th 25034 was one of seven locomotives stabled at Rugby over the weekend.
25034 arrived at Hereford on September 17th hauling a long rake of empties, and noted there the next day (18th) southbound with 21T MDV mineral wagons.
25034's last recorded passenger working took place on October 19th 1986 working the 09.35 Edinburgh - Poole from Edinburgh to Glasgow Central.
On November 16th 25034 was at Ynyslas with two ballast wagons, which were loaded here and shuttled to Borth for unloading.
25034 was withdrawn on December 22nd and later stored at Basford Hall.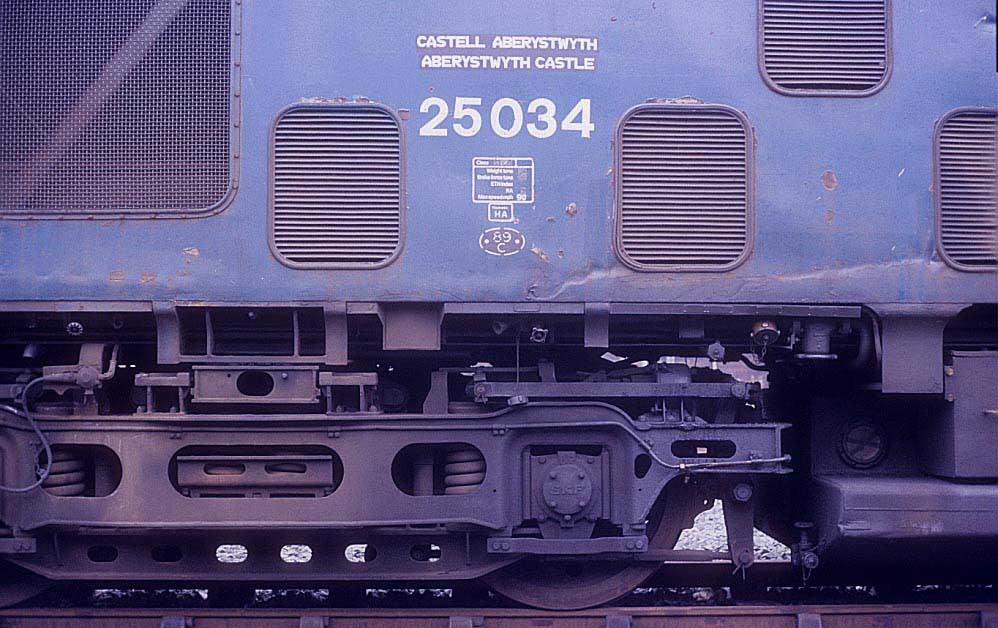 Photograph courtesy Paul Corrie.
If you like detail, here's an interesting view of parts of the bogie and bodyside of 25034. The painted 89C shedplate is for Machynlleth which included Aberystwyth as a sub-shed. The number was also stencilled on both cabfronts.
Distinguishing Features
No.2 cab driver's side: considerable scrape marks on lower half of cabside panel: at least March 1982 until withdrawn.
No.1 cabfront driver's side: large dent with missing paint to left of right electrification flash: August 1980 - September 1985 (patched up by July 1986).
No.1 cabfront 2nd man's side: various rusty patches between handrail and 2nd man's windscreen: first rust patch noted July 1981 - September 1986.
No.1 cabfront: 25034 in black lettering centered on the cabfront about the height of the marker lights: ?? until withdrawn.
Named Castell Aberystwyth / Aberystwyth Castle; located above number: ?? until withdrawn.
49/4844.
flk 0422 (2).
Page created September 3rd 2003.
Last updated July 4th 2022.
Back to 25033
Forward to 25035