D5183, 5183, 25033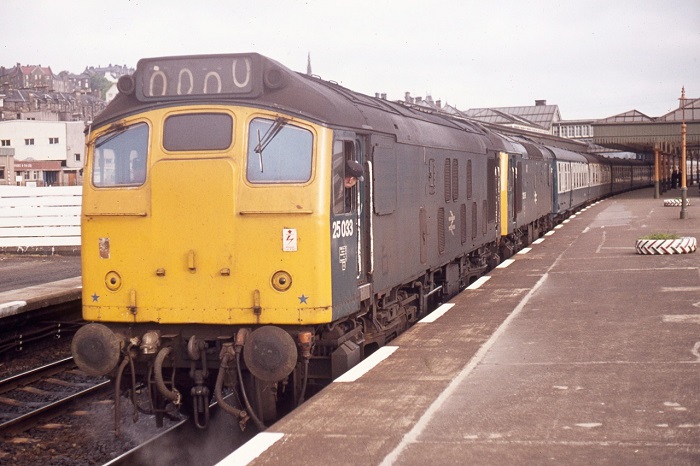 Photograph courtesy Peter Lovell
25033 & 25086 at Stirling on May 26th 1977 with the 06.50 Dundee - Glasgow Queen Street.
The twenty year career of D5183/25033 saw allocations to depots on the London Midland, Eastern & Scottish regions. The previous four Class 25s had been delivered without boilers, however D5183 - D5237 would be boiler equipped. D5183 would also be the first of a batch of over 200 Class 25s to be delivered to Midland Region depots to assist in the removal of steam from the lines from St Pancras to the East Midlands.
Built: BR Darlington Locomotive Works.
Boiler equipped.
Dual brake fitted (1978).
Center lampbracket & other fittings removed (1978).
Angled strip at bottom of cab doors (Glasgow modification).
Time between last Classified repair and withdrawal: 62 months.
Time between withdrawal & scrapping: 34 months.
Allocations
D5183 was new to Toton (18A) on April 13th 1963. Further transfers were:
December 29th 1963 to Canklow (41D) on loan.
February 1964 to Toton (16A).
April 1964 to Saltley (2E).
April 1966 to Birmingham Division (D02).
April 1966 to London Midland (Midland) Lines.
June 1968 to Nottingham Division (D16).
July 1969 to London Division (D01).
August 1972 to Holbeck (55A).
October 1972 to Tinsley (41A).
February 1975 to Haymarket.
February 1981 to Bescot.
Withdrawn April 25th 1983.
Renumbered February 1974.
25033 was the 174th Class 25 withdrawn, one of six retired during April 1983.
25033 was stored at Birkenhead Mollington Street after colliding with 25050 on April 22nd 1983. It was moved to Derby Works on August 27th 1983, remaining here for about a month before making the very short trip to Etches Park on September 23rd 1983. It remained here until broken up in-situ on February 22nd 1986 by staff from Vic Berry, Leicester.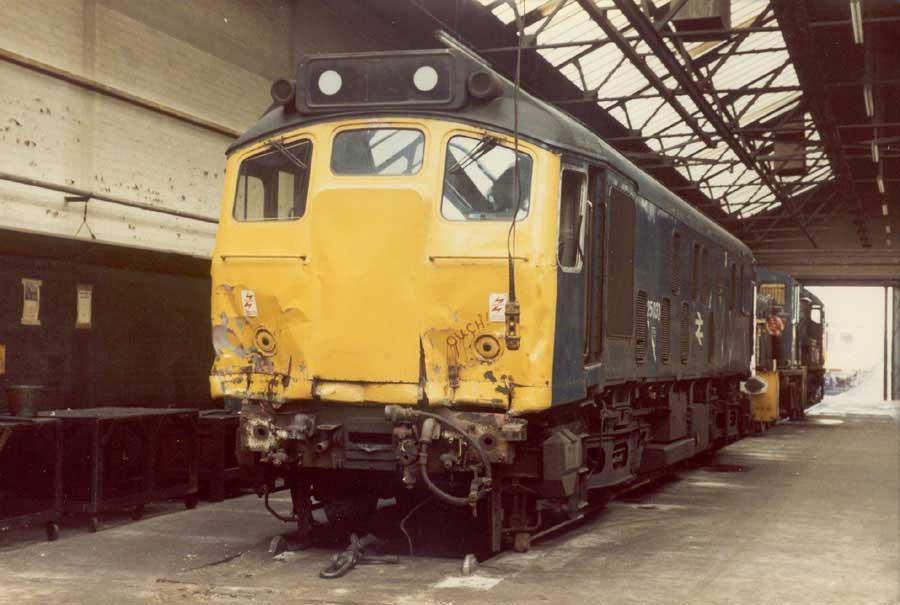 Photograph courtesy Jerry Glover
Its the end of the line for 25033, seen here at Birkenhead on May 30th 1983.
Works Visits.
Works visits (records incomplete).
Noted Derby Works May & June 1964.
Noted Derby Works June & July 1966 1966.
Noted Derby Works September 1968.
Noted Derby Works June 1970.
Noted Derby March 1974 (full repaint).
Noted Glasgow Works October 1976.
Noted Glasgow Works May 1977.
Noted Glasgow Works February 1978 (dual brake equipment fitted & repaint).
Noted Derby Works December 1982 (N4 repairs).
Highlights
1963
The frames for D5183 were laid down at Darlington during January 1963. D5183 was released from Darlington Works on April 8th, entering traffic at Gateshead before heading south to its home depot of Toton (18A). D5183 was boiler equipped and would become the first of a large fleet to be allocated to depots on the Midland mainline northwards from St Pancras, to be used alongside the Type 4 fleet and various diesel multiple units to eradicate steam along this route. Between April & August 1963 D5183 - D5217 were allocated to Toton.
Photograph courtesy GW Sharpe
D5183 & D5185 rest at Wellingborough on July 30th 1963, having been in service for about three months.
During December D5183 was loaned to Canklow (41D).
1964
D5183's stay in the Sheffield area was brief, by February it was back at Toton, replaced at Canklow by D5184. During April it was transferred to Saltley (2E), when the LMR Division allocations occurred it became part of the Birmingham Division (D02) allocation. D5183 was noted at Derby Works during May.
1965
During March driver training continued on the York to Scarborough line with Holbeck Peaks and Midland Type 2s featuring frequently, noted were D5183, D5191, D5192 & D5211.
D5183's first recorded passenger working took place on July 3rd working a roundtrip Nottingham - Llandudno Town. On September 21st a Manchester Central - St. Pancras was worked throughout by D5183 & D7518.
1967
On March 4th 1967 the 13.20 Chinley - Derby via Peak Forest was worked by D5183.
1969
Condition February: green livery with frame level stripe, small yellow ends, squared corners, with gangway doors.
An enterprising venture by Luton Town football club was the use of chartered specials to their away games. These specials usually comprised twelve coaches including a buffet car, October 18th saw two specials work to Brighton, 5183 & 5184 worked their train throughout whilst 5213 & 7651 were replaced at Acton by 6552 & 6555.
1974
On February 8th 5183 worked the 18.50 Birmingham Curzon Street - Norwich, running two and a half hours late.
25033 & 25023 worked a morning Bescot - Exeter Riverside freight on June 10th, they returned north with Exeter Central - Westbury Presflow empties.
1975
To assist the Scottish Region with their traction needs, 25033 - 25035 moved to Haymarket in February. Because they were boiler equipped they soon found use on many of the internal Scottish region passenger workings.
1976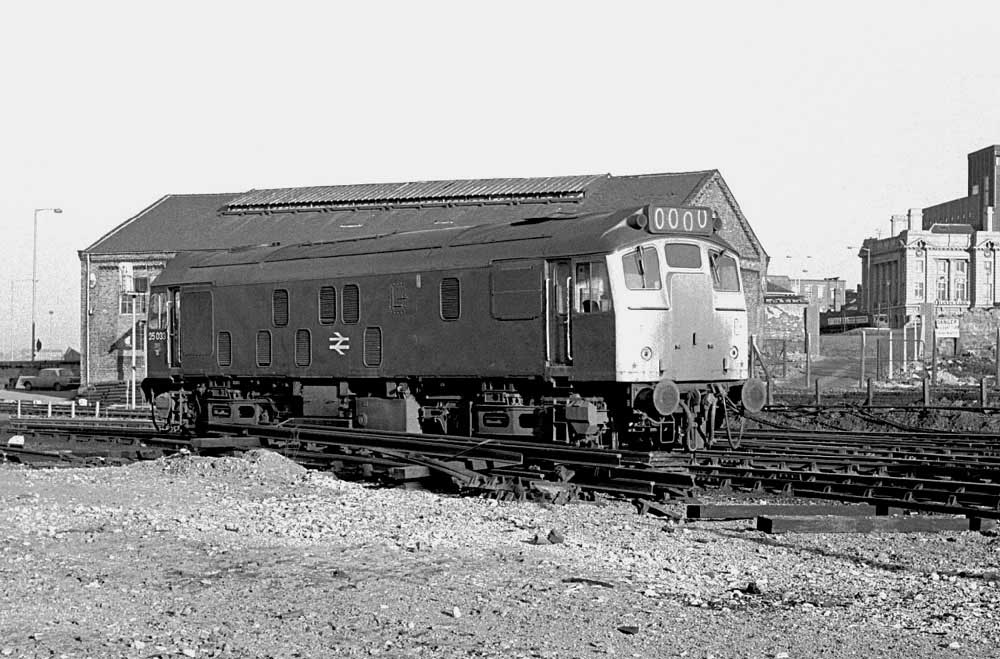 Photograph courtesy Tony Sayer
Although Gateshead had long since lost its allocation of Class 25s they were frequent visitors from all directions. Seen here on February 25th 1976 25033 waits at Gateshead for its next turn of duty.
On June 27th the derailment of a track maintenance machine near Pitlochry delayed the 08.50 Edinburgh - Inverness with 25005 & 25033 reported six hours late! 25033 visited Glasgow Works for repairs during October.
On July 9th 1976 25033 & 25026 worked the 15.52 Glasgow Queen Street - Aberdeen whilst on July 17th 1976 25033 & 25246 worked the 08.10 Glasgow Queen Street - Aberdeen.
25033 & 47537 were noted on the 22.20 Carlisle - Mossend freight on August 16th.
1977
On February 19th 1977 the 08.15 Inverness - Edinburgh was worked by 25033 & 25083. On April 18th 1977 the 23.20 Glasgow Queen Street - Inverness was worked by 25033 & 25244. The next day (19th) the 25033 & 25044 worked the 16.35 Inverness - Glasgow Queen Street.
25033 was noted on Aberdeen shed on April 2nd.
25033 was noted at Glasgow Works in May, in very poor condition??
The 06.50 Dundee - Glasgow Queen Street on May 26th 1977 was worked by 25033 & 25086, whilst the following 10.44 Glasgow Queen Street - Dundee was worked only by 25033. On August 8th 1977 the 11.38 Dundee - Glasgow Queen Street was worked by 25033. On August 17th 1977 an Inverness - Euston service was worked by 25033 & 25078 between Perth & Mossend Yard, 82002 took the train forward. 25033 & 25078 were busy on August 20th 1977 working the 06.50 Dundee - Glasgow Queen Street, the 10.05 Glasgow Queen Street - Inverness and the 16.40 Inverness - Glasgow Queen Street. The 21.40 Edinburgh - Carstairs was worked by 25033 on August 24th 1977 and on October 13th 1977.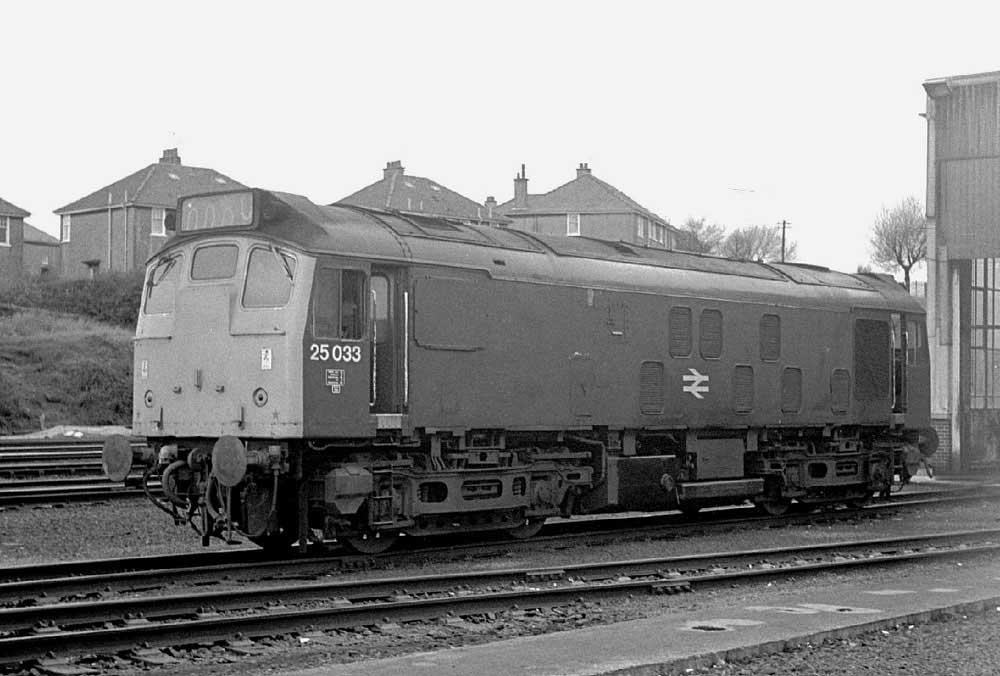 Photograph courtesy Tony Sayer
Eastfield plays host to 25033 on November 29th 1977.
1978
25033 was at Glasgow during February for a major overhaul including the fitting of dual braking equipment.
25033 was noted at Perth stabling point on April 22nd.
On May 6th, the day of the Scottish Cup Final between Glasgow Rangers & Aberdeen at Hampden Park, five specials were scheduled. The 09.30am left behind 25072 & 25087, the 10.00 had 25227 & 25033 whilst the other three featured 40167, 40063 & 40159.
On September 27th 1978 the 21.40 Edinburgh - Carstairs was worked by 25033.
1979
The 13.35 Glasgow Queen Street - Aberdeen was worked by 25033 on April 21st 1979.
August 26th found Haymarket based 25033 worked an evening Crewe – Cardiff passenger, remaining on this route until the 27th
1980
On June 25th 1980 25033 worked the 06.35 & 22.02 Carstairs - Edinburgh, the latter being the portion off the 18.05 Birmingham - Glasgow. September 19th 1980 was a busy day for 25033, working the 06.40 & 14.44 Glasgow Queen Street - Dundee, returning with the 09.39 & 17.33 Dundee - Glasgow Queen Street. On November 19th 1980 25033 worked the 10.44 Glasgow Queen Street - Dundee.
1981
The 05.55 Stirling - Edinburgh was worked by 25033 on January 17th 1981.
After six years at Haymarket 25033 moved south of the border to Bescot during February, which brought 25032/33/34 together for the first time. This was 25033's last transfer.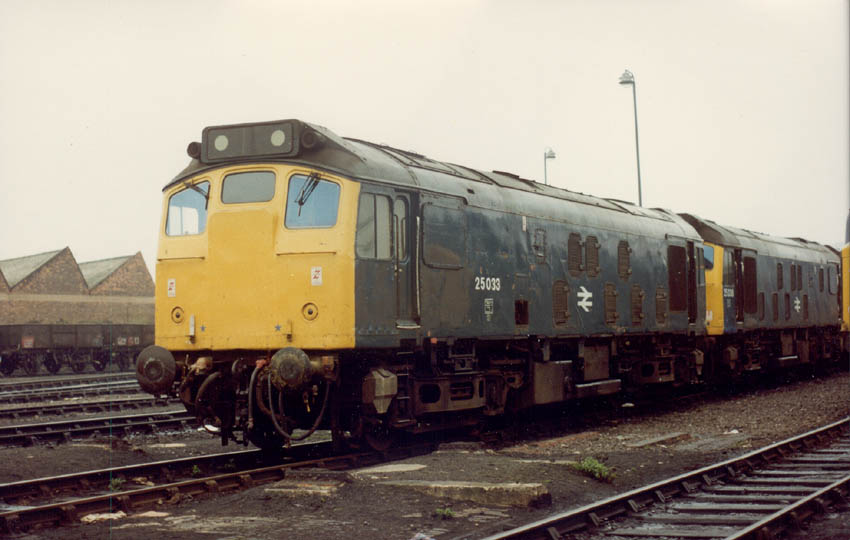 Photograph collection of webmaster
An undated view of 25033 & 25058, possibly at Saltley.
On April 7th 1981 the 08.15 Birmingham New Street - Plymouth was worked to Gloucester by 25033 & 25038. On April 25th 1981 the Euston - Buxton 'Palatine' railtour was worked by 25033 & 25076 between Coventry & Bescot Yard where the locomotives were failed and replaced by 25129 & 25131.
On May 5th a return York - Aberystwyth special ran into trouble after 25035 & 25219 took over the return leg at Crewe. By Westbury both had failed and 25033 & 25113 were used to take the train forward. 25033 got no further than Forden before it too failed, leaving 25113 to complete the journey, almost four hundred minutes late by journey's end, with 25033 and some coaches being left at Machynlleth. On May 11th 25033 was noted at Leicester. May 16th found 25033 & 25314 taking over from 46023 at Birmingham New Street on a day excursion from Skipton to Bewdley for Bridgnorth. 25033 was noted on May 20th working a mixed freight at Horbury. On May 22nd the relief 12.28 Salisbury - Sheffield was worked forward from Birmingham New Street by 25033 & 25035. A week later (29th) the 15.40 Manchester Victoria - Bangor was worked by 25033. The 08.40 Carlisle - Glasgow and 12.40 return (both over the GSW route) frequently used Class 25s from various depots, examples noted in June included 25033.
A diesel multiple unit failure on October 24th saw 25033 work the 13.06 Shrewsbury - Aberystwyth and the 18.00 Aberystwyth - Wolverhampton to Shrewsbury.
1982
The 18.37 Birmingham New Street - Norwich was worked throughout by 25033 on April 18th 1982. 25033 was noted on a van train at Tackley on April 21st. Three days layer (24th) 25033 was noted with a container train at Birmingham New Street. A relief Leamington Spa - Llandudno Town on May 8th saw 25033 replaced at Bescot Yard after it was declared a failure. The failure of 31295 at Leicester on June 2nd working the 09.49 Norwich - Birmingham New Street saw 25033 work the service forward from Leicester and return with the 18.15 Birmingham New Street - Norwich throughout. On June 14th the 16.10 Derby - St. Pancras was worked to Leicester by 25033.
July 3rd found 25033 & 25067 working the 10.10 Euston - Aberystwyth forward from Birmingham returning with the 17.15 Aberystwyth - Shrewsbury.
On August 30th 1982 the 08.40 Carlisle - Glasgow Central was worked by 25033.
25033 was noted southbound at Warrington Bank Quay with a Speedlink working on September 29th.
During December 25033 was noted at Derby Works for category N4 repairs.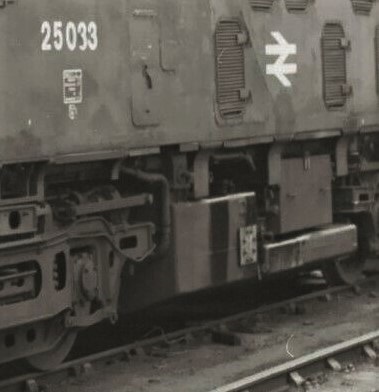 Photograph collection of webmaster
25033 at Derby Works during December 1982 with an unusual modification to the boiler water tank gauge.
1983
On February 24th 1983 the 11.10 Leeds - Sheffield was worked by 25033, this being the portion for the 10.19 Newcastle - Poole. 25033's last recorded passengers workings took place in the north-west, on March 28th 1983 25033 worked the 17.15 Manchester Victoria - Blackpool North and on March 31st 1983 the 21.15 Manchester Victoria - Blackpool North.
In April 25033's service life came to a sudden end after colliding with 25050 at Birkenhead on April 22nd. The pair of uncoupled Class 25's were being moved from the refuelling line to the shed, being driven from the locomotive nearest the shed to propel the two up the grade to the points and then drop down onto the shed. Whilst changing the points the locomotive being propelled continued to draw away from the first locomotive, until gravity took over, sending it back down towards the shed and into a collision with the second locomotive with the resultant damage.
The damaged locomotive was stored at Birkenhead for five months.
25033 was towed to Derby Works on September 21/22nd, for the removal of spares to keep other members of the class running, though by this time all Classified repairs had long since ceased. The locomotive was later dumped at Etches Park overlooking Deadman's Lane.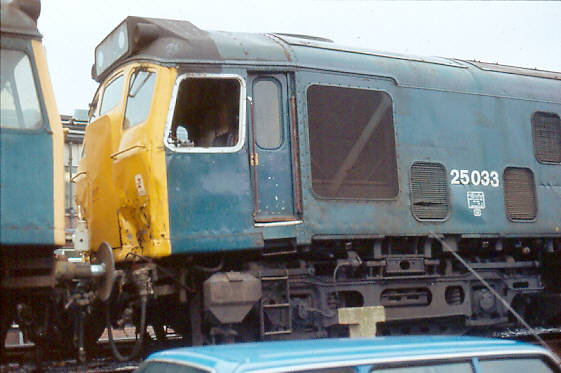 25033 is dumped at Etches Park, November 16th, 1983 displaying the damage that caused its demise.
1986
After two & half years dumped at Etches Park the end came for 25033 during February when Vic Berry and his merry men completed an exercise to clear Derby Works of withdrawn machines, with the locomotive broken up on site on or about February 22nd.
During July 2015 a builders plate, reported as from 25033 sold on ebay for GBP320.
54/4877
flk 1013 (2)
Page created September 3rd 2003.
Page updated November 2nd 2019.