D5190, 5190, 25040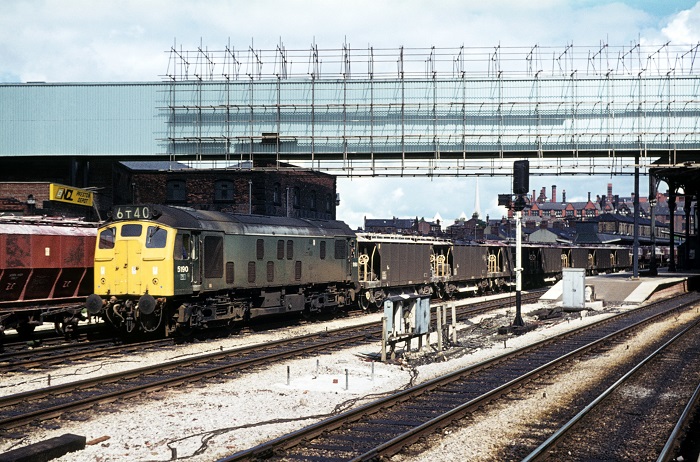 Photograph courtesy Tony Smith.
5190 passes through Preston on June 28th 1972.
The almost seventeen year career of D5190/25040 was spent allocated to a small number of LMR depots.
Built Derby Locomotive Works.
Boiler fitted.
Time between last Classified repair (April 1975 assumed) and withdrawal: 66 months.
Time between withdrawal and scrapping: 15 months.
Allocations
D5190 was new to Toton (18A) on April 6th 1963. Further transfers were:
March 1964 to Derby (16C).
January 1965 to Nottingham Division (D16).
June 1965 to London Midland (Midland) Lines.
June 1968 to Nottingham Division (D16).
November 1968 to Preston Division (D10).
May 1973 to Kingmoor.
May 1973 to Bescot.
November 1980 to Longsight.
Withdrawn November 10th 1980.
Renumbered April 10th 1974.
25040 was the 64th Class 25 to be withdrawn, one of seventeen Class 25s withdrawn during November 1980.
After withdrawal 25040 was noted at Bescot depot on November 1st & 9th 1980, suggesting its move to Longsight was on paper only. By mid December 25040 had moved to Crewe and reached Swindon Works on December 19th 1980 where it was broken up by the second week of February 1982. As with many locomotives from this period the cab number panels survived to be sold into the enthusiast community.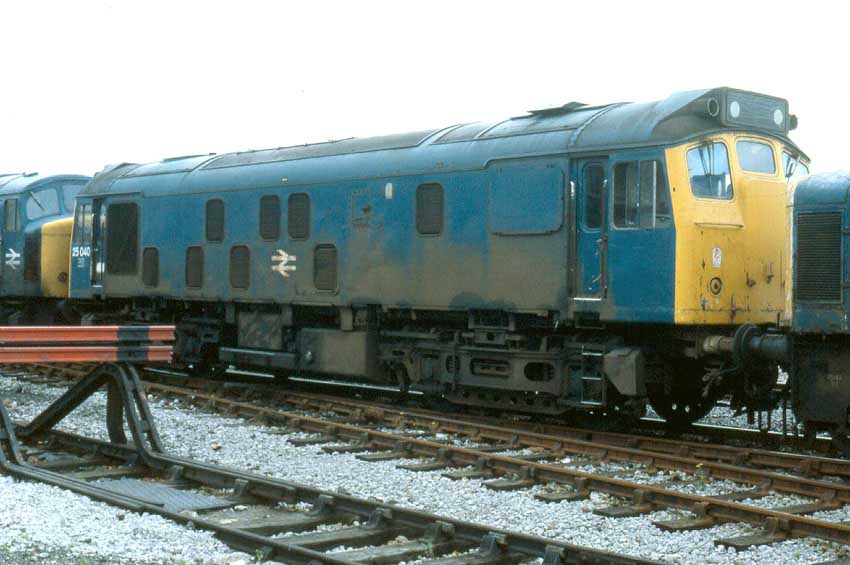 Withdrawn 25040 at Swindon Works on June 6th 1981, with 46019 to the right and 46010 to the left. By June 23rd 25040 was in the main erecting shop for component removal. Compare the treatment of the yellow warning panel as it meets the cab roof adjacent to the cabside window with the view of 5190 below.
Works Visits
Works visits (records incomplete).
Noted Derby Works July 1964.
Noted Derby Works November 1966.
Noted Crewe Works April 1970 (repainted in unlined green, full yellow ends, gangway doors still in place).
Noted Derby Works April 1975 (Classified assumed, gangway doors sheeted over).
Highlights
1963
During April 1963 D5190 was at Wellingborough for crew training.
1964
D5190/25040's passenger workings in its early years, although few so far reported were quite varied. On March 9th D5190 was busy on the Bradford - Morecambe - Leeds run.
1965
On May 17th D5190 handled an early morning/midday Glasgow - Dundee round trip.
1967
On July 8th (?) D5190 was recorded on a Leicester - Clacton service.
Condition September: green livery with frame level stripe, small yellow warning panels with curved upper corners, panel covers frame level stripe.
1968
On March 25th D5190 worked the 07.54 Harpenden - Moorgate.
1969
On March 23rd a visit to Lostock Hall shed found twelve diesels present, including 5190 & 5291 and eight withdrawn steam locomotives: 44874, 44894, 45017, 45318, 45386, 45388, 45444 & 48493.
On September 11th 7585 & 5190 worked the 07.05 Tinsley - Carlisle freight.
After transfer to the Preston Division in November 1968 5190's area of operation changed somewhat. An exhibition of several locomotives at Carlisle station on July 3rd 1969 featured 390, 5190 & E3044.It was noted the next day on the 23.45 Newcastle - Stranraer Harbour and 13.50 return on July 4th/5th 1969, both workings with 5188. Any further passenger workings durings its four and a half years in the Preston Division have so far gone unrecorded.
1971
5190 & 5192 were noted north of the border on February 6th with a 45 wagon train of rocksalt from Winsford for Edingburgh.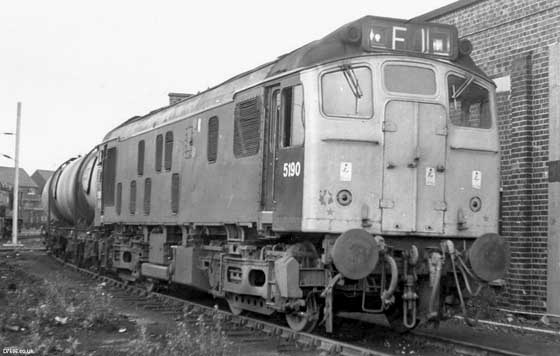 Photograph courtesy Ian Hammond.
5190 at Springs Branch during November 1972, in unlined green livery. The yellow livery above the cabside window wraps around the curve slightly, a detail from a Crewe Works painted locomotive?
1973
25040's transfer south to Bescot in May 1973 brought an increase in workings, these included on July 15th taking a Wellington - Southend day excursion to Nuneaton with 7633 and on August 2nd a Peterborough - Kings Cross working with 7608.
1974
On September 14th a Weston-super-Mare – Aberystwyth excursion utilised 25273 & 25040 west of Shrewsbury. The latter machine, already smoking badly, was later declared a failure after arrival at Aberystwyth. Fortunately on the return trip 25273 was upto the challenge and reached Shrewsbury without assistance, the excursionists eventually reaching home ahead of schedule.
1975
On May 28th, in ex-works condition 25040 was noted assisting the Royal Train from Wellington to Trench Crossing for overnight stabling.
On June 14th 25040 & 25104 worked the 08.00 Walsall - Yarmouth to Norwich, returning with the 14.15 Yarmouth - Derby from Norwich. The next day (15th) the same pair worked the 08.50 Leicester - Skegness and the 18.30 return.
On July 14th 25040 was noted passing through Birmingham New Street in the early evening with the Royal Train empty coaching stock (1L00).
1976
25040 was noted stabled at Wolverhampton High Level on April 17th.
Engineer's saloon 45026 made circular tours in the Birmingham, Leamington, Coventry, Walsall, Stourbridge & Wolverhampton area on May 17th & 25th, on the former date 25040 was the motive power.
On July 14th 25040 was noted passing through Birmingham New Street in the early evening with an empty movement of the Royal train stock.
The 09.20 Manchester Piccadilly - Yarmouth was worked to Lincoln Central by 25040 & 25104 on May 29th. The LNER 'Mid-Walesman' railtour on September 11th from Euston to Aberystwyth was worked from/to Wolverhampton by 25040 & 25043.
1977
During the third week of January 1977 25040 worked the 12.52 Birmingham New Street - Norwich on the 20th and the next day's (21st) 07.52 Birmingham New Street - Norwich and 12.51 Norwich - Birmingham New Street.
On February 12th 25040 was stabled at York depot with the train heating boiler working.
1978
On April 30th 25040 & 25027 worked a Shrewsbury - York excursion as far as Birmingham New Street, where they were replaced by 45003. The next day (May 1st) the same pair worked a Cheltenham Spa - Aberystwyth roundtrip from Wolverhampton to/from Aberystwyth.
25040 was stabled at Saltley on June 17th.
Being a boiler equipped locomotive 25040 managed a few railtours including the 'Three Way Special' on October 14th working from Marylebone to Nuneaton with 31273 (the Class 31 had replaced a failed 25245 at Marylebone). On October 20th 25040 and Inspection Saloon 45026 were noted passing through Duddeston.
Another trip over the Cambrian took place on November 4th with 25040 & 25073 working a Bridgnorth - Pwllheli charter train throughout from Bewdley for a total of 360 passenger miles.
On December 16th 25040 & 25039 worked a Liverpool - Bristol Parson Street football special, presumably forward from Birmingham.
1979
25040 & 25069 were utilised for the first leg of the DAA & DEG 'North West Rambler No 2' on January 13th. They had brought the stock down from the Birmingham area, however due to the extremely cold weather delays found the tour starting from High Wycombe, with Marylebone's tour participants making the first part of the journey by diesel multiple unit. The Class 25s worked the train via Birmingham to Basford Hall sidings where 40108 was waiting to take over. The return leg back to London went into Euston using 85033.
The 1979 Easter weekend proved busy for 25040 & 25122. On April 14th 25040 & 25218 powered a Euston – Pwllheli excursion onward from Wolverhampton, 25218 being removed at Machynlleth after failing en-route. 25040 made the round trip to Pwllheli alone, but gained 25122 from Machynlleth for the return trip to Wolverhampton. Interestingly 46011 was added at Shrewsbury for heating purposes! And on April 16th (Easter Monday) 25040 & 25122 worked a Walsall – Aberystwyth excursion, the day trippers enjoying a spell of excellent weather after the poor conditions of the first part of the year.
The 4E05 Manchester - Newcastle parcels (via Doncaster) was worked to York by 25040 on May 5th.
On June 1st 25040 was noted at Carlisle New Yard.
On the afternoon of June 5th 25040 was noted at Carnforth.
25040 was stabled at Saltley on June 17th.
25040 & 25147 were busy on July 28th/29th, working the 04.15 Shrewsbury - Aberystwyth and the 10.09 Aberystwyth - Euston to Wolverhampton on 28th and the next day's (29th) 08.45 Birmingham New Street - Barmouth and 17.45 Barmouth - Euston, on the return leg 25040 failed at Cemmes Road. After much deliberation the train returned to Machynlleth where 25040 was removed and 25147 took the train alone to Shrewsbury.
A week later on August 4th 25040 & 25150 worked the 10.10 Euston - Aberystwyth forward from Birmingham New Street, returning with the 16.10 Aberystwyth - Shrewsbury. At 2pm on August 31st 25040, 25104 & 25143 were noted at Saltley.
Although 25040 ran up several daily high mileage runs it appears a Shrewsbury - Scarborough day excursion with 25043 on September 16th earned its highest daily passenger mileage, one of 409 miles. A more modest working took place on September 22nd with 25040 on the 16.02 Crewe - Cardiff.
On December 1st 31148 failed whilst taking empty stock from Birmingham New Street to Duddeston, 25040 was on hand to complete the move.
1980
Of 25040's last recorded passenger workings, three were on the Birmingham - Norwich run, the first recorded was on March 18th with the 10.15 Birmingham New Street - Norwich.
On April 19th 25040 & 25043 were northbound at Yourk with a passenger service.
25040 was noted at Wolverhampton on May 5th.
On May 13th 25040 worked an afternoon Coton Hill - Bescot mixed freight.
On May 28th 25040 was noted in Bescot yard.
On August 13th 25040 worked the 13.15 Birmingham New Street - Norwich.
On September 8th 25040 worked the 13.40 Manchester Victoria - Llandudno and also the 20.30 Crewe - Bangor to Llandudno Junction where the train was terminated. On the morning of September 21st 25040 was noted at Wigan North Western with a permanent way train, later that evening 25040 was noted at Manchester Victoria station yard.
25040's last passenger working, and now back on the East Anglia run took place on October 21st with the 10.15 Birmingham New Street - Norwich.
25040 was withdrawn on November 10th 1980.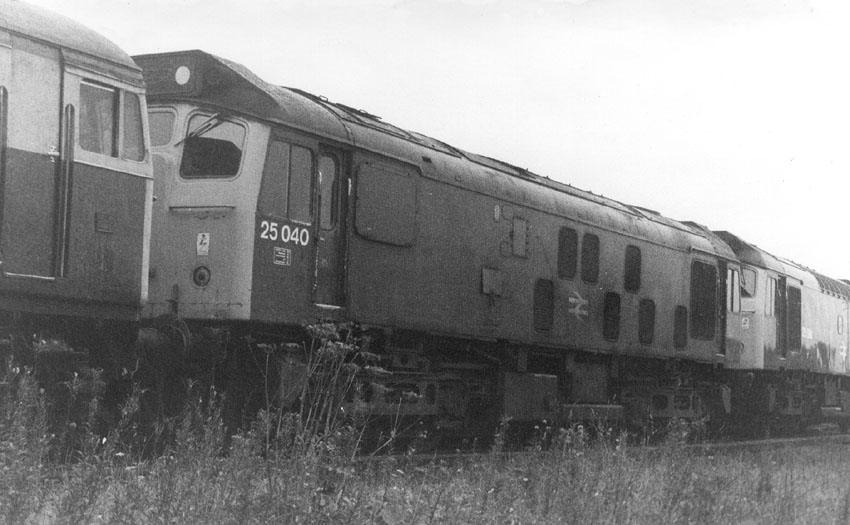 Photograph courtesy A Forster.
It's been five years since 25040 had a major Works visit, this view at Millerhill on September 13th 1980 reveals the locomotive could do with another visit. Unfortunately its next Works visit will see it broken up.
Distinguishing Features
No.1 cabfront valencing: considerable amount of faded/missing paint: July 1979 until withdrawn.
42/5490
flk 0422
Page added December 17th 2012.
Last updated April 29th 2022.
Back to 25039
Forward to 25041