D5191, 5191, 25041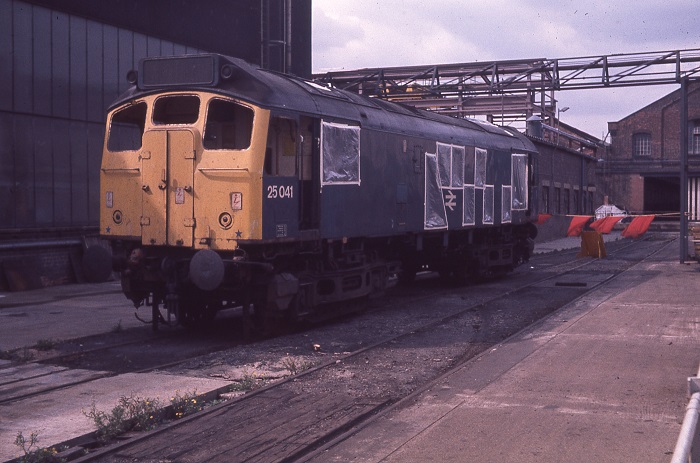 25041 at Derby Works during 1976 undergoing the de-asbestos process. This would be the last Classified repair for 25041.
Built: BR Derby Locomotive Works.
Boiler equipped.
Center lampbracket & other fittings removed .
Time between last Classified repair and withdrawal: 56 months.
Time between withdrawal & scrapping: 23 months.
The eighteen year career of D5191/25041 was spent allocated to a small number of LMR depots, with a similiar allocation history to 25038/39/40. It would be withdrawn on the same day as 25038/39.
Allocations
D5191 was new to Toton (18A) on May 4th 1963. Further transfers were:
February 1964 to Leicester (15A).
January 1965 to London Midland (Midland) Lines.
June 1968 to Nottingham Division (D16).
November 1968 to Preston Division (D10).
May 1973 to Kingmoor (KM).
January 1975 to Kingmoor (KD).
February 1976 to Crewe.
May 1977 to Toton.
August 1977 to Kingmoor.
Withdrawn May 31st 1981.
Renumbered February 16th 1974.
25041 was the 103rd Class 25 withdrawn, one of eight retired during May 1981.
After withdrawal 25041 was stored at Polmadie, then moved to Kingmoor. On December 8th 1981 25041, 25142, 40113/175 moved to Swindon Works, 25041 was broken up by the third week of June 1983.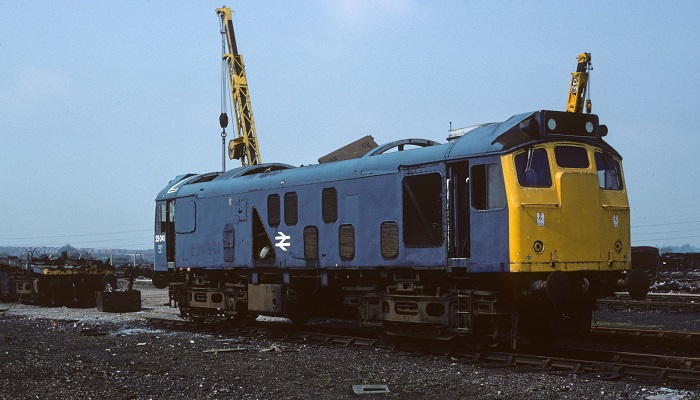 Photograph courtesy Roger Geach.
25041 is next in line for cutting up at Swindon Works, May 28th 1983.
Works Visits
Works visits (records incomplete).
Noted Derby Works September - October 1976 (Classified).
Noted Derby Works April - June & September 1977.
Noted Derby Works December 1979 (N4 repairs).
Highlights
1963
The frames for D5191 were laid down at Derby in the last quarter of 1962, being delivered to Toton during May (18A) and as like all the others in this batch was to be used on removing steam northwards from St Pancras. D5191 was boiler equipped though their use on passenger workings in the early days is not well reported.
1965
During March driver training continued on the York – Scarborough line with Holbeck Peaks and Midland Type 2s featuring frequently, noted were D5183, D5191, D5192 & D5211. On March 12th D5191 was noted heading south from York with an empty coaching stock train.
On April 19th 1965 the 16.08 Sheffield - Derby was worked by D5191 (possibly the working might also have been the 16.34 to Chinley).
On July 31st D5191 was noted passing Colwick with a ten or eleven coach passenger train, all maroon stock (headcode 1L91 or 1E91).
Condition October:green livery with frame level stripe, small warning panels with curved upper corners, panel covers frame level stripe.
Although allocated to the London Midland (Midland) Lines at the time, on October 23rd worked a Carlisle New Yard - Washwood Heath freight.
1967
On June 13th D5191 worked the 08.12 St Albans – St Pancras.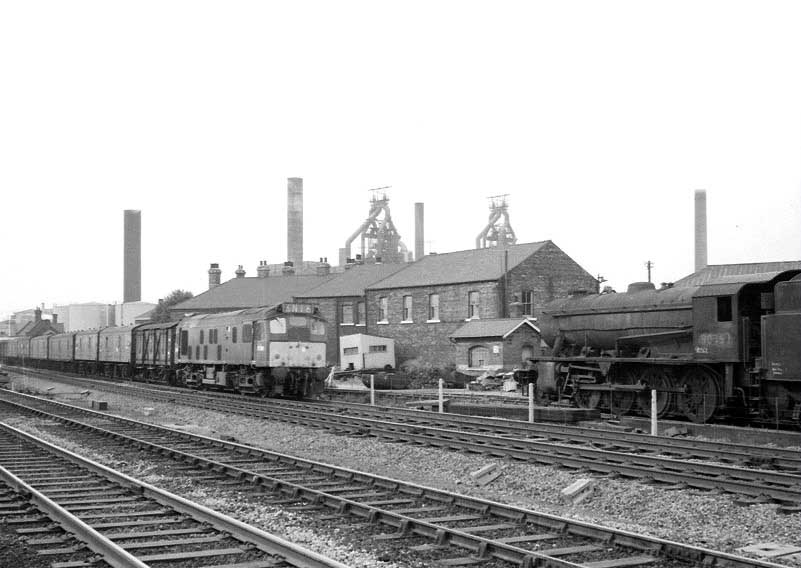 Photograph courtesy Ron Healey as posted on abpr.
Rotherham pays host to D5191 on a parcels train and 90362 in a siding on October 9th 1967.
1968
As steam bowed out in the North West 5191 moved to the Preston Division (D10) in November.
1970
5198 was the Manchester Victoria pilot on January 16th and used to assist 5191 with the 8J27 up freight, also present in Victoria were 5212 on a down freight, 303 on an up freight and 5156 as station pilot.
1971
On May 29th 1971 the 11.45 York - Edinburgh was worked by 5191, a passenger run of 205 miles. The following week, on June 5th 1971 5191 worked the 23.18 Newcastle - Carlisle forward from How Mill following the failure of 5096, returning with the next day's (6th) 02.50 Carlisle - Newcastle. 5191 was then promptly borrowed for Heaton's empty coaching stock work until June 8th. A diesel multiple unit failure on June 12th 1971 saw 5191 work the 16.25 Newcastle - Carlisle.
1973
During May 25041 was allocated to Kingmoor following the abandonment of the LMR Division allocations.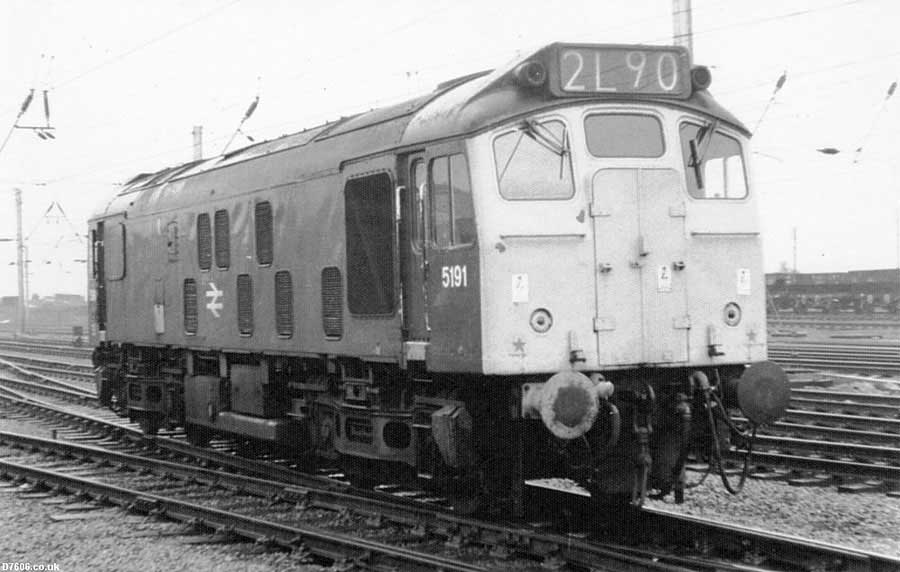 Photograph collection of Ian Hammond.
On a misty day 5191 is seen drifting through the drizzle and is apparently sporting a new buffer.
1975
On January 14th 25041 was noted at Manchester Victoria with the 1E01. On the morning of January 15th 25041 was noted at Manchester Victoria with the 1M43, later in the day it was seen with the 6H17.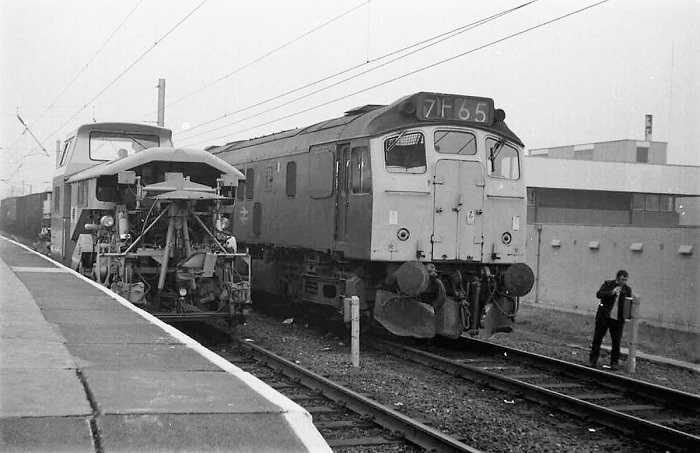 Photograph courtesy Barrie Watkins / collection of webmaster.
25041 at Warrington Bank Quay on March 1st 1975.
1976
25041 was transferred to Crewe during February.
On June 30th 25041 & 25161 were noted at Woodchurch on iron ore empties.
On July 24th the 10.48 Holyhead - Manchester Victoria was worked by 25041.
25041 visited Derby Works during September & October.
On October 6th 25041 made a test run from Derby Works.
The snag sheet for October 6th recorded:
25041; October 6th 1976; 1C41
| | | | | | |
| --- | --- | --- | --- | --- | --- |
| Load | Speed | Amps | Volts | Notes | Other |
| 1 | 28 | 875 | - | - | - |
Oil leak flange A side relief valve
A side crankcase doors and seam leak
Knecht filter adaptor.
1977
The 22.50 Shrewsbury - York was worked to Crewe by 25041 on January 21st & 28th 1977.
25041 was back in Derby Works from April to June and then in September. Whilst in Works 25041 was reallocated to Toton during May, it later moved to Kingmoor during July.
1978
On May 28th 25041 & 25047 were noted on Gresford bank with a train of cement.
25089 & 25041 were noted at Seacombe Junction with iron ore on June 28th.
On July 28th 1978 the 18.05 Blackpool North - Stranraer Harbour was worked forward from Carlisle by 25041 & 25056, the same pair returning with the next day's (29th) 01.20 Stranraer Harbour - Blackpool North to Carlisle.
25041, 25063, 25068 were noted in the late afternoon on Inverness shed on August 9th.
1979
25041 worked the 17.20 Llandudno Town - Manchester Victoria on July 3rd. On August 8th it was noted assisting a failed diesel multiple unit on the 12.52 Carlisle - Newcastle.
On October 20th 1979 25041 worked the 06.03 Crewe - Cardiff, the 11.30 Cardiff - Crewe and the 16.02 Crewe - Cardiff, a total of 417 passenger miles. The next day (21st) it was noted on a Crewe - Cardiff service.
During December 25041, 25042 & 25043 all visited Derby Works, possibly all being present at the same time, 25041 & 25042 were received for N4 repairs whilst 25043 received N8 repairs.
1980
Late in March 25001 spent time at Chester under repair, once these were completed 25001 returned north with 25041 on the early morning Winsford – Millerhill rock salt.
On the afternoon of April 8th 25041 was noted at Preston with an engineers train.
On May 28th 25041 was light engine at Carlisle station.
On the afternoon of July 19th Class 25s noted at Kingmoor were 25041, 25056, 25202 & 25281.
25041 was noted eastbound through Grange-over-sands on August 26th with a single short-wheelbase van.
On September 15th 1980 25041 worked the 11.50 Glasgow Central - Nottingham between Carlisle (?) and Nottingham with 25055.
25041 was noted at Kingmoor on the morning of November 1st.
1981
Noted on the Tunstead ICI hoppers on April 3rd.
25041 was at Warrington Arpley on April 12th.
On the afternoon of May 3rd 25041 was noted at Weaver Junction with a permanent way train. 25041 was noted at Northwich on May 4th.
The Shopping Proposal dated May 27th 1981 for 25041 indicated the final decision was to scrap the locomotive. The locomotive was recorded as in traffic and believed to be at Polmadie. Contained in the proposal were the following details:
Last Classified Body Repair: October 6th 1976
Loco miles since last Classified repair: 89,500 estimated
Duty hours since last Classified repair: 6,762
Last C Exam ??
Last D Exam ??
Last E Exam December 18th 1980.
The proposal also indicated the locomotive components included:
Engine: VA787
Turbocharger: 445
Generator: P 72703
Bogie No.1: 5010/133
Bogie No.2: 5010/134
Traction Motor No.1: 271296
Traction Motor No.2: 267079
Traction Motor No.3: 271280
Traction Motor No.4: 266857
Boiler: Stones 21095
In view of the above proposal to scrap the locomotive, 25041 was withdrawn on May 31st 1981 whilst the locomotive was at Polmadie, later in the year it would be moved to Kingmoor. Early in December 25041 began its last journey with three other scrap locomotives, from Kingmoor to Swindon, arriving at the Works on December 8th.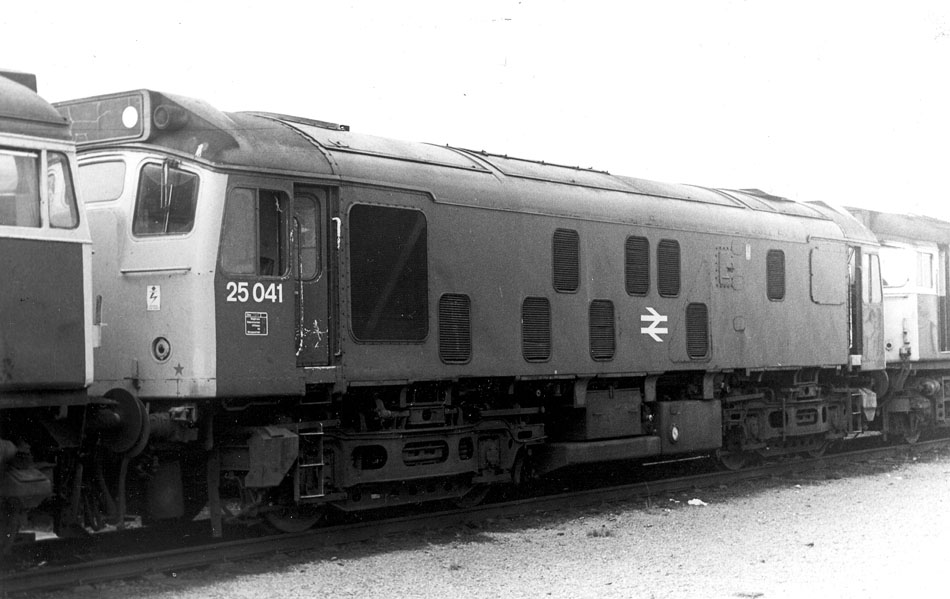 Photograph courtesy A Forster.
25041 was withdrawn whilst at Polmadie, it is seen there on August 22nd 1981 out of service.
Not all known passenger workings are recorded on this page.
16/1731
flk 0422
Page added December 28th 2013.
Last updated July 17th 2022.
Back to 25040
Forward to 25042