D5192, 5192, 25042
25042 - the last vacuum braked Class 25 in service
(along with 25224, both withdrawn on the same day)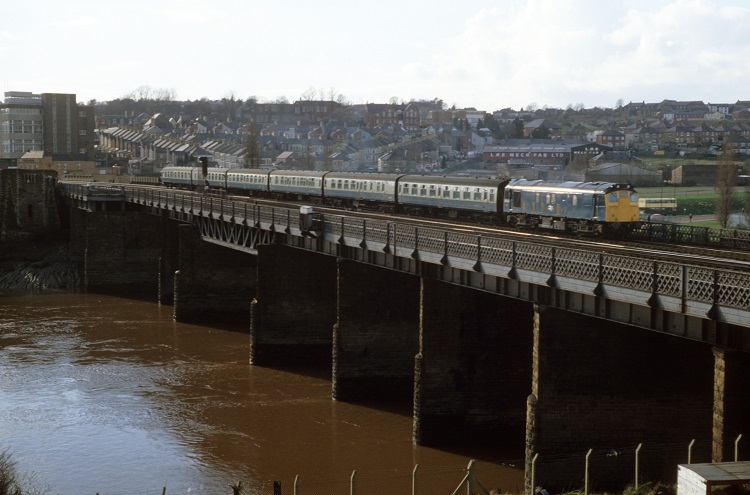 Photograph courtesy Bernard Mills.
25042 at Newport on March 14th 1981 with the 15.10 Cardiff - Crewe.
The twenty three year career of D5192/25042 was spent allocated only to London Midland Region depots, with a similiar allocation history to 25038/39/40/41. However the provision of an Intermediate Repair during the spring of 1980 would see it remain in service five years after 25038-41/43 had been withdrawn.
Built: BR Derby Locomotive Works.
Boiler equipped.
Last vacuum braked only Class 25 in service (jointly with 25224).
Center lampbracket & other fittings removed.
Time between last Classified repair and withdrawal: 71 months.
Time between withdrawal and scrapping: 17 months.
Third highest total for passenger haulage for a Class 25.
Allocations
D5192 was new to Toton (18A) on May 4th 1963. Further transfers were:
February 1964 to Leicester (15A).
January 1965 to London Midland (Midland) Lines.
June 1968 to Nottingham Division (D16).
November 1968 to Preston Division (D10).
May 1973 to Kingmoor (KM).
January 1975 to Kingmoor (KD).
March 1975 to Longsight.
May 1976 to Crewe.
Withdrawn May 8th 1986.
Renumbered February 27th 1974.
25042 was the 281st Class 25 to be withdrawn, one of four retired during May 1986.
After withdrawal 25042 was stored at Crewe Depot until March 1987, then at Gresty Lane until June 1987. After a short stay at Basford Hall 25042, 25058, 25285 & 25910 were moved to Vic Berry, Leicester on July 16th 1987, entering their yard on July 24th 1987. By the third week of October 1987 25042 had been broken up.
Works Visits
Works visits (records incomplete).
Noted Derby Works August 1964.
Noted Derby Works October 1970.
Noted Derby Works October 1976.
Noted Derby Works December 1979 (N4 repairs).
Noted Derby Works March - May 1980 (Intermediate repair).
Highlights
1963
The frames for D5192 were laid down at Derby in the last quarter of 1962, being delivered to Toton during May (18A) and similar to all the others in this batch they were to be used on removing steam northwards from St Pancras. D5192 was boiler equipped though its use on passenger workings during those days are currently not well reported.
1964
During November 1964 D5192 worked a Wemyss Bay - Glasgow Central service, presumably whilst laying over from an inter-regional freight working.
1965
During March driver training continued on the York to Scarborough line with Holbeck Peaks and Midland Type 2s featuring frequently, noted were D5183, D5191, D5192 & D5211.
On April 24th the 16.08 Sheffield - Derby was worked by D5192.
1966
A Manchester - Preston passenger special was worked by D5192 on March 26th.
1967
On February 18th a Manchester Central - Derby service was worked by D5192.
1971
5190 & 5192 were noted north of the border on February 6th with a 45 wagon train of rocksalt from Winsford for Edingburgh.
1973
At about 6pm on July 18th 5198 was noted passing Manchester Exchange with a down van train (4P05).
1975
On January 6th 25042 worked the 22.01 York - Aberystwyth between Stalybridge & Manchester Victoria.
During March 25042 moved to Longsight.
On April 27th 25042 again worked the 22.01 York - Aberystwyth between Stalybridge & Manchester Victoria.
25042 was noted on unidentified passenger services on the North Wales mainline on May 31st.
The last regular freight to visit the National Carriers Huskisson depot was hauled by 25042 on June 16th, the route being essentially a long siding from Hunts Cross East Junction. The traffic was lost to road competition. 25079 was on empty coaching stock duty at Liverpool Lime Street on June 26th & 27th.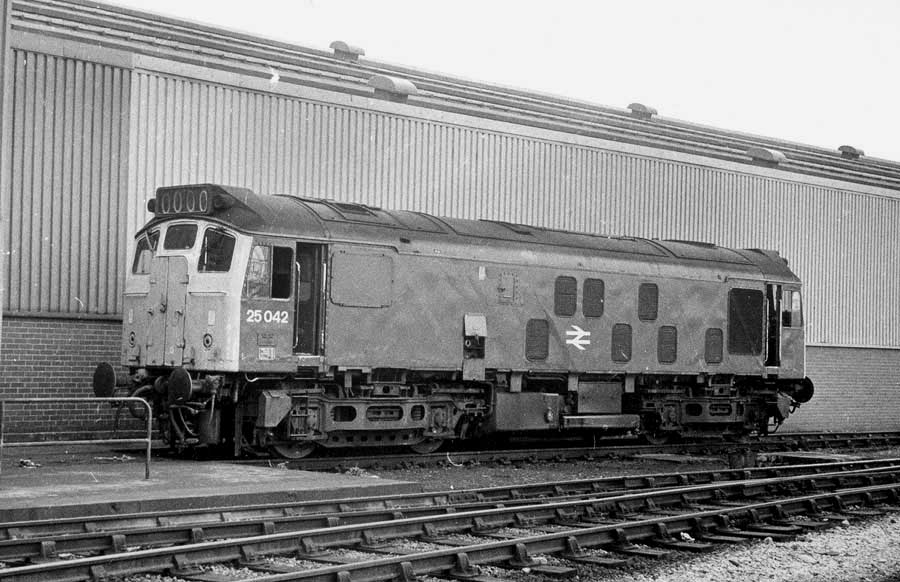 Photograph collection of webmaster.
25042 - date and location unknown.
On August 2nd 25042 worked the 14.40 Barrow in Furness - Manchester Victoria. On August 4th 25042 worked the 05.07 Leeds City - Manchester Victoria vans (4M03).
1976
25042 was transferred to Crewe during May 1976, this was the last transfer for 25042.
Derby Works received 25042 during October.
The 22.50 Shrewsbury - York was worked to Crewe by 25042 on December 4th 1976.
1977
25042 & 25039 were together on April 8th & 11th 1977, on the former date working a roundtrip Leamington Spa - Aberystwyth throughout and on the latter date a roundtrip Coventry - Aberystwyth day excursion throughout.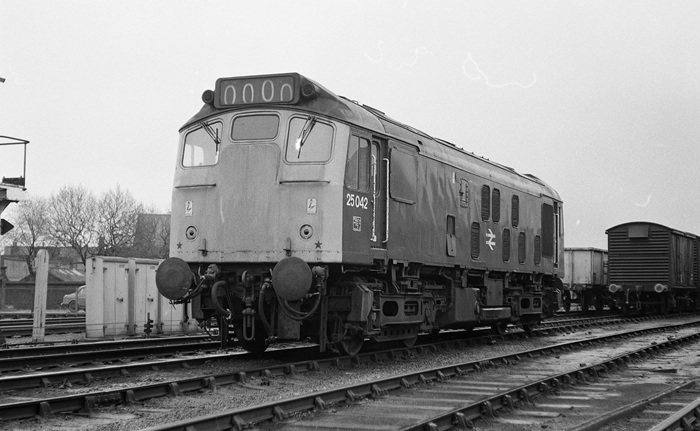 Photograph courtesy Danny Preston, collection Neil Johnson.
25042 waits for its next turn of duty at Warrington Arpley on May 7th 1977.
On October 1st 25042 worked a Cardiff - Crewe service, further workings on this route took place on October 15th with the 07.50 Cardiff - Crewe and on October 27th with the 11.00 Cardiff - Crewe. On December 3rd 25042 worked the 12.22 Crewe - Cardiff and on December 4th the 13.45 Crewe - Cardiff.
1978
25042 worked the 13.45 Crewe - Cardiff on January 29th.
25042 was noted at Crewe on February 11th. 25042 was the Manchester Victoria pilot on February 19th. 25042 worked the 05.32 Cardiff - Crewe, 10.00 Crewe - Cardiff and the 15.10 Cardiff - Crewe on February 25th.
After a three month break 25042 then worked the 06.04 Crewe - Cardiff on May 27th 1978 and the 07.50 Cardiff - Crewe on June 28th 1978.
On July 5th 25042 was on the North Wales route and worked the 09.42 Llandudno Town - Manchester Victoria, the 13.30 Manchester Victoria - Llandudno Town and the 16.42 Llandudno Town - Crewe. More Crewe - Cardiff services followed, on August 28th an unidentified Cardiff - Crewe was worked, on October 7th the 12.22 Crewe - Cardiff, on October 16th the 16.00 Crewe - Cardiff and on October 19th the 17.10 Cardiff - Crewe.
1979
On February 23rd substituting for diesel multiple units due to the extreme wintry weather 25042 and hauled stock worked a number of services on the Manchester Victoria - Rochdale (Oldham loop) route.
On the evening of May 18th 25042 was noted at Crewe with a down van train.
The 11.30 Cardiff - Crewe was worked on June 5th. Between September 19th & 28th 25042 was noted frequently on the Crewe - Cardiff services. On October 9th 1979 25042 worked the 11.30 Cardiff - Crewe.
On the evening of October 5th 25042 & 25158 were noted at Crewe on a down coal.
During December 25042 visited Derby Works for N4 repairs.
1980
Derby Works took in 25042 for an Intermediate repair between March & May.
After release from Derby Works 25042 was noted on May 17th working the 13.15 Birmingham New Street - Norwich (throughout?). On June 12th 1980 25042 worked the 17.10 Cardiff - Crewe, on this route 25042 would be noted many times during the latter half of 1980, ending up during late December working a Crewe - Cardiff service on Christmas Eve and the 19.30 Crewe - Cardiff on New Year's Eve.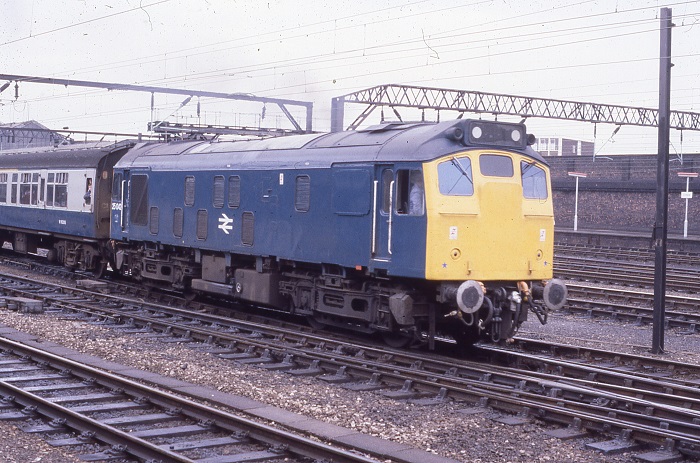 25042 on a Crewe - Cardiff service on October 25th 1980.
1981
25042 started the New Year in charge of the 17.10 Cardiff - Crewe. From January to June it would prove to be a regular performer on this route. Highlights include working at least three services on January 10th, its failure at Shrewsbury on a Cardiff bound service on January 31st, the train was rescued by 25167, but 25042 remained on the train to provide heating.
On February 15th it worked the 01.50 Crewe - Cardiff with 25199, but was seen later on the 13.45 Crewe - Cardiff working alone.
On May 3rd 25042 worked a Crewe - Cardiff service with 25220, the next day (4th) this pair handled a round trip Longbridge - Aberystwyth day excursion, in conjuction with a Vale of Rheidol Open Day. By May 6th it was back on the Crewe - Cardiff services.
The period May 25th - June 3rd was particulary active for 25042 on the Crewe - Cardiff services, including two roundtrips (556 miles) on May 30th. The week ending May 31st was officially the last week of diagrammed Class 25 powered Cardiff - Crewe services, with 25042, 25219/220/245 noted. However a strike on the Southern Region and a brief continuation of Southern Region van traffic delayed the arrival of the Class 33s. Because of this 25042/60 & 25245 lingered on these services after June 1st.
On June 16th 25042 was noted on a morning Northwich - Tunstead limestone empties working. On June 20th 25042 was noted at Hale with eastbound ICI empties for Tunstead. On June 25th three Crewe - Cardiff services were worked, after this date no more have so far been recorded for 25042 on this route in 1981.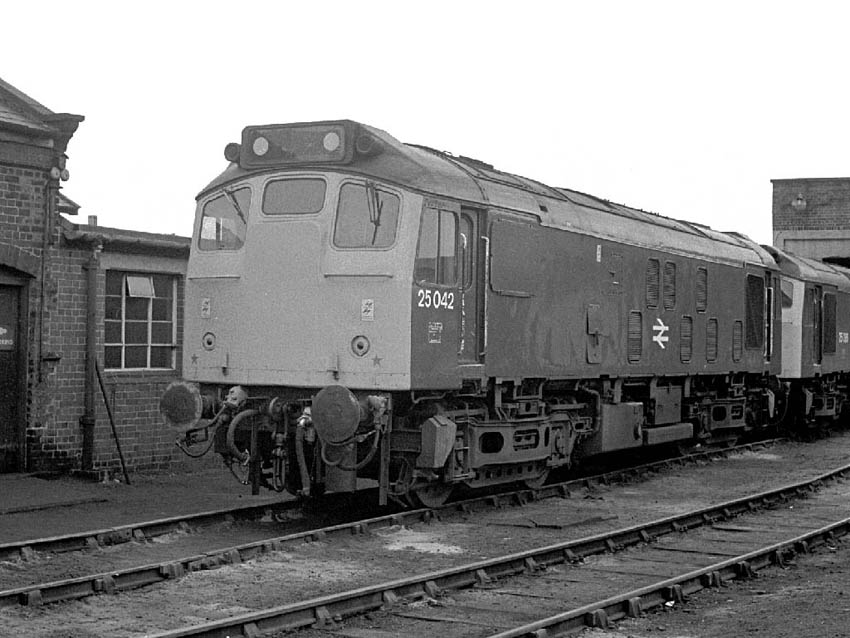 Photograph courtesy Tony Sayer.
25042 at Northwich July 25th 1981.
On September 9th the Class 40 working the 07.45 Manchester Victoria - Bangor failed at Warrington, 25042 took over to Bangor and returned with the 11.12 Bangor - Manchester Victoria. It was off to Tywyn for 25042 & 25236 on October 3rd when they worked a Euston - Aberystwyth excursion forward from Wolverhampton. A week later (12th) 25042 worked the 16.36 Birmingham - Norwich throughout, on 17th it was noted arriving at New Street with the 09.10 ex-Norwich and went back with the 18.15 to Norwich, its not known if the locomotive worked throughout on each leg.
1982
It was a little of everything for 25042's wide variety of passenger services during 1982, it covered the Crewe - Cardiff line on January 5th & May 24th, it was on the Birmingham - Norwich run on May 1st, replacing an ailing Class 31 on an eastbound service at Leicester, but failing at Thetford and dragged on to Norwich where it was repaired in time to work the return leg back to Birmingham. The next day (May 2nd) the 16.15 Birmingham - Leeds was worked throughout.
June 19th found 25042 working the 06.10 Carlisle - Glasgow.
The 02.15 Manchester - Leeds newspapers was worked by 25042.
On August 17th it was the turn of the 17.37 Llandudno Town - Stoke on Trent for 25042. September 4th saw the 8.57am Leeds & Carlisle and 15.37 return worked. On October 16th 25042 & 25080 worked the roundtrip Crewe - Aberystwyth legs of an excursion from Carlisle. A Crewe - Cardiff service was worked on October 25th, three days later (28th) 25042 worked a round trip on the Leeds - Carlisle route before its last passenger working of the year, between Glasgow Central & Carlisle on December 20th.
1983
25042 worked the 6L86 Carlisle - Ribblehead hoppers on a snowy January 13th. The variety of passenger workings continued on into 1983 for 25042 with its first outing being the 22.00 Glasgow Central - Stranraer Harbour on January 31st followed by the 12.50 Carlisle - Glasgow on February 4th. The next day it worked the 15.50 Carlisle - Edinburgh, via Newcastle.
On March 14th & 15th 25042 was busy on the Crewe - Cardiff diagram, one roundtrip on 14th & two roundtrips on 15th.
April 11th found 25042 on the 11.49 Bangor - Manchester Victoria. Victoria was visited again, this time on May 26th with 25042 handling a late afternoon roundtrip Blackpool service.
On June 18th 25042 was noted eastbound through Bolton with a lengthy train of empty newspaper vans headed for Red Bank sidings.
No passenger workings were recorded in June but a round trip Carlisle - Glasgow Central occurred on July 23rd.
October 28th proved to be a bad day - 25042 was diagrammed for the 10.40 Carlisle - Leeds but expired at Appleby, being rescued by 40099. It was repaired in time to cover the 16.00 Leeds - Carlisle but only managed to cover three miles before failing at Kirkstall, being rescued by 31195. A brief railtour turn occurred a month later on November 26th when 25042 & 25161 worked 'The Cheshire Cheeser' between Liverpool and Warrington Arpley Junction.
1984
25042's passenger duties continued, with still more variety, opening the New Year's working with January 13th's 19.35 Birmingham - Bristol throughout, possibly as a result of disruption caused by wintry weather. There was a round trip Crewe - Cardiff working on February 6th, followed by a late afternoon Manchester - Blackpool turn on February 17th, heading back south the next day with the 06.55 to Manchester Victoria. It was held here to work a football extra to Newcastle, the Class 25 being replaced at Leeds.
25042 was receiving attention at Toton on March 31st. On April 7th the 'Knotty Northern Circular' was worked from Stafford to Leeds and back by 25042 & 25224, the following week (14th) it was on the F&W's 'Capital City Transfer' with 25083 between Coventry & Marylebone. More railtour duty followed the next weekend (20th) with the first leg of the RESL 'Easter Highlander' railtour to Scotland, 25042 & 25057 were booked from St Pancras to Derby, but 25057 failed shortly after departure, expiring completely by St Albans. 25042 soldiered on to Bedford where 31118 was added for the run to Derby.
A trip to the seaside occurred on May 5th with 25042 & 25080 working out with the 08.48 Burton - Skegness, coming back with the 19.00 to Leicester. On May 25th (or 26th) 25042 & 25224 worked the 10.10 Euston - Aberystwyth forward from Birmingham New Street to Wolverhampton. A WCML working on May 26th took 25042 & 25224 from Wolverhampton to Mitre Bridge Junction on an excursion to Folkestone Harbour. In the opposite direction on June 2nd 25042 & 25207 worked the 10.10 Euston - Aberystwyth forward from Wolverhampton, returning with the 17.05 to Shrewsbury. A short working on June 16th found 25042 & 25109 taking a Barrow - Windsor excursion as far as Carnforth.
25042 was again coupled to 25224 for a visit to Aberystwyth on July 7th, bringing in the 07.35 ex Euston from Wolverhampton and returning to Wolverhampton with the 14.00 to New Street.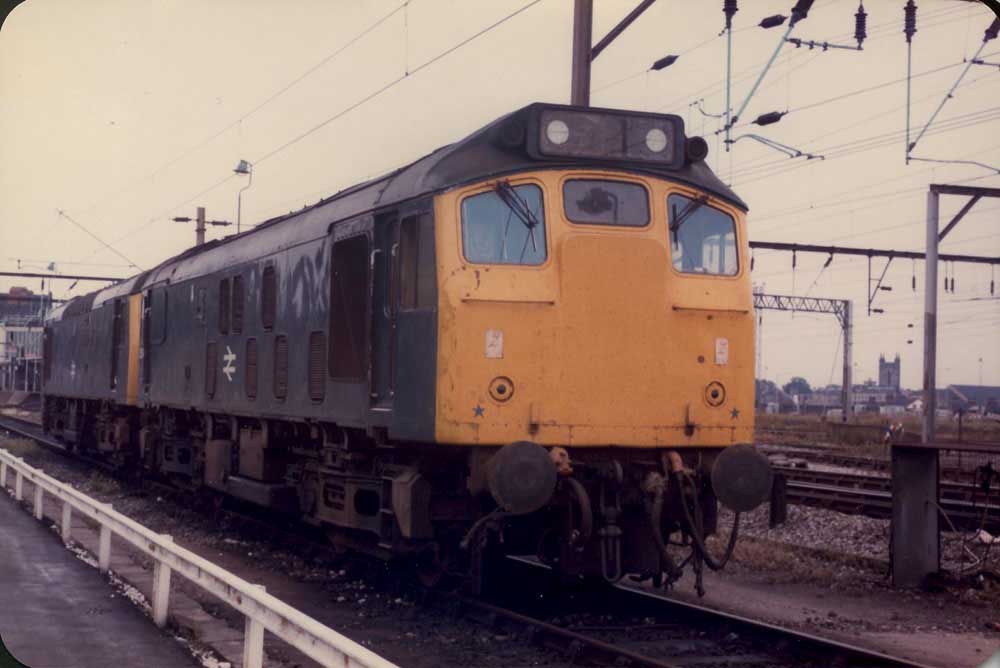 Photograph courtesy Jerry Glover.
Stoke station plays host to 25042 & 25161 on August 11th 1984.
On August 18th 25042 was noted at Coleham CCE depot, Shrewsbury shunting several vehicles. 25042 was noted at Shrewsbury again on August 23rd, possibly on an engineer's working. Its last passenger working for 1984 was the 19.35 Blackpool - Manchester Victoria on August 24th.
25042 was noted passing Prestatyn station with a loaded ballast train on November 15th.
1985
On April 4th 1985 the 08.40 Stoke-on-Trent - Llandudno Town and the 17.37 return were worked by 25042 & 25224. When 31448 failed at Leicester on May 27th working the 18.20 Birmingham New Street - Norwich 25042 took over to Peterborough.
The boiler on 25042 was isolated during August.
Late in June 1985 25042 was active in the north-west. On June 29th it worked a 09.30 Glasgow Central - Blackpool North day excursion forward from Preston. About a week later on July 6th a Kilmarnock - Blackpool North charter was worked forward from Preston by 25042 & 25268. The next day (7th) the same pair worked the 'Cambrian Scot' railtour from Caersws to Preston. Two days later (9th) a roundtrip Barrow - Blackpool North school excursion was worked by 25042. On August 23rd the Derby - Old Oak Common empty coaching stock working became a relief Oxford - Reading service following the failure of a Hereford - Paddington service. The final recorded passenger working for 1985 took place on October 26th with 25042 working the 14.25 Llandudno Town - Llandudno Junction following the failure of a diesel multiple unit.
1986
January 1st 1986 saw 25042 stabled at Severn Tunnel Junction.
February 5th 1986 saw 25042 used as the Miles Platting banker. On February 9th 1986 25042 was on engineering duties at Derby station. The final passenger working for 25042 took place on February 12th (?) 1986 assisting a Glasgow Central - Euston between Carlisle & Preston following the failure of a Class 85. Noted at Blea Moor on March 7th 1986 on engineering duties.
25042 was withdrawn from Crewe on May 8th. It was the last vacuum brake only Class 25 to remain in service, when withdrawn it was retired surplus to requirements and was in full working order. It was initially stored at Crewe.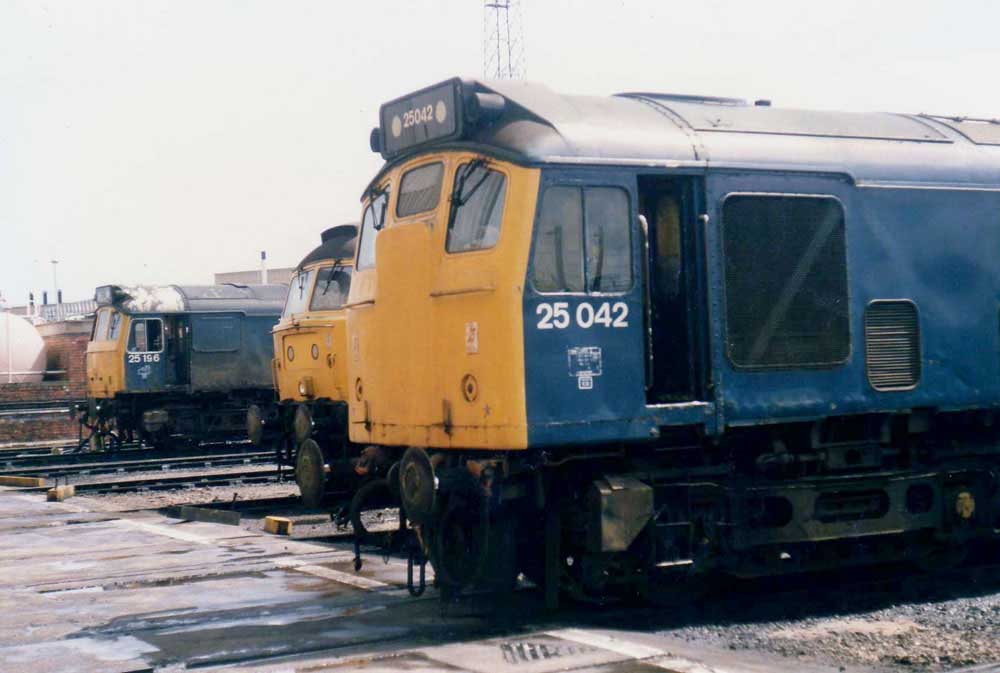 Photograph courtesy Paul Wraithmell.
The date is uncertain, but withdrawn 25042 heads a lineup of locomotives at Crewe which includes also withdrawn 25196, which has already been cannibalised for parts.
A builders plate from 25042 sold on Ebay during September 2017 for GBP 396.03.
Not all known passenger workings are recorded on this page.
168/19582
flk 0114
Page added January 18th, 2001.
Last updated February 27th 2020.