D5193, 5193, 25043
25043 - the last Class 25 in green livery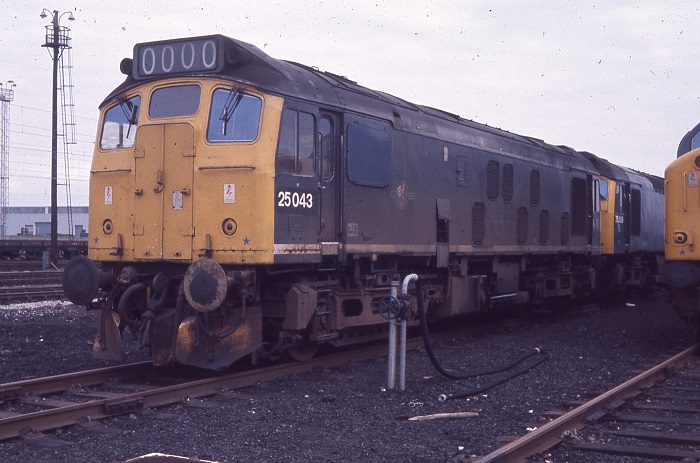 A gloomy day at Speke Junction, April 10th 1976 finds the last green Class 25 sporting a mixture of items, from dirty yellow miniature snowploughs, odd buffers, a blue panel in place of the boiler room grille, a painted over builders plate and the familiar blue & white TOPS data panel behind the cab door. May would see the locomotive called in to Derby, where it will lose its green paint.
Built: BR Derby Locomotive Works.
Boiler equipped.
Last Class 25 to carry green livery.
Center lampbracket & other fittings removed.
Time between last Classified repair and withdrawal: 55 months.
The seventeen year nine month career of D5193/25043 was spent allocated only to London Midland Region depots, with a similiar allocation history to 25038/39/40/41/42.
Allocations
D5193 was new to Toton (18A) on May 4th 1963. Further transfers were:
March 1964 to Nottingham (16D).
October 1964 to Derby (16C).
January 1965 to Nottingham Division (D16).
June 1965 to Saltley (2E).
April 1966 to Birmingham Division (D02).
April 1966 to London Midland (Midland) Lines LMML.
June 1968 to Nottingham Division (D16).
July 1968 to Liverpool Division (D08).
May 1970 to Preston Division (D10).
May 1973 to Kingmoor (KM).
September 1974 to Longsight.
May 1976 to Crewe.
Withdrawn February 1981.
Renumbered April 18th 1974.
25043 was the the 86th Class 25 withdrawn, one of twelve retired during February 1981.
25043 had reached Derby Works by January 20th 1981 (and presumably withdrawn whilst at Derby), by August 1981 only the gutted body and bogies remained, final scrapping took place late in September 1981.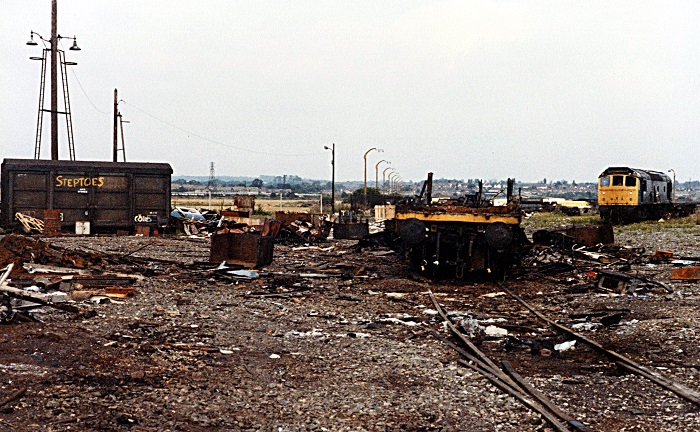 Photograph courtesy Steve Morris.
Its August 1981 and there is little left of 25043, in the background is 25295, which will also be scrapped during August 1981.
Works Visits
Works visits (records incomplete).
Noted Derby Works October 1966.
Noted Crewe Works January - March 1970.
Noted Derby Works May 1974.
Noted Derby Works May & June 1976 (gangway doors removed, to blue livery).
Noted Derby Works June 1978.
Noted Derby Works November 1978 (tyre turning).
Noted Derby Works February 1979 (collision repairs).
Highlights
1963
D5193 was laid down at Derby during the last quarter of 1962, being delivered to Toton (18A) during early May 1963 and as like all the others in this batch was used on removing steam northwards from St Pancras. D5193 was boiler equipped though its use on passenger workings, if any, in the early days is not well reported.
1965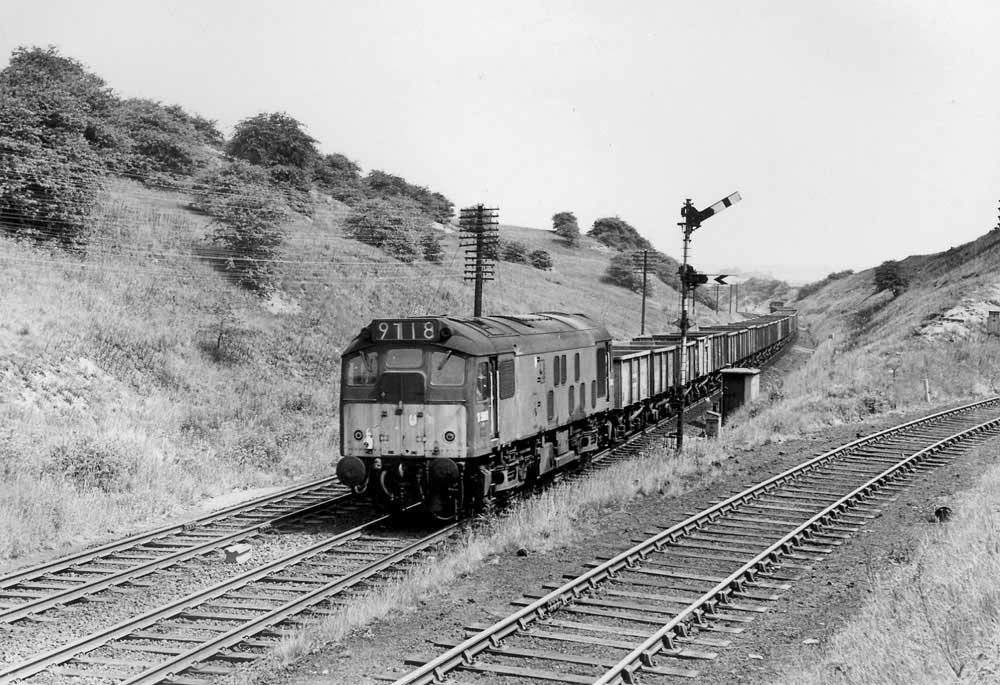 Photograph courtesy J. Hancock.
A workstained D5193 passes Staveley with a lengthy southbound freight on June 12th 1965.
1966
On the evening of November 5th D5193 was noted at Bradford Exchange with the Huddersfield - Manchester Victoria mails.
1968
On June 1st the summer dated round trip Nottingham - Llandudno Town was worked by 5193 & 5247. It is also reported that possibly the same pair returned to North Wales the following day.
With steam in the north-west almost gone D5193 moved to the Liverpool Division (D08) during July.
1969
On April 25th 5193 worked the 17.32 (FO) Manchester Victoria - York.
1970
5193 spent January - March under repair at Crewe Works. In May it joined 5191 & 5192 on the Preston Divison (D10).
5193 was active north of the border during the last week of September, being noted three times on the Stirling - Newton Abbot motorail, on 23rd with 5297, 28th with 5187 and 30th with 5284.
1972
On August 25th a Carlisle - Perth service was worked by 5193. On September 9th 5193 & 5190 were noted at Leeds on a special.
5193 was noted on a local Tyne Yard turn on December 14th.
1973
A Euston - Stranraer Harbour service on August 16th was worked forward from Carlisle by 5193 & 5376.
1974
25043 was noted at Derby Works during April. 25043 was noted at Inverness on April 22nd.
On May 30th the 12.36 Leeds - Birmingham New Street was worked to Sheffield by 5193, being replaced by 46056. During September 25043 moved to Longsight.
1975
25043 was on empty coaching stock duty at Liverpool Lime Street on February 17th & 18th.
On April 1st the LGCB Pennine Venturer No.2 railtour was worked from Liverpool to Wakefield Kirkgate by 25043 & 25082, accumulating almost three hundred miles in crossing the Pennines by four different routes. Two weeks later on April 15th a Brighton - Blaenau Ffestiniog day excursion was worked roundtrip Llandudno Junction - Blaenau Ffestiniog by 25043 & 24082.
25043 was the Manchester Victoria banker (T42) on July 8th & 14th. On July 19th green liveried 25043 worked the 09.00 Llandudno - York with eight well filled coaches. Despite a number of difficulties encountered enroute with slow freights, pathing problems and permanent way slacks arrival in York was only a few minutes late. On July 28th 25043 worked the 05.07 Leeds City - Manchester Victoria vans (4M03).
1976
25043 was transferred to Crewe during May, this would be its last transfer.
Derby Works was visited by green liveried 25043 during May & June. This was the last Class 25 in green and it would receive a coat of the familiar corporate blue when outshopped about June 10th.
On June 26th recently ex-works 25043 worked the 09.00 Llandudno Town - York.
The Gunnie - Pennyffordd cement working still gave paired Class 25's a good run under the WCML wires, August 16th found 25043 & 25136 in charge of the round trip working.
On September 4th the 09.20 Manchester Piccadilly - Yarmouth was worked to Lincoln Central by 25043 & 25325, returning from there with the 09.15 ex-Yarmouth. A week later on September 11th the 08.20 Euston - Aberystwyth was worked out & back from Wolverhampton by 25043 & 25040.
1977
The 22.50 Shrewsbury - York on February 11th was worked to Crewe by 25043.
24057 & 25043 were noted at Hereford on May 26th having arrived on a southbound freight.
On the afternoon of July 23rd 24073 & 25043 were noted arriving light engines at Llandudno Junction.
On October 15th 1977 24082 & 25043 were noted at Blaenau Ffestiniog with a Ffestiniog Railway Society charter to/from? An Aberystwyth - Euston charter for the Royal Smithfield Show on December 6th was worked to/from Wolverhampton by 25043 & 25038, on the return the locomotives failed at Machynlleth, a diesel multiple unit took the passengers forward.
1978
On April 3rd & 8th 25043 was noted on the Crewe - Cardiff services. On April 15th a Brighton - Blaneau Ffestiniog excursion arrived at Llandudno Junction behind 47436, the last portion of the trip going forward behind 24082 & 25043. May 30th found 25043 failed near Dinmore Tunnel on the 16.00 Crewe - Cardiff, 47042 on the following parcels pushed the train into Moreton on Lugg. 47342 was eventually taken from another freight to assist 25043 and its train, now over 100 minutes late.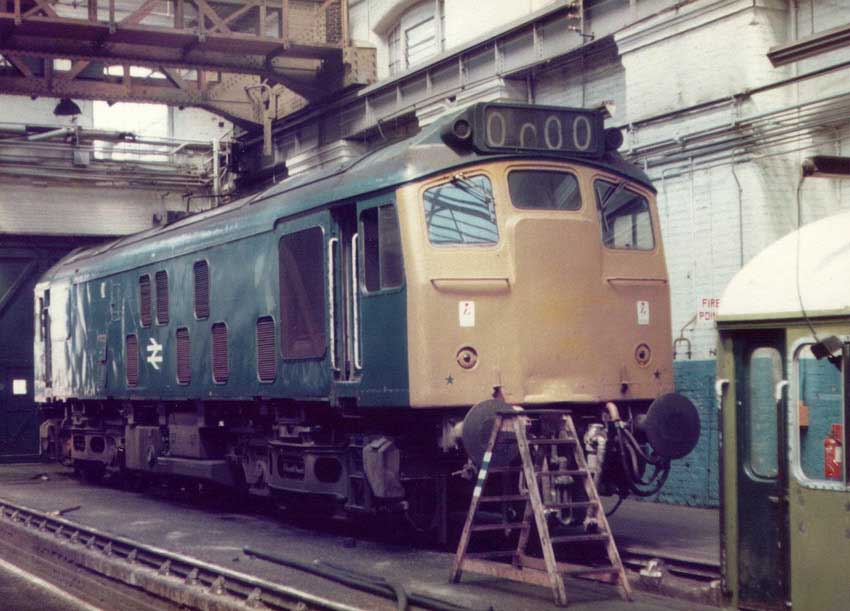 Photograph courtesy Graham Turner.
25043 would make at least two visits to Derby Works during 1978, it is seen here on June 11th 1978, and would return for tyre turning on November 25th 1978.
25043 & 25074 were noted at Skegness on July 2nd & 6th on day excursions, on the latter date the locomotives were failed at Skegness and replaced by 20107 & 20155. On July 17th the 19.30 Crewe - Cardiff was worked by 25043.
Late in August 25043 was active on the North Wales coast, on August 24th 25043 worked the 11.11 Manchester Victoria - Holyhead, whilst on August 30th it worked the 15.32 Manchester Victoria - Bangor and the 19.30 return.
On September 9th 25159 & 25043 were noted at Birkenhead North with a hopper train.
On October 18th 25043 worked the 17.10 Cardiff - Crewe.
On the evening of November 30th 25043 (Crewe allocated) was noted at Exeter stabling point.
1979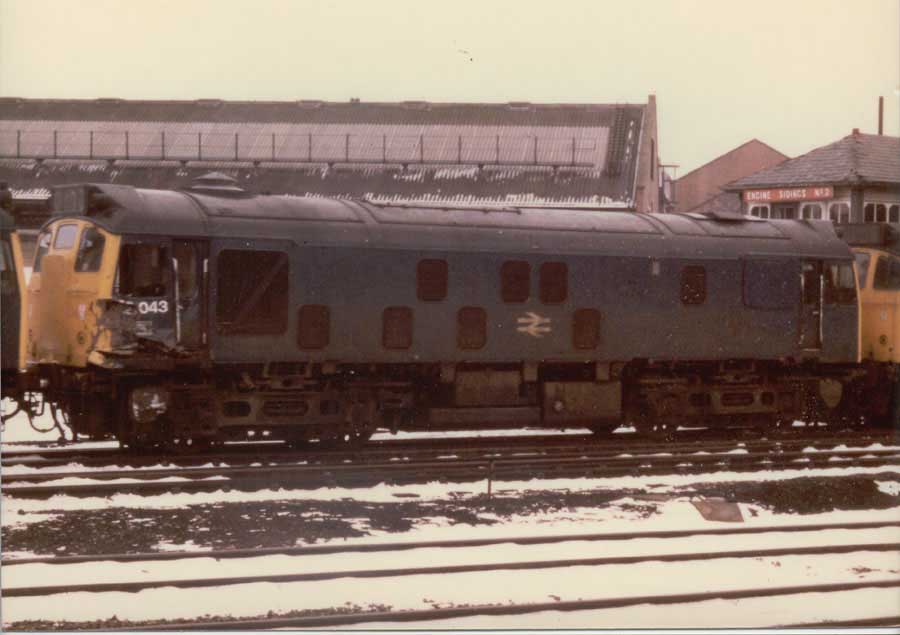 Photograph courtesy John Glynn.
A snowy February 17th 1979 finds several Class 25s including 25043 enroute to Derby Works for attention. 25043 would have been due for a classified repair in the summer of 1980, it never came. Instead it soldiered on until February 1981 when it was withdrawn. It was perhaps fortunate that the collision damage shown here did not bring about an earlier demise.
A roundtrip Stoke-on-Trent - Wrexham football special on April 21st was worked by 25043 & 25073. During the summer 25043 was active on the Crewe - Cardiff services, particularly during the last week of August.
On September 14th 25043 was noted at Oxford with the morning Toton - Eastleigh freight. A Shrewsbury - Scarborough day excursion on September 16th saw 25043 & 25040 cover 409 passenger miles. By September 25th 25043 had returned to the Crewe - Cardiff services and would be noted on these services until at least November 10th.
25043 was noted on an evening Cardiff - Crewe service on November 2nd.
During December 25043 was noted at Derby Works for N8 repairs, also present in the Works at the same time were 25041 & 25042.
1980
On January 12th 25043 worked the 11.30 Cardiff - Crewe.
On February 2nd 25043 worked the 12.20 Crewe - Cardiff.
On April 5th 25043 worked the 05.35am Cardiff - Crewe.
During 1980 25043 continued to run up the miles on the Crewe - Cardiff services, with only May & August so far revealing no workings on this route. On June 12th whilst working a Crewe - Cardiff service 25043 failed and was dragged by 37294.
Another failure occurred on October 10th, whilst working the 07.50 Cardiff - Crewe 25043 failed at Abergavenny and was dragged by 40079. The next day, October 11th 25039 & 25043 worked the 20.51 Barrow in Furness – Euston, as far as Preston.
On November 9th 25043 & 25220 worked the 14.15 Cardiff - Crewe. On November 29th 25043 worked the 15.10 Cardiff - Crewe.
On December 23rd 25043 & 25219 were noted on the relief 14.45 Holyhead - Crewe.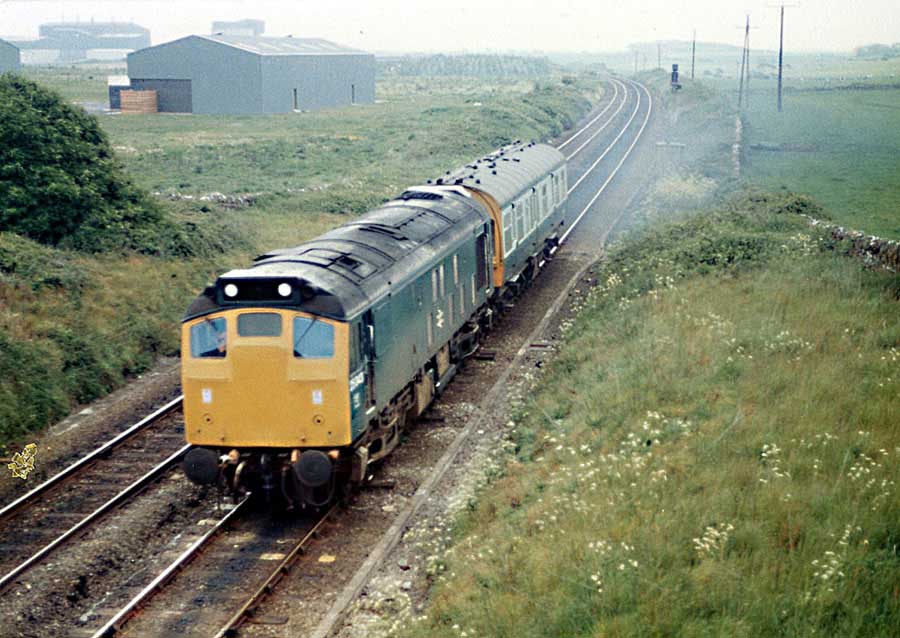 Photograph courtesy Steve Morris.
25043 hurries along the North Wales mainline with a Divisional Manager's Saloon, this location being not far from Holyhead.
1981
The Shopping Proposal prepared on January 22nd 1981 for 25043 indicated unclassified repairs were requested for dealing with rail clearances for the snow ploughs. The repairs were refused, with the locomotive now marked for scrapping. The locomotive had arrived at Derby Works on January 20th 1981. Contained in the proposal were the following details:
Last Classified Body Repair: June 6th 1976
Loco miles since last Classified repair: 197,000 estimated
Duty hours since last Classified repair: 8,806
Last C Exam ??
Last D Exam ??
Last E Exam February 16th 1978.
Next exam due (B) 4,400 hours.
The proposal also indicated the locomotive components included:
Engine: VA999
Turbocharger: 584
Generator: R 73092
Bogie No.1: 5010/413
Bogie No.2: 5010/414
Traction Motor No.1: 264389
Traction Motor No.2: 271332
Traction Motor No.3: 266863
Traction Motor No.4: 266974
Boiler: Stones (?) 20230
Tyre condition: No.1 end 2.3/8th & 2.7/16th - turned at Derby Works on November 25th 1978.
Tyre condition: No.2 end 2.7/16th & 2.5/8th - turned at Derby Works on November 25th 1978.
After arrival at Derby Works and with the shopping proposal rejected, 25043 was gradually stripped of parts and the remains finally broken up by late August 1981.
71/8444
flk 0114 (1)
Page added January 18th, 2001.
Last updated September 12th 2020.
Back to 25042
Forward to 25044