D5201, 5201, 25051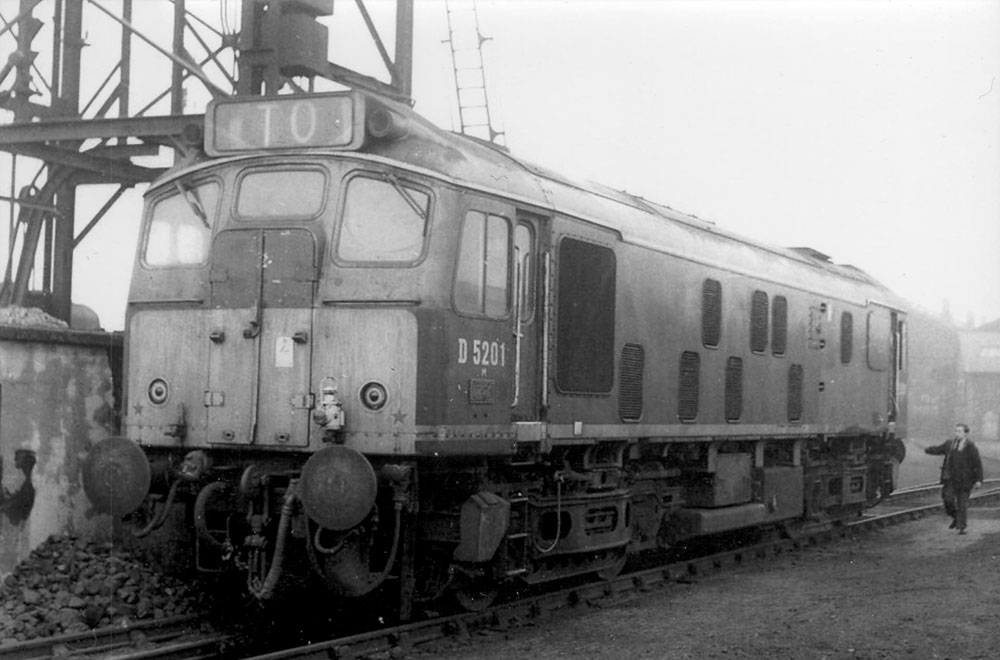 Photograph courtesy Malcolm Braim
D5201, date and location unknown. Although somewhat grubby in this view it carries the livery as delivered when new from Derby Works. In particular the yellow warning panel with its curved upper corners and it extending all the way down to the buffer beam.
During its twenty two year four month career D5201/25051 was allocated to London Midland Region depots.
Built Derby Locomotive Works.
Dual brake equipped (1975).
Royal Train cabling modification (cab front circular access point); No.2 cab only after 1979.
Center lampbracket & other fittings removed (No.1 cab only).
Time between last Classified repair and withdrawal: 75 months.
Time between withdrawal & scrapping: 19 months.
Allocations
The frames for D5201 were laid down during February 1963 at Derby Works. D5201 was new to Toton (18A) on May 25th 1963 and transferred as follows:
September 1963 to Nottingham (16A).
February 1964 to Nottingham (16D).
January 1965 to London Midland Midland Lines (LMML).
October 1967 to Wigan Springs Branch (8F).
June 1968 to Liverpool Division (D09).
May 1973 to Springs Branch.
September 1973 to Longsight.
October 1976 to Cricklewood.
August 1980 to Bescot.
July 1985 to Crewe.
September 18th 1985 - withdrawn.
Renumbered February 27th 1974.
25051 was the 256th Class 25 to be withdrawn, one of three retired during September 1985.
After withdrawal 25051 was stored at Carlisle depot until about April 1986 when it was moved to Kingmoor for storage. During February 1987 25051 was sold to Vic Berry, Leicester, being moved from Kingmoor to Warrington Arpley on March 9th 1987, then to Crewe Basford Hall on March 10th 1987. It continued on to Bescot and Leicester Humberstone Road on March 11th 1987 and then into Vic Berry's yard the next day. 25051 was scrapped during the first week of April 1987 although the cabs lingered for a while longer. The bogies from 25051 were returned to BR for re-use under Marylebone based 97252.
Works Visits
Works visits (records incomplete).
Noted Derby Works April 1965.
Noted Derby Works December 1966.
Noted Derby Works January & February 1970 (Repainted to blue/yellow livery).
Noted Derby Works April 1973.
Noted Derby Works December 1974 - January 1975 (dual brakes fitted).
Noted Derby Works February 1976.
Noted Derby Works April - June 1979 (Intermediate repair).
Noted Derby Works September 1982 (N4 repairs).
Noted Derby Works December 1983 - January 1984 (N6 repairs).
Highlights
1963
D5201 was constructed at Derby Works between February & May 1963. A photograph of D5201 & D5202 by the Test House at Derby on May 19th 1963 shows the very ex-works pair displaying the 1T48 headcode. This was the headcode for the test train which would take the new locomotives, either singly or in pairs on a trip to Corby with a rake of coaching stock. D5201 would released to traffic during June, allocated to 18A.
1965
D5201 was noted at Derby Works during April.
During the high summer (July through September) a shortage of diesel multiple units affected the 13.00 Birmingham - Derby, this led to many locomotive hauled substitutions, usually behinds Peaks or Type 2s, locomotives used included D7558 (July 7th), D5201 (July 8th), D5294 (July 9th) & D102 (August 8th).
1966
June 1st found D5201 in charge of the 14.27 Sheffield - Nottingham.
Derby Works was visited by D5201 during December.
1967
The 16.18 Leeds - Sheffield was worked throughout by D5201 on May 31st.
1968
At the begining of March the 09.00 Liverpool Exchange - Glasgow became a steam turn (Newton Heath) on Mondays & Saturdays only, with the other days utilising a Type 2. On March 12th D5201 was provided, presumably to Preston.
D5201 & D7550 were noted on a late evening Edge Hill - Glasgow freight on June 14th.
Condition no month: green livery with small yellow warning panels, curved upper corners, bottom of warning panel covers frame level stripe, blanking plates fitted, hand/footholds present, straight sided sandboxes, three-rung bogie mounted footsteps, engine exhaust located above engine room.
1969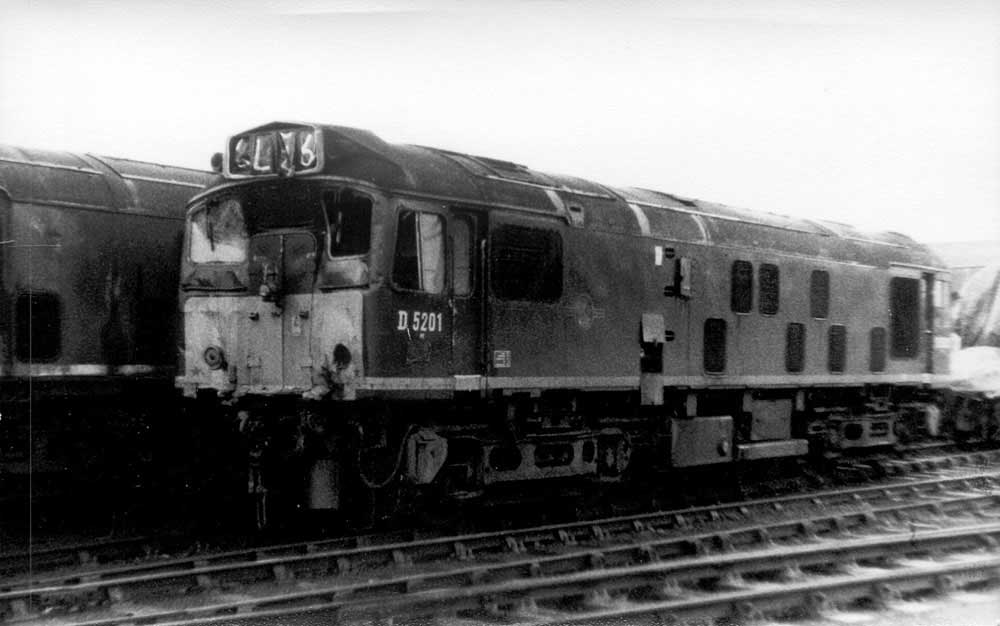 Photograph collection of webmaster.
Strike one for D5201, at Derby Works during December 1969 requiring attention to cab damage. It still carries its factory paint from delivery, though now much the worse for wear. Also one of the blue data panels has been affixed to the locomotive, in a rather odd position.
1970
5201 was present at Derby Works during January & February.
April 19th saw the opening of Crewe Electric Depot to the public. Amongst the regular electric stock were visiting locomotives 5084 & 5201, E26013 and HS4000 'Kestrel'.
On June 6th a Gourock - York return 'Saga' special was powered throughout by 5201 & 7634.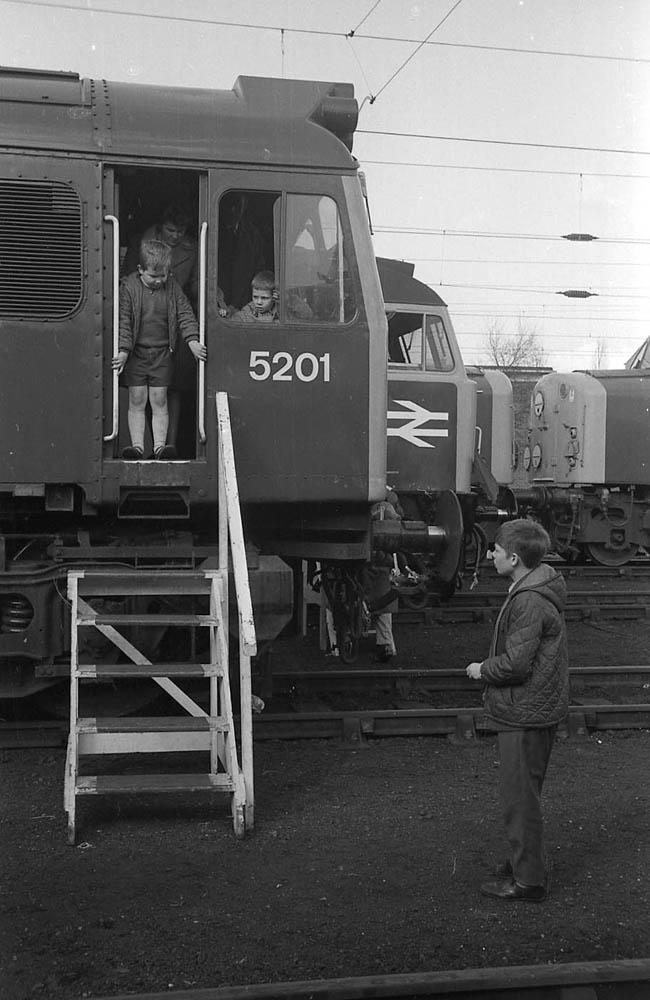 Photograph courtesy Kestrel Railway Books (HS)
On August 22nd 1970 Wigan Springs Branch depot held an Open Day event, which was publicised by the BBC. 5207 was on hand to provide visitors with a short ride, whilst 5201 was used to allow visitors to see the cab and driving controls of a Class 25.
On September 24th 5201 was noted working an inspection saloon roundtrip between Bidston & West Kirby.
1971
5201 was noted on April 21st at St Helens Junction with a coal train from Sutton Manor.
On June 29th 5201 was the Manchester Victoria banker.
5201 was on empty coaching stock duty at Liverpool Lime Street on the morning of November 24th, 25th & 26th.
5201 was on empty coaching stock duty at Liverpool Lime Street on the morning of December 1st, 2nd, 29th & 30th.
1973
At about 5pm on March 30th 5201 was noted passing Rock Ferry with a down freight.
5201 was on empty coaching stock duty at Liverpool Lime Street on September 17th, 18th, 19th & 21st.
5201 was on empty coaching stock duty at Manchester Piccadilly on December 2nd.
1974
On March 30th 25051 was stabled at Reddish.
On July 6th 25051 & 25049 worked 09.19 Manchester Piccadilly - Yarmouth as far as Lincoln Central, replaced here by 31150. The Class 25s returned with the balancing working, the 09.15 ex Yarmouth.
On September 16th 25051 was noted at Miles Platting.
1975
On May 16th 25051 was noted at Manchester Victoria. On May 28th 25051 & 25053 transferred the Royal Train empty stock from Wolverton to Bristol. On May 31st 25218 & 25051 were westbound at Gloucester with chemical tanks.
On June 17th 25051 & 25053 brought the Royal Train empty stock back from Edinburgh to Wolverton.
1977
On January 7th 25051 & 25295 were noted at Luton dealing with the loaded Northfleet - Dunstable cement.
On April 28th 25051 ws busy shunting the yard south of Bedford station.
On May 7th 25051 was stabled at Willesden.
Two weekends in August found 25051 on day trips to the seaside. On 6th it worked the 08.52 Leicester - Skegness forward from Nottingham with 25090, having replaced 25090 and 25267. They worked the return leg to Nottingham, being replaced here by the original pair. On August 15th 25051 was shunting the Willesden ballast sidings. On 20th 25051 and 25067 worked the 08.00 Walsall - Yarmouth as far as Norwich, returning from there with the return leg, the 14.15 ex-Yarmouth.
1978
On Wednesday December 13th 25051 worked (presumably) the 09.55 Willesden - Norwood and the return 12.00 Norwood to Willesden.
1979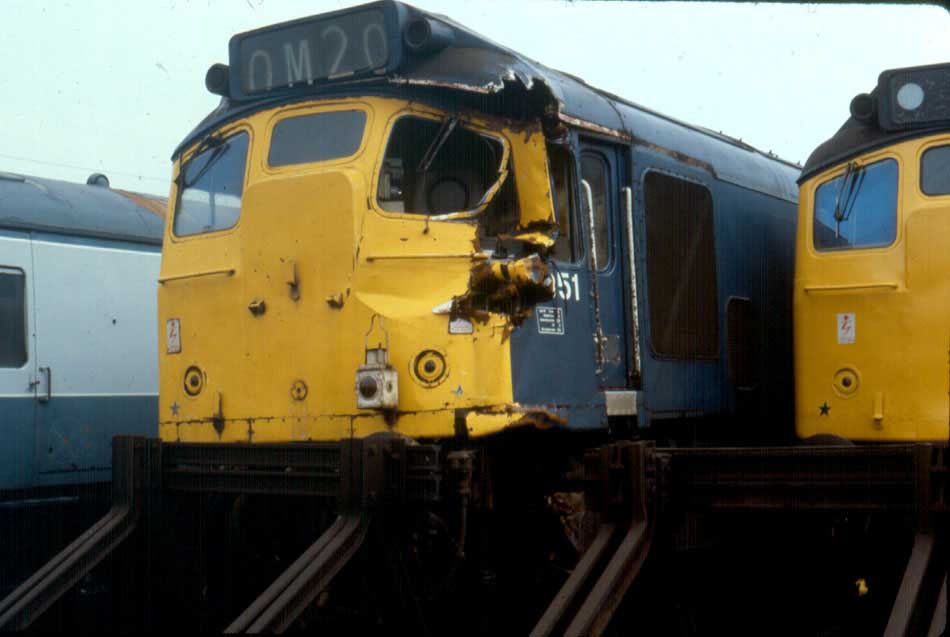 25051 sits at Deadmans Lane awaiting entry into Derby Works for some very obvious repairs. The damage had occurred somewhere in the London area and had been noted at Old Oak Common on April 8th with the damage.
The above photograph reveals the damage sustained to the No.1 cab of 25051 which required a visit to Derby Locomotive Works for accident repairs and an Intermediate Classified repair. The locomotive was present at the workshops from April to June. The damaged No.1 cab was removed and replaced with another cab - this cab did not have the center mounted lamp bracket and other fittings, nor was the Royal Train radio communication access restored to the cabfront.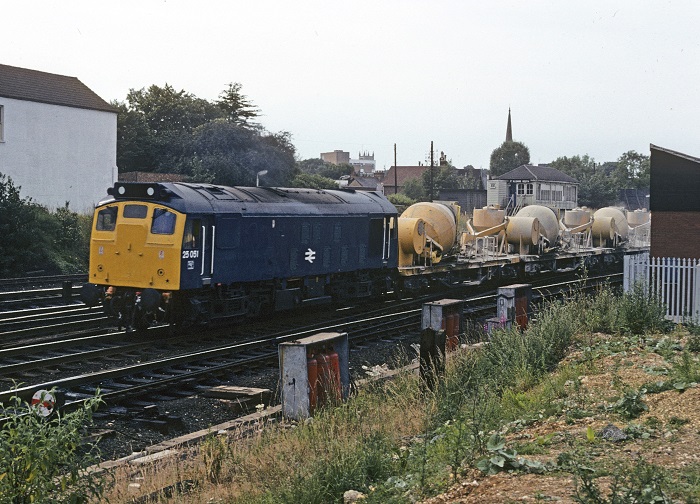 Photograph collection of Roger Geach.
25051 with an electrification train at St Albans on July 18th 1979.
On September 16th engineering works required the power to be off on the WCML between Rugby and Bletchley, during the morning 25051 was noted assisting two Class 310 locals services over the dead section.
1980
25051 was stabled at Stonebridge Park on January 12th.
On June 21st 25051 & 25071 worked the 08.02 Walsall - Yarmouth as far as Norwich and return from there with the 14.15 Yarmouth - Derby.
During July 25051 was transferred to Bescot.
On September 6th was parked in the branch platform at Langley Green, presumably having served the Allbright Wilsons chemical plant.
It was a round trip over the Cambrian lines for 25051 & 25242 on September 13th working the 10.10 Euston - Aberystwyth forward from Birmingham New Street and coming back with the 16.10 Aberystwyth - Shrewsbury. Two days later (15th) a Dudley - Beeston Freightliner service was worked by 25051.
On the early afternoon of September 29th 25051 was stabled at Coventry.
On October 5th 25051 was stabled at Coventry.
1981
On April 27th 25051 set out on the 18.35 Birmingham New Street - Norwich but got no further than Washwood Heath before failing and was replaced here by 31179. The next day the Class 31 hauling the 13.15 Birmingham New Street - Norwich failed at Leicester, here 25051 took over as far as?
On June 8th 25051 was noted light engine at Ellesmere Port.
A Wellingborough - Aberystwyth and return mystery excursion was worked throughout by 25051 & 25182 on June 14th.
On July 14th 25176 & 25051 were noted passing Rugby with the 6A33 Daw Mill Colliery - Pitstone Cement Works loaded merry-go-round coal train.
A Poole - Newcastle working on August 13th expired at Fenny Compton with a failed Class 47, the service was worked forward to Birmingham New Street by 25051.
September 20th's unadvertised 02.15 Euston - Hemel Hempstead was worked by 25051. Four days later 25051 & 25178 were noted at the Motorail terminal at Kensington Olympia, no doubt set to work one or more of the services.
The 08.05 Birmingham New Street - Norwich service on October 27th set out behind 25051, quite how far it got is not recorded.
On the morning of November 13th 25051 was stabled at York.
December 29th saw a Southport - Bewdley charter utilise 25051 & 25058 from Birmingham New Street to Bewdley, it is assumed this pair returned the charter back to New Street for electric traction onward.
1982
A late afternoon Manchester – Newcastle relief ran behind 25051 & 25152 on January 10th, one hopes the boiler in 25051 was operating. On January 16th 25051 & 25140 were noted in the snow at Thornaby.
On February 19th, the day after an ASLEF strike 25051, 25062, 25146 & 25190 were stabled at York.
February 22nd's 18.15 Birmingham New Street - Norwich was worked by 25051 as far as March.
On April 11th 25051 was stabled at Birkenhead.
May 22nd's 18.37 Birmingham New Street - Norwich set out behind 25072 but this was replaced at Leicester by 25051 for the remainder of the run to Norwich.
On June 11th 25051 worked the 19.26 Bangor - Manchester Victoria throughout. 25051 was stabled at Workington on June 18th.
The 07.38 Shrewsbury - Aberystwyth on July 24th was worked by 25051 & 25060, they returned with the 10.07 Aberystwyth - Euston as far as Wolverhampton.
During September 25051 was noted at Derby Works for N4 repairs.
On September 29th the 22.08 Eastleigh - Garston extra car train was hauled to Banbury by 33019, then to Bescot by 31132 & 25051 where an electric took over for the final leg to Garston.
1983
The year had only just begun when 25051 assisted the 08.04 Birmingham New Street - Norwich on January 8th from Leicester to Peterborough after the train locomotive 31217 was failed due to no heat. At Peterborough 31163 took the train forward.
25051 was on parcels duty at St Pancras on the early morning of February 19th.
Engineering work on March 6th on the WCML in Staffordshire saw the 23.55 Glasgow Central - Bristol Temple Meads diverted via Cannock and hauled by 25051 & 47432 between Stafford and Birmingham New Street. Three days (10th) later a recently instituted Banbury – Hull grain working which had attracted a variety of motive power featured 31217 & 25051. This working appeared to be diagrammed for Type 4 locomotives (particularly Classes 40/45/46).
25037 & 25051 were in charge of the loaded Oakamoor - St Helens sand train on March 30th.
25051 was noted at Chester with a short ballast train on April 19th. 25051 was stabled at March depot on April 30th.
On May 2nd 47274 became derailed in Wisbech goods yard, assistance was provided by 25051 and a rerailing crew to get the Class 47 back on the rails. On May 10th 25051 was noted at Carlisle with a two coach parcels train.
On May 18th 25211 & 25051 were noted at Hereford with the Cranmore - Ellesmere Port empty bitumen tanks. Three days later (21st) the 12.42 Carlisle - Newcastle diesel multiple unit was assisted throughout by 25051. On May 25th 25051 was noted through Accrington with a loaded ballast train.
On July 2nd 25051 hauled the 08.30 Glasgow Central - Blackpool on its last leg from Preston to Blackpool. Four days later 25051 had charge of the 21.44 Preston - Liverpool which was part of the 18.20 Glasgow - Manchester.
25051 was stabled at Shrewsbury on September 10th.
The Burntisland Bellower Railtour on October 1st whose return leg commenced from Edinburgh with a destination of Sheffield utilised 25051 & 25239 between Carlisle and Newcastle. The railtour went ahead behind 31291 & 31327 whilst the Class 25s returned to Carlisle with empty coaching stock.
25051 was noted through Bolton Trinity Street on October 2nd with an extremely lengthy Red Bank empties, at least seventeen, mostly bogie vehicles. On October 14th 25051 was westbound through Manchester Victoria with an engineers train. On October 22nd 25051 was one of four Class 25s passing through Crewe station light engines.
25051 was noted at Derby Works from December 1983 to January 1984 for N6 repairs.
1984
After the appalling service levels from the Class 25s during the summer of 1983 over the Cambrian Lines, all locomotive hauled trains over this route were to be powered by Class 25s supplied by Bescot, no longer would 'foreign' Type 2s be allowed beyond Wolverhampton/Shrewsbury. It appears that 25051 did not work any Cambrian Line services this summer.
25051 was noted at Saltley depot on May 23rd. 25051 & 25244 worked the 10.10 Euston - Aberystwyth forward from Wolverhampton on May 25th (or 26th).
On June 20th 25051 worked a Bescot - Coton Hill Speedlink.
25213 & 25051 worked the 6S78 18.10 Severn Tunnel Junction - Mossend on July 6th, being noted at Undy.
On July 29th the 07.40 Euston - Liverpool required assistance between Bletchley and Rugby due to the power being off for engineering work, train engine 85017 was assisted by 25051.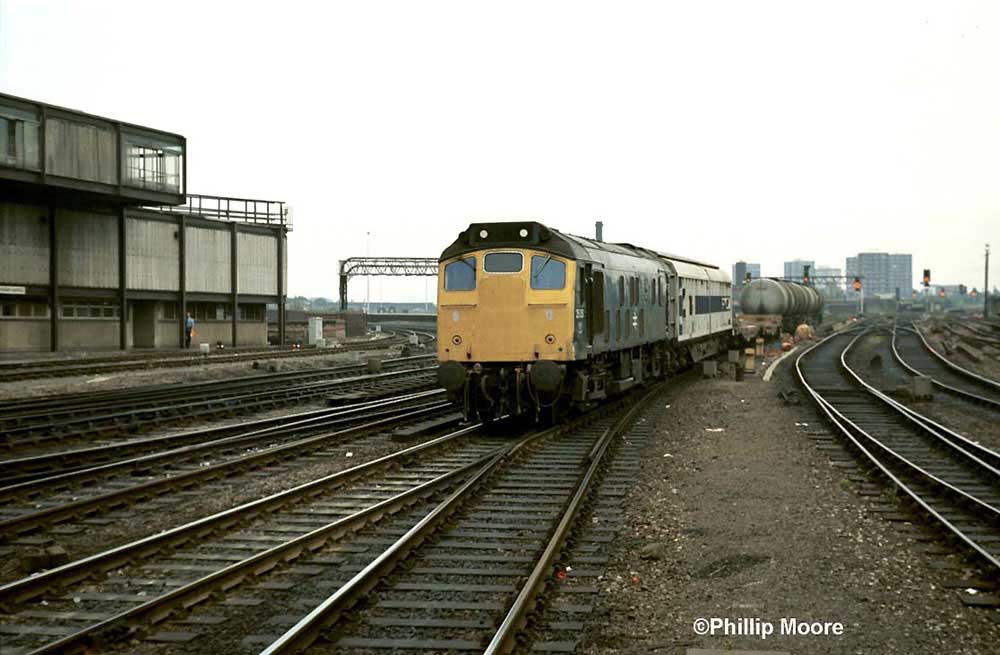 Photograph courtesy Phillip Moore
Westbound at Manchester Victoria, August 14th 1984.
25051 was noted at Severn Tunnel Junction on an overcast, damp October 8th.
25051 was stabled at Nuneaton on December 15th.
1985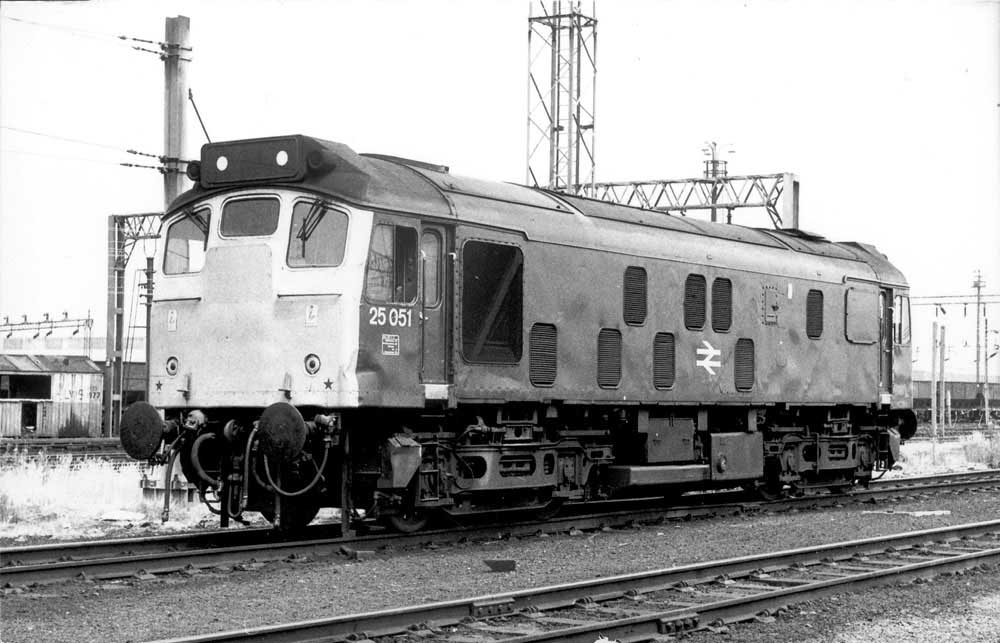 Photograph collection of webmaster
25051 at Speke Junction, date unknown.
On a wintry January 13th an engineering possession at Woodsmoor saw the Longsight overhead electrification train in the hands of 25051.
If 1985 was going to be the last year in service for 25051 it certainly covered a variety of routes on its final passengers workings. The first known passenger working of the year was on February 16th when it worked the 14.40 Euston - Blackpool forward from Preston.
On March 9th 25051 was stabled at Stonebridge Park. On March 21st 25064 & 25051 were noted at Aberystwyth fuel depot waiting to return the empty tanks to Stanlow.
On April 26th 25051 & 25109 were noted with a train at the Dalston (Cumbria) oil terminal.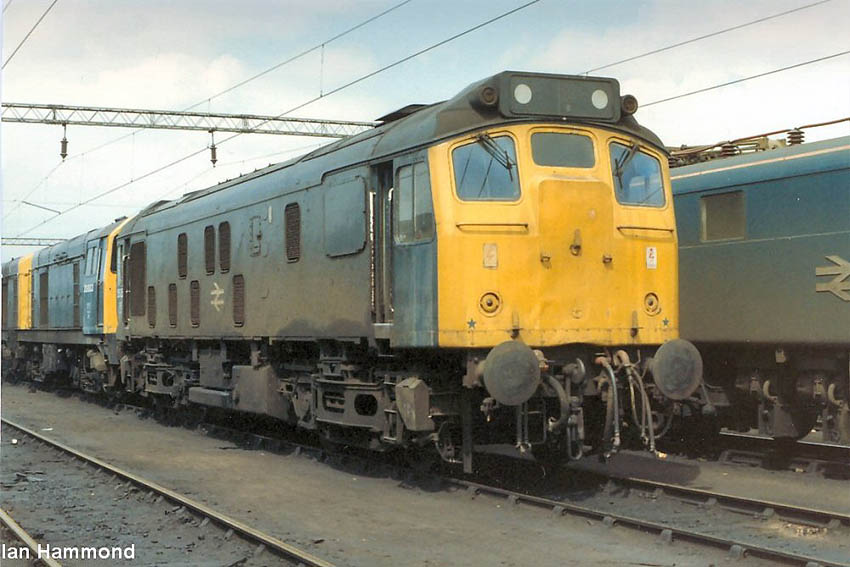 A work stained 25051 keeps company with a variety of locomotives including 20002 at Bescot Holding sidings on May 6th 1985.
With the start of the new timetable on May 18th the locomotive hauled services on the Shrewsbury – Aberystwyth line were taken over by Class 37s with 37251 in charge of the 07.53 to Aberystwyth, 37124 & 37186 on the 07.35 ex Euston and 37235 on the 09.35 ex Euston. Stabled at Shrewsbury this day viewing these changes were 25051 & 25276, later used to take the 13.40 Aberystwyth – Shrewsbury on to Wolverhampton. The Class 37s were provided by Severn Tunnel Junction, reaching Shrewsbury on a variety of Cardiff – Crewe workings.
25051 was noted at Sandbach with two chlorine tanks (and barrier wagons) for Middlewich on May 24th. 25200 & 25051 were in charge of the 6H33 12.08 Carterhouse Junction - Earles Sidings cement empties on May 29th.
A diesel multiple unit failure on June 5th found 25051 and coaching stock covering the 17.40 Liverpool - Newton-le-Willows and the 18.20 return. On June 10th 25051 was noted passing Helsby light engine towards Ellesmere Port.
25051 was stabled at Nuneaton on June 15th.
25051 was noted southbound at Hereford southbound welded rail train on June 25th.
On June 28th 25051 was noted light engine at Foxfield (Cumbria).
During July 25051 was transferred to Crewe, this would be its last transfer.
25051 was noted southbound passing Springs Branch shed with six PCA wagons on July 3rd. The middle of July was a busy time for 25051, on 11th it worked the 15.45 Carlisle - Newcastle due to a diesel multiple unit failure, four days later (15th) it worked the 07.25 Barrow - Euston as far as Lancaster, doubleheaded with 47447. The next day (16th) it worked the 16.45 Euston - Blackpool forward from Preston. And finally on 19th when 47319 failed at Chester on the 08.20 Newcastle - Llandudno Town 25051 was on had to take the train onto its destination.
On August 30th 25051 worked the 16.05 Leeds - Carlisle.
25051 was withdrawn on September 18th 1985.
Distinguishing Features
No.1 cab headcode panel: smaller than normal white dots: October 1983 - June 1985 (and possibly until withdrawn).
No.1 cab driver's side: large dent/scrape on cab panel, commencing at corner: January 1982 until withdrawn.
flk 0522 (1)
Page added June 24th 2007.
Last updated May 6th 2022.
Back to 25050
Forward to 25052