D5218, 5218, 25068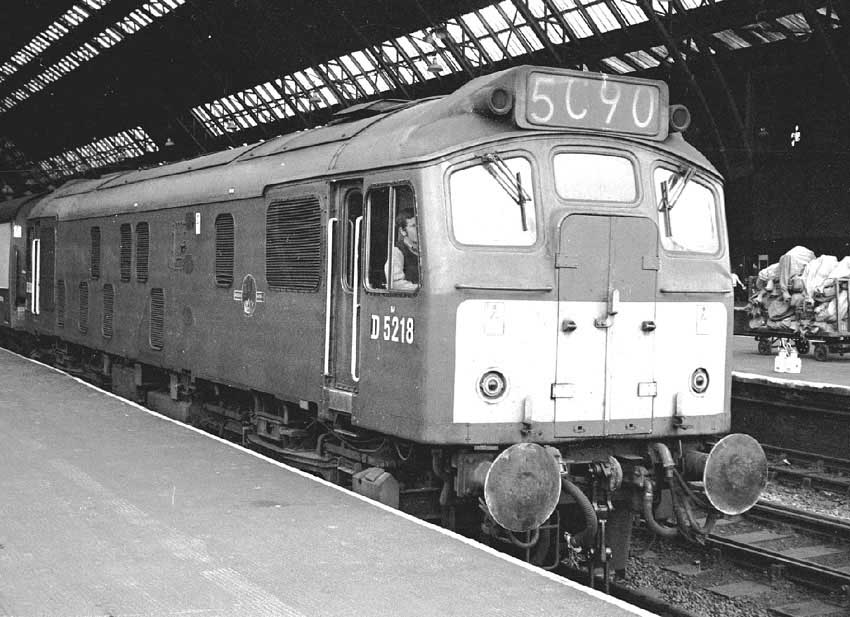 Photograph courtesy Tony Sayer
D5218, St Pancras October 3rd 1970, blue livery with small yellow ends with the 'Lion & Wheel' emblem. D5218 most likely recieved this odd combination when it was repaired by Brush, Loughborough during 1966/67.
The sixteen year eleven month career of D5218/25068 was split between allocations to London area and Scottish Region depots.
Built: BR Derby Locomotive Works.
Boiler equipped.
Royal Train locomotive.
Center lampbracket & other fittings removed.
The only Class 25 to carry blue livery with the Lion & Wheel emblem?
Time between last Classified repair and withdrawal: 54 months.
Time between withdrawal and scrapping: 52 months.
Allocations
D5218 was new to Cricklewood (14A) on August 3rd 1963. Further transfers were:
September 1963 to to Cricklewood West (14B).
January 1965 to London Division (D14).
June 1968 to London Division (D01).
May 1973 to Willesden.
June 1975 to Cricklewood.
May 1976 to Scottish Region.
June 1976 to Eastfield.
May 1977 to Inverness.
June 1979 to Eastfield.
Withdrawn July 14th 1980.
Renumbered March 8th 1974.
25068 was the 35th Class 25 withdrawn, one of four retired during July 1980.
After withdrawal 25068 was moved to Glasgow Works on October 4th 1980, being broken up there by the first week of October 1981. At least one of the cabs lingered for a while.
Works Visits
Works visits (records incomplete).
Noted Derby Works October 1964.
Noted Derby Works January 1965.
Noted Derby Works August 1967.
Noted Derby Works September 1971.
Noted Derby Works August 1973.
Noted Glasgow Works September 1976 (full repaint & gangway doors sheeted over).
Highlights
1964
On April 5th D5218 & D5221 were noted at St Pancras.
On Sunday September 13th D5183, D5218, D5231 & D5234 were stabled at Holbeck.
Stabled at Cricklewood on Sunday November 15th were D5194, D5204, D5206, D5211, D5213, D5214, D5217, D5218 & D5219.
1965
Condition June: green livery with small yellow warning panels, curved upper corners, bottom of warning panel covers frame level stripe, straight sided sandboxes, three rung bogie mounted footsteps, engine exhaust located above engine room.
During the third week of June (17th - 24th exact date uncertain) D5218 was noted at Brighton with passenger stock.
1966
February 9th & 10th brought chaos and destruction to the Midland lines. The first event involved the 08:07 Harpenden - St Pancras eight car diesel multiple unit which caught fire between Radlett & St Albans. Similar to previous events a drive shaft punctured a fuel tank, over thirty people were injured, many having to jump hurriedly from the blazing vehicle. The next day, a few miles away at Flitwick twelve loaded wagons hauled by D5218 ran into a stationary D5383 immediately north of the station. Most of the train was derailed, necessitating the attendance of D7503 and the Cricklewood crane. The lines were cleared by midnight, hindered additionally by a snowfall. The damaged locomotives were removed to Bedford, prior to heading north to Derby Works.
Because of the heavy workload at Derby Locomotive Works, several Type 2s were sent to the Brush Works, Loughborough for repair, including collision damaged D5021, D5218 & D5283.
With regard to the June 10th directive to begin painting locomotives in blue & yellow livery on August 2nd Brush wrote to the CM&EE BR at Derby with concern over three points: would the polyurethane paint be used on those locomotives being refurbished at Loughborough; would it be used on new locomotives from the current order and would BR take their stocks of green paint off them if the change to blue livery was to include those locomotives at Brush? The CM&EE BR responded in the affirmative for each question. At the end of 1966 Brush held three collision damaged Type 2s: D5021, D5218 & D5283, instructions had been received to repaint them green, this took place for D5021 & D5218 but on January 5th 1967 instructions were received from A.E.Robson, Chief Engineer (T&RS) to repaint all three in the new blue polyurethane livery. However D5021 & D5218 were outshopped with old-style small yellow warning panels and both received the old style crest!
1967
An early passenger working for D5218 took place with D5222 on June 14th noted with a day excursion from Bedford to Southampton Docks.
On December 7th & 21st D5218 worked the 07.54 Harpenden - Moorgate.
1968
On February 9th D5218 worked the 07.54 Harpenden – Moorgate.
On March 5th D5218 worked the 07.54 Harpenden – Moorgate.
On March 25th D5218 worked the 17.45 St Pancras - St Albans.
A Narborough - Witham stone train was noted on May 2nd behind D5218 & D7500.
1969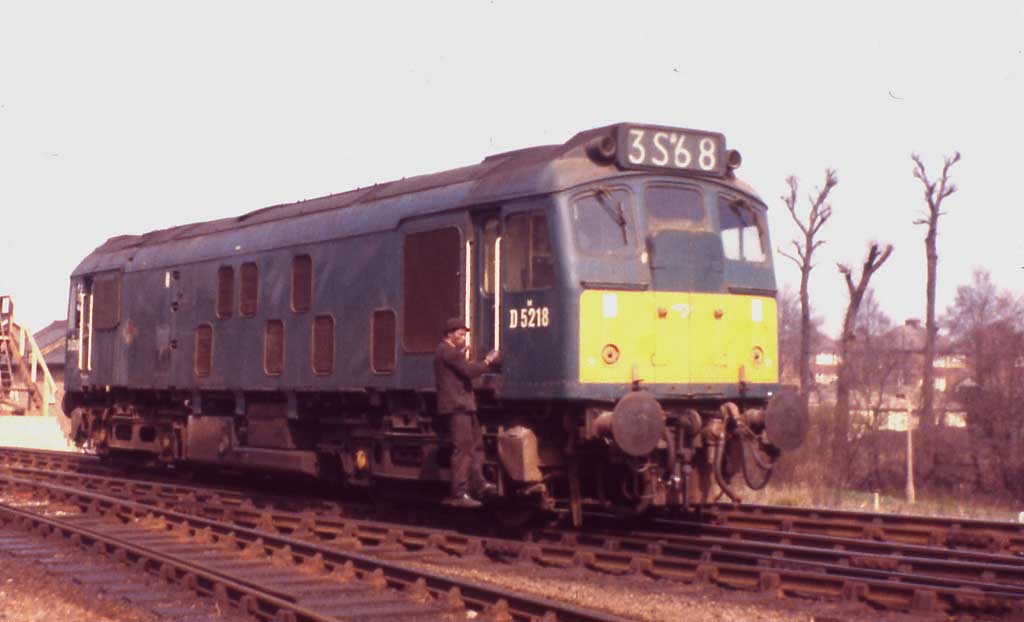 Photograph courtesy Grahame Wareham
D5218, Cricklewood April 1969.
On October 19th 5208 worked the 12.15 Glasgow - Liverpool forward from Preston, engineering work between Ormskirk & Aintree saw the service diverted to Liverpool Lime Street via Parkside No.2, Golbourne Junction and Wigan NW.
1970
On the evening of June 14th 5218 was stabled at Willesden.
1972
On May 10th 5218 & 5221 were noted on March shed, both in immaculate condition.
On July 14th 5221 & 5218 returned the empty stock of the Royal Train from Donnington (Salop) to Wolverton following a visit by the Duke of Edinburgh to Telford.
On the afternoon of October 27th 5218 was stabled at Willesden.
1973
January 13th found 5218 & 7524 in use between Windsor and Wembley on an excursion from Huddersfield. The journey set out behind Class 40 No. 269, with the intention to use E3136 from Stockport. As the electric was unable to heat the train the Class 40 ran through to Mitre Bridge Junction, where 6516 took over for the leg to Windsor. As this machine also could not heat the train the Class 25's were found for the first part of the return leg. More main line running took place on August 24th with the 15.45 Derby - St. Pancras worked by Class 45 No. 11 and 5218.
Royal Train duty befell 5218 & 5219 on February 14-16th. The Duke of Edinburgh journeyed from Euston, at 23.00 to Sheffield via Northampton & Leicester. Twenty four hours later he returned to Lamport, near Market Harborough, with the five coach train stabling overnight, before leaving at 7am for Leatherhead via the West London line, Clapham Junction, Selhurst, West Croydon & Sutton. On return the Class 25's ran through to Dorking, there running round heading back to Wolverton via Sutton, Mitcham Junction & Clapham Junction Overnight heating was provided by a heater van delivered by 5221.
1974
On May 6th 25068 & 25069 were used to take the Queen, on the Royal Train from Scunthorpe to Lowton. A signal failure at South Kirby caused minor delays to the train.
A mystery excursion on April 6th from Euston to Norwich and return (to Liverpool Street?) was hauled throughout by 25068 & 25069, going out via Northampton & Peterborough), the return route is uncertain. The same pair of Class 25's were still together on May 11th when they worked the 12.50 Nottingham - St. Pancras.
On the afternoon of August 13th 25068 was shunting at Burton on Trent.
On August 18th 25247 & 25068 were noted at York with coaching stock.
On November 27th 25068 & 25069 were noted in the East Midlands area with a Royal Train (further details needed). On November 29th 25068 & 25069 (assumed) the four coach Royal Train was worked from Whitchurch to Liverpool conveying the Duke of Edinburgh. The empty stock was then taken to Wolverton.
1975
Condition June: blue/yellow livery, gangway doors present, no BR emblem visible ob BIS side.
1976
25043 & 25068 were noted light engines at Carlisle station on March 28th.
On April 17th 25068 was on the parcels side at Euston.
An engineer's special hauled by 25068 & 25072 ran on June 3rd from Walsall to Willesden via Tyseley & Banbury, included in the formation was a track recording coach.
There were no recorded passenger workings during 1975 or 1976, during May 1976 25068 was transferred to the Scottish Region.
On June 26th 25068 was noted at Shrewsbury with a short parcels train.
1977
With a working train heating boiler 25068 was diagrammed for many internal passenger workings, on February 2nd, 3rd & 4th 25068 was noted on Glasgow - Fort William workings.
25068 was noted on Ayr depot on March 13th and Eastfield depot on March 19th.
25068 was noted at Motherwell depot on April 30th.
On July 23rd 25068 worked the 15.38 Dundee - Glasgow Queen Street.
Workings from Edinburgh included the 17.10 to Berwick on August 30th and with 25238 on the 08.45 Edinburgh - Aberdeen and 14.35 return on September 3rd. Four day later (7th) 25068 & 26028 worked the 13.35 Glasgow Queen Street - Aberdeen and by itself on October 14th the 14.44 Glasgow Queen Street - Dundee.
25068 was stabled at Haymarket on September 24th.
On October 6th an SRPS Falkirk - Keighley special became the first service in two years to traverse the link between BR & the KWVR, 25068 brought the special in, handing over to GNR 990 and Standard 75078.
1978
1978 brought a steady diet of passenger workings, on June 1st the 08.15 Inverness - Glasgow Queen Street was worked by 25068, 25007 & 47270, presumably from the outset there were issues with the Class 47? A week later on June 8th 25068 worked the 05.55 Stirling - Edinburgh.
25041, 25063, 25068 were noted in the late afternoon on Inverness shed on August 9th. During the early morning of August 11th 25068 was noted at Perth stabling point.
The last week of August 1978 was busy for 25068, being active on the Glasgow - Dundee route on the 22nd, 23rd, 24th, 25th & 26th. On 28th 25068 worked the 11.03 Perth - Edinburgh. The final passenger working for 1978 took place on December 9th with 25227 on the 20.10 Perth - Edinburgh, being the portion off the 16.40 Inverness - Glasgow.
1979
An adventurous weekend trip from Ealing Broadway to Aberdeen/Inverness March 16th – 18th proved too adventurous as it was curtailed at Aberdeen running over seven hours late, mostly caused by bad weather. The outward leg was taken over at Mossend by 27016 & 25079 to Aberdeen, the return from here featured 25026 & 25068. This pair were also noted on the 12.35 Aberdeen – Edinburgh on March 27th.
The return leg of a charter was worked by 25068 & 25026 between Aberdeen and Mossend Yard on March 17th. The same pair worked the 12.35 Aberdeen - Edinburgh on March 27th.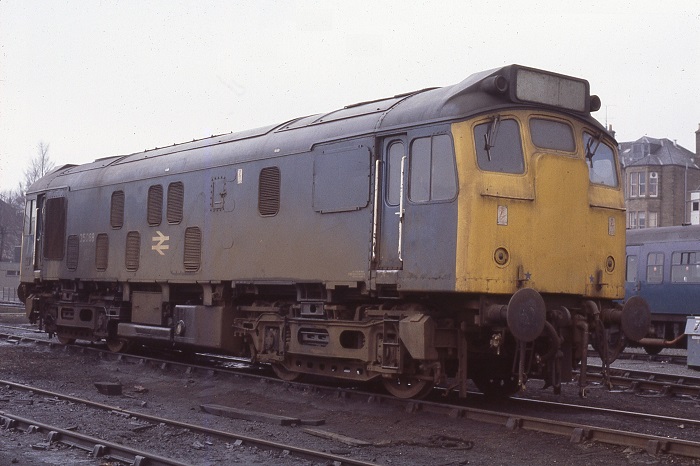 25068 stabled at Dundee on April 7th 1979.
On June 2nd 25068 worked the five coach 14.44 Glasgow Queen Street - Dundee, with a maximum speed of 94mph attained between Auchterarder and Hilton Junction. 40077 assisted the train up Cowlairs bank. 25068 would later work the 17.33 Dundee - Glasgow Queen Street. On the morning of June 4th 25068 was noted on Dundee depot.
25068 returned to Mossend on June 15th with 25050 on the 22.20 Perth - Euston.
On July 23rd 25068 was noted northbound at Perth with a freight. 25068 was south of the border on July 28th working the 08.40 Carlisle - Glasgow Central and was on the same route on August 29th with the 13.40 Glasgow Central - Carlisle.
On October 5th 25068 worked the Arbroath trip for the Metal Box Company siding (both headcode panels have light gray background - no domino dots).
25068 was noted stabled at Darlington depot from at least November 17th to 23rd. On November 28th a late afternoon Tyne - Millerhill freight was worked by 25068 & 25265.
1980
The final year in service for 25068 was 1980, on March 29th 25068 worked the 18.44 Glasgow Queen Street - Dundee and on June 7th the 15.39 Dundee - Glasgow Queen Street.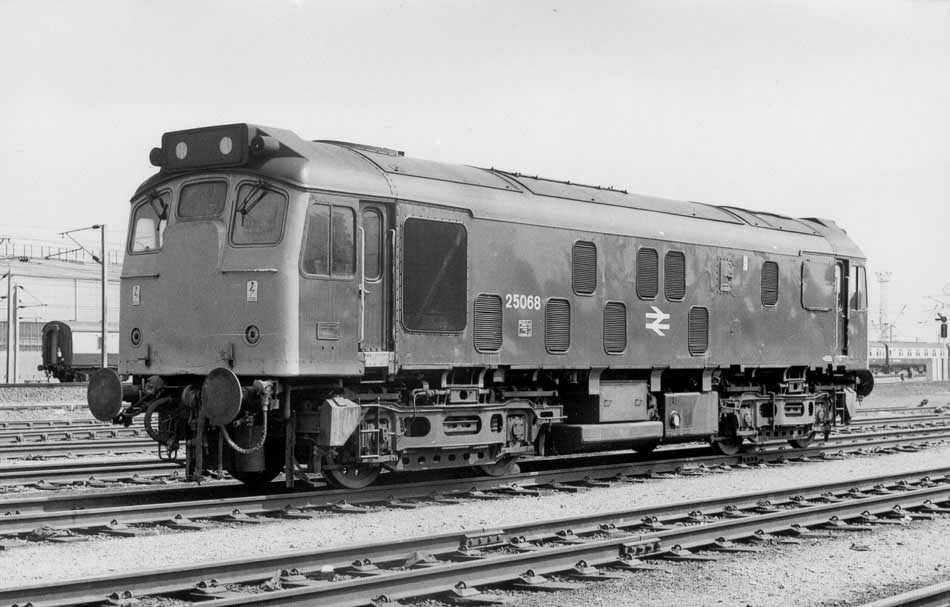 Photograph collection of webmaster
25068 ended its day on the Scottish Region, but for many, many years it was a permanent fixture on Cricklewood & Willesden area duties. In contrast, for just over two years it was allocated to the Highland capital of Inverness. Seen here at Polmadie, date unknown.
25068 was withdrawn on July 14th 1980.
Distinguishing Features
No.1 & 2 cab heacode: blank solid pale grey/white display: July 1979 until withdrawn. (No.2 cab headcode had dominoes September 1977.)
Not all known passenger workings are recorded on this page.
flk 0721
33/3357
Page added June 23rd 2013.
Last updated September 11th 2022.
Back to 25067
Forward to 25069