D5221, 5221, 25071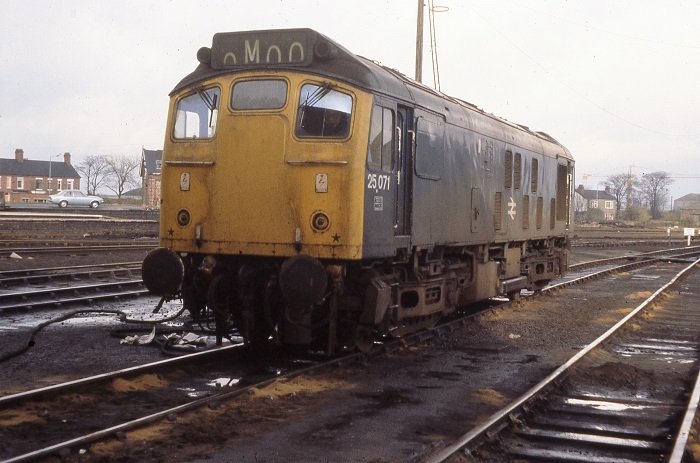 25071 at Northwich on November 10th 1979.
The seventeen year ten month career of D5221/25071 was spent allocated to a small number of London area London Midland Region depots.
Built: BR Derby Locomotive Works.
Boiler equipped.
???Royal Train cabling modification (cab front circular access point).
Time between last Classified repair and withdrawal: ?? months.
Time between withdrawal & scrapping: 19 months.
Allocations
D5221 was new to Cricklewood East (14A) on August 31st 1963. Further transfers were:
September 1963 to Cricklewood West (14B).
January 1965 to London Division (D14).
June 1968 to London Division (D01).
May 1973 to Willesden.
June 1975 to Cricklewood.
Withdrawn June 21st 1981.
Renumbered April 9th 1974.
25071 was the 107th Class 25 to be withdrawn.
After withdrawal 25071 was stored at Crewe until moved to Gloucester during December 1981 and to Swindon Works on January 6th 1982. It was broken up at Swindon Works by the end of January 1983.
Works Visits
Works visits (records incomplete).
Noted Derby Works September 1964.
Noted Crewe Works April 1966.
Noted Derby Works February 1971.
Noted Derby Works February & March 1976 (Classified).
Highlights
1963
D5221 was constructed at Derby during the summer of 1963, being delivered to Cricklewood East (14A) during September and becoming part of the large fleet of diesel locomotives & multiple units used to replace steam northwards from St Pancras. These were part of the last of the first batch of Class 25s (D5186 - D5222) to be constructed at Derby, the following ten machines (D5223 - 5232) which had been part of that same Derby order were transferred to Darlington whilst Derby tackled the redesign issues as later revealed in D5233.
D5221 made its test run to Corby on August 27th, with D5220 (on its second test run).
Condition new: green livery with small yellow warning panels, curved upper corners, bottom of warning panel covers frame level stripe, no blanking plates, hand/footholds present, straight sided sandboxes, three-rung bogie mounted footsteps.
1964
D5221 was noted under repair at Derby Works during September.
1966
During April Crewe Works began to receive Type 2s for heavy repair, included in those received was D5221.
1970
November: lined green, yellow ends, red buffer beams.
1971
5221 visited Derby Works during February.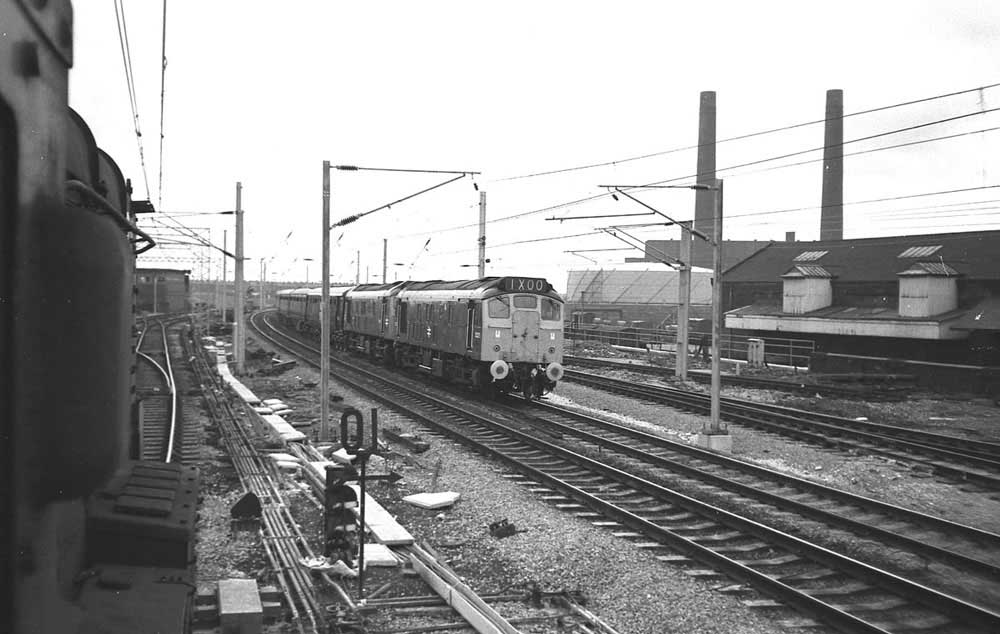 Photograph courtesy Tom Sutch.
5221 leads another Class 25 northwards through Wigan, date unknown with the Royal Train empty stock.
1972
On May 10th 5218 & 5221 were noted on March shed, both in immaculate condition.
Because of the proximity of Wolverton Works, which housed the Royal Train when not in use, the boiler equipped Class 25's at Willesden and Cricklewood were favourites for handling the Royal Train workings, either in the forwarding moves or when members of the Royal Family were actually on board. On July 14th the Duke of Edinburgh visited Telford, 5221 & 5218 were noted returning the empty stock from Donnington to Wolverton. And on November 16th 5221 & 5222 conveyed a five coach Royal Train with Princess Anne aboard from Euston to Hope. The empty coaching stock train returned to Wolverton via the Midland to Market Harborough.
1973
Royal Train duty befell 5218 & 5219 on February 14-16th. The Duke of Edinburgh journeyed from Euston, at 23.00 to Sheffield via Northampton & Leicester. Twenty four hours later he returned to Lamport, near Market Harborough, with the five coach train stabling overnight, before leaving at 7am for Leatherhead via the West London line, Clapham Junction, Selhurst, West Croydon & Sutton. On return the Class 25's ran through to Dorking, there running round and heading back to Wolverton via Sutton, Mitcham Jct & Clapham Jct. Overnight heating was provided by a heater van delivered by 5221.
On May 19th a Hampstead Heath - Llandudno Town day excursion involved the use of 5221 on the short leg to Willesden.
At about 11.30am on September 28th 5221 was noted at Rugby on down empties.
1974
The Great Briton Limited (WRC) railtour from Penzance to Crewe with 47347 utilised the Lickey Bankers 25071 & 25125 up the famed incline.
Hymek D7100 and 25071 were noted passing Old Oak Common light engines on June 1st.
1975
During August 25071 was transferred to Cricklewood, this placed 25068 - 25072 together at Cricklewood.
1976
25071 was at Derby Works during February and March. Most likely during this repair the center brackets and other fittings were removed from both cabfronts.
The Royal Train was worked by 31257 from Victoria to Tattenham Corner on June 2nd for Derby Day, 25071 returned the Royal Train vehicles to the LMR.
On July 18th 25071 & 25116 worked the 21.20 Kensington Olympia - Perth motorail as far as Willesden.
1977
A roundtrip Leicester - Skegness day excursion on April 11th was worked by 25071 & 25236.
Somewhat away from its regular haunts was 25071 on July 6th, working a Chipman's weedkilling train from Watford to Horsham via Three Bridges.
1978
On Friday May 26th 25071 worked the 09.55 Willesden to Norwood and return light engine in the path of the 12.10 Norwood to Willesden.
On Monday June 5th 25071 worked the 09.55 Willesden to Norwood and returned with the 12.10 Norwood to Willesden. Also on this day the 09.30 Temple Mills to Norwood and 13.30 return were worked by 40080.
25071 & 25051 were noted at Euston station on June 3rd.
On Wednesday September 27th 25071 worked light engine in the path of the 04.45 Norwood to Willesden.
Late-morning on October 28th 25071 & 25177 were noted at Bedford stabling point.
On Tuesday December 5th 25071 worked the 09.55 Willesden to Norwood and the return 12.00 Norwood to Willesden.
1979
On February 10th the DAA organised the 'Nottinghamshire Collier', starting out at St Pancras with 25302 & 25071, taking the Midland mainline to Knighton South Junction, Coalville, Burton on Trent, Trent & Nottingham. Here 20030 & 20043 took over for a round trip to Annesley Colliery, on their return 25071 & 25074 were waiting to head north to traverse a number of lines in the Chesterfield, Sheffield & Shirebrook area. Joining the Erewash Valley mainline at Pye Bridge the charter headed south to Bedford before taking the former LNWR route via the Fenny Stratford flyover to Claydon LNE junction, to then head south through Aylesbury and Amersham to Marylebone.
On Tuesday March 6th 25071 worked the 12.25 Willesden to Norwood and the return 14.10 Norwood - Willesden.
25071 was noted passing Cricklewood on parcels duty on June 16th.
25071 was at Cricklewood depot on September 20th receiving attention.
On October 21st 25071 and the Springs Branch crane made a visit to Kirkdale depot to assist in the rerailing of derailed M64432 from set 507028.
The thirteen coach Deltic Discoverer railtour on October 27th was worked roundtrip Liverpool - Leeds by 25071 & 25125. Although the timetabling was somewhat loose the Class 25s despite losing time at certain points put in some good work and on the return leg reached Liverpool slightly ahead of schedule. The boiler on 25071 was non-operational.
On the morning of November 3rd 25071 was noted at Wallerscote sidings with hoppers. On November 10th 25071 was stabled at Northwich. On November 19th 25071 was noted passing Helsby with a freight train.
1980
The early morning 05.43 Grange – Shotwick freight on January 7th, in charge of 24081 got into trouble at Greenbank, with a main generator fault disabling the locomotive. Rescue came in the shape of 25071 as far as Oakleigh, where 25215 took the train forward with 25071 taking the errant Class 24 to Crewe. 25071 was at St Pancras on January 19th.
On May 30th the 12.08 Birmingham New Street - Glasgow Central failed at Lancaster, 25071 took the train forward to Carlisle.
25071 was noted arriving at Norwich on June 11th with a passenger service from Birmingham. 25071 was noted westbound through Stonehouse with a train of scrap metal (21 wagons plus brake van) headed towards Gloucester on the afternoon of June 17th. On June 21st 25071 & 25051 worked the 08.02 Walsall - Yarmouth to Norwich, returning from there with the 14.15 Yarmouth - Derby. 25071 was the Manchester Victoria pilot on June 26th.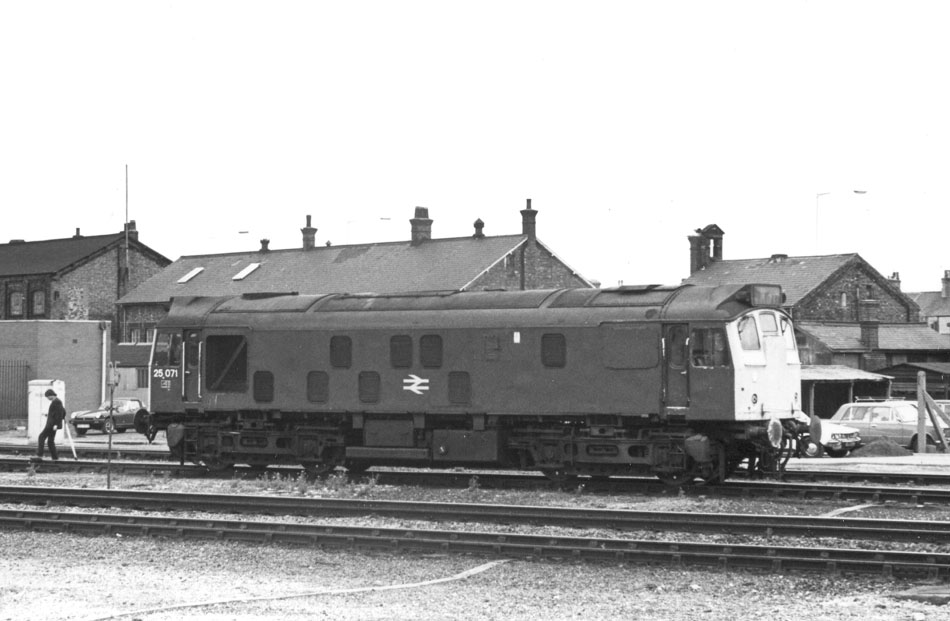 Photograph courtesy J. Davenport
July 4th 1980 finds 25071 at Peterborough.
25071 was quite active on passenger workings during August. On August 8th the 13.34 Birmingham New Street - York and the 17.26 York - Birmingham New Street were worked by 25071 & 25094. The next day (9th) the same pair worked the 08.02 Walsall - Yarmouth to Norwich returning from there with the 14.15 Yarmouth - Derby. From August 18th to 21st 25071 & 25264 completed four round trips to Skegness, from Leicester (18th, 19th), Derby (20th) and Burton (21st).
On the morning of August 24th two trains of spoil were noted between Sileby & Syston with 25071 & 25197 and 25254 & 25320 whilst 25270 and brake van were noted at Syston South Junction.
On the early afternoon of September 29th 25071, 25179, 25243 & 25313 were stabled at Northampton.
1981
On May 4th the Vale of Rheidol held an open house at Aberystwyth, all three steam locomotives being in steam. 25042 & 25220 arrived on a special from Longbridge and 25071 & 25080 throughout from Manchester.
A short working on February 22nd saw 25071 assist the 21.50 Glasgow Central - Euston forward from Stonebridge Park due to the power being off for engineering work.
The 15.40 Manchester Victoria - Bangor was worked by 25071 on April 25th. Two weeks later on May 4th a roundtrip Manchester Piccadilly - Aberystwyth day excursion was worked by 25071 with 25080 (outward leg) & 25327 (return leg).
On May 30th a diesel multiple unit failure on the 14.23 Lancaster - Carlisle saw 25071 assist throughout.
June was a busy month for 25071, it was also the month in which it was withdrawn. The majority of the workings were over the Carlisle - Glasgow route, being noted on June 3rd, 6th and 8th - 12th. Two days later (14th) 25071 & 25177 assisted 47353 between Banbury & Shrewsbury after the Class 47 failed on the return leg of a day excursion from Weymouth.
A week after its last recorded passenger working, 25071 was withdrawn from Cricklewood on June 21st 1981.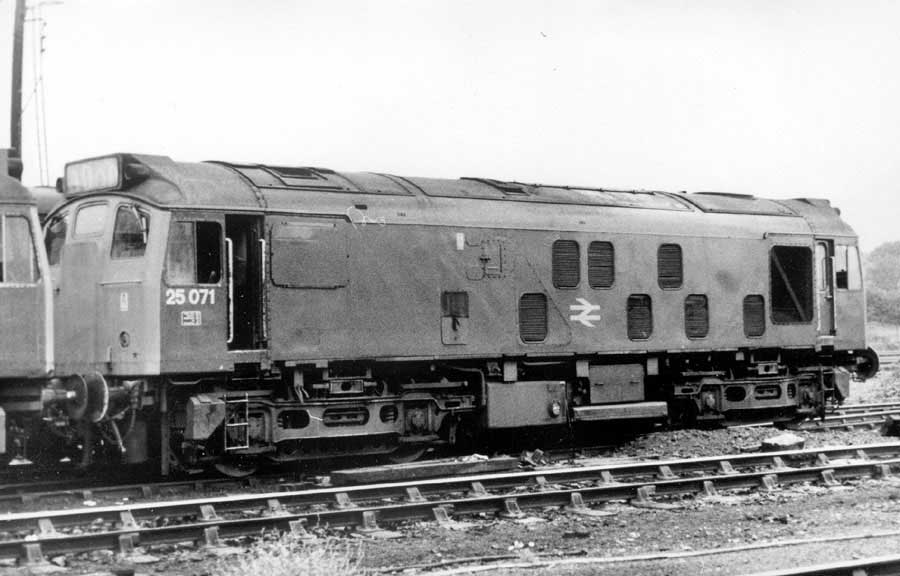 Photograph collection of webmaster
25071, date & location unknown.
36/3855
flk 0117 (1)
Page created January 4th 2004.
Last updated April 17th 2021.
Back to 25070
Forward to 25072