D5222, 5222, 25072
One of Cricklewood's Finest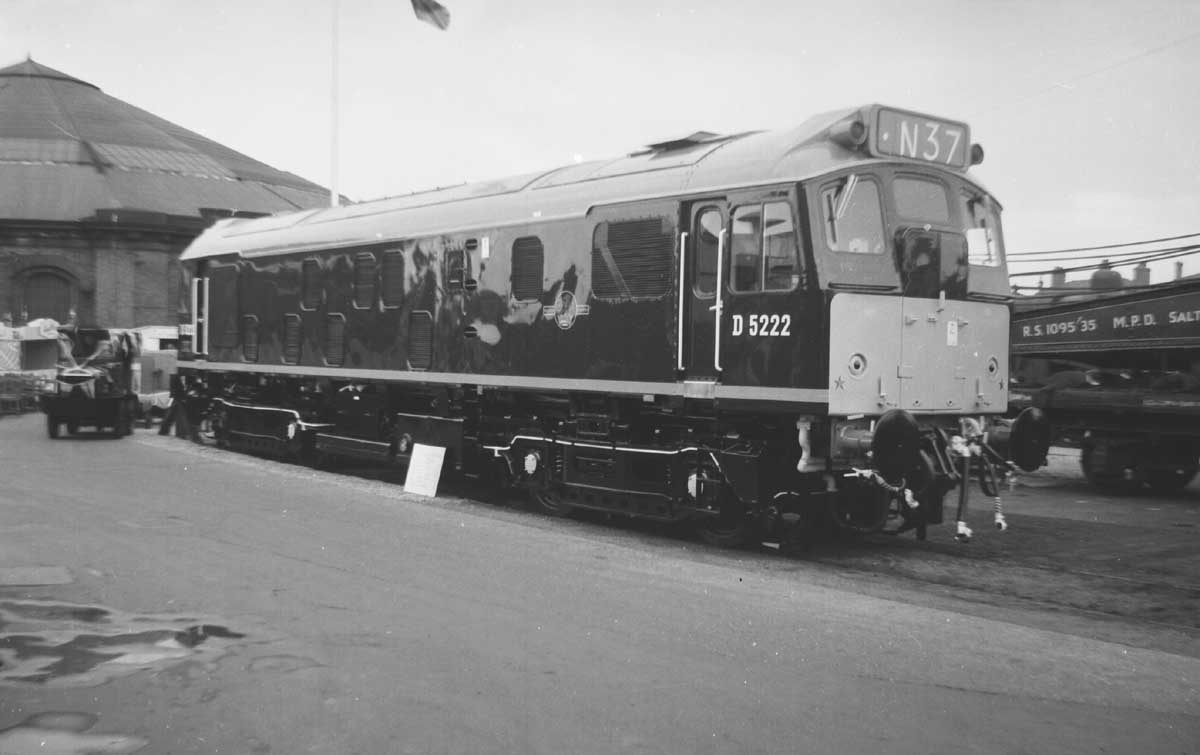 Photograph collection of webmaster.
Brand new D5222 on display at Derby Works Open Day on August 31st 1963.
The twenty two year two month career of D5222/25072 was spent allocated to London Midland Region & Scottish Region depots.
Built: BR Derby Locomotive Works.
Boiler equipped.
Dual brake equipped.
Royal Train cabling modification (cab front access panel).
Center lampbracket & other fittings removed.
Time between last Classified repair and withdrawal: 101 months.
Preserved.
Allocations
D5222 was new to Cricklewood East (14A) on September 21st 1963. Further transfers were:
January 1965 to London Division (D14).
September 1965 to London Midland Midland Division (LMML).
December 1965 to Leicester Division (D15).
January 1967 to London Division (D14).
June 1968 to London Division (D01).
May 1973 to Cricklewood.
August 1974 to Willesden.
June 1975 to Cricklewood.
October 1976 to Eastfield.
January 1980 to Haymarket.
March 1982 to Eastfield.
October 1982 to Crewe.
Withdrawn December 5th 1985.
Renumbered March 21st 1974.
25072 was the 261st Class 25 to be withdrawn, one of ten retired during December 1985.
After withdrawal 25072 was stored at Toton until moved to Vic Berry, Leicester on December 2nd 1987 for storage pending sale into preservation. 25072 was moved on March 17th 1988 by road to the Swindon & Cricklade Railway, Blunsden.
Works Visits
Works visits (records incomplete):
Noted Crewe Works June 1966.
Noted Derby Works date August 1974, accident damaged droopy No.1 cab.
Noted Glasgow Works April - June 1977 (Classified repair).
Highlights
1963
D5222 was constructed at Derby during the summer of 1963, being delivered to Cricklewood (14A) during late September and becoming part of the large fleet of diesel locomotives & multiple units being used to replace steam northwards from St Pancras. It the last of the first batch of Class 25s (D5186 - D5222) to be constructed at Derby, the following ten machines (D5223 - D5232) which had been part of that same Derby order were transferred to Darlington whilst Derby tackled the redesign issues as later revealed in D5233. After D5222 Derby built ten more Type 2s (D7568 - D7577) with the older body style prior to the change to that reflected in D5233.
D5222 was one of those locomotives on display at the annual Open Day at Derby Works at the end of August. Shortly after this on September 4th 1963 D5222 went out on its test run to Corby.
1964
Stabled at Cricklewood on Sunday April 5th were D5085, D5086, D5089, D5189, D5204, D5222, D5223, D5228, D5237, D5241, D5250 & D7576.
On May 2nd the 11.50 York - Bristol Temple Meads is reported as being hauled by D5222 over part (or all?) of its journey. On May 15th D5222 worked the 09.33 Morecambe - Leeds.
1966
On March 6th D5204, D5222 & D7517 were stabled at Leicester Midland.
Crewe Works began to recieve Type 2s for heavy repair, so noted in May were D5220 & D5222. This was no doubt possible due to the availability of resources created by the diminishing steam repairs and the winding down of the Brush Type 4 construction.
On the morning of December 5th D5222 was at Harpenden with a down freight.
1967
On June 14th D5218 & D5222 were noted on a Bedford - Southampton Docks excursion.
On September 18th D5222 worked the 07.54 Harpenden – Moorgate.
On December 6th & 18th D5222 worked the 07.54 Harpenden – Moorgate.
1968
On February 26th D5222 worked the 08.12 St Albans – St Pancras.
On Friday May 5th D5222 worked the 07.54 Harpenden – Moorgate. From Monday May 8th this service began operating with diesel multiple units.
During June 5222 moved across town to Willesden and allocation to the London Division (D01). It would spend the next eight years allocated to either Willesden or Cricklewood.
1969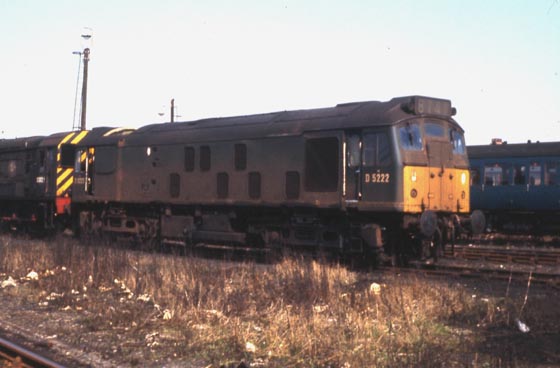 Photograph courtesy Grahame Wareham.
D5222 stands at Cricklewood during April 1969.
1970
Gatwick Airport was host to two specials from Leicester on March 11th & 12th, hauled respectively by 5219 & 5222 and 5216 & 5222, the empty coaching stock being collected from Etches Park.
November: lined green, yellow ends, 'D' prefix.
1971
On the morning of October 11th 5222 was light engine at Rugby.
1972
Because of the proximity of Wolverton Works, where the Royal Train was kept when not in use, the boiler equipped Class 25s at Willesden and Cricklewood were favourites for handling the Royal Train workings, either in the forwarding moves or when members of the Royal Family were actually on board. On November 16th 5221 & 5222 conveyed a five coach Royal Train with Princess Anne aboard from Euston to Hope. The train returned as empty coaching stock to Wolverton via the Midland to Market Harborough.
1973
5222 was noted at Derby Works during March and was transferred to Cricklewood during May.
On April 15th the 21.30 Leicester - Birmingham New Street was worked by 5222.
On August 4th 5222 & 5216 were noted working an unidentified passenger train, being seen between Beeston and Nottingham.
On October 7th the 20.43 Birmingham New Street - Peterborough was worked by 5222.
1974
During April 5222 was back at Derby for repairs.
Passengers on a Marylebone – York excursion on April 25th enjoyed the delights of being routed via Penistone and Huddersfield, the locomotives for the day were 25072 & 25036, for a total of approximately 500 passenger miles.
On May 11th a Luton - Aberystwyth Merrymaker utilised 25070 & 25072 from Luton to Shrewsbury via the Nuneaton Flyover, Bescot and Wolverhampton. At Shrewsbury the Class 25s were replaced by 24074 & 24056, with the Merrymaker now doubling as the 11.40 all stations to Aberystwyth, with four coaches on the train reserved for the regular passengers. The return working is reported as 24056 hauling four coaches to Dovey Junction where a set back was made onto nine coaches, stock from a return Leamington - Barmouth special. 24082 & 24087 were added to the train, at least as far as Machynlleth where 24087 was removed, leaving the two Type 2s to carry one eastwards with thirteen coaches.
5222 was transferred to Willesden during August whilst receiving collision repairs at Derby.
1975
During August 25068 - 25072 were transferred to Cricklewood.
On September 6th 25072 & 25165 worked the Derby - Norwich - Yarmouth - Norwich - Walsall passenger diagram.
On the morning of September 26th 25072 was stabled at York.
On November 18th the arrival of the President of Tanzania at Gatwick saw the Royal Train in use to Victoria, afterwards 25072 arrived at Stewarts Lane to return the stock to Wolverton.
1976
An engineer's special hauled by 25068 & 25072 ran on June 3rd from Walsall to Willesden via Tyseley & Banbury, included in the formation was a track recording coach.
After thirteen years allocated to a variety of LMR depots 25072 moved north to Eastfield during October 1976.
New Year's Eve found the 1G33 08.04 Perth - Edinburgh diesel multiple unit on fire at Bathgate Junction. 25072 was used to shunt the damaged vehicles into the up loop, then took the lead coach onto Edinburgh, just over one hundred minutes late. The fire completely gutted Dundee based SC51540, withdrawal coming in January. 25072 had also been recently noted on the 11.22 Dundee - Edinburgh and 13.20 return, usually a diesel multiple unit working, but now operating with a rake of Mk 1 coaches, normally hauled by a Class 25 or 26.
1977
25072 worked the 07.52 Oban - Glasgow Queen Street and the 12.55 Glasgow Queen Street - Oban on January 7th.
A major repair for 25072 was carried out at Glasgow Works from April to June, this would be its last Classified repair.
25072 was noted ex-works at Eastfield on June 20th.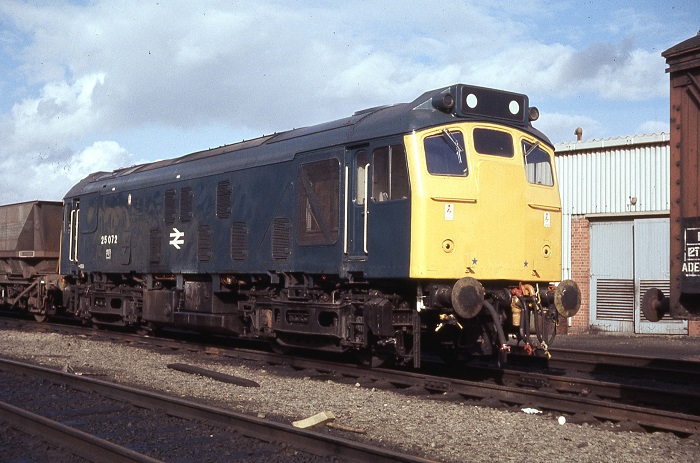 25072 stands at Eastfield depot, September 3rd 1977. The locomotive spent April through June 1977 undergoing repair at Glasgow Works. The paint job still shows some of its freshness.
1978
On May 6th the Scottish Cup Final at Hampden Park featured Glasgow Rangers & Aberdeen, with five specials scheduled. The 09.30am left behind 25072 & 25087, the 10.00 had 25227 & 25033 whilst the other three featured 40167, 40063 & 40159.
1979
On January 27th 25072 worked the 09.38 Dundee - Glasgow Queen Street.
On March 26th 25072 worked the 14.44 Glasgow Queen Street - Dundee.
On July 28th 25072 was noted at Glasgow Central with coaching stock.
On September 15th 25072 worked the 08.44 Glasgow Queen Street - Dundee, whilst the next day (16th) it worked the 22.06 Perth - Glasgow Queen Street.
An unidentified Dundee - Glasgow Queen Street service was worked by 25072 on October 27th, whilst two days later (29th) 25072 worked the 16.50 Edinburgh - Aberdeen forward from Perth (?) with 47435.
The 11.00 Glasgow Queen Street - Edinburgh was noted arriving at its destination on November 27th behind 25072 and a failed 47710.
1980
January found 25072 at Glasgow Works for an N4 repair, at the same time it was transferred to Haymarket.
On August 2nd 25072 & 25037 worked the 23.15 Kings Cross - Aberdeen forward from Edinburgh. 25072 worked the 17.43 Glasgow - Ayr and 19.22 return on August 13th and came back on the 15th with the 17.25 Glasgow Central - Stranraer.
On September 15th a Stranraer Harbour - Glasgow Central diesel multiple unit failed requiring the assistance of 25072 throughout. On September 27th the 'Grampian No.2' railtour with fifteen coaches utilised 25072 & 25244 between Edinburgh & Dufftown for a total of 261 passenger miles behind the Class 25s, the route being Edinburgh Waverley - Kirkcaldy - Leuchers - Dundee - Aberdeen - Keith - Dufftown - Keith - Inverness. If the Class 25s were intended to work over the Highland Line to Perth & Edinburgh, they never got the opportunity as Inverness provided 47234, which because it could not heat the train was replaced by 26033 & 26037 at Aviemore.
1981
On April 15th 25072 worked the 12.44 Inverness - Aberdeen.
25072 was stabled at Millerhill on May 2nd. The 15.57 Aberdeen - Carstairs postal used 25072 on May 18th, there appeared to be no consistency for this train's haulage, with Classes 26 & 40 frequently being used.
On June 24th 25072 was noted at Haymarket and then later as the east end pilot at Edinburgh Waverley.
During October 1981 25072 received an 'E' exam at Haymarket.
On October 24th 25072 worked three Edinburgh - Dundee roundtrips, beginning the day with the 08.25 Edinburgh - Dundee and ending with the 21.20 Dundee - Edinburgh, for a total of 354 passenger miles. Five days later on October 29th 25072 worked the 11.05 Perth - Edinburgh, the 12.51 Edinburgh - Perth, the 17.12 Perth - Arbroath and the 18.33 Arbroath - Dundee. On October 31st 25072 was noted on an unidentified Edinburgh - Dundee service.
On November 6th & 14th 25072 worked the 20.45 Carlisle - Perth from Mossend Yard. On November 16th the 14.44 Glasgow Queen Street - Dundee was worked by 25072. On November 21st 25072 worked the 11.05 Perth - Edinburgh and the 12.58 Edinburgh - Perth.
On a snowy December 19th 25072 was stabled at Haymarket.
On December 28th, 29th & 30th 25072 was busy working Edinburgh - Dundee services.
1982
25072 paid another visit to Derby during February, this again for an N4 repair.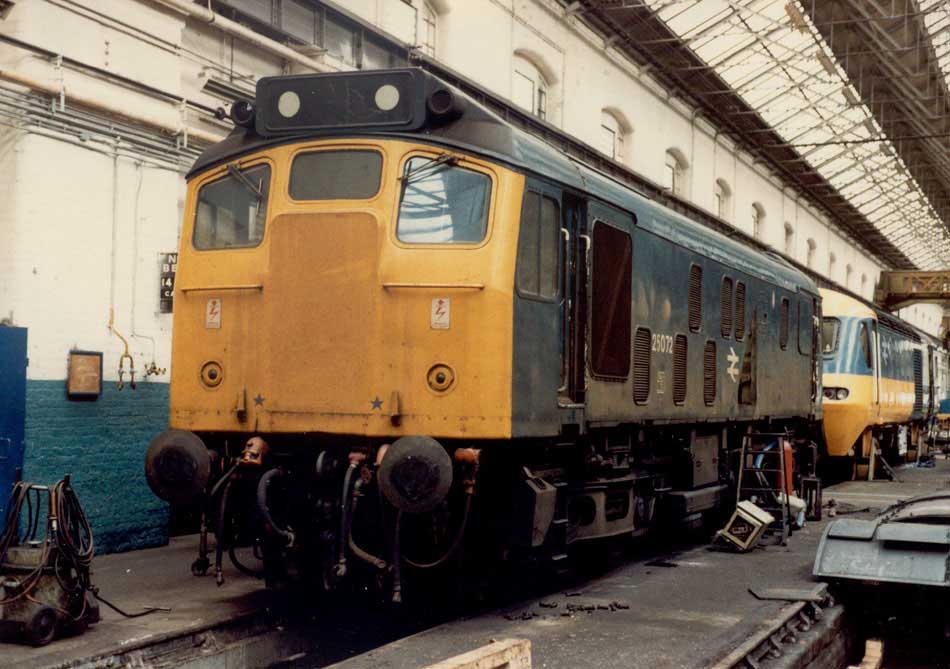 Photograph courtesy Jerry Glover.
Haymarket allocated 25072 receives attention on February 6th 1982. It had been sent down from the Scottish Region with a handful of Class 27s to receive repairs caused by extreme wintry weather north of the border. Behind the Class 25 is HST power car 43037.
Eastfield became 25072's new home during March, though from the following reports it appears everywhere but on the Scottish Region. It was used on May 2nd to work the 18.37 Birmingham - Norwich service as far as Leicester (replaced by 25051), on May 7th 25072 worked the 07.55 Newcastle - Poole between Sheffield & Birmingham New Street, whilst on 8th it handled a Five Ways - Chester church special with 25138. 25072 was stabled at London Road curve, Derby on May 15th. Several days were also spent in the South Wales area at the end of May.
On June 2nd(??) 45121 on the 12.05 Liverpool - Scarborough failed at Diggle, the following service pushed everything to Huddersfield, where 25072 assisted to Leeds, here the train was cancelled. On June 16th 25072 worked the 03.00am Severn Tunnel Junction - Aintree tinplate freight.
On July 3rd the 07.40 Euston - Aberystwyth from Shrewsbury and the 14.00 Aberystwyth - Shrewsbury were worked by 25072 & 25097. On July 31st Tinsley provided 25072 for the 08.57 Sheffield - Llandudno to Huddersfield, being the Sheffield portion of the 09.00 York - Llandudno. 25072 may have returned to Sheffield with the the 17.10 Huddersfield - Sheffield but is also reported as working the 09.00 Llandudno - York after 40086 failed at Huddersfield.
On August 2nd 25072 was noted on a passenger service between Huddersfield & Leeds (to check 25072 was ED at this time).
On September 7th 25072 was noted with a freight at Elgin.
25072 was stabled at Motherwell on September 19th.
The 08.40 Carlisle - Glasgow Central and the 16.10 Glasgow Central - Carlisle were worked by 25072 on September 18th. A week later on September 25th the 17.40 Inverness - Aberdeen was worked by 25072 & 27003.
By October 25072 had been transferred for the last time, moving south to Crewe.
1983
On July 7th 25072 was noted working the Preston Docks branch.
25072 was noted shunting 21ton hopper wagons in York Yard South on August 25th.
25072 was noted at Chester on September 29th.
25072 was stabled at Cockshute on October 29th.
25072 was noted with a train for the BSC Osier Bed Works at Heath Town Junction, Wolverhampton on November 15th.
On December 3rd a return Carlisle - Leeds football special was worked by 25072 & 25044. On December 15th 25072 worked the 21.44 Preston - Liverpool, being the portion off the 18.20 Glasgow - Manchester.
1984
25072 was the Manchester Victoria pilot on January 14th.
On May 13th 25072's first passenger working of the year occurred, jointly with 25207 it assisted a WCML working over the de-energised Northampton - Coventry section. On May 22nd 25072, 25201 & 25211 had been noted in the Rugby area working permanent way trains, in the evening they ran light to Bescot.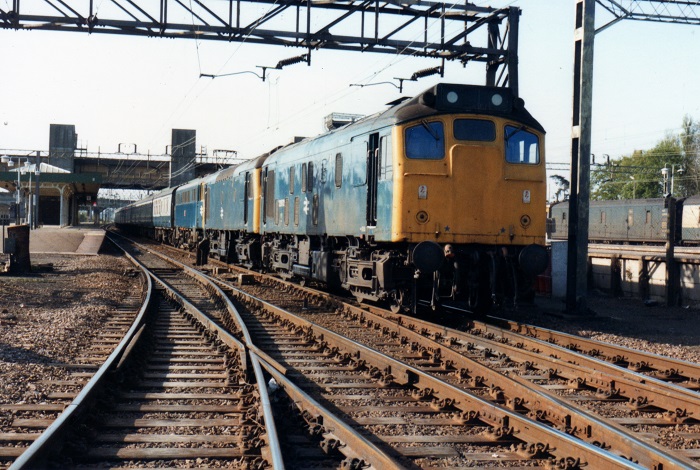 Photograph courtesy Chris Efthimiou
This is believed to be 25072 & 25207 on May 13th 1984 assisting a charter (see note above).
On August 11th 25072 was stabled at Northwich. On August 17th 25072 was noted westbound at Huddersfield with an empty coaching stock train. On August 21st 25072 was noted southbound at Winwick Junction with ICI tanks. The 16.20 Glasgow - Liverpool continued to use Class 25s for the journey south of Preston with 25072 being noted on August 24th. On August 28th 25072 was noted passing Kirkham with a lengthy train of passenger stock.
25072 & 25060 were noted at Stafford on September 8th with bogie oxygen tanks. On September 19th 25072 worked a Derby - Craigentinny empty coaching stock throughout, returning south light engine.
When October 19th's 16.35 Carlisle - Hull expired at Garsdale behind 31432 it was left to 25072 to take the train as far as Leeds.
25072 was stabled at Severn Tunnel Junction on December 2nd.
1985
On January 9th 25198 & 25072 worked the 7Z51 Stanlow to Bishopbriggs oil tanks, being noted at Helsby. 25072's first day of passenger working in 1985 proved too much for the locomotive, on January 21st after succesfully covering a Blackpool - Preston working, it expired at Euxton Junction whilst taking forward an ex-Glasgow service from Preston to Liverpool. 47016 was procured to get the train to its destination.
The failure of a Class 47 at Perth on a Glasgow - Aberdeen service on April 4th led to 25064 & 25072 working the train through to Aberdeen.
On June 6th the 17.30 Glasgow Central - Carlisle was worked by 25072. Towards the end of June 25072 worked the 07.40 Glasgow Central - Carlisle on June 26th, the next day (27th) 25072 was being used by Gateshead depot for the local Coxlodge working. However by the morning of 28th 25072 again worked the 07.40 Glasgow Central - Carlisle and the return 12.40 northbound.
On July 16th 25072 & 25209 worked a train of steel coil from Llanwern, Newport for Pengam, Cardiff to attach to the 4E70 1605 Danygraig - Stratford liner train. On July 19th 25072 worked the 6Z48 Garston - Mansfield Concentration sidings, then returning light engine to Tinsley.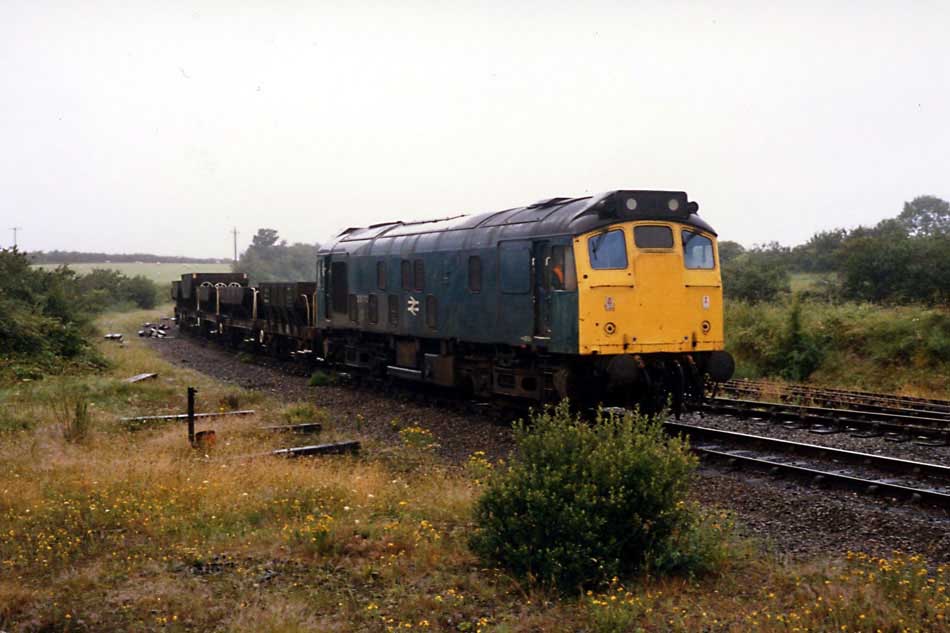 Photograph courtesy Steve Morris.
A gloriously wet July 27th 1985 finds 25072 and an engineers train passing through Gaerwen, a short distance from the junction with the main line.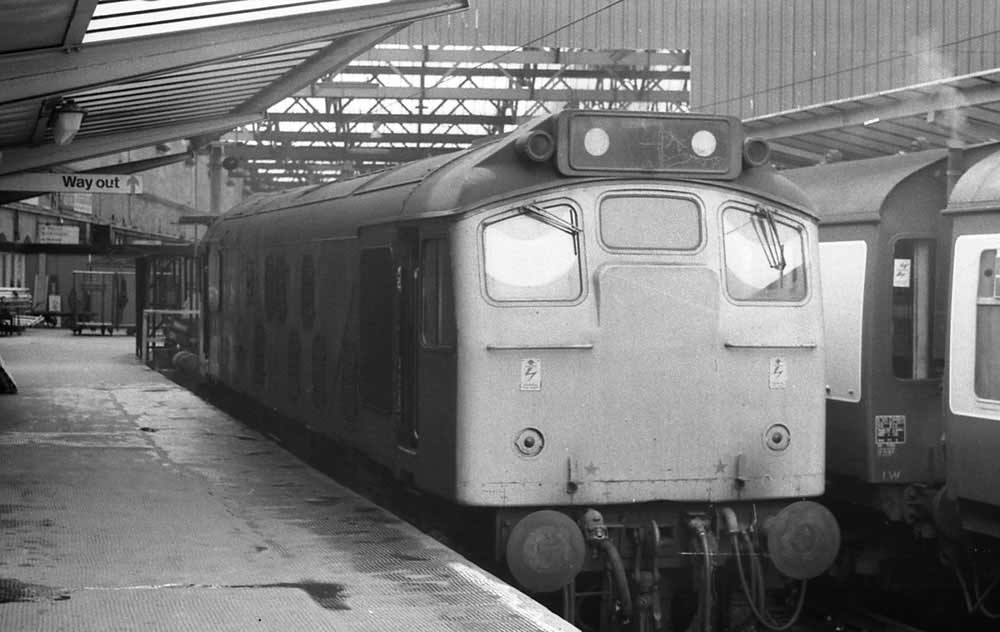 Photograph courtesy Richard Howatt.
Kingmoor have captured 25072 for use on the passenger workings over the GSW route to Glasgow. Seen here at Carlisle on July 29th 1985 its coaching stock has just been released to allow it to prepare for its next leg north. This was the last summer in service for 25072, by December withdrawal had come, ending its days dumped at Leicester.
25072 was noted at Carlisle station on August 1st.
25072 & 25181 were stabled at Kingmoor on October 2nd and was also noted passing Carlisle station behind 37058. 25072 was noted at Severn Tunnel Junction on October 25th.
Stanlow oil terminal on November 23rd provided a veritable feast of Class 25's with 25190 & 25192 and 25279 & 25325 on workings from Leeds and 25035 & 25072 from Dalston.
25072 was taken out of service on December 5th, being turned off and stored at Leicester depot.
1986
On January 27th 25072 was moved from Leicester to Toton, to become Toton's training locomotive.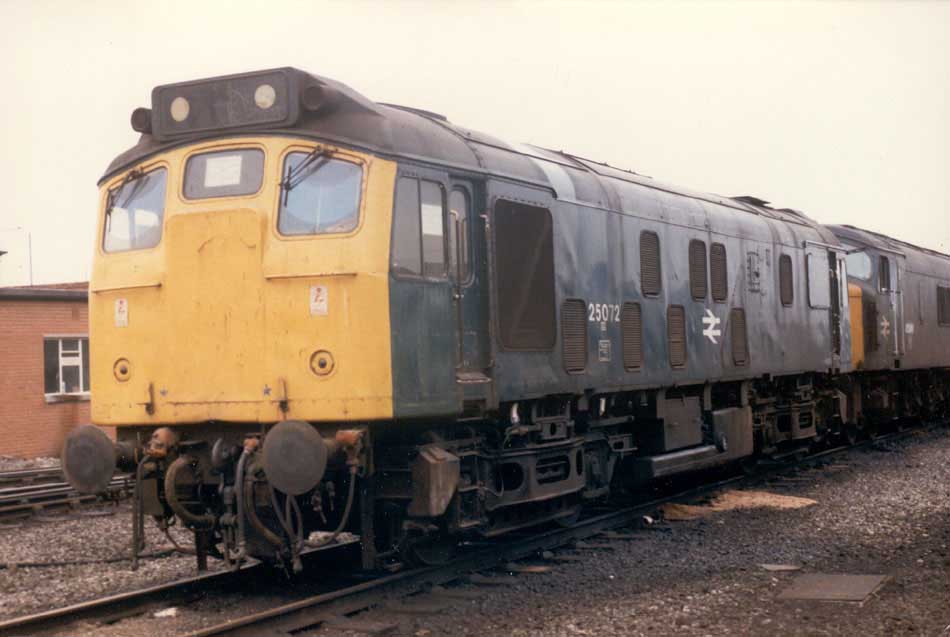 Photograph courtesy Jerry Glover.
25072 at Toton with 45046 on March 15th 1986.
1987
On December 2nd 25072 was moved from Toton to Leicester Humberstone Road and entered Vic Berry's yard the next day. However during January 1988 25072 was acquired for preservation.
Into Preservation
On March 17th 1988 25072 left Vic Berry's by road destined for the Swindon & Cricklade Railway at Blunsden. Whilst here it acquired GWR steam style '5222' numberplates. At the end of February 1992 ARC's Sentinel shunter at Whatley Quarry suffered a breakdown. D5222 was made available to cover the shunting duties of 2,500 ton stone trains. It was moved by road and began its duties on March 1st 1992. Several minor faults were quickly rectified, with the locomotive being available for 23 hours per day for about a month.
Since October 1993 the locomotive has passed through several owners and operated on several preserved lines.
81/6022
flk 0617 (1)
Page created January 4th 2004.
Page updated September 11th 2022.
Back to 25071
Forward to 25073