D5220, 5220, 25070
One of Cricklewood's Finest
Photographer not known at this time.

5220, 5217 & 1939 stand in Cricklewood shed on July 12th, 1969. The locomotive displays the standard two rows of four filters on the left side, whilst the boiler room grille is now a solid blanking plate. The nose end doors have yet to be sheeted over, but the cab end has received the full yellow paint treatment.

The seventeen year one month career of D5220/25070 was spent allocated to London Midland Region depots, with most of the time at depots in the London area.

Built: BR Derby Locomotive Works.
Boiler equipped.
Center lampbracket & other fittings removed.
Time between last Classified repair and withdrawal: 52 months.
Time between withdrawal and scrapping: 31 months.

Allocations

D5220 was new to Cricklewood West (14B) on September 21st 1963. Further transfers were:

January 1965 to London Division (D14).
June 1968 to London Division (D01).
May 1973 to Cricklewood.
January 1975 to Willesden.
June 1975 to Cricklewood.
January 1976 to Bescot.
October 1976 to Springs Branch.
Withdrawn November 2nd 1980.

Renumbered March 7th 1974.

25070 was the 55th Class 25 to be withdrawn, one of seventeen to be withdrawn during November 1980.

After withdrawal 25070 was stored at Crewe Diesel depot (noted there December 15th 1980) was moved to Swindon Works on March 3rd 1981 with 25166, 25263 & 25293 and broken up there by the last week of May 1983.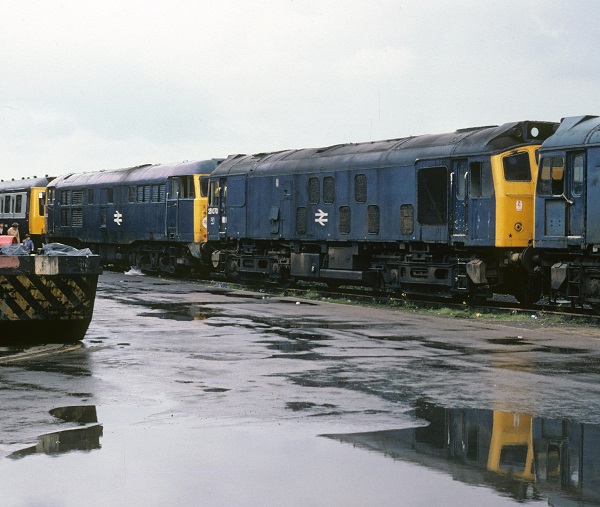 Photograph courtesy Roger Geach.
25070 & 31004 at Swindon Works on a damp June 6th 1981.
Works Visits
Works visits (records incomplete).
Noted Derby Works May 1964.
Noted Crewe Works May/June 1966.
Noted Derby Works August 1967.
Noted Derby Works August 1974.
Noted Derby Works May - July 1976 (minor collision damage & gangway doors sheeted over).
Highlights
1963
D5220 was constructed at Derby during the summer of 1963 and delivered to Cricklewood East (14A) during September, becoming part of the large fleet of diesel locomotives & multiple units being used to replace steam northwards from St Pancras. It was part of the last of the first batch of Class 25's (D5186 - D5222) to be constructed at Derby, the following ten machines (D5223 - 5232) which had been part of that same Derby order were transferred to Darlington whilst Derby tackled the redesign issues as later revealed in D5233.
D5220 made its test run to Corby on August 22nd 1963, it would make a second test run on August 27th, now joined to D5221.
1964
D5220 was noted under repair at Derby Works during May.
Passengers on a Derby - St Pancras relief on Christmas Eve had the delights of D5206 & D5220.
1965
On January 28th D5220 ventured over the Scottish border and was later 'borrowed' to work the 11.30 Wemyss Bay - Glasgow.
1966
Crewe Works began to recieve Type 2s for heavy repair during April, D5220 arrived for attention in May. This was no doubt possible due to the availability of resources created by the diminishing steam repairs and the winding down of the Brush Type 4 construction.
1967
On April 14th the 12.06 Bradford Foster Square - St. Pancras was worked to Leeds by D5220 & 42138 (D5220 was a Cricklewood loco so it may be a different Class 25).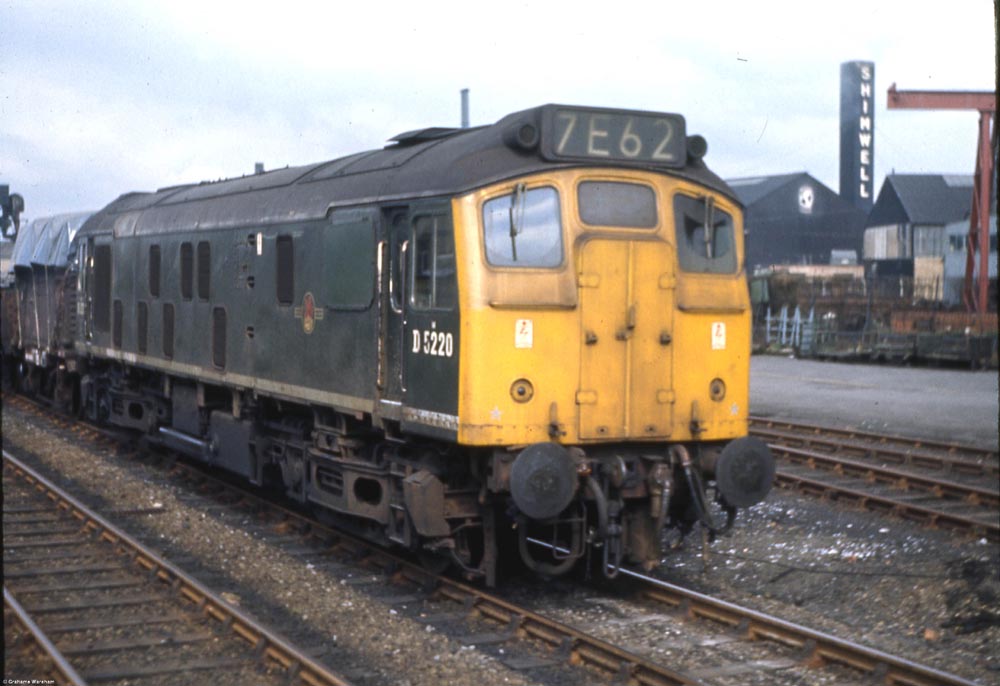 Photograph courtesy Grahame Wareham.
Its April 1969 and 5220 sports green livery with full yellow ends and a faded frame level stripe, seen here at Lea Bridge.
D5220 was at Derby Works for repair during May.
On July 7th D5220 was noted passing Radlett with a spent ballast train.
On November 14th D5220 worked the 07.54 Harpenden - Moorgate.
1968
On January 23rd D5220 worked the 07.54 Harpenden - Moorgate.
On February 5th, 8th & 29th D5220 worked the 07.54 Harpenden - Moorgate.
On March 25th D5220 worked the 08.12 St Albans - St Pancras.
On April 24th D5220 worked the St Pancras - St Albans.
1970
March 7th saw another of the Luton Town football specials receive Class 25 haulage with 5217 & 5220 taking twelve coaches to Rochdale, though their performance at heating the train proved inadequate. No other power could be found so they remained with the diagram.
1971
5220 worked a Nottingham - Lincoln parcels on January 23rd.
On an unidentified Saturday in August the summer dated Nottingham - Llandudno Town was hauled by 5220 & ??
On August 7th the loaded 6M35 01.19 Dagenham Dock - Pensnett was worked north of Brent by 5220. However on trying to pick up the empties at Pensnett 5220 was unsuccessful as the Engineering Department had already lifted the track ready for relaying on Sunday.
1973
On July 14th a Leicester - Skegness roundtrip was worked by 5220 & 5217.
5220 was stabled at Cricklewood on November 3rd.
1974
On January 31st the 06.35 Birmingham New Street - Leeds and the 12.35 Leeds - Birmingham New Street was worked by 5220.
On February 2nd 5220 was light engine at Crewe station.
Condition February: blue/yellow livery, gangway doors present, straight sided sandboxes, three-rung bogie mounted footsteps.
Near the end of February the 07.30 Birmingham New Street - Leeds and the 12.38 Leeds - Birmingham New Street was worked by 5220 & 5226.
On March 23rd the Marylebone - Loughborough Great Central 75th Anniversary (MLST) railtour was worked out and back by 25070 & 25066.
On May 11th a Luton - Aberystwyth Merrymaker utilised 25070 & 25072 from Luton to Shrewsbury via the Nuneaton Flyover, Bescot and Wolverhampton. At Shrewsbury the Class 25's were replaced by 24074 & 24056, with the Merrymaker now doubling as the 11.40 all stations to Aberystwyth, with four coaches on the train reserved for the regular passengers. The return working is reported as 24056 hauling four coaches to Dovey Junction where a set back was made onto nine coaches, stock from a return Leamington - Barmouth special. 24082 & 24087 were added to the train, at least as far as Machynlleth where 24087 was removed, leaving the two Type 2's to carry one eastwards with thirteen coaches.
A Marylebone - Llandudno Town day excursion on June 30th was worked roundtrip between Marylebone & Coventry by 25070 & 25183. On September 21st the 08.12 Derby - Yarmouth toy Norwich and the return 14.30 Yarmouth - Walsall from Norwich was worked by 25070 & 25087.
On December 18th 25070 was noted at Aylesbury with a lengthy Bletchley - Marylebone parcels.
1975
25070 was transferred to Willesden during January, then to Cricklewood during June.
1976
25070 moved north in January to Bescot.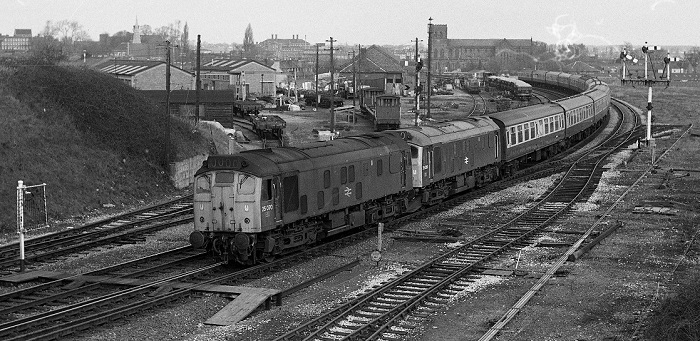 Photograph courtesy Danny Preston, collection Neil Johnson.
A fine view of 25070 & 25039 as they head away from Shrewsbury with an Ealing - Barmouth excursion (1Z58) on April 3rd 1976. 25070 is due for shopping and would emerge from Derby Works with the gangway doors sheeted over.
During the early evening of April 8th 25070 was noted westbound passing Margam with bogie bolsters.
On May 15th 25070 was stabled at Saltley.
Condition May: blue/yellow livery, gangway doors present, straight sided sandboxes, three-rung bogie mounted footsteps.
From May to July 25070 returned to Derby Works for repair. The locomotive had received minor scrape damage to the battery isolating switch side of the locomotive. Estimated cost for the repairs were GBP4,570.
On July 30th 25070 made a test run from Derby Works.
The snag sheet for July 30th recorded:
No.2 cab leading.
25070; July 30th 1976; Leicester - Derby
| | | | | | |
| --- | --- | --- | --- | --- | --- |
| Load | Speed | Amps | Volts | Notes | Other |
| 1 | - | - | - | - | - |
| | | | | | |
| --- | --- | --- | --- | --- | --- |
| Load | Speed | Amps | Volts | Notes | Other |
| 1 | 25 | 980 | - | - | - |
Switch panel screws fit (crankcase)
OVR pin to fit
Water levels to set - B low
Drip tray under header tank pipe to fit
Load regulator and CB4 cover to fit
Earth fault.
On the afternoon of September 16th 25070 was stabled at York.
1977
The 07.22 Bradford - Weymouth on June 18th was worked between Leeds & Birmingham New Street by 25070 & 25275.
25070, 25127 & 25275 were stabled at Goucester on July 23rd, whilst on the same day 25070 & 25275 were noted on a passenger service at Bristol (westbound).
1978
A railtour on April 8th between Marylebone & Dinting was worked out and back between Marylebone & Godley by 25070 & 25038, via Coventry, Nuneaton, Crewe, Northwich, Altrincham, Deansgate Junction, Skelton Junction, Northendon Junction, Woodley, returning Dinting, Godley, Guide Bridge, Reddish South, Stockport, Stoke, Stafford and Birmingham, for a total of 414 miles.
On May 4th 25070 had the unusual occurrence of being hit by lightning at Greenbank (Cheshire). The crew and the locomotive suffered no ill effects, but when the electrical charge passed to the rails much damage was done to nearby lineside equipment & transformers.
On June 27th the 22.25 Manchester Victoria - Holyhead was worked by 25070.
The 17.10 Manchester - Blackpool, normally a Class 40 turn in summer was hauled by 25070 on July 31st.
1979
25070 was noted at Springs Branch on March 3rd.
On the afternoon of July 14th 25070 was noted at Chester depot. Since June Dee Marsh sidings had been accumulating Class 502 stock, (replaced by the new Class 507's), on July 22nd 25070 worked nine of these condemned vehicles to Crewe Basford Hall.
The Gricers Heaven railtour on November 24th returning from Rotherwood to Euston was worked between Ashburys & Preston by 25070 & 25056.
25070 was noted at Newton Heath depot on December 1st.
1980
25070 was noted at Longsight on February 28th.
Class 25s stabled at Warrington Arpley on the evening of July 19th included 25070, 25156, 25195 & 25304.
On August 20th (or 22nd or both?) 25070 was working ICI hoppers between Tunstead & Northwich.
An unusual duty for 25070 on October 15th was to take the Springs Branch breakdown train to Millgate near Manchester Victoria. Here an empty four car Bury Line electric multiple unit overran a siding leaving the leading vehicle overhanging a city street, into which had fallen the leading bogie.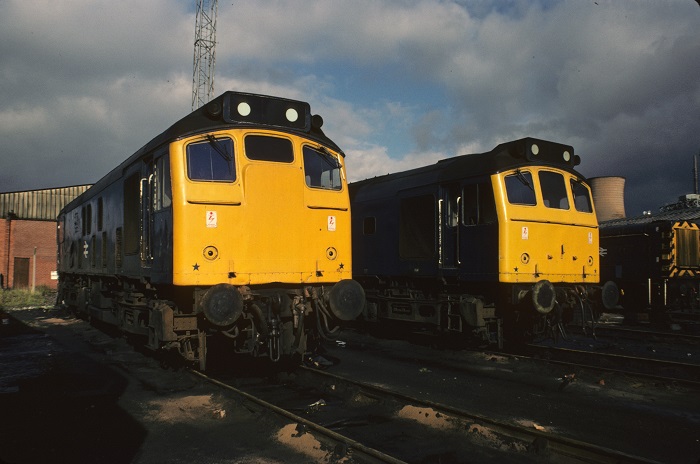 Photograph courtesy Roger Geach collection.
25070 at Cockshute, date unknown but believed to be about October 1980.
After a service life of seventeen years 25070 was withdrawn during November 1980.
22/3128
flk 0322 (1)
Page created January 4th 2004.
Page updated July 14th 2022.
Back to 25069
Forward to 25071