D5238, 5238, 25088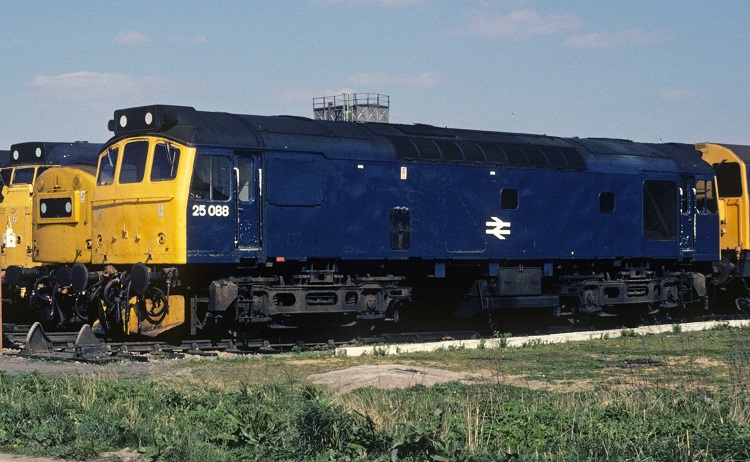 Photograph courtesy Roger Geach
25088 at March on April 17th 1981, also visible are 31174 & 20130.
The entire seventeen year nine month career of D5238/25088 was spent allocated to London Midland Region depots.
Built: BR Derby Locomotive Works.
Dual brake equipped (1976).
Time between last Classified repair and withdrawal: 58 months.
Time between withdrawal & scrapping: 53 months.
Allocations
D5238 was new to Toton (16A) on December 21st 1963. Further transfers were:
January 1965 to Nottingham Division (D16).
March 1967 to London Midland (Midland) Lines.
August 1967 to Stoke Division (D05).
August 1967 to Lostock Hall (10D).
June 1968 to Preston Division (D10).
May 1969 to Nottingham Division (D16).
June 1972 to Manchester Division (D09).
May 1973 to Longsight.
August 1973 to Toton.
September 1973 to Longsight.
Withdrawn September 16th 1981.
Renumbered April 18th 1974.
25088 was the 109th Class 25 withdrawn.
On August 30th 1981 25088 & 86220 were involved in a collision at Willesden, with 25088 being stored there until December 10th 1981 when it moved to Acton (for Swindon?). On June 9th/10th 1982 it was dragged to Derby with 31146 taking it as far as Aylesbury, being stored at Etches Park until broken up there on February 15th 1986 by a crew from Vic Berry, Leicester.
Works Visits
Works visits (records incomplete).
Noted Derby Works October 1967.
Noted Derby Works December 1971.
Noted Derby Works November 1976.
Noted Swindon Works May 1980 (collision damage?).
Highlights
1963
With the delivery of D5238 from Derby Works during December the standard for the Class 25s excluded the fitting of a train heating boiler and associated water tank, however a through steam pipe was maintained.
1968
Condition March: two-tone green livery with full yellow cabfronts, three rung bogie mounted footsteps, straight sided sandboxes, engine exhaust in original position, hand/footholds present.
On May 15th D5238 worked the 21.25 Preston - Liverpool. At this time this working frequently saw steam haulage.
1969
The movement of withdrawn steam locomotives continued at a somewhat pedantic pace, at the beginning of March Lostock Hall shed still contained twelve machines, but on March 10th 5238 removed 44713, 44950, 45073 & 45269 to Drapers, Hull for scrapping.
1970
Workings of Toton Class 25s into March were nothing unusual, but their use by March for local trips during May & June sent the Class 25s to some odd destinations, including 5238 visiting Hitchin on June 11th.
On December 10th 5238 was on parcels duty at Birmingham New Street.
1972
At about 6pm on August 30th 5238 was noted passing Manchester Exchange with a down van train (4P05).
1973
At about 6pm on March 20th 5238 was noted passing Manchester Exchange with an up van train (4P05). At about 7am on March 27th a Class 47 failed at Ordsall Lane with empty coaching stock for a Glasgow service, the Victoria pilot - 5238 - was sent out to rescue the train.
5238 was the Manchester Victoria banker (T43) on April 6th. On April 26th 5238 was noted at Manchester Exchange waiting to work the 4P05 van train.
The 'Transpo 73' exhibition at No.6 Dock in Manchester from May 19th to June 2nd required BR to run a test train from Trafford Sidings to No.6 Dock to ensure there were no issues. On (date??) 5238 and a Mk1 coach (headcodes 5T34 & 5T35) were successfully tested over the route, preceded by Manchester Ship Canal 0-6-0 Hudswell diesel shunter No.D14.
At about 6pm on June 1st 5238 was noted at Manchester Exchange with a down van train (4P05). 5238 was on empty coaching stock duty at Liverpool Lime Street on June 20th, 21st & 22nd.
5238 was on empty coaching stock duty at Liverpool Lime Street on July 2nd, 4th, 5th & 6th. On July 14th 5238 & 5020 worked the 09.20 Manchester Piccadilly - Yarmouth to Lincoln Central returning with the 09.15 ex-Yarmouth.
1974
On the morning of March 18th 5238 & 25053 were stabled at Guide Bridge.
At about 6pm on April 26th 25088 was noted at Baguley Fold with up stone empties (6J58).
On June 29th 25088 & 25012 handled the 09.20 Manchester Piccadilly - Yarmouth to Lincoln Central returning with the 09.15 ex-Yarmouth. Two weeks later on July 13th 1974 25088 & 25267 worked a roundtrip Leicester - Skegness.
1975
On January 16th 25088 was noted at Manchester Victoria.
At about 4.30pm on March 27th 24135 & 25088 were noted on two down freights at Stoke on Trent.
25088 & 25049 worked the 09.20 Manchester Piccadilly - Yarmouth to Lincoln Central and the return 09.30 ex-Yarmouth on July 19th 1975. 25088 was the Manchester Victoria banker (T42) on July 29th.
1976
The three sub-classes of the Class 25s created operating difficulties when run in multiple with different sub-classes. The resulting electrical variations, particularly when working heavy trains caused high rates of traction motor failures. In 1976 an attempt to resolve the problems involved 25088 being fitted with a redesigned field divert contactor and adjusted field divert resistor, the main generator altered to Class 25/3 specifications.
On November 19th 25088 made a test run from Derby Works.
The snag sheet for November 19th recorded:
No.1 end leading.
25088; November 19th 1976; 1C41
| | | | | | |
| --- | --- | --- | --- | --- | --- |
| Load | Speed | Amps | Volts | Notes | Other |
| 1 | 28 | 930 | 860 | - | - |
| | | | | | |
| --- | --- | --- | --- | --- | --- |
| Load | Speed | Amps | Volts | Notes | Other |
| 1 | 28 | 900 | 840 | - | - |
Paint to complete
No.5 cylinder rocker cover seal
A side seam leak free end
Roof insulation issue above turbo
Overspeed to check
Vacuum failures on train to check
Interlocks on MC2
AWS to seal.
1978
At about 9pm on June 18th 25088 & 25100 were noted at Manchester Victoria with up permanent way hoppers.
A rescue job on August 1st 1978 saw a Liverpool - Newcastle service have 46030 replaced at Manchester Victoria with 25088 taking over as far as Leeds. More trouble ensued on August 20th when a Manchester Piccadilly - Aberystwyth day excursion failed shortly before reaching Stafford behind 25088 & 25221. A troop train headed by 86228 pushed the train into Stafford where 25276 & 25293 took over. Whatever had ailed 25088 had been fixed by August 26th, with 25198 the 09.19 Manchester Piccadilly - Yarmouth to Lincoln Central and return 09.15 ex-Yarmouth were worked.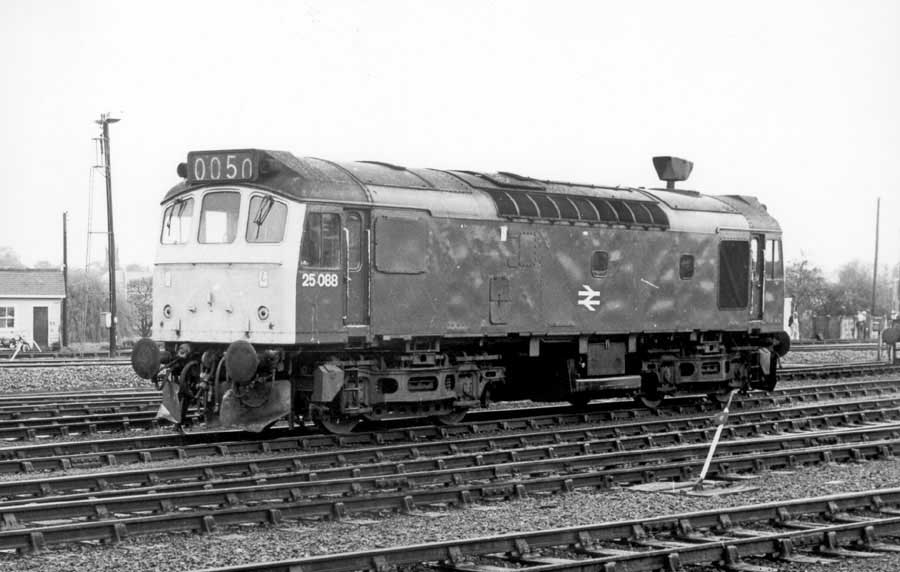 Photograph collection of webmaster
25088 was always allocated to LMR depots, principally those in the East Midlands and North West England. Its working life came to an end during August 1981 after colliding with 86220 at Willesden.
1979
On January 14th 25088 and a Class 47 were noted at Ashton (Manchester) on track laying work.
On February 15th 25088 was noted passing Oxford with eight bogie oxygen (?) tank wagons.
On the afternoon of March 20th 25088, 25270 & 25305 was stabled at York.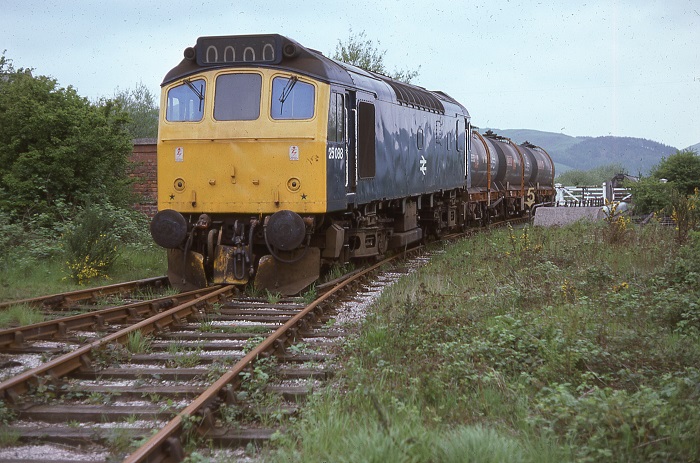 Photograph collection of webmaster
25088 off the rails at the entrance to the Glaxo facility at Ulverston. Date uncertain but about April/May 1979. The three tanks behind the locomotive are sitting on the bridge across the Ulverston canal. Whilst almost everything railway related in this view has vanished, the bridge remains as a listed engineering feature, it was designed to roll/slide to one side to allow river traffic along the canal. The line from Plumpton Junction to the Glaxo Works closed in 1994.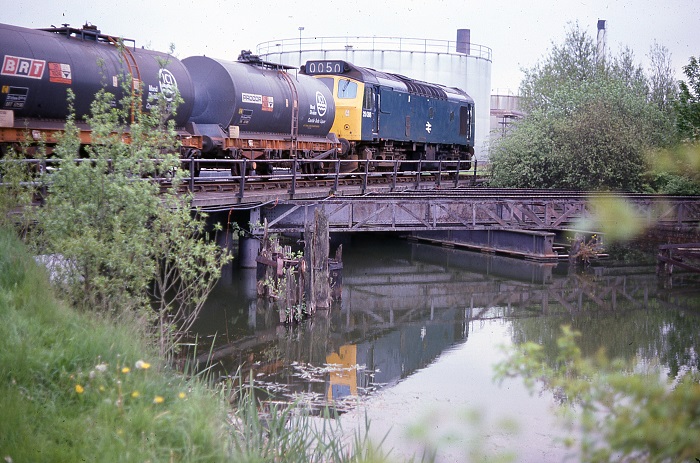 Photograph collection of webmaster
25088 crosses over the Ulverston canal circa April/May 1979.
Two rescues took place during 1979, the first being on April 25th 25088 & 25212 were noted assisting a diesel multiple unit between Peterborough and Leicester.
And on June 22nd a Midland mainline service was noted nortbound at Wigston with 45122 assisted by 25088.
At about 6.30pm on July 15th 25038, 25088, 25114, 25153 & 25300 were stabled at Leicester depot.
On the evening of November 2nd 25088 was noted at Crewe station with a crane ex-yard.
1980
On April 19th the 'Great Western' LCGB railtour from Wigan to Didcot/Swindon utilised 25032 & 25088 between Birmingham New Street - Leamington - Didcot - Swindon - Cheltenham - Worcester - Droitwich Spa - Stourbridge Junction - Birmingham New Street. The Class 25s were in fine fettle and were able to put up a commendable performace including some 90mph running.
On June 3rd the early afternoon Newcastle Forth - Clitheroe cement empties was noted southbound at Darlington with 25088.
1981
On the afternoon of February 14th 25088 & 25057 were noted up light engines at Crewe.
On April 11th 25088 was stabled at Longsight. 25088 was noted at Peterborough on April 26th.
1981 was the last year in service for 25088, primarily visiting Aberystwyth and Skegness on the passenger workings. On May 30th 25088 & 25090 worked the 07.40 Euston - Aberystwyth from Wolverhampton, returning with the 16.05 (or 17.55?) Aberystwyth - Wolverhampton. On June 20th 25088 & 25254 worked the 10.10 Euston - Aberystwyth from Birmingham New Street, returning with the 18.00 Aberystwyth - Wolverhampton. The following week on June 27th 25088 & 25257 handled the same workings as the on 20th. The final two workings for 25088 took place on July 4th/5th with 25032 working a Derby - Norwich (for Yarmouth) roundtrip (4th) and a roundtrip Derby - Skegness (5th).
On August 30th 25088 collided with 86220 at Willesden, causing damage that would lead to 25088's withdrawal.
25088 was withdrawn on September 16th 1981.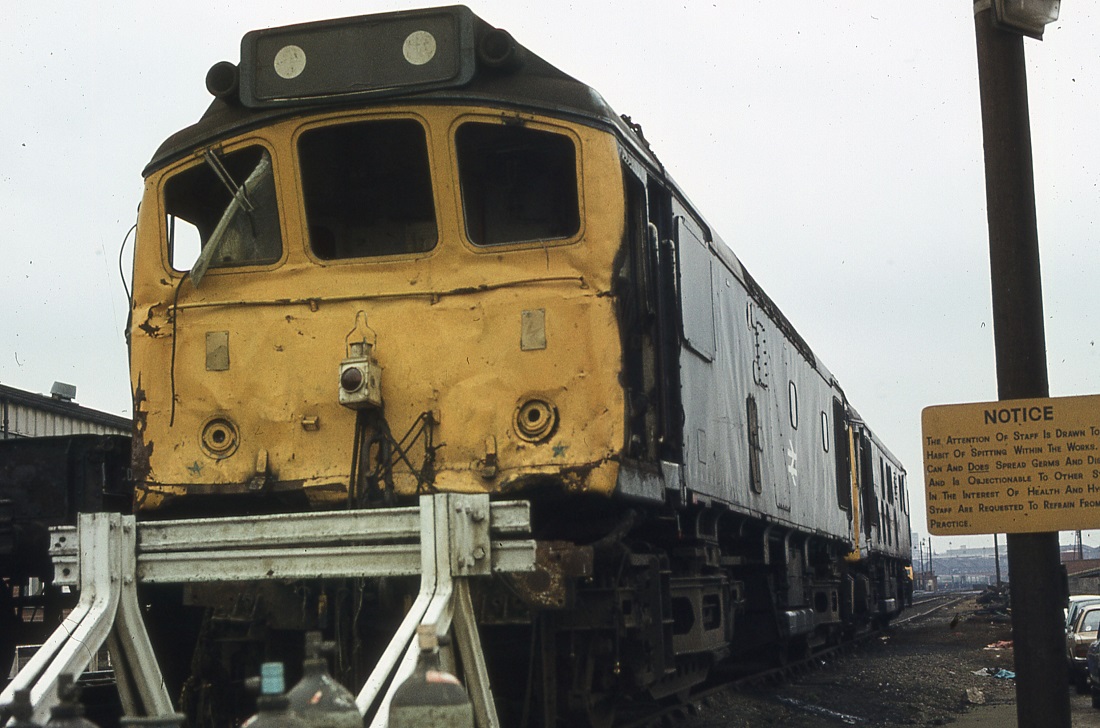 Photograph courtesy Adrian Healey
Etches Park, November 16th 1983.
Not all known passenger workings are recorded on this page.
flk 0817
25/2347
Page added June 21st 2013.
Last updated July 16th 2022.
Back to 25087
Forward to 25089