D5248, 5248, 25098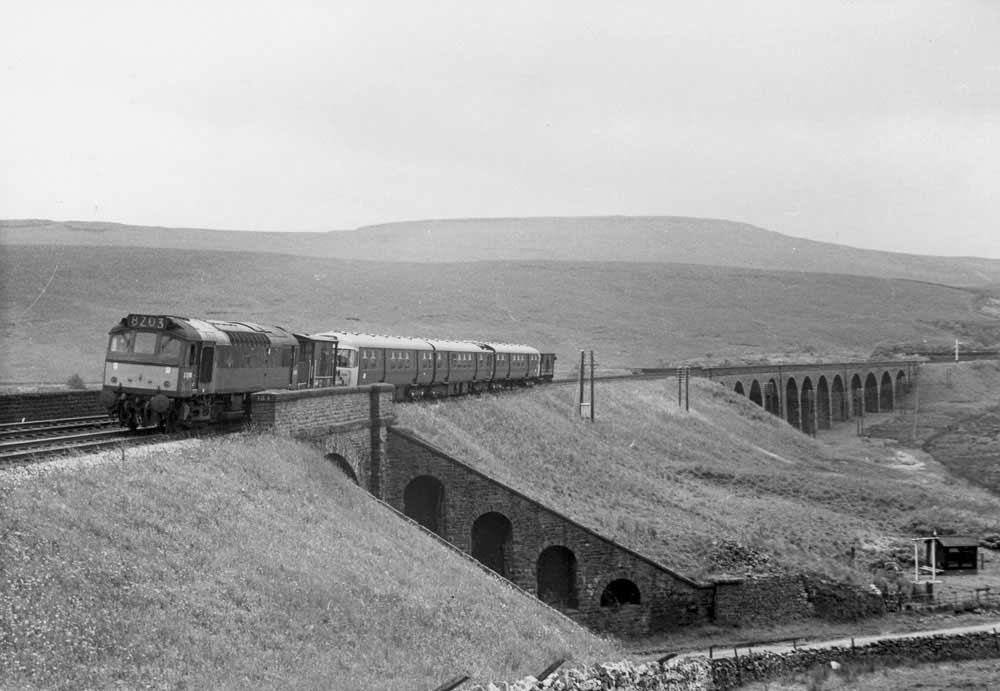 Photograph courtesy Dave Burdon
D5248 has just crossed Dandry Mire viaduct with new electric stock for the Glasgow suburban service, date unknown but probably late 1966 or early 1967. The thirteen arch viaduct was originally meant to be an embankment but a viaduct became neccessary when the bog kept swallowing up the spoil laid down for the intended embankment.
During a relatively short service life of fourteen years and eight months D5248/25098 saw allocations to London Midland, Eastern, Western & Scottish depots.
Built: BR Derby Locomotive Works.
Time between last Classified repair and withdrawal: ?? months.
Time between withdrawal & scrapping: 8 months.
Allocations
D5248 was new to Nottingham (16A) on February 6th 1964. Further transfers were:
January 1965 to London Midland (Midland) Lines.
April 1965 to Leicester Divison (D15).
December 1965 to Thornaby (51L).
December 1965 to Leicester Division (D15) on loan.
January 1966 to Thornaby (51L).
May 1966 to Holbeck (55A).
November 1967 to Carlisle (12A) on loan, made permanent December 1967.
January 1968 to Springs Branch (8F).
May 1968 to Allerton (8J).
June 1968 to Liverpool Division (D08).
October 1969 to Nottingham Division (D16).
October 1970 to Liverpool Division (D08).
November 1970 to Nottingham Division (D16).
May 1973 to Toton.
May 1975 to Bristol.
August 1975 to Laira.
October 1975 to Haymarket.
August 1976 to Eastfield.
Withdrawn October 15th 1978.
Renumbered February 23rd 1974.
25098 was the 24th Class 25 withdrawn, one of three retired during October 1978, all from the Scottish Region depot.
After withdrawal 25098 was stored at Polmadie until moved to Glasgow Works by April 1979 and scrapped there by June 1979.
Works Visits
Works visits (records incomplete).
Noted Derby Works June 1967.
Noted Glasgow Works April 1976.
Highlights
1965
Condition April: two-tone green livery with small yellow warning panels, no blanking plates, hand/footholds present, straight sided sandboxes, three rung bogie mounted footsteps, engine exhaust in original location, bufferbeam mounted steam pipe connection present.
1966
In a very short lived inter-regional transfer between Leicester/Nottingham and Thornaby D5248 - 5256 were exchanged for D5370 - 5378. The actual transfer of D5248/49/50 and D5370/71/72 occurred on New Year's Day with the Class 25s being sent north from Leicester, the Class 27s coming down from Thornaby, the crews changing at Masborough!
Leeds Holbeck gained D5248 – D5255 during May, with the intent to cover much of the extra summer traffic generated from the area, without using the local steam power.
1967
Another paired working, of a wildly different nature was D5248 & 9F 92128 on the midday Heysham – Neville Hill oil tanks on October 20th.
By the beginning of November another thirty Class 25s had been transferred to the north west, along with a number of shunters and Classes 40 & 47, during October alone over eighty steam locomotives were withdrawn from the London Midland Region, all from sheds located between the Mersey and the Solway. Included in the newly arriving Type 2s were D5151 – 5155, loaned to Carlisle from Thornaby, whilst D5248 – D5251 would soon follow from Leeds. Closed to steam early in November were the sheds at Stoke, Crewe South and Birkenhead, with Warrington and Springs Branch closed by month end. Northwich still held onto a number of steam diagrams but increasingly everywhere the Classes 25 & 40 were to be found taking over the steam turns.
1970
On February 24th a Leicester - Southampton Docks schol excursion was worked by 5248 & 5225 on the outward leg only (5236 also reported on this working).
1972
On August 26th 5248 & 5224 were noted passing Thetford with an unidentified extra passenger working, possibly for Yarmouth.
1975
In the early hours of August 28th the Laira breakdown crane was brought to Exmouth by 25098 to assist in the rerailing of diesel multiple unit No.51090 which had run through the buffer stops on the previous afternoon.
On September 6th 25098 worked the 12.20 Barnstaple - Exeter St. Davids.
25098 was noted at Tyne Yard on November 9th.
1977
On April 30th 25098 & 25044 were noted between Carstairs and Edinburgh and return with an unidentified passenger working.
On June 2nd the 16.54 Glasgow Queen Street - Dundee was hauled by 25098 & 26008.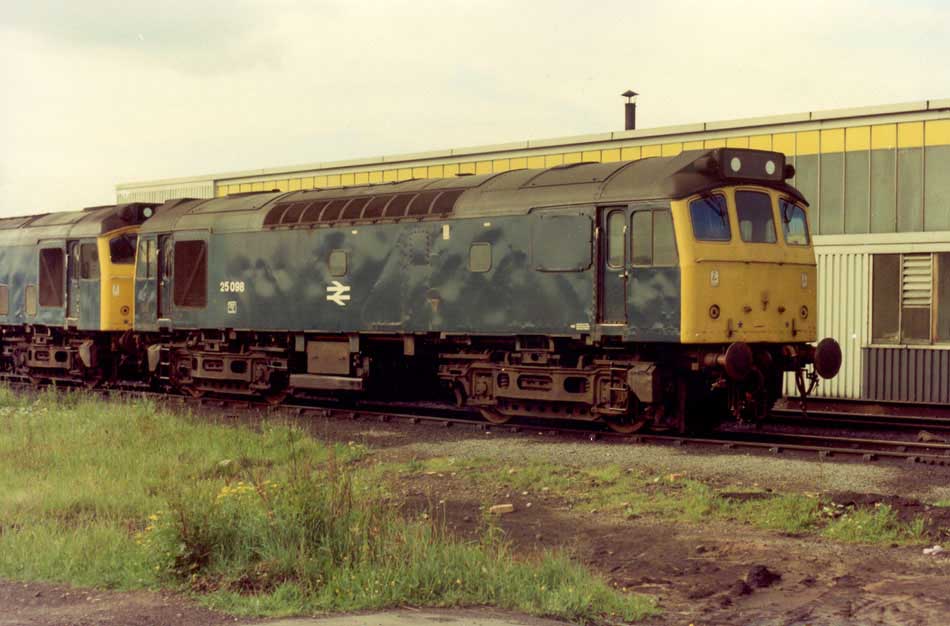 Photograph collection of webmaster.
25098 date & location unknown. 25098 last received Works attention at Glasgow during April 1976 - the characteristics of a Glasgow Works shopping are clearly evident here.
1978
Whilst working April 4th's 8F15 from Falkland Junction 25098 became derailed at Shewalton Moss, completely blocking the Kilmarnock - Barassie line, causing delays to a couple of services.
25098 was withdrawn on October 15th 1978.
Not all known passenger workings are recorded on this page.
5/324
flk 0817
Page added June 19th 2013.
Last updated November 11th 2019.