D5249, 5249, 25099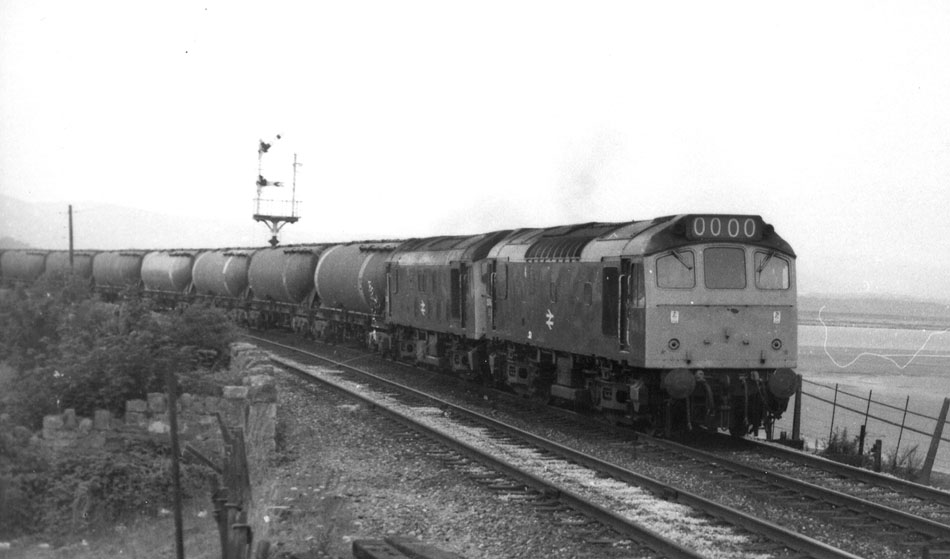 Photograph collection of webmaster.
A dull July 26th 1976 at Arnside with 25099 & 25057, at this time 25099 was allocated to Toton.
The sixteen year ten month career of D5249/25099 included allocations to London Midland & Eastern Region depots.
Built: BR Derby Locomotive Works.
Dual brake equipped (1975).
Time between last Classified repair and withdrawal: 64 months.
Time between withdrawal & scrapping: 3 months.
Allocations
D5249 was new to Toton (16A) on February 7th 1964. Further transfers were:
November 1964 to to Coalville (15E).
January 1965 to Leicester Divison (D15).
December 1965 to Thornaby (51L).
December 1965 to Leicester Division (D15) on loan.
January 1966 to Thornaby (51L).
May 1966 to Holbeck (55A).
December 1967 to Carlisle (12A).
January 1968 to Springs Branch (8F).
May 1968 to Allerton (8J).
June 1968 to Liverpool Division (D08).
October 1969 to Nottingham Division (D16).
June 1970 to Liverpool Division (D08).
November 1970 to Nottingham Division (D16).
May 1973 to Toton.
November 1977 to Cricklewood.
November 1980 to unserviceable store.
Withdrawn December 1st 1980.
Renumbered March 7th 1974.
25099 was the 75th Class 25 withdrawn, one of seventeen retired during December 1980.
After withdrawal 25099 was moved to Swindon Works on November 21st 1980 and scrapped there by the last week of February 1981. During the scrapping process the No.2 cab sustained fire damage.
Works Visits
Works visits (records incomplete).
Noted Derby Works May 1967.
Noted Derby Works December 1970 (paint date DY 20/12/70, blue/yellow).
Noted Derby Works June & July 1975 (dual brakes fitted).
Highlights
1964
On July 5th stabled at Toton were D5184, D5185, D5234, D5243, D5244, D5245, D5247, D5249, D5251, D5257, D5262, D5263, D5268, D5277, D5279, D5280 & D5281.
1966
On the morning of May 19th locomotives stabled at York included D5098, D5249, D5250, 43097 & 90347.
On the evening of July 6th D5249 was stabled at York.
1967
Condition July: two-tone green livery with small yellow warning panels, three-rung bogie mounted footsteps, straight side sandboxes.
On the evening of July 27th D5249 was down light engine at Newlay & Horsforth, later returning with an up freight (7P80).
1968
On the afternoon of April 11th D5299 was southbound at Crewe with a freight.
On the evening of July 11th D5249 was eastbound at Bamber Bridge with one parcels van (3P12).
1970
On the afternoon of January 27th 5249 was at noted at Horsemoor (March) with an up freight (7G00).
1971
On the morning of October 11th 5249 was light engine at Nuneaton.
1972
On April 16th 5249 (Toton allocated) was noted at Nottingham in two-tone green livery with full yellow cabfronts. Two days later on April 18th 5249 was noted working the 10.50 Nottingham - St. Pancras throughout.
On July 11th the 6Z40 Earles Siding, Hope - Exeter Central cement train was worked by 5249 & 5241.
1973
5249 was noted at Worcester depot on June 19th.
On July 27th 5249 worked the 6O55 14.15 Plymouth Friary - Fawley empty tanks (as far as?).
1974
On June 16th 25099 & 25114 worked the 23.45 Euston - Barrow forward from Crewe via Chester.
On July 6th 25099 & 25133 worked a Leicester - Skegness roundtrip.
At midday on August 28th 25099 & 25254 were noted coupled together at Exeter stabling point.
The holiday makers were less fortunate on August 31st when the 07.35 Nottingham - Llandudno Town failed behind 25099 at Attenborough, Class 45 No. 97 assisted from the rear until 25212 took over.
On the afternoon of November 29th 25099 (Toton allocation) was noted at Exeter stabling point.
1975
On July 3rd 25099 made a test run from Derby Works.
The snag sheet for July 3rd recorded:
25099; July 3rd 1975; 1M51 9.41 Derby
| | | | | | |
| --- | --- | --- | --- | --- | --- |
| Load | Speed | Amps | Volts | Notes | Other |
| 1 | 28 | - | - | - | - |
Radiator fan blades - issue at high speed
Knecht fuel unions leaking
B cubicle air pipes vibrating - to clip
Nos. 1, 2 & 3 pistons passing oil
A side crankcase door free end leak
No. 4 cylinder injector excess ??
No.1 & No.2 master controller issues
No.1 cab driver's side horn sticking.
25099 & 25207 handled the Derby - Norwich - Yarmouth - Norwich - Walsall diagram on July 19th. On October 6th the 06.45 Hull - Kings Cross required the assistance of 25099 from Peterborough piloting 55013 after the latter suffered a loss of power.
1976
1976 produced a mixed set of passenger workings for 25099, starting on February 25th with 25099 working the 08.48 St. Pancras - Sheffield and the 13.00 back to St. Pancras.
On March 6th 25099 was stabled at Peterborough. On March 10th 25099 & 25254 were noted traversing the Northampton - Market Harborough with a lengthy train of mineral wagons.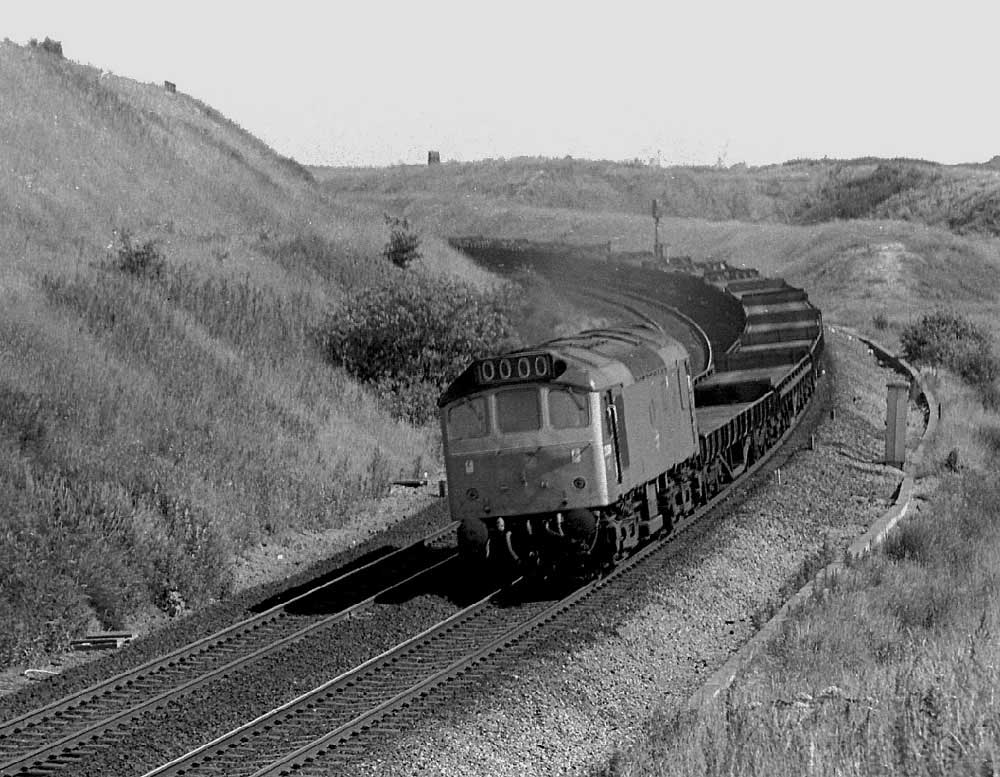 Photograph courtesy Tony Sayer.
On the ECML at Newham, Northumbria 25099 leans into the curve with a train of empty carflats June 24th 1976.
The Derby - Norwich - Yarmouth - Norwich - Walsall diagram was handled twice during the summer, on July 3rd with 25095 and on August 7th with 25245. On August 19th 1976 the 16.35 Leicester - St. Pancras was hauled by 45150 with 25099 piloting.
On August 28th 25099 was noted westbound at Nottingham Midland with a lengthy parcels train headed for the ex-GN London Road Low Level station, then acting as Nottingham's parcels depot.
On September 4th 1976 25099 & 25188 worked the 08.00 Walsall - Yarmouth to Norwich, returning with the 14.15 Yarmouth - Derby from Norwich.
1977
On May 29th 25099 was stabled at Bristol Bath Road.
The 11.30 Cardiff - Crewe was worked by 25099 on June 6th.
25099 was noted at Frodingham on July 17th. On the afternoon of July 22nd 25099 and brakevan were noted at York. On the morning of July 23rd 25099 was stabled at York. On the evening of July 28th 25099 was noted at Warrington with a permanent way train. During the early evening of July 29th 25099 was noted at Wigan NW with a down van train.
On August 12th 25099 worked the 08.50 York - Scarborough relief (more typically a Class 31 turn).
A rescue job took place on August 22nd when the 14.20 Kings Cross - York failed at Peterborough behind 47520, which was dragged to York by 25099. No passenger workings have so far been recorded for 1978.
On September 1st & 2nd 25099 worked the 9P08 Tyne Yard - Ponteland freight.
On October 8th 25099 was noted southbound at Glendon Junction with a lengthy train of mineral wagons.
1978
On Monday April 24th 25099 worked the 09.55 Willesden to Norwood and the return 12.10 Norwood to Willesden.
On Friday May 5th 25099 worked the 09.55 Willesden to Norwood and the return 12.10 Norwood to Willesden. On Tuesday May 30th 25099 worked the (presumed) 12.25 Willesden - Norwood and the return 14.10 Norwood to Willesden.
On July 7th 25099 & 25120 were noted at Bletchley on a wiring train.
On Tuesday November 7th 25099 worked the 09.55 Willesden to Norwood and the return 12.00 Norwood to Willesden.
1979
25099 was noted at Northampton on February 24th.
On June 8th 25099 was noted westbound at Stenson Junction with a mixed freight. A visit to the Cambrian line took place by 25099 & 25299 on June 9th working the 04.15 Shrewsbury - Aberystwyth and the 10.09 Aberystwyth - Euston to Wolverhampton. On June 10th 25099 & 25299 were stabled outside the parcels shed at Wolverhampton. On June 18th 25099 was noted at Huddersfield with a five van parcels train.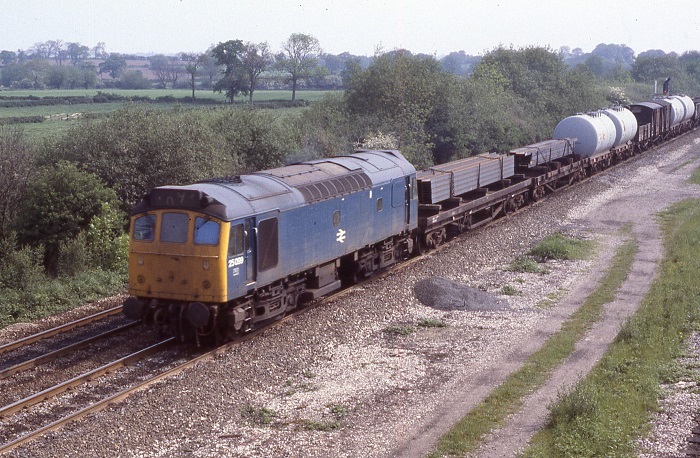 25099 westbound at Stenson Junction on June 8th 1979.
A short working took place on July 29th with 25099 working the 09.33 Rugby - Euston between Northampton and Bletchley.
1980
25205 & 25099 were noted at Stonebridge Park on January 12th.
On March 29th 1980 25099 & 25193 (or 25133?) worked the 10.33 Manchester Piccadilly - Norwood Junction football special out and back (?) from Willesden to Norwood Junction.
On the early afternoon of August 9th Class 25s stabled at Cricklewood were: 25067, 25099, 25117, 25141, 25175, 25180, 25190, 25193 & 25310.
On October 25th 25099 worked the Bradford Forster Square - Red Bank empty vans and was later noted in Manchester Victoria yard.
25099 was withdrawn on December 1st.
Distinguishing Features
No.1 cab front: rust patch below handrail near center of cabfront: June 1976 until withdrawn.
Not all known passenger workings are recorded on this page.
31/2848
flk 0421
Page added June 20th 2013.
Last updated October 9th 2022.
Back to 25098
Forward to 25100