D5250, 5250, 25100
Photograph courtesy Rex Conway collection.
Its sometime in 1968 and 5250 is seen at Lostock Hall in charge of a weed-killing train.
The seventeen year career of D5250/25100 was split between allocations to London Midland and Eastern Region depots.
Built: BR Derby Locomotive Works.
Sheeted over Boiler Room Grilles (1976).
Time between last Classified repair and withdrawal: 57 months.
Time between withdrawal & scrapping: 24 months.
Allocations
D5250 was new to Toton (16A) on February 14th 1964. Further transfers were:
January 1965 to London Midland (Midland) Lines (LMML).
April 1965 to Leicester Divison (D15).
December 1965 to Thornaby (51L).
December 1965 to Leicester Division (D15) on loan.
January 1966 to Thornaby (51L).
May 1966 to Holbeck (55A).
December 1967 to Carlisle (12A).
January 1968 to Springs Branch (8F).
May 1968 to Allerton (8J).
June 1968 to Liverpool Division (D08).
November 1970 to Nottingham Division (D16).
May 1973 to Toton.
January 1976 to Longsight.
Withdrawn February 1st 1981.
Renumbered March 7th 1974.
25100 was the 90th Class 25 withdrawn, one of twelve retired during February 1981.
After withdrawal 25100 was moved to Swindon Works on February 27th 1981 as part of the convoy containing 25055, 25100/122, 25281 from ? to Swindon (25100 & 25281 ex-Reddish & 25122 ex-Newton Heath). 25100 was broken up by the second week of February 1983.
Works Visits
Works visits (records incomplete).
Noted Derby Works April 1967.
Noted Derby Works February 1972.
Noted Derby Works May 1976 (Classified, boiler room grills sheeted over).
Noted Derby Works August & September 1979 (N6 repairs).
Highlights
1964
The frames for D5250 were laid down at Derby in the last quarter of 1963. The test run to Corby for D5250 probably took place during the second week of February 1964.
Stabled at Cricklewood on Sunday April 5th were D5085, D5086, D5089, D5189, D5204, D5222, D5223, D5228, D5237, D5241, D5250 & D7576.
1966
In a very short lived inter-regional transfer between Leicester/Nottingham and Thornaby D5248 - D5256 were exchanged for D5370 - D5378. The actual transfer of D5248/49/50 and D5370/71/72 occurred on New Year's Day with the Class 25s being sent north from Leicester, the Class 27s coming down from Thornaby, the crews changing at Masborough! The re-allocation records show D5248/49/50 being transfered in December 1965, the remainder in January 1966.
Their stay at Thornaby was brief, all were transferred to Leeds Holbeck (55A), the majority in May except for D5254/55 in June and D5256 in October. They were to be used on the summer seasonal traffic generated from the Leeds area, hopefully without the need to use local steam power.
1967
On the early afternoon of May 15th D5250 & D5256 were stabled at Derby. Nearby 46492 arrived from the north with a dead diesel multiple unit for the Carriage & Wagon Works siding.
On the early morning of August 26th D5250 was stabled at Normanton shed.
By the beginning of November another thirty Class 25s had been transferred to the north west, along with a number of shunters and Classes 40 & 47, during October alone over eighty steam locomotives were withdrawn from the LMR, all from sheds located between the Mersey and the Solway. Included in the newly arriving Type 2s were D5151 – D5155, loaned to Carlisle from Thornaby, whilst in December Carlisle (12A) received D5248 – D5251 from Leeds Holbeck and D5252 - D5256 were transferred from within the LMR. Closed to steam early in November were the sheds at Stoke, Crewe South and Birkenhead, with Warrington and Springs Branch closed by month end. Northwich still held onto a number of steam diagrams but increasingly everywhere in the north-west the Classes 25 & 40 were to be found taking over the steam turns.
1968
Further transfers continued within the LMR to finally lay steam to rest, D5250 moved to Allerton (8F) during February.
On July 3rd D5250 was noted at Preston on an up mixed freight (5F96).
On the afternoon of July 11th D5250 was eastbound at Bamber Bridge with Presflos (4P16) and later returned westbound light engine.
On the early afternoon of July 12th D5250 & D7639 were eastbound at Huncoat (Accrington) with a freight (7N79). About 1.20pm they returned westbound light engines, then at 3pm eastbound light engines, at 3.20pm westbound light engines and at 5pm eastbound with freight 7N54. Although the end of steam was very near several freights were noted, including those powered by 44781, 45287, 48062, 48167, 48393, 48493, 48666, 48730, 48765, 48773 and light engines 44899, 48062, 75027.
On the afternoon of August 23rd 5250 was northbound at Crewe with a freight (7M17).
1969
On the morning of August 18th 5250, 8041 & 333 were light engines at Crewe.
1970
5250 was noted at Ordsall Lane on January 6th with the 6M18 up vans.
1971
On January 5th 5250 was shunting at Rugby.
On Saturday November 27th the Civil Engineers took possession of the fast lines between Wellingborough and Sharnbrook Signal box for the purpose of removing 460 yards of ballast and clay substrata from the down main line just north of the summit and for the further cleaning of an additional 260 yards. Equipment involved was a Plasser ballast cleaning machine, a rail travelling crane with match wagons and 210 twelve & twenty ton spoil wagons. Three Class 45s had been requested but on the day only one showed up, 101, the other two locomotives were Class 47 1623 and Class 25 5250.
The first train on the scene was of thirty wagons hauled by 101 and was used to haul away the dirt from the ballast cleaning. The dirt was to be taken to the tip at Lidlington but due to the volume of traffic using the goods lines the train would be held at Sharnbrook signal box for a while. The next train on the scene was the rail travelling crane hauled by 5250 which, after the continuously welded rail was cut was used to shift the rails onto the sleeper ends of the up main line and the sleepers were placed in the up main fourfoot way. These two trains were working concurrently with the engineering staff during the afternoon. 5250 had propelled its train to the scene, thus the locomotive remained at the north end of the consist. At about 5pm 5250 propelled its train down to Sharnbrook signalbox and awaited behind 101 and its spoil train for a path on the goods lines back to Wellingborough.
The third train on the scene was sixty one spoil wagons and two brake vans hauled by 1623, it was now getting dark and a light rain was falling. This drew up alongside the excavated area of the down line, the train length exactly matching the line in question allowing the four traxcavators to load the train simultaneously with the minimum of shunting. After loading this train, its weight was estimated at 1,366 tons and the train was to head towards Sharnbrook box prior to beginning its journey to Lidlington. Crossing the summit at about 10mph the guard and second man were in the two brake vans applying their brakes, but it soon became apparent that the train was running away. Unable to control the train and seeing a red light ahead the driver of 1623 jumped from the locomotive, fortunately suffering only minor injuries. The spoil train ran into 5250 and its train at about 20mph, pushing the whole train about one hundred feet and into the rear of the spent ballast train hauled by 101.
The crew of 5250 were in the rear cab and suffered injuries, particularly the second man, the driver was able to reach Sharnbrook signal box to report the collision. The brakevan containing the second man off 1623 had a lucky escape after the van was tossed across the down goods line. This was perhaps fortunate as it space was taken by a pile of fourteen crushed and crumpled spoil wagons and 250 tons of clay and used ballast.
Responsibility for the accident lay in the under-estimation of the weight of the train, shown as 1,366 tons on the driver's ticket, but probably closer to 1,600 tons when taking into account the two brake vans and the wetness of the clay. In the preparations for this possession the statement that the train length of sixty loaded spoil wagons was to be taken over Sharnbrook with a single locomotive did not raise any questions. However the fact that the driver had his secondman operate the screw brake in one of the brake vans (in contravention of Operating Procedures) suggested he was concerned about the operation of this train. Not helping the matter was that the there was no provision made for the working of Class 9 trains over the fast lines at Sharnbrook. When the CMEE of the LMR was asked for his recommendation of the loading of Class 9 trains over this route the limit was set at 600 tons, making the runaway train some 1,000 tons over the limit.
The two locomotives received serious damage, 1623 was only a couple of weeks out of Crewe Works, and soon returned there with some fine looking paintwork but two crushed cabs. Both locomotives were removed to Bedford, and were still there at Christmas. The possession had meant to end at 4pm on the Sunday but it took until 6.15am on Monday to get the up goods line open, the up fast line did not become available until 4am on Tuesday and the down fast at 18.20pm that evening.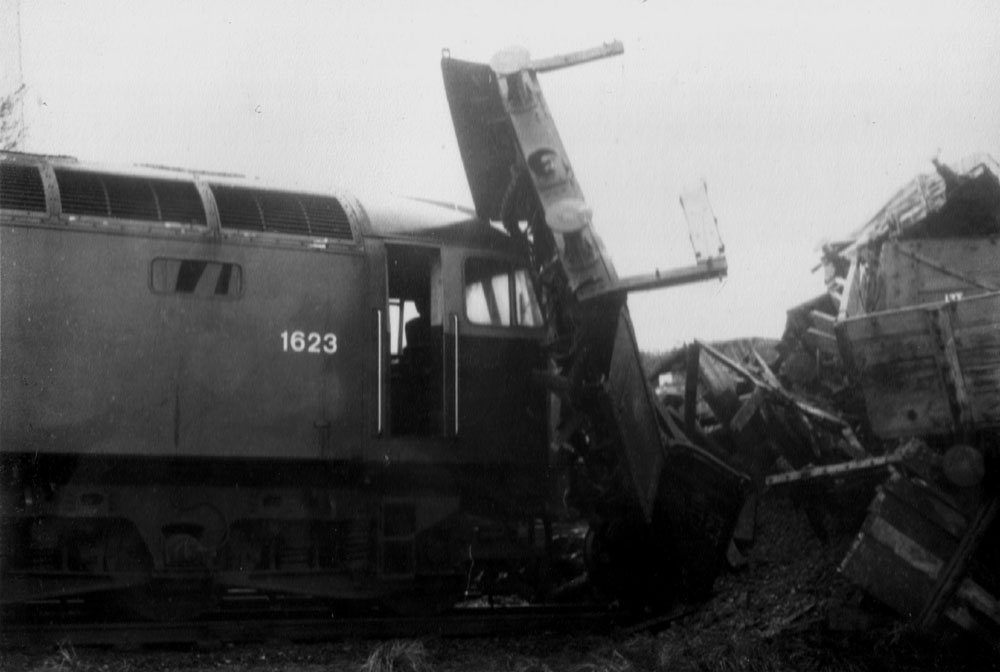 Photograph courtesy John Osborn collection.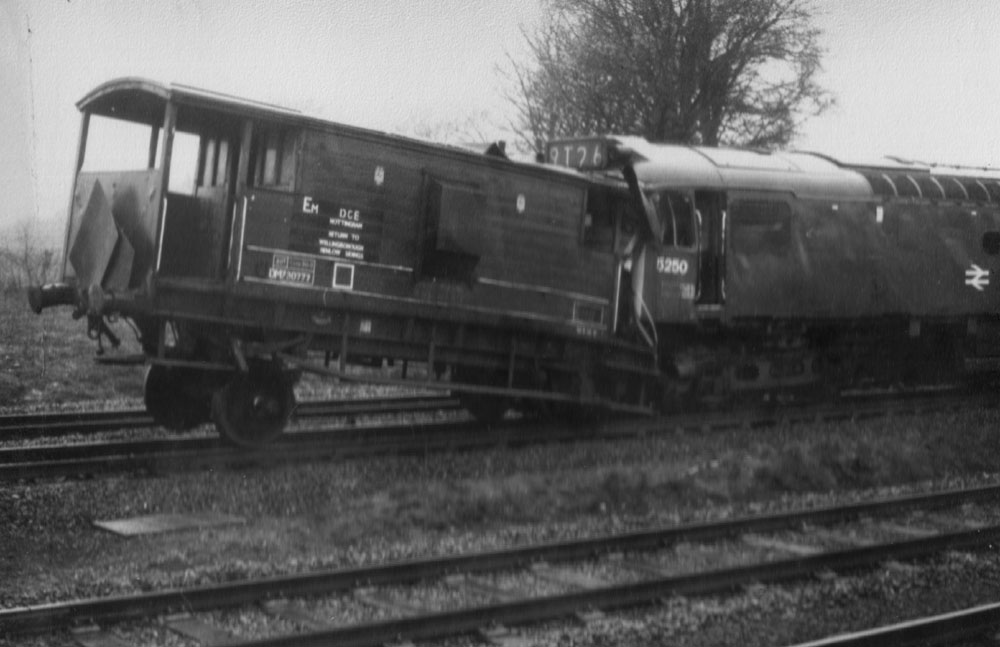 Photograph courtesy John Osborn collection.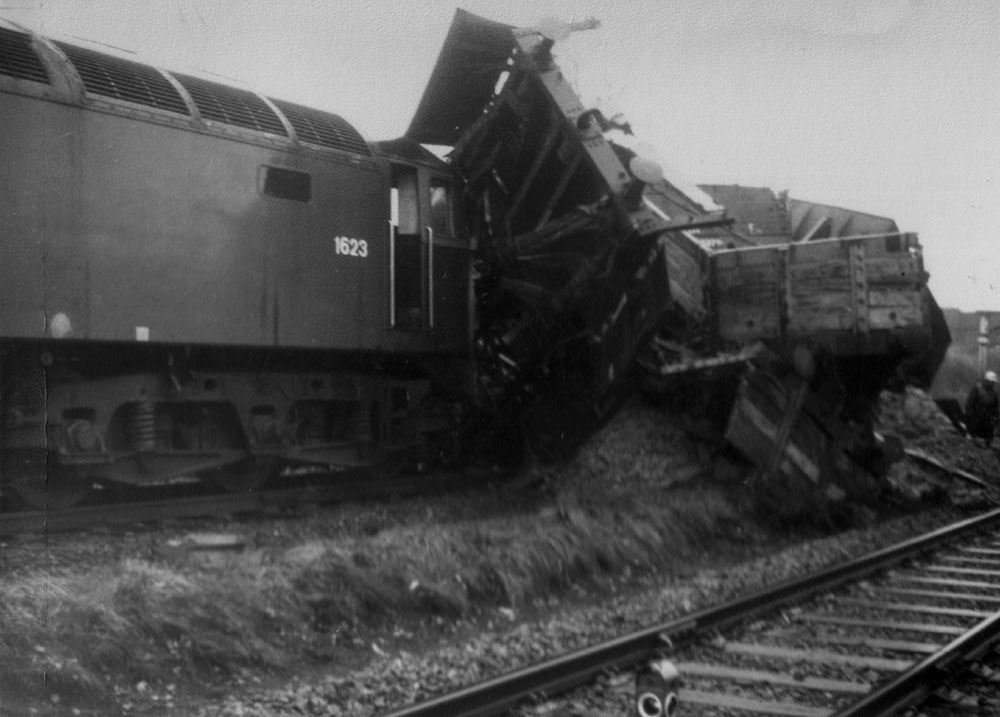 Photograph courtesy John Osborn collection.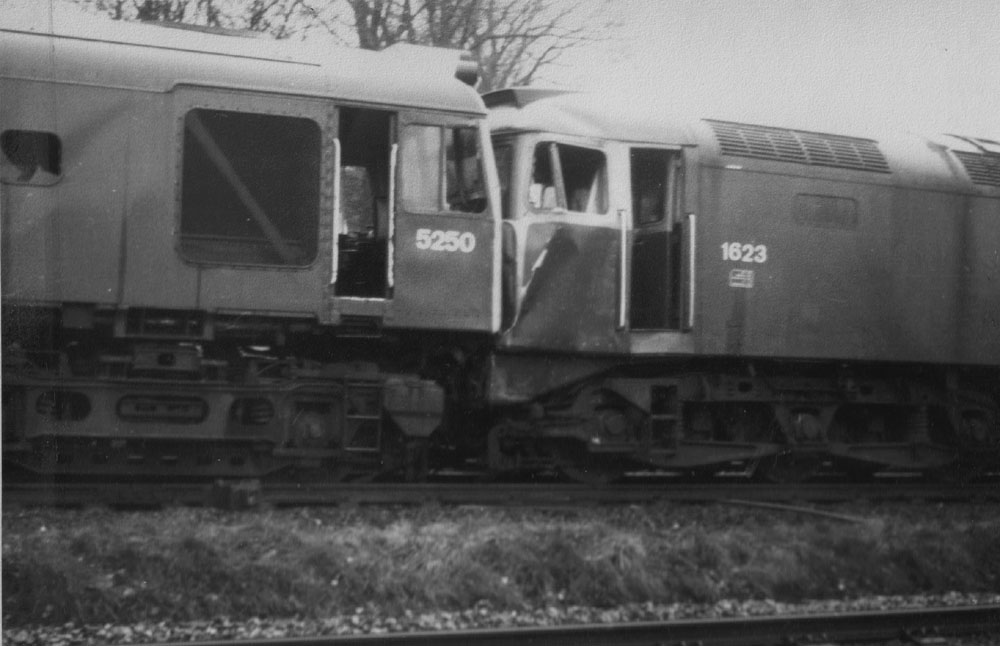 Photograph courtesy John Osborn collection.
The five views shown here (above & below) come from the collection of John Osborn and feature the aftermath of the collision at Sharnbrook. These views are taken from the down goods line, probably on the day after the collision - most of the derailed vehicles have been removed. Despite the relative low speed of the collision the damage sustained by the locomotives, brake vans and spoil wagons was considerable. These photographs were in the process of being dumped during an office clear-out, fortunately John was able to provide a good home for them.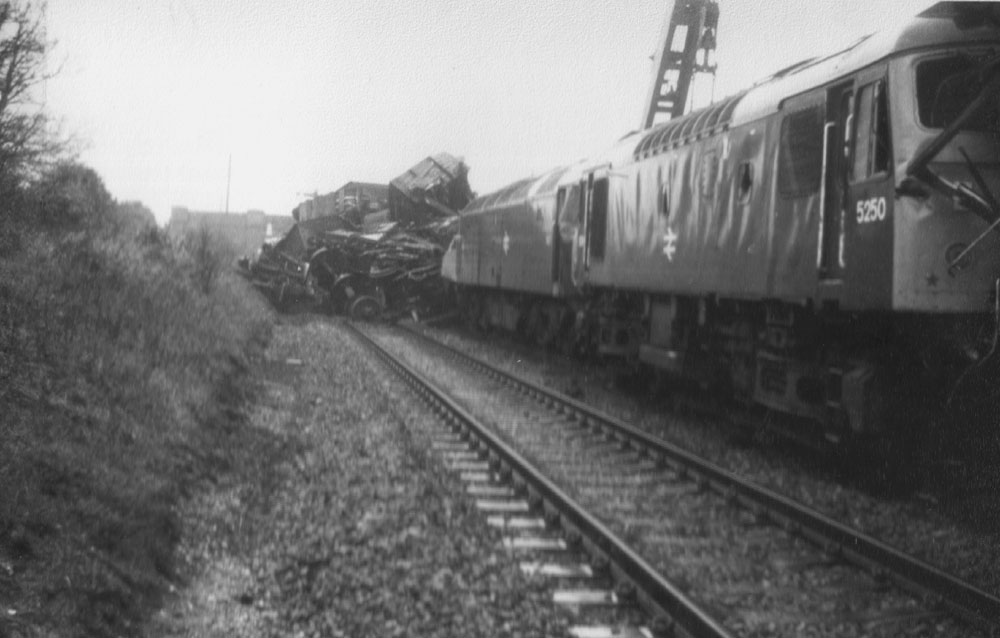 Photograph courtesy John Osborn collection.

A final view of the scene showing the final positions of the Class 25 & 47 and the mountain of wreckage strewn across the Down Line.

A copy of the ballast train notice issued for the week by the Divisional Manager, Nottingham identified ten engineers trains, 9Z02 - 9Z11 booked to work on a Sat/Sun/Mon possession. All were to be hauled by Class 45s with one Class 25 allocated to haul the crane train. Four of these trains were to consist of 60 engineering department spoil wagons each and another of thirty wagons. When loaded all were to be stabled in Bedford Ballast Pit, presumably for forwarding to Lidlington Tip at some point. There was also to be a hopper train scheduled to be working at the site until 05.30 Monday. Unusually there was no reference in the notice as to the maximum loads that each train was allowed to convey. In other similar documents from other Divisions that maximum loads were stated.

1972
5250 was noted at Derby Works in February receiving repairs to its accident damage received at Sharnbrook, possibly Derby was making one good locomotive out of two seriously damaged ones (5250 & 7605).

On July 22nd the 08.35 Birmingham New Street - Portsmouth Harbour was worked to Reading by 5250 & 5236.

1973
On the evening of January 23rd 5250 was light engine at York station (8M25).

On the afternoon of May 15th 5250 was southbound at Skelton (York) with a freight 8N14.

On July 28th 5250 & 5223 worked a roundtrip Leicester - Skegness.

1974
On October 3rd 25100 was southbound at York with a freight.

On December 27th 25116 & 25100 were noted at Exeter with the 6V47 freight comprised of 34 van fits. The locomotives came off and retired to the stabling point.

1975
At noon on May 24th 25100 was noted at Derby.

The 08.50 Leicester - Skegness and the return 18.30 Skegness - Leicester on May 25th were worked by 25100 & 25257.

1976
25100 moved to Longsight in January and visited Derby Works during May.

On the afternoon of July 8th 25100 was stabled at York.

On the afternoon of October 21st 25100 & 25257 were stabled at Guide Bridge.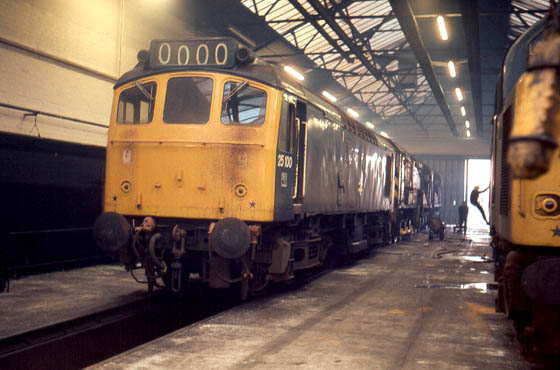 No Christmas Trees or Christmas Carols here, not even any snow, just your average motley collection of 08/25/40s to be found at Birkenhead shed a week before Christmas on December 19th 1976.
1978
25100 was stabled at Buxton on May 6th.
At about 9pm on June 18th 25088 & 25100 were noted at Manchester Victoria with up permanent way hoppers.
On July 8th the 09.19 Manchester Piccadilly - Yarmouth to Lincoln Central and from there the return 09.15 ex Yarmouth were worked by 25100 & 25194.
The 17.10 Manchester Victoria - Blackpool North, normally a Class 40 turn in summer was hauled by 25100 on August 14th.
On August 24th 25100 was the Manchester Victoria pilot. On August 29th 25100 worked the 11.11 Manchester Victoria - Holyhead.
It was a full day for 25100 on September 11th working the 09.42 Llandudno Town - Manchester Victoria, the 13.30 Manchester Victoria - Llandudno Town, the 16.42 Llandudno Town - Crewe, the 20.30 Crewe - Bangor and the 22.45 Bangor - Llandudno Junction.
On October 22nd 25100 & 25167 were noted at Frodingham. The next day (23rd) they were noted at Kings Norton with bogie bolsters.
1979
On May 26th the 09.46 Llandudno Town - Manchester Victoria was worked by 25100.
25100 was stabled at Reddish on June 18th.
On July 15th 25100 was stabled at Birkenhead Mollington Street.
25100 received N6 repairs at Derby Works during August & September.
25100 worked the 15.15 Plymouth - Manchester Piccadilly between Gloucester & Birmingham New Street on October 19th (also reported as 20th).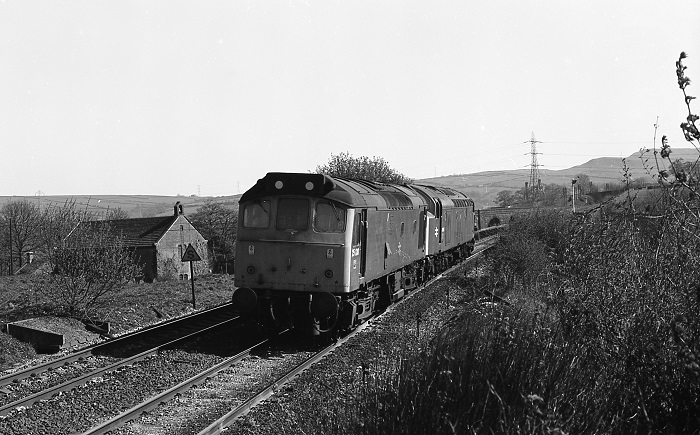 Photograph collection of webmaster.
25100 and an unidentified Class 40 between Chinley South & North Junctions, date unknown but believed to be during 1979/80.
1980
On March 1st the 05.54 Derby - Weymouth with 47234 failed at Oxford (?), 25100 & 25136 dragging the service to Reading.
On the evening of July 19th there were nineteen locomotives stabled at Northwich, most intended for engineering works the next day, the Class 25s present were: 25100, 25103, 25104, 25121, 25138, 25153, 25191 & 25196. Also on shed was 5690 Leander, in steam for a special the next day.
On August 18th 25100 was noted westbound at Chinley with loaded ICI hoppers headed for a Manchester area destination.
On the morning of August 23rd 25100 was noted at Newton Heath depot.
On the evening of September 27th Class 25s noted at Newton Heath depot were 25039, 25061, 25100 & 25215.
On the morning of October 11th 25100 was noted at Chester on an up van train.
1981
25100 was noted at Reddish depot on January 18th.
25100 was withdrawn on February 1st 1981.
Distinguishing marks:
No.1 cab headcode panel: retained 0000 in display at least until July 1979, domino display in place by August 1980.
No.2 cab front: area of vertical rust spot just below center lamp bracket: at least August 1978 until withdrawn.
19/1351
flk 1220 (1)
Not all known passenger workings are recorded on this page.
Page added February 28th 2004.
Page updated September 12th 2022.
Back to 25099
Forward to 25101