D5251, 5251, 25101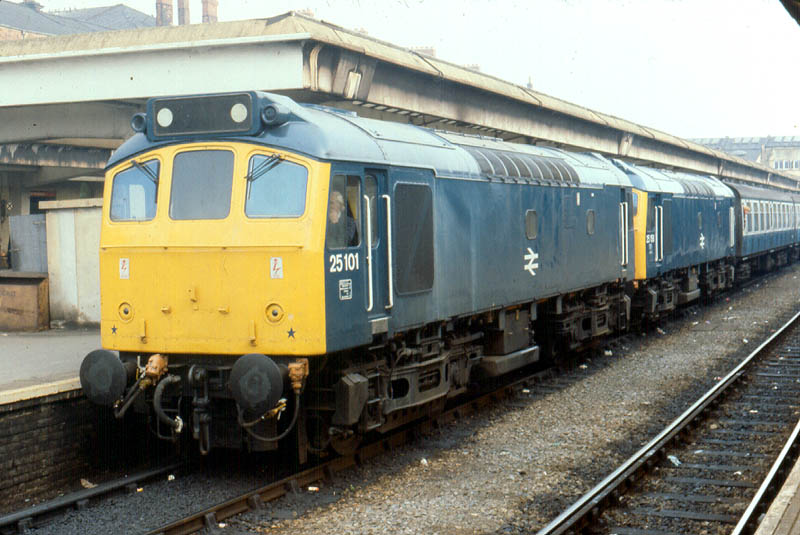 25101 & 25158 get ready to wisk some holidaymakers away to the seaside (to Yarmouth) on August 25th 1979. Surprisingly Toton has turned out two remarkably clean locomotives. Long live BR blue!
The eighteen year eleven month career of D5251/25101 saw allocations to London Midland, Eastern & Scottish Region depots.
Built: BR Derby Locomotive Works.
Boiler room grilles sheeted over (April 1979).
Time between last Classified repair and withdrawal: 42 months.
Time between withdrawal & scrapping: 34 months.
Allocations
D5251 was new to Toton (16A) on February 19th 1964. Further transfers were:
January 1965 to London Midland (Midland) Lines (LMML).
August 1965 to Leicester Divison (D15).
December 1965 to Thornaby (51L).
December 1965 to Leicester Division (D15) on loan.
January 1966 to Thornaby (51L).
May 1966 to Holbeck (55A).
December 1967 to Carlisle (12A).
May 1968 to Allerton (8J).
June 1968 to Liverpool Division (D08).
November 1970 to Nottingham Division (D16).
October 1971 to Liverpool Division (D08).
January 1972 to Nottingham Division (D16).
June 1972 to Liverpool Division (D08).
December 1972 to Nottingham Division (D16).
May 1973 to Toton.
December 1973 to Tinsley.
July 1975 to Eastfield.
October 1976 to Bescot.
October 1977 to Toton.
August 1980 to Cricklewood.
November 1980 to Toton.
April 1981 to Cricklewood.
November 1981 to Bescot.
Withdrawn January 16th 1983.
Renumbered December 5th 1973.
25101 was the 164th Class 25 to be withdrawn, one of two retired during January 1983.
After withdrawal 25101 was stored at Bescot until moved to Swindon Cocklebury Yard on July 11th 1984 as 25067, 25101/157/187 on the Wolverhampton (25067) – Bescot – Swindon movement between July 6th & July 11th. 25101 entered the Works on July 25th 1984 and scrapped there by the middle of November 1985.
25101's final move occurred as 25067, 25101/157/187 on the Wolverhampton (25067) – Bescot – Swindon movement between July 6th & July 11th. It would linger until November 1985 before being broken up.
Works Visits
Works visits (records incomplete).
Noted Derby Works June - September 1966.
Noted Crewe Works May & June 1969.
Noted Derby Works April - July 1979 (General Repair).
Highlights
1964
The frames for D5251 were laid down at Derby Works during the last quarter of 1963, being introduced to traffic at Toton during the middle of February 1964. D5251 made its Works test trip to Corby on February 17th 1964.
1965
On Sunday March 7th D5251 was stabled at Holbeck along with D5184, D7577 & D7595.
1966
In a very short lived inter-regional transfer between Leicester/Nottingham and Thornaby D5248 - D5256 were exchanged for D5370 - D5378. Their stay at Thornaby was brief, all were transferred to Leeds Holbeck (55A), the majority in May except for D5254/55 in June and D5256 in October. They were to be used on the summer seasonal traffic generated from the Leeds area, hopefully without the need to use local steam power.
D5251 visited Derby Works from April to September.
1967
On July 25th a Bradford Exchange - Kings Cross service was worked to Leeds by 5251 & 44667.
By the beginning of November another thirty Class 25s had been transferred to the north west, along with a number of shunters and Classes 40 & 47, during October alone over eighty steam locomotives were withdrawn from the LMR, all from sheds located between the Mersey and the Solway. Included in the newly arriving Type 2s were D5151 – D5155, loaned to Carlisle from Thornaby, whilst in December Carlisle (12A) received D5248 – D5251 from Leeds Holbeck and D5252 - D5256 were transferred from within the LMR. Closed to steam early in November were the sheds at Stoke, Crewe South and Birkenhead, with Warrington and Springs Branch closed by month end. Northwich still held onto a number of steam diagrams but increasingly everywhere in the north-west the Classes 25 & 40 were to be found taking over the steam turns.
On December 28th D5251 was noted passing Bolton with a freight for Glasgow (5P18).
1968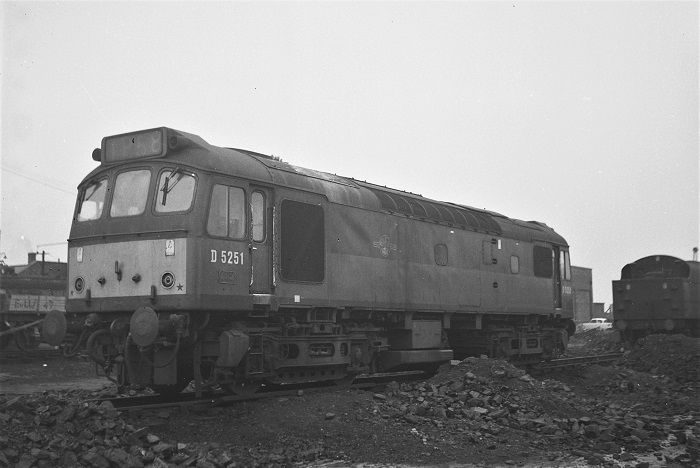 Photograph collection of webmaster.
D5251 at Lostock Hall on May 23rd 1968. In less than three months standard gauge steam on British Railways will be at an end.
D5251 worked an eleven coach Nelson - Liverpool Exchange party special on June 21st.
1969
The 17.30FO Manchester Victoria - York was worked by 5251 on October 17th.
1973
On June 2nd & July 14th the Derby - Norwich - Yarmouth - Norwich - Walsall diagram was worked by 5251 & 5270 (June 2nd) and 5251 & 5243 (July 14th).
On November 6th 5251 was noted arriving at Exeter with a sugar beet working from the Eastern Region. This was frequently a Class 25 working, but might also utilise Class 31s.
1974
On January 9th 25101 & 25031 were noted at Exeter stabling point coupled together (inbound working unknown).
On May 24th the 19.30 Bristol Temple Meads - Newcastle 5251 assisted 74 between Birmingham New Street & Derby. On June 15th the 11.59 Yarmouth - Sheffield was worked from Grassmoor Junction (March) to Sheffield by 25101 & 25018.
1975
A Birmingham - Edinburgh service on July 5th was worked forward from Carstairs by 25101 & 25111.
1977
On June 5th 25101 & 25253 worked the 08.45 Birmingham New Street - Barmouth as far as Shrewsbury. From here they took over a York - Barmouth day excursion, working a roundtrip. On return to Shrewsbury they took over the 17.30 Barmouth - Birmingham New Street.
The Western Region witnessed a number of double headed Class 25s during the summer season which included July 16th's 08.50 Birmingham - Paignton behind 25159 & 25101. The latter would fail at Wellington with fire damage, how far they went after that is unknown. One report suggests the train reached Paignton and then returned northwards with the empty coaching stock.
1978
An empty coaching stock move from Derby to Leicester on July 1st was worked by 47205 after the booked locomotive 25101 failed.
July proved to be a busy month for 25101. On July 8th 25101 & 25252 worked the 08.00 Walsall - Yarmouth to Norwich, returning from there with the 14.15 Yarmouth - Derby. The same pair then worked a Leicester - Skegness roundtrip on July 9th, 10th & 11th. On July 12th 25101 again worked the Leicester - Skegness roundtrip, but now paired with 25126. The same pair on July 15th worked the Derby - Norwich - Yarmouth - Norwich - Walsall diagram. On August 28th 25101 & 25107 worked the 12.22 Crewe - Cardiff.
On October 23rd 25127 & 25101 were noted at Kingsbury Junction with a loaded coal train.
1979
On a snowy March 16th 25101 was noted westbound at Derby with bogie wagons loaded with steel bar.
25101 received a general repair at Derby Works between April and June.
On June 30th ex-works 25101 & 25073 worked the Derby - Norwich - Yarmouth - Norwich - Walsall diagram.
Almost two months later on August 25th 25101 & 25158 worked the Derby - Norwich - Yarmouth - Norwich - Walsall diagram. The next day (26th) the same pair were noted in the evening at Birmingham New Street, believed to be working a return excursion from Pwllheli. On August 28th 25101 was noted at Bristol with down china clay empties.
1980
25101 was stabled at Newton Heath on April 20th.
On May 17th 25101 & 25103 were noted at Manchester Victoria, possibly working a Portsmouth Harbour - Nelson service. On a damp May 31st the 07.35 Nottingham - Llandudno Town was worked from Derby by 25101, it did not return on the diagram. On June 14th & 21st 25101 worked the 08.42 Sheffield - Huddersfield (portion for 08.55 York - Llandudno) and the return 16.58 Huddersfield - Sheffield (portion off the 13.42 Llandudno - York). A week later (28th) 25101 & 25163 worked a relief 08.56 Stoke-on-Trent - Yarmouth to Norwich. On June 15th Tinsley held its annual Open Day, partly to celebrate the centenary of ASLEF. Almost fifty locomotives were on display (fifteen different classes) including 25101 & 25253.
On September 3rd 25101 was noted westbound at Lenton South Junction with a mixed freight.
On November 25th 25101 was noted at Walsall with an engineers train.
1981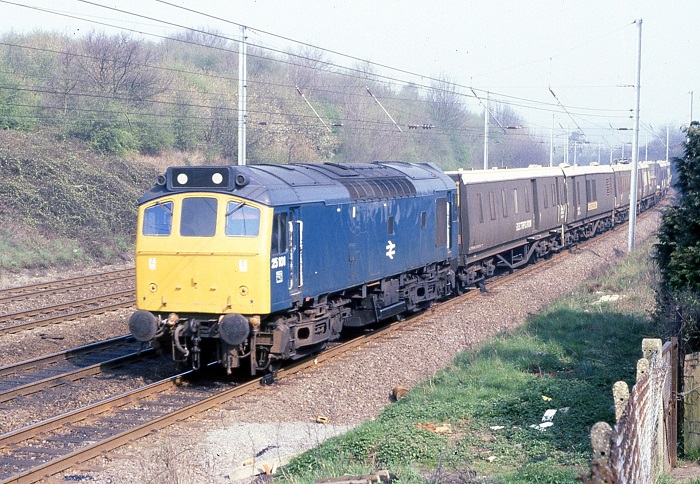 25101 motors down the slow lines near Harpenden on April 10th 1981, things have changed since D5251 started working over these lines in 1964.
On April 27th the late morning Wellingborough - Acton freight was worked by 25101 & 25066.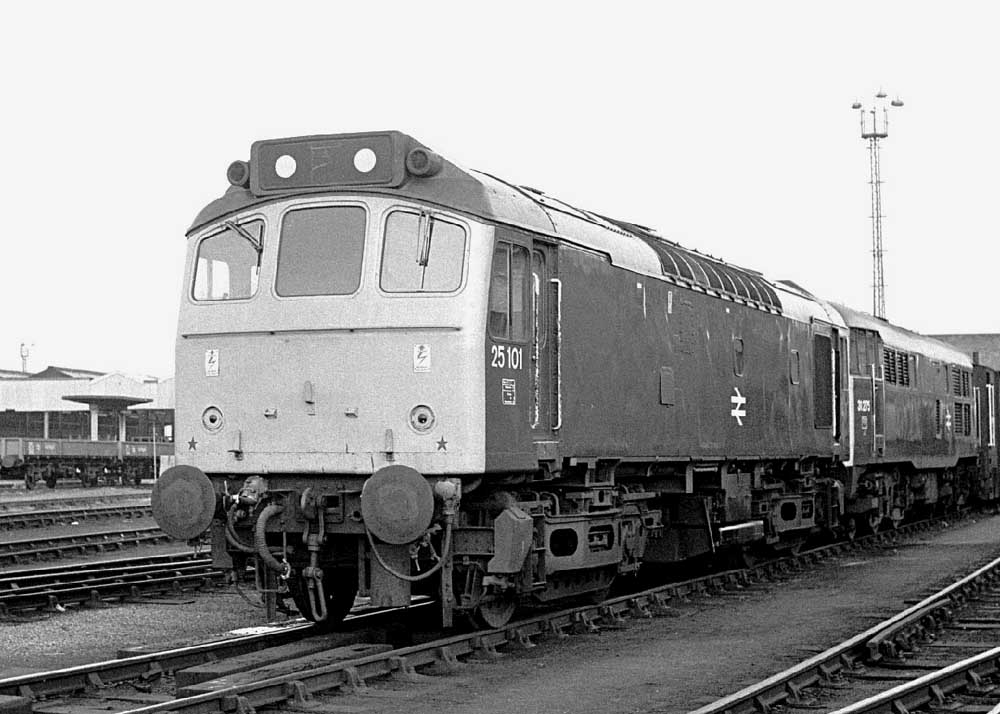 Photograph courtesy Tony Sayer.
25101 at Thornaby on February 15th 1981. Although allocated to the NER in the early days, their use on NER metals would be frowned upon during the 1980s, presumably due to a lack of crews trained on them and their increasing unreliability.
1982
On a snowy January 16th 25101 & 25133 were noted light engines at Crewe station.
On May 16th 25101 was stabled at Buxton.
On June 5th 37198, 25101 & 47002 were noted arriving together at Guide Bridge holding sidings.
The last recorded passenger working for 25101 occurred on September 6th when it substituted for a diesel multiple unit on the 07.00 Sheffield - York and its return working.
Nine withdrawn LT underground cars were moved by 25101 on a miserably wet October 13th from West Ruislip to Tinsley for scrapping locally.
25101 was noted at Leighton Buzzard with an engineers train on November 28th.
1983
25101 was withdrawn on January 16th 1983.
00/0000
flk 1115 (3)
Not all known passenger workings are recorded on this page.
Page added February 28th 2004.
Last updated September 12th 2020.
Back to 25100
Forward to 25102