D5253, 5253, 25103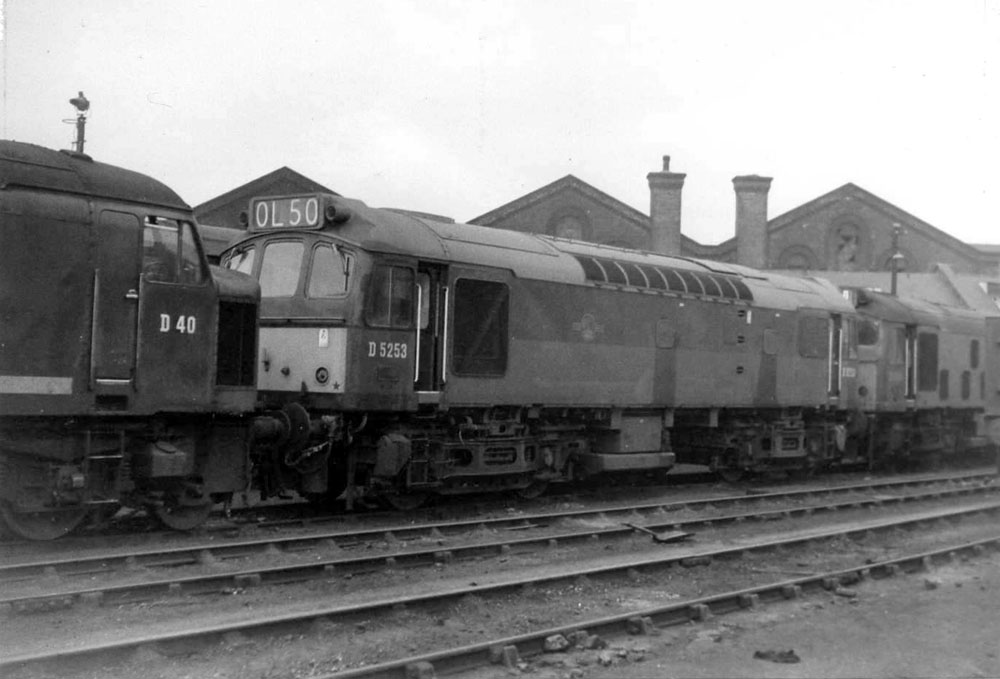 Photograph courtesy John Wraithmell
Holbeck No.3 Road with D40 & D5253 in view. Note sure of the date but probably between May 1966 & December 1967 when D5253 was allocated to Holbeck.
The sixteen and a half year career of D5253/25103 included a short time allocated to Eastern Region depots in between allocations to London Midland depots.
Built: BR Derby Locomotive Works.
Time between last Classified repair and withdrawal: 60 months.
Time between withdrawal & scrapping: 30 months.
Allocations
D5253 was new to Toton (16A) on February 26th 1964. Further transfers were:
May 1964 to Nottingham (16D).
January 1965 to Nottingham Division (D16).
December 1965 to Thornaby (51L).
December 1965 to Leicester Division (D15) on loan.
January 1966 to Thornaby (51L).
May 1966 to Leeds Holbeck (55A).
December 1967 to Carlisle (12A) on loan, made permanent January 1968.
May 1968 to Allerton (8J).
June 1968 to Liverpool Division (D08).
December 1972 to Nottingham Division (D16).
May 1973 to Toton.
May 1973 to Springs Branch.
Withdrawn September 7th 1980.
Renumbered March 2nd 1974.
25103 was the 41st Class 25 withdrawn, one of nine retired during September 1980.
After withdrawal 25103 was stored at Toton from September 1980 to January 12th 1981 when it was moved to Swindon Works with 25026, 25137 & 08027 by 31289. 25103 was scrapped by the third week of March 1983.
Works Visits
Works visits (records incomplete).
Noted Derby Works July 1967.
Noted Derby Works September 1971.
Noted Derby Works August - September 1975 (Classified).
Highlights
The recorded passenger workings for D5253/25103 are very, very low. If the Class 25/0s and the two early withdrawals (5278 & 7605) are ignored, then 25103 comes second only to 25098 for having the lowest passenger mileage for a Class 25/1/2/3. Even some of the Class 25/0s achieved more recorded passenger mileage than 25103!
1968
On the evening of February 9th D5253 was noted at Manchester Victoria with an Ancoats - Glasgow freight.
1972
5253 was noted passing Manchester Victoria at about 7am on May 10th with an up freight (6J37).
1975
At about 7am on July 30th 25103 was noted in Manchester Victoria yard, having arrived with the 4M03 ex-Leeds.
1977
24063 & 25103 were noted at Bidston with iron ore for Shotton on March 16th.
The first recorded passenger working for 25103 took place on April 11th 1977 assisting the 10.10 Liverpool - Newcastle to Leeds from ?? after 40035 had failed.
On June 24th 25103 & 25172 were noted at Exeter stabling point.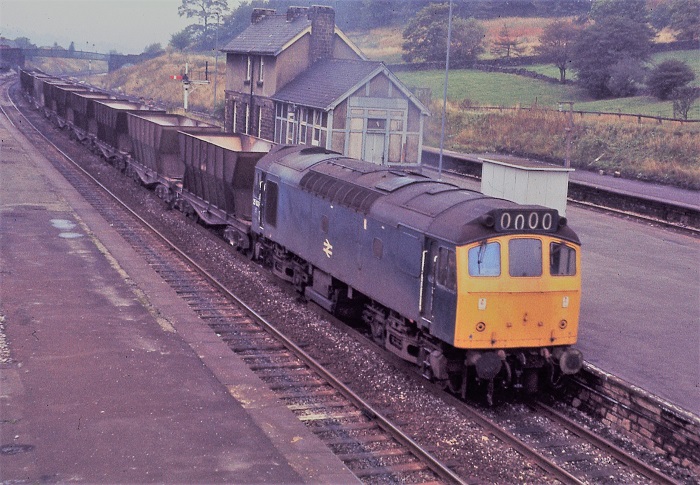 Beeching's axe reduced the once sprawling station at Chinley to little more than a 'paytrain' halt on the Sheffield - Manchester route. The intact platforms here suggest days of a finer grandeur, when expresses from St Pancras connected with local services. But now on a dull October 2nd 1977 a returning set of limestone empties led by 25103 is all that rattles the former glories of the windswept platforms.
1978
On August 4th the diesel multiple unit working the 08.55 Chester - Manchester failed at Northwich with problems with 50943, 25103 took the train forward.
1979
25103 was noted on April 2nd at Skelton Junction with empty ICI hoppers from Northwich for the Peak Forest.
25103 was back on the Trans-Pennine route, this time on July 14th 1979 with the 09.00 Llandudno Town - York, presumed to have worked throughout. Three weeks later on August 4th 25103 worked the 09.16 Llandudno Town - Euston as far as Crewe.
1980
25103 was stabled at Cockshute on April 19th.
May 1980 brought two passenger workings for 25103, on May 17th 25103 & 25101 worked a Portsmouth - Nelson return day excursion (?) from Manchester Victoria (?) to Nelson. And finally on May 31st 25103 worked the 11.00 Barrow - Liverpool.
25103 was withdrawn on September 3rd 1980.
5/354
flk 1115 (1)
Not all known passenger workings are recorded on this page.
Page added March 31st 2013.
Last updated February 14th 2020.