| | | | | | |
| --- | --- | --- | --- | --- | --- |
| Load | Speed | Amps | Volts | Notes | Other |
| 1 | 29 | 900 | - | - | - |
No.2 speedometer to change
Speedometers to check & set up, reading high
Knecht fuel filter
No.4 rocker not sealed at rear
No.2 driver's side door seal
Conduit clip to secure A side ??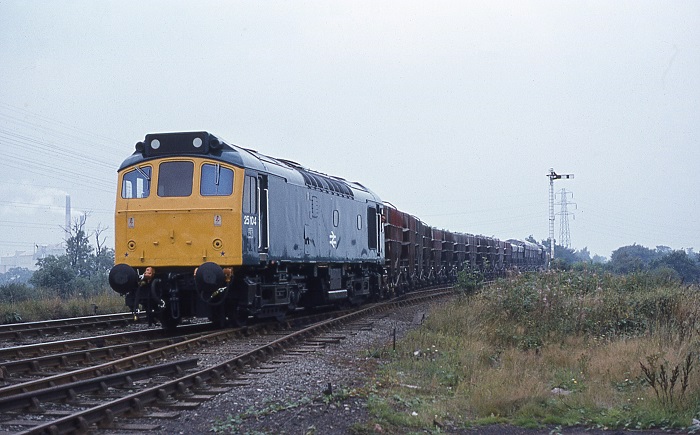 Photograph collection of webmaster.
Ex-Works 25104 at Penyfford, date unknown but believed to be circa October 1977. From the position of the cement works chimneys and the high voltage power line pylons this view is taken from the northeast end of the former PW yard, which is on the east side of the line. The crossover point gives access to a small PW yard long since removed, later to become a car park. 25104 is crossing wrong line from the northbound line to the southbound line via a single slip as the cement works only had access to the northbound tracks. Run round was possible in the works. The Mold Curve sidings are hidden in the trees at a lower level in front of the loco as these drop down steeply while the embankment of the main line rises towards Buckley Junction.
1978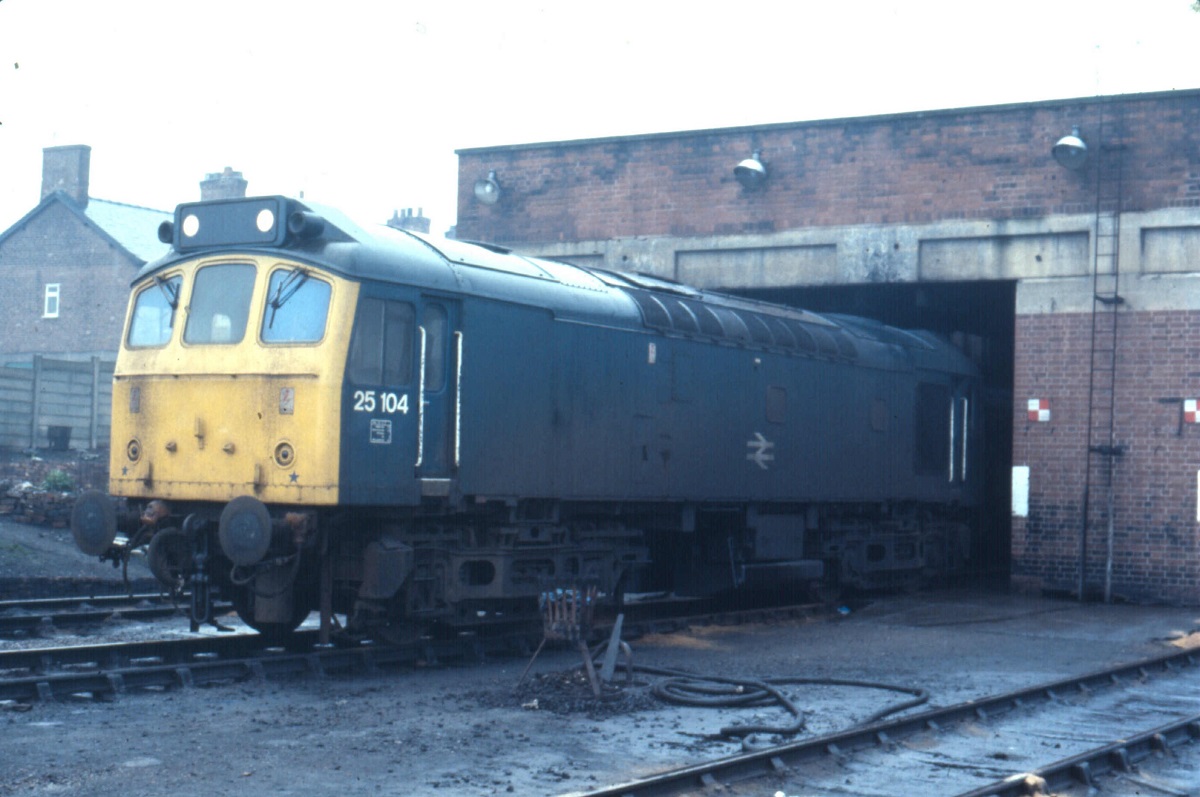 On a dull and wet Sunday January 21st 1978 whilst doing a tour of the Cheshire area depots prior to visiting Crewe Works, 25104 was noted parked in front of the old steam depot. 25104 is one of those Class 25's that had its boiler room grille sheeted over whilst receiving repairs at Derby Works.
On May 28th 25104 was stabled at Buxton.
25104 was the Manchester Victoria banker (T42) on June 18th.
On July 13th 25104 worked a freight to Heysham Harbour. On July 15th 25104 was noted passing Agecroft Junction towing failed 25154. On July 22nd (or 29th?) the 13.02 Llandudno Town - Nottingham saw 25104 replace 25268 at Stoke-on-Trent, working forward to Nottingham. On September 11th 25104 worked the 07.47 Manchester Victoria - Bangor and the 11.30 return.
25104 was noted passing through Manchester Victoria light engine on September 15th.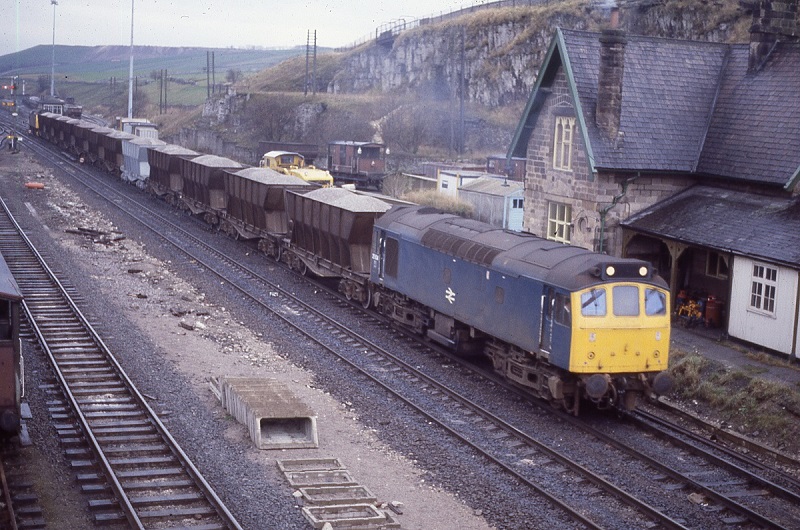 25104 and banker slowly push/shove twelve loaded hoppers towards Peak Forest summit (982') on November 23rd 1978.
1979
On the afternoon of February 22nd 25104 was stabled at York.
On March 2nd 25104 was noted at Preston with a southbound parcels.
On April 20th 25104 was stabled at Northwich.
On June 23rd 25104 was stabled at Buxton.
On July 14th 1979 25104 & 25253 worked the 10.10 Euston - Aberystwyth from Birmingham New Street, returning with the 16.10 Aberystwyth - Shrewsbury. Two weeks later, on July 28th 25104 worked the 09.00 Llandudno Town - York throughout. No passenger workings have so far been recorded for 1980.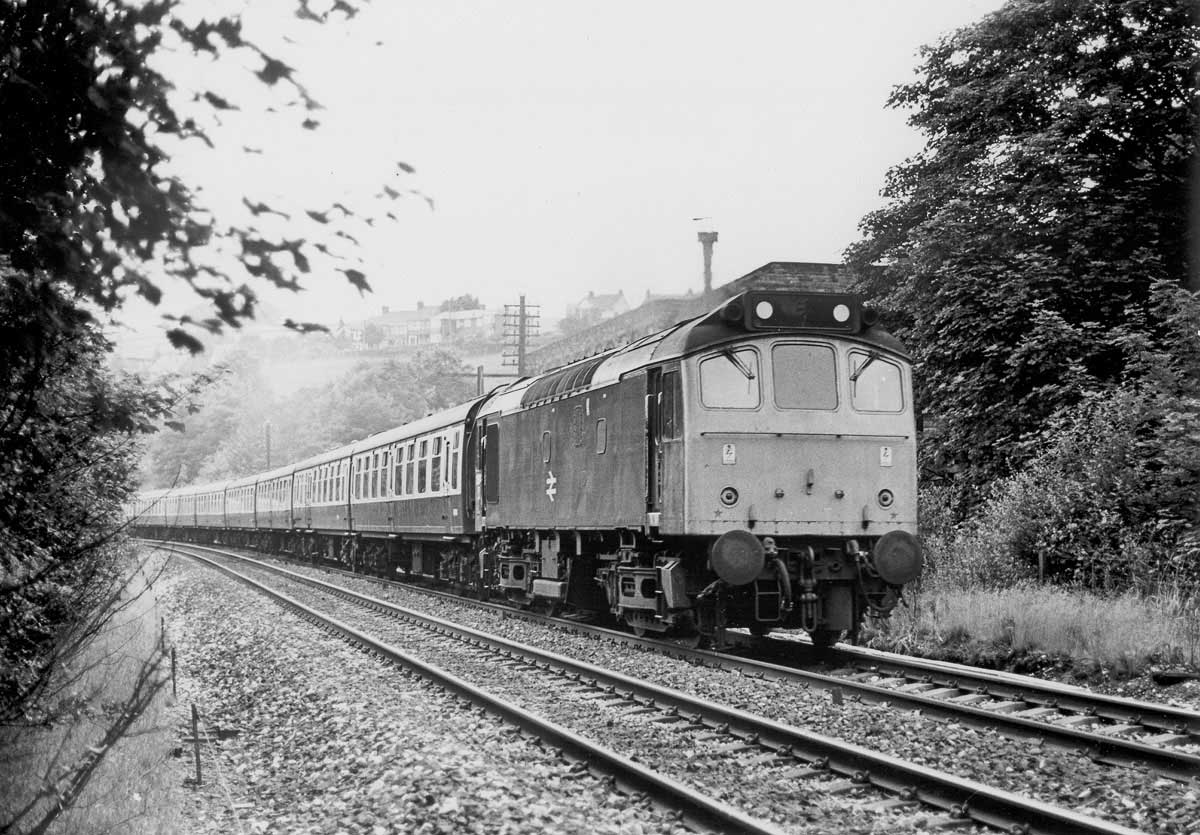 Photograph courtesy Larry Goddard.
25104 eastbound at Greenfield with the 09.00 Llandudno - York July 28th 1979. With at least nine coaches in tow it must be assumed that the 25104 is putting out its unmistakeable Sulzer sound.
At 2pm on August 31st 25040, 25104 & 25143 were noted at Saltley.
On November 6th 25104 & 25208 worked the 01.36 Whitemoor - Temple Mills freight, via Broxbourne, the return working being the 06.00 Temple Mills - Whitemoor.
25104 was stabled at Newton Heath on December 1st.
1980
25104 was noted on ICI bogie hoppers westbound at New Mills on February 17th and at Northenden Junction on February 20th.
25104 was the Manchester Victoria pilot on August 3rd.
25104 was noted at Newton Heath on the evening of August 22nd.
On the morning of August 23rd 25104 was noted shunting vans at Manchester Victoria.
On September 2nd 25104 was noted at Guide Bridge. 25104 was stabled at Blackburn on September 6th.
At about 11am 25104 was northbound at Warrington with a freight.
1981
On January 24th 25104, 25105 & 25290 were stabled at Derby.
At about 4.30pm on March 4th 25104, 25266 & 25284 were stabled at Springs Branch depot.
On April 16th 25104 was noted eastbound at Guide Bridge with empty ICI bogie hoppers for Tunstead.
On the evening of May 11th 25104 was noted at Crewe on a down van train. The final passenger workings for 25104 took place in 1981. On May 27th/28th 25104 was busy working in North Wales, starting out with the 27ths 13.40 Manchester Victoria - Llandudno Town, the 16.42 Llandudno Town - Crewe and a relief 20.30 Crewe - Bangor. The next day (28th) 25104 handled its final passenger workings, the 09.42 Llandudno - Manchester and a relief 20.30 Crewe - Bangor. On a wet May 29th 25104 was at Blaenau Ffestiniog with a train of track panels.
At midday on June 16th 25104 was stabled at Guide Bridge.
1982
On April 21st 25104 was light engine at Kingsbury.
25154 & 25104 were stabled at Newton Heath on July 17th.
25104 was withdrawn on September 26th 1982.
Not all known passenger workings are recorded on this page.
flk 0222 (1)
29/1866
Page added June 19th 2013.
Last updated June 10th 2022.
Back to 25103
Forward to 25105