D5255, 5255, 25105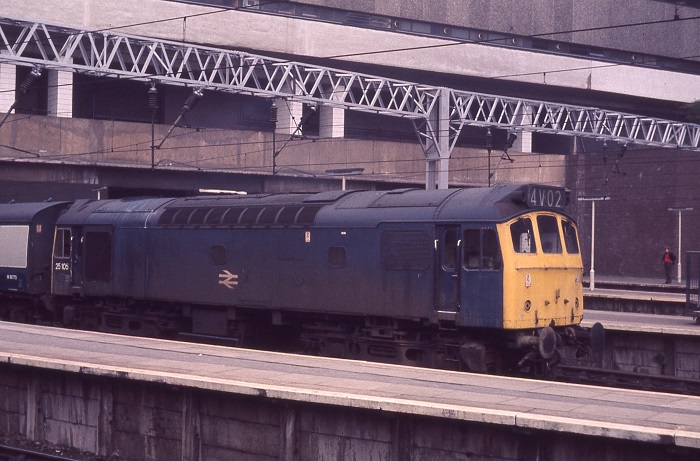 An across the platform shot of 25105 at Birmingham New Street sometime during July 1975.
The eighteen year one month career of D5255/25105 included allocation to three Eastern Region depots and a multitude of London Midland Region depots.
Built: BR Derby Locomotive Works.
Boiler room grilles sheeted over (1977).
Time between last Classified repair and withdrawal: 58 months.
Time between withdrawal & scrapping: 43 months.
Allocations
D5255 was new to Toton (16A) on March 6th 1964. Further transfers were:
March 1964 to Trafford Park (9E).
April 1964 to Toton (16A).
January 1965 to Nottingham Division (D16).
August 1965 to Leicester Division (D15).
December 1965 to Thornaby (51L).
December 1965 to Leicester Division (D15) on loan.
January 1966 to Thornaby (51L).
June 1966 to Holbeck (55A).
December 1967 to Carlisle (12A).
May 1968 to Springs Branch (8F).
June 1968 to Liverpool Division (D08).
May 1973 to Springs Branch.
October 1974 to Tinsley.
January 1975 to Bescot.
July 1975 to Longsight.
Withdrawn April 4th 1982.
Renumbered February 23rd 1974.
25105 was the 126th Class 25 withdrawn, one of two retired during April 1982.
After withdrawal 25105 was stored at Tyseley until May 1982 when it was moved to Derby Works. 25105 was actually lined up in the scrapping area with 25261 & 25312, work started on 25261, with 25105 next in line, but an industrial dispute stopped further scrapping at Derby Works. On July 24th 1985 25105 moved to Swindon Works (see details below) and was broken up there by the last week of November 1985.
25093, 25105/164, 25234/248/260, 25312/319 9X12 17.05 Derby Works - Swindon Works July 23rd/24th, 1985, hauled by 45060.
Works Visits
Works visits (records incomplete).
Noted Derby Works May 1972.
Noted Derby Works October 1975.
Noted Derby Works April - May 1977.
Highlights
1964
During February & March D5707 & D5713 returned for further testing on the limestone workings, whilst during March D5255 & D7586 were transferred to Trafford Park (9E). D5255's time here was brief, it was transferred back to Toton during April, but D7586 remained allocated to Trafford Park until January 1965 when it was briefly reallocated to the Nottingham Division, but returned to Trafford Park the same month. With the testing completed the decision was made to utilise the Sulzer Type 2s on the limestone trains. To accomplish this seven Type 2s would be allocated to Trafford Park (9E) shed. All the locomotives selected were virtually brand new and had been on allocation to Toton (D16) after delivery from the workshops. D7586 which had been one of the locomotives used in the trials remained at Trafford Park, perhaps an odd choice since the locomotive was boiler equipped. The remainder were D5274 - D5279 and arrived during June & July.
1966
On the morning of April 16th D5255 was at Stockton on a down freight.
Leeds Holbeck gained D5248 – D5255 during May, with the intent to cover much of the extra summer traffic generated from the area, without having to revert to using the local steam power.
On the afternoon of May 14th D5255 was at Northallerton.
Noted at Darlington between 4.30pm & 7pm on June 20th were:
D5171: down freight
D5113: down freight
D5164: up light engine, later northbound with a freight
D5159: up light engine
D5163: up light engine
D5255: up freight, later to return with just a brakevan
D5152: up light engine
1967
The passenger workings so far recorded for D5255/25105 are very few. One of its earliest passenger workings took place on June 24th 1967 handling the 08.41 Bradford Foster Square - Morecambe.
On the afternoon of August 19th D5255 & 45083 were light engines at Morecambe. 45083 had arrived with the 09.10 Manchester Victoria - Morecambe. D5255 would later work an evening Morecambe - Leeds service (1N71).
On the morning of September 6th noted in the Leeds area were D5184, D5255, D7572, 44893 & 44988 (all at Holbeck), D7626 at Leeds City with freight 8P83, D7625 at Leeds City with freight 8P84 and D5096 light engine.
1968
On the afternoon of January 7th D5255 was at Golbourne (WCML) with a permanent way train.
On the evening of June 12th D5255 was northbound at Crewe with a freight (5P09).
On June 22nd 1968 D5255 & D5246 worked the roundtrip Nottingham - Llandudno Town diagram.
1970
On the early afternoon of August 22nd 5255 was light engine at Warrington WCML.
1972
On May 24th 5255 made a test run from Derby Works.
The snag sheet for May 24th recorded:
5255; May 24th 1972; time 9.43
| | | | | | |
| --- | --- | --- | --- | --- | --- |
| Load | Speed | Amps | Volts | Notes | Other |
| 1 | - | - | - | - | - |
There were no other notes on the snag sheet, so presumably the test run went well.
1973
On the afternoon of July 4th 5255 was southbound at Skelton (York) with a freight.
At about 5.30pm on July 27th 5255 was noted at Ordsall Lane with an up van train (4H07).
At about 6pm on December 17th 5255 was noted passing Manchester Victoria with an up van train (6J06).
1975
On July 5th 25105 & 25275 (also reported as 25276) worked the 08.00 Walsall - Yarmouth to Norwich returning from there with the 14.15 Yarmouth - Derby. 25105 & 25088 were westbound on the Hope Valley line light engines on July 17th whilst later 25105 was the Manchester Victoria banker (T42) on July 17th & 18th.
On August 30th 25105 & 25139 worked the 09.20 Manchester Piccadilly - Yarmouth to Lincoln Central, returning with 09.30 ex-Yarmouth to Manchester Piccadilly.
1976
On the morning of June 2nd 25105 was noted at Shipley southbound with a train of Presflos.
On July 29th 25105 was stabled at Guide Bridge.
1977
25105 was the Manchester Victoria banker (T42) on February 12th.
On June 16th 25105 made a test run from Derby Works.
The snag sheet for June 16th recorded:
25105; June 16th 1977; working 1C21 Derby
| | | | | | |
| --- | --- | --- | --- | --- | --- |
| Load | Speed | Amps | Volts | Notes | Other |
| 1 | 29 | 800 | - | - | - |
Cabs paint
T/C oil sep?? top joint blowing oil
A side crankcase door seals
No.1 & 3 cylinder push rod tube? issues
Engine sounds very uneven.
On July 7th 25105 was eastbound at Northwich with empty ICI hoppers for Tunstead.
On October 15th 25105 was the Manchester Victoria banker.
On the afternoon of December 6th 25105 was light engine at Olive Mount Junction.
1978
August 4th proved to be a busy day for 25105 in North Wales, commencing with the 07.47 Manchester Victoria - Bangor, the 11.30 Bangor - Manchester Victoria, the 15.32 Manchester Victoria - Bangor and the 19.30 Bangor - Manchester Victoria, for a total of 400 passenger miles with hauled stock deputising for a diesel multiple unit.
At about 2pm on September 16th 25105 was at Guide Bridge. On September 17th 25154 & 25105 were eastbound at Guide Bridge with a train of track panels.
1979
On March 31st 25092, 25105 & 25142 were noted at Newton Heath depot.
On June 9th 25105 was stabled at Bescot.
On July 10th electric multiple units 28361/29588/28876 were hauled by 25105 from Southport to Dee Marsh, via Burscough & Wigan. On the evening of July 20th 25105 was noted at Crewe with an up freight.
25105 was noted on Bristol Bath Road on the morning of August 21st.
An unusual sight on August 25th was 25133 en-route from Bristol Bath Road to Derby dragging dead 25105 & 47107 up Lickey Incline and being assisted by the bankers 37158 & 37298!
On August 25th 25133 towed 47107 & 25105 from Bristol Bath Road to Derby. 37298 & 37158 provided assistance up Lickey incline.
1980
25105 was stabled at Longsight on January 27th.
Because of the implications of a recent derailment, the Class 86/0s regained their 80 mph speed restriction whilst the use of Classes 81 – 85 was permitted on air braked, air conditioned trains. Despite these alterations the northern end of the WCML saw a number of electrically hauled freights substituting with diesel power including the use of Class 25s. So noted were 25095 on February 20th's late evening Willesden – Runcorn freight and 25105 & 25159 on February 21st's mid-day Carlisle – Severn Tunnel Junction freight.
On April 11th & 19th 25105 was at Reddish depot.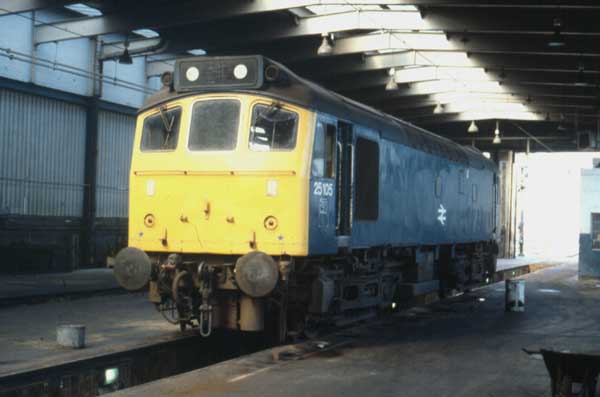 25105 at Reddish depot on April 11th 1980.
On May 23rd 25105 was noted at Peak Forest with empty ICI limestone wagons.
The last recorded passenger workings took place in August 1980, on the 30th 25105 worked the 14.40 Manchester Victoria - Llandudno Town and the 18.17 Llandudno Town - Manchester Victoria.
On October 29th 25105 was at Reddish.
On the morning of November 1st 25105 was noted at Carlisle with a permanent way train.
25105 was stabled at Crewe on the afternoon of December 15th.
1981
25104, 25105 & 25290 were stabled at Derby on January 24th.
Two Mk1 barrier vehicles and Class 317 emu trailer M71577 ran north through Chesterfield on June 1st behind 25105.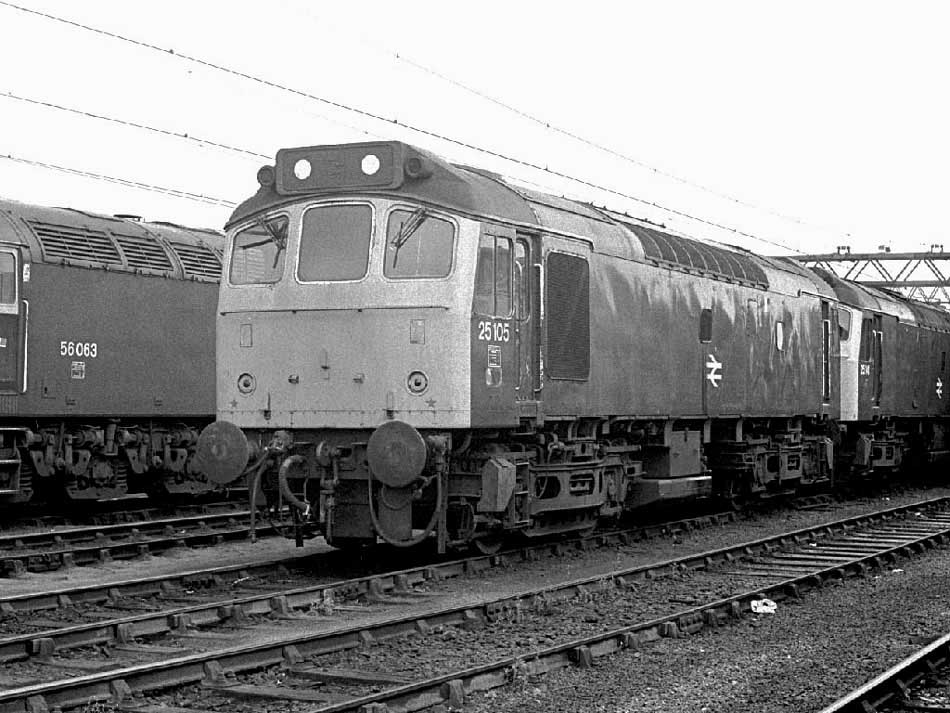 Photograph courtesy Tony Sayer.
Guide Bridge stabling point with 25105 on July 25th 1981.
On the afternoon of November 11th 25105 was eastbound at Manchester Victoria with a freight.
1982
25105 was withdrawn on April 4th 1982.
Distinguishing Features
No.2 cab front: driver's side headboard bracket missing: summer 1977 (refitted by March 1981).
Not all known passenger workings are recorded on this page.
flk 0522
13/1362
Page added July 27th 2013.
Last updated October 9th 2022.
Back to 25104
Forward to 25106