D5256, 5256, 25106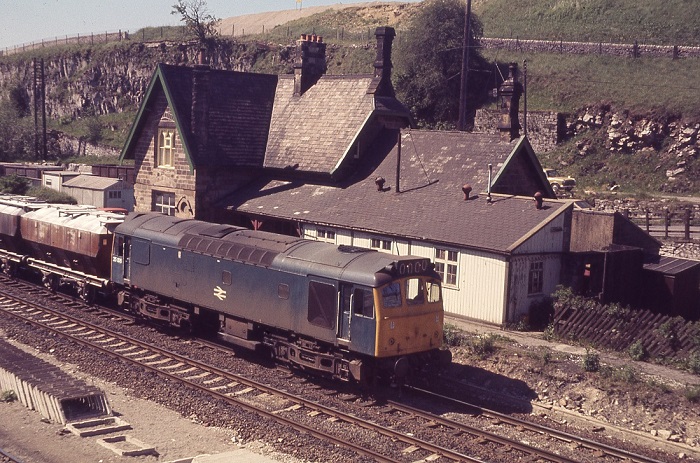 Peak Forest lost its train service from March 6th 1967 but some of the station buildings still remain. Here Longsight allocated 25106 eases by with a train of covered hoppers on June 22nd 1977. It is easy to forget that this line once hosted the original 'Peaks' (D1 - D10, Class 44) and the Blue Pullmans.

The nineteen year seven month career of D5256/25106 included many allocations to Eastern and London Midland Region depots.

Built: BR Derby Locomotive Works.
Dual brake equipped (1977).
Time between last Classified repair and withdrawal: 81 months.
Time between withdrawal & scrapping: 4 months.

Allocations

D5256 was new to Toton (16A) on March 13th 1964. Further transfers were:

August 1964 to Derby (16C).
January 1965 to Nottingham Division (D16).
December 1965 to Thornaby (51L).
December 1965 to Nottingham Division (D16) on loan.
January 1966 to Thornaby (51L).
October 1966 to Holbeck (55A).
December 1967 to Carlisle (12A) on loan.
May 1968 to Springs Branch (8F).
June 1968 to Liverpool Division (D08).
May 1973 to Springs Branch.
October 1974 to Tinsley.
January 1975 to Bescot.
July 1975 to Longsight.
October 1980 to Toton.
May 1981 to Bescot.
September 1981 to Crewe.
January 1983 to Kingmoor.
Withdrawn October 9th 1983.

Renumbered May 17th 1974.

25106 was the 198th Class 25 to be withdrawn.

After withdrawal 25106 was briefly held at Springs Branch (noted there October 8th 1983) before moving to Swindon Works between October 28th 1983 & November 16th 1983 and was scrapped during the first week of February 1984.

Works Visits

Works visits (records incomplete).

Noted Derby Works September 1971.
Noted Derby Works November 1976 - January 1977 (accident damage, full repaint).

Highlights

1964
Condition new: two-tone green livery with small yellow warning panels, three-rung bogie mounted footsteps, straight sided sandboxes.

Despite the closue of Dudley station, it was still used by excursion traffic visiting the zoo, on May 17th one such excursion from ?? was hauled by D5248 & D5256.

1966
In a very short lived inter-regional transfer between Leicester/Nottingham and Thornaby D5248 - 5256 were exchanged for D5370 - 5378. The actual transfer of D5248/49/50 and D5370/71/72 occurred on New Year's Day with the Class 25s being sent north from Leicester, the Class 27s coming down from Thornaby, the crews changing at Masborough!

1967
Whilst allocated to Holbeck depot D5256 was noted working a Leeds - Morecambe service on July 22nd 1967.

1971
On June 10th 5266 was noted propelling the Chipman Chemical Co.Ltd No.2 weedkilling train past Priestfield signalbox as it headed for the weeds on the Langley Green section of the Stourbridge extension.

On August 5th ex-works Southport vehicles M28323M, M29556M & M29877M were hauled from Horwich Works by 5256.

1972
At about 7am on April 14th 5256 was noted passing Manchester Victoria with a down freight.

At about 6pm on August 22nd 5256 was noted passing Park (Manchester) on a down freight.

At about 7.30am on September 25th 5256 was noted passing Olive Mount Junction with an up freight.

At about 5pm on October 3rd 5256 was noted passing St Helens Junction with an up freight.

1974
At about 2pm on September 10th 25106 was noted passing Preston with an up freight.

1975
25106 was stabled at Margam depot on May 11th.

25106 was the Manchester Victoria banker (T42) on July 22nd.

1976
25106 was the Manchester Victoria banker on February 21st.

During November 25106 was noted at Derby Works with collision damage to the No.1 cab end, the buffers had been knocked off, there were minor wrinkles in the cab sheet metal suggesting the cab had been forced downwards, the repair estimate was £18,000.

1977
On June 9th 25106 was noted westbound through Guide Bridge with loaded ICI limestone hoppers.

On July 18th 25106 was noted light engine northbound through Wigan North Western station.

1978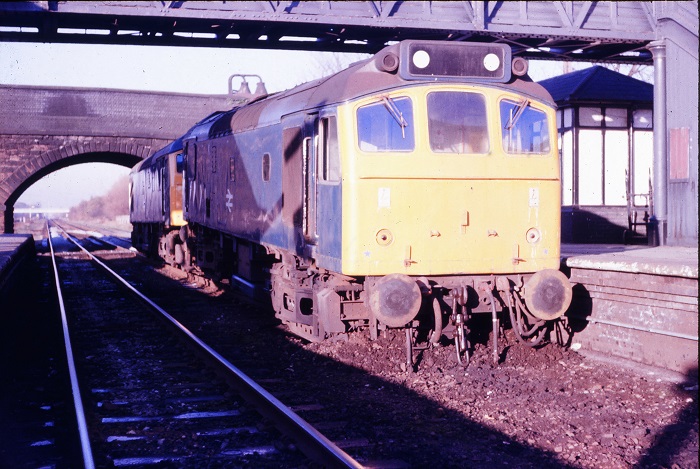 Photograph courtesy David J Mason.
25106 & 25199 at Hooton, date unknown but believed to be sometime during 1977/1978. In running round his train the driver forgot the old 'fast' lines had been severed and no stop block was yet in place, possibly one of the perils associated with driving from the trailing cab!
On July 20th 25106 was the Manchester Victoria banker. On July 30th 25106 & 25214 worked the 08.40 Leicester - Skegness and 18.30 Skegness - Leicester.
At about 6am on November 4th 25106 was at Liverpool Lime Street with a van train.
1979
On March 4th 25106 was stabled at Manchester Victoria.
25106 was the Manchester Victoria pilot on March 7th.
Noted northbound on a freight at Gretna Junction on April 7th were 25106, 26014 & 27042.
25106 recieved an 'E' exam at Reddish during April.
On May 19th 25106 was the Manchester Victoria banker.
On June 3rd 25106 was noted at Chester depot. On June 23rd 25106 was noted at Buxton depot.
On July 7th 25106 worked the 07.50 Cardiff - Crewe with sister 25107. On July 17th 25106 was noted at Guide Bridge.
On December 1st 25106 was stabled at Longsight.
1980
On March 15th 25106 & 25202 were noted southbound at Nuneaton with oil tankers. On March 28th 25106 was noted southbound at Wolverton with a freight diverted onto the WCML at Nuneaton due to the temporary closure of the Market Harborough - Northampton line because of the shortage of signalmen.
The 13.00 Llandudno Town - Nottingham on May 31st was worked by 25106 (25101 worked the outward leg).
The only recorded passenger working on the Cambrian line took place on June 28th with 25106 & 25125 handling the 10.10 Euston - Aberystwyth from Birmingham New Street, returning with the 16.10 Aberystwyth - Shrewsbury.
During the afternoon of August 23rd Class 25s stabled at Birkenhead Mollington Street were 25106, 25205, 25211 & 25213.
On September 9th 25211 & 25106 worked the Ellesmere Port - Cranmore bitumen tank train.
1981
On March 11th 25106 was noted at Parkside Junction with an up freight.
On June 23rd 25106 and a train of track panels was noted on the Bridge Street branch, Northampton.
On July 30th 25106 was noted at Winwick with a block train of chemical tanks.
On August 6th 25106 & 25251 were noted at Morecambe with an unidentified nine coach passenger train. On August 23rd 25106 was stabled at Birkenhead Mollington Street.
On September 22nd 25106 was stabled at Warrington Arpley.
The 07.05 Blackpool North - Euston was dragged between Stafford & Rugby by 25106 & 25182 on October 18th 1981 due to the power being off for engineering work.
On November 13th 25036 & 25106 worked the Leith South - Heysham Harbour pipe train (from Carlisle?).
1982
Weather conditions on January 9th 1982 saw 25106 piloting a diesel multiple unit on the Blaenau Ffestiniog - Llandudno Junction service.
On February 23rd 25106 was noted passing through Trent with Merseyrail Class 502 electric multiple units for scrap at ??
On a damp and gloomy March 6th 25106 & 37069 were noted eastbound through Nottingham with bogie tanks.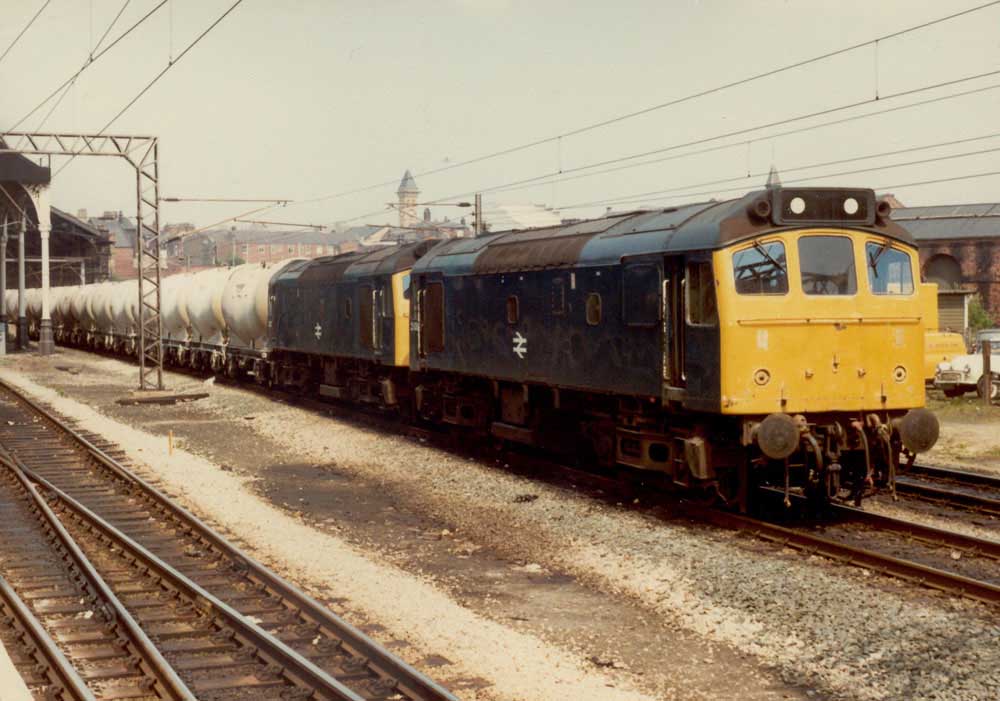 Photograph courtesy Jerry Glover
25106 & 25120 head south through Preston on May 12th 1982.
On May 15th 25106 & 25120 were noted southbound through Preston with a rake of PCA cement wagons.
On June 17th 25154 was noted at Hereford with the afternoon Manchester - Bristol parcels and a dead 25106, which was taken off the train and left on the stabling line. 25106 was noted at Warrington Arpley on June 27th with a lengthy mixed freight train.
25106 & 25057 were noted southbound? passing Shipton, York on July 19th with eleven loaded bogie wagons. On July 27th 25106 & 25048 were noted at Bristol with a train of continuously welded rail.
Early September found 25106 north of the border. On September 6th 25106 worked the 11.55 Glasgow Central - Carlisle and the 17.22 Carlisle - Glasgow Central. The next day (7th) 25106 worked the 11.55 Glasgow Central - Carlisle. On September 9th the 10.35 Stranraer Harbour - Ayr was worked by 25106.
1983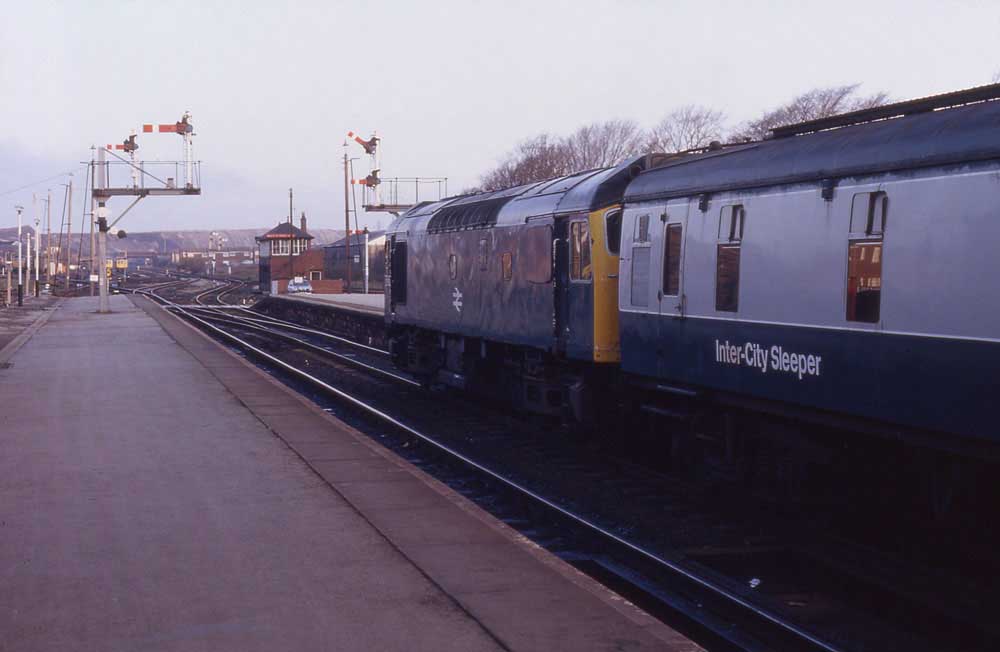 Photograph courtesy Barry Daniels.
25106 with sleeper coaches at Barrow on April 2nd 1983.
1983 brought the final passenger workings for 25106, beginning on April 3rd with the 23.45 Euston - Barrow forward from Preston. Two days later (5th) the relief 10.50 Barrow - Preston was worked by 25106. On April 20th 25106 worked the Dean Lane - Appley Bridge waste disposal train.
A roundtrip Leicester - Skegness was worked on June 18th 1983 by 25106 & 25212.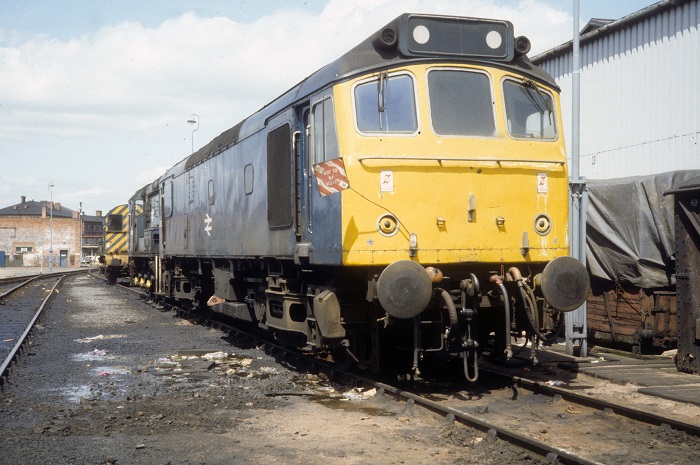 Photograph courtesy collection of Roger Geach.
25106 alongside the fuelling shed at Derby, sometime during June 1983.
The remarkable combination of a Class 25 & 40 on the Ditton – Broughton Lane BOC tanks continued throughout the summer, although pairs of Classes 25 or 40 were occasionally seen, such as 25106 & 25307 on July 28th.
The final recorded passenger working for 25106 took place on August 9th 1983 working the 14.40 Euston - Blackpool North forward from Preston. On August 15th 25078 & 25106 worked the 03.44 MWFO Ditton - Wolverhampton BOC bogie tanks. On August 27th 25106 was noted on Northwich - Tunstead ICI empty hoppers.
25106 was withdrawn on October 9th 1983.
Not all known passenger workings are recorded on this page.
19/1571
flk 0421 (2)
Page added August 13th 2013.
Last updated April 28th 2021.
Back to 25105
Forward to 25107