D5258, 5258, 25108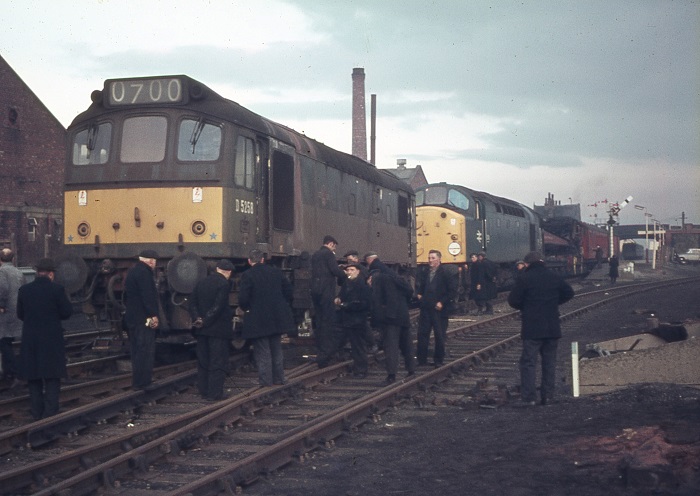 Photograph collection of webmaster
A gloomy day finds a Class 40 and breakdown train coming to the rescue of derailed D5258 at Burscough Bridge (on the Manchester - Southport line), date unknown, but certainly before July 1969.
The sixteen year four month career of D5258/25108 included allocations to London Midland, Eastern & Scottish Region depots.
Built: BR Derby Locomotive Works.
Time between last Classified repair and withdrawal: 45 months.
Time between withdrawal & scrapping: 5 months.
Allocations
D5258 was new to Toton on March 20th 1964. Further transfers were:
September 1964 to Nottingham (16D).
January 1965 to Nottingham Division (D16).
October 1965 to Leicester Division (D15).
August 1967 to Nottingham Division (D16).
August 1967 to Stoke Division (D05).
May 1968 to Springs Branch (8F).
June 1968 to Liverpool Division (D08).
May 1973 to Springs Branch.
June 1974 to Tinsley.
July 1975 to Eastfield.
Withdrawn July 14th 1980.
Renumbered March 5th 1974.
25108 was the 35th Class 25 withdrawn, one of four retired during July 1980.
After withdrawal 25108 was stored at Glasgow Works with much of the locomotive broken up there by December 1980. Parts of the cab and boiler room panelling & roof remained in use as a shed (?) until cut up during November 1988.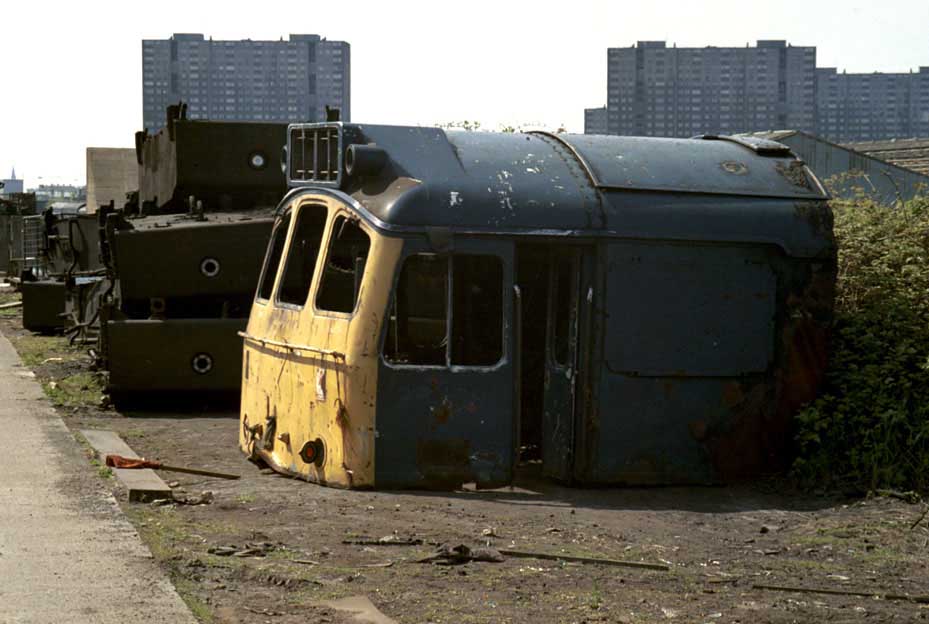 Photograph courtesy Phillip Moore
The remains of 25108 at Glasgow Works on May 13th 1984.
Works Visits
Works visits (records incomplete).
Noted Crewe Works September 1968.
Noted Derby Works September 1972.
Noted Glasgow Works September 1976 (full repaint).
Highlights
1965
Observations at Derby on July 3rd during daylight hours revealed amongst other things the 10.28 Newcastle - Bristol was noted an hour late behind D5258.
1972
5258 was the Manchester Victoria banker (T43) on May 16th & 17th.
At about 7am on June 2nd 5258 was noted at Ordsall Lane with an up freight.
On December 14th the 17.15 Derby - Nottingham was worked by 5258 with hauled stock.
1973
5258 was the Manchester Victoria banker (T43) on April 3rd.
On September 9th whilst on electrification work at Barton (Preston) 5258 derailed in the down loop, luckily falling away from the running lines, retrieval was four days later.
At about 6pm on October 19th 5258 was noted at Manchester Victoria on an up freight (9T44).
At about 5pm(?) on December 4th 5258 was noted at Liverpool Lime Street on a down van train (4F15).
1974
25108 was noted passing Whitchurch on April 20th on a down freight (8X94).
1975
The roundtrip Nottingham - Llandudno Town on July 5th was worked by 25108, whilst the next day (6th) 25066 & 25108 worked a roundtrip Burton - Yarmouth excursion.
After transfer to Eastfield during July 1975 a number of internal passenger services were worked. 25108 was stabled at Perth on July 14th.
1976
On July 20th 25108 worked the 13.20 Aberdeen - Glasgow (throughout?) arriving about 20 minutes late.
On September 28th 25108 was noted at Perth in ex-works condition.
1977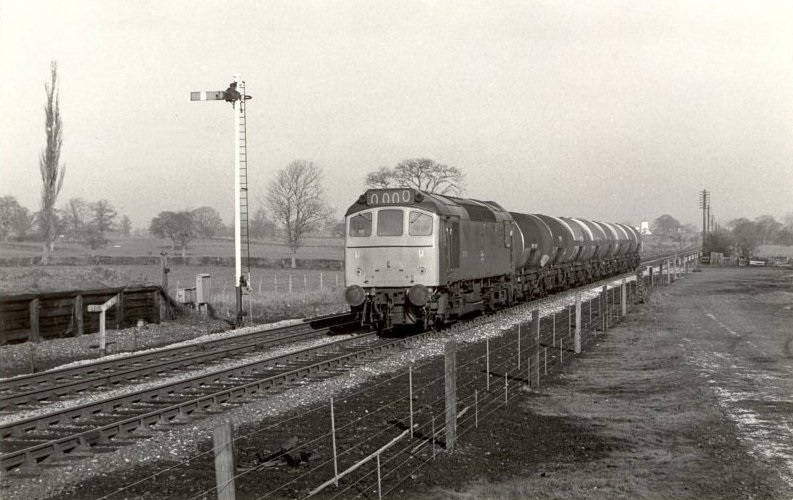 Photograph courtesy Danny Preston, collection Neil Johnson.
Its January 29th 1977 as 25108 passes Prees on the Shrewsbury - Whitchurch line with the 6V17 00.45 from Polmadie to Herbrandston.
25108 was noted on Ayr depot on March 13th.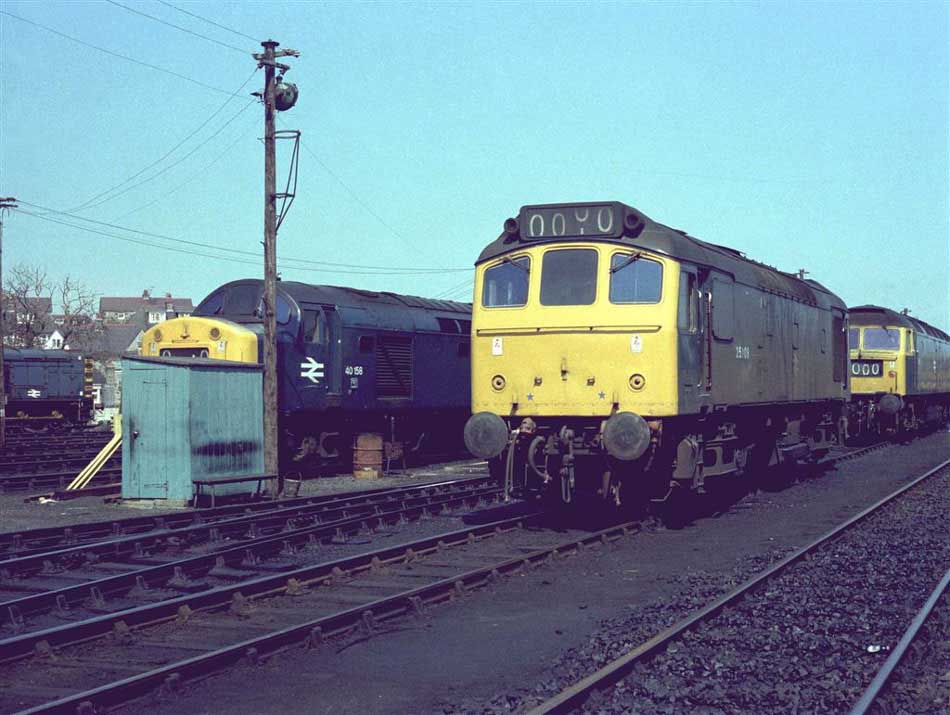 Photograph courtesy Mike Cooper
Scottish memories from Ferryhill, this time with 25108 front & center, seen here during the summer of 1977.
On June 20th 1977 a Fort William - Glasgow Queen Street service was worked by 25108. A month later on July 22nd 1977 the 22.00 Stranraer Harbour - Euston was worked to Carlisle Kingmoor by 25108 & 25158. On September 5th (?) 1977 the 23.45 Inverness - Glasgow Queen Street was worked forward from Perth by 25108.
1978
On July 31st 1978 the 12.50 Mallaig - Glasgow Queen Street was worked forward from Fort William by 25108. The next day (August 1st) 25108 was in charge of the 18.18 Glasgow Queen Street - Oban.
1979
The 13.20 Glasgow Queen Street - Oban on August 7th 1979 was worked by 25108. On August 17th 1979 a Perth - Edinburgh was worked by 25108. A short working for 25108 took place on September 21st 1979 with 25108 working the 04.20 Mossend Yard - Glasgow Queen Street forward from Cowlairs Junction, being the portion off 1S07 Euston - Inverness.
1980
The WCML near Abington was occupied by the engineers on February 3rd, with six Class 20s in use and one Class 25, 25108 working the wiring train.
25108 handled a couple of passenger workings shortly before its withdrawal. On May 31st 1980 25108 worked the 08.10 Glasgow Queen Street - Scarborough to Edinburgh. Its final recorded passenger working took place on June 5th 1980 with the 12.44 Glasgow Queen Street - Dundee.
25108 was noted at Glasgow Queen Street on May 28th.
25108 was noted at Motherwell on July 5th.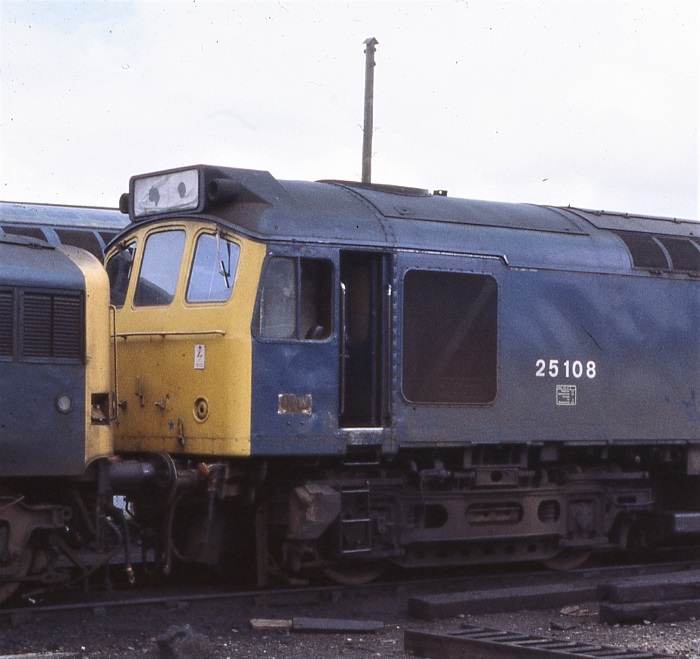 25108 at Motherwell on July 5th 1980, nine days before withdrawal. The headcode panel is most unusual.
25108 was withdrawn July 14th 1980.
Not all known passenger workings are recorded on this page.
14/1151
flk 0817 (1)
Page added October 7th 2013.
Last updated July 26th 2020.
Back to 25107
Forward to 25109