| | | | | | |
| --- | --- | --- | --- | --- | --- |
| Load | Speed | Amps | Volts | Notes | Other |
| 1 | 28 | 900 | - | - | - |
A side radiator sight glass
Bottom adaptor a ?? filter leak
No.2 speedometer.
On the morning of November 27th 25109 was noted at Chinley with a down limestone train.
1977
25109 was stabled at Skipton on May 22nd.
On the morning of July 29th 25109 was stabled at York.
On July 30th 25109 was noted at Five Ways (Birmingham) with a passenger service, covering a failure?
On August 4th & 10th 25109 worked the 08.50 York - Scarborough relief (more typically a Class 31 turn.)
An Open Day at Cardiff Canton on October 1st featured over fifty locomotives, including 25055, 25109 & 25243. Later that day 25109 was noted working the 2M67 17.10 Cardiff - Crewe.
1978
After fourteen years on the LMR Eastfield became the new home of 25109 during February.
On April 29th 25109 was stabled at Motherwell.
1979
On July 22nd 25109 was stabled at Eastfield.
1980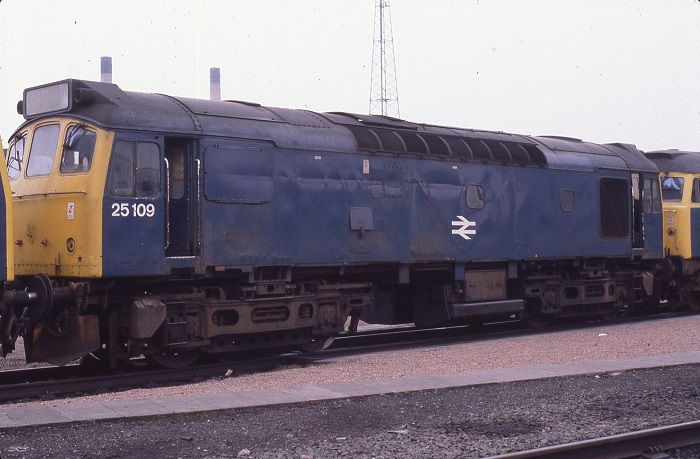 A somewhat battered and work stained 25109 stands at Polmadie, March 15th 1980. Within a matter of days the locomotive would be moved to Glasgow Works for a classified 'intermediate' repair. This would be its last classified repair but would be enough for it to run until the very end of Class 25 service.
25109 received an intermediate repair at Glasgow from March - May, its last classified repair.
On June 9th very ex-works 25109 was stabled at Inverness.
Doubled headed Type 2s featured on the (Fridays only) 17.25 Glasgow Central - Stranraer and the next days 09.43 SO Blackpool - Stranraer, from Ayr. On July 18th/19th 25238 & 26032 were noted, though 25238 was replaced by 25109 on the Ayr run.
On August 24th the 08.45 Birmingham New Street - Aberystwyth and 18.10 return to Euston (as far as Wolverhampton) were hauled by 25110 & 25089.
On September 26th 25109 was stabled at Aberdeen Ferryhill.
On October 4th 25109 was at Eastfield.
1981
After three years at Eastfield 25109 was moved east to Haymarket during February.
On July 3rd & 6th 25109 was light engine at Edinburgh Waverley.
On the evening of July 20th 25109 was busy with the 17.12 Perth - Arbroath followed by the 18.33 to Dundee. 25109 was stabled at Inverness on July 21st.
25109 was noted light engine at Carlisle station on August 4th.
On September 24th 25109 was noted westbound at Chinley with loaded ICI limestone hopper wagons.
The early morning Warrington - Luton carflats was worked by 25109 on November 6th.
1982
On April 8th 25109 was noted at Dundee station.
25109 continued to be a frequent performer on the Dundee/Edinburgh area services, on August 3rd it came to the assistance of 27010 somewhere near Inverkeithing on the 19.21 Dundee - Edinburgh.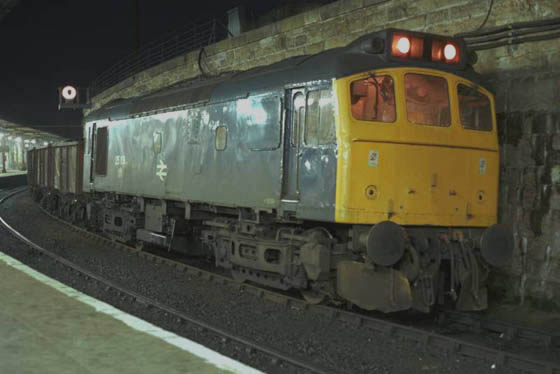 Photograph courtesy Gary Thornton.
25109 provides a striking pose in this fine night-time shot at Dundee on April 8th 1982.
On June 1st the 13.35 Perth Yard - Millerhill speedlink was noted at Markinch with 25109 towing a Class 47 and three wagons.
On the afternoon of June 21st 25109 was at Haymarket.
On August 14th 27024 derailed at the entrance to Kirkcaldy yard, 25109 was on hand with a rerailing crew to assist 27024.
The final transfer for 25109 took place in October with it leaving the Scottish Region headed for Crewe.
A gas pipe project in November brought pairs of Class 25s from Leith South to St Helens or Warrington, the trains of twenty six bolsters required banking between Garswood & Shaw Street. Noted on November 3rd were 25176 & 25078 banked by 25109. On a misty November 4th 25109 worked the 6T90 Arpley - Southport with a load of four coal wagons.
1983
On January 17th 25109 and three Mk 1s covered for a diesel multiple unit on the 16.35 Derby - Crewe and 18.30 return, attempts to obtain a locomotive that could heat the train for the return trip proved unsuccessful.
25109 was stabled at March on February 6th.
On February 26th the 16.45 Leicester - Birmingham diesel multiple unit failed at Nuneaton, substantial assistance was provided by 25109 & 25302 through to Birmingham. Further assistance was provided on March 18th to the 09.49 Norwich - Birmingham at Leicester when its locomotive, 31422 was reported low on fuel. 25109 worked through to Birmingham and came back with the 18.18 to Norwich, worked as far as Leicester where 31422 was waiting to take over.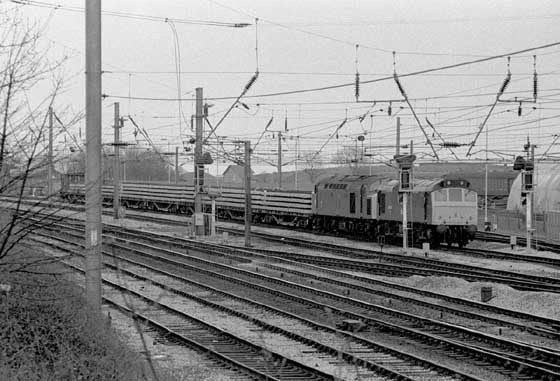 Photograph courtesy Kevin Hughes/RCTS Archives.
25109 & 40172 with a heavy track panel train at Carnforth, April 23rd 1983.
25109 was noted at Manchester Victoria on May 3rd & 4th with parcel workings. On May 6th 25109 was noted eastbound through Manchester Victoria with a lengthy train of hopper wagons. 25109 was the Manchester Victoria pilot on May 13th.
25109 was stabled at Springs Branch on June 9th.
August 27th's 13.00 Skegness - Derby required the assistance of 25109 forward from Nottingham, the diagrammed locomotive, 45142 was removed here! The photograph below shows 25109 on its return at Derby about to take the stock to Etches Park.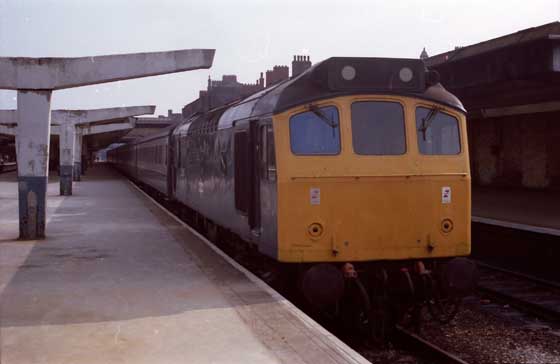 Photograph courtesy Nick Ross.
On August 30th 25109 was noted southbound at York with an empty coaching stock working.
25109 was noted eastbound at Manchester Victoria with a short Railfreight working on October 11th.
Pre-Christmas travellers on December 21st's 23.00 Glasgow - Euston enjoyed the delights of 25109 & 25193 from Bletchley into Euston due to engineering work requiring the power to be turned off.
1984
25109, 25239 & 25257 were three of eleven locomotives stabled at Wellingborough on January 21st for the next day's engineering duties. On a snowy January 27th 25109 was stabled at Peterborough.
On May 11th when a Huddersfield - Leeds diesel multiple unit failed at Deighton, 25109 assisting as far as Leeds.
On June 16th 25042 & 25109 worked the Carnforth - Barrow leg (& return) of an excursion from Windsor.
When a Blackpool - Ipswich charter failed at Stafford on July 9th 25109 took it forward to Nuneaton, where 47010 took over. The longest haulage for the year occured on July 14th when 25109 & 25199 made a round trip over the Cambrian, outwards from Wolverhampton, returning as far as Shrewsbury. On July 21st 25109 was stabled at Barrow in Furness.
It was back to the Lake District on August 27th when 25109 & 25205 worked from Carnforth to Ravenglass (& return) with a charter from St Pancras. A relief local working occurred on August 31st between Southport & Manchester Victoria.
On October 28th 25109 & 25226 worked three southbound engineering diversion drags between Wigan and Lostock Jct.
On November 18th 25109 was at Aintree with loaded track panels as part of an engineering possession.
On December 20th 25109 was southbound at Preston with oil tanks.
On December 28th 25109 was at Derby with the evening Manchester Piccadilly - St Pancras vans.
1985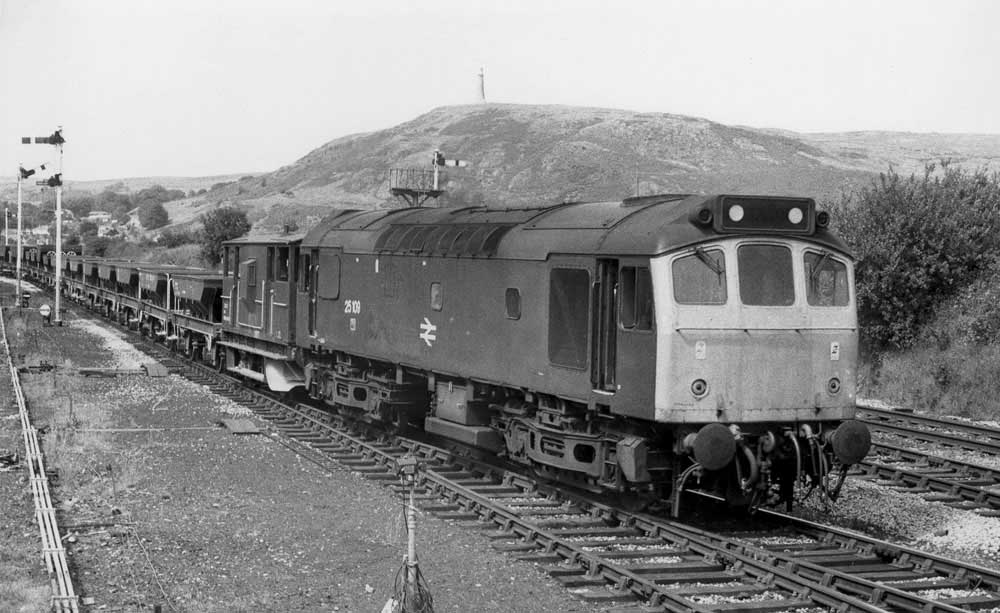 Photograph collection of webmaster.
On an unknown date 25109 marshalls a lengthy train of empty ballast wagons at Ulverston. In the background is Hoad Hill and the Sir John Barrow monument, Sir John being a native of nearby Ulverston.
25109's passenger workings in 1985 were even fewer than the previous year. When 47407 failed at Shrewsbury on March 3rd on a Euston working 25109 was on hand to take the service to Wolverhampton.
On March 22nd 25109 was northbound through Crewe Station with empty coaching stock. On March 28th 25109 was on banking duty at Camp Hill.
On April 9th 25181 & 25109 worked the 6S51 06.50 Stanlow refinery - Bishopbriggs oil terminal.
On May 3rd 25109 was westbound at New Mills with a local trip working.
May 11th saw 25109 and an unidentified Class 25 pass through Grindleford light engine.
25109 & 25034 were noted eastbound through Manchester Victoria with a lengthy train of oil tanks on June 4th. 25109 was noted at Derby on June 13th. Another failure, this time on June 14th at Birmingham New Street found 25109 on the 14.25 service to Norwich, although the Class 25 was replaced at March.
25109 & 25048 were noted at Severn Tunnel Junction on July 3rd and would work the 6S75 12.55 Severn Tunnel Junction - Mossend. On July 7th 25109 was sandwiched between two brakevans which were being used to film the new station track layout. On July 17th 25109 & 25034 were noted at Hereford with short-wheelbase oil tanks. 25034 & 25109 worked the 6E81 20.17 Walton Old Junction - Haverton Hill Speedlink on July 18th. 25109 worked the four coach 15.45 Glasgow - Carlisle on July 20th, whilst three days later (23rd) a Carlisle - Newcastle diesel multiple unit failure found 25109 pressed into service. A failure the next day was again covered by 25109, assisting a diesel multiple unit forward from Haltwhistle to Carlisle.
25109 was noted at Crewe station on August 9th. 25109 was noted at Gloucester on August 14th working tank wagons. On August 15th 25109 worked a Bescot - Banbury freight.
Tyne Yard was host to two Class 25s on August 21st, 25109 took over the evening Parkeston - Mossend Speedlink whilst 25202 followed later that night with another Mossend bound service.
25109 was stabled at Haymarket on September 2nd. 25181 & 25109 worked the 06.50 Stanlow - Bishopbriggs loaded oil train on September 4th. 25109 was stabled at Polmadie on September 29th.
25109 was noted at Carlisle on October 10th. On October 25th 25109 worked the Holyhead RTZ to Humber coke covhops as far as ??, later this day 25109 worked the long distance Harwich - Glasgow between Manchester Victoria & Preston following a locomotive failure.
On November 8th 25109 & 97407 were noted eastbound at Chester with possibly the Holyhead - Manchester Red Bank empties, presumably the Class 25 had failed. On November 19th 25109 & 25064 were noted at Hereford on a Ravenscraig - Llanwern steel coils working.
On December 19th 25109 was working in the Willesden area.
1986
On the evening of February 20th 25109 was at Birmingham New Street with a parcels train.
On March 8th 25109 was stabled at Shrewsbury.
On March 14th 25109 was noted passing through Crewe station with a mineral train. 25109 was stabled at Llandudno Junction shed on March 15th. 25109 was noted passing through Chester General on March 17th, the freight included Tunnel Cement wagons.
25109 & 25035 were noted at Severn Tunnel Junction on April 12th & 13th. 25109 and departmental wagons were parked at Preston Dock Street on April 27th. 25109 was noted at Warrington on April 30th.
With the Class 25s having a very bleak future, they were popular choices for the enthusiast railtour market. May 5th saw F & W Railtours 'Valley Explorer' (1Z26) run from Crewe to Cardiff including a number of valley freight lines. The 450 mile round trip was handled successfully by 25109 & 25057. By this time such high passenger mileages were becoming increasingly rare for the Class 25s, and to complete the trip without a failure was quite an achievement. On May 23rd 25109 was noted at Carlisle. On May 31st 25109 was noted southbound at Derby with empty coaching stock.
25109 was noted passing through Chester on June 4th light engine. On June 11th 25109 worked the Aberystwyth - Stanlow fuel empties.
25109 was stabled at Manchester Victoria on July 7th. On July 15th 25109 & 25xxx were noted westbound through Manchester Victoria with bogie oil tankers. On July 17th 25211 & 25109 were westbound through Wakefield Kirkgate with bogie oil tankers. A grim duty for 25109 on July 21st was to haul withdrawn 47405/14/16 from Healey Mills (?) to Crewe Works, returning the next day with ex-MOD machine 40046 bound for Doncaster Works! On July 27th 25109 worked the five coach 1E29 12:52 Liverpool - Hull and surprisingly the return 1M34 19:23 Hull - Liverpool. The rail enthusiast fraternity had got the word out about the 25109's return working, the leading coach was well populated with rail enthusiasts. By July 31st 25109 was noted at Stockport on ballast duties.
On August 12th No 25109 worked the 17.39 Skipton to Leeds following the failure of the Class 108 diesel multiple unit (53970 & 54264). On August 19th 25109 was noted at Horrocksford Junction with an empty ballast train for Bamber Bridge? 25109 was stabled at Carlisle station on August 21st.
25109 was noted at Crewe on September 13th.
On September 20th 25109 was at Coleham Yard, Shrewsbury with a short engineers train.
A little off the beaten track on October 24th was 25109 working the local Whitemoor - Bury St Edmunds freight, whilst on November 15th and still on the Eastern Region 25109 was noted running light at Brigg attached to three other locomotives.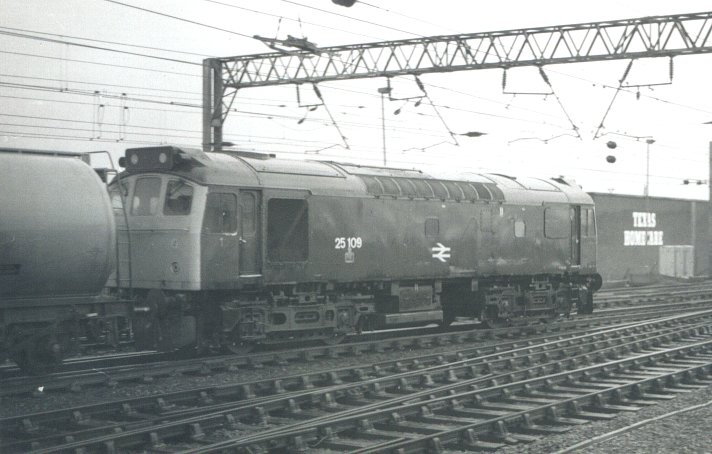 Photograph courtesy Paul Fuller.
Almost at the very end of a career spanning nearly twenty four years, 25109 is captured on a rainy November 25th 1986 at Carlisle.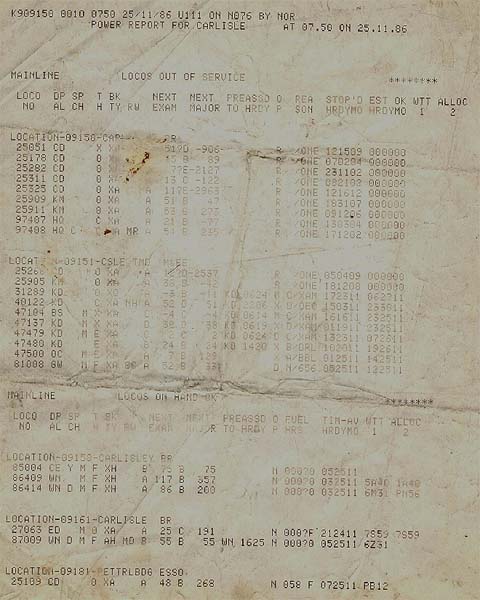 Photograph courtesy Paul Fuller.
Also from the files of Paul Fuller comes a document from the BR TOPS system revealing the power situation at Carlisle on November 25th 1986, the date of the two B&W views on this page. Of all the Class 25s listed only 25109 is operational, apparently with the Esso job to Petteril Bridge (?). The other Class 25s are in a withdrawn state, though the TOPS document does provide an insight into the withdrawal time of these machines and the current status of their examinations.
25109 spent Christmas 1986 at Bescot.
1987
January
The morning of January 1st found 25109 at Longsight diagrammed for the 1M25 to Derby, continuing with the 1M38 to Crewe. The evening of the 9th found 25109 at Crewe, the next day heading out over the Cambrian line, with 25191 to Machynlleth for several days ballast duties. Severe flooding on December 30th had caused much damage around Dovey Junction, especially east of Cemmaes Road. Strong winter storms hit the country from January 12th onwards, quite possibly the two Class 25s on the Cambrian may have seen service in snow clearance, 25109 still carried miniature snowploughs.
On the early morning of 16th 25109 was at Manchester Victoria handling several local jobs. The 17th saw 25109 & 25298 stabled in Manchester Victoria station. Longsight was visited late on the evening of 23rd, with 25109 at Manchester Victoria on January 24th (night-time), whilst a trip to Leeds was made on 25th in charge of the 1E28. Two days later (27th) local jobs were handled in the Newton Heath/Warrington area, eventually running light in the afternoon to Stanlow & Thornton to pick up the 6J28 oil tanks to Aberystwyth. By the 29th 25109 was back in the Chester area at least until February 1st.
February
Just after midnight on February 9th 25109 was at Crewe and appears to have made a round trip light engine move to Willesden on 12th. Remaining in the Crewe area until 15th another run was made over the Cambrian to Machynlleth, arriving just before lunch on 16th (on the 7L39?). The following two days (17th & 18th) were spent in the Shrewsbury area. 25109 was stabled at Shrewsbury station on February 19th.
February 21st & 22nd were spent around Crewe, trips including the 21st's 3K02 05.00 Crewe - Liverpool Lime Street, noted back at Crewe at mid-day on 23rd, then light engine to Chester on the evening of 24th.
The afternoon on 27th saw yet another visit to Machynlleth, also being noted there on March 1st.
March
By 5th 25109 was at Crewe Diesel depot, believed attached to 25059, though 25109 was scheduled for an 'A' exam this day. This was successfully completed by the 6th, with the locomotive yet again off to Machynlleth. The locomotive now carried the neatly stencilled name Castell Trefaldwyn/Montgomery Castle above the number. Upon arrival here 25109 was diagrammed for the Pwllheli local, being noted on March 8th at Pwllheli with two loaded ballast wagons. This was almost certainly the last Class 25 to work over the line to Pwhelli.
By mid-day on March 11th 25109 was back at Crewe for the final time, the locomotive was quickly taken out of service and placed off the roster. On March 16th the short move was made to Basford Hall, remaining here until July 14th when 25035/57, 25109 & 25265 were towed from Crewe to Vic Berry's, Leicester. Ironically of this batch of locomotives only 25109 would be broken up, the three others escaping eventually to preservation.
Distinguishing Features
No.1 end cab front: brackets and center lamp brackets removed: at least August 1977 until withdrawn.
Non-standard Battery Isolating Switch Cover - three circular hinged discs: A Scottish modification carried out by the depots. 25109 was released after its last Classified repair from Glasgow Works with the standard Battery Isolating Switch cover. Sometime between September 1981 & September 1982 the non-standard modification was made to the cover. After its transfer to the LMR the modified cover was retained until withdrawn.
Three piece miniature snow ploughs fitted: July 1979, September 1980, July 1981, April 1982, June 1985, December 1985, March 1986, April 1986, May 1986, June 1986, July 1986, December 1986, January 1987.
(With thanks to Neil Cannon for making available the TOPS reports for 1987 & Alan Baylis for the passenger workings).
flk 0622
Page added March 2nd 2001.
Page updated July 16th 2022.
Back to 25108
Forward to 25110