D5260, 5260, 25110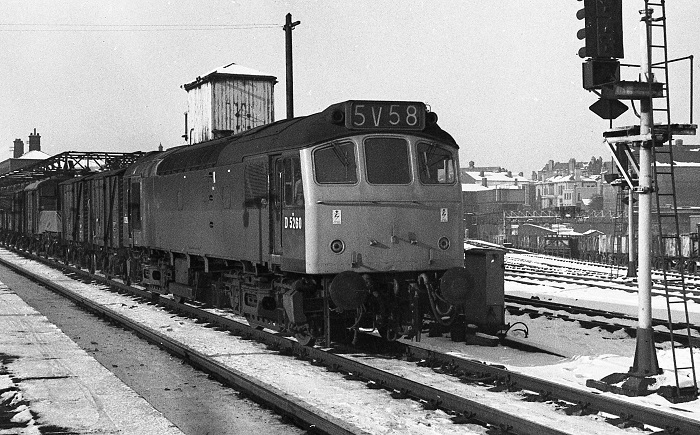 Photograph collection of webmaster.
5260 southbound at Wigan North Western, date unknown but probably about 1970.
The sixteen year seven month career of D5260/25110 included allocations to only London Midland Region depots.
Built: BR Derby Locomotive Works.
Boiler room grilles sheeted over (1976).
Never carried 'Domino' headcode display.
Time between last Classified repair and withdrawal: 50 months.
Time between withdrawal & scrapping: 17 months.
Allocations
D5260 was new to Toton on March 26th 1964. Further transfers were:
May 1964 to Derby (16C).
January 1965 to Nottingham Division (D16).
October 1967 to Springs Branch (8F).
May 1968 to Allerton (8J).
June 1968 to Liverpool Division (D08).
March 1972 to Nottingham Division (D16).
May 1973 to Toton.
May 1973 to Springs Branch.
Withdrawn November 2nd 1980.
Renumbered February 16th 1974.
25110 was the 56th Class 25 to be withdrawn, one of seventeen withdrawn during the month of November 1980.
Just prior to withdrawal 25110 was moved to Swindon Works on October 30th 1980 and broken up there during the last week of March 1982.
Works Visits
Works visits (records incomplete).
Noted Crewe Works June 1969.
Noted Derby Works April 1970.
Noted Derby Works March 1972.
Noted Derby Works June - August 1976 (classified, boiler room grills sheeted over).
Highlights
1964
On June 21st 1964 a roundtrip Derby - Llandudno Town excursion was worked by 5260.
1968
On the evening of February 28th D5260 was noted at Manchester Victoria on an Ancoats - Glasgow freight.
1970
On February 15th 5260 was westbound at Warrington Arpley with a freight. Condition February: two-tone green with full yellow ends.
5260 was light engine at Derby on December 5th.
1971
The single line from Rainford Junction to Fazakerley was blocked for about seven hours on August 17th when 5260 on a trip working became derailed at Dale Lane Ground Frame whilst propelling into Liverpool Corporation sidings. The Springs Branch crane had the line cleared by early evening although buses were laid on for the disrupted local passenger services.
1972
On July 1st 1972 5260 & 5232 were noted at Yarmouth, possibly on a regular diagram from the Midlands.
5225 & 5260 were noted on Exeter stabling point on November 3rd displaying headcode 6V65, possibly having arrived with a sugar beet special.
1973
On January 4th 5260 (D16 allocation) was noted at Exeter stabling point, 5283 was also working locally at Exeter on this day.
On April 27th 5260 was southbound at Skipton with mineral wagons.
At about 7.30am on June 12th 5260 was noted at Newton le Willows with a wiring train.
1974
25110 was noted passing Shap on July 30th with a breakdown crane.
1975
On February 9th 25110 was stabled at Cockshute.
On the morning of June 27th 25110 was noted at Manchester Victoria.
At about 5.30pm on July 1st 25110 was noted at St Helens Junction with an up freight.
1976
Freshly outshopped 25110 was in the display area at Derby Works Open Day on September 4th with 08806, 20025 & 46037.
25110 was noted passing Hexham on December 1st with the cement train from Clitheroe.
1977
On February 3rd 25110 + 25xxx were noted at Birkenhead North on iron ore empties.
On March 10th 25110 + 25164 were noted at Birkenhead North on iron ore empties.
1978
On May 9th 25110 worked the 19.15 (4F02) Nottingham PCD - Liverpool parcels vans.
25110 & 25130 were noted coupled together at Buxton depot on June 17th.
25110 was stabled at Northwich on July 12th & 16th.
25110 was noted on loaded westbound ICI hoppers at Chinley on August 15th. The next day (16th) 25110 was stabled at Northwich. The 08.32 Derby - Yarmouth to Norwich on August 19th 1978 was worked by 25110 & 25118.
1979
25110 was noted passing through the Garstang area with an inspection saloon on March 6th 1979.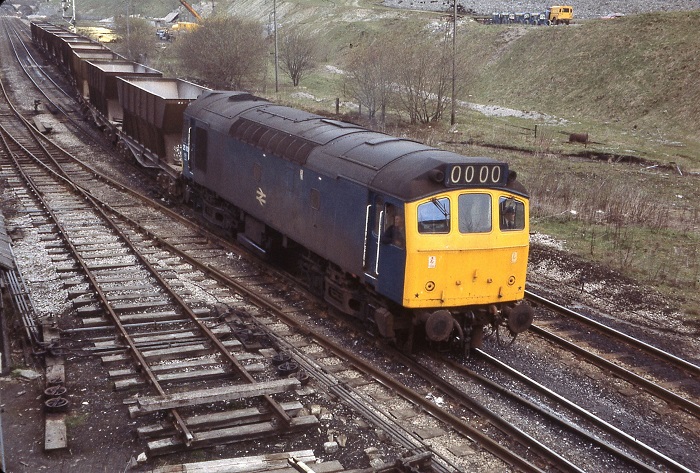 25110 and empty ICI hoppers drop down towards Tunstead to pick up their next load of limestone, April 27th 1979.
On June 5th 25122 & 25110 worked the 8X06 Dee Marsh Yard Horwick Works conveying Wirral electric stock.
Although the recorded passenger workings for 25110 were quite sparse, the month of July 1979 was relatively busy. On July 7th 25110 & 25125 worked the 08.00 Walsall - Yarmouth to Norwich returning from there with the relief 12.50 Yarmouth - Derby, being the Yarmouth - Peterborough extended to Derby. Two days later (9th) the same pair worked a relief roundtrip Nottingham - Skegness.
Near the monthend on July 28th 25110 & 25141 worked the full Derby - Norwich - Yarmouth - Norwich - Walsall diagram.
25110 was noted with a westbound engineers train through Rhyl on September 7th.
On November 15th 25110 worked Holbeck - Leeds PCD - Derby (4M38).
1980
25110 was stabled at Skipton on March 8th & 9th. 25110 was stabled at Gateshead on March 15th.
On the morning of March 18th 25110 ran light from Holbeck to Leeds PCD and then worked the 4M38 to Derby.
25110 was noted at Banbury with a selection of engineers empties on March 28th.
The last recorded passenger workings for 25110 took place during August 1980. On August 23rd 25110 & 25089 worked the 04.10 Shrewsbury - Aberystwyth and the 10.07 Aberystwyth - Euston to Wolverhampton. The next day (24th) the same pair worked the 08.45 Birmingham New Street - Aberystwyth and the 18.10 Aberystwyth - Euston to Wolverhampton.
25110 was noted southbound through Toton yard with a mixed freight, mostly mineral wagons on September 1st.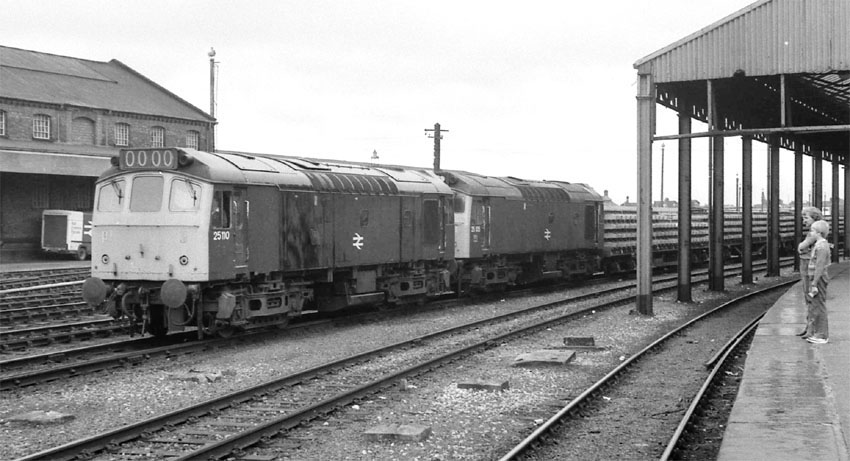 Photograph courtesy Pat Webb.
25110 & 25105 pass through Chester sometime during 1980. 25110 was always allocated to LMR depots, spendings its time at either the Nottingham Division or Liverpool Division depots.
25110 was withdrawn on November 2nd 1980.
Not all known passenger workings are recorded on this page.
15/1670
flk 0822 (1)
Page added October 3rd 2013.
Last updated August 13th 2022.
Back to 25109
Forward to 25111