D5261, 5261, 25111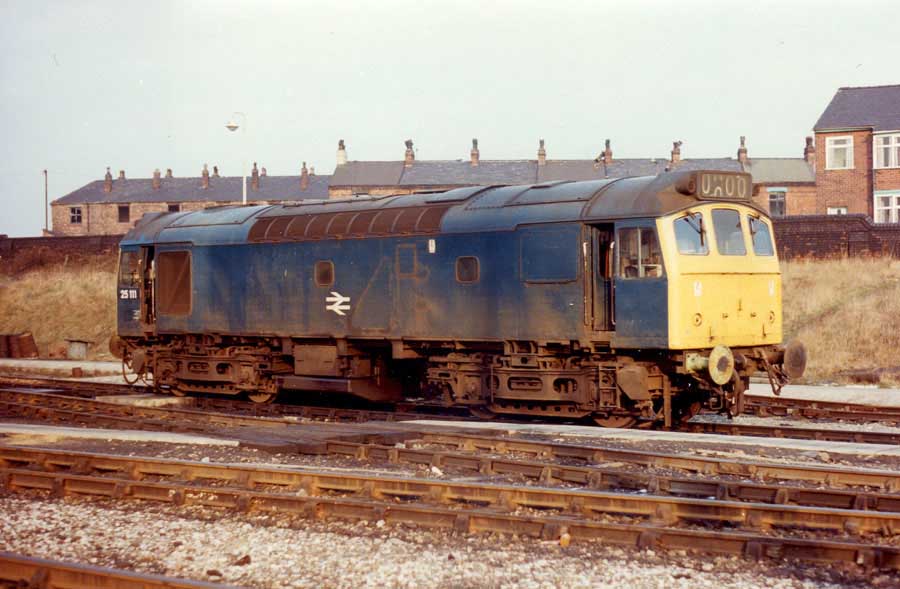 Photograph collection of webmaster.
25111 at Springs Branch depot, date unknown.
The sixteen year career of D5261/25111 was allocated to London Midland Region depots apart from a two year period when it was allocated to Eastern & Scottish depots.
Built: BR Derby Locomotive Works.
Boiler room grills sheeted over.
Never carried 'Domino' headcode display.
Time between last Classified repair and withdrawal: ?? months.
Time between withdrawal & scrapping: 7 months.
Allocations
D5261 was new to Toton on April 2nd 1964. Further transfers were:
January 1965 to Nottingham Division (D16).
October 1967 to Springs Branch (8F).
May 1968 to Allerton (8J).
June 1968 to Liverpool Division (D08).
May 1973 to Springs Branch.
October 1974 to Tinsley.
July 1975 to Eastfield.
October 1976 to Crewe.
May 1977 to Cricklewood.
October 1977 to Toton.
March 1978 to Cricklewood.
Withdrawn March 30th 1980.
Renumbered March 7th 1974.
25111 was the 27th Class 25 to be withdrawn, leaving 300 in service.
After withdrawal 25111 was moved to Swindon Works on May 5th 1980 and broken up there by the end of October 1980. Prior to breaking up a portion of a cabside was removed for use in the repair of 25218 at Swindon.
Works Visits
Works visits (records incomplete).
Noted Derby Works August 1964.
Noted Crewe Works June 1968.
Noted Derby Works February 1971.
Noted Derby Works February & March 1974 (Classified).
Visited Derby Works sometime between June 1976 & October 1977.
Highlights
1965
The Wellingborough - Goldington CEGB coal trains still remained strongly in the hands of steam power, usually 8F or 9F's although on August 12th D5261 handled one of the turns.
1971
The passenger miles worked by D5261/25111 were so low that it belongs in the bottom ten of the Class 25 table of passenger workings.
On the early evening of July 13th 5261 was noted passing Manchester Exchange with a down van train.
On August 14th 1971 a roundtrip Liverpool - Ipswich football special (for Everton FC) was believed worked throughout by 5261 & 7656 for a passenger mileage of 502 miles.
1972
At about 7.30am on October 10th 5261 was noted at Olive Mount Junction with an up freight (9T01).
1973
At about 6pm on September 7th 5261 was noted at Manchester Exchange with a down van train (4P05).
1974
On August 24th 1974 the 09.19 Manchester Piccadilly - Yarmouth to Lincoln Central and the return from there of the Yarmouth - Manchester Piccadilly was handled by 25111 & 25081.
1975
On June 9th & 10th 25111 was noted at Exeter stabling point.
On June 13th 25137 & 25111 worked an evening Mossend - Kingmoor freight.
A Birmingham - Edinburgh service on July 5th was worked forward from Carstairs by 25101 & 25111.
1976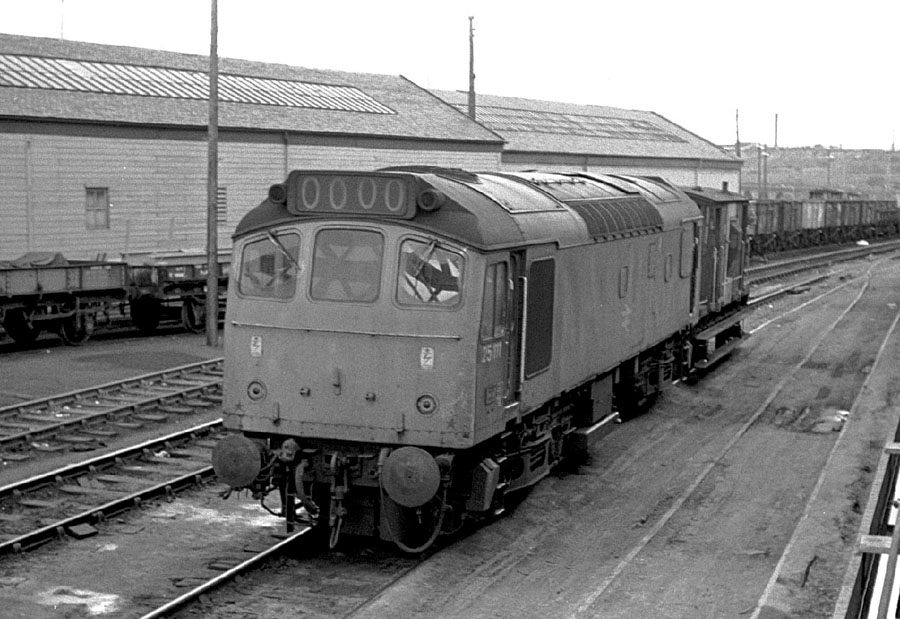 Photograph courtesy Tony Sayer.
25111 at Motherwell on June 11th 1976.
1977
A roundtrip Lichfield City - Llandudno Town day excursion on June 6th 1977 was worked by 25111 & 25131.
1978
On a snowy February 12th 25111 was noted through Beeston (Notts) with a short engineers train.
On May 19th 25111 & 25117 were noted passing Claydon with a lengthy coal train, presumably bound for Aylesbury Coal Concentration Depot.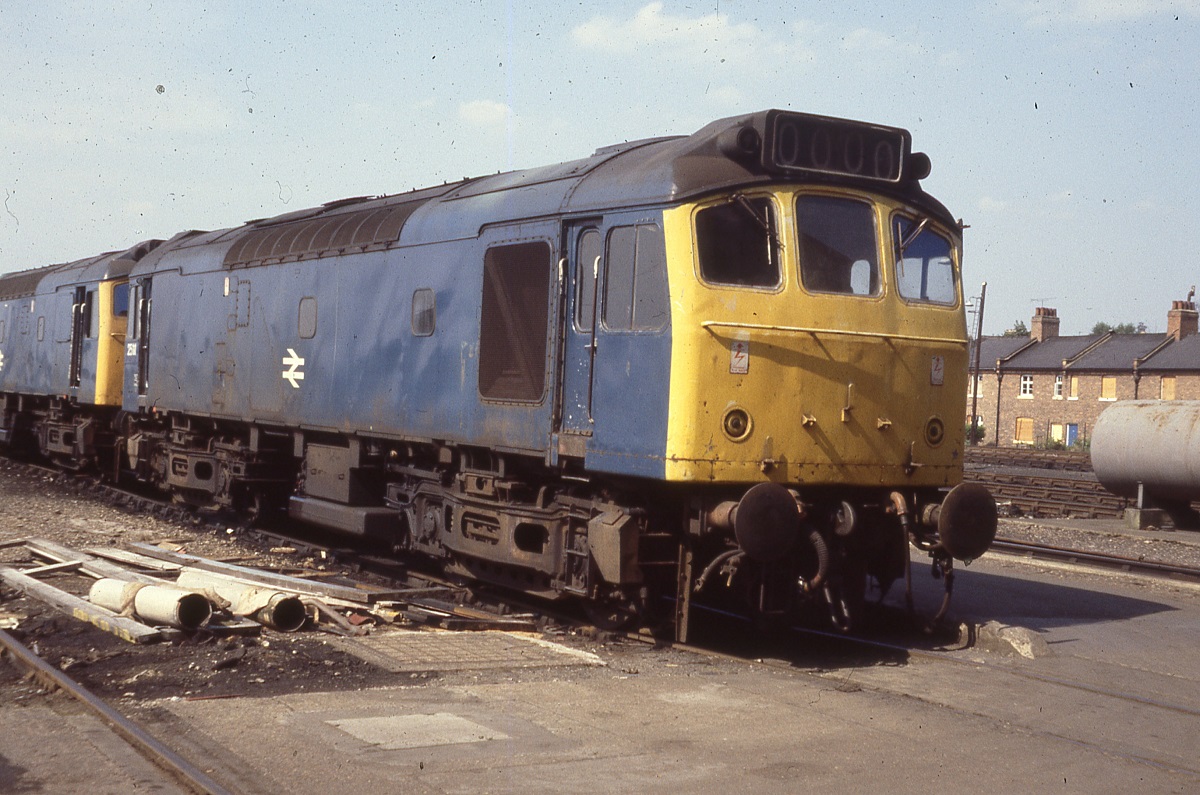 25111 at Cricklewood on August 19th 1978.
25111 was noted at Bletchley on October 7th.
1979
On Wednesday March 14th 25111 worked the 09.55 Willesden to Norwood and the return 12.00 Norwood to Willesden.
On the morning of July 23rd 25111 was noted at Bletchley (with 25112 & 25075).
25111 was noted at Nuneaton on August 4th.
1980
On the morning of January 13th 25111 & 25210 were each in charge of overhead wire maintenance trains between Luton & Leagrave.
The continuing shortage of locomotives, partly caused by a backlog of repairs at the main workshops, led to Swindon Works receiving unclassified repairs for locomotive types it had not dealt with before. On March 9th collision damaged 31124 & 31154 were moved from Doncaster to Swindon. Likewise 25191 and 25236 were also received for repairs. During March approximately six hundred locomotives were awaiting attention of which only one third (about 160) were out of traffic for scheduled repair. For the Class 25's fifty eight were laid up, the Class 31's had thirty out of traffic, whilst for the Class 47's one out of every five machines was awaiting some sort of attention. Eight Class 25's had been out of traffic for at least three months (25035/42, 25113/147/177/191, 25234/252), obviously the aforementioned move of 25191 to Swindon was a start in repairing these bad ordered machines. To provide Swindon with a source of spares 25111/147/252 were withdrawn during March and consigned there (25111 was the first to arrive on May 6th), interestingly two of these machines were in the batch long overdue for repairs.
25111 was withdrawn on March 30th 1980.
Not all known passenger workings are recorded on this page.
4/960
flk 0817 (1)
Page added September 29th 2013.
Last updated April 19th 2021.
Back to 25110
Forward to 25112