D5268, 5268, 25118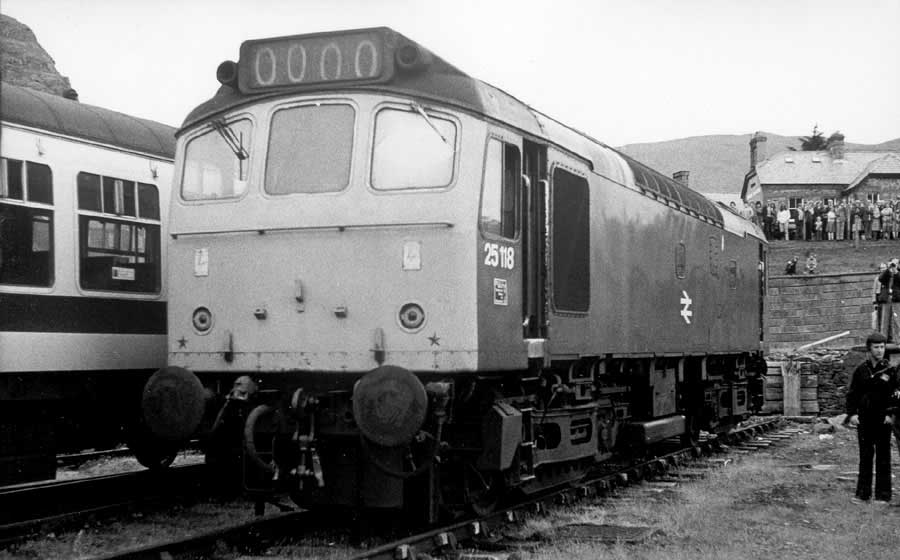 Photograph collection of webmaster
On July 22nd 1979 Class 20s 20153 & 20165 arrived at Blaenau Ffestiniog with a North Wales Railway Circle railtour from Crewe and Bangor in connection with the Conwy Valley Railway Centenary celebrations, 25118 was on hand to assist with the run-round manouevres, taking the stock onto the Trawsfynydd line.
The almost seventeen year career of D5268/25118 was spent allocated to a few London Midland depots, its transfer history is one of the smallest amongst the Class 25s.
Built: BR Derby Locomotive Works.
Boiler room grilles sheeted over (1976).
Time between last Classified repair and withdrawal: 52 months.
Time between withdrawal & scrapping: 33 months.
Allocations
D5268 was new to Nottingham (16A) on May 8th 1964. Further transfers were:
September 1964 to Derby (16C).
January 1965 to Nottingham Division (D16).
May 1973 to Toton.
Withdrawn January 4th 1981.
Renumbered March 18th 1974.
25118 was the 84th Class 25 withdrawn, one of two retired during January 1981.
After withdrawal 25118 was stored at Toton from January 1981 to October 1981 until moved to Swindon Works by October 24th 1981 and scrapped here by the first week of August 1983.
25118, 40098, 45061/71 Toton – Swindon October 24th, 1981 (all traveled together??)
Works Visits
Works visits (records incomplete).
Noted Derby Works May 1968.
Noted Derby Works December 1971.
Noted Derby Works June 1972 (full repaint).
Noted Derby Works July 1976.
Highlights
1965
On the late afternoon of April 3rd D5268 was noted with a freight at Baguley Fold.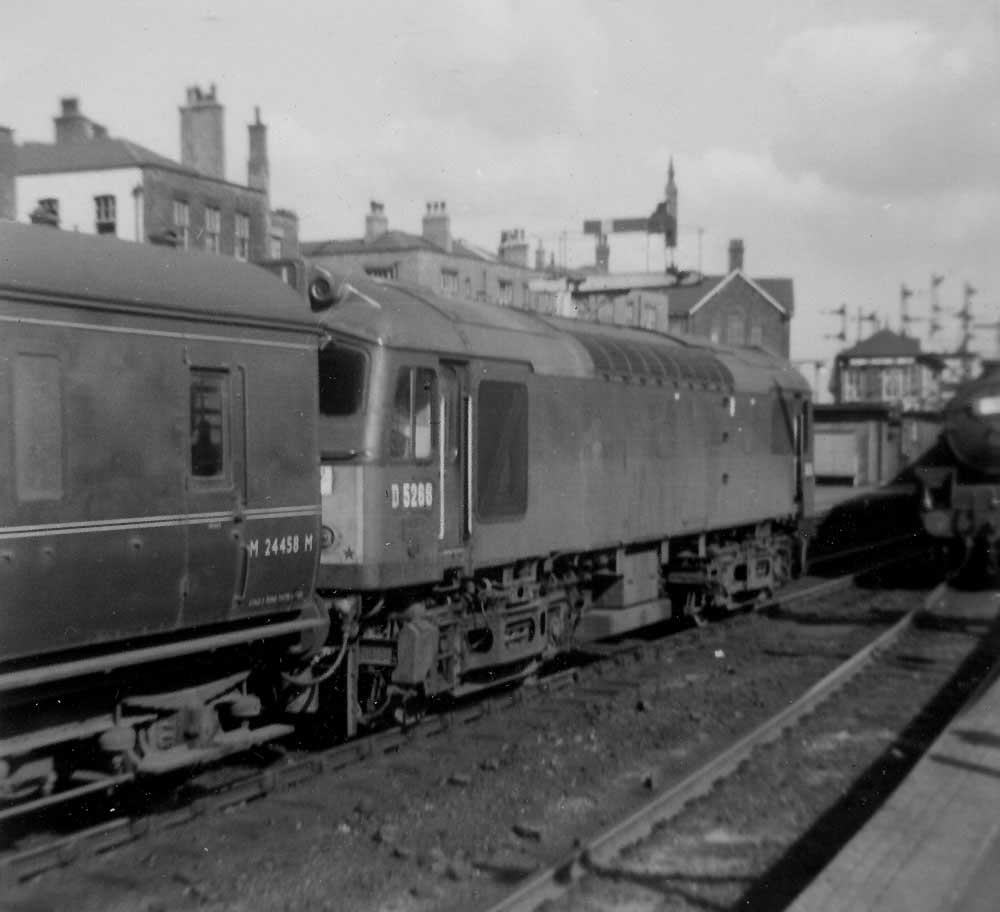 Photograph collection of webmaster
D5268 waits at Derby, platform 3 as a steam hauled service arrives on platform 4. The date for the photograph is not known though presumably this is in the warmer months of the year since D5268 has no steam heating equipment.
1966
The first recorded passenger workings for 5268/25118 involved the summer dated Nottingham - Llandudno Town service on July 30th with 5232.
1971
Whitemoor continued sending Class 25s into Eastern territory, on May 27th 5268 went out on the 8B40 12.18 Whitemoor - Hitchin, returning with the 7P04 17.11 Letchworth - Whitemoor.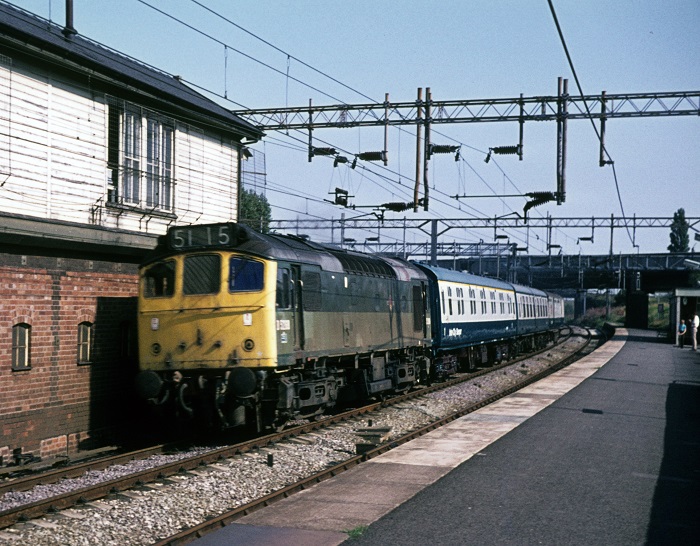 Photograph courtesy Tony Smith.
5268 at Litchfield on August 25th 1971 with a three coach train of mixed stock.
On August 28th 5268 & 5233 worked the Nottingham - Llandudno and return.
1972
On April 16th 5268 was noted at Nottingham in two-tone green livery with full yellow cabfronts and retaining the 'D' number prefix.
With 5268/25118 having a lengthy time allocated to Toton, its visits to the seaside resorts were frequent. On July 9th 5268 & 5226 worked a Derby - Skegness round trip.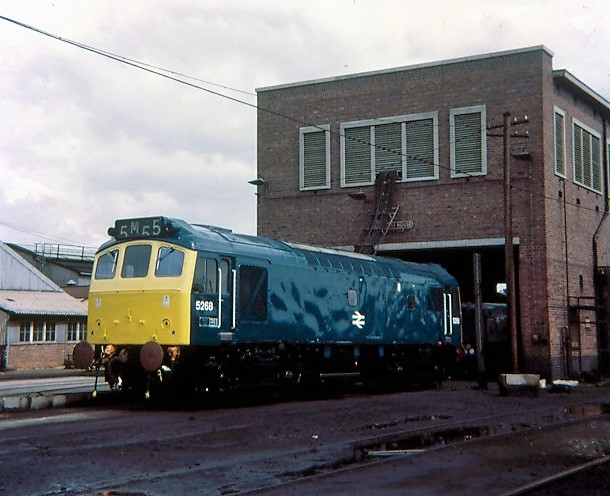 Photograph courtesy Steve Marshall
Freshly repainyed 5268 at the Test House, Derby Locomotive Works on June 3rd 1972.
1973
On June 23rd 5268 & 7501 worked the Derby - Norwich/Yarmouth - Walsall diagram. A trip to Skegness followed on July 22nd with 5246 from Leicester.
1974
25118 & 25281 worked a morning Bescot - Exeter Riverside freight on June 9th, they returned north with Exeter Central - Westbury Presflow empties.
On September 21st 25118 & 25120 worked a Derby - Skegness roundtrip.
1975
On May 31st 25118 & 25074 worked the Derby - Norwich/Yarmouth - Walsall diagram. On July 2nd 25118 was called on to work the 17.00 Derby - Matlock and 17.50 return. No passenger workings have yet come to light for 25118 during 1976.
1976
25118 was noted at Hexham on December 6th with the local pick-up freight.
1977
1977 saw five consecutive days of trips to Skegness. These started on July 7th with 25213 from Derby. The next four trips were with 25132 from Derby (11th, 12th & 14th) and Leicester (13th), but returning only to Nottingham on a relief train. The following month 25118 ventured to the other side of the country. On August 6th 25118 worked the Nottingham - Llandudno Town roundtrip, followed up on August 21st working the 08.45 Birmingham New Street - Barmouth to Shrewsbury and return with 25254.
1978
25118 was stabled at Frodingham on June 17th. Three trips were worked during the summer of 1978. On June 24th 25118 & 25148 worked the Walsall - Norwich (for Yarmouth) - Derby diagram. The next day (25th) the same pair worked a Leicester - Portmadog day excursion from/to Birmingham New Street, a total of 295 miles. On August 19th 25118 & 25110 worked the 08.32 Derby - Yarmouth to Norwich.
1979
25118 was noted at St Pancras on January 27th.
On Thursday February 1st 25118 worked the 09.55 Willesden to Norwood and the return 12.00 Norwood to Willesden. On Friday February 2nd 25118 & 25124 worked the 12.25 Willesden to Norwood and presumably the 14.00 Norwood - Willesden. On Monday February 5th 25118 worked the 09.55 Willesden to Norwood and the return 12.00 Norwood to Willesden.
Seven Class 25s were noted at Aylesbury on February 10th, including 25118 & 25125.
25118 was stabled at Rugby on February 24th along with 25081, 25162, 25205 & 25315.
A working that frequently attracted unusual traction was the Gloucester - Birmingham New Street leg of the 15.07 Plymouth - Manchester Piccadilly, on March 22nd 25118 handled this working.
On June 7th 25118 worked the 08.47 Whitemoor - Temple Mills and 11.43 return. On June 9th 25118 worked the 07.30 Nottingham - Llandudno Town and 11.30 return. On June 16th & 17th 25118 was stabled at Peterborough station.
A month later on July 7th 25118 & 25133 worked the 08.52 Leicester - Skegness and 12.32 return. On July 21st 25118 was stabled at Llandudno Junction. On July 22nd 20153 & 20165 worked a North Wales Railway Circle railtour from Crewe and Bangor to Blaenau Ffestiniog in connection with the Conwy Valley Railway Centenary celebrations. 25118 was provided to assist with the run-round shunt by taking the stock onto the Trawsfynydd line.
1980
Birkenhead North received the last of its new Class 507 units on June 5th (or 2nd?) when 25118 hauled 507031 from Derby Litchurch Lane.
1980 was the last year for passenger workings for 25118. On July 2nd & 3rd 25118 worked additional trains from Blyth Bridge to Blackpool and return (assumed) with 25263 (2nd) & 25133 (3rd). On the afternoon of July 11th 25118 was noted at Guide Bridge with a down freight.
August 22nd found 25118 in the Exeter area, believed to have worked an evening Exeter St. Davids - Barnstaple service. The following weekend (30th/31st) 25118 & 25126 were on the Cambrian line, on the 30th working the 10.10 Euston - Aberystwyth from Birmingham New Street to Aberystwyth and returning with the 17.55 Aberystwyth - Wolverhampton. The next day (31st) they worked a Euston - Aberystwyth charter from/to Wolverhampton.
1981
25118 was withdrawn on January 4th 1981.
flk 0817
Not all known passenger workings are recorded on this page.
Page added March 29th 2013.
Last updated April 21st 2021.
Back to 25117
Forward to 25119