D5269, 5269, 25119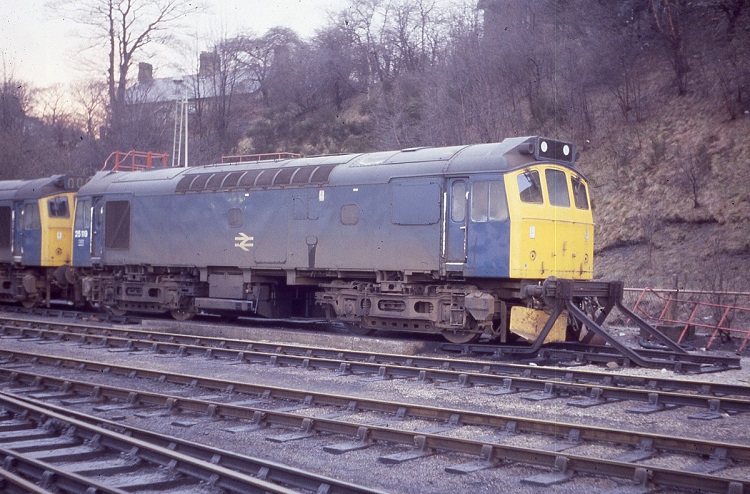 25119 at Buxton on March 11th 1979. Within a matter of days 25119 would be at Derby Works for its last Classified repair.
The twenty one year career of D5269/25119 was spent allocated to a variety of London Midland Region depots.
Built: BR Derby Locomotive Works.
Boiler room grilles sheeted over (1979).
Last Class 25 allocated to Toton Depot.
Time between last Classified repair and withdrawal: 72 months.
Time between withdrawal and scrapping: 13 months.
Allocations
D5269 was new to Nottingham (16A) on May 6th 1964. Further transfers were:
May 1964 to Wellingborough (15B).
September 1964 to Nottingham (16A).
January 1965 to Nottingham Division (D16).
October 1965 to Leicester Division (D15).
August 1967 to Nottingham Division (D16).
March 1972 to Manchester Division (D09).
May 1973 to Longsight.
October 1975 to Kingmoor.
November 1980 to Toton.
November 1983 to Crewe.
Withdrawn June 14th 1985.
Renumbered February 9th 1974.
25119 was the 247th Class 25 withdrawn, one of seven retired during June 1985.
When withdrawn on June 14th 1985, 25119 was retired with 25195 & 25302, all were vacuum braked, leaving 25042, 25080 & 25524 as the only vacuum braked Class 25s in service.
After withdrawal 25119 was stored at Basford Hall Yard until moved to Doncaster Works on April 16th 1986 with 25044, 25226/245 as the 9Z34 Crewe – Warrington - Doncaster Works. 25119 was scrapped here by the middle of July 1986.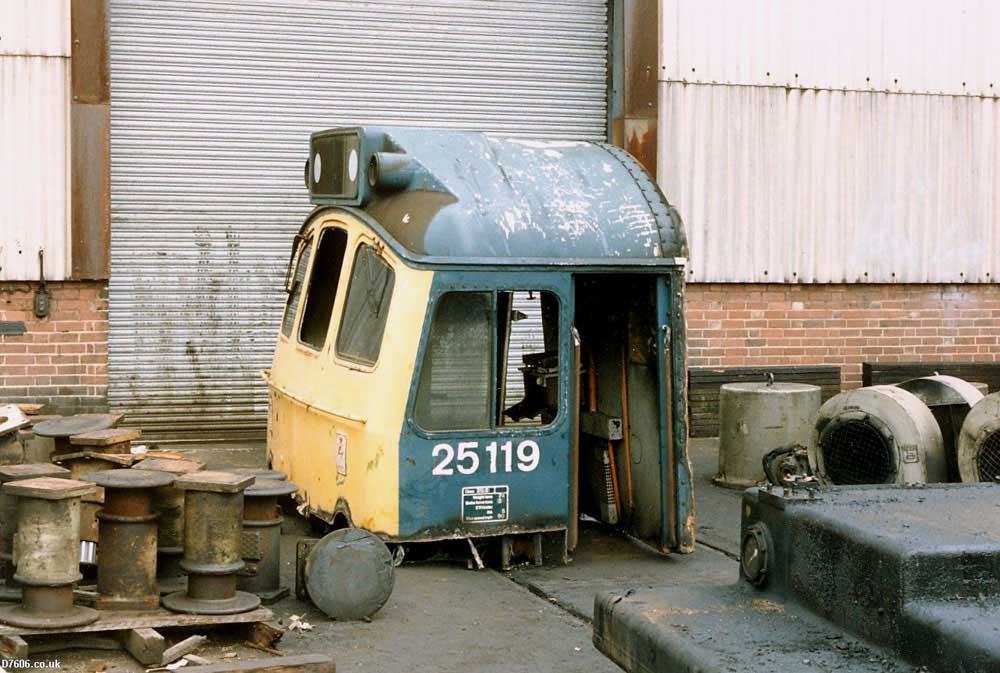 Photograph courtesy Ian Hammond.
The remains of one of the cabs from 25119 at Doncaster Works on July 13th 1986.
Works Visits
Works visits (records incomplete).
Noted Derby Works October 1975.
Noted Derby Works August 1978.
Noted Derby Works March 1979 - May 1979 (Intermediate repair).
Highlights
1969
D5269/25119 acquired a modest selection of recorded passenger workings. One of its earliest workings was on July 19th 1969 working the roundtrip Nottingham - Llandudno Town summer dated service with 7532.
1973
A lengthy trip took place on June 24th with 25081 working a Burton on Trent - Yarmouth day excursion, assumed out and back, for at least 350 miles total.
1977
Between 1973 & 1981 only one passenger working has so far been noted, on March 30th 1977 a diesel multiple unit failure found 25119 assisting the 14.51 Carlisle - Newcastle.
1979
On May 19th ex-works 25119 with 45136 was noted on an empty Nottingham - London newspaper vans working, the Class 25 working to Leicester, this working being reported as used for testing ex-works locomotives.
1981
On January 24th 25119 was noted with a van train at Nottingham station.
1981 brought a couple of weekends of activity. On July 11th 25119 & 25164 worked the 10.10 Euston - Aberystwyth forward from Birmingham New Street, returning with the 18.00 Aberystwyth - Wolverhampton. On this trip 25164 failed and was removed from the train along with several coaches. The next weekend (July 18th) 25118 & 25130 worked the 07.40 Euston - Aberystwyth forward from Wolverhampton, returning with the 16.05 to Wolverhampton. The final passenger working for 25119 during 1981 was perhaps its longest day out, on August 9th with 25114 it worked a Marylebone - Llandudno Town roundtrip day excursion, a total of 466 miles.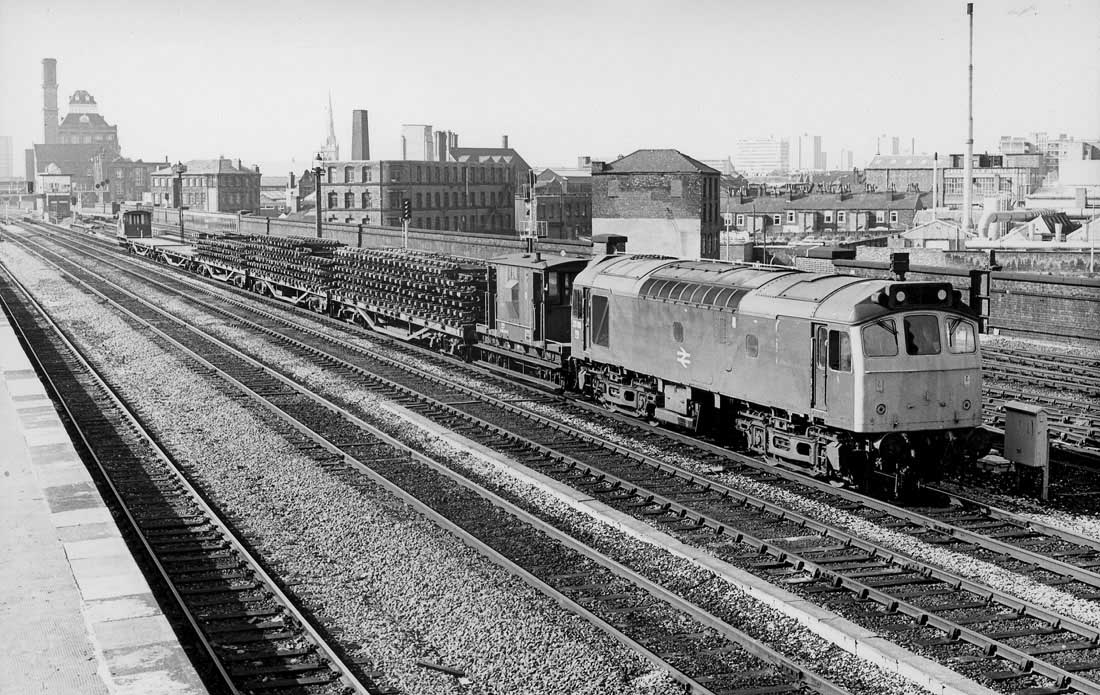 Photograph courtesy J Davenport.
A fine view of 25119 as it heads eastwards with a track train at Ordsall Lane on October 4th 1981. Just out of sight to the left was the location of Manchester Exchange station.
1982
1982 brought an odd mix of workings. On March 23rd 25119 worked the 15.42 Manchester Victoria - Bangor as far as Chester where 47535 took over. July 3rd saw the 22.22 Preston - Barrow worked by 25119 as was the 11.15 Barrow - Liverpool on July 19th. On September 5th 25119 worked the 02.35 Euston - Bletchley.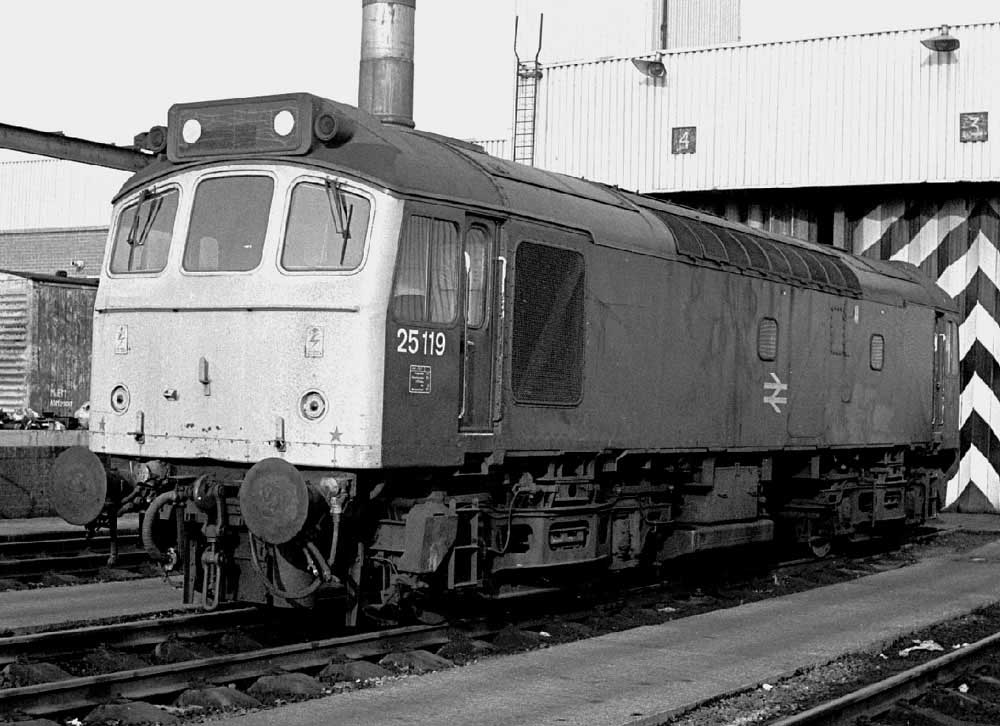 Photograph courtesy Tony Sayer.
The last Class 25 to remain on allocation at Toton was 25119, seen here on November 13th 1982. Within a matter of days 25119 would move to Crewe.
1983
25119 was back on the WCML on June 9th working the 10.25 Bletchley - Euston, deputising for an electric multiple unit using hauled coaching stock. The remaining workings during 1983 involved the Cambrian line. On July 30th 25119 & 25202 worked the 07.35 Euston - Aberystwyth forward from Wolverhampton, returning with the 14.00 to Shrewsbury, unfortunately 25119 failed at Machynlleth and was replaced by 25249. A month later on September 3rd 25119 & 25234 worked the 07.35 Euston - Aberystwyth forward from Sutton Bridge Junction, returning with the 14.00 Aberystwyth - Rugby to Wolverhampton, the train having been extended because of delays.
25119 was noted dragging brand new 58001 through Derby, no date but maybe very late in 1983 or early 1984.
With the transfer of 25119 from Toton to Crewe in November the long association of this depot and the Class 25's came to an end. It had been twenty years earlier in April 1963 that D5183 (25033) brought the first of the Class 25's to Toton.
1984
1984 also brought an odd mixture of workings. On June 7th 25119 assisted the 15.10 Glasgow Central - Euston between Lancaster & Preston because of overhead line damage at Bay Horse. Diesel multiple units failures created the next two workings, on July 24th with the 09.20 Crewe - Lincoln Central as far as Derby and on October 11th working the 17.20 Crewe - Derby. Four days later (15th) 25119 worked the 15.48 Sheffield - Manchester Piccadilly. The last working for 1984 was a fill-in move to take stock to Blackpool South in the path of the 07.33 ex-Kirkham & Wesham in order to form a day excursion from Blackpool South hauled by 47447.
1985
As with many 'last' workings for the Class 25s, a failure was involved. In the case of 25119 it took place on January 28th assisting the 07.14 Manchester Piccadilly. Cardiff forward from Hereford after the Class 33 failed.
On May 3rd 25119 worked the 17.25 Cardiff - Gloucester parcels. On May 22nd 25119 was noted at Warrington Bank Quay southbound with iron ore wagons.
Noted Springs Branch depot June 9th 1985.
25119 was withdrawn on June 14th 1985.
Distinguishing Features
No.1 cab front: paint loss/rust in center of cabfront just above the valencing; September 1982 until withdrawn.
No.1 cab front: bracket missing (driver's side); September 1982 until withdrawn.
No.2 cab front: small amount of paint loss/rust on 2nd man's side around the electrification flash; (not present July 1983) February 1985 until withdrawn (electrification flash missing February 1985 but replaced by March 1985).
00/00
flk 0318
Not all known passenger workings are recorded on this page.
Page added March 30th 2013.
Last updated August 23rd 2017.