D7512, 7512, 25162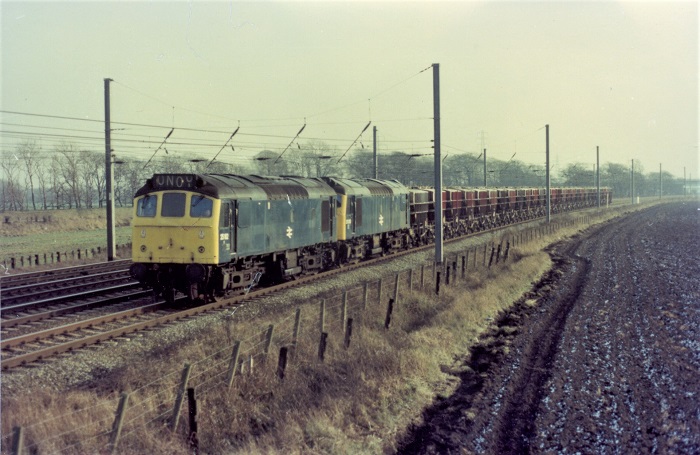 Photograph collection of webmaster.
A fine memory of a pair of Class 25s on the WCML with 25162 and an unidentified sister hauling twenty eight cement tankers.
Just over sixteen years of service for 7512/25162 were spent allocated to London Midland & Western Region depots.
Built: BR Derby Locomotive Works.
Time between last Classified repair and withdrawal: ?? months.
Time between withdrawal & scrapping: 12 months.
Allocations
D7522 was new to Nottingham (16A) on November 20th 1964. Further transfers were:
January 1965 to the Nottingham Division (D16).
October 1965 to the Leicester Division (D15).
August 1967 to Nottingham Division (D16).
April 1968 to London Midland Midland Lines (LMML).
June 1968 to Nottingham Division (D16).
January 1972 to Ebbw Junction (86B).
May 1974 to Cardiff.
May 1975 to Bristol.
January 1976 to Crewe.
Withdrawn May 31st 1981.
Renumbered April 1974.
25162 was the 104th Class 25 withdrawn, one of eight retired during May 1981.
After withdrawal 25162 was moved to Swindon Works on August 3rd 1981 and was broken up by the third week of June 1982.
Works Visits
Works visits (records incomplete).
Noted Derby Works October 1972.
Glasgow Works 1976 or 1977??
Highlights
1970
The 8H03 Healey Mills - Hull freight was worked by 7512 on May 11th.
On August 8th 7512 & 7617 were noted at Derby with an unidentified passenger services, possibly to Skegness or Yarmouth.
1971
The morning Carlton Sidings - Manvers Main freight could produce a wide variety of power, it was worked by 5236 & 7503 on June 24th and 5242 & 7512 on June 26th.
Class 25s continued to be no strangers to March, whilst laying over here they were frequently borrowed for local March turns, on November 23rd 7512 worked a return Whitemoor – Foxton (between Cambridge & Royston) trip.
Condition July: two-tone green with full yellow ends.
1973
At about noon on October 27th 7588 & 7512 were noted passing Newport High Street on down hoppers.
1974
On January 24th 7512 was noted at Exeter stabling point.
1975
A sunny July 30th found 25162 hauling recently preserved Class 35 No. 7017 from Old Oak Common to Taunton for a new life on the West Somerset Railway.
On July 18th 25152 & 25162 were noted at Exeter in the Up direction with 8X68 reclaimed rail train.
1976
25162 + 25165 were noted at Birkenhead North on June 10th with iron ore for Shotton.
The 11.35 Cardiff - Crewe was worked by 25162 on September 15th.
1978
25162 & 25165 were noted at Seacombe Junction on March 23rd with an iron ore train.
25162 & 25169 were noted at Seacombe Junction on April 15th with an iron ore train.
On July 11th 25162 worked the 15.08 Cardiff - Crewe and the 19.30 Crewe - Cardiff. Four days later (15th) 25162 & 25145 worked the 04.15 Shrewsbury - Aberystwyth and the return 10.07 Aberystwyth - Euston as far as Wolverhampton.
For eleven weeks towards the end of 1978 the direct Edinburgh - Glasgow route was closed due to the laying of a concrete trackbed in Falkirk High tunnel in advance of the introduction of the Class 47/7 powered push/pull trains. Services were diverted via Falkirk Grahamston, including the weekdays 17.10 Glasgow Queen Street - Edinburgh with vacuum braked stock. The majority of the locomotives working the 17.10 service Classes 27 or 40, but 25078 & 25162 were utilised (dates unknown).
1979
During 1979 25162's passenger workings were along the North Wales coast. On August 10th & 15th 25162 worked an early afternoon Holyhead - Crewe relief. On August 18th 25162 had a busy day, working the 09.42 Llandudno Town - Manchester Victoria, 14.40 return to Llandudno Town and the 18.17 back to Manchester Victoria.
On September 15th 25162 & 25273 were noted at Bewdley with an unidentified passenger/charter service.
1980
25162 & 25157 with brakevan were noted at Cockshute on April 10th. 25162 was also present the next day (11th) and on April 24th.
25162 was stabled at Cockshute on October 4th.
1981
On the afternoon of February 14th 25135, 25162 & 47346 were noted up light engines at Crewe.
On March 11th a lengthy Garston – Severn Tunnel Junction freight became a partial failure near Woofferton. The closest sidings could not accommodate the long train so 25124 & 25162 soldiered on to Hereford before being sidelined. Two days later (13th) 25162 came to the rescue of 25027 on the 07.50 Cardiff – Crewe, trouble was initially encountered at Craven Arms, the train engine finally becoming a total loss at Shrewsbury, where 25162 took over (also reported as March 11th).
On the afternoon of April 29th 25162 was noted at Crewe with an up freight.
25162 was withdrawn May 31st 1981.
Not all known passenger workings are recorded on this page.
13/1113
flk 0117
Page added March 5th 2013.
Last updated July 14th 2020.
Back to 25161
Forward to 25163