D7513, 7513, 25163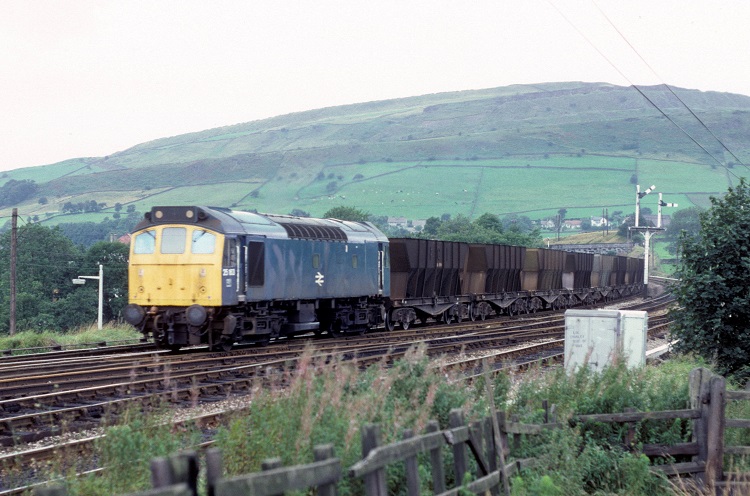 Photograph courtesy Roger Geach.
25163 heads east at Chinley North Junction during the late afternoon of September 16th 1980 with another set of ICI empties returning to Tunstead.
The sixteen year career of D7513/25163 was spent allocated to a variety of London Midland Region & Western Region depots.
Built: BR Derby Locomotive Works.
Boiler room grilles sheeted over (1979).
Time between last Classified repair and withdrawal: 19 months.
Time between withdrawal & scrapping: 28 months.
Allocations
D7513 was new to Nottingham (16A) on November 25th 1964. Further transfers were:
January 1965 to the Nottingham Division (D16).
February 1967 to the London Division (D01).
August 1967 to Stoke Division (D05).
March 1968 to Longsight (9A).
June 1968 to Manchester Division (D09).
January 1969 to Birmingham Division (D02).
November 1970 to Nottingham Division (D16).
January 1972 to Ebbw Junction (86B).
May 1974 to Cardiff.
November 1975 to Bristol.
January 1976 to Crewe.
Withdrawn November 10th 1980.
Renumbered March 1974.
25163 was the 65th Class 25 to be withdrawn, one of seventeen Class 25s withdrawn during November 1980.
After withdrawal 25163 was moved to Swindon Works on December 19th 1980 and was broken up by the middle of March 1983.
Works Visits
Works visits (records incomplete).
Noted Derby Works September 1972.
Noted Derby Works January & March 1979 (General repair?).
Noted Derby Works December 1979 - February 1980 (N4 repairs).
Highlights
1965
The earliest recorded passenger working for D7513/25163 occurred early in its career, working a day excursion on May 11th 1965 with D5291 to the south coast resort of Eastbourne (noted southbound at Hatch End), the train believed to have started at Bradford.
1968
On May 21st D7513 was noted passing through Huddersfield with a train load of bricks.
During the last days of steam, D7513 provided banking assistance up Miles Platting bank on August 4th 1968 to a Euston - Hellifield 'End of Steam' special hauled by Brittania class steam locomotive No. 70013 'Oliver Cromwell'. The use of D7513 as banker was just a small compenent in a lengthy and heavily delayed railtour commemorating the last week of standard gauge steam usage on British Railways.
The tour had started at Euston at 08.35 with E3183 and thirteen coaches filled with about 600 hundred passengers. By the time Stockport Edgeley was reached the charter was about 70 minutes late, with E3183 replaced by D1624 for the run to Manchester Victoria, reached about 75 minutes late. Here the Brush Type 4 was replaced by 8F No.48476 and Standard 5 No.73069. Conflicting movements and objects on the track put the charter 120 minutes late at Oldham. Further delays were incurred in reaching Bury, where additional time was spent in filling the leaking tender of the 8F. Arrival at Blackburn 170 minutes late saw 8F No.48476 replaced by Black Five No.45407, whilst diverted WCML services further impeded the charter. Hellified was reached 225 minutes late and at this point the decision was made to amend the tour route to avoid the possibility of closed signal boxes stranding the tour somewhere in Lancashire. This sacrificed a run over the Liverpool docks line and the Liverpool - Manchester line.
From Hellifield the locomotives ran tender first to Skipton, ran round and headed for Colne, Nelson, Burnley, Accrington, Blackburn & Lostock Hall. Now over 240 minutes late the two Class 5s were replaced by BR Standard No.70013 'Oliver Cromwell' for the run back to Stockport via Euxton Junction, Bolton, Salford, Manchester Victoria, which was reached 210 minutes late, using the revised homeward route (The more logical direct route from Euxton Junction to Crewe had been refused by authorities). 70013 was exchanged at Stockport for E3183, but further delays saw an arrival at Euston at 02.15 on the Monday, 270 minutes late. Responsibilty for the delays to the charter lay fully with the London Midland Region, in trying to run an ambitious railtour, one of several that day, on a Sunday when engineering possesions were commonplace and their effects very detrimental to timekeeping.
1971
On October 19th 7513 was arriving at Cambridge with a Preston - Cambridge parcels.
1973
At about noon on October 27th 7511 & 7513 were noted passing Newport High Street on an up freight.
On December 9th (a Sunday) eight additional freights ran from Margam to Knighton & Toton, three powered by Class 37s, the remainder by Western Region allocated Class 25s. All worked as far as Washwood Heath, returning to the west as light engines or with a freight train. The Class 25s involved were 5209, 7508, 7510, 7513 & 7521.
1974
On July 5th 1974 25163 piloted 47046 on the 19.30 Bristol Temple Meads - Newcastle between Birmingham New Street and Derby.
1975
An early morning working occurred on August 9th 1975 when 25163 worked the 23.35 Euston - Holyhead forward from Crewe.
25163 was noted at Exeter St Davids on December 7th.
1977
On July 2nd 1977 25163 & 25264 worked the Derby - Norwich - Yarmouth - Norwich - Derby diagram, a total of 334 passenger miles.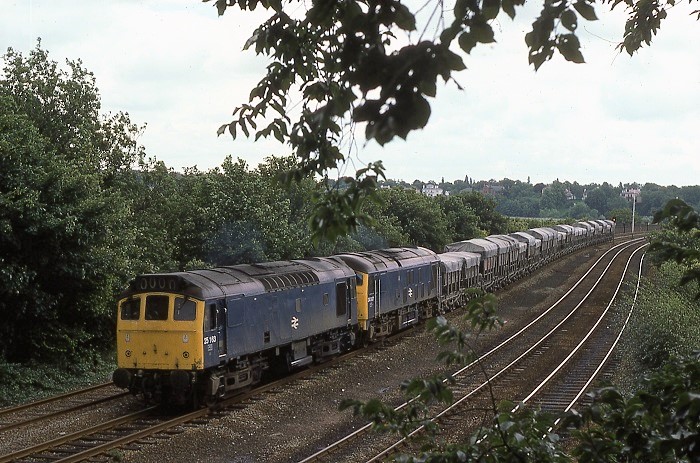 Photograph collection of webmaster.
25163 & 24047 in the Chester area during September 1977.
Two permanent way trains at Crewe station on December 4th were noted with 25136 & 25163.
1978
25148 & 25163 arrived in Reading on an engineer's ballast train on March 16th, surprisingly having brought the train from Bristol, quickly returning from whence they came, light engines.
On August 12th 25163 & 25307 worked the 09.19 Manchester Piccadilly - Yarmouth to Lincoln Central, returning with the 09.15 ex-Yarmouth. Four days later 25163 was very busy on the North Wales coast, working two round trip Manchester Victoria - Banger turns on August 16th & 17th, a combined total of 800 passenger miles. On September 12th 25163 worked the 13.30 Manchester Victoria - Bangor.
1979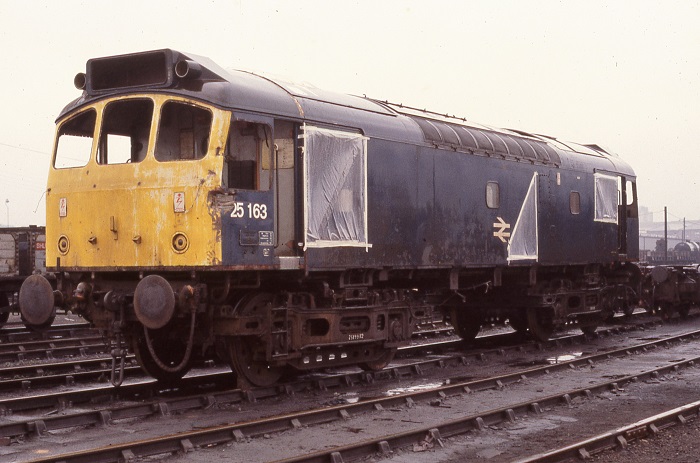 Derby Works yard is the location for 25163 as it stands in the rain during February 1979, whilst receiving its last Classified repair.
On July 13th 25163 worked the 17.10 Cardiff - Crewe. On the afternoon of July 22nd 25274 was noted at Crewe station with a wiring train. On the morning of July 23rd 25163 was noted at Crewe.
1980
25163 was noted at Springs Branch depot on March 8th.
During 1980, its last year of service 25163 worked three summer dated seaside services. On June 28th 25163 & 25101 worked the 08.56 Stoke-on-Trent - Yarmouth relief to Norwich (did they work back?).
On July 26th 25163 & 25143 worked the Walsall - Norwich (for Yarmouth) - Derby diagram. The next day (27th) the same pair worked the 08.25 Leicester - Skegness and 18.30 return.
25163 was withdrawn on November 10th 1980. Since its last Classified repair was early in 1979 it must be assumed the locomotive suffered a serious problem to initiate its withdrawal.
25/2425
flk 1216 (2)
Not all known passenger workings are recorded on this page.
Page added March 6th 2013.
Last updated September 30th 2020.
Back to 25162
Forward to 25164