D7515, 7515, 25165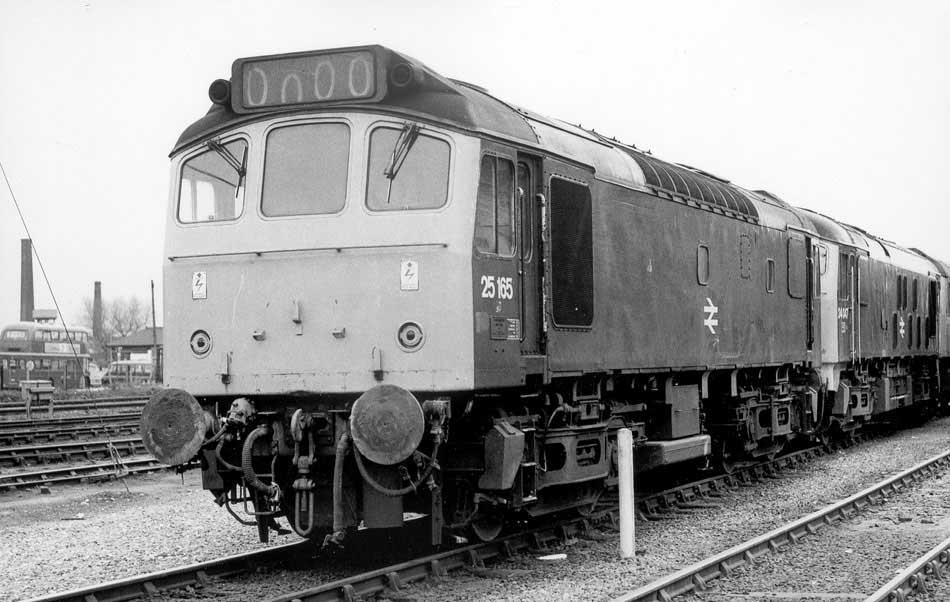 Photograph courtesy Tom Jenkins
25165 & 24047 head a line-up of locomotives at Warrington Arpley. 25165 had last received major attention at Derby Works during April/May 1977.
The almost fourteen year career of D7515/25165 was spent allocated to London Midland & Western Region depots.
Built: BR Derby Locomotive Works.
Boiler room grilles sheeted over (1977).
Time between last Classified repair and withdrawal: 17 months.
Time between withdrawal & scrapping: 30 months.
Allocations
D7515 was new to Nottingham (16A) on December 2nd 1964. Further transfers were:
December 1964 to Cricklewood West (14B).
January 1965 to the Cricklewood Division (D14).
September 1965 to London Midland Midland Lines (LMML).
August 1966 to Nottingham Division (D16).
April 1968 to London Midland Midland Lines (LMML).
June 1968 to Nottingham Division (D16).
January 1972 to Ebbw Junction (86B).
May 1974 to Cardiff.
January 1976 to Crewe.
Withdrawn November 3rd 1978.
Renumbered April 1974.
After withdrawal 25165 was moved to Derby Works early in 1979, its demolition was slow, being finally cut up during the middle of May 1981, although one cab remained at the Works until at least July 1986.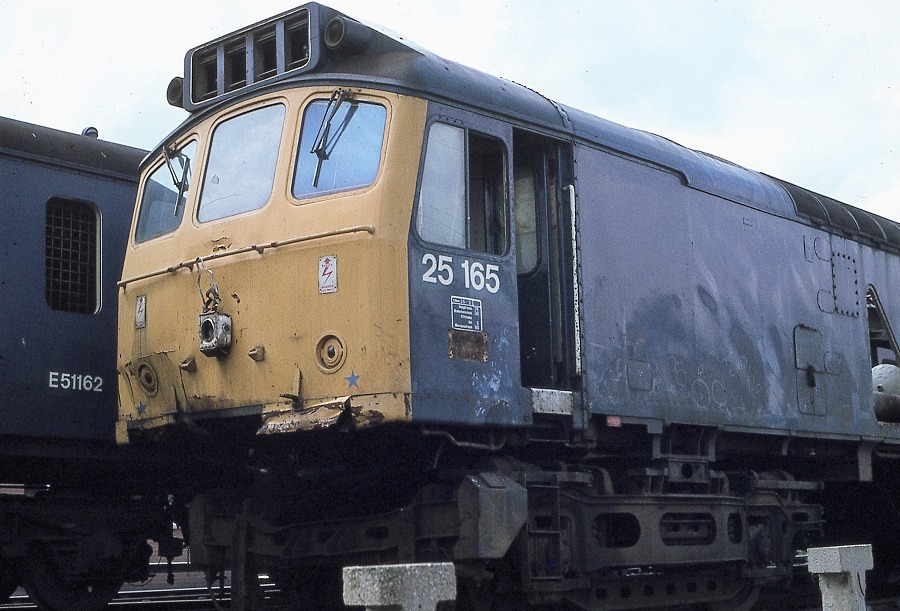 The end of the road for 25165 at Etches Park during February 1979, showing the accident damage to the cab & bufferbeam which caused its demise. The damage is believed to have occurred somewhere in the Wigan area.
Works Visits
Works visits (records incomplete).
Noted Derby Works March 1972.
Noted Derby Works April & May 1977 (Classified?).
Highlights
1967
The New Year began with the continued removal of withdrawn steam locomotives from various locations, on January 20th D7515 hauled Class 8F No. 48361 from Colwick to Drapers, Hull.
1968
Early railtour duty occurred on May 18th 1968 when D7515 worked a roundtrip Preston - Blackpool trip as part of a lengthier railtour 'N.W. Steam Tour' (Warwickshire Railway Society) involving much steam working in Lancashire & Cheshire.
On the evening of June 2nd D7515 was noted passing Sleaford with an unidentified Skegness service.
One of 7515/25165's earliest recorded passenger workings took place on August 3rd working a roundtrip Nottingham - Llandudno Town summer dated working.
1971
Condition May: two-tone green livery with full yellow cab fronts, exhaust located above engine room, 'D' prefix present.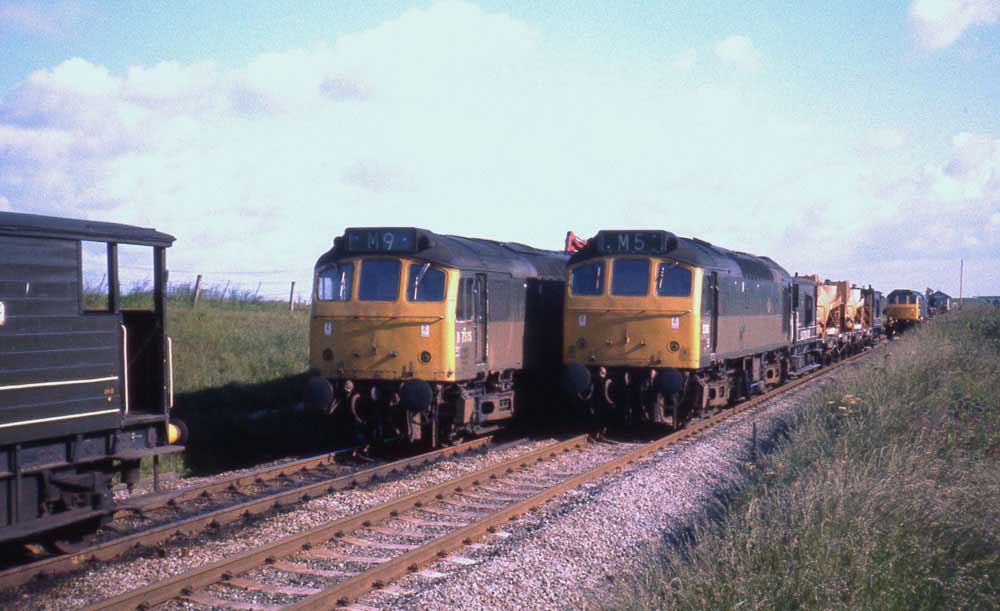 Photograph courtesy Tom Sutch
On July 13th 1971 near Norton Crossing south of Warrington several engineering trains await their call to the site of this day's activities. In this view 5286 & 7515 wait for the call to move on this warm summers day.
1973
7515 (Ebbw Junction allocated) was the Manchester Victoria banker (T42) on October 26th & 29th.
1975
On June 13th 25165 & 25170 worked the lengthy Penyfford - Gunnie freight, which include considerable mileage under the wires.
During 1975 25165 visited a couple of the east coast seaside resorts. On June 21st 25165 & 25259 worked the 14.15 Yarmouth - Derby forward from Norwich. Five days later (26th) the same pair were on a roundtrip Derby - Skegness run.
On September 6th 25165 & 25072 worked the Derby - Norwich - Yarmouth - Norwich - Walsall diagram.
1976
25162 + 25165 were noted at Birkenhead North on June 10th with iron ore for Shotton.
On July 3rd 25165 & 25280 worked a Leicester - Yarmouth roundtrip, this being the start of the Leicester holiday period.
On the afternoon of August 7th 25198 & 25165 were noted at Chester on down cement empties.
1977
An early morning Tyne - Millerhill freight was worked by 25165 on January 25th.
The only recorded passenger working for 1977 occurred on August 21st when 25165 & 25131 worked the 08.45 Birmingham New Street - Barmouth forward from and returning to Shrewsbury.
1978
On January 28th 25165 & 24133 were on railtour duty working the 'Cambrian Coast Express' Euston - Barmouth special from Machynlleth to Aberystwyth and back to Birmingham New Street. 24087 worked the Barmouth portion.
25162 & 25165 were noted at Seacombe Junction on March 23rd with an iron ore train. 25165 was stabled at Birkenhead Mollington Street on March 25th along with ten other Class 25s.
On May 8th 25165 & 25169 were noted at Seacombe Junction with iron ore empties from Shotton. On May 9th 25165 was stabled at Birkenhead Mollington Street. On May 21st 25165 was noted passing Wedgwood (Halt), Staffordshire with the overhead line electrification (OLE) on May 21st.
On June 16th 25165 was noted at Bangor.
The final passenger workings for 25165 took place on August 9th with 25168 working the 10.45 Birmingham New Street - Holyhead forward from Crewe followed by the 19.32 Llandudno Town - Crewe.
The end of the road arrived for 25165 after sustaining minor collision damage to the No.2 cab & bufferbeam. The damage is believed to have occurred somewhere in the Wigan area.
25165 was withdrawn on November 3rd 1978.
18/1672
flk 0317 (1)
Not all known passenger workings are recorded on this page.
Page added March 8th 2013.
Last updated September 17th 2020.
Back to 25164
Forward to 25166