D7516, 7516, 25166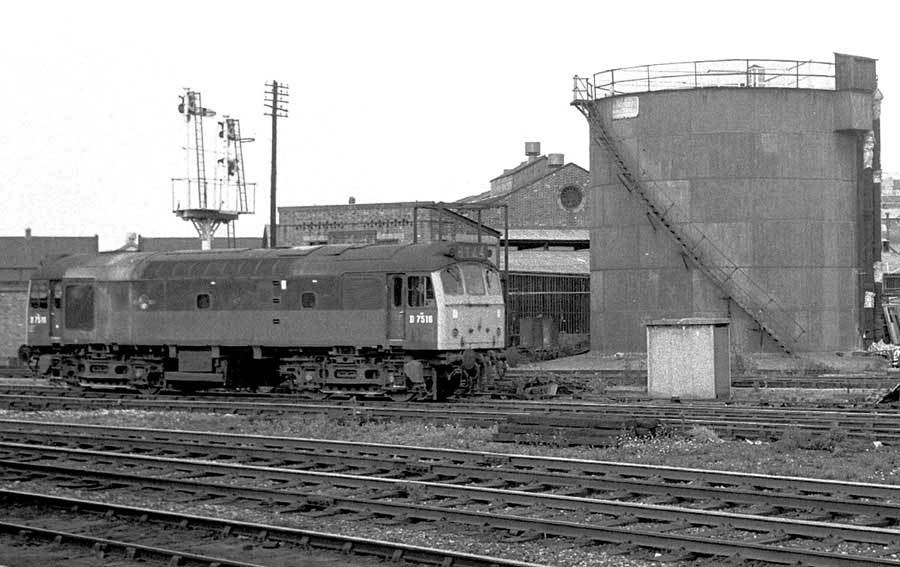 Photograph courtesy Tony Sayer
When Derby had a Locomotive Works the view from Platform 6 provided ample evidence of this, with many Works buildings and other items creating an interesting backdrop for any trains or light engines that used the goods lines. In this view 7516 appears to be gaining access to the lines leading to the refuelling shed on August 13th 1970. Although steam has been gone for two years the 'D' prefix is still carried by the locomotive and the telltale water stains mar the work worn two tone green livery.
The almost fifteen year eleven month career of D7516/25166 was spent allocated to London Midland & Western Region depots.
Built: BR Derby Locomotive Works.
Boiler room grilles sheeted over (1976).
Time between last Classified repair and withdrawal: ?? months.
Time between withdrawal & scrapping: 8 months.
Allocations
D7516 was new to Toton (16A) on December 4th 1964, further transfers were:
December 1964 to Cricklewood (14B).
January 1965 to London Division (D14).
September 1965 London Midland (Midland) Lines.
February 1966 to Nottingham Division (D16).
May 1968 to London Midland (Midland) Lines.
June 1966 to Nottingham Division (D16).
January 1972 to Ebbw Junction (86B, later EJ).
May 1974 to Cardiff.
May 1976 to Crewe.
Renumbered April 1974
Withdrawn November 2nd 1980
26166 was the 63rd Class 25 withdrawn, one of seventeen retired during November 1980, including shedmates 25159 & 25163.
25166 was moved to Swindon on March 3rd 1981 and was broken up by the first week of July 1981.
Works Visits
Works visits (records incomplete).
(Presumed at Works for scheduled Intermediate June/July 1967)
Noted Derby Works April 1968.
Noted ex-works May 1976, presumed at Derby Works during spring of 1976.
Noted Derby Works late July, August & September 1979 for N1 repairs.
After withdrawal 25166 remained at Crewe until the March 3rd 1981 when arrangement was made for the movement of 25070, 25166, 25263/293 from Crewe Diesel Depot to Swindon Works. 25166 was broken up at Swindon during July 1981.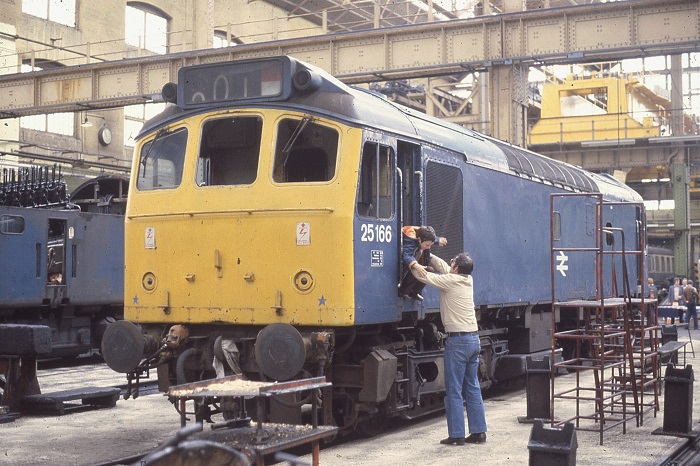 The Swindon Works Open Day on June 6th 1981 provided a great variety for visitors, with many locomotives present for scrapping. Included in the category was 25166 which in this view looks relatively intact. It would not take long however for the workers to begin the first steps in dismantling the locomotive.
1966
The recorded passenger workings for D7516/25166 are few. Possibly its first recorded working took place on June 18th working the 08.36 Nottingham - Llandudno Town and the return Llandudno Town - Nottingham with D5292.
On Sunday September 18th noted at Colwich shed were D5265, D5267, D5290, D7504, D7505, D7516, D7521, D7557, D7563, D7577 & D7652.
1967
On the morning of July 13th D7516 & D7517 were at Blythe Bridge with a down freight (8K64).
On the evening of July 18th D7516 was light engine at Derby.
On the morning of July 20th D7516 was stabled at Derby, later in the evening that day it was noted at Stenson Junction with an up parcels (3P26).
1969
On July 5th D7516 worked the 07.35 Nottingham - Llandudno Town and the 13.52 return.
1970
On February 8th four trains of crippled wagons were worked from Colwick to Trafford Park, three were worked by pairs of Class 20s, the other by 7516.
On the evening of July 10th 7516 was stabled at Crewe north holding sidings.
1971
On July 9th 7516 was noted at Saltley in very work-stained condition, in two-tone-green with full yellow ends.
On July 20th the 09.00 Sheffield - St. Pancras was worked to Nottingham by 7516 & 7507.
1973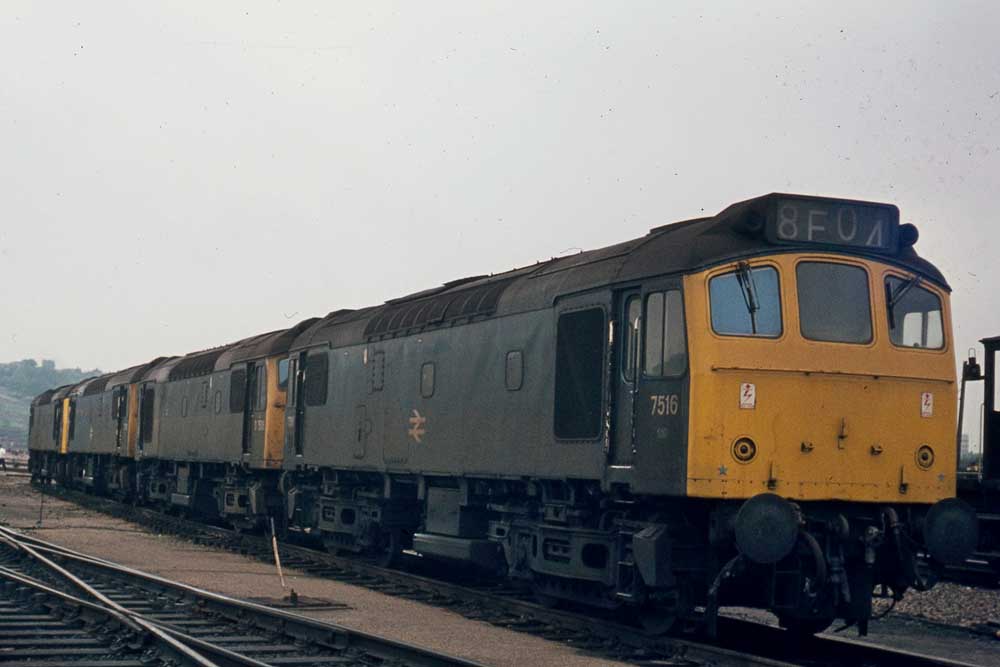 Photograph courtesy Peter Lovell
7516, 7518, 7510 & 7521 at Ebbw Junction on May 27th 1973.
1974
On January 16th 7516 was noted at Exeter stabling point.
At about 10pm on January 17th locomotives stabled at Exeter included 7516, 7575 & 7625.
At about noon on January 19th locomotives stabled at Exeter included 5230, 7516 & 7625.
1976
On January 5th was noted on an unidentified two coach passenger working between Worcester Shrub Hill & Birmingham New Street.
25166 was noted working freights in the Margam area on March 11th & 12th.
On July 18th 25166 was stabled at Chester depot.
25166 handled the Nuneaton - Hinckley trip working on July 29th.
1977
On May 1st 26166 was noted at Rockcliffe Hall (Flint) with a permanent way train.
On May 2nd 25177 was noted at Holywell Junction with a short freight.
On December 5th & 6th 25131 & 25166 were noted at Birkenhead North with iron ore for Shotton. On December 10th 25166 was noted at Barrow-in-Furness with a train of oil tanks.
1978
25166 & 25168 were noted passing Etruria station on March 24th as light engines en-route to Grange Junction sidings?
The 15.07 Plymouth - Manchester Piccadilly was worked between Gloucester & Birmingham New Street by 25166 on May 31st 1978.
On July 14th 25166 was stabled at Taunton. On July 18th 25166 worked the 19.30 Exeter St. Davids - Paignton. On July 20th 25166 worked the 6B76 18.05 Exeter Central - Exeter Riverside trip (Presflos). It later worked the 2B44 19.30 Exeter St Davids - Paignton (eight coaches).
On November 21st 25166 hauled Eastern Region Class 313 No. 313003 from Hall Road to Falkland Junction via Blackburn and the Settle & Carlisle. The Class 313 had been sent to Merseyside to be used on the Royal visit should the first of the new Class 507 units from York not be received in time. The Class 25 quickly returned to Carlisle.
1979
On March 2nd 25166 was noted at Crewe South sorting sidings with a breakdown train assisting with a wagon derailment.
It is not often that one gets to show the activity of a locomotive over a short period of time, but the views below were believed to have been taken by the photographer whilst on holiday in North Wales. It is presumed that during this visit 25166 remained close to Llandudno Junction shed for a week of duties.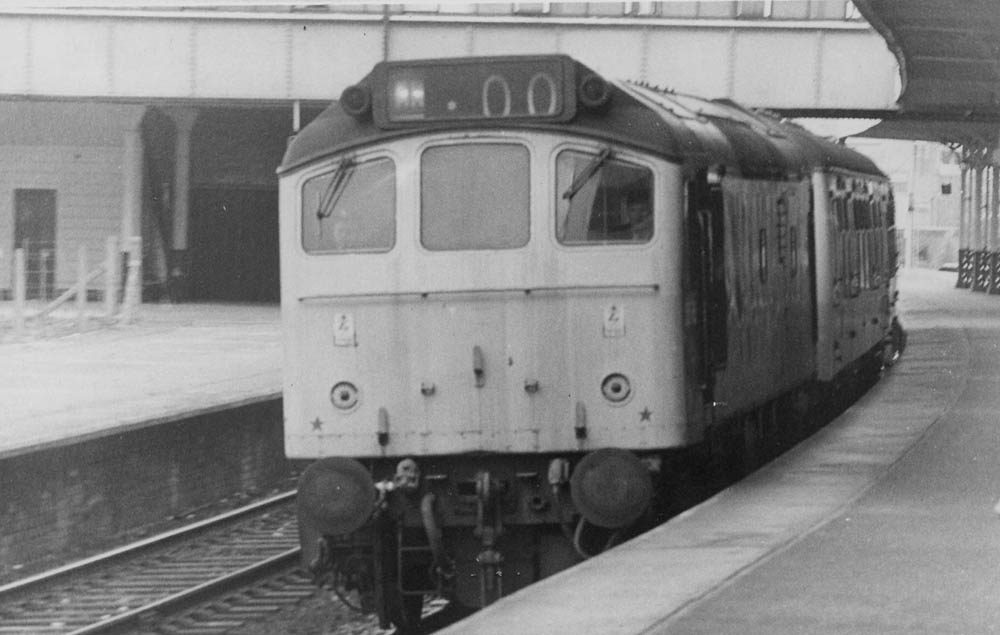 Photograph courtesy A Forster
On May 31st 1979 25166 was noted heading east through Llandudno Junction at 11.43am hauling a failed diesel multiple unit.
On June 1st 25166 was stabled at Holyhead shed.
On June 2nd at 11.51am was noted 25166 running light engine at Deganwy towards Llandudno.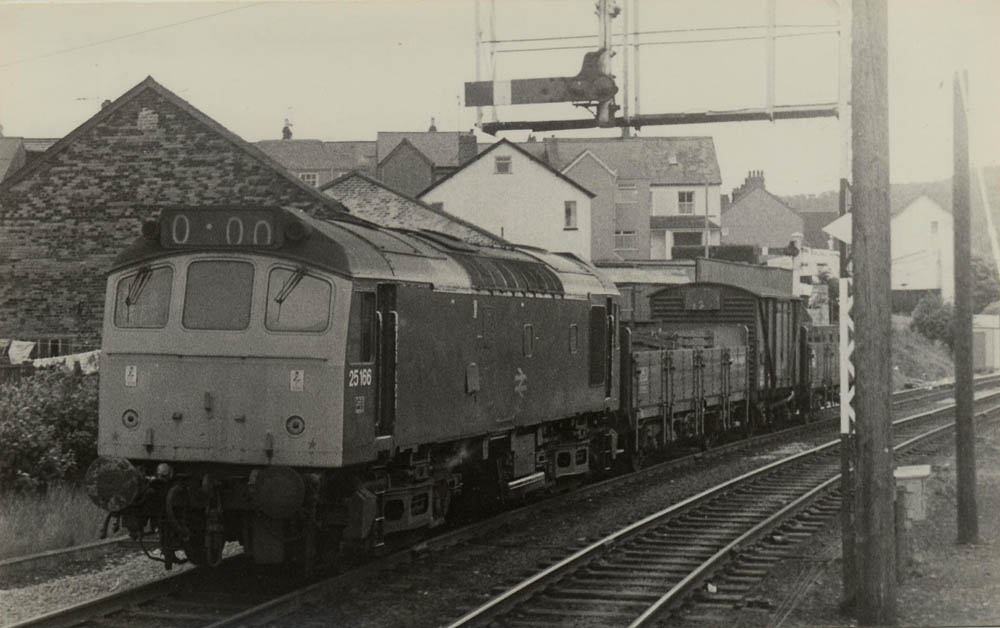 Photograph courtesy A Forster.
On June 5th 1979 at 11.30am 25166 was noted arriving at Llandudno Junction with a short freight.
On the evening of June 8th 25166 & 25157 were noted on a ballast train at Levenshulme.
25166 was noted with 25156 & 25157 at Cockshute on the afternoon of June 9th.
25166 & 25132 were noted eastbound at Bangor with a trainload of old ballast on July 1st.
1980
On May 19th 25166 was noted at Chester dragging GWR 0-6-0 3205 and LMS 4-6-0 43106 en route from the Severn Valley Railway to Bold Colliery near Wigan for the Rainhill Trials.
On July 20th a Shrewsbury - Scarborough day excursion was worked roundtrip by 25166 & 25169.
On October 20th, with about two weeks left in service, 25166 worked a Croes Newydd - Brymbo - Croes Newydd turn - see images below.
Photograph courtesy Barrie Hughes.
On October 20th 1980 25166 worked a Croes Newydd - Brymbo round trip and is seen here departing Croes Newydd.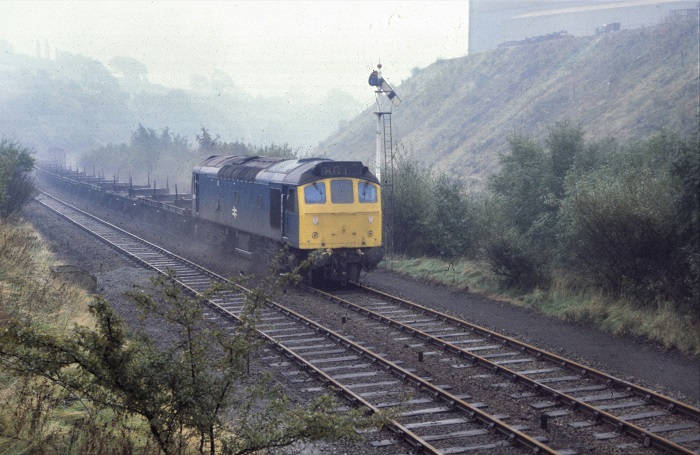 Photograph courtesy Barrie Hughes.
On October 20th 1980 25166 is seen approaching the site of Brymbo station.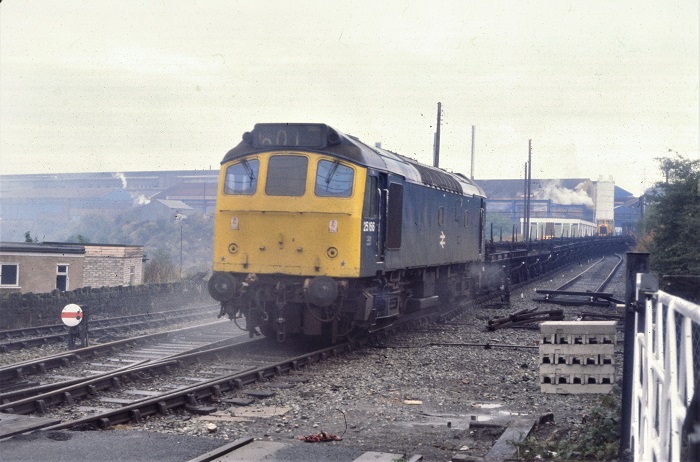 Photograph courtesy Barrie Hughes.
On October 20th 1980 25166 is seen at Mount Hill Level Crossing, Brymbo. 25166 had a set of working headcodes at each end, it did not recieve the two dot 'domino' headcode displays.
25166 was withdrawn on November 2nd 1980.
Not all known passenger workings are recorded on this page.
12/1089
flk 0621
Page added November 23rd 2009.
Last updated September 14th 2022.
Back to 25165
Forward to 25167