D7517, 7517, 25167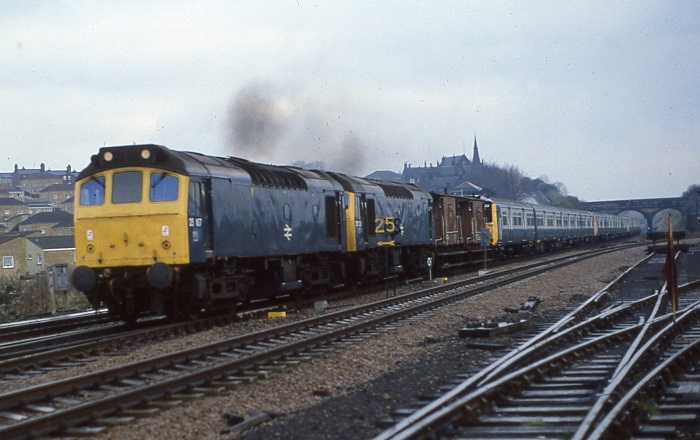 Photograph collection of webmaster
25167 & ?? head south through Barrow Hill with new electric multiple units travelling from York to Strawberry Hill for commissioning. The date is not known but maybe in the winter of 1982/83.
The nineteen & a half year career of D7517/25167 was spent allocated to a variety of London Midland & Western Region depots.
Built: BR Derby Locomotive Works.
Boiler room grilles sheeted over (1979).
Time between last Classified repair and withdrawal: 47 months.
Time between withdrawal & scrapping: 10 months.
Allocations
D7517 was new to Nottingham (16A) on December 9th 1964. Further transfers were:
December 1964 to Cricklewood West (14B).
January 1965 to the Cricklewood Division (D14).
September 1965 to London Midland Midland Lines (LMML).
August 1966 to Nottingham Division (D16).
May 1968 to London Midland Midland Lines (LMML).
June 1968 to Nottingham Division (D16).
July 1972 to Ebbw Junction (86B).
August 1973 to Cardiff.
January 1976 to Bristol.
February 1976 to Crewe.
Withdrawn May 29th 1983.
Renumbered February 1974.
25167 was the 182nd Class 25 to be withdrawn, one of six retired during May 1983, sister locomotive 25168 was retired during the same month.
After withdrawal 25167 was stored at Crewe before being moved with 25120 (from Springs Branch) and 25152/167/168 (from Crewe) to Swindon Works between February 9th & 15th 1984. 25167 was broken up by the middle of April 1984.
Works Visits
Works visits (records incomplete).
Noted Derby Works September 1977.
Noted Derby Works April - June 1979 (General repair, boiler room grills sheeted over).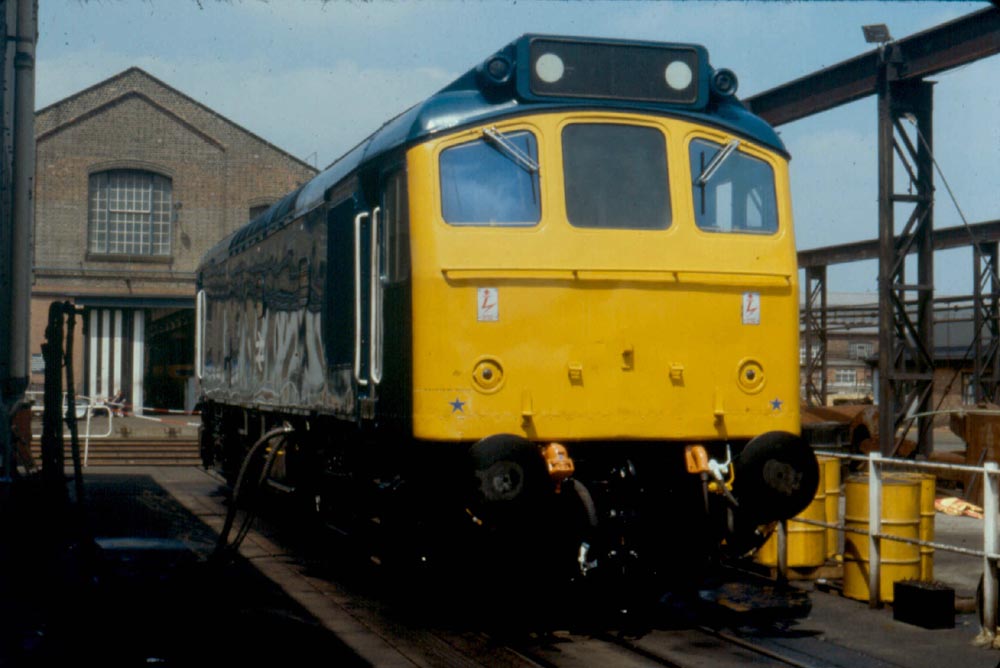 Photograph courtesy John Glynn
A very smart 25167 is fuelled on June 20th 1979 prior to returning to traffic after completion of a General repair. This repair would provide 25167 with almost four more years service, being withdrawn from Crewe during May 1983.
Highlights
1966
On March 6th D5204, D5222 & D7517 were stabled at Leicester Midland.
On the afternoon of August 6th D7517 was at Toton with an up freight.
On Sunday September 18th D5285, D5294, D7500, D7511, D7513, D7514, D7517, D7525, D7529, D7543, D7544, D7552, D7558, D7564 & D7658.
Just after midnight on December 18th D7517 was at Derby with a down parcels.
1967
Stabled at Derby on the evening of July 12th were D5210 and D7517.
On the morning of July 13th D7516 & D7517 were at Blythe Bridge with a down freight (8K64).
1968
On the evening of July 9th D5268 & D7517 were noted at Derby with a down freight.
1971
On Saturday July 24th sixteen empty stock workings were carried out at Oxley between the hours of 05.30am & 09.00am in support of the extra passenger workings typical of a summer Saturday, the carriage side pilots this day were 5229, 7517, 7640 & 7642.
1972
Just prior to its transfer to Ebbw Junction 7517 worked the Walsall - Norwich (for Yarmouth) - Derby diagram on June 17th 1972 with 5211.
1975
On October 8th 25167 worked the 2B99 17.55 Barnstaple - Exeter St Davids.
On October 9th & 11th 25167 was noted on Exeter shed.
On October 13th 25167 worked the 2B84 20.15 Exeter St Davids - Newton Abbot.
On October 15th there was no Type 4 available at Exeter?? for the first Meldon trip, leading to 25219 & 25167 working the job.
On October 29th the St Blazey Class 25s were dispersed as follows: Wadebridge, Liskeard & Hayle 25223; St Blazey - Drinnick Mill 25167, 25220; Goonbarrow Junction 25225; Control Train 25217.
1976
Whilst allocated to Western Region depots only one passenger working was recorded. On January 24th the 13.30 Paddington - Paignton with 47027 failed at ?? 25167 & 25158 were sent out to drag the service to Exeter St. Davids where all locomotives were replaced.
On the afternoon of January 31st 25167 was light engine at Taunton.
On February 3rd 25167 worked the 2B84 20.15 Exeter St Davids - Newton Abbot.
On February 9th 25167 was noted at Exeter stabling point.
At least by August 1975 (maybe earlier?) 25167 acquired a scrape down the full length of the Battery Isolating Switch side of the locomotive (see image below). It would run with this distinguishing mark until repaired at Derby Locomotive Works during April 1979.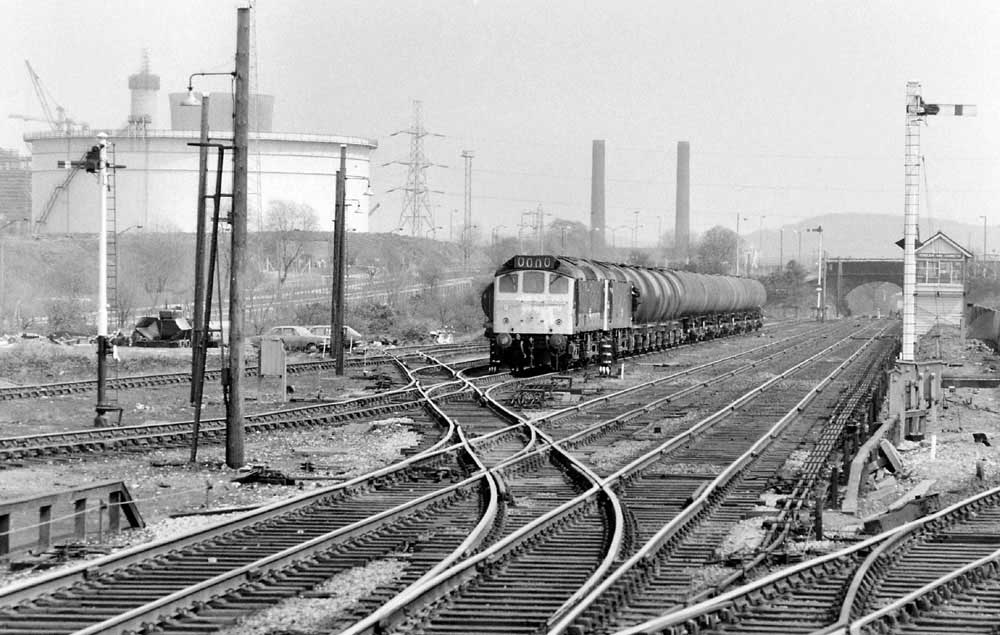 Photograph courtesy David Rapson
Stanlow and Thornton on April 28th 1976. A panoramic view of 25167 & 25249 as they run around their train of tanks. 25167 has acquired a lengthy scrape down most of the bodyside. The view is looking eastwards and is taken from the platform end at Stanlow & Thornton station.
After transfer to Crewe early in 1976 25167 worked a modest selection of passenger workings until its withdrawal in 1983. On August 14th 1976 25167 & 25209 worked the 09.20 Manchester Piccadilly - Yarmouth as far as Lincoln Central, returning with the 09.15 ex-Yarmouth.
1977
25167 was stabled at Llandudno Junction on May 29th.
1978
A late evening roundtrip on the North Wales mainline took place on June 2nd with 25167 working the 20.30 Crewe - Bangor and the 22.45 Bangor - Llandudno Junction.
On June 18th 25167 was noted at the north end of Crewe station with an overhead wire maintenance train.
On June 23rd 25167 & 25142 were busy on the NE/SW route working the 15.15 Plymouth - Manchester Piccadilly forward from Gloucester to Birmingham New Street.
On July 6th 25167 & 25027 were noted hauling a trainload of stone from Cauldon Low Quarry down to Leekbrook Junction, the stone was ultimately for use in the construction of the Thames Barrier.
On ?? the 11.11 Manchester Victoria - Holyhead was worked to Chester by 47450 where 25167 took over.
25167 was stabled at Northwich on September 26th.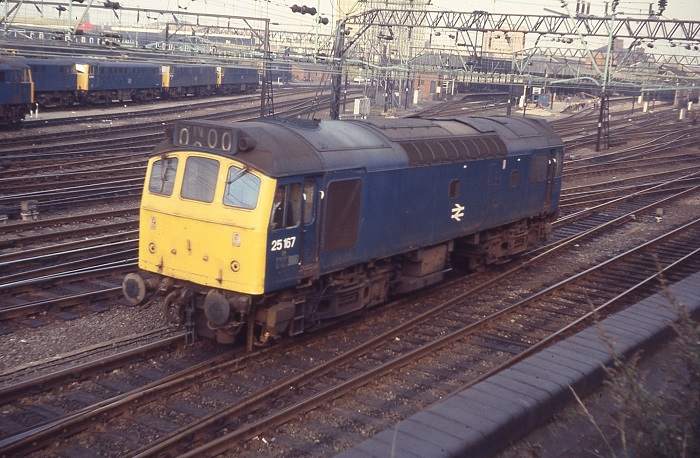 25167 at Crewe on October 8th 1978.
On October 22nd 25100 & 25167 were noted at Frodingham. The next day (23rd) they were noted at Kings Norton with bogie bolsters.
1979
25167 & 25094 were noted at Seacombe Junction on iron ore empties on March 25th.
Ex-works 25167 was noted eastbound at Nottingham with a parcels train on June 30th.
On July 28th 25167 & 25150 worked the 12.32 Skegness - Leicester forward from Nottingham and returned with the 12.32 Skegness - Leicester.
On August 26th 25136 & 25167 were noted at Seacombe Junction on iron ore.
25094 & 25167 were noted at Seacombe Junction on October 4th & 5th with an iron ore train. 25167 was stabled at Birkenhead on October 9th.
25167 was stabled at Chester on December 16th.
1980
On June 21st 25167 was noted at Newton-le-Willows with vans headed for Manchester (Red Bank?).
On July 16th 25167 was noted at Leyland with a lengthy van train.
On August 14th 25167 worked the 20.30 Crewe - Bangor. On August 15th 25167 worked the 13.40 Manchester Victoria - Llandudno Town.
1981
On January 31st 25167 rescued 25042 whilst working the 10.00 Crewe - Cardiff, going forward from Shrewsbury.
On the morning of February 7th 25167 was noted with empty coaching stock at Crewe.
On the morning of May 16th 25167 was noted with a crane at Penmaenmawr to handle some derailed wagons.
On July 2nd 25167 was westbound at Penmaenmawr with a short freight.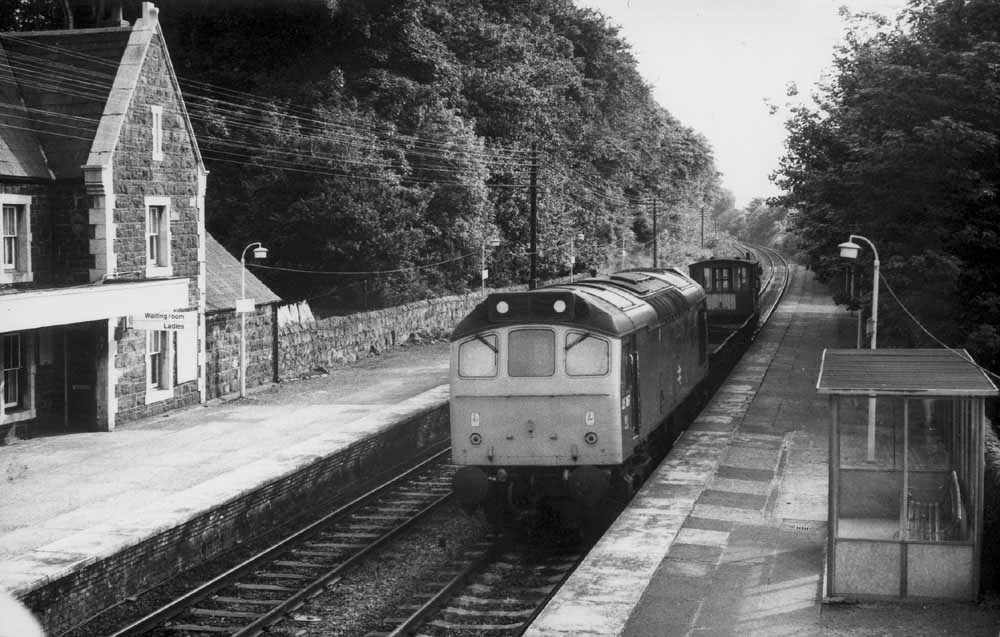 Photograph collection of webmaster
25167 eastbound at Llanfairfechan on July 3rd 1981. A picture of contrasts, the modern bus shelter style waiting area contrasts with the solid stone station building, yet the bus shelter contains a bench seat from a different era. The Class 25 and its short train looks at home with the telegraph poles supporting a multitude of wires, whilst in the garden of the station house someone's washing blows in the breeze!
It was off to Aberystwyth on August 8th with 25150 working the 10.10 Euston - Aberystwyth forward from Birmingham New Street, returning with the 18.00 Aberystwyth - Wolverhampton. Later the same month, on August 20th 25167 worked the 12.15 Holyhead - Crewe throughout. On August 24th 25115 & 25167 were noted eastbound through Gloucester with a mixed freight.
On September 1st a diesel multiple unit failure saw 25167 work the 17.15 Nottingham - Birmingham New Street as far as Derby where 25279 took over.
On October 3rd a heavily oilstained 25167 was at Reddish depot.
1982
On February 18th 25167 was stabled in the shed at Llandudno Junction.
25167 & 25152 were northbound through Crewe station with a coal train headed for Garston on April 13th.
25167 was noted light engine at Carlisle on May 1st.
1982 saw the last passenger workings for 25167, which included some familiar turns. On June 6th 25167 worked the 09.50 Manchester Victoria - Llandudno Town and the 14.20 return.
On July 28th 25167 & 25224 worked a roundtrip Derby - Aberystwyth day excursion, a total of 401 miles (out via Leicester and Birmingham, return via Walsall). The excursion was running late and its arrival at Aberystwyth delayed a local service due to the recent closure of the signalbox and a rationalisation of the trackwork available for passenger movements.
On August 12th 25167 worked a Carlisle - Dumfries parcels. On August 14th 25167 worked the 11.55 Glasgow Central - Carlisle, whilst the next day (15th?) 25167 worked the 09.50 Manchester Victoria - Llandudno Town and the 14.20 return (date maybe uncertain). On August 21st 25167 was on banking duty at Manchester Victoria.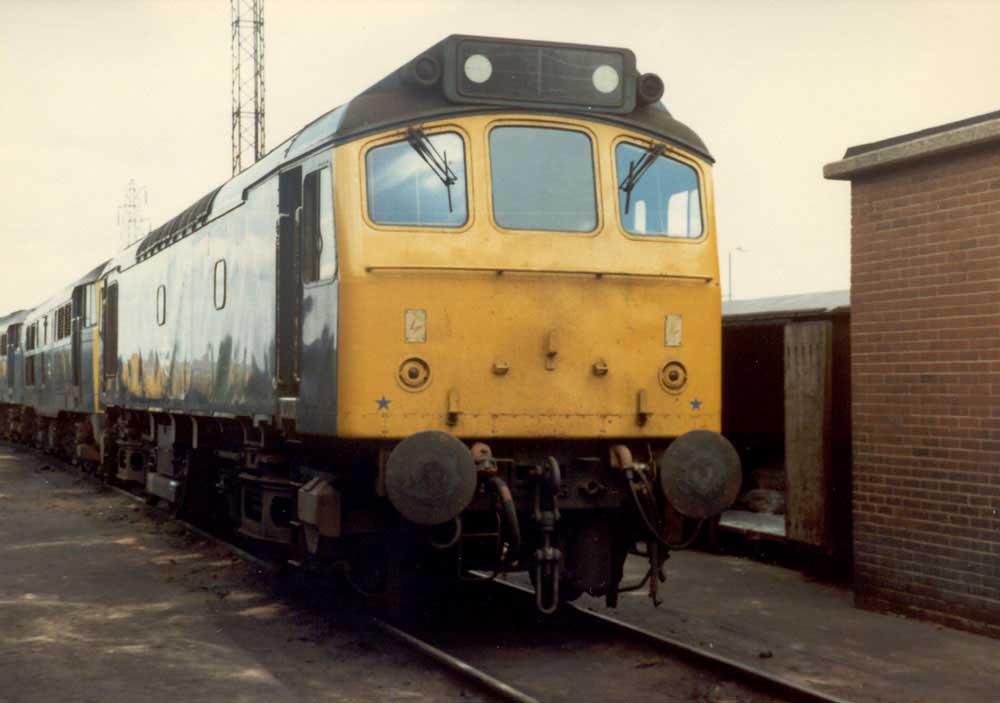 Photograph courtesy Jerry Glover
25167 & 31279 at Toton on August 28th 1982.
On September 2nd 25167 worked the 4V20 15.02 Manchester Mayfield - Bristol Temple Meads parcels vans.
25140 & 25167 were noted southbound at Wolverhampton with oil tanks on October 18th.
25167 was the Manchester Victoria banker on November 6th.
1983
Most unusual visitors to Eastleigh on the morning of January 14th were 25161, 25167 & failed 25230. They had arrived on an unidentified freight and turned on the loop at the diesel depot to keep the failed 25230 at the rear of the trio as they headed northbound light engines.
On the morning of March 1st 25167 worked a Northwich - Tunstead ICI limestone empties.
25167 was withdrawn on May 29th 1983.
flk 0721 (1)
Not all known passenger workings are recorded on this page.
Page added March 10th 2013.
Last updated September 14th 2022.
Back to 25166
Forward to 25168