D7518, 7518, 25168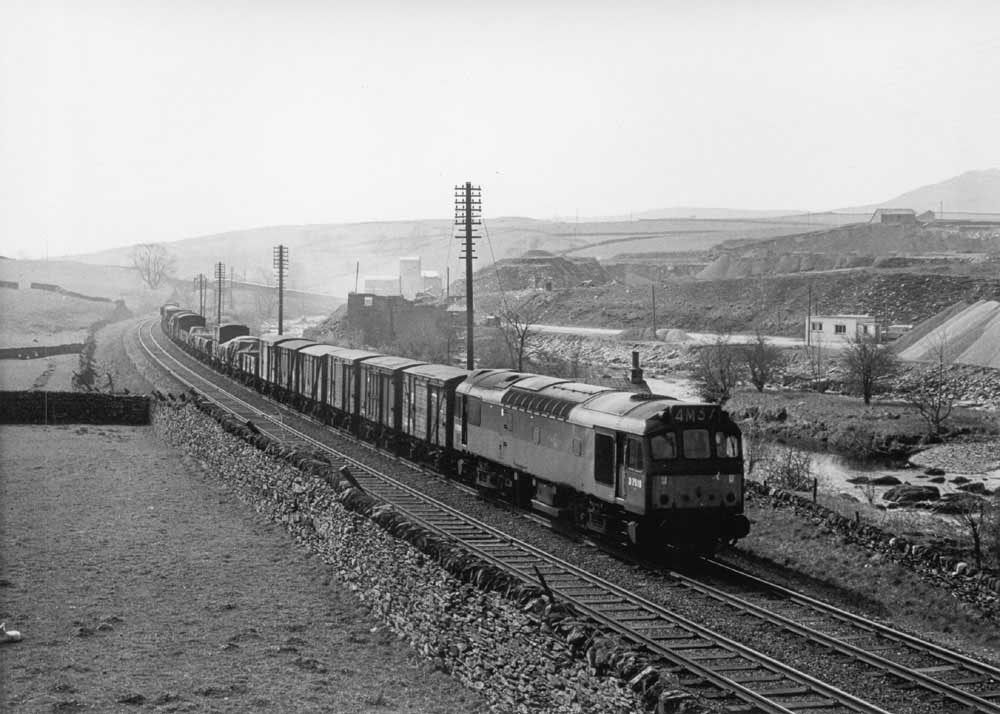 Photograph courtesy John Hancock
A fine period view of D7518 with a typical goods train, on the Down line in the Helwith Bridge/Selside section. Just visible in the background are the Helwith Bridge starter/section signals with the Selside distant underneath. The Class 25 still sports its original, circular exhaust port.
The eighteen year five month career of D7518/25168 was split between allocations to London Midland & Western Region depots.
Built: BR Derby Locomotive Works.
Boiler room grilles sheeted over (1979).
Time between last Classified repair and withdrawal: 45 months.
Time between withdrawal & scrapping: 10 months.
Allocations
D7518 was new to the Toton (16A) on December 12th 1964. Further transfers were:
January 1965 to Nottingham Division (D16).
January 1965 to Saltley (2E).
April 1966 to Birmingham Division (D02).
April 1966 to London Midland (Midland) Lines.
December 1967 to Nottingham Division (D16).
May 1968 to London Midland (Midland) Lines.
June 1968 to Nottingham Division (D16).
July 1972 to Newport (86B).
May 1973 to Ebbw Junction.
May 1973 to Cardiff.
November 1975 to Laira.
January 1976 to Bristol.
February 1976 to Crewe.
May 31st 1981 - advised as withdrawn, but later cancelled.
Withdrawn May 22nd 1983.
Renumbered March 1974.
25168 was the 181st Class 25 withdrawn, one of six retired during May 1983 including sister 25167.
25168 was stored at Crewe from June 1983 until moved to Swindon Works (movement details below) by February 16th 1984 and scrapped there by the second week of April 1984.
25120 (Springs Branch), 25152/167/168(Crewe) as the Springs Branch – Swindon Works February 9th - 15th, 1984.
Works Visits
Works visits (records incomplete).
Noted Crewe Works September & October 1968.
Noted Derby Works December 1970.
Noted Derby Works August 1973.
Noted Derby Works May 1976.
Noted Derby Works June 1977.
Noted Derby Works April - July 1979 (General repair).
Highlights
1965
D7518/25168's first recorded passenger working was no doubt deputising for a Type 4 when on September 21st 1965 D7518 & D5183 worked a Manchester Central - St. Pancras service throughout.
Condition no date: two tone green livery with small yellow warning panels, no blanking plates, hand/footholds present, straight sided sandboxes, three-rung bogie mounted footsteps, bufferbeam steam pipe connection present.
1968
D7518 worked two summer dated Nottingham - Llandudno Town roundtrips, on May 25th with D5231 and on July 6th with with D5187.
No passenger workings have so far been reported from 1969 - 1975.
1969
Condition August: two tone green livery with full yellow ends, no blanking plates, hand/footholds present, straight sided sandboxes, three-rung bogie mounted footsteps, original engine exhaust location.
1970
On June 16th the 6M78 Tyne - Washwood Heath was worked by 7518 & 7651.
On July 22nd 7518 & 7651 worked a morning Manvers Main - West Drayton, returning north from Reading West Junction with an evening Andover - Thirsk special freight.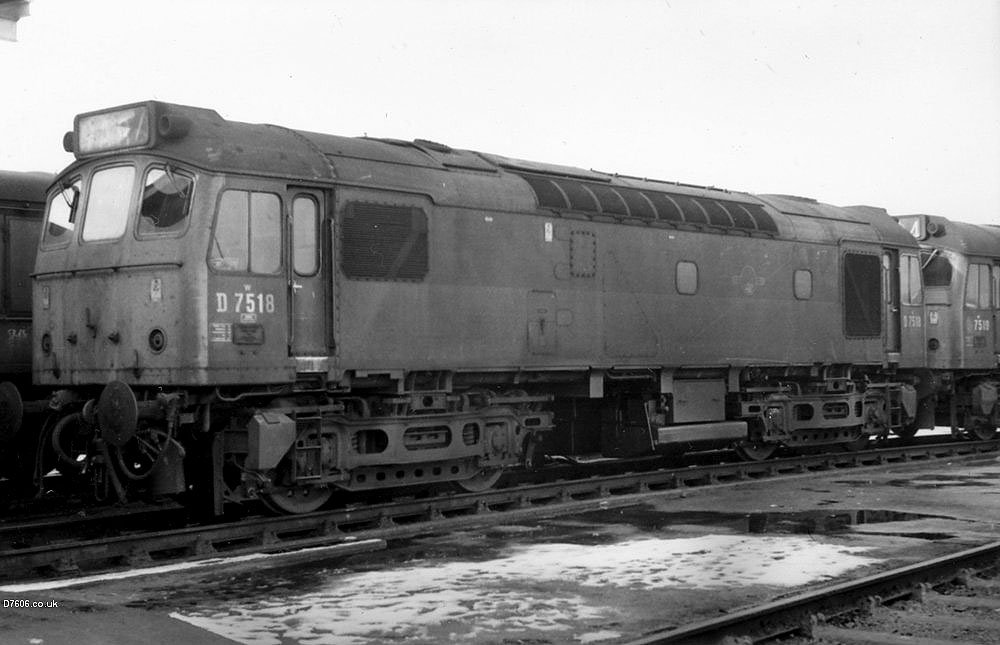 Photograph collection Ian Hammonmd
D7518 & D7519 date and location unknown. The picture shows the typical condition that many Class 25s operated under - this example still retains its original circular exhaust port and has gained full yellow cab fronts.
1971
On March 24th the Manchester Victoria bankers were D5152 (am) and 7518 (pm).
1972
Labour troubles which had been simmering for some time, came to a head in the third week of April with much working-to-rule, overtime and rest-day bans and other nefarious means of causing disruption. Services on the Southern and Great Eastern were seriously affected. In the middle of these troubles, on April 25th an early morning Coventry – Thames Haven empty oil tank train, hauled by E3083 derailed on the slow lines at Bletchley station, causing considerable damage to the platforms and some of the structures. For the clean up 7518 arrived with the Bletchley crane, and 7532 with the Willesden crane, full services did not resume until May 3rd.
1974
On July 20th 25168 was noted passing Tiverton Junction with the 05.55 Plymouth - Old Oak Common vans.
1976
At about 9pm on February 12th 25227 & 25168 were noted at Exeter St Davids with an Up ballast working.
At about 12.15pm on February 26th 25168 was noted at Exeter with a goods train from Barnstaple.
It was railtour duty on June 26th with 25168 & 25293 working an M&GNJRS charter roundtrip between Llandudno Junction and Blaenau Ffestiniog, the train having started from Euston. On October 11th 1976 25168 worked the 16.00 Crewe - Cardiff.
1977
Only one passenger working has so far been recorded for 1977. On June 12th 1977 a circular tour involving two trains, one from Kettering, one from Oakham, destined for Minfford and Blaenau Ffestiniog. 25168 & 24036 were noted roundtrip on the Llandudno Junction - Blaenau Ffestiniog legs of the circular tours.
1978
On July 28th 25168 was noted passing through Colwyn Bay with a brakedown crane and three support vehicles.
The first week of August 1978 produced many passenger workings in North Wales for 25168. The busy week started on August 2nd with the 16.58 Holyhead - Stoke-on-Trent. The next day (3rd) 25168 worked the 13.30 Manchester Victoria - Llandudno Town. Then followed the same diagram on the 4th, 7th & 8th: the 09.42 Llandudno Town - Manchester Victoria, 13.30 Manchester Victoria - Llandudno Town, 16.42 Llandudno Town - Crewe, 20.30 Crewe - Bangor and the 22.45 Bangor - Llandudno Junction, a daily passenger mileage of almost 350 miles. On August 9th 25168 & 25165 worked the 10.45 Birmingham New Street - Holyhead from Crewe returning with the 19.32 Llandudno Town - Crewe.
25168 was noted at Cardiff Canton depot on August 24th.
1979
At about 10am on February 9th 25168 & 25156 passed through Crewe station with up empties, taking the Stoke line.
25168 was the Manchester Victoria banker (T42) on August 5th. On August 16th the 11.30 Bangor - Manchester Victoria failed at Chester behind 25241, the train was dragged by 25168 to Manchester Victoria.
On the morning of November 3rd 25168 was noted at Crewe on up empties.
On December 13th 25168 was called out to rescue a lunchtime Worecester - Hereford multiple unit which had run into cows near Ledbury. 25168 took the multiple unit to Hereford, both remaining here overnight before leaving for Bristol.
1980
The 07.35 Nottingham - Llandudno Town and 13.00 return on August 23rd 1980 was worked by 25168.
This year again saw the 09.42 Llandudno – Manchester and 13.42 return, 16.42 Llandudno – Crewe and 20.30 Crewe – Bangor back in the hands of diesels, usually Classes 25 or 40. This service utilized the stock off the SO York – Llandudno which laid over for the week at Llandudno. On August 28th 25168 & 25216 worked the 20.30 Crewe - Bangor.
25168 was noted at Llandudno Junction with a permanent way train on November 22nd.
1982
1982 produced a small variety of passenger workings. On January 18th 1982 a diesel multiple unit failure saw 25168 work a morning roundtrip Llandudno Junction - Blaenau Ffestiniog. By March 2nd 25168 was on banking duty at Manchester Victoria.
On June 4th 25168 was stabled at Cockshute. Three days later on June 7th 25168 worked the 11.05 Crewe - Cardiff. Five days later on June 12th 25168 & 25049 worked the 10.10 Euston - Aberystwyth forward from Birmingham New Street to Shrewsbury, en-route 25049 failed at Wolverhampton and was dragged to Shrewsbury.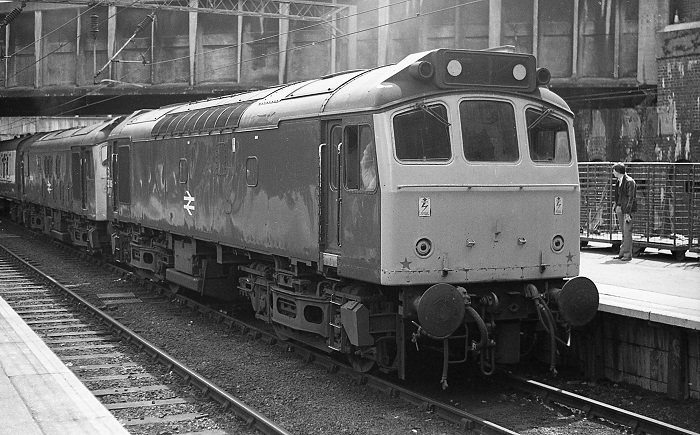 Photograph collection of webmaster.
25168 & 25049 at Birmingham New Street on June 12th 1982 having taken over the 1J24 Euston - Aberystwyth which they will work to Shrewsbury, although 25049 will fail at Wolverhampton.
On August 1st 25168 was stabled at Cockshute. On August 20th 25168 worked the relief 15.10 Crewe - Llandudno Town. Further reliefs were worked on August 25th, being the 11.00 Llandudno Town - Crewe and 15.10 return.
The final recorded passenger workings for 25168 took place over the Settle & Carlisle on September 17th & 18th 1982, working the 17th's 08.57 Leeds - Carlisle (45049 worked the return leg) and the 18th's 08.57 Leeds - Carlisle and 15.37 return.
1983
25168 was noted at Wigan NW with a length train of hopper wagons on March 4th.
25168 was noted Warrington on northbound parcels May 7th 1983.
The Shopping Proposal dated May 13th 1983 for 25168 changed its status to scrap. The locomotive had been stopped at Crewe depot on May 12th 1983 because the overspeed trip failed to shut down the engine, the turbocharger was seized, possibly hydrauliced. Contained in the proposal were the following details:
Last Classified Body Repair: July 10th 1979
Loco miles since last Classified repair: 111,000
Duty hours since last Classified repair: 4,711
Last C Exam November 2nd 1982
Last D Exam April 8th 1982
Next exam due (E) 4,950 hours.
The proposal also indicated the locomotive components included:
Engine: VA807B
Generator: P 72897
Bogie No.1: 5010/155
Bogie No.2: 5010/156
Traction Motor No.1: 271483
Traction Motor No.2: 271404
Traction Motor No.3: 267200
Traction Motor No.4: 264522
Last bogie change: Derby Works July 10th 1979.
The locomotive batteries were still fitted.
25168 was withdrawn on May 22nd 1983.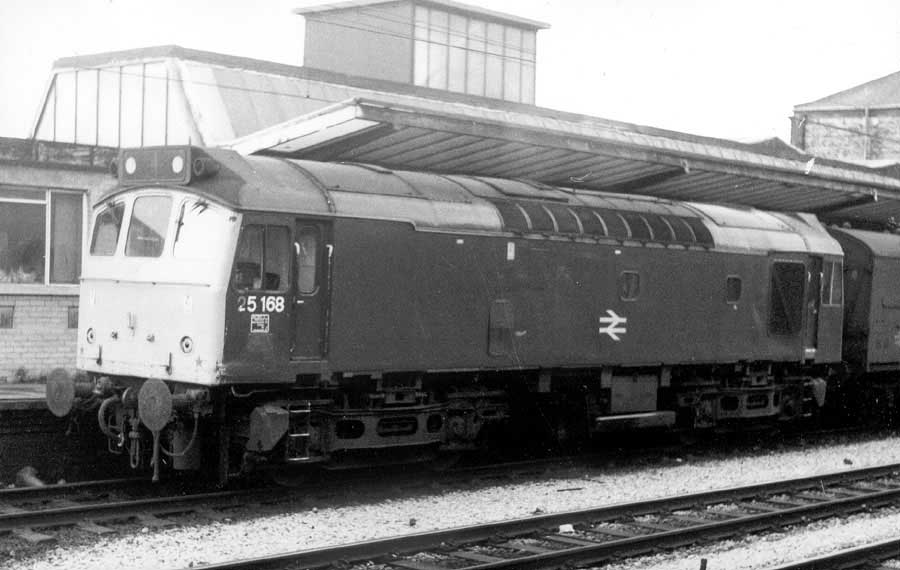 Photograph collection of webmaster
An undated view of 25168, presumably near the end of its career. The boiler room grilles have been sheeted over.
Not all known passenger workings are recorded on this page.
41/3927.
flk 1116 (1)
Page added June 12th 2013.
Last updated July 21st 2020.
Back to 25167
Forward to 25169