D7524, 7524, 25174

The short eleven year eight month career of D7524/25174 was spent allocated to only four London Midland Region depots.

Built: BR Derby Locomotive Works.
Time between last Classified repair and withdrawal: ?? months.
Time between withdrawal & scrapping: 22 months.

Allocations

D7524 was new to the Nottingham Division (D16) on January 23rd 1965. Further transfers were:

August 1972 to London Division (D01).
May 1973 to Willesden.
June 1975 to Cricklewood.
Withdrawn September 20th 1976.

Renumbered March 4th 1974.

25174 was the 13th Class 25 withdrawn, one of two retired during September 1976.

25174 was withdrawn following a collision at Aylesbury on August 5th 1976 involving 25030 and runaway wagons. It was initially moved to Cricklewood before forwarding to Derby with 25030 on August 9th 1976, lingering here for two years until scrapped in August 1978.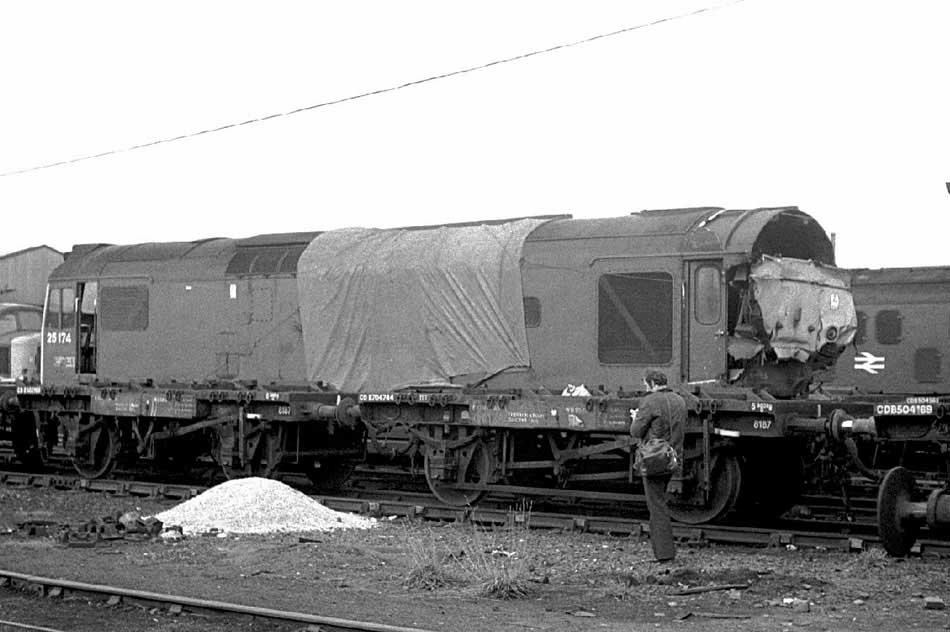 Photograph courtesy Tony Sayer
25174 had been withdrawn from Cricklewood during September 1976 after a collision in the Aylesbury area. The locomotive was moved to Derby Works, ironically at the time of the 1976 Derby Locomotive Works Open Day it was visible to the visitors as it sat in the arrival sidings awaiting entry into the Works. In this view dated November 27th 1976 the locomotive sits in the Works yard.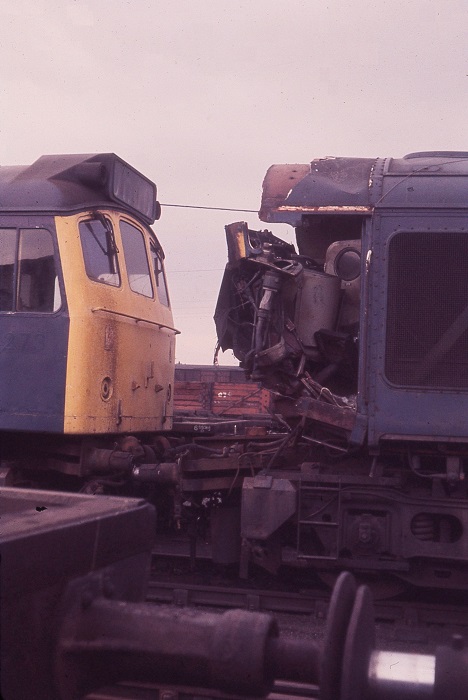 A close up of the damaged cab of 25174 on January 8th 1977. In better times repairs might have been sanctioned for this locomotive but with a downturn in business and an excess of the lower powered locomotives, there was little incentive to authorise repairs.
Works Visits
Works visits (records incomplete).
Noted Crewe Works May 1968.
Noted Derby Works August 1972 (full repaint blue/yellow).
Noted Derby Works February 1974.
Highlights
1965
On July 6th 1965 the 13.00 Birmingham - Derby local was rescued at Coleshill by D7524, which assisted the diesel multiple unit at least as far as Burton.
1968
On September 7th 1968 7524 worked the 07.06 Derby - Yarmouth as far as Norwich.
On October 12th 7524 was noted light engine at Lincoln Central, two-tone green livery, full yellow ends, engine exhaust in original position, with 'D' prefixes.
1970
7524 & 7649 worked a roundtrip (?) Nottingham - Morecambe mystery excursion on July 26th, for a total of 271 miles.
1972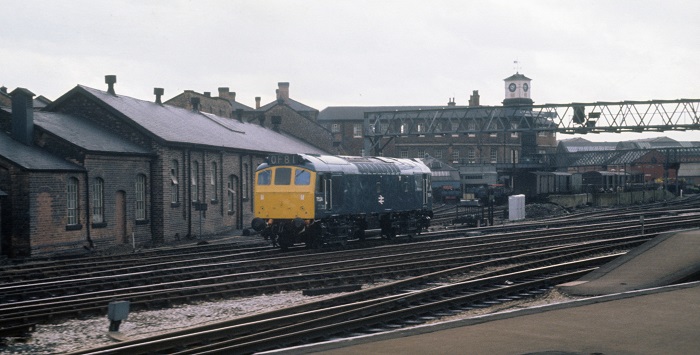 Photograph collection of Roger Geach.
The date is possibly August 4th 1972 as an ex-works 7524 ambles by part of Derby's railway history.
On August 4th 7524 made a test run from Derby Works.
The snag sheet for August 4th recorded:
7524; August 4th 1972; time 1.50
| | | | | | |
| --- | --- | --- | --- | --- | --- |
| Load | Speed | Amps | Volts | Notes | Other |
| 1 | - | - | - | - | - |
DWW 2 end banging
B exhaust top flange blowing
Engine speedo? overspeed to check.
1973
January 13th 1973 found 5218 & 7524 in use between Windsor and Wembley on an excursion from Huddersfield. The journey set out behind 269, with the intention to use E3136 from Stockport. As the electric was unable to heat the train the Class 40 ran through to Mitre Bridge Junction, where 6516 took over for the leg to Windsor. As this machine also could not heat the train the Class 25ís were found for the first part of the return leg.
Late in the evening of May 25th 7524 was noted at Stonebridge Park.
1975
On August 25th 25174 was stabled at Ebbw Junction.
1976
25174 was noted at Rugby on July 11th.
On August 1st 25174, 25030 & 08909 were stabled together at Cricklewood awaiting a tow to Derby. The No.1 end of 25174 had been neatly wrapped in a tarpaulin and secured with rope, to hide the crushed cab.
25174 was withdrawn on September 20th 1976.
Not all known passenger workings are recorded on this page.
4/481
flk 0522
Page added June 10th 2013.
Last updated May 31st 2022.
Back to 25173
Forward to 25175