D7525, 7525, 25175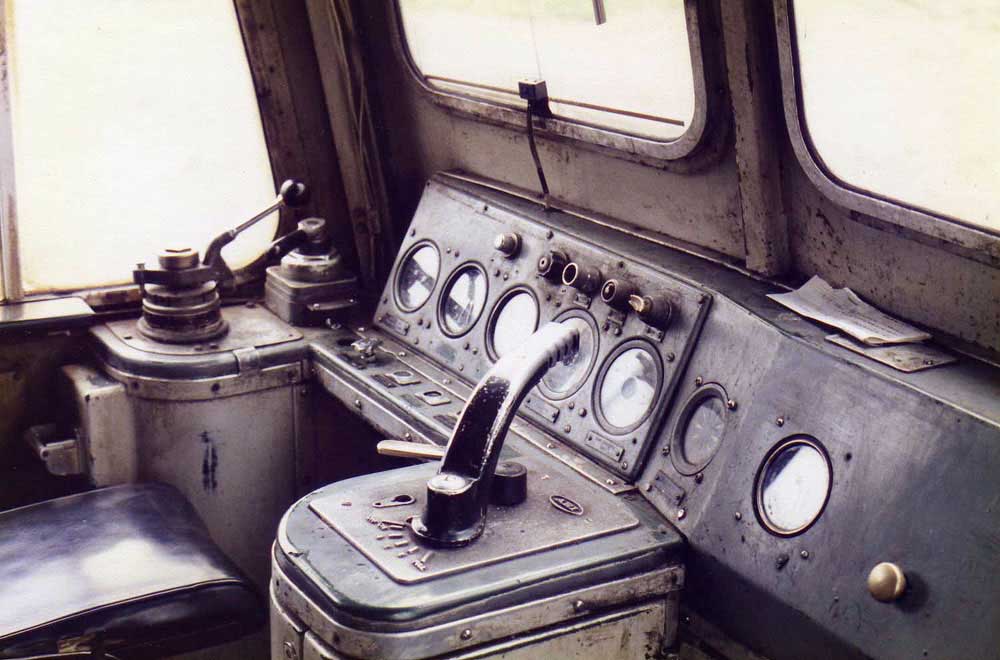 Photograph courtesy Michael Kaye
The driver's desk for 25175 taken sometime during May 1985.
The twenty year ten month career of D7525/25175 was allocated to a handful of London Midland Region depots.
Built: BR Derby Locomotive Works.
Dual brake fitted.
Time between last Classified repair and withdrawal: 100 months.
Time between withdrawal & scrapping: 17 months.
Allocations
D7525 was new to Nottingham Division (D16) on January 30th 1965. Further transfers were:
October 1971 to London Division (D01).
May 1973 to Willesden.
June 1975 to Cricklewood.
January 1984 to Crewe.
Withdrawn December 5th 1985.
Renumbered March 16th 1974.
25175 was the 262nd Class 25 to be withdrawn, one of ten Class 25s retired during December 1985.
After withdrawal 25175 was stored at Crewe until sold to Vic Berry, Leicester during January 1986. It moved to Leicester Knighton Sidings on January 23rd 1987 and into Vic Berrys yard three days later. By the first week of May 1987 25175 had been scrapped, although the cabs lingered a little longer.
Works Visits
Works visits (records incomplete).
Noted Crewe Works May 1968.
Noted Derby Works April - July 1977 (Classified).
Noted Derby Works August - October 1982 (N1 repairs).
Noted Derby Works June - July 1984 (N4 repairs).
Highlights
1965
D7525 was delivered from Derby Works to the Nottingham Division at the end of January as part of the large fleet used to remove steam from the Midland Lines northwards.
1966
On May 28th the summer dated roundtrip Nottingham - Llandudno Town was worked by 7525 & 7581.
1968
D7525 visited Crewe Works during May.
On June 29th the roundtrip Nottingham - Llandudno Town was worked by 7525 & 7520.
1969
Condition October: two-tone green livery with full yellow ends, red buffer beams, no blanking plates, hand/footholds present, ridge sided sandboxes, three-rung bogie mounted footsteps, engine exhaust in original position.
On December 17th 7525 worked a late morning Banbury - Reading freight, returning with the balancing working later that day.
1971
On May 29th 7525, still in two tone green livery, was in charge of the Derby - Yarmouth (1E83), being noted at Sleaford. The coaching stock included at least one maroon coach.
After over six years allocated to the Nottingham Division D7525 moved to the London Division (D01) during October, spending the next thirteen and a half years in the London area, at either Willesden or Cricklewood.
1972
Condition no month: blue/yellow livery, no blanking plates , hand/footholds plated over, straight sided sandboxes, three-rung bogie mounted footsteps.
1977
25175 spent April to July at Derby Works, much of the time in the yards. By the middle of July it was back in service being noted on a school special from North London to Southend on July 13th. On July 30th the Derby - Norwich - Yarmouth - Norwich - Derby (not Walsall) diagram was handled by 25175 & 25212.
1980
On July 4th a Willesden - Salfords (SR) oil train was worked throughout by 25175 & 25309, returning at least as far as Acton with a train of empty stone hoppers for Westbury. A week later on July 12th the 08.42 Sheffield - Huddersfield (portion for the 08.55 York - Llandudno) was worked by 25175, which also worked the return leg, the 16.58 Huddersfield - Sheffield (the portion off the 13.42 Llandudno - York).
25175 received an 'E' examination at Cricklewood during August.
On November 23rd the 'Yorkshire Terrier' railtour was worked from Dalston West Junction to Birmingham New Street by 25175 & 25213.
1981
25175, 25251 & 25313 were noted at Bletchley on January 24th.
The failure of a Class 45 on July 17th working the 16.01 St. Pancras - Nottingham required the assistance of 25175 between Bedford & Leicester. A week later on July 25th the 08.35 Derby - Yarmouth to Norwich and the return 14.20 Yarmouth - Derby from Norwich were worked by 25175 & 25156. The next day (26th) the same pair worked a roundtrip Leicester - Skegness. On July 29th a day excursion from Nottingham to Aberystwyth used 25056 & 25270 as far as Wolverhampton, here 25149 & 25175 worked the roundtrip to Aberystwyth. A working frequently bringing the Type 2's to the WR was the Ince - Bridgwater UKF, the empties returning behind 25175 on August 4th.
A short working on December 20th saw the 00.25 Manchester Piccadilly - Euston assisted between Willesden & Camden by 25175 due to the power being off for engineering works.
1982
25202 & 25175 were stabled at Nuneaton on February 13th.
On March 2nd 25175 was noted at Bletchley with a train of empty container flats for the brickworks at Stewartby.
During May 25175 was stored unserviceable at Toton, being noted inside Toton shed on jacks on July 3rd, by August it had reached Derby Works and would recieve approval for generator repairs to be carried out.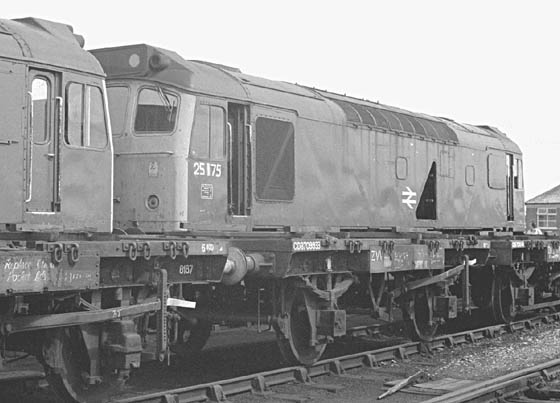 Photograph courtesy Tony Sayer
25175 at Derby Works on August 14th 1982, generator repairs had been sanctioned allowing 25175 to run a few more miles.
1983
25057 & 25175 were noted at Carlisle on March 16th with northbound oil tanks from the Workington Line, possibly from Dalston terminal. 25175 was noted at Stockport with wagons on March 28th.
On April 30th a ten coach Altrincham - Reading day excursion was worked by 25175 over the Coventry - Reading - Coventry legs (see image below).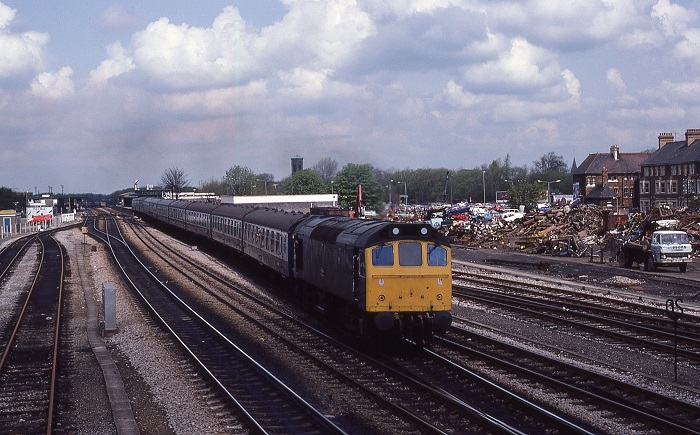 Photograph collection of webmaster.
25175 heads south through Oxford on April 30th 1983 with an Altrincham - Reading day excursion.
During July and early August 25175 was at Derby Locomotive Works for repairs.
25175 was noted shunting civil engineering wagons in the yard opposite Springs Branch depot on August 9th. A week later on August 17th was noted northbound at Winwick with a short track train. On August 28th 25175 was stabled at Workington.
A wandering ballast working caused problems on the Oxford - Bletchley line on October 4th. The up Oxford line was already closed due to out-of-gauge track, all traffic using the down line, including the ballast working behind 25175. Having cleared the single line section it was then decided to return the train to Aylesbury using recently arrived 25080. This locomotive derailed whilst changing tracks, the scene cleared by the Bletchley rerailing team later that evening with the ballast train being towed away by 25175!
1984
25175 last transfer saw it move to Crewe during January, not that this had much impact on its duties, for on February 1st it assisted 47157 throughout on the 14.48 Inverness - Aberdeen service.
25175 was noted on Motherwell shed on March 10th.
25175 dragged an electric multiple unit between Rugby & Coventry on April 8th, the power being off for engineering work. The next day 25175 was noted at Marton Junction with coal wagons.
May 17th & 18th found 25175 working three passenger trips in the Preston area, a round trip to Manchester Victoria (17/18th) and a Preston - Blackpool turn (18th).
On June 28th 25175 worked the 07.25 Glasgow Central - Carlisle service.
A trip to the seaside took place on August 18th when 25175 & 25044 worked the 07.35 Euston - Aberystwyth forward from Shrewsbury, coming back with the 14.00 to Shrewsbury, which was extended to Birmingham new Street, the Class 25s going as far as Wolverhampton.
On November 7th 25175 did more dragging on the WCML, this time assisting 86252 between Nuneaton & Birmingham New Street.
1985
A very short run took place for 25175 on January 28th when it assisted failed 27020 between Mossband & Gretna Jct on the 06.05 Carlisle - Glasgow Central service, 47157 replaced both locomotives.
The Ellesmere Port - Severn Tunnel Junction bitumen tanks were noted with 25175 & 25048 on February 5th, Class 47's would soon be diagrammed for this working. 25175 was noted at Thornaby on February 22nd.
25175 was noted passing through Manchester Victoria with a brake van on March 9th.
More Scottish haulage occurred for 25175 with 25196 on April 10th when they took the relief 12.05 Bristol - Edinburgh service forward from Carstairs. On April 23rd two pairs of Class 25's were noted at Chesterfield, the morning Arpley - Parkeston Speedlink behind 25175 & 25032 and the late evening Bristol - Newcastle parcels with 25201 & 25245.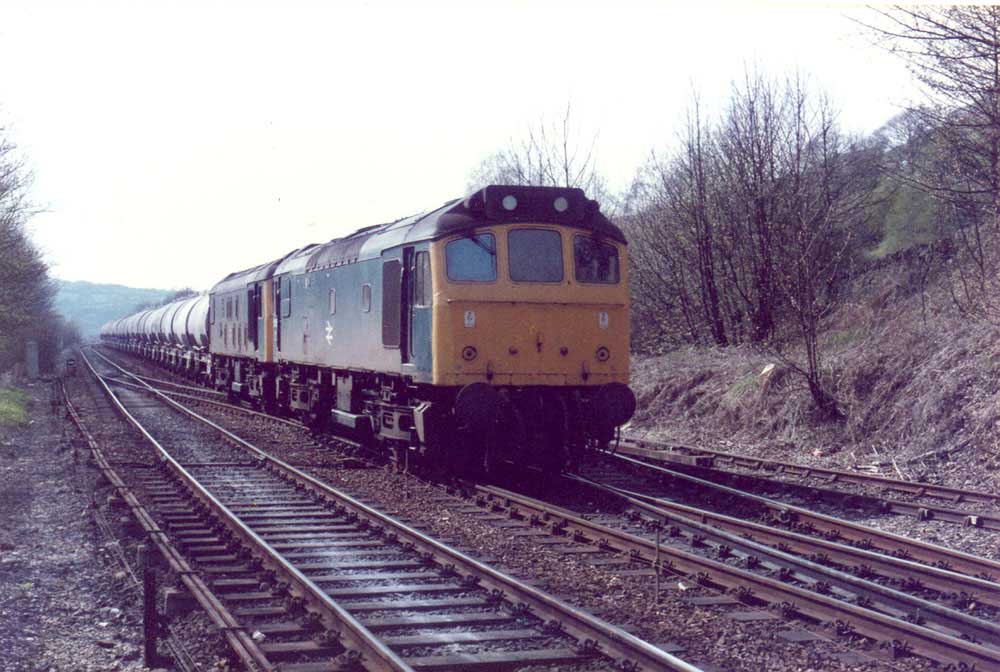 Photograph courtesy Stephen Houlker.
The 6H33 Widnes - Earles cement on May 3rd 1985 passes through New Mills Central behind 25175 & 25032. As detailed above this pair of locomotives had been together since at least April 23rd.
25175 was noted at Manchester Victoria on May 9th.
June 1st's 'Blackpool Boomerang' railtour gave the chance for 25175 & 25198 to show their mettle over 169 miles between Healey Mills - Blackburn - Blackpool - Bolton - Ashburys - New Mills - Sheffield. When the Class 25s joined the tour it was already running about an hour late, a little time was gained until 25198 expired at Manchester Victoria. The threat of the local banker, a Class 31, joining the train was thwarted by the speedy repair of 25198, both 25s making a spirited ascent of Miles Platting bank.
25175 was noted southbound through Stafford on June 15th with a lengthy parcels train.
The 12.00 Euston - Blackpool was worked forward from Preston on July 8th by 25175.
25175 was noted on the Kenilworth - Coventry line with a lengthy ballast working on August 5th.
The run of the mill Bolton - Swansea 'Llandore Lodger/Swindon Ambassador' railtour on September 21st, which included admission to Swindon Works & Llandore Open Day became a hot ticket when two Class 25's were diagrammed for the working. On the day 25034 & 25175 handled the 512 mile journey; Bolton - Stockport - Birmingham - Didcot - Swindon - Severn Tunnel - Cardiff - Swansea - Llanelli - Central Wales line - Shrewsbury - Crewe & return to Bolton. This was the last passenger working for 25175. On September 29th 25230 & 25175 were noted at Crewe with the Ince Sidings - Severn Tunnel Junction freight. On September 30th 25175 & 25230 were noted reversing at Hooton having arrived light engines presumably from Chester Depot to take the line towards Ellesmere Port.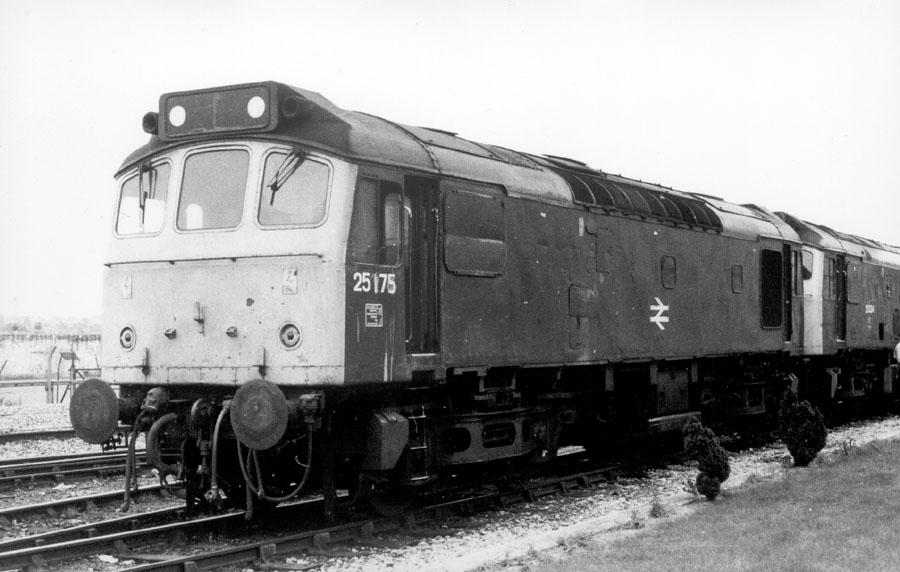 Photograph courtesy Danny Preston, collection Neil Johnson.
25175 & 25034 at Swindon Works on the 'Llandore Lodger/Swindon Ambassador' railtour on September 21st 1985.
25175 was a very rare visitor to the North West Gas Board sidings at Partington on October 2nd.
When 56105 failed on an afternoon York - Tees coal empties on November 28th, 25175 & 25201 were provided for the remainder of the trip. They later returned south on an evening salt working to Reading. Two days later (30th) 25175 towed ex-works Class 504 Unit M65452 from Horwich to Bury after overhaul.
On December 1st 25175 was noted at Newton Heath with a permanent way train and was also noted stabled at Manchester Victoria.
Just over a week later on December 5th 25175 was withdrawn at Crewe.
1987
January 23rd - 26th saw 25048, 25145/175, 25231, 25303 move from Crewe - to Vic Berry's, Leicester, by the first week of May 25175 was all gone.
Distinguishing Features
No.2 end cab front: driver's side, small dent/missing paint midway up cabfront in line with lampbracket: at least July 1981 until withdrawn.
No.2 end BIS side: boiler room blanking plate has horizontal crease: at least July 1980 until withdrawn.
37/3588
flk 0117
Not all known passenger workings are recorded on this page.
Page added October 16th 2001.
Last updated October 19th 2020.
Back to 25174
Forward to 25176