D7540, 7540, 25190
Photograph courtesy Richard Howat
Many of the locomotive hauled passenger workings over G&SW route between Glasgow & Carlisle utilised Class 25s during 1984 & 1985. Here 25190 stands at Glasgow Central on July 19th 1985, scheduled to work the 17:30 1M56 to Carlisle.
The twenty one year ten month career of D7590/25190 included allocations to a multitude of London Midland Region depots.
Built: BR Derby Locomotive Works.
Dual brake equipment fitted (January 1979).
Time between last Classified repair and withdrawal: 95 months.
Time between withdrawal & scrapping: 4 months.
Allocations
D7540 was new to Nottingham Division (D16) on April 3rd 1965. Further transfers were:
May 1968 to Longsight (9A).
June 1968 to Manchester Division (D09).
January 1971 to Liverpool Division (D08).
July 1971 to Manchester Divvision (D09).
October 1971 to Liverpool Division (D08).
October 1972 to Birmingham Division (D02).
October 1972 to Manchester Division (D09).
December 1972 to Nottingham Division (D16).
May 1973 to Toton.
May 1973 to Carlisle Kingmoor.
September 1974 to Springs Branch.
November 1974 to Carlisle Kingmoor (KM).
January 1975 to Kingmoor (KD).
February 1975 to Toton.
March 1975 to Willesden.
June 1975 to Cricklewood.
December 1976 to Crewe.
May 1977 to Cricklewood.
September 1981 to Toton.
March 1983 to Crewe.
Withdrawn January 28th 1987.
Renumbered June 8th 1974.
25190 was the 303rd Class 25 to be withdrawn, one of four retired during January 1987.
After withdrawal 25190 was stored at Basford Hall Yard until sold to Vic Berry, Leicester, being moved to Leicester on May 29th 1987, scrapping started immediately, with only the cabs left by June 14th 1987.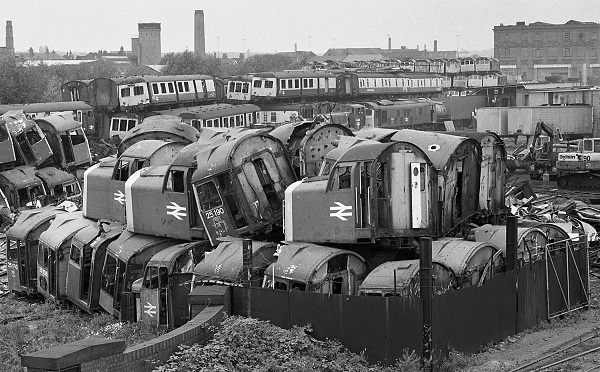 Photograph collection of webmaster.
A stack of locomotive cabs at Vic Berry, Leicester on September 21st 1987 includes at least one from 25190.
Works Visits
Works visits (records incomplete).
Noted Derby Works October 1967.
Noted Derby Works February 1970.
Noted Derby Works May 1974.
Noted Derby Works June 1975.
Noted Derby Works November 1978 - February 1979 (General & Dual brake).
Noted Derby Works March 1986 (bogie swap with 25200).
Highlights
1965
The frames for D7540 were laid down at Derby Works during 1965, with delivery to traffic taking place in April to the Nottingham Division (D16), one of a large continuous batch (D7521 - D7571) initially allocated here to replace steam on many of the area's freight workings, both in the Birmingham direction and northwards towards Tinsley.
1969
Whilst the 7.35 Nottingham - Llandudno and 13.52 return was well known for Class 25 haulage, the 10.00 from Sheffield & 14.28 return occasionally featured pairs of Class 25's, so noted were 7540 & 7594 (21st).
1970
On January 2nd 7540 was the Manchester Victoria pilot.
1971
On August 9th 7540 was noted passing Manchester Exchange on a down van train. On August 26th 7540 was the Manchester Victoria banker.
1973
At about 6pm on September 5th 7540 was noted passing Manchester Victoria on an up freight.
1974
At about 1.30pm on September 12th 25190 was noted at Newton le Willows with a permanent way train.
1975
Far from home on August 14th was 25190 in charge of the 13.15 Euston - Stranraer parcels from Carlisle.
1978
On April 25th the 17.35 Northampton - Three Spires Junction freight derailed two wagons, damaging track for 1½ miles on the Northampton line, the two locomotives, 25117 & 25190 were not involved.
Breakfast time on June 27th found the 03.58 Ripple Lane - Hawksbury oil train derailing five of its wagons at the site of Brandon & Wolston station (between Coventry & Rugby), destroying several hundred yards of the down line. The rerailing coach from Saltley arrived quickly behind 25142, the line being cleared early on 28th, leaving room for 25116 & 25190 to bring in a train of fresh ballast.
During November 25190 entered Derby Works for a general repair including the fitting of dual braking equipment. The locomotive was outshopped in February 1979.
1979

25190 waits for a final visit to the paint shop at Derby on a snowy damp January 21st 1979. This is 25190 despite it carrying the cab from 25189! During the scrapping of 25190 the number panels were saved for resale, one such panel sold on ebay during July 2017 for GBP205.55. Clearly visible underneath the paintwork was the number 25189!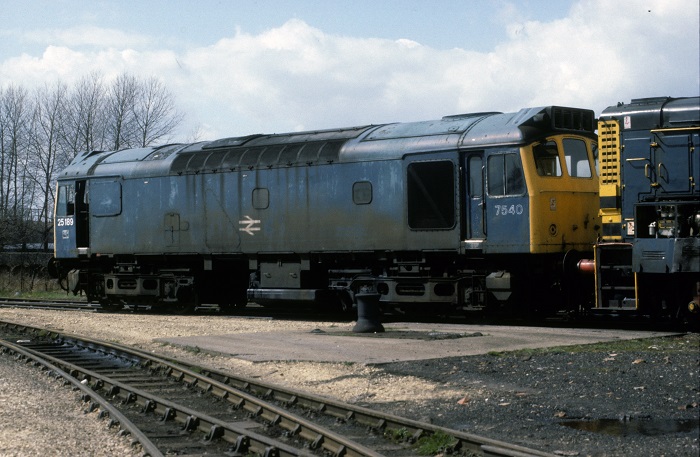 Photograph courtesy Tony Smith.

With regard to the cab swap on 25190 (see view above), here is 25189 awaiting scrapping at Doncaster Works on April 20th 1986 with '7540' clearly showing through the paint on the No.1 cab.


On August 28th 25190 & 25210 worked the Cricklewood - Stewartby rubbish train.

1980
The continuing shortage of electric locomotives led to the novel use of pairs of Cricklewood's Class 25s on the heavy Kensington Olympia – Stirling Motorail service. 25180 & 25190 handled the down working on June 2nd, they worked as far as Crewe, returning south with June 3rd's balancing working, the 23.40 ex Stirling.

1981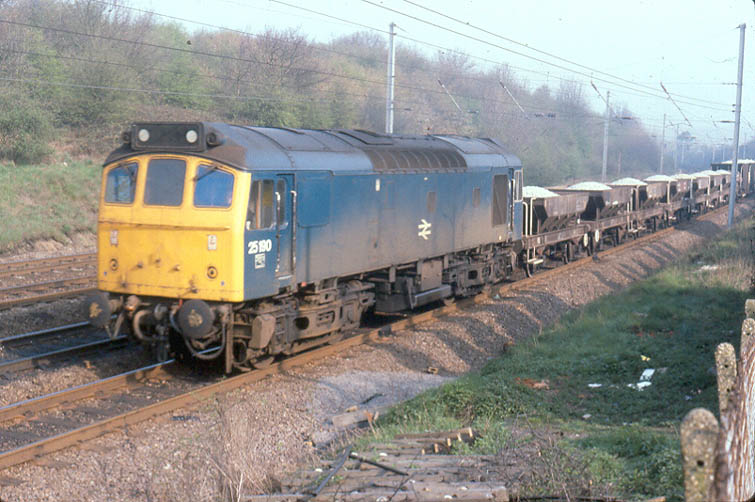 The southbound slow line on the Midland main line near Harpenden is host to this view of 25190 on a ballast working April 10th 1981.


25190 was noted at Euston (parcels side) on July 8th.

1982
On February 12th 25190 & 25191 were noted at Shap with the Heysham - Leith pipe empties. On February 17th 25190 was noted passing through Guide Bridge towing 37213 en-route to Doncaster Works.

25190 & 25194 were noted southbound at Kingsbury on April 21st with loaded coal/coke wagons, mostly high sided.

On May 20th 25117 and 25190 worked two round trips to Reading, initially taking the 07.20 Liverpool - Poole forward from Coventry returning with the 09.42 Poole - Newcastle to New Street. They then returned to Reading with the 09.50 Newcastle - Poole, coming back with the 17.05 Poole - Derby as far as New Street.

25190's passenger workings over the Cambrian lines seem few and far between, one of the few recorded workings took place on Saturday August 14th with 25207, working the 09.45 Wolverhampton - Aberystwyth (07.40 ex Euston), returning with the 14.00 Aberystwyth - Shrewsbury. 25190 was noted at Rugby on August 28th.

Presumably deputising for an unavailable diesel multiple unit 25190 worked the 06.38 Bedford - St Pancras on September 21st.

On October 6th 25190 sustained minor cabside damage after colliding with 25035 at Crewe depot's fueling point.

1983
25190 & 25034 passed through Leamington Spa light engines on February 26th.

25190's last transfer took place during March with a move to Crewe.

On April 22nd the Ellesmere Port - Riverside bitumen tanks ran behind 25240 & 25190.

An 'E' exam was carried out at Crewe during May.

Coventry lost its status as a crew signing on point on June 13th, 25190 became the last locomotive to leave, after completing its local duties it returned to Nuneaton.

On July 17th 25190 and 25278 were noted at Rugby with a ballast working.

On December 6th 25190 & 25117 were noted at Cadishead BTP with short-wheelbase oil tanks. 25190 & 25269 worked the Carnforth - Preston leg of the returning 'Cumbrian Mountain Pullman' on December 10th.

1984
25190 was stabled at Saltley on January 11th. 25190 was the Manchester Victoria on January 15th and acting as station pilot on January 18th. 25190 was stabled at Severn Tunnel Junction on January 28th.

25190 was noted passing Cwmbran with the 6S75 1255 Severn Tunnel Junction - Mossend on February 4th, comprised of twenty four short-wheelbase Railfreight vans.

On April 30th 25190 was noted southbound passing Wellingborough with a five wagon freight.

On July 3rd the Ellesmere Port - Severn Tunnel Junction bitumen tanks were hauled by 25234 & 25190, the latter became a failure near Shrewsbury. 47352 on the following Bristol parcels switched with 25234 to take the heavier train forward. On July 24th 25190 was noted on a freight train in the Barrow area. On July 27th 25190 was noted northbound through Warrington Bank Quay with a van train.

The 16.20 Glasgow - Liverpool continued to use Class 25s for the journey south of Preston, with 25190 noted on September 7th. On September 18th 25229 & 25190 were noted passing Penrith with the 6S51 06.50 Stanlow Refinery - Bishopbriggs oil tanks.

25190 was stabled at Workington on October 3rd.

25190 passed Watford Junction on November 24th with a southbound engineers train.

1985
On April 22nd 25198 & 25190 were noted passing Stonebridge Park with an unidentified working. On April 24th 25190 was noted passing Chelmscote with the 6M52 14.44 Kings Cross Goods Yard - Tring Cutting comprised of twenty two empty Tunnel Cement PCAs. On April 26th 25190 & 25198 were noted passing Primrose Hill Junction with a train of cement tanks.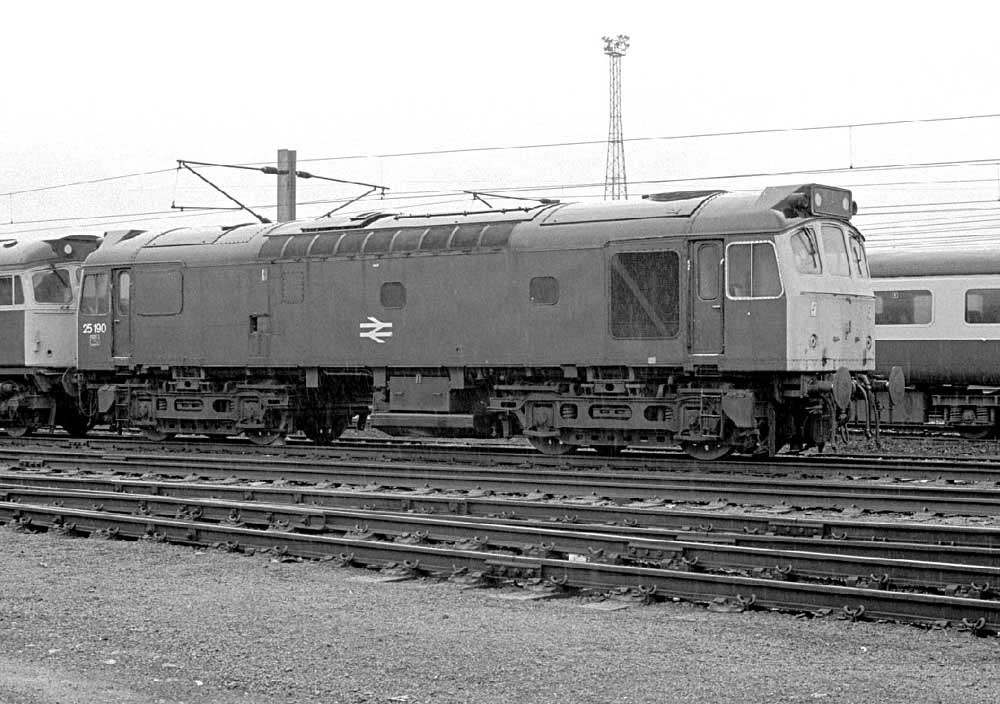 Photograph courtesy Tony Sayer.
Looks like its raining cats & dogs at Polmadie on May 25th 1985 as 25190 and a Class 27 wait for their next turns of duty, another fine Bank Holiday weekend.
25048 & 25190 were noted passing through Runcorn East on May 24th with an oil train ex-Stanlow. 25190 was noted at Polmadie on May 25th and at Carlisle station on May 29th.
25190 was stabled at Springs Branch on June 9th. 25192 & 25190 were noted passing Hereford on June 12th with the 6V32 Ellesmere Port to Severn Tunnel Junction oil tanks.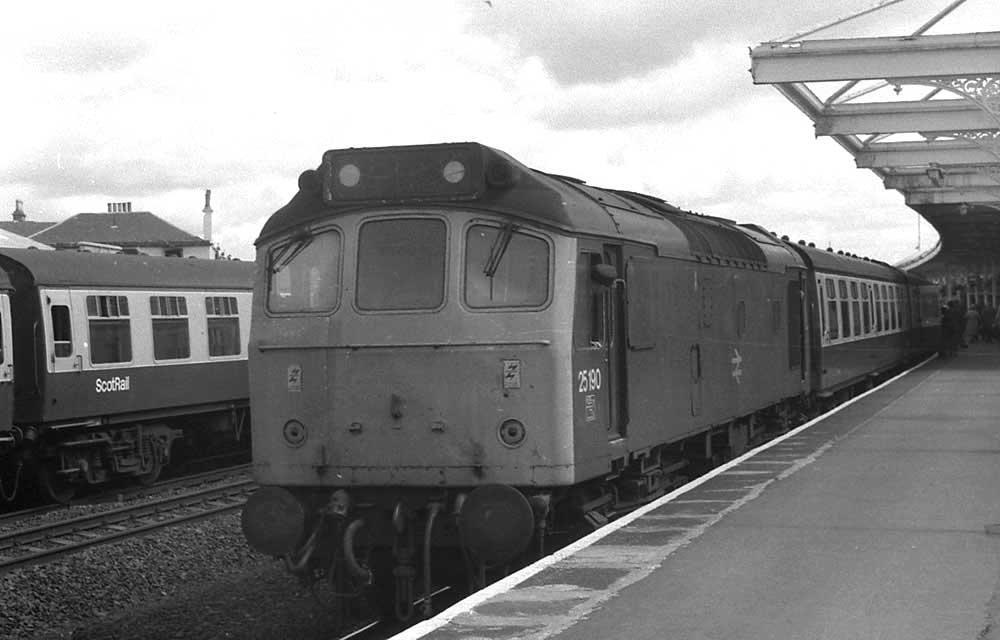 Photograph courtesy Richard Howat.
Taken the same day as the opening shot on this page, 25190 stands at Kilmarnock on July 19th 1985 whilst the station work is completed.
On August 9th the 07.42 Manchester Victoria - Bangor was worked by 25190. The performance of the Class 33s on the Crewe - Cardiff workings had started to deteriorate considerably, the extension of the services to Bangor & Manchester and their use on local workings may have interrupted their maintenance cycles. On August 16th an afternoon Bangor - Cardiff was noted behind 25190 whilst on 28th 25201 rescued 33004 on the 07.10 Manchester - Cardiff.
25190 was noted at Leicester with a southbound parcels service on September 7th. 25200 & 25190 were noted northbound at Warrington on September 13th with loaded bogie oil tanks from Stanlow. 25190 was noted at Carlisle station on September 14th. The 07.30 Stranraer Harbour - Glasgow Central was worked throught by 25190 on September 30th.
25190 & 25064 were noted passing Manchester Victoria with bogie oil tanks on October 12th. The next day (13th) 25064 & 25190 arrived from the Manchester area with a spoil train at Ince Moss for the tip.
25244 & 25190 were noted passing Healey Mills on November 19th with a train of bogie oil tanks. Stanlow oil terminal on November 23rd provided a veritable feast of Class 25s with 25190 & 25192 and 25279 & 25325 on workings from Leeds and 25035 & 25072 from Dalston.
25190 was stabled at Severn Tunnel Junction on November 30th.
1986
25190 & 81011 were stabled at Nuneaton station on January 26th. The Severn Tunnel Junction - Exeter Cartics working frequently brought Class 25s into the West Country, towards the end of January 25057 was noted on 23rd & 29th, 25201 (30th) & 25190 (31st).
On February 28th 25190 & 25037 were stabled at York depot.
Hindsight would reveal that the Class 25s now had less than a year to run. At BR's financial year end (March 31st) forty eight examples remained in service, allocated to Crewe and Kingmoor. Cutting up of the withdrawn examples continued at Swindon and Doncaster whilst 25190 was possibly the last working example to visit Derby Works, exchanging bogies from withdrawn 25200. The remaining examples were still widely traveled, occasionally substituting on passenger workings and a most definite choice for Railtour activity.
On April 3rd 25199 & 25190 were noted passing Heaton Lodge Junction with possibly the Stanlow - Hunslet East oil tank train, comprised of thirteen bogie tankers. The 100th anniversary of the Mersey Railway was celebrated in early April. Part of the festivities included an Open Day at Birkenhead North depot on Sunday April 6th. Amongst the twelve diesel locomotives featured was 25907, 26027 & 33026. Services from Stanlow continued to see paired Class 25's, the Leeds tankers had 25034 & 25190 and 25201 & 25202 on April 18th.
On a damp May 7th 25190 was noted at Severn Tunnel Junction.
The Beeston FLT - Birmingham Lawley Street FLT was worked by 25190 on June 3rd, with five flats carrying ten containers.
25190 was noted heading south from Toton Yard with a departmental working on July 16th and noted light engine at Stapleford on July 17th.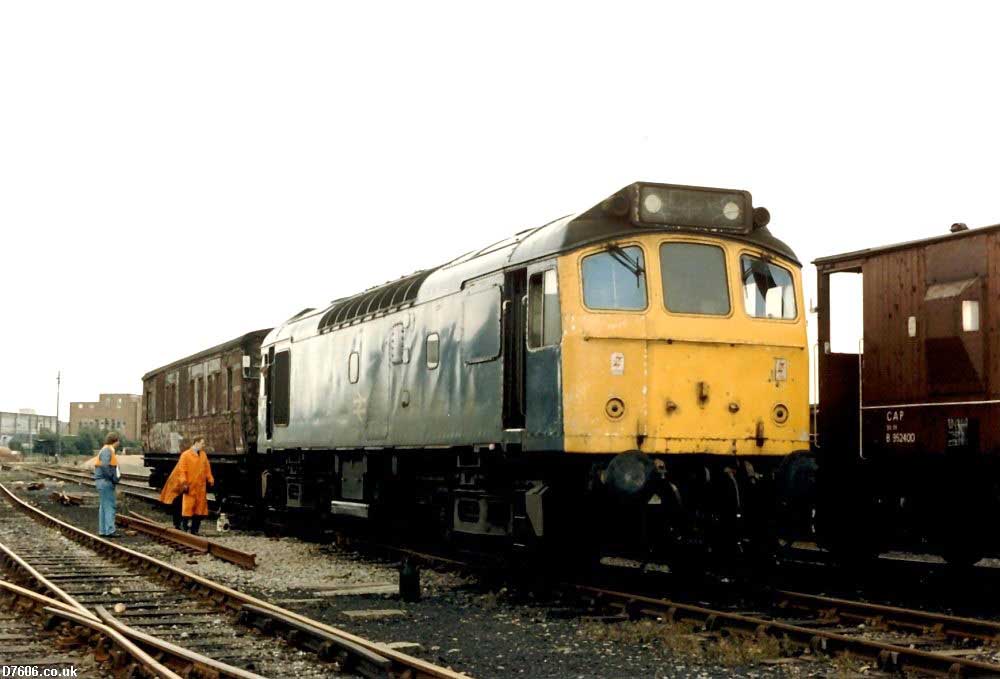 Photograph courtesy Ian Hammond.
On July 26th 1986 25190 was puttering around in Watford Yard on mundane duties attached to TDM 395455.
25190 was stabled at Ayr depot on September 6th.
25190 was stabled at Severn Tunnel Junction on October 4th.
On November 15th 25190, 31144 & 31145 worked light from Bescot to Northampton for weekend permanent way duties.
For 25190 the Christmas week appears to have been spent in the Merseyside area. On the evening of 23rd 25190 was noted at Ellesmere Port, and again on December 30, this time attached to 25176.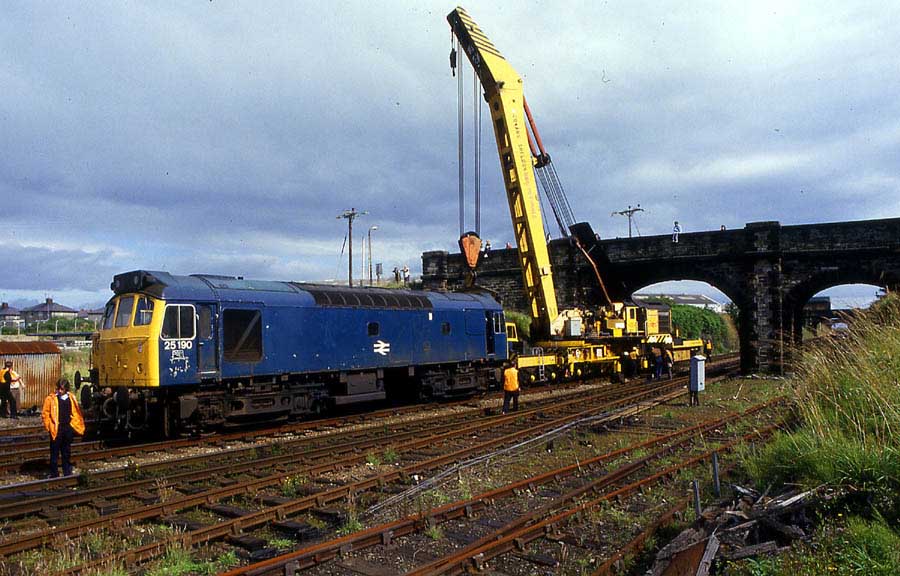 Photograph courtesy Colin Webb/Collection of Steve Morris.
A interesting undated view of 25190 at Holyhead, apparently rescuing a Class 47 that has left the rails. Although not dated the condition of the locomotive suggests this is near the end of 25190's service life.
1987
On the evening of January 8th 25190 arrived at Castleton CWR on the 6L58, then re-allocated to the 8X35 to Basford Hall. On the early morning or late evening of January 9th 25190 was noted at Manchester Victoria on banking duty. A mid-afternoon arrival at Manchester Victoria on January 11th found it allocated to the following morning's 1P55 02.28 Manchester Victoria - Barrow, presumably returning with the 5P55 to Red Bank. Breakfast time on 13th saw 25190 at Manchester Victoria on target MR84. 25190 was parked at Manchester Victoria during January 16th. The late evening of 16th and morning of 17th was spent in the Stockport/Longsight area. January 24th & 25th were spent in the Llandudno area working the LB56 to Llandudno Jct (24th) and MC22 to Llandudno Jct (25th).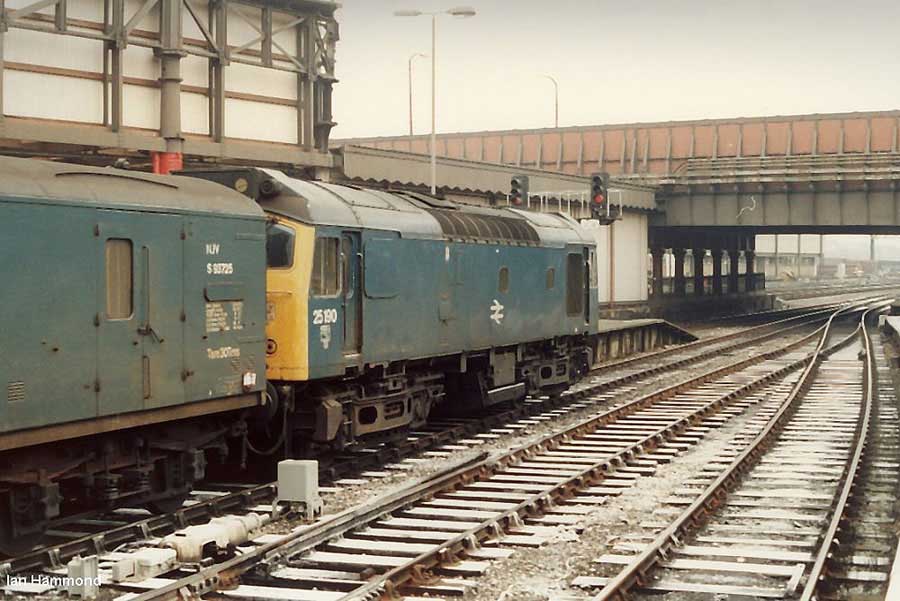 Photograph courtesy Ian Hammond.
The frosty morning of January 9th 1987 greets 25190 and its parcels train at Manchester Victoria.
By 3pm on January 27th 25190 had reached Crewe Diesel Depot for an 'A' exam and attention to coolant leaks. Initially expected to be released by January 30th a decision was made on the afternoon of 28th not to effect repairs, leading to the withdrawal of 25190. By the middle of March 25190 had joined the deadlines at Basford Hall, it remained here until May 29th when it left, along with 25034/37/95 as the 10.50 9L37 to Vic Berry's, Leicester. By June 14th all that remained were the cabs!
During July 2017 a neatly trimmed number panel from 25190 (with number, TOPS sticker and shed code vinyl) sold on ebay for GBP206.55.
Distinguishing Features
No.1 cab side window frames: unpainted since at least July 1981 until withdrawn (possibly related to Classified Repair February 1979).
No.1 driver's side cab: numerous white paint spots, since at least October 1985.
No.1 cab front: missing paint from center of cab just below handrail: since at least January 1984 until withdrawn.
flk 0919 (1)
With thanks to Alan Baylis and Neil Cannon for the detailed workings included in these notes.
Page added October 23rd 2004.
Last updated March 17th 2020.