D7588, 7588, 25238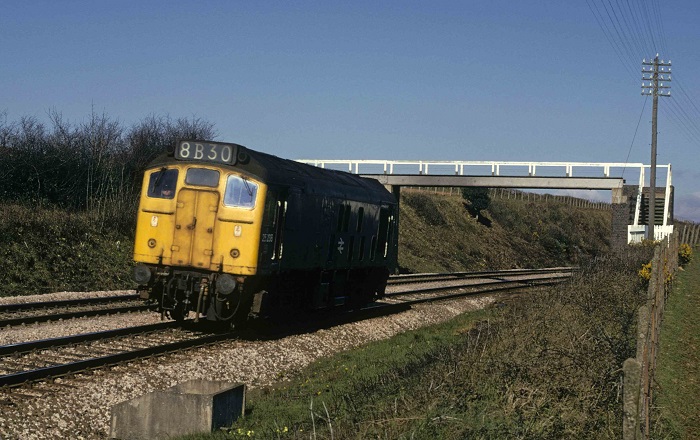 Photograph courtesy Roger Geach.
25238 en-route from St Blazey to Liskeard for Moorswater to pick up a load of clay hoods, March 31st 1975.
The sixteen year seven month career of D7588/25238 included allocations to Western, Scottish & London Midland Region depots.
Built: BR Darlington Locomotive Works.
Boiler equipped.
Center lampbracket & other fittings removed (No.2 end only).
Time between last Classified repair and withdrawal: 37 months.
Time between withdrawal & scrapping: 33 months.
Allocations
D7588 was new to Toton on March 10th 1964. Further transfers were:
May 1964 to Leicester (15A).
January 1965 to London Midland (Midland) Lines.
May 1968 to Longsight (9A).
June 1968 to Manchester Division (D09).
October 1969 to Nottingham Division (D16).
October 1971 to Manchester Division (D09).
January 1972 to Bristol (82A).
May 1972 to Cardiff (86A).
March 1974 to Laira.
May 1974 to Cardiff.
October 1974 to Laira.
June 1975 to Cardiff.
August 1975 to Haymarket.
May 1977 to Inverness.
May 1978 to Eastfield.
Withdrawn October 13th 1980.
Renumbered May 1974.
25238 was the 49th Class 25 to be withdrawn, one of four retired during October 1980.
After withdrawal 25238 was moved to Swindon Works on October 27th 1980, being scrapped there by the third week of July 1983.
Works Visits
Works visits (records incomplete).
Noted Derby Works February 1972 (full repaint).
Noted Glasgow Works October 1975.
Noted Derby Works March 1977.
Noted Glasgow Works August 1977.
Highlights
1966
On Sunday November 27th stabled at Saltley were D5183, D5202, D5226, D5230, D7519, D7534, D7574, D7575, D7588, D7589, D7597 & D7639.
On the afternoon of December 31st D7588 was stabled at Wellingborough.
1967
A mid-day visit to Derby shed on June 29th produced:
ED2, ED4, ED5 - all withdrawn, the latter two were on-Works
12084
15001 - withdrawn
D60, D61, D83, D93, D97, D122
D2381, D2382
D2501, D2507, D2517 - all withdrawn
D3374, D3763, D3839, D3968, D4139
D5080, D5106 ex-works
D5189, D5200, D7507, D7588, D7591
D8170, D8180.
On the morning of July 13th D7588 was at Stoke on Trent with a down parcels and would later be northbound at Derby during the late afternoon with a freight. On this day the 09.20 Crewe - Derby multiple unit suffered a serious failure shortly after leaving Stoke. It sat for about 20 minutes before D3799 with brakevan propelled the unit to Longton. Here the passengers were detrained, having to wait for the following service, 10.20 Crewe - Derby.
On the late morning of September 23rd D5184 & D7588 were northbound at Bromsgrove with a freight (7M20).
1968
On June 27th D7588 was at Crewe with the 1P39 15.27 Euston - Heysham parcels.
On August 4th 1968 the SLS 'Farewell to BR Steam' railtour was worked from Stockport to Manchester Victoria by 7588, being replaced by Black Fives 44871 & 44894.
1969
On the morning of February 8th 7588 was at Manchester Piccadilly with the coaching stock for the 12.00pm service to St Pancras, to be worked by 20.
Condition April: green livery with full yellow ends, no frame level stripe, still with 'D' prefix, gangway doors still in place.
1970
On August 1st 1970 the 08.15 Leicester - Blackpool North was worked from Nottingham by sisters 7588 & 7589. The next weekend (Aug 8th) 7588 worked the Nottingham - Llandudno Town service to Derby.
1972
On April 7th 1972 the 08.20 Paddington - Cheltenham Spa was worked to Swindon by 1645 & 7588.
Somewhat west of their normal haunts, 5182 & 7588 were noted at Llandilo Junction with a special freight comprised of 'Grampus' wagons on June 21st.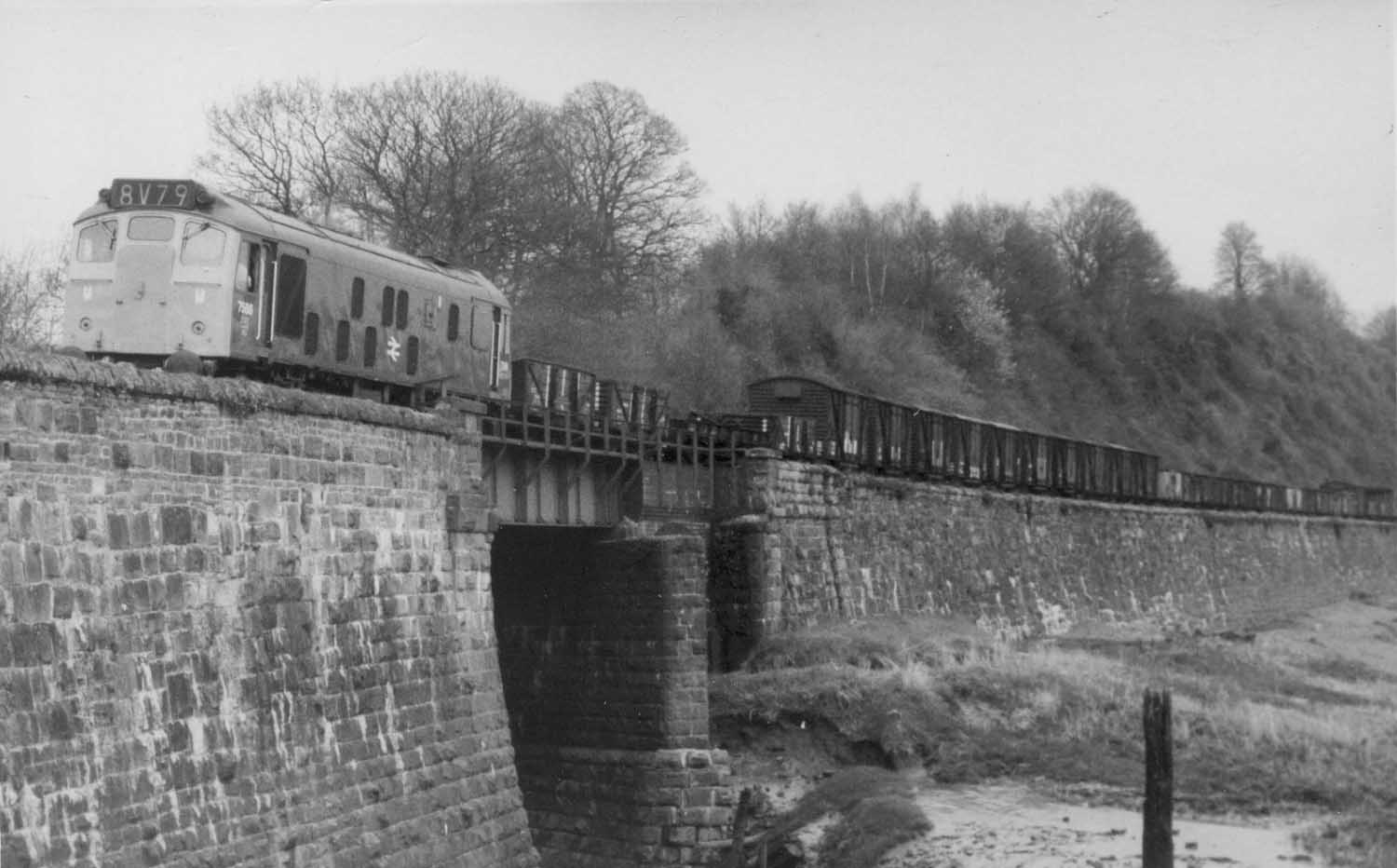 Photograph collection of webmaster.
7588 circa 1972 heads west somewhere near Lydney where the Gloucester - Chepstow line runs closely alongside the River Severn.
1973
At about noon on October 27th 7588 & 7512 were noted passing Newport High Street on down hoppers.
1974
On February 16th 7588 was noted at Exeter with the 4B10 15.40 Bristol - Plymouth parcels.
At about 8pm on March 3rd 1034 & 7588 arrived Exeter as down light engines, the locomotives were split here.
The afternoon Bristol – Plymouth parcels gained a reputation for unusual combinations of motive power, perhaps as a means of transferring locomotives needed elsewhere, on May 2nd it was hauled by 7588 & 1064!
At 15.30pm on August 23rd 25238 was noted on Exeter stabling point.
On October 16th 25238 & 25172 were noted eastbound at Tiverton Junction with a milk train headed for Acton.
1975
On January 3rd 25238 worked the 6B59 14.57 Ponsandane - Exeter Riverside.
At about 13.30 on January 4th 25238 departed Exeter for Chard Junction, returning with the 6B58 from Chard with one milk tank.
On January 5th 25238 worked the 6B16 16.05 Torrington - Exeter (4 tanks).
On January 11th 25238 worked the 6B16 16.25 Torrington - Exeter (11 tanks).
On January 14th 25238 was noted at Exeter stabling point.
On June 6th the 1B43 18.30 Paddington - Plymouth with 1030 saw 25238 added at Exeter St. Davids as pilot.
The 07.10 Derby - Matlock and the return 08.00 to Derby were worked by 25238 on December 15th 1975.
1976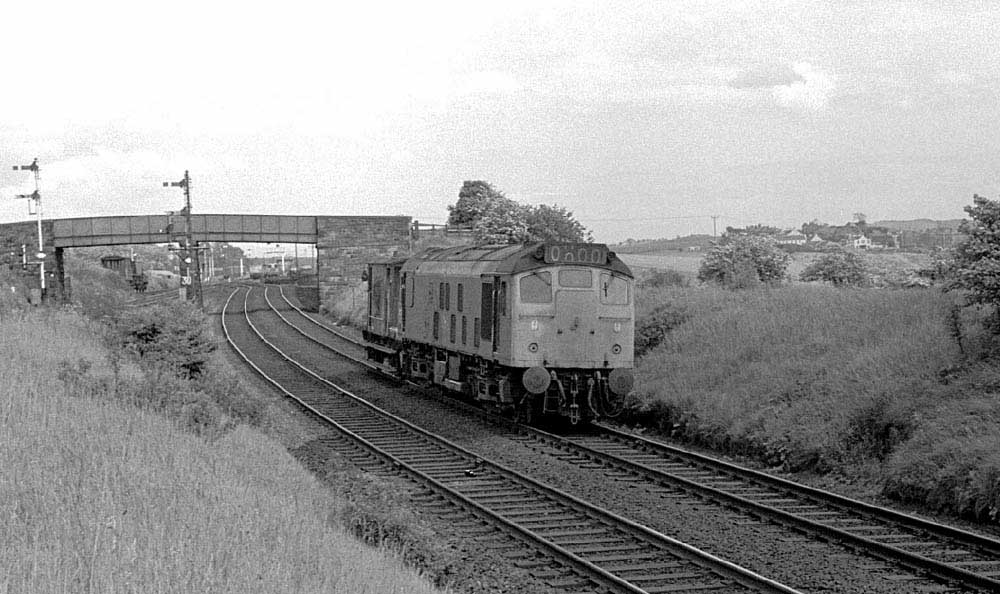 Photograph courtesy Tony Sayer.
25238 sets out from Dunfermline Townhill with a solitary brake van on September 15th 1976 heading for its next assignment. This was one of the earliest boiler equipped Scottish casualties, being withdrawn in October 1980 from Eastfield.
On the evening of September 28th 25238 & 25028 were noted parked at Blair Athol.
1977
The last five years of service for 25238 was spent allocated to Scottish Region depots. On April 8th 1977 the 08.38 Glasgow Queen Street - Oban saw ailing 27023 replaced at Cowlairs Junction by 25238 for the run to Oban, returning with the passenger diagram to Glasgow Queen Street. The next day (9th) 25238 worked the 09.52 Dundee - Glasgow Queen Street. The 21.40 Edinburgh - Carstairs was worked by 25238 on May 4th 1977, a route over which 25238 would record a number of passenger turns. The 08.45 Edinburgh - Aberdeen and 14.35 Aberdeen - Edinburgh were worked by 25238 & 25068 on September 3rd 1977.
1978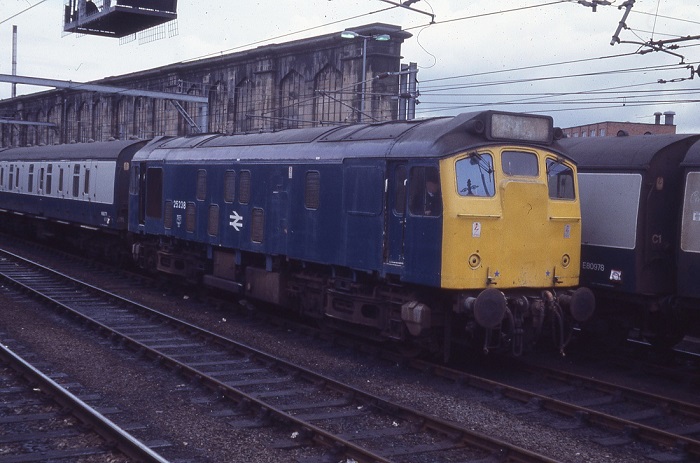 25238 at Carlisle on May 13th 1978. This was the only non dual-braked locomotive from the batch 25228 - 25247, hence perhaps its early demise.
On June 3rd 25238 worked the 08.05 Dundee - Glasgow Queen Street. On June 6th & 7th 1978 the 21.40 Edinburgh - Carstairs were worked by 25238.
Late on the evening of August 8th 25238 & 25083 were noted on southbound vans at Edinburgh.
1979
On June 3rd 25238 was noted at Polmadie.
On the afternoon of July 20th 25238 was stabled at Eastfield.
On September 21st the 09.50 Edinburgh - Inverness was worked by 25238 & 26018.
1980
The 17.15 Edinburgh - Cardenden was worked by 25238 on May 5th. On May 19th the passengers on the 20.47 Bidston – Wrexham Central diesel multiple unit were rescued by 25238 after failure of the unit at Hawarden. Immediately after this the Class 25 returned to Dee Marsh to collect recently repaired Class 507 stock that was making its way from Horwich to Birkenhead.
A relief Scarborough - Glasgow Queen Street on July 12th was worked forward from Edinburgh by 25238. The last recorded passenger workings for 25238 took place on July 18th/19th 1980, on July 18th 25238 & 26032 worked the 17.25 Glasgow Central - Stranraer Harbour, the same pair then worked the 19th's 01.20 Stranraer Harbour - Blackpool North to Carlisle. It is presumed the same pair of locomotives returned from Carlisle on the balancing working, the 09.43 Blackpool North - Stranraer Harbour (from Carlisle or from Ayr?).
On August 20th 25238 worked the 18.44 Glasgow Queen Street - Dundee.
25238 was withdrawn on October 13th 1980.
Condition Final: blue/yellow livery, gangway doors sheeted over, blanking plates fitted, hand/footholds plated over, three-rung bogie mounted footsteps, ridge sided sandboxes, white headcode display (both cabs), centrally mounted lampbracket and other fittings removed from cabfront (No.2 cab only).
Not all known passenger workings are recorded on this page.
Resources:
1970s Western Region information courtesy online notebooks of Sean Greenslade.
23/1588
flk 0616
Page added September 11th 2013.
Last updated September 17th 2022.
Back to 25237
Forward to 25239