D7606, 7606, 25256
Photograph collection of webmaster
25256 at Wigan Springs Branch depot, date unknown.
The nineteen year career of D7606/25256 included allocations to Eastern, Scottish & London Midland Region depots.
Built: BR Derby Locomotive Works.
Dual brake equipped (at least by Feb 1973).
Final exhaust roof panel: flush.
Time between last Classified repair and withdrawal: 123 months - a record?
Time between withdrawal & scrapping: 18 months.
Allocations
D7606 was new to Tinsley (41A) on March 19th 1966. Further transfers were:
June 1966 to Barrow Hill (41E).
December 1966 to Haymarket (64B).
June 1969 to Nottingham Division (D16) on loan, made permanent July 1969.
November 1970 to Birmingham Division (D02).
January 1971 to London Division (D01).
October 1971 to Nottingham Division (D16).
April 1972 to Birmingham Division (D02).
July 1972 to Nottingham Division (D16).
February 1973 to Liverpool Divison (D08).
May 1973 to Springs Branch.
September 1973 to Willesden.
October 1973 to Toton.
March 1974 to Bescot.
May 1976 to Cricklewood.
July 1983 to Crewe.
Withdrawn April 1st 1985.
Renumbered to March 30th 1974.
25256 was the 240th Class 25 to be withdrawn, one of three retired during April 1985.
After withdrawal 25256 was stored at Crewe Gresty Lane by October 1985 and moved to Doncaster Works on January 24th 1986 as the 10.20am 9Z38 Crewe Gresty Lane – Doncaster Works with 25054, 25229/256. Surprisingly 25214 & 25256 then moved as the 9Z33 Doncaster Works – Gloucester - Swindon Works over March 20th/21nd 1986. Shortly afterwards Doncaster ceased cutting up locomotives leading to a number of locomotives moving to temporary storage at Goole Docks during August. 25256 was broken up at Swindon Works during October 1986.
Works Visits
Works visits (records incomplete).
Noted Derby Works October 1970.
Noted Crewe Works November & December 1974 (Classified).
Highlights
1966
D7606 was part of a batch of thirteen (7598 - 7610) Derby Works built locomotives destined for Tinsley (41A). The frames were laid down during January with delivery during the middle of March. D7606 was soon transferred to Barrow Hill (41E) during June. By the end of the year D7606 had moved on to Haymarket where it would remain for the next two and a half years.
On the afternoon of May 28th noted passing Chesterfield mid-afternoon were:
D7629 & D7641 with an up freight
D7606 with an upfreight
48466 with an up freight.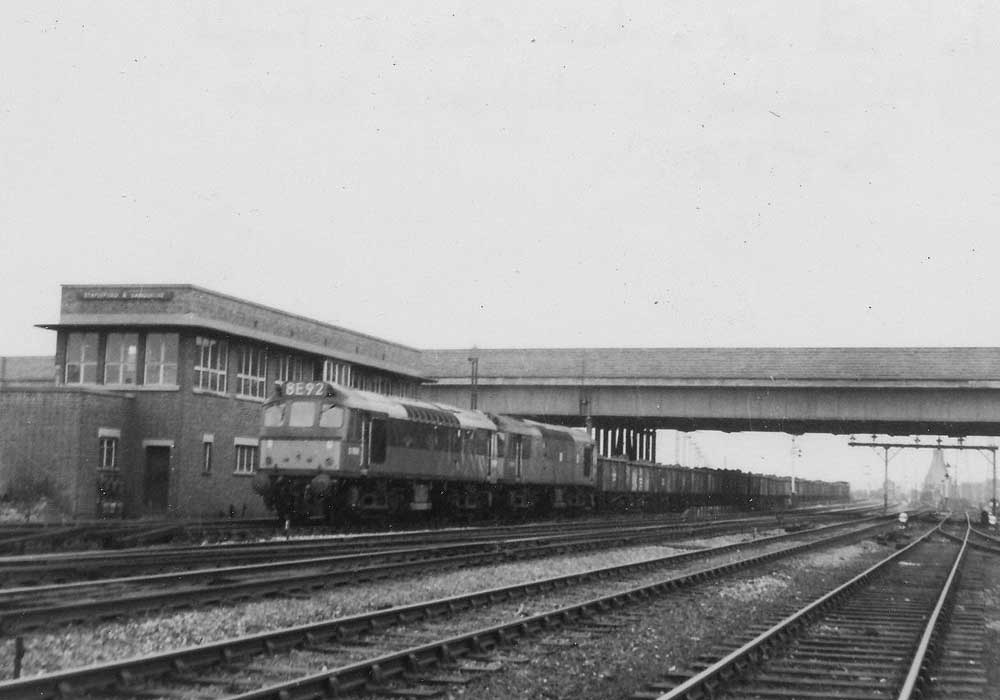 Photograph courtesy Peter Rigby.
A lengthy train load of iron ore heads north under the A52 bridge and passes by Stapleford & Sandiacre signalbox in charge of D7606 & D7609 on November 5th 1966.
1967
On March 20th D7606 was noted on the morning freight from Millerhill to Penicuik with six wagon and a brake van. Within a week this line between Hawthornden & Penicuik would be completely closed.
1968
D7626 & D7555 were noted at Preston with the 09.35 Blackpool - Glasgow Central on August 3rd.
1969
On the afternoon of August 27th 7606 was light engine at Derby.
1971
On March 5th 7606 worked a Willesden - Hither Green freight and also its balancing return working.
1972
At about 6pm on April 6th 7606 was noted passing Manchester Victoria with an up freight (5J39).
1973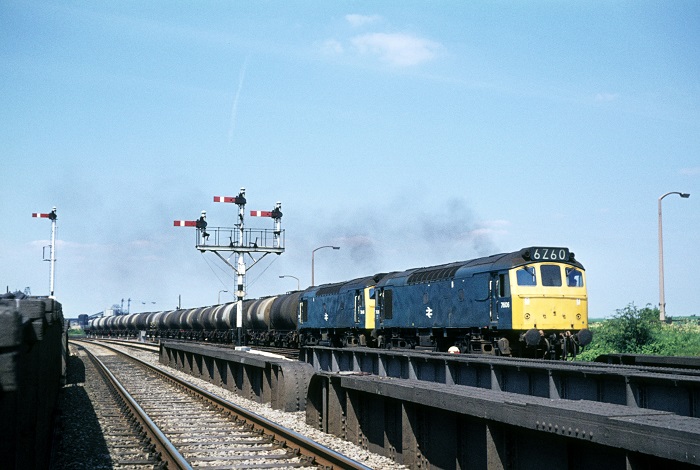 Photograph courtesy Tony Smith.
7606 & 7646 head south at Wath Road on June 5th 1973 with an extra oil tank train.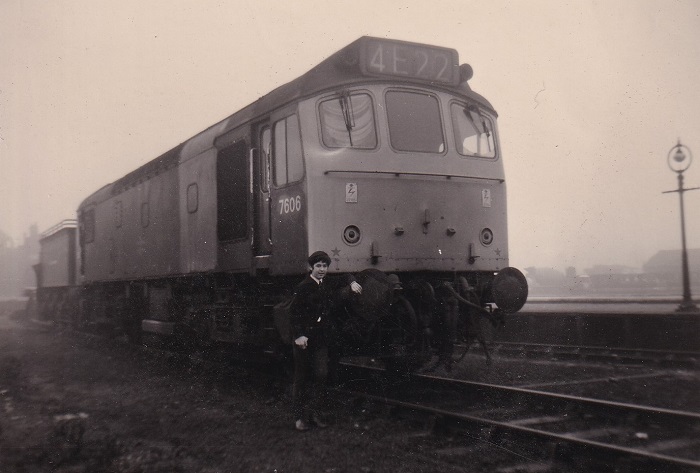 Photograph courtesy Ian Johnson.
7606 At Peterborough, date unknown but thought to be 1973 or early 1974. Simon Hall is the enthusiast.
1974
On March 3rd 7606 & 7607 were noted assisting a Class 86 and its train between Birmingham New Street & Stafford (via Cannock).
On May 25th the 14.15 Yarmouth - Derby from Norwich was worked by 25256 & 25142.
On August 10th the Derby - Norwich - Yarmouth - Norwich - Walsall diagram was worked by 25256 & 25130.
On the afternoon of August 13th 25256 was stabled at Saltley.
1975
In the early hours of June 6th whilst waiting on the slow lines with a coal train at Nuneaton station 25286 witnessed the high speed derailment of the 5th's 23.30 Euston - Glasgow sleeper service. The two locomotives, 86006 & 86242 became parted, with the latter causing considerable damage to itself and the station, bringing down several gantries that caused minor damage to the Class 25. All the coaches were derailed, with damage being heaviest at the front of the train, tragically six lives were lost. By the evening of 6th the Bescot, Crewe & Saltley cranes were present alongside other engineering trains, in the hands of 24074, 25179, 25193, 25256 & 47034. Six coaches, (five sleepers and a BG) were broken up on site. By the 11th engineering/rewiring trains were still present including 24074 and 25193, the latter having been present since the day of the accident. Two days later only 24058 was on hand with an engineers train.
On June 15th a roundtrip Burton on Trent - Skegness day excursion was worked by 25256 & 25251.
25221 & 25256 were unusual power for July 1st's 19.40 Dagenham Dock – Halewood freight.
1978
On the afternoon of March 29th 25256 was stabled at York.
On the afternoon of March 30th 25216 & 25256 were stabled at York.
On September 8th 25251 & 25256 failed at Nuneaton with the Forders Siding - Garston brick train, 45048 worked the train through to Crewe, from here 47381 took over, whilst 25288 returned south early the next morning with the brick empties to Forders.
1979
The maintenance dispute brought many strangers into South Wales including a number of Class 25s. So noted towards the end of March were 25294 on the 14.46 Great Bridge – Llandeilo flats (21st), 25177 on oil tanks to Llandarcy oil terminal (April 2nd) as well as a number of light engine movements west of Cardiff, 25256 & 25312 (10th) and 25184 & 25194 (12th).
On the morning of Monday April 30th noted at St Albans were 25256 & 25067 with an electrication train.
On the morning of July 19th 25256 was noted at Willesden depot.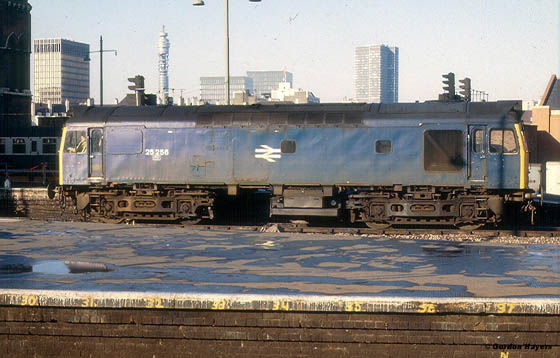 Photograph courtesy Gordon Hayers (from abpr posting)

25256 works its way around St Pancras station on a sunny clear morning, date unknown. The locomotive was one of a number to receive a major repair at Crewe Works, the repaint mirrored that of the Class 47s, particularly in the placing of the number.

25256 received an 'E' exam at Tyseley during December.

1980
There was a multitude of Class 25s in the area of Bushey & Oxhey station from February 17th onwards following the dramatic derailment there of the 16th's 20.25 Euston – Manchester due to a track defect. The locomotive 87007 was the only part of the train to remain on the tracks, four of the MkIII coaches ended up on their sides, with one (M12162) bringing down the overhead gantries, which blocked the slow lines. Most fortunately there were only minor injuries. Three breakdown cranes attended, from Bescot, Finsbury Park – brought in by 25279 & 25256, and Old Oak Common – arrived behind 25152 & 25189. The slow lines were reopened late on the 17th, the dc lines late on the 19th, the fast lines by the 25th. Spoil trains used 25222 & 25243 and 25130 & 25173, this first pair returned with track panels on 21st, followed by 25256 on the re-wiring train.

On September 20th the 07.40 Euston - Aberystwyth from Wolverhampton and the 17.55 Aberystwyth - Wolverhampton were worked by 25256 & 25254.

1981
On May 28th 25256 was noted at Stonebridge Park.

On June 13th 25256 was stabled at Peterborough station.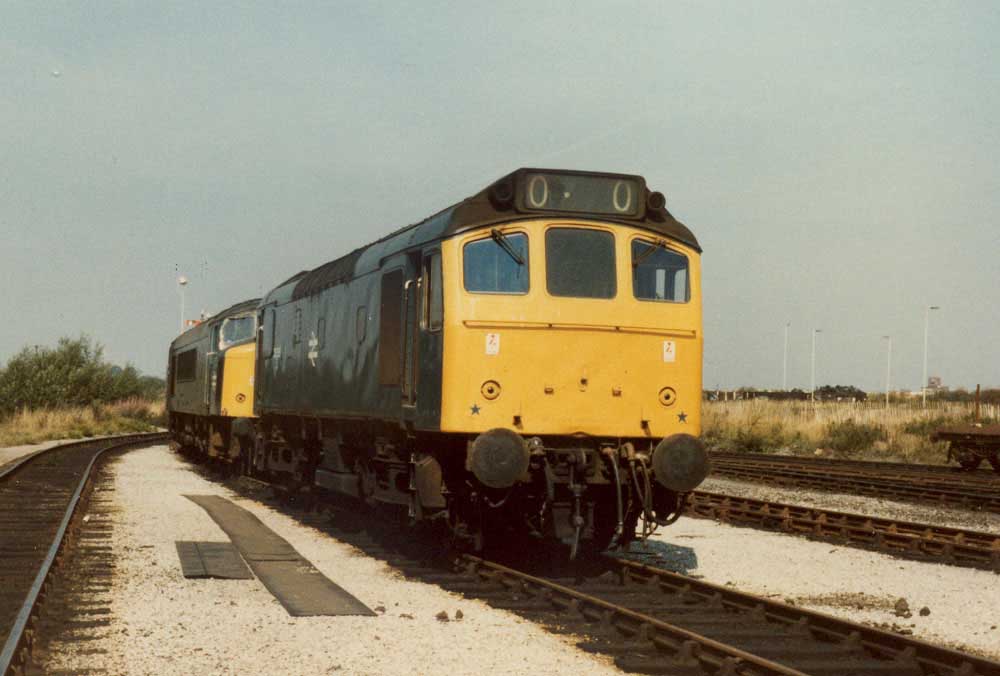 Photograph courtesy Jerry Glover.
25256 & 45052 catch the sun at Tyseley on September 6th 1981.
The 08.40 Carlisle - Glasgow Central on September 10th was worked by 25256. On September 23rd 45113 & 25256 ran light together through Nottingham station.
On December 13th an early morning northbound service out Euston was assisted between Watford Junction & Bletchley by 25256.
1982
Late in February lifting of the Three Spires Jct – Gosford Green branch began, the demolition train on February 23rd was handled by 25256.
On the afternoon of March 22nd 25256 was stabled at York.
25256 & 25265 worked a Mountsorrel - Barnham stone train on July 20th. On July 24th 25256 & 25309 were noted light engines at Crewe station.
On August 4th 25256 & 25262 were noted passing Willesden with cement tanks. On August 29th the 01.00 Holyhead - Euston was assisted between Watford Junction & Willesden by 25256 & 25251, the power was off for engineering work.
25256 was noted at Nuneaton on September 29th.
1983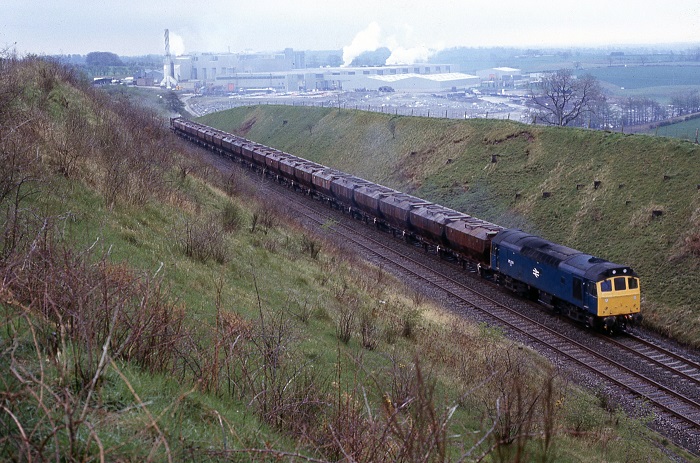 Photograph collection of webmaster
25256 departs Kirby Thore on May 6th 1983 with empty CovHops for Workington.
On June 5th a Euston - Blaenau Ffestiniog charter was worked roundtrip from Llandudno Junction by 25256 & 25285.
25206 & 25117 came to the rescue of 56031 on July 19th after the Class 56 suffered a turbo-charger failure working an ARC stone train at Verney Jct, the Class 25s taking the working to Wolverton and then the broken Class 56 to Bletchley for examination. The following ARC stone train stopped on the Bletchley flyover, the two Class 37s were removed, ran forward to Bletchley to pick up 56031, all returning to the WR on an empty working. 25256 arrived to take the loaded train forward to Wolverton, not surprisingly making hard work of the heavy load.
The final transfer for 25256 took place during July to Crewe, bringing 25256 - 25258 together for one last time.
On August 22nd 25256 was noted passing Cwmbran with bogie oil (?) tanks, the valencing to the center of No.2 cab was damaged.
On September 3rd the 07.44 Shrewsbury - Aberystwyth and the 10.10 Aberystwyth - Euston to Wolverhampton were worked by 25256 & 25268. On September 17th 25256 was noted at Northwich with a failed two-car diesel multiple unit.
25256 was noted eastbound at Slaithwaite on October 26th hauling coal wagons and was noted the same day eastbound at Horbury with spoil empties.
On November 26th 25256 worked the 4P22 00.50 Manchester Victoria - Preston vans.
1984
A diesel multiple unit failure on February 18th saw 25256 work the 07.30 Skipton - Leeds.
Another multiple unit failure on March 22nd saw 25256 work a Blackpool North - Manchester Victoria service throughout. At about 11am on Friday March 23rd 25154, 25191, 25202, 25234 & 25256 were noted at Stonebridge Park.
On April 1st 25256 assisted two WCML services between Willesden & Camden due to the power being off for engineering work. On April 5th 25256 was noted passing Toton (damage to valencing on No.2 cab).
The 14.50 Birmingham New Street - Leeds on April 11th was worked to Derby by 25256, here it was replaced by 45119.
On July 27th 25256 & 25300 were noted at Warrington Bank Quay with the 6E85 Stanlow - Leeds Shell sidings loaded oil (20 TTAs).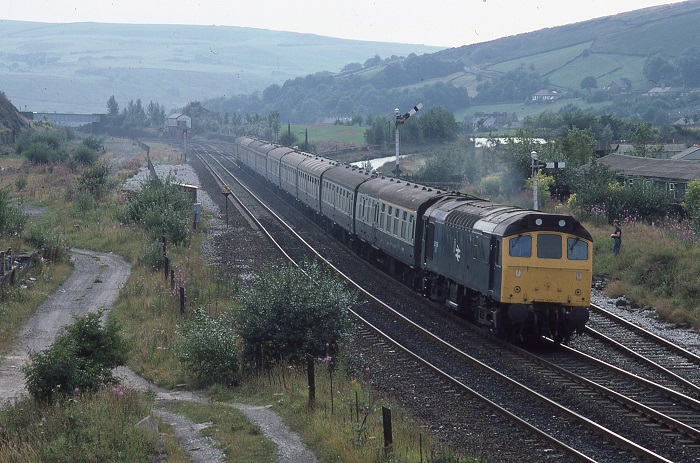 Photograph collection of webmaster.
A hazy August 18th 1984 finds 25256 eastbound at Diggle, possibly with an empty coaching stock working.
On October 5th 25256 was noted at Carlisle station with loaded bogie ballast hoppers. On October 6th the 16.35 Carlisle - Hull was worked as far as Skipton by 31428 & 25256. The next day 25256 assisted the 17.20 Glasgow Central - Bristol Temple Meads between Lockerbie & Carlisle due to the power being off for engineering work.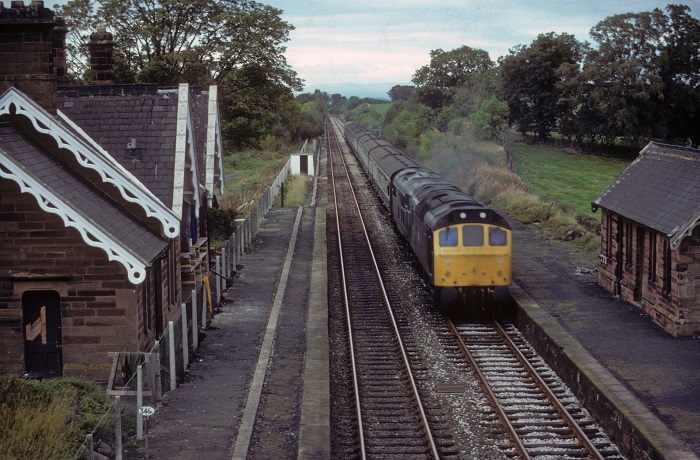 Photograph collection of Roger Geach.
25256 & 31428 southbound on the Settle & Carlisle on October 6th 1984 with the 16.35 Carlisle - Hull.
25258 & 25256 were noted on the lengthy Stanlow to Bishopbriggs bogie oil tanks on December 14th.
1985
25256 was noted passing through Cwmbran on January 4th with a lengthy train of short wheelbase wagons. On the morning of January 6th 58008 took 47444, 25199 & 25256 from Bescot to Speke. The Class 25s were dropped off at Speke whilst 47444 was taken to Crewe.
On February 4th 25256 was noted passing Bescot with a short freight. On February 23rd 25256 was noted at Derby with a short two-coach parcels working. The No.2 cab was showing damage to the valencing between the buffers.
On March 28th 25256 was noted on an Oxley empty coaching stock move.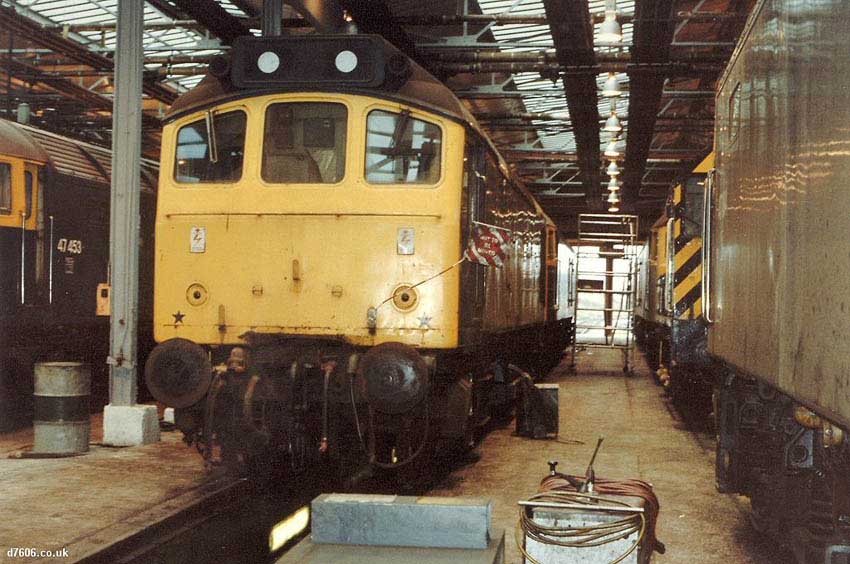 Photograph courtesy Ian Hammond.
April Fools Day 1985 finds 25256 at Crewe Depot, having just been taken out of service.
25256 was withdrawn on April 1st 1985. 25256 had run for 123 months since its last Classified repair, which took place at Crewe Locomotive Works during November & December 1974. This length of time must qualify for some sort of record?
Condition Final: blue/yellow livery, blanking plates fitted, hand/footholds plated over, three-rung bogie mounted footsteps, straight sided sandboxes, damaged valencing at No.2 cab end (present from at least August 1982, not present May 1980).
24/2109
flk 0121 (no D7606) (2)
Not all known passenger workings are recorded on this page.
Page added April 16th 2005.
Last updated May 11th 2023.