D7605, 7605, (25255)

The six year career of D7605 was cut short after sustaining major collision damage. In its short career it had been allocated to to Eastern, Scottish & London Midland Region depots.

Built: BR Derby Locomotive Works.
Only carried two tone green livery.
2nd Class 25 to be withdrawn.

Allocations

D7605 was new to Tinsley (41A) on March 12th 1966. Further transfers were:

June 1966 to Barrow Hill (41E).
December 1966 to Haymarket (64B).
June 1969 to Nottingham Division (D16) on loan, made permanent July 1969.
Withdrawn March 1972 (collision damage).

After withdrawal 7605 was stored at Beeston Freightliner terminal, on February 6th 1972 it as moved to Derby Works for assessment, which led to its withdrawal during March 1972. 7605 was scrapped by the middle of June 1972.

Works Visits

Works visits (records incomplete).

Noted Derby Works February 1967.
Noted Derby Works February 1970.
Noted Derby Works September 1971.

Highlights

1966
The frames for D7605 were laid down at the beginning of 1966, with delivery to Tinsley taking place March.

1967
7605 was noted at Derby Works during February.

1969
7605 & 5180 were noted southbound on a freight at Kirkby Stephen around midday on September 11th.

1970
7605 was noted at Derby Works during February.

1971
On August 21st 7605 & 5270 worked the summer dated roundtrip Nottingham - Llandudno Town.

7605 was present at Derby Works during September.

The second Class 25 to be withdrawn was green liveried accident damaged 7605. At 06.15 on December 16 in a violent collision at Lenton South Junction (Nottingham) ladder crossover, the 01.30 Liverpool - Nottingham parcels train, hauled by 7605, collided head on with a southbound coal train led by 8115 & 8142. Regrettably both drivers and the guard of the parcels train were killed. The severely damaged 7605 was initially moved to Beeston Freightliner terminal, then onto Derby Works where it was withdrawn in March 1972 and broken up the following month. This was the shortest lived of any Class 24/25, with a working life of six years and three months. The inquiry established to investigate the incident failed to positively identify the cause, but believed the driver of the parcels train had cancelled a number of AWS warnings without heeding the signal aspects displayed.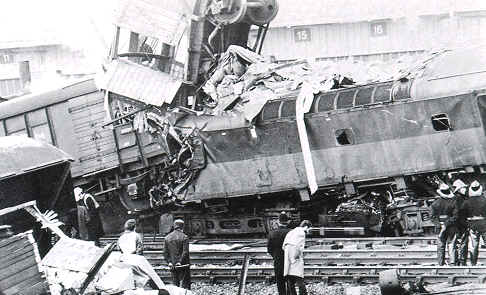 Photographer unknown at this time.
Photograph courtesy webmaster Sam of the fotopic 'Wayfarer' site.
A very battered 7605 waits at Derby during March 1972 for repair - a repair that will never come.
Repair costs were estimated at least £300,000, which was about four times of the cost of the locomotive when new. The No.1 cab had been demolished by the leading Class 20, No.8115, which would be repaired at Crewe Locomotive Works. Even more badly damaged was 7605's No.2 cab which took the full force of the parcels vehicles, these had ridden up over the locomotive frame and demolished the cab and the boiler room.
2/272
no flk
Not all known passenger workings are recorded on this page.
Page added April 16th 2005.
Last updated October 22nd 2020.
Back to 25254
Forward to 25256