D7636, 7636, 25286, 25905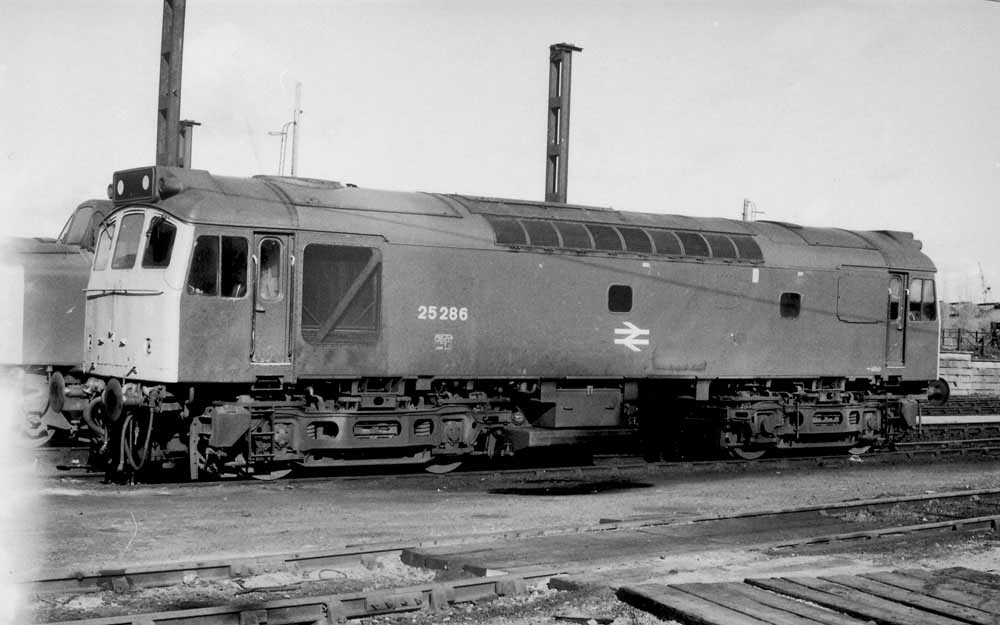 Photograph collection of webmaster.
25286 (later 25905) date & location unknown.
The twenty year ten month career of D7636/25286/25905 included allocations to Eastern Region & London Midland Region depots, with a particular bias to the north-west area depots.
Built: Beyer Peacock Gorton Ltd, Works No.8046.
Dual brake equipped.
Angled strip at bottom of cab doors (1978).
Time between last Classified repair and withdrawal: 95 months.
Time between withdrawal and scrapping: 41 months.
Allocations
D7636 was new to Tinsley on November 15th 1965. Further transfers were:
April 1966 to Wath (41C).
October 1967 to Springs Branch (8F).
June 1968 to Liverpool Division (D08).
January 1970 to Preston Division (D10).
May 1971 to Liverpool Divison (D08).
May 1973 to Springs Branch.
October 1982 to Crewe.
November 1985 to Kingmoor.
August 19th 1986 to unserviceable store.
Withdrawn September 13th 1986.
Renumbered into TOPS April 20th 1974.
Renumbered to 25905 November 25th 1985.
25905 was the 293rd Class 25 withdrawn, one of seven retired during September 1986, including shedmates 25907, 25909 & 25911.
After withdrawal 25905 was stored at Kingmoor. On July 14th 1988 25905 was moved to Upperby depot for inspection but then returned to Kingmoor. Another visit was made to Upperby on November 10th 1988, prior to moving to Mossend Yard by November 25th 1988 (with 45044/51/70 picking up 25325 & 25905) and to BRML Glasgow Works the next day for component recovery. During October 1989 25905 moved into MC Metal Processing's yard. By the middle of February 1990 25905 was no more.
Works Visits
Works visits (records incomplete).
Noted Derby Works August 1969.
Noted Derby Works September & October 1972 (collision damage).
Noted Derby Works December 1972.
Noted Crewe Works May 1974.
Noted Derby Works August 1975.
Noted Derby Works June 1976.
Noted Derby Works December 1977 - March 1978.
Noted Glasgow Works August & September 1979 (general repair).
Highlights
1967
The first recorded passenger workings for D7636/25286 involve the summer dated roundtrip Sheffield - Llandudno Town service, D7636 worked the services on July 29th 1967 and on August 26th 1967, on the latter date with 7634.
1968
On the evening of January 19th D7636 was noted at Manchester Victoria with the Wigan - Ashton Moss vans.
On the evening of April 19th D7636 & D7677 were noted at Bolton with a down van train (3P03).
1969
The 17.30 Manchester - York relief was worked by 7636 on November 21st.
1970
A series of exhibitions were held by the Preston Division during June. The exhibitions featured locomotives, passenger coaches and permanent way equipment. Exhibitions were held at Preston station on June 20th and Blackburn station on June 27th. The locomotives at Preston featured 248, 3410, 7636 & E3044.
1972
On August 3rd services north of Crewe were seriously disrupted when 7636 & 7635 became derailed near Winsford station after running through catch points whilst hauling the 6M55 15.22 West Thurrock - Corkickle freight (eight 100 ton empty tanks). An overhead gantry was hit, the lead locomotive nearly falling into a country lane. The crew fortunately escaped with only minor injuries. 7636 was moved to Derby Locomotive Works for repairs.
On December 15th 1972 the 13.50 Derby - St. Pancras was worked from Derby to Leicester by 134 & 7636, possibly a Works running-in turn for the Class 25.
1973
At about 6pm on June 4th 7636 was noted at Manchester Exchange with a down van train (4P05). On June 30th 7636 & 7612 worked a Leicester - Yarmouth service.
At about 7.20am on July 18th 7636 & 5263 were noted at Newton le Willows on permanent way trains.
At about 7.30am on October 29th 7636 was noted passing Earlestown with a down freight.
1974
On December 19th 25286 was noted at Manchester Victoria with the 9T55. On December 20th & 21st 25286 was noted at Manchester Victoria.
1975
On February 12th 25286 was noted at Manchester Victoria with the 9J25.
In the early hours of June 6th whilst waiting on the slow lines with a coal train at Nuneaton station 25286 witnessed the high speed derailment of the 5th's 23.30 Euston – Glasgow sleeper service. The two electric locomotives, 86006 & 86242 became parted, with the latter causing considerable damage to itself and the station, bringing down several gantries that caused minor damage to the Class 25. All the coaches were derailed, with damage being heaviest at the front of the train, tragically six lives were lost. By the evening of 6th the Bescot, Crewe & Saltley cranes were present alongside other engineering trains, in the hands of 24074, 47034 and three Class 25s. Six coaches, (five sleepers and a BG) were broken up on site. By the 11th engineering/rewiring trains were still present including 24074 and 25193, the latter having been on-site since the day of the accident. Two days later only 24058 was on hand with an engineers train.
The damage sustained by 25286 required Works attention, the gantry/mast hit the No.2 cab, driver's side, damaging the cabroof, headcode box and the driver's side cab front. The No.1 cab sustained minor damaged to the headcode box.
On August 29th 25316 & 25286 were noted passing Castleford with the 6L42 Tilcon company train.
1978
On February 23rd 25286 & 25318 were noted at Wellington (Salop) with bogie oil tanks.
25286 was stabled at Preston station on March 4th.
On June 18th 25286 was noted at Crewe station with an overhead wire maintenance train.
On July 8th 1978 25286 & 25268 worked the Derby - Norwich - Yarmouth - Norwich - Walsall passenger diagram.
25286 spent two days, September 27th & 28th stranded at Reading depot awaiting the arrival of an LMR driver to take the locomotive home.
1979
On Wednesday February 14th 25286 worked the 09.55 Willesden to Norwood and (presumably) the 12.00 Norwood - Willesden.
On a very snowy March 17th 25286 was stabled at Sheffield station.
25286 was noted at Bletchley on April 12th.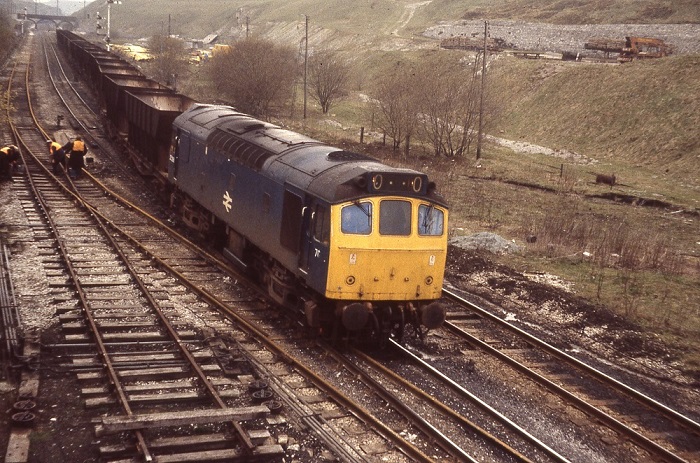 Looking northbound, Springs Branch allocated 25286 drops down across Great Rocks Junction to deliver another load of empties on April 24th 1979. Behind the locomotive lies an area previously used by the steam locomotives that once powered these stone workings.
The 11.05 Manchester Victoria - Holyhead was worked by 25286 on June 22nd & July 7th. On July 4th the 05.34 Holyhead - Trafford Park freightliner was worked by 25286 instead of the more normal Class 40. A day excursion on July 16th from Coventry to Blaenau Ffestiniog was worked from Crewe to Llandudno Junction by 25286 & 25270. The Nottingham - Llandudno Town on July 21st was worked forward from Derby, returning throughout to Nottingham. On July 31st 25286 was westbound at Oakham with a mixed freight.
On September 30th 25286 was north of the border working the 04.20 Mossend Yard - Glasgow Queen Street forward from Cowlairs Junction, being the portion off the 1S07 Euston - Inverness, followed on the next day (October 1st) with 21.50 Euston - Fort William again between Cowlairs Junction and Glasgow Queen Street.
1980
On the afternoon of April 8th 25288 & 25286 were noted at Preston with a permanent way train. On April 19th 25288 & 25286 were at Crewe with the 6D33 06.31 Stanlow - Toton TMD oil tankers.
A roundtrip relief Nottingham - Skegness was worked by 25286 & 25269 on May 26th.
The 14.00 Glasgow Central - Carlisle was worked by 25286 on August 19th.
1981
25286 was receiving attention at Allerton depot on March 12th.
On the afternoon of June 2nd 25286 was noted at Warrington with an up freight. On June 20th 25286 & 25032 worked the 08.35 Derby - Yarmouth to Norwich and the 14.20 Yarmouth - Derby from Norwich. The next day (21st) the same pair worked a Leicester - Skegness roundtrip.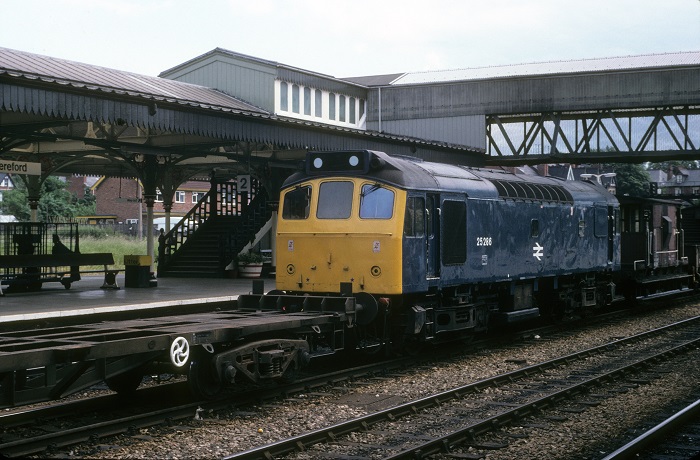 Photograph courtesy Roger Geach collection.
25286 at Hereford on June 29th 1981.
25286 was noted at Buxton depot on July 18th and Guide Bridge on July 30th.
The relief (?) 10.50 Barrow - Lancaster and a return Lancaster - Barrow were worked on August 22nd by 25286 (may have been August 15th?).
On October 10th a Bolton - Stratford-on-Avon day excursion was worked by 25286 & 25032 throughout(?). On this date 25286 is also recorded as working an Edinburgh - Blackpool North day excursion forward from Preston.
1982
On March 5th the 18.05 Euston - Blackpool North was worked from Preston by 25286.
25286 was noted passing Galgate (WCML) with ICI short wheelbase tanks on April 14th.
On June 4th replaced 40170 at Warrington on the 15.45 Manchester Victoria - Bangor.
On July 27th 25315 & 25286, worked the bitumen loaded tanks to Cranmore from Ellesmere Port.
25286 & 25315 were stabled at Birkenhead Mollington Street on August 1st and were later noted southbound at Crewe with a UKF fertiliser train. On August 9th 25286 & 25221 worked the 6S83 Clitheroe - Gunnie cement. On August 12th 25316 & 25286 were northbound at Leamington Spa with a short oil tank train. On August 14th 25286 & 25316 were eastbound at Trent Junction with short wheelbase oil tanks.
The 15.12 Manchester Piccadilly - Harwich Parkeston Quay on November 2nd was noted arriving at Peterborough having worked from Manchester or Sheffield? 25286 with brakevan was noted at Banbury on November 17th.
1983
On February 8th the Ditton - Broughton Lane BOC tanks and return was worked by 25286 & 40181.
25286 was at Euston on April 5th.
Sisters 25286 & 25285 worked the 00.30 Manchester Piccadilly - Euston forward from Rugby on August 7th due to engineering works. 25286 was stabled at Crewe on the night of August 26th and at Longsight on August 27th.
A diesel multiple unit failure on September 18th saw 25286 working the 08.35 Northwich - Manchester Piccadilly.
25286 was the Manchester Victoria banker on October 27th.
1984
25286 was stabled at Birkenhead Mollington Street on January 7th. 25286 & 25276 were light engines at Gaer Junction, Newport on January 21st.
25286 was noted at Low Gill on April 14th with a train of short wheelbase ICI? tanks. On April 16th 25286 was at Birkenhead Mollington Street.
The failure of a Class 33 on a Cardiff - Crewe service on July 15th (?) saw 25286 drag the service to Crewe (from Hereford?). 25286 was noted with a northbound Speedlink at Garstang on July 20th headed for the Workington area. On the afternoon of July 23rd 25286 was noted with a lengthy Ditton - Warrington Arpley freight, later that evening 25286 worked the evening Ashburys - Arpley Yard Speedlink. On July 24th 25286 was northbound at Carlisle station with a freight.
On August 24th a Cardiff - Crewe passenger arrived at Crewe with 25286 & 33008. 25285 & 25286 were stabled at Motherwell depot on August 28th. On August 31st 25285 & 25286 worked an afternoon Llanwern – Dee Marsh steel coils working.
On September 1st 25178 & 25192 took over the 10.10 Euston - Aberystwyth at Wolverhampton, reversing at Shrewsbury for the onward journey to Aberystwyth. However 25192 failed shortly after leaving Shrewsbury and 25178 failed at Forden, west of Welshpool. 25285 & 25286 were sent out from Shrewsbury to drag everything back to Welshpool, where 25285 & 25286 ran round the train, removed 25178 & 25192 and dumped them in a siding east of the station. The train then headed for the coast, but due to late running was terminated at Machynlleth, from where the return working started.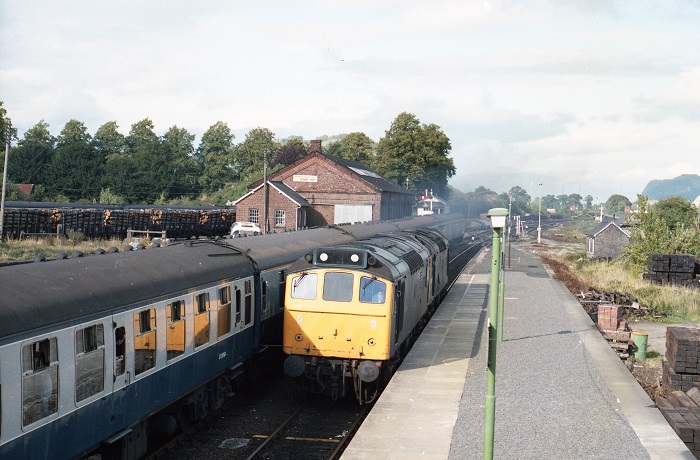 Photograph courtesy John Turner (via RG).
(See entry above for September 1st 1984) 25286 & 25285 dragged the train and locomotives back to Welshpool, here they are seen running round the train in order to remove 25178 & 25192 and dump them in a nearby siding.
25287 & 25286 were northbound at Bescot with bulk powder tankers on November 14th. 25286 was noted at Warrington Arpley on November 29th.
45076 & 37042 & 25286 were noted light engines at Bescot station on December 19th. 25286 was noted running light engine by Saltley on December 31st.
1985
1985 produced quite a crop of workings for 25286. When the Class 45/1 working the 11.14 Bangor - Newcastle failed at Warrington on January 19th 25286 took the service to Manchester Victoria. At about 1pm on January 31st 25286 & 25287 were noted southbound at Balshaw Lane with oil tankers.
25286 & 25285 were northbound at Carlisle with bogie oil tankers on February 4th. On February 21st the diesel multiple unit working the 15.06 Preston - Leeds (via Copy Pit) failed before departure, 25286 worked the train to Leeds.
25286 was inside Crewe depot on March 13th. On March 19th 25278 & 25286 were noted on the Crewe avoiding lines woth BOC? bogie tanks.
25286 was at Crewe depot on April 20th. A 01.30 Crewe - Stoke-on-Trent relief was worked by 25286 on April 21st.
25286 was stabled at Toton on May 3rd & 11th.
25286 was stabled at Severn Tunnel Junction on June 23rd. 25286 worked the 6S75 12.55 Severn Tunnel Junction - Mossend being noted at Cwmbran on June 24th, also on this date 25286 was noted at Hereford goods yard with a load of lumber awaiting unloading for road transfer to the Pontrilas sawmills, 25286 was still present on June 27th. On June 28th (or 14th) 1985 the 18.15 Cardiff - Manchester Piccadilly with 45046 swapped power with 25286 scheduled to work a heavy freight, but the Class 25 was low on power and given the easier task from Hereford to Crewe Gresty Lane.
25286 was stabled at Crewe on July 7th. On July 18th 25286 was noted eastbound at Flint with possibly the Anglesey Aluminium - Immingham Covhops.
'The Silver Hammer' railtour on August 3rd from Euston to Maxwelltown was worked roundtrip between Carlisle & Maxwelltown by 25286 & 25200. Later that day 25286 worked the 17.40 Carlisle - Glasgow Central. Two days later (Aug 5th) 25286 & 25315 worked the relief 10.41 Exeter St. Davids - Edinburgh forward from Carstairs. 25286 & 25296 were noted on the up oil empties at Machynlleth on August 14th.On August 16th 25286 & 25296 worked a Bescot - Banbury freight. On August 19th 25286 & 25296 worked the relief 10.41 Exeter St. Davids - Edinburgh forward from Carstairs. 25286 & 25296 were noted on the up oil empties at Machynlleth on August 14th.
The remaining passenger workings for 25286 during 1985 were all on the Scottish Region. On August 31st 25286 worked the 08.40 Carlisle - Glasgow Central, the 13.45 Glasgow Central - Carlisle (with 37226) and the 17.40 Carlisle - Glasgow Central.
25286 was southbound at Crewe with vans on September 20th.
25286 was stabled at Eastfield on October 13th. A roundtrip over the Edinburgh - Carstairs route took place on October 15th, working the 14.00 Carstairs - Edinburgh (portion off the 07.47 Cardiff - Glasgow) and the 18.10 Edinburgh - Carstairs (portion for the 18.10 Glasgow - Manchester). On October 16th 25286 arrived at Newcastle hauling a failed diesel multiple unit on the 15.45 ex Carlisle service. 25283 & 25286 were noted northbound at Crewe with a train of sand on October 21st.
During November 25286 was transferred to Kingmoor and renumbered to 25905.
25905 was noted at Tunnel Cement, Penyffordd on December 5th.
1986
25905 was receiving attention at Crewe depot on April 27th, having had its bogies removed.
The last two recorded passenger workings for 25286/25905 were very short. On May 11th engineering work between Liverpool Lime Street & Edge Hill saw the 16.40 Liverpool - Poole and 17.46 Liverpool - Brighton dragged by 25905.
25905 was stabled at Chester depot on June 8th.
On July 3rd 25905 & 25906 worked a Dee Marsh Yard - Chester Yard via Watery Road (Wrexham) Speedlink freight. 25908 & 25905 were noted eastbound at Chester on July 23rd with cement tanks. On July 24th 25905 & 25909 were eastbound through Chester with a Speedlink working. 25909 & 25905 were noted at Chester on July 25th. 25909 & 25905 were noted at Chester on July 29th eastbound with a freight. 25905 & 25909 were noted at Warrington Arpley on July 30th. 25905 & 25176 worked an Over and Wharton - Inverness rock salt train on July 31st as far as??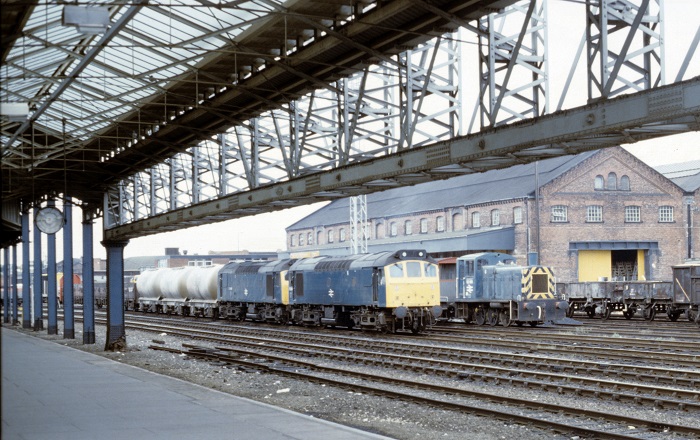 Photograph courtesy Roger Geach.
25909 & 25905 pass 03189 with an eastbound freight at Chester on July 24th 1986.
25905 & 25902 were noted northbound (?) at Warrington Bank Quay on August 3rd with mineral/coal wagons.
25905 was withdrawn on September 13th 1986.
Distinguishing Features
No.1 cab front: 2nd man's side corner: minor damage to corner valencing, slightly bent under: August 1983 until withdrawn.
The cab panels with number, allocation sticker and TOPS panel escaped scrapping.
Not all known passenger workings are recorded on this page.
51/3780
flk 1021
Page added September 17th 2013.
Last updated December 26th 2021.
Back to 25285
Forward to 25287