D7637, 7637, 25287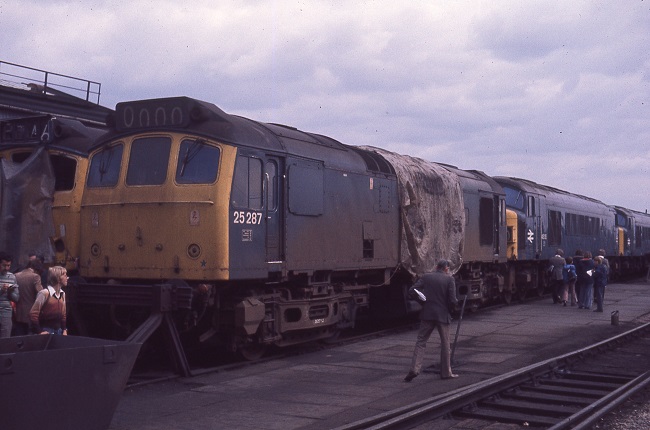 25287 at Derby Works Open Day on September 4th 1976. To the left is withdrawn 25045 whilst behind 25287 is 45135. At this time the status of 25287 is withdrawn (the side not visible to the camera in the above photograph has some damage), after attention at Derby Works, it would be reinstated to traffic.
The twenty year career of D7637/25287 included allocations to Eastern Region & London Midland Region depots.
Built: Beyer Peacock Gorton Ltd, Works No.8037.
Dual brake equipped (1974).
Time between last Classified repair and withdrawal: 109 months.
Time between withdrawal & scrapping: 14 months.
Allocations
D7637 was new to Tinsley on November 22nd 1965. Further transfers were:
April 1966 to Wath (41C).
October 1967 to Springs Branch (8F).
June 1968 to Liverpool Division (D08).
May 1973 to Springs Branch.
July 4th 1976 withdrawn (collision damage).
September 20th 1976 reinstated to Springs Branch.
October 1982 to Crewe.
May 1985 to unserviceable store.
Withdrawn December 3rd 1985.
Renumbered March 4th 1974.
After withdrawal 25287 was stored at Toton until moved (see details below) to Doncaster Works on March 3rd 1986. The scrapping of locomotives ceased here before 25287 could be dealt with, on August 13th 1986 a group of locomotives including 25287 were moved to Goole Docks for further storage. The locomotives were eventually sold to Vic Berry, Leicester and moved to Leicester Humberstone Road on October 30th 1986 and into Vic Berry's yard on November 4th 1986. 25287 was scrapped by the third week of February 1987.
25078, 25195, 25257/287 9Z34 Toton – Doncaster Works March 3rd 1986.
25060/078, 25195, 25257/287 Doncaster Works – Goole Docks August 13th 1986 (one trip?).
25287, 45016/75 Goole – Tinsley - Vic Berry, Leicester October 30th – November 4th, 1986.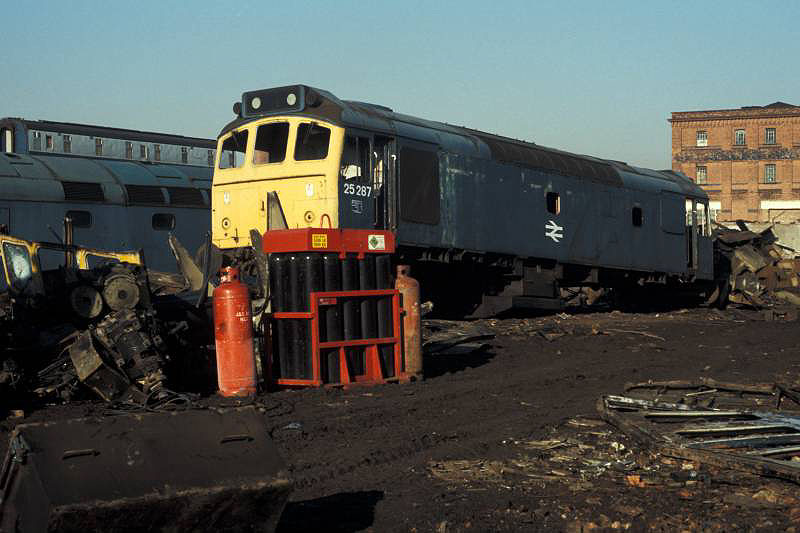 Photograph courtesy Gary Thornton
Seen here on January 31st 1987 25287 would be broken up during February 1987. A battery box from a Class 25 sits in the foreground.
Works Visits
Works visits (records incomplete).
Noted Crewe Works December 1969.
Noted Derby Works February & March 1974 (dual brake equipment fitted).
Noted Derby Works June 1976 - October 1976 (Classified & collision repairs).
Noted Derby Works December 1980 & January 1981 (N1 repairs).
Noted Derby Works November 1981 (N6 repairs).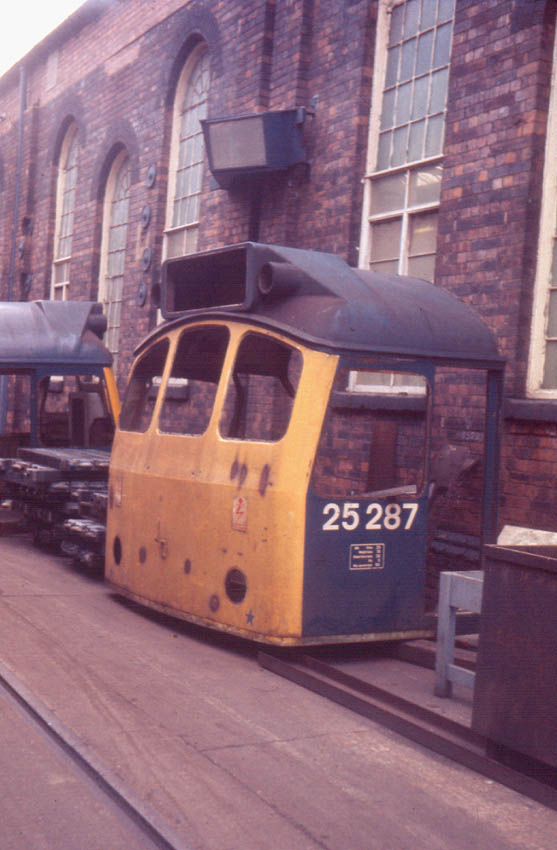 A cab from 25287 sits in Derby works on January 8th 1977.
Highlights
1967 - 1968
The summer dated roundtrip Sheffield - Llandudno Town was worked by 7637 on June 24th 1967 and on June 29th 1968.
1972
At about 7.30am on April 14th 7637 was noted passing Earlestown with a down freight.
1973
At about 7.30am on March 22nd 7637 was noted passing Hooton with an up freight (9T75).
7637 was on empty coaching stock duty at Liverpool Lime Street on June 26th, 27th & 28th.
1976
Springs Branch's 25287 was withdrawn during July with minor collision damage, repair costs being estimated at £20,000. Its retirement was brief, being re-instated in September. The damage was isolated to the non-battery isolating switch bodyside and the No.2 cab. Just below the cantrail from the No.2 cab almost to the radiator screen was a long scrape, breaking both bodyside windows, seriously damaging the boiler room screen and the cab bulkhead on the 2nd man's side. Additional damage was caused to the 2nd man's side of the cab. It's reinstatement after outshopping from Derby may have resulted from the decision to withdraw accident damaged 25030 & 25174 after they were hit by runaway wagons at Aylesbury on August 5th.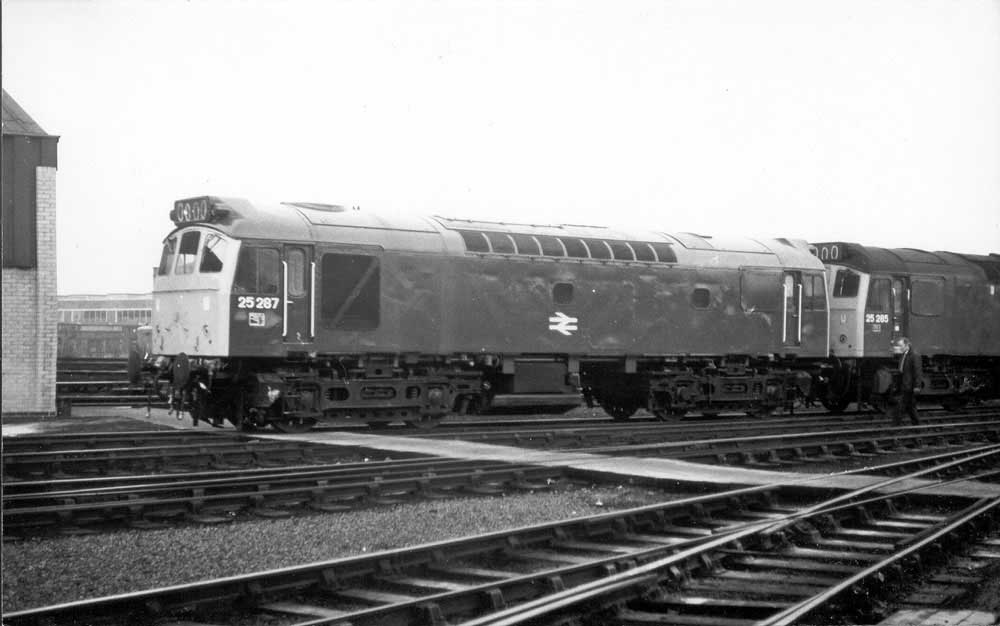 Photograph collection of webmaster.
A clean looking 25287 date & location unknown, but presumably about October/November 1976 shortly after a major repair at Derby Works.
25287 was noted passing Hexham on December 6th with the cement train from Clitheroe.
1978
The late evening of January 14th saw a southbound freight led by 81012 bring down the wires at Bamfurlong. Several services were impacted, including a Southampton - Coatbridge freightliner with 87030, 25287 was added at Warrington, travelling via Earlestown, St Helens Junction and Shaw Street, rejoining the mainline at Springs Branch, the Class 25 coming off at Preston.
25287 was stabled in York depot yard on April 29th.
1979
On August 30th 1979 25287 worked the 17.10 Manchester Victoria - Blackpool North.
On the WCML on September 20th 25287 assisted 86217 from Lancaster to Carlisle after the latter had two traction motors isolated whilst working the 15.00 from Euston. Only seven minutes were lost after the addition of 25287.
1980
On the afternoon of April 8th 25287 & 25257 were noted at Preston on up tanks.
On July 25th 25287 was noted on weed killing duties at Ribbleton on the Preston - Longridge line.
On the early afternoon of July 30th 25287 & 25319 were noted at Bristol Bath Road.
The failure of the Class 47 at Manchester Victoria on September 9th 1980 whilst working the 18.05 Liverpool - Leeds saw 25287 take the service on to Leeds.
1981
25287 was noted at Newcastle on February 14th with the 4S35 16.46 York - Edinburgh parcels.
25287 was noted at Ainsdale with a permanent way train on 15th March.
On the afternoon of May 28th 25287 was noted eastbound at Guide Bridge on a class 8 freight.
On August 29th 1981 25287 & 25044 worked the 08.35 Derby - Yarmouth to Norwich returning from there with the 14.20 Yarmouth - Derby. A diesel multiple unit failure on September 22nd saw the 08.10 Nottingham - Derby worked by 25287.
An 'E' examination was completed during November at Crewe depot.
1982
The Broughton Lane to Ditton BOC tanks was noted at Sheffield with 40033 & 25287 on March 18th.
On June 18th 25287 hauled 304 007 from Allerton to Wolverton Works for attention, two days earlier the unit had failed on a late evening Crewe - Liverpool service.
A day excursion from Birmingham New Street to Blackpool North on August 14th was worked roundtrip between Preston & Blackpool North by 25287. On September 6th the 16.30 St. Pancras - Nottingham failed at Bedford, 25287 took the train on to Nottingham.
1983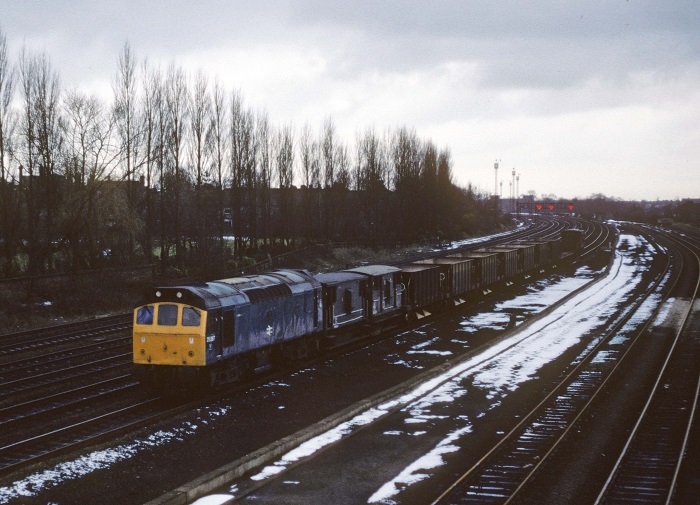 Photograph courtesy Roger Geach
25287 with a ballast/engineers train passing York Holgate on an overcast, wintry February 16th 1983.
25287 was on station pilot duty at Manchester Victoria on 5th March.
25287 worked a roundtrip Tunstead - Northwich train of ICI bogie hoppers on April 14th, the loaded working was made up of eighteen hoppers.
On June 1st 25287 was noted on the fuelling point at Severn Tunnel Junction. Four days later (June 5th) 25287 worked the 04.00 Crewe - Chester. A Watford – Clapham Junction weedkilling train ran in the early hours of June 17th behind 25287.
On July 30th 25287 & 25251 worked the 07.44 Shrewsbury - Aberystwyth and the 10.10 Aberystwyth - Euston to Wolverhampton. The next day (31st) the same pair worked the 10.00 Euston - Wolverhampton between Bletchley & Rugby due to power being off for engineering work. On August 27th the 07.44 Shrewsbury - Aberystwyth and the 10.10 Aberystwyth - Euston to Nuneaton were worked by 25287 & 25250.
25287 was stabled at Cockshute on September 17th.
On October 27th 25287 was noted at Sheffield with parcels stock on 27th October 1983.
Although the display of locomotive headcodes had long since ceased 25287 retained a working set of headcodes above the No.2 cab, although '0000' was normally displayed, from time to time the headcodes were set to other combinations. The No.1 cab displayed the normal two dot 'domino'.
On December 20th line damage at Hemel Hempstead saw 25287 & 25251 work the 07.46 Northampton - Euston, the 09.00 Glasgow Central - Euston from Bletchley, the 11.10 Glasgow Central - Euston between Bletchley & Watford Junction and the 18.15 (?) Euston - Northampton dragging two Class 310 electric multiple units. The next day (21st) 25287 worked the 08.13 Northampton - Euston.
1984
25287 was noted at Stockport with a wiring train on April 15th. Class 25's filling in for pairs of Class 37's on the morning Earles Sidings – Widnes cement included 25287 & 25300 on April 16th.
25262 & 25287 were noted at Madeley (south of Crewe) on May 10th with a lengthy train on bogie oil tanks. Three days later (13th) the 02.35 Euston - Bletchley was worked by 25287.
On June 30th the 07.35 Euston - Aberystwyth from Wolverhampton and the 14.00 Aberystwyth - Shrewsbury were worked by 25287 & 25268. On July 14th the 07.44 Shrewsbury - Aberystwyth and the 10.10 Aberystwyth - Euston to Wolverhampton were worked by 25287 & 25279.
On August 4th the 07.35 Euston - Aberystwyth from Wolverhampton and the 14.00 Aberystwyth - Shrewsbury were worked by 25287 & 25259. Two days later (August 6th) 25287 worked the 4V12 09.22 Shrewsbury - Malago Vale with five vans, being noted at Severn Tunnel Junction.
On August 16th 25287 was noted stabled at Saltley. Two days later (18th) the 07.44 Shrewsbury - Aberystwyth and the 10.10 Aberystwyth - Euston to Wolverhampton were worked by 25287 & 25265 (25265 to Shrewsbury only) and by 25287 & 25278 on September 8th, on the outward leg a car was hit on a crossing just outside Aberystwyth.
1985
The last recorded passenger working for 25287 took place on February 18th 1985 with 25315 working the 17.25 Liverpool - Euston from Liverpool via Chester to Crewe.
On February 27th 25282 & 25287 worked a roundtrip special Stanlow - Preston Dock oiltank train.
25287 was noted parked in Rhyl yard with a short parcels train on March 3rd. The No.2 cab still had a working headcode panel.
25287 was stabled at Severn Tunnel Junction on April 16th. A week later on April 24th 25287 was noted in the loop at Panteg with 21 short-wheelbase tanks.
25287 was stored unserviceable during May and was withdrawn on December 3rd 1985.
Not all known passenger workings are recorded on this page.
Distinguishing Features:
No.2 cab front: no lamp brackets on central section of cab front, No.2 headcode panel showing alpha/numeric display, noted April 1984.
35/2838
flk 0716
Page added September 19th 2013.
Last updated October 23rd 2020.
Back to 25286
Forward to 25288