D7638, 7638, 25288

The twenty one year three month career of D7638/25288 included allocations to Eastern Region & London Midland Region depots and was the only Class 25 ever allocated to Carnforth.

Built: Beyer Peacock Gorton Ltd, Works No.8038.
Dual brake equipped.
Time between last Classified repair and withdrawal: 104 months.
Time between withdrawal and scrapping: 14 months.

Allocations

D7638 was new to Tinsley on November 30th 1965. Further transfers were:

April 1966 to Wath (41C).
July 1967 to Carnforth (10A).
July 1967 to London Midland (Western) Lines.
July 1967 to Carnforth (10A).
May 1968 to Springs Branch (8F).
June 1968 to Liverpool Division (D08).
May 1973 to Springs Branch.
October 1982 to Crewe.
Withdrawn February 19th 1987.

Renumbered October 1st 1973.

After withdrawal 25288 was stored at Basford Hall until moved (see details below) to Leicester Humberstone Road on July 27th 1987 and into Vic Berry's yard on July 30th 1987. The locomotive was placed in the stack during October 1987. By the second week of April 1988 25288 had been scrapped.

25173, 25201 & 25288 Crewe – Vic Berry, Leicester July 29th 1987; (the last Crewe - Vic Berry convoy?).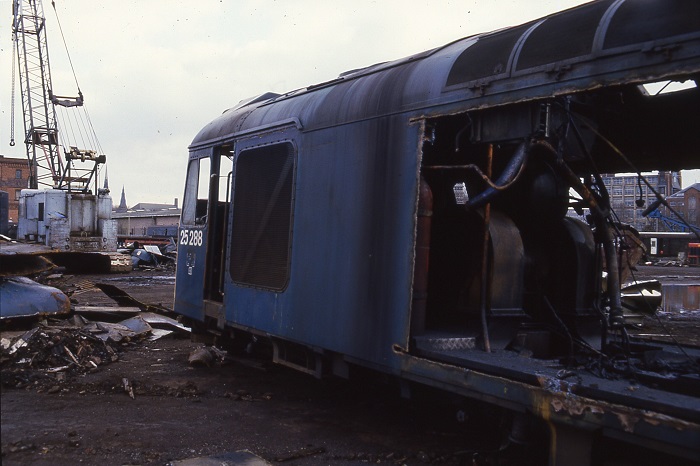 Photograph collection of webmaster
The end of the line for 25288 at Vic Berry's yard, Leicester during March 1988.
Works Visits
Works visits (records incomplete).
Noted Derby Works August 1973.
Noted Derby Works May & June 1978 (Classified repair).
Noted Derby Works September & October 1982 (N6 repairs).
Noted Derby Works January & February 1983 (N1 repairs).
Noted Derby Works May 1983 (N4 repairs).
Highlights
1967
The summer of 1967 saw the operating authorities begin to position the almost complete diesel fleet for the final eradication of steam, now principally found in the North West. Carnforth received D7638 during August & September for crew training, to be used by instructors from various Lancashire sheds.
On July 28th 1967 (?) the Euston - Glasgow Central 'Royal Scot' was worked from Crewe (?) to Carlisle (?) by 7638 & 1621.
1968
Condition April: two-tone green livery with small yellow warning panels, buffer beam steam pipe connections still present, exhaust in original position.
On the evening of April 5th D5254 & D7638 were noted at Bolton with down freight (3P03).
1972
At about 7am on March 29th 7638 was noted passing Manchester Victoria with a down permanent way train.
Condition August: two-tone green livery with full yellow ends, undercoat showing through around radiator grilles, exhaust above engine room, buffer beam steam pipe connections still present.
At about 7am on September 26th 7638 was noted passing Manchester Victoria with an up freight (6J37). Later the same afternoon, at about 5.45pm it was noted at the same location on a down van train.
1973
At about 6pm on April 27th 7638 was noted at Manchester Exchange waiting to work the 4P05 van train.
1975
25300 & 25288 were noted on track relaying work in the Haymarket area on December 21st, they were later noted at Slateford heading for the Suburban lines.
1976
On March 27th the Whitemoor – Royston tanks was noted at Cambridge behind 25288 & 25276, obviously March were short of power that morning.
25288 was noted passing through Huddersfield with an empty van train (Newcastle - Red Bank?) on April 4th.
1978
On July 11th a very smart 25288 was noted at Chester with a weedkilling train, comprised of four coaches and three short-wheelbase tankers. On August 9th 25288 worked the 4A54 01.55 Garston - Forders brick empties. The original pair of Class 25s (25251 & 25256) on the northbound working had failed at Nuneaton and were replaced by 45048, which in turn was replaced by 47381 at Crewe.
1979
During the morning of Tuesday January 30th 25288 worked a couple of Willesden - Norwood special freights, assumed to return north light engine each time.
Tyne Yard put 25288 on the 09.35 to Whitemoor on July 17th.
Engineering work on the WCML on July 22nd & 29th saw 25288 assisting three services between Northampton & Bletchley, alone on 22nd and with 25218 on 29th.
1980
On the afternoon of April 8th 25288 & 25286 were noted at Preston with a permanent way train.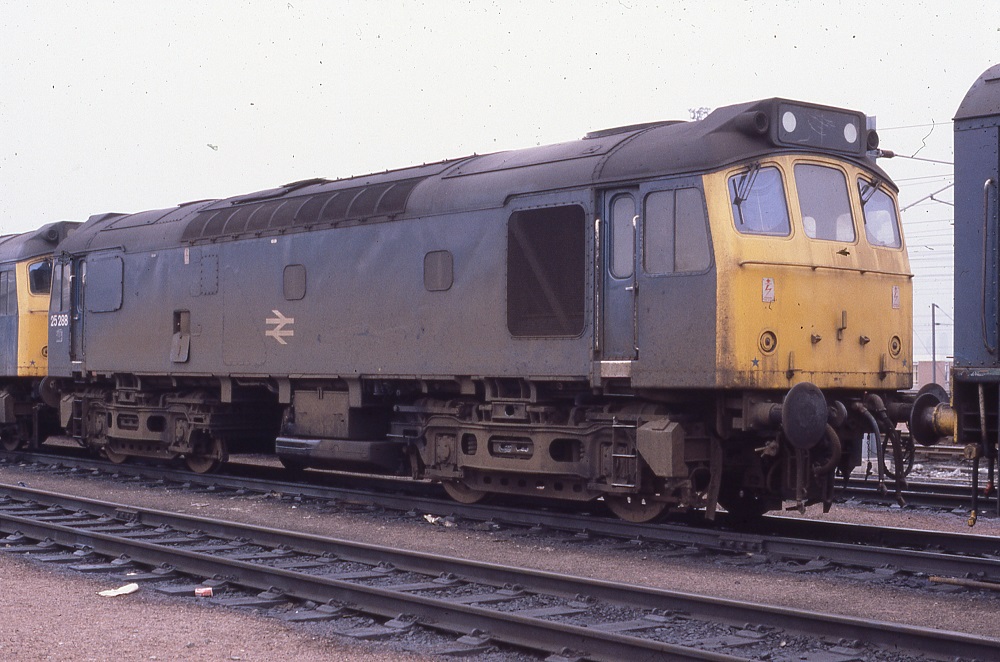 25288 at Polmadie on March 15th 1980.
It was a busy day for 25288 on August 4th 1980 when it worked the 09.42 Llandudno Town - Manchester Victoria, the 13.40 Manchester Victoria - Llandudno Town, the 16.42 Llandudno Town - Crewe, the 20.30 Crewe - Bangor and the 22.45 Bangor - Llandudno Junction. The next day (5th) 25288 worked the first leg of the previous day's diagram.
25288 received an 'E' exam at Springs Branch during November.
1981
A rescue job on June 6th 1981 occurred when 47525 failed at Derby whilst working the 09.50 Edinburgh - Plymouth, 25288 dragged everything to Saltley where 47032 took over.
On September 1st 25288 was noted on a Kensington Olympia - Willesden motorail working. On september 6th 25288 arrived at Holbeck at 04.00am of the L00 turn. On September 13th the 20.45 Barrow - Euston was dragged from Bletchley to Willesden due to the power being of for engineering works.
On November 19th 25288 & 25323 worked the Leith South - Heysham Harbour pipe train (from Carlisle?).
1982
On March 2nd 25192 & 25288 were noted at Nuneaton on an empty stone train, two of seven Class 25s present in the Nuneaton station area at the same time.
On May 17th 1982 the 13.45 Manchester Victoria - Bangor was worked by 25288. Cambrian lines were visited on July 31st when 25288 & 25283 worked the 07.38 Shrewsbury - Aberystwyth and the 10.07 Aberystwyth - Euston to Wolverhampton. The 22.47 Crewe - Blackpool North was worked forward from Preston by 25288 on August 9th. Five days later on August 14th the 07.16 Manchester Victoria - Scarborough was worked throughout by 25288.
1983
A short working took place on March 19th 1983 with the 10.55 Guide Bridge - Wembley Central worked to Stockport by 25288. The 23.59 Sheffield - St. Pancras was worked throughout by 25288 on the early morning of July 26th. On August 6th 25288 & 25298 worked the 07.44 Shrewsbury - Aberystwyth and the 10.10 Aberystwyth - Euston to Wolverhampton. The 09.45 Euston - Glasgow Central was dragged between Bletchley & Rugby by 25288 & 25279 on August 21st due to the power being off for engineering works.
1984
25288 was noted at Birmingham New Street on January 27th.
On May 2nd 25288 & 25282 were noted southbound at Leighton Buzzard working the short lived 6O35 Stanlow - Salfords oiltanks. 25258 & 25288 came to the assistance of 86222 in the late evening of May 26th 1984 after a Euston – Manchester Piccadilly service was targeted by vandals, the driver requiring assistance from an ambulance crew. The Type 2s were replaced at Rugby by another electric locomotive.
On June 1st 25288 was noted passing Helsby, westbound with a modest freight. On June 9th the 07.44 Shrewsbury - Aberystwyth and the 10.10 Aberystwyth - Euston to Wolverhampton were worked by 25288 & 25315. About a week later on June 17th the 23.50 Euston - Liverpool was worked forward from Crewe (via Chester?) to Liverpool by 25288 because of the power being off for engineering work. When 47562 failed at Bolton on June 28th working the 07.17 Harwich P.Q. - Glasgow Central 25288 dragged the service to Preston.
A month later on July 29th 25288 worked the thirteen coach 08.25 Manchester Piccadilly - Bristol Temple Meads as far as Birmingham New Street. Another visit to the Cambrian lines took place on August 25th with 25288 & 25268 working the 07.44 Shrewsbury - Aberystwyth and the 10.10 Aberystwyth - Euston to Wolverhampton. Two weeks later on September 8th the 07.35 Euston - Aberystwyth from Wolverhampton and the 14.00 Aberystwyth - Euston to Wolverhampton were hauled by 25288 & 25269. On September 21st 25288 was north of the border working the 08.40 Carlisle - Glasgow Central and the 13.45 Glasgow Central - Carlisle.
25288 was noted at Manchester Victoria on December 7th.
1985
1985 produced a modest variety of passenger workings, commencing on January 24th 1985 with 25288 assisting the 15.40 Walsall - Birmingham New Street from Bescot after Class 304 No.304015 failed.
Another rescue job took place on July 8th when 45105 failed at Kingsbury Junction working the 09.23 Newcastle - Penzance, 25288 dragged the service to Birmingham New Street. The next day (9th) 25288 worked the six coach 05.30 Wolverhampton - Harwich P.Q. to Peterborough where 31174 took over.
On September 7th Laira's Open Day included 25288 receiving attention in the shed. Eight days later on September 15th 25288 worked the 15.20 Manchester - Bristol parcels comprised of seven vans. At month end on September 30th 25288 was noted during the day at Manchester Victoria, later working the 21.42 Preston - Liverpool, being the portion off the 18.15 Glasgow - Manchester.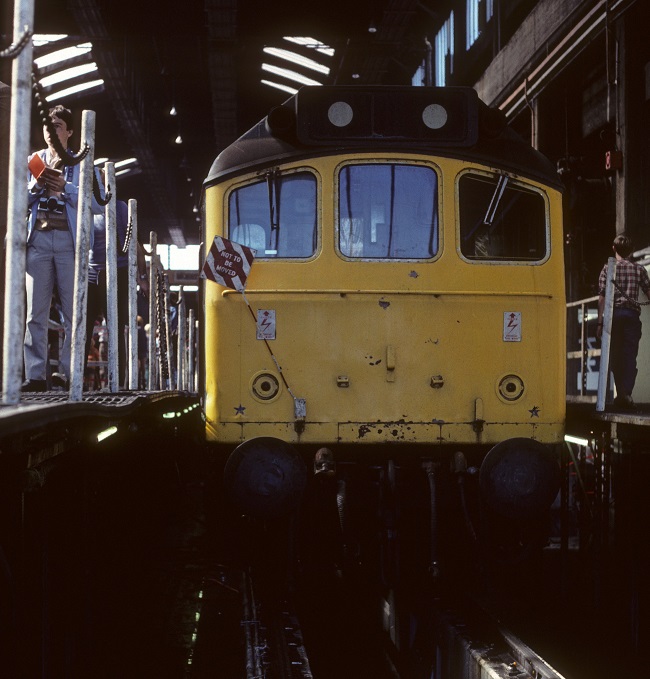 Photograph courtesy Roger Geach
25288 receiving attention at the the time of Laira's Open Day on September 7th 1985.
Sightings during October included on October 10th 25288 with a nightime parcels train at Carlisle, working a Tyne – York coal train on October 15th with 56115, three days later (18th) being stabled at Severn Tunnel Junction and during the night of October 28th 25283 & 25288 were observed at Hereford with an oil tank train.
A broken rail at Weaver Junction on November 13th saw the 07.47 Cardiff - Edinburgh worked from Crewe via Chester to Warrington by 25288 & 25262. November 22nd saw the 10.50 Stafford - Rugby worked to Nuneaton by 25288 after the electric multiple unit failed. The train was terminated at Nuneaton.
The first week of December saw the afternoon Manchester – Bristol parcels almost totally in the hands of the Class 25's, so noted was 25288 on December 10th. Also on this day 25288 rescued 47597 on the 14.17 Bangor – Cardiff after its failure at Ludlow. The Bristol vans were taken to Hereford, collected by the following day's service in the hands of 25202 & 25192.
Over the Christmas break the only Class 25s in South Wales were 25037, 25288 & 25906 stabled at Severn Tunnel Junction.
1986
On a very snowy January 9th 25288 was noted passing Uttoxeter with a train (7L49) of tube wagons returning to Newton Heath concrete works after delivering concrete sleepers. On January 16th 25288 was the Camp Hill banker.
25288, 25313, 31156, 31242 & 31234 were noted on March 22nd passing through Water Orton and headed for the Nuneaton line.
The 09.31 Bangor - Newcastle on April 8th was worked from Manchester Victoria to York with 25288 replacing 25908, the train was terminated at York.
On April 23rd 25288 & 25073 were stabled on the London Road curve, Derby. A week later on April 29th 25288 & 25326 were in charge of nine loaded bogie steel coil wagons from the Marches to Severn Tunnel Junction. 25323 & 25288 were noted at Chester on April 30th.
A recent working bringing Class 25's to Scunthorpe was the eastbound empty coke running between Holyhead and Conoco's Humberside oil refinery, noted on June 5th was 25288. Two days later on June 7th the 'Welsh Thunderer' railtour was worked from Stalybridge to Pwllheli by 25288 & 40122, with 25288 being added because of a broken windscreen on 40122. The same pair replaced 37428 (failed) & 37426 on the 15.30 Pwllheli - Porthmadog and the 17.08 Porthmadog - Euston to Shrewsbury. The Class 37s had worked in on the 07.35 Euston – Pwllheli. On the return the power was switched at Shrewsbury, with 25288 being left at Shrewsbury after a fuel leak was discovered.
On June 15th was 25288 stabled at Stonebridge Park, the next day (16th) 25288 worked the six vehicle 1M25 18.12 Manchester Piccadilly to St Pancras parcel, the Class 25 was normally replaced at Derby.
25288 was noted on July 1st passing Bolton with 4 CCTs in the Red Star Parcels livery. On July 20th 25288 was noted at Tyseley depot, for repair?
On August 7th the 06.30 Wolverhampton - Shrewsbury and the 07.33 Shrewsbury - Euston to Wolverhampton were worked by 25288. A more lowly working took place the next day, August 8th, handling the trip working from Wednesbury to Norton Barrow scrap yard, Bradley (empties in, loads out). Two weeks later on August 23rd 25288 was observed at Aberystwyth with two ballast wagons.
September 17th, 25288 worked the Wednesday's only Aberystwyth - Stanlow 'Shell' empty oil tanks. This was the last scheduled freight working over the Shrewsbury - Aberystwyth route, continuing until May 1993.
The remaining passenger workings for 25288 involved the Settle & Carlisle line. On October 11th the 16.46 Carlisle - Hull was worked to Skipton by 25288 & 47463. Possibly for the period October 13th - 17th & 20th 25288 was a pilot locomotive to the services between Skipton & Ribblehead. Finally on October 21st the 07.40 Hull - Carlisle with 47437 was piloted by 25288 between Stainforth Tunnel & Blea Moor.
25288 was noted on October 30th waiting to depart from Manchester Victoria with empty parcel vans for Red Bank Sidings.
On November 4th 25279 & 25288 worked the 6M54 Leeds to Stanlow empty bogie oil tanks.
1987
25109 & 25288 were noted at Manchester Victoria on a snowy January 17th. 25288 & 31121 were the Manchester Victoria pilots on January 28th.
Late in September 1986 the North Notts Locomotive Group had purchased D8 (44008) from its then current owner, the Class 44 languishing on the Strathspey Railway. On January 28th 27024 arrived at Aviemore to take the Class 44 south, getting as far as Perth before brake troubles stopped the journey. Repairs were effected by February 2nd when 27050 took D8 as far as Mossend. On February 10th 20201 took D8 to Carlisle, 25901 to Crewe (11th), 25288 to Bescot (12th) and 31449 to Toton (13th). On February 16th 20100 & 20045 took D8 from Toton to Matlock.
25288 was withdrawn on February 19th 1987.
Not all known passenger workings are recorded on this page.
55/3327
flk 0716 (1)
Page added September 20th 2013.
Last updated April 21st 2021.
Back to 25287
Forward to 25289