D7645, 7645, 25295
The first of the Beyer Peacock built machines to be withdrawn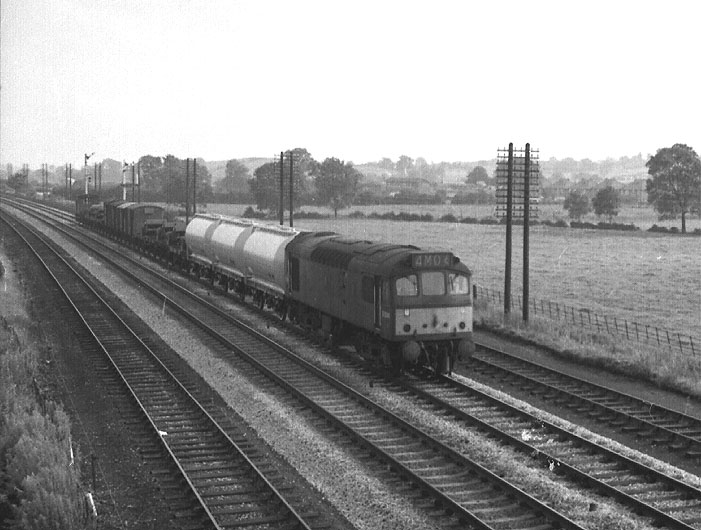 Photograph collection of webmaster.
My backyard - the four-track mainline as it passes by Duffield church and its very useful footbridge. D7645 heads north, date unknown. Rationalisation has not yet reached here, semaphores and four tracks will remain for a while longer. The Up slow at this point will one day become the location of a long test section of concrete slab track - with the Up fast suitably slewed onto the formation to test it out.
The twelve year three month career of D7645/25295 began with about a year allocated to Sheffield area depots followed by the the remainder of its time allocated to London Midland depots.
Built: Beyer Peacock, Manchester, No.8055.
Dual brake fitted.
Never carried 'Domino' headcode display.
Time between last Classified repair and withdrawal: ?? months.
Time between withdrawal & scrapping: 40 months.
Allocations
D7645 was new to Tinsley (41A) on March 15th 1966. Further transfers were:
December 1966 to Staveley (Barrow Hill) (41E).
March 1967 to London Division (Western Lines) (D01).
June 1970 to Birmingham Division (D02).
January 1971 to Manchester Division (D09).
March 1973 to London Division (D01).
May 1973 to Willesden.
January 1974 to Cricklewood.
Withdrawn June 10th 1978.
Renumbered February 9th 1974.
25295 was the 22nd Class 25 to be withdrawn.
After withdrawal 25295 had reached Derby Works by July 1978. It would be scrapped here by the end of October 1981.
Works Visits
Works visits (records incomplete).
Noted Crewe Works April 1969.
Noted Derby Works November 1969.
Noted Derby Works December 1971.
Noted Derby Works January 1973.
Noted Crewe Works February 1974.
Highlights
1966
Condition new: two-tone green with small yellow warning panels, straight sided sandboxes, three-rung bogie mounted footsteps, blanking plates fitted, hand/footholds present.
D7645 was one of thirty six (D7624 - D7659) Class 25's built at the Manchester Works of Beyer Peacock Ltd. It would be one of twenty five Class 25's delivered to Tinsley (D7624 - D7649), possibly to allow the Class 25's to be used on inter-regional freights for those drivers not having traction knowledge on Class 31/37's? D7645 would be outshopped during March.
On August 20th D7645 worked the 09.28 Sheffield - Llandudno Town and the return 14.28 Llandudno Town - Sheffield.
1971
To the Manchester Division (D09) during January.
At Derby Works during December, possibly during this repair it received dual braking equipment.
1973
At Derby Works during January.
Ascot Week saw a number of specials arriving in the hands of Class 47's, however two from Manchester Piccadilly received Class 25's between Willesden and Ascot, 7523 & 7530 on June 20th and 7645 & 7662 on June 21st.
1974
Transferred to Cricklewood during January. At Crewe Works during February. And back to the London Division (D01) during March.
On June 1st the 1Z78 Marylebone - Shrewsbury day excursion utilised 25295 & 25205.
1975
The 06.00am Nottingham - Lincoln parcels was worked by 25295 on January 29th.
On August 29th 25295 came to the rescue of two Midland mainline expresses. The 08.55 Derby - St. Pancras required assistance between Flitwick & St. Pancras after 45128 failed with a traction motor flashover. Later that afternoon 25295 & 25313 assisted the 15.05 St. Pancras - Sheffield between Bedford & Nottingham after 45114 failed and was removed.
25095 & 25295 worked a roundtrip Melton Mowbray - Yarmouth excursion on September 6th.
A Robeston - Kingsbury oil working on December 10th was noted behind 25295 & 31422.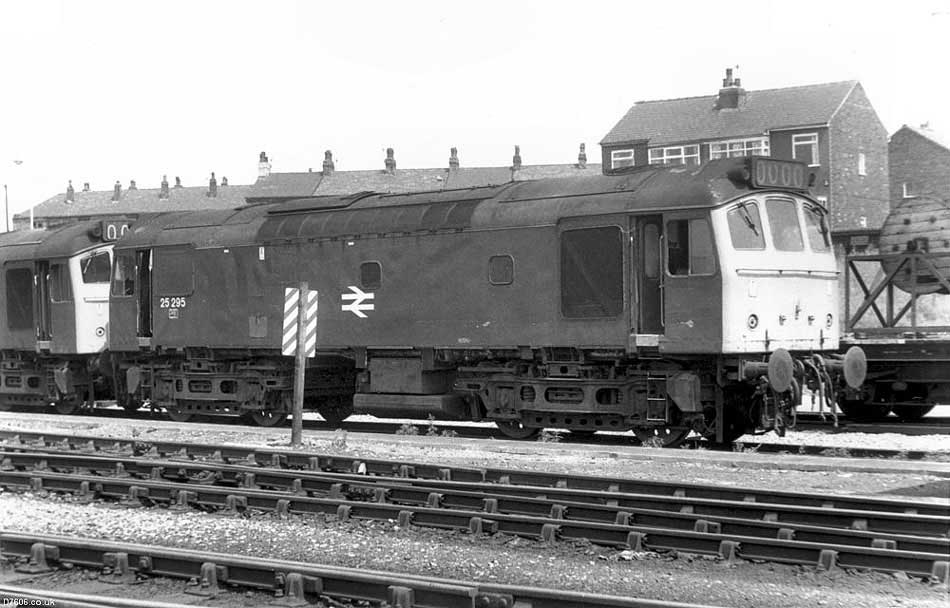 Photograph courtesy Ian Hammond.
An undated view of 25295 at Springs Branch, the paint job suggesting that its last Works visit was to Crewe.
1977
On a gloomy March 31st 25295 & 25294 were noted southbound through Leamington Spa with loaded bogie steel wagons.
During June 25295 was active on several passenger duties. On June 7th the Euston - Aberystwyth LNER Society's "The Mid-Walesman" was worked forward from Wolverhampton to Aberystwyth and return by 25295 & 25275. And on June 25th 25295 & 25291 worked the 10.00am Aberystwyth - Euston as far as Shrewsbury.
Permanent way work at Wigston on July 24th utilised 25206, 25295 & 45055.
1978
25295 was withdrawn with collision damage during June and was quickly moved to Derby Works.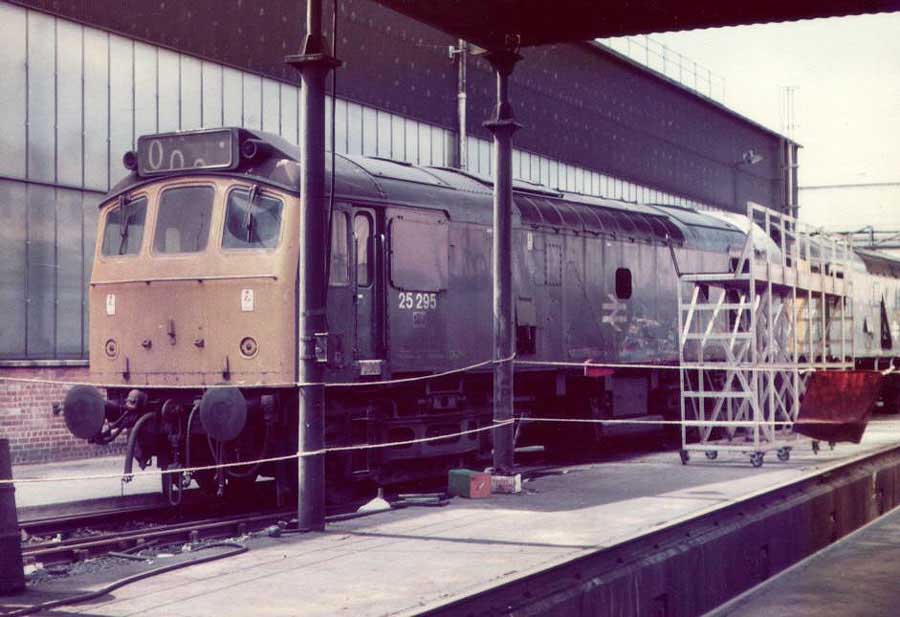 Photograph courtesy Graham Turner.
Its June 11th 1978 and 25295 has just arrived in Derby Works, the rear cab is still sheeted over. One of the first tasks will be to de-fuel the locomotive.
1979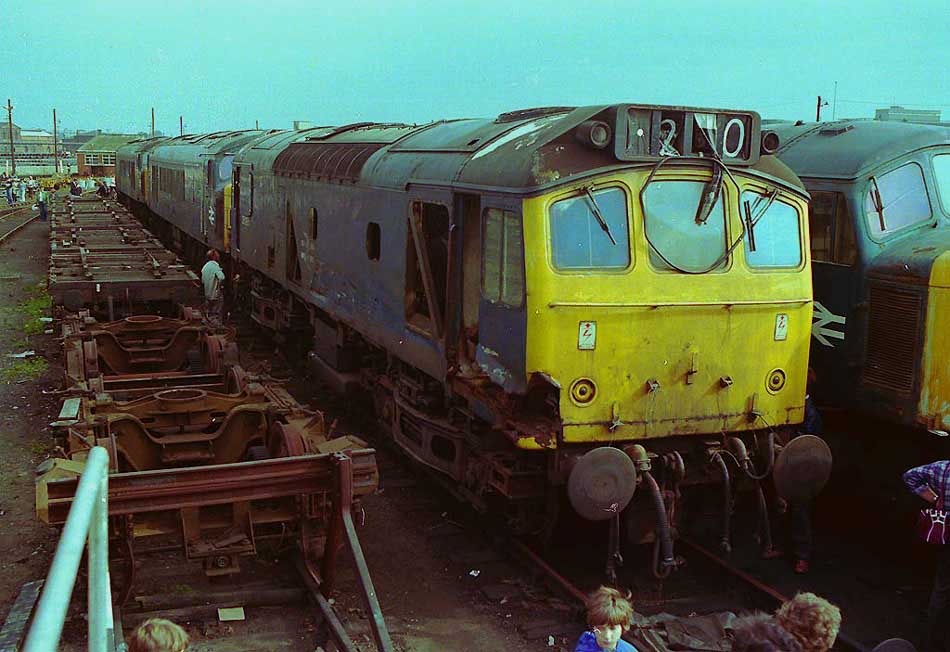 Photograph courtesy Martin Bray.
Derby Works Open Day September 1st 1979 and 25295 is visible to all, and definately looking a bit the worse for wear.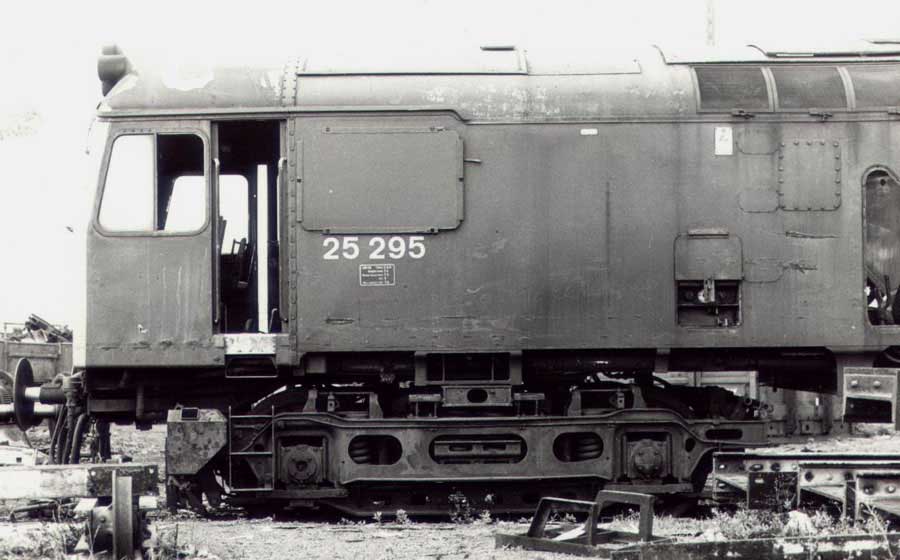 Photograph courtesy Graham Turner.
A close up of 25295 at Derby on October 7th 1979.
1981
At the beginning of August Swindon contained thirty nine Class 25s whilst Derby Works finally broke up the remains of 25295 which had been withdrawn back in June 1978, the honour of being the longest withdrawn Class 25 now passed to 25092, retired in May 1980 and also at Derby.
8/1057
flk 0915
Page added January 6th 2005.
Last updated October 23rd 2020.
Back to 25294
Forward to 25296