D7646, 7646, 25296, 25906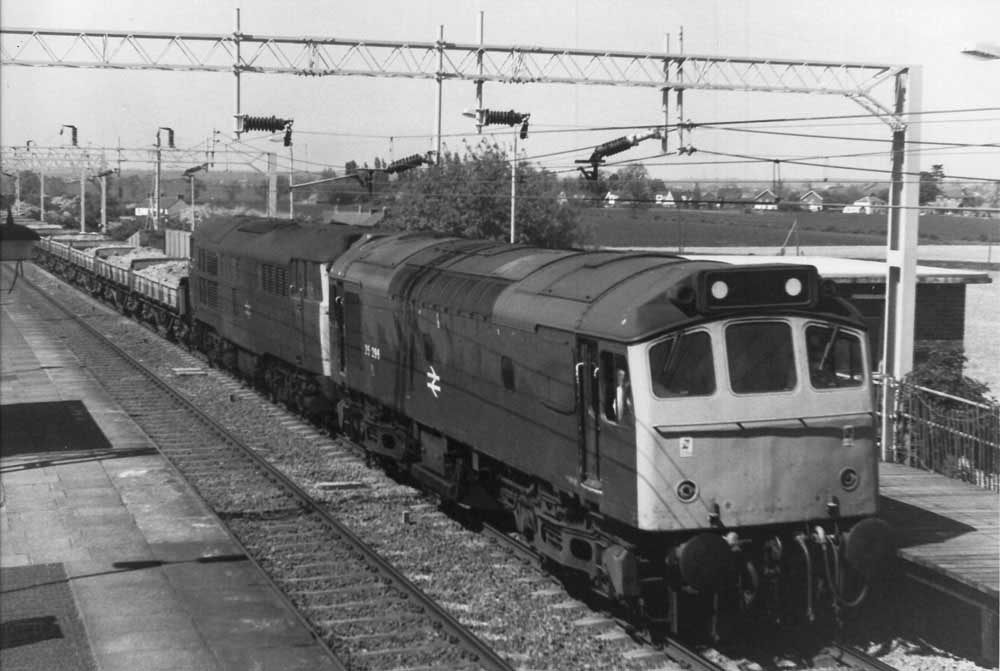 Photograph courtesy Mark Cook.
25296 & 31233 run through Cheddington with an engineers train on June 2nd 1985. The Class 25/31 combination is a sign of the bleak times ahead as the Class 31s slowly replace the Class 25s from many workings.
The working life of D7646/25296/25906 spanned nineteen years ten months, with a year spent at Sheffield area depots and the remainder allocated to a variety of London Midland depots.
Built: Beyer Peacock, Manchester, No.8056.
Dual brake equipped.
Center lampbracket & other fittings removed (No.2 cab only).
Angled strip at bottom of cab doors (at least one from No.1 cab later removed or fell off).
Time between last Classified repair and withdrawal: 83 months.
Time between withdrawal & scrapping: 12 months.
Allocations
D7646 was new to Tinsley (41A) on March 25th 1966. Further transfers were:
April 1966 to Barrow Hill (41E).
March 1967 to London Division (Western Lines) (D01).
October 1969 to Liverpool Division (D08).
June 1970 to Birmingham Division (D02).
January 1971 to Manchester Division (D09).
October 1972 to Preston Division (D10).
May 1973 to Kingmoor.
May 1973 to Springs Branch.
October 1982 to Crewe.
November 1985 to Kingmoor.
Withdrawn November 1st 1986.
Renumbered to 25296 February 16th 1974.
Renumbered to 25906 December 13th 1985.
After withdrawal 25906 was stored at Basford Hall Yard until moved with 25199, 25244 & 25249 on June 2nd 1987 to Leicester Humberstone Road Yard and into Vic Berry's Yard the next day. By the middle of December 1987 25906 had been broken up.
Works Visits
Works visits (records incomplete).
Noted Derby Works June 1969 (Intermediate).
Noted Derby Works February & April 1972 (entered Works in two-tone green with full yellow ends).
Noted Crewe Works April & May 1974.
Noted Derby Works August 1975.
Noted Derby Works January - April 1977.
Noted Glasgow Works October 1979 (General repair).
Highlights
1966
Noted at Derby station on March 24th between 4.30pm & 7pm were about fifty train and locomotive movements involving diesel Classes 08/25/37/45/46/47. Class 25s and steam locomotives included:
D7528 shunting empty coaching stock
48350 up freight - oil tanks
D7548 down light engine
D7561 down light engine
D5188 Nottingham?? - Derby passenger (2P92)
D5299 empty coaching stock for Derby - Bakewell service
D5190 empty coaching stock for Derby - Sheffield service
48143 down light engine
D7584 up freight (5G52)
45211 up light engine
D7511 & D7565 down freight (9T44)
48672 down light engine
D7505 up light engine
48103 down freight, later retiring to the shed
48646 up freight
92008 up light engine
48752 down freight
D7572 shunting empty coaching stock
76043 down light engine
D5206 up local
D5204 Sheffield - Derby passenger (2M76)
48214 down special freight
48177 down movement with brake van
45224 down light engine
D7502 up light engine
D5223 up local (2P53)
D68 & D7583 19.45 Derby - St Pancras
Amongst the locomotives on shed during this period included 12039, D2504, D7514, D7572, D7581, D7585, D7646 (taken into traffic the next day!), E6022 & 48064.
During its first summer D7646/25296 managed three round trips on the summer dated Sheffield - Llandudno Town service; on July 23rd, August 6th & August 27th.
1968
On the morning of February 25th D7646, D7657 & D7659 were noted at Nuneaton.
On the afternoon of June 9th D7645 & D7664 were on permanent way trains at Nuneaton whilst D7644, D7646, D7647 & D7660 were noted in the station area.
1970
On the evening of June 30th 7646 was at Preston with an up parcels.
On the early afternoon of October 4th 7566, 7612, 7643 & 7646 were stabled at Bescot.
1971
On the late morning of January 5th 7603, 7646, 7663, 7664 & 7665 were stabled at Nuneaton, 7645 was shunting and 5232 passed through on a down freight.
7646 was the Manchester Victoria banker on April 30th.
1972
On June 17th 7646 & 5153 worked the 08.58 Derby - St. Pancras throughout. For the remainder of the 1970's 25296's passenger workings have gone unrecorded.
At about 2pm on October 3rd noted at Crewe were 7646 towing E26000 (no name carried), possibly en-route from Bury to Crewe Works, where E26000 would be broken up during November.
1973
At about 7am on February 9th 7568 & 7646 were noted at Chester with a down tank train.
At about 5.30pm on August 2nd 7646 was noted at Manchester Exchange waiting to work the down vans (4P05).
1974
7646 was the Manchester Victoria banker on January 18th & 21st.
1975
25296 was noted at Manchester Victoria on the morning of January 17th. On January 18th 25296 was noted at Manchester Victoria with the 5E26. On January 28th 25296 worked the 4M03 05.07 Leeds City - Manchester Victoria vans. On January 30th 25296 was noted at Manchester Victoria with the 9T54.
On the afternoon of August 14th 25022 & 25296 were stabled at York.
On September 12th the 09.43 Liverpool - Glasgow arrived at Preston with failed 47480 being assisted by 25296 & 25319.
1976
On May 11th 25296 was noted arriving at Birkenhead North with two Class 502 coaches, the coaches would be processed here for shipment to Horwich Works.
1977
During the late evening hours of April 29th 25285 & 25296 worked the Tilcon Hull - Rylestone empties, passing Hunslet at 01.20am, Skipton 02.45 where the locomotives ran round and collected the token from Skipton box for the run to Rylestone, arriving 03.50am. By 06.50am the thirty wagons had been loaded (1,275 tons) for the run to Hull, passing Skipton at 08.10am and Holbeck at 09.25am.
1978
On the morning of November 18th 25054, 25117 & 25296 were stabled at Bedford.
1979
January was plagued by ASLEF strikes and poor weather, on January 4th the cold weather froze the stone in the Mountsorrell – Kennett working, led by 25277 & 25296, it was several days before unloading could take place.
On June 9th 25296 & 25307 were northbound through Toton with an oil train.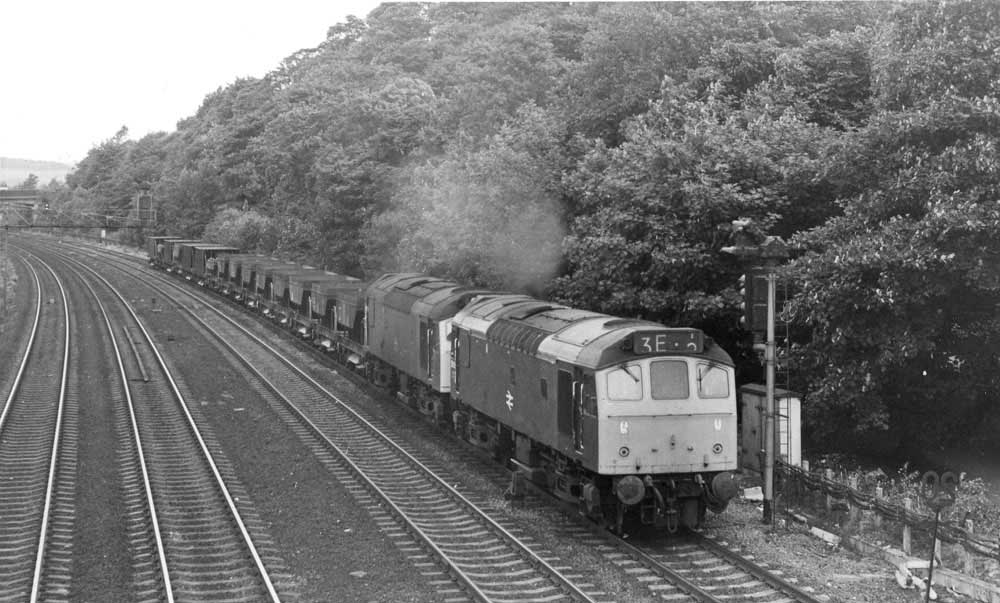 Photograph courtesy J Davenport.
25296 at Chesterfield on June 29th 1979. In a couple of months it'll be at Glasgow Works for its final general repair. The following year it would be part of the Rainhill exhibition.
25296 worked a Bridgwater - Ince & Elton freight on August 17th.
1980
On February 27th the 10.00 Euston - Holyead with 85035 was piloted by 25296 between Coventry & Nuneaton.
The Garston car train was noted at Hereford on March 5th behind 46039 & 25296.
On March 27th 25296 was noted at Kenilworth with two parcels coaches.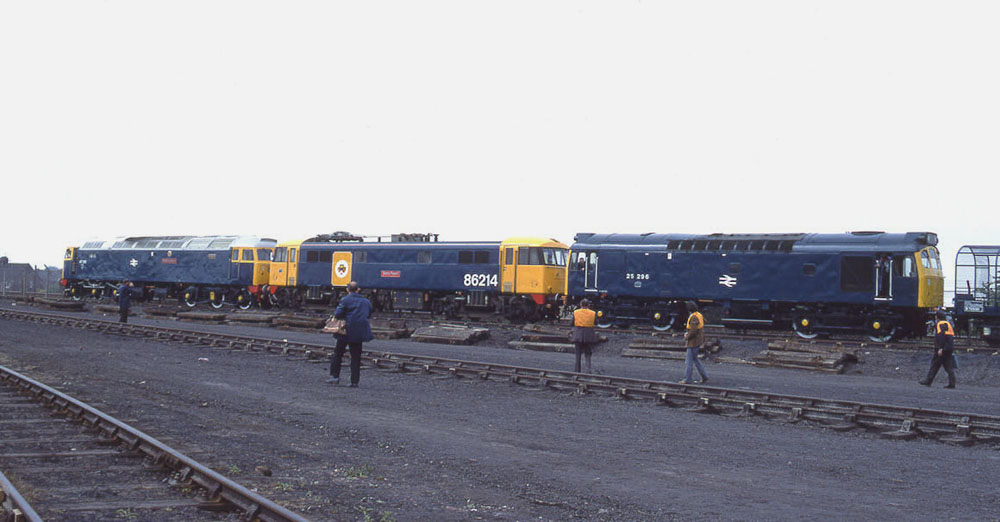 Photograph courtesy Tom Sutch.
Three locomotives at Bold for the celebrations were 47581, 86214 & 25296 on May 25th 1980. 25296 was used to haul a number of freight vehicles past the viewing stands (see details below).
For the Rainhill 150 celebrations 25296 was painted and spruced up to take part in the celebrations on May 24th/25th. Freight vehicles hauled by 25296 were:
British Railways FVA (diagram 1/131) 10 Ton car transporter wagon number B745081
British Railways FYW (diagram 1/131) 10 Ton car transporter wagon number B745087
Lloyds and Scottish Leasings Limited Gloucester Railway Carriage and Wagon Company Limited PWA (design code PW002A) 75 tonne bogie Palvan number LS7001
Storage and Transport Systems Limited wagon number STS6058
Eurolease UK Limited Fauvet-Girel TCA (design code TC007B) 86 tonne Anhydrous Ammonia tank wagon number EURL78608.
On June 17th a derailment at Lockerbie saw many WCML services diverted via the former GSW route. The 07.45 Euston - Glasgow arrived at Glasgow at 14.30 in charge of 47227, 25317 & 25296 were promptly attached for the return journey south.
On July 29th 25296 worked the 09.40 Manchester Victoria - Llandudno Town.
31286 & 25296 were noted at Oxford on October 7th with a train of used rails originating from Newland permanent way depot.
On the afternoon of December 15th 25296 was stabled at Rugby with 25271.
1981
For 1981 25296 managed several visits to the Cambrian line. On July 25th 25296 & 25308 worked the 04.10 Shrewsbury - Aberystwyth returning with the 10.07 Aberystwyth - Euston to Wolverhampton. The next day (26th) the same pair worked the 08.45 Birmingham New Street - Aberystwyth (via Bescot) and returned with the 18.00 Aberystwyth - Euston to Nuneaton.
Possibly the lengthiest passenger working took place on August 4th when 25296 & 25251 worked a roundtrip Maryport - Llandudno Town day excursion, a total of 468 miles. On August 29th 25296, with 25282 returned to the Cambrian line working the 10.10 Euston - Aberystwyth from Birmingham New Street, returning with the 18.00 Aberystwyth - Wolverhampton.
On a wet October 29th 25296 was involved in a heavy shunting accident at Blackburn. Several wagons were derailed, a 12 ton van No. B762075 was heavily damaged, breaking a buffer on the No.1 end of 25296 and coming to rest against the cab front causing superficial damage. The locomotive was not derailed and was fortunate to have come away virtually unscathed.
1982
On June 26th 25296 & 25320 worked the 07.40 Euston - Aberystwyth forward from Wolverhampton, returning with the 14.00 Aberystwyth - Crewe.
1983
On February 7th & 8th 25296 worked the 22.47 Crewe - Blackpool North forward from Preston.
On March 23rd whilst attaching extra vans 25296 failed at Hereford with the 15.02 Manchester - Bristol parcels, the station pilot 08668 removing the train from the mainline as no replacement was immediately available.
25296 was noted at Bescot on July 11th. It was back to the Cambrian line on July 23rd to work the 07.35 Euston - Aberystwyth forward from Wolverhampton with 25262 to Shrewsbury then with 25250 to Aberystwyth. 25296 & 25250 returned with the 14.00 Aberystwyth - Shrewsbury.
On August 13th 25209 & 25296 were noted eastbound at New Mills South Junction with a lengthy train of Presflo cement wagons. The last recorded pssenger working for 1983 for 25296 took place on August 19th with the 14.26 Southport - Manchester Victoria. On the same day 25296 assisted the 11.15 Bangor - Scarborough after 46018 derailed at Salford, 25296 was noted at Manchester Victoria with the stock.
On November 6th 25296 & 25307 were noted on engineering trains along Woodvale aerodrome (Merseyside).
On December 13th 25296 & 25268 were noted at Exeter with the tar tanks from Ellesmere Port.
1984
The passenger workings during 1984 started on February 27th when the 17.10 Bangor - York failed at Chester behind 45135, 25296 took over as far as Manchester Victoria.
On April 11th 25296 was southbound at Bescot with a loaded ballast train.
On July 14th 25296 & 25307 worked the 10.10 Euston - Aberystwyth from Wolverhampton (with fully air-conditioned stock for the first time to Aberyswyth?) and returned with the 17.05 Aberystwyth - Shrewsbury but got no further than Machynlleth where 25296 expired and was dragged to Shrewsbury. The next day (15th) 25296 went out on the 13.35 Crewe - Cardiff but failed at Hereford and was replaced by 47150.
1985
During the early hours of April 23rd 25296 arrived at Leeds PCD, it then ran light to Holbeck. On April 27th 47187, Hereford's standby locomotive, rescued ailing 25296 near Abergavenny on the northbound UKF fertiliser.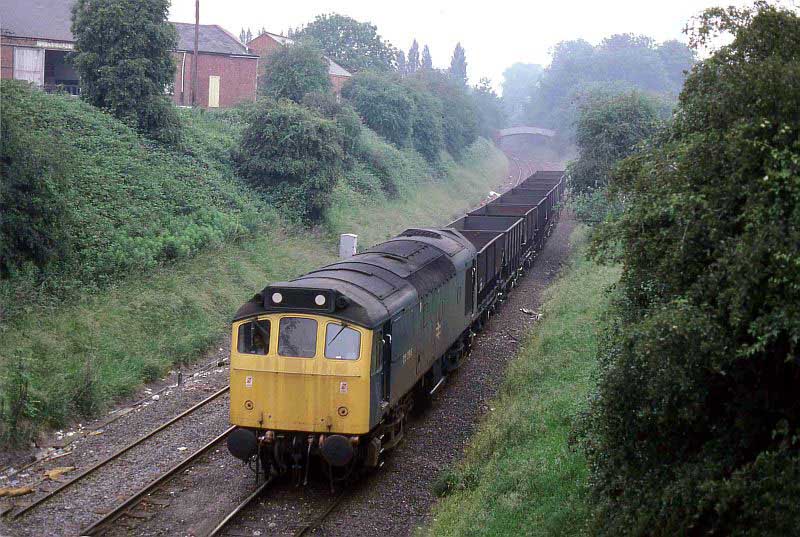 Photograph courtesy Ron Kosys.
Its July 5th 1985 and the 6T46 Three Spires - Coventry goods is in charge of 25296 as it passes Daimler. This view is taken looking north from the Sandy Lane bridge. The station was situated behind the photographer, on the south side of the bridge.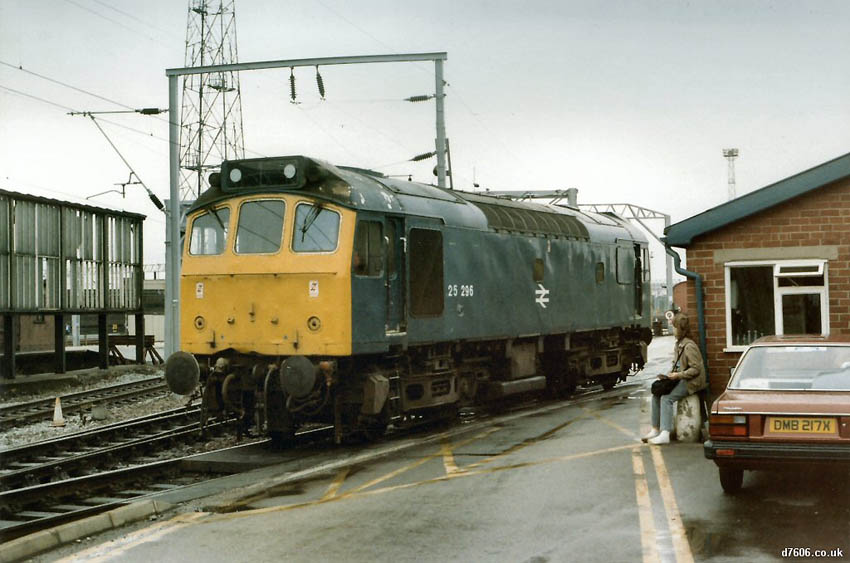 Photograph courtesy Ian Hammond.
25296 enters Crewe Depot on August 4th 1985, clearly the beginnings of another fine sunny summers day, somewhere. The minor damage to the cab front skirt may be from its shunting incident at Blackburn in 1981.
On August 16th 25286 & 25296 worked a Bescot - Banbury freight.
1985 produced quite a variety of workings, starting on August 19th 1985 with 25296 & 25286 working the relief 10.41 Exeter St. Davids - Edinburgh forward from Carstairs.
A month later on September 20th the 15.18 Llandudno Town - York failed at Chester behind 45103, 25296 worked the train to York. September 29th's 15.00 Manchester – Swansea produced 25296 with eleven coaches, all was not well with the service as the train arrived over an hour late at Hereford where the standby locomotive, 47325 took over.
Class 25s over the Central Wales line continued with October 5th's 'Welsh Borderer' charter from Wolverhampton to Tenby hauled throughout by 25037 & 25059. As there was no way to refuel the locomotives at Tenby, the return trip was via Cardiff where 25296 & 25282 were waiting to take over for the return to Wolverhampton. Two weeks later on October 19th 25296 & 40122 worked the 15.08 Carlisle - Kings Cross from Carlisle to Leeds.
On December 10th 25296 worked a Manchester - Bristol parcels. On December 17th 25906 worked an Ellesmere Port – Severn Tunnel Junction freight and on December 18th was noted at Chester on a short freight. Over the Christmas break the only Class 25s in South Wales were 25037, 25288 & 25906 stabled at Severn Tunnel Junction.
1986
25906 remained at Severn Tunnel Junction on New Years Day, the only Class 25/9 not to spend the New Year in the Lancashire / Cheshire area.
The final passenger working for 25296 was also in the north-west on February 7th 1986 working the 22.47 Crewe - Blackpool North forward from Preston.
On March 1st 25906 & 25907 worked a Northenden - Appley Bridge rubbish train.
25906 was noted at Warrington on a UKF working on April 30th.
25906 was withdrawn on November 1st 1986.
Not all known passenger workings are recorded on this page.
34/3391
flk 0915 (1)
Page added May 18th 2013.
Last updated September 21st 2022.
Back to 25295
Forward to 25297