Order #, Date & Quantity
Initial Cost per Loco
Delivery
Numbers
Retired
4311; ??; 19
??
7/50 - 12/50
12069 - 12087
1968 - 1972
5127; ??; 15
??
6/51 - 6/52
12088 - 12102
1969 - 1971
??; ??; 15
??
1952
13000-13014, 3000-3014, 08001-08006
1972 - 1983
6232; 1953; 10
??
??
13015-13024, 3015-3024, 08008-08017
1973 - 1983
6739; 1953; 9
??
??
13025-13033, 3025-3033, 08018-08025
1972 - 1986
6839; 1953; 26
??
??
13034-13059, 3034-3059, 08026-08046
1972 - 1985
8240; 1954; 15
??
??
13082-13096, 3082-3096, 08067-08076
1972 - 1983
8340; 1954; 20
??
??
13097-13116, 3097 3116, 08077-08091
1972 - 1986
8350; 1955; 10
??
??
13117-13126, 3117-3126
1966 - 1967
9244; 1955; 25
??
??
13167-13191, 3167-3191, 08102-08124
1972 - ?
9245; 1955; 25
??
??
13192-13216, 3192-3216, 08125-08148
1967 - ?
9248; 1956; 53
??
??
13245-13297, 3245-3297, 08177-08227
1972 - ?
252; 1957; 82
??
??
3337-3418, 08267-08348
1976 - ?
658; 1958; 70
??
??
3503-3572, 08388-08457
1976 - ?
1400; 1959; 40
??
??
3763-3802, 08596-08635
1977 - ?
2277; 1959; 74
??
??
3937-4010, 08769-08842
1978 - ?
Diesel electric 0-6-0 BR 12069 - 12102 (Order #'s 4311 & 5127)
This order was simply a follow on from the previous LMSR batch, the only change being that it was ordered under the auspices of post-Nationalisation British Railways. A following order for 12103 - 12138 was given to Darlington Workshops for construction.
The Derby built examples remained in service from December 1968 until June 1972. Nine went into industrial service, a number of those lasting long enough to reach preservation.

Diesel electric 0-6-0 BR 13000 series (Various Orders)
(Later number series D3000+, 3000+, 08001+)
The operational experience gained from the GWR/LMSR/LNER/SR shunters saw some changes made to the future orders. The most significant alteration to the existing design was the increase of the wheel diameter to 54 inches, which allowed the coupling rods and cranks rods to adequately clear the Southern Region's electrified third rail and yet remain within the universal 'L1' loading gauge. This change was based on the 26 0-6-0 locomotives built at Ashford in 1949 - 1952. These had been numbered 15211 - 15236 (Class 12). Other changes to future orders affected the chassis so as to accomodate equipment supplied from various sources with the minimum of alterations. Changes were also made to the cab.
Once the LMSR/BR orders for the Class 11 shunters were completed the ensuing orders reflected the changes referenced in the previous paragraph. These would eventually become known as the Class 08 totalling almost twelve hundred 0-6-0 shunters. Derby would build 508 of these locomotives, Darlington, Crewe, Horwich & Swindon also received orders.
The first of the standard Class 08s - 13000 to 13014 were completed at Derby during 1952, none went to the LMR, they were about equally divided between the WR, ScR & SR.
The first variation occurred with 13117 - 13126 (later 3117 - 3126). These ten machines were powered by a Crossley 6cyl ESNT engine with Crompton Parkinson providing the two traction motors. Whilst dual sourcing of equipment has advantages it soon became obvious that the non-English Electric equipped shunters were considered 'non-standard' and were the first to be withdrawn. These ten locomotives were retired between December 1966 and July 1967, all were broken up by May 1968. 3121 ended its days at Derby Works.
There followed two other variants, those powered with a Blackstone engine with GE (146 built) or BTH (15 built) electrical equipment, however these were not built at Derby. All the remaining Class 08's built at Derby were of the standard design. Although Derby's last shunter built was 4010, its order books originally contained a further order for D4011 - D4027, these were diverted to Horwich at the end of 1960. However the Works would remain heavily engaged in the building and repair of Classes 24/25/44/45/46 and the repair of much of the other LMR diesel fleet, and the commissioning of news diesels left the Workshops very busy!

1950
10001 was still at Derby Works during February 1950.
The prototype Fell locomotive, numbered 10100 was finally completed at Derby Works during the summer of 1950, with running trials commencing during December. This was a 2,000hp diesel mechanical locomotive, a unique locomotive to run on British Railways.

1951
During December 1951 10800 visited Derby Works and would be a frequent visitor here through April 1952.

1952
During July 1952 Fell locomotive 10100 returned to Derby Works for a lengthy stay after sustaining a major gearbox failure, remaining in Works at least until September 1953.

1955
As Derby and several other Workshops continued the building of the diesel shunters and BR Standard steam locomotives, a study into the building of diesel and electric locomotives and other forms of non-steam powered traction had commenced. This was revealed in the 1955 Modernisation Plan for British Railways.
The Modernisation Plan, 1955 onwards (a brief summary)
The Sulzer powered Bo-Bo's & 1Co-Co1's
With the established history of diesel locomotive building at Derby Works it was no surprise that two of the Modernisation Plan designs were to be built there. Frames for twenty of the BR/Sulzer Type 2's & ten BR/Sulzer Type 4's were laid down in 1958/1959. The 'meltdown' of the intended direction of the 1955 Modernisation Plan led to many new orders being placed. The BR/Sulzer Type 2 had become one of the favoured 'standard' designs with the result that a further 131 were ordered, with Crewe & Darlington sharing in the orders. For the BR/Sulzer Type 4's a further 127 were ordered, shared between Derby & Crewe.
The first of the Class 24s, D5000 was completed during the summer of 1958, coming off the production line amidst new Class 08's D3545 - D3555. Based on my humble list D5000 was the 465th diesel locomotive to be built at Derby. A year later, in September, the first of the BR/Sulzer Type 4's was delivered, D1 'Scafell Pike' amidst shunters D3777 - D3783 and Type 2's D5020 - D5023. D1 was (give or take) the 527th diesel locomotive built at Derby.
As the 1950s closed Derby was busy, very busy, the last of the Class 44's, D10 'Tryfan' was about to be delivered, the shunters had reached D3802 and the Class 24's had reached D5068. The Works was also handling the repairs for the growing LMR diesel fleet and was commissioning the new diesels that were to be allocated to the LMR.
During 1960 the Class 08 & Class 24 production lines continued with the first of the Scottish Class 24's, D5114, turned out in April, featuring a redesigned cab roof incorporating a four charachter route indicater, and a cleaned up cabfront with the circular indicator discs removed. During spring a new production line opened up, being a follow on from the Class 44's, now with the uprated 2,500hp engine. The last half of 1960 was probably one of the busiest times at Derby with these three diesel types in production and ongoing repairs to both the diesel & steam fleet. As the year closed out Derby's final shunter, D4010 emerged alongside the last few examples of the Class 24's and the first half dozen Class 45's.
1961 started with the last Class 24, D5150, delivered in February leaving Derby to concentrate on construction of the Class 45's from the block D11 - D49. If my calculations are correct D21 became the 700th diesel built at Derby, outshopped in March. When the order for the Class 45's was completed another fifty six had been ordered (D138 - D193), substantially the same except for the electrical equipment, this last build became the Class 46's. The first of these was outshopped in November 1961.
Production of the Class 46's continued throughout 1962, with the last example, D193 being outshopped in January 1963, just in time to experience one of the severest winters in fifteen years. Coming after this production run was a further batch of Type 2's, now equipped with the uprated 1,250hp engine, the first of which had gone into D5151 - D5175, being built at Darlington. For Derby's examples the bodystyle remained similar to the final Class 24's, though with some noticeable changes, gone were some of the styling features and the boiler/fuel tank arrangement was altered. Derby's batch ran from D5186 - D5222, the order for D5223 - D5232 was transferred to Darlington whilst Derby worked on a cleaned up redesigned bodyshell for the next order of Class 25's. As usual with such a large order there were bound to be 'odd men out' and for Derby it was D7568 - D7577, these ten machines followed on from D5222 retaining the same body style but with GEC series Two equipment, yet numerically out of order.
D5201 was the 800th diesel locomotive built at Derby, delivered during June 1963.
At the end of the summer of 1963 the first of the frames were laid for the redesigned Class 25 bodyshell, by December 1963 D5233 was ready to go into traffic. Unique to this batch (D5233 - D5238) was the fitting of boilers, beyond D5239 all the Class 25's coming out of Derby were without train heating equipment.
Production continued on through 1963 & 1964 with the 900th diesel rolled out in November 1964, the lucky winner being D7502.
More of the same occurred in 1965, Derby's 950th diesel locomotive appearing as D7552 in July 1965. Oddball D5299 was delivered way out of sequence during November 1965. This had been the intended testbed for the R series Sulzer 6 cylinder engine, but major problems with the 12LDA28C in the Class 47's diverted all available resources away from new projects. Thus D5299 was completed as a normal Class 25 a year after its numerical sisters.
In September 1966 D7623 came off the production line, the 992nd diesel constructed at Derby. It would have been the last except for the request by Beyer Peacock Ltd, Manchester, who were building D7624 - 7677, to be released from their contract for the final eighteen locomotives. Derby took back the construction for D7660 - D7677 with the final locomotive delivered to traffic in May 1967, the last of 1,010 diesel locomotives built at Derby Works.
Although D7677 was the final diesel locomotive built at Derby, the Works completed one more 'locomotive' order, for six electric non-driving motor coaches to power the six Advanced Passenger Train formations. These were built in 1978/79 and were numbered 49001 - 49006.
10800 visited Derby Works during May to permit power unit repairs.
During the summer of 1955 10100 started a lengthy spell in Derby Works, remaining here at least until August 1957.
The delivery of increasing numbers of railcars to the network led to the overhaul work being handled by the regional workshops. Derby Carriage and Wagon Works allocated space totalling 40,000 sq ft in the lifting shop for the overhaul of railcars on progressive lines. However the overhaul of the railcar engines, gearboxes, transmissions and final drives would be handled by Derby Locomotive Works, with an existing shop being adapted for this purpose.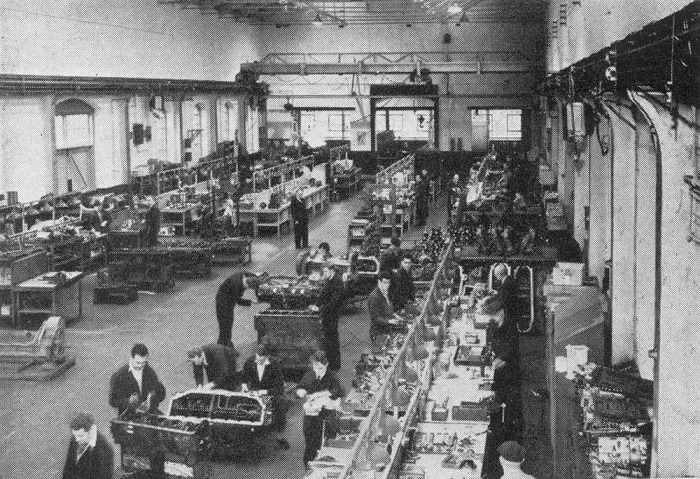 Photograph collection of webmaster.
A view of part of the shop set up within Derby Locomotive Works to handle the overhaul of the railcar engines and related components.

1956
The LMS Twins would spend quite a bit of time in Derby Works, having been absent whilst operating on the Southern Region, where Brighton Works took over their maintenance needs. When released in 1956 they would initially return to working over the Midland mainline.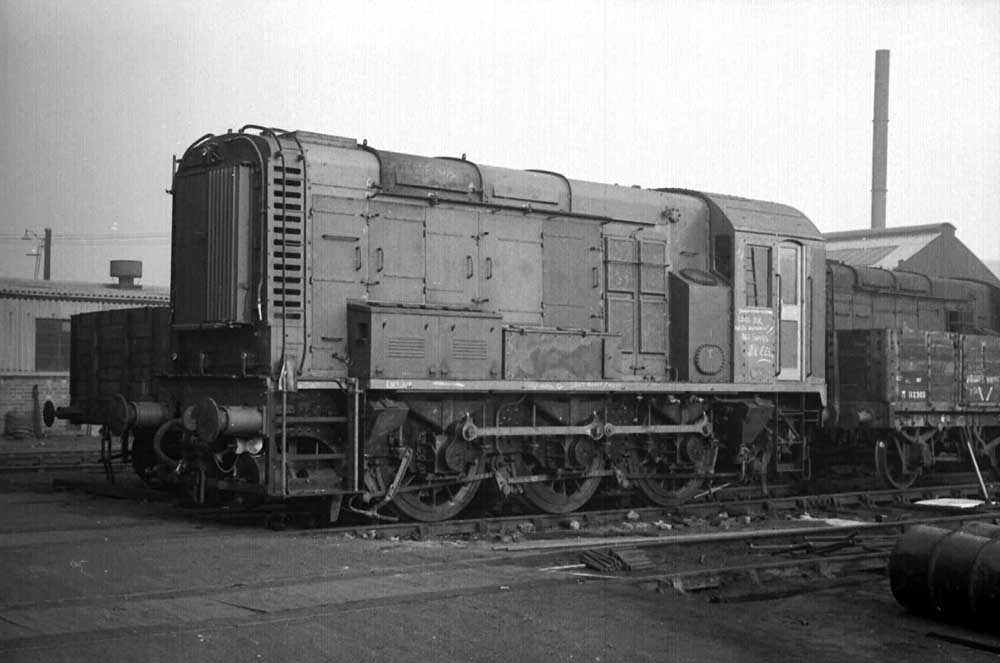 Photograph collection of webmaster.
Almost completed 13275 at Derby in 1956. It went new to Eastfield (65A) on Oct 22nd 1956, then to Thornton Junction (62A) Dec 1956; re-numbered to D3275 Oct 1958; Perth South (63A) Jan 1966; Ayr (76C) Aug 1968; Peterborough New England (34E) Sep 1968; March (31B) Oct 1968; re-numbered to 08205 April 1974; Norwich (NR) Sep 1980; unoffically named 'City' Oct 1982; withdrawn Nov 13th 1983; ZF (Doncaster Works) July 1984 and scrapped there August 1984.

1957
In June 1957 Derby turned out its last new steam locomotive, Standard Class 5 4-6-0 73154, the last of 2,941 to be built at Derby between 1851 & 1957. During August 1957 10000 made a visit to Derby Works.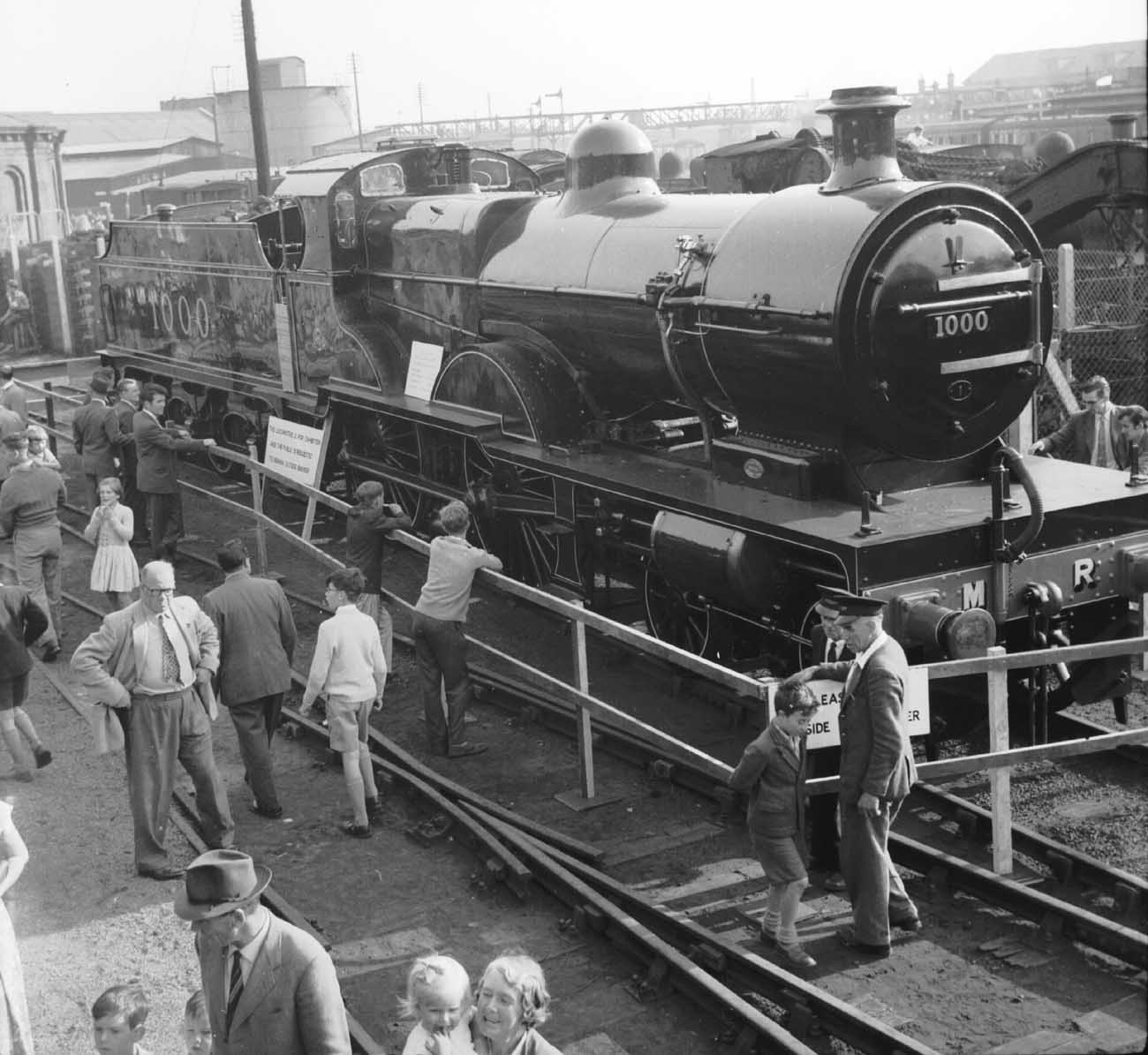 Photograph collection of webmaster.
Ex-Midland Railway Class 4P 4-4-0 No. 1000 (41000) at an undated Derby Locomotive Works Open Day. There are no diesels in view apart from a Cravens diesel multiple unit barely visible in the background above the locomotive boiler.

1958
January 1958 saw Derby working through 0-6-0 shunter order D252 with D3409 - D3418 in various states of construction. Also present in the new diesel bay were the very beginnings of order D658 that would become D3503 - D3572. Derby's order book as of 1958 included shunters D3503 - D3527 for the Western Region, D3528 - D3572 for the Scottish Region and D5020 - D5029 for the Eastern Region.
Early February found nine diesel locomotives under repair, including 10800 and almost brand new D8010 & D8011, the latter pair having been recently on loan to Bradford.
March saw work commence on the first locomotive for order D251, D5000. The middle of March saw the Works including ED2, 15001, 11147 (to become 2508), 10000, 10001, 10201 & 10800. Noted in sorry shape were 12000 & 12001.
By April the shunter order had reached D3519 and four Class 24s were under construction. 10201 was still present in the Works.
By the middle of May Class 24 construction had reached to D5006, with D5000 almost complete. The shunter order was moving swiftly, all the Western Region bound shunters were in some state of construction whilst work on D3528 - D3524 for the Scottish Region had started. A considerable quantity of steam locomotives continued to pass through the Works, for classified and unclassified repairs, some for stripping and scrap, whilst others came for stripping prior to movement elsewhere for final scrapping.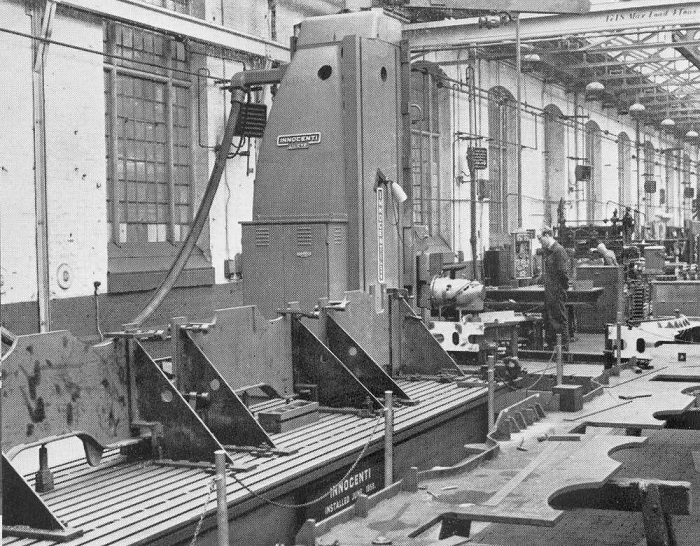 Photograph courtesy BR.
The Machine & Fitting Shop occupied an area of 108,000 square feet and housed machines for milling, drilling and grinding. In June 1958 the shop took delivery of its largest machine, an Innocenti milling and boring machine. The vertical column of this machine could travel on slides over 49 feet long, enabling the cutter head to work along a fixed rectangular table or at a rotary table. In this view a bogie side frame for a BR/Sulzer Type 4 is being worked upon, to the right, on the trestles is a similar side frame.
Shunter construction had reached D3536 during June whilst Class 24 construction had stopped at D5006.
During July D8000 visited Derby for attention prior to commencing dynamometer car testing from Toton. Also present at this time was D8015 in the diesel shop. Shunter construction had reached D3539, Class 24 construction was still stalled at D5006, little would be done during the Works summer holiday. Towards the end of July D5000 was released from the Works and paid a visit to Marylebone for inspection by the BTC.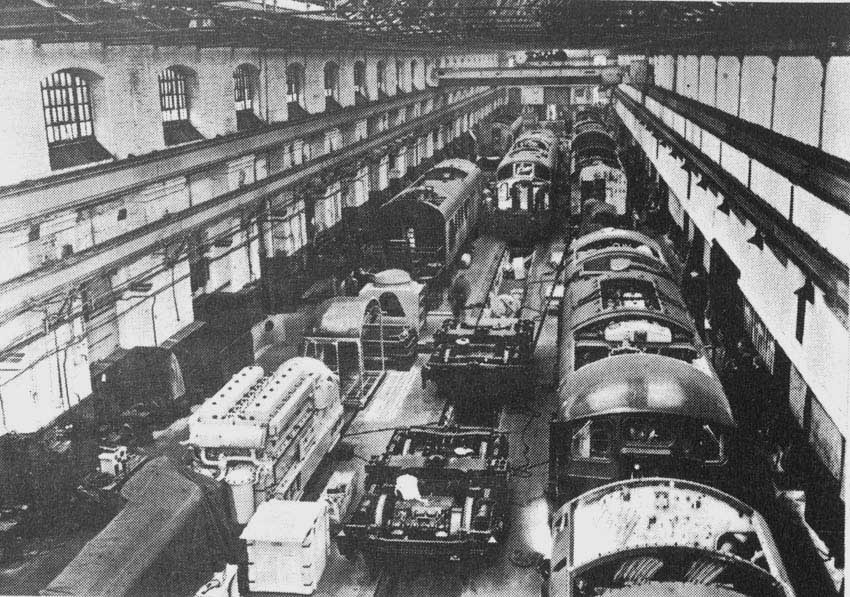 Photograph courtesy BR (LMR).
An interesting view of Classes 24 & 44 under construction at Derby during 1958. This location was the most westerly portion of the main erecting shop area and was dedicated to new diesel construction. Visible is a 12LDA28 power unit for a Class 44 and a 6LDA28 (still under wraps) for one of the 24s. It would appear that a Class 24 is just about to be fitted to its bogies.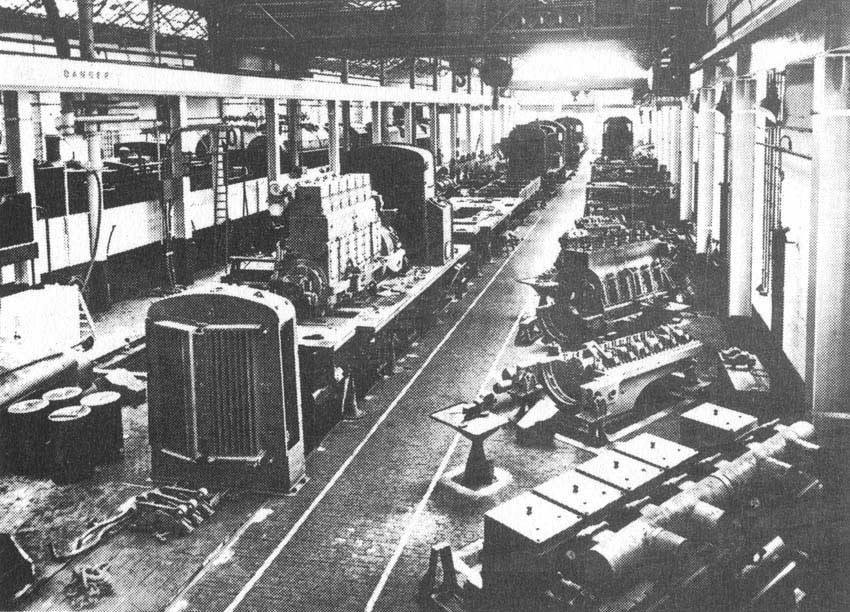 Photograph courtesy BR (LMR).
Derby's diesel production included a large number of shunters. In this view several can be seen at different levels of construction.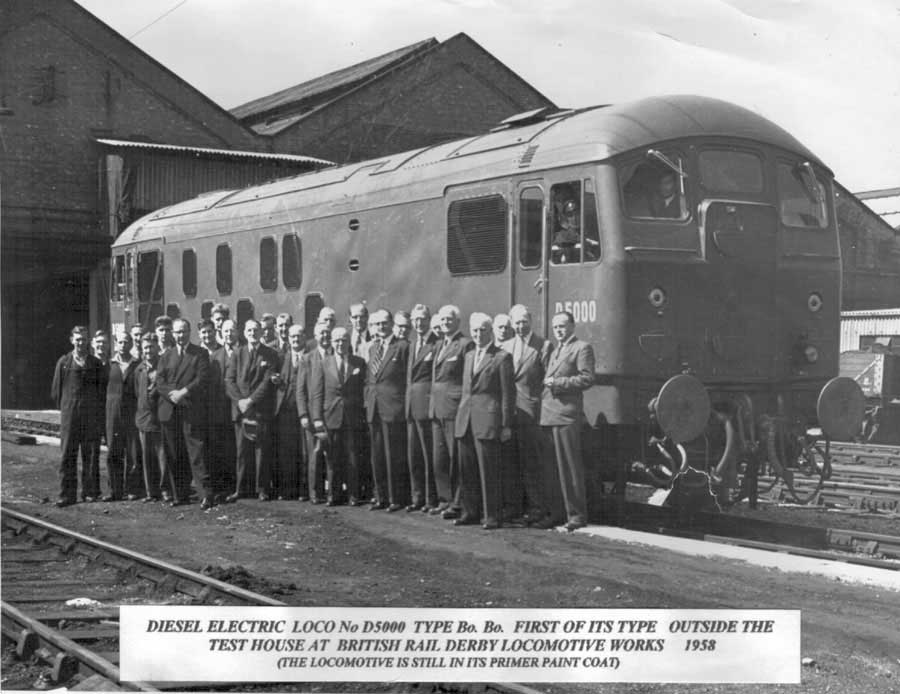 Photograph courtesy Ian Mellor.
D5000 stands in undercoat by the Test House at Derby Works during the Spring of 1958 - its first time out of the Workshops? A full complement of those involved with the design & construction of the Type 2 stands in front of and inside D5000.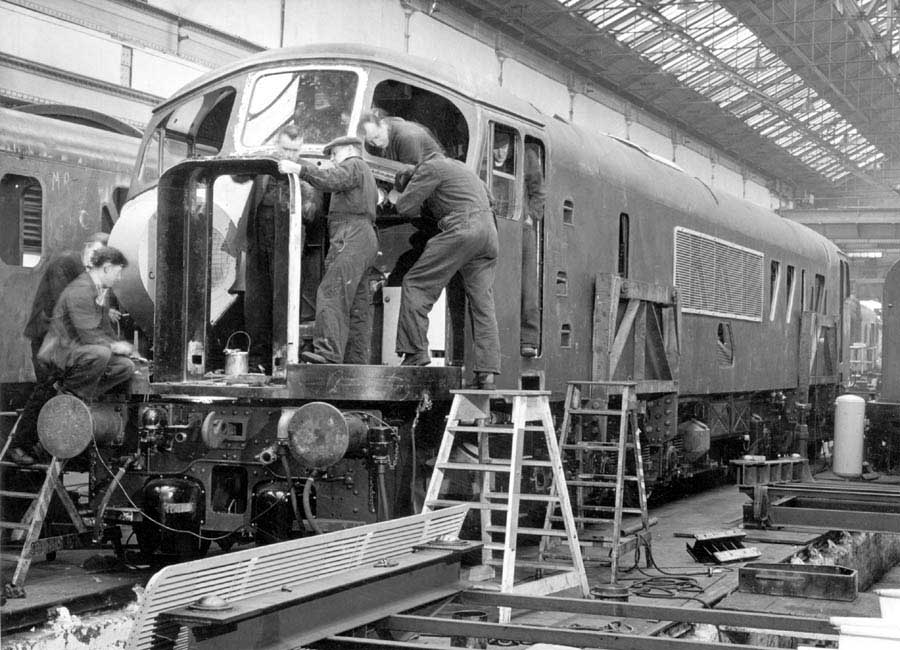 Photograph courtesy BR (LMR) / collection Nick Wheat.
An interesting publicity view taken whilst one of the Class 44s, possibly D1 was in the later stages of construction, surrounded by Class 24s being built. Notice the short lived multiple unit cable on the extreme right of the bogie front.
With the Works holiday over the construction picked up at Derby with shunters under construction reaching D3552 and work had commenced on D5007.
The Works Open Day on August 30th featured on display in front of the Works offices: D3542, D5001, D5700, 70017 & 92166. The 9F was equipped with a mechanical stoker was was on its way to the Rugby Testing Station. Visitors to the Works could find three production lines (see photos above) of new diesels involving Class 08 shunters, the D5000 series Type 2's and the very beginning of the larger Type 4's to be numbered D1-D10. Also present were many steam locomotives undergoing repair.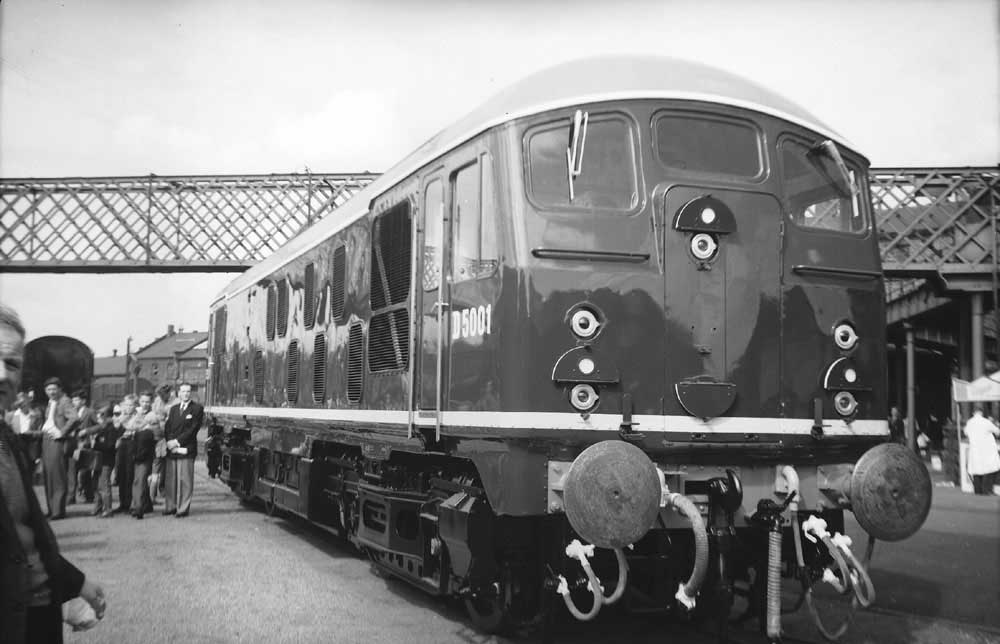 Photograph collection of webmaster.

The August 1958 Open Day at Derby Works found several new diesels on display in their shiny new paint, including D5001 & D5700. The Metro-Vicks would be received at Derby from Bowesfield for their acceptance testing. D5001 would not officially enter service until late in October 1958.


Shunter construction had reached D3558 during September, Class 24's were up to D5009 and the frames of D1 & D2 were noted. Steam repairs continued at a high volume to LMSR and BR Standard types, some received repaints on outshopping others did not.

By October construction had commenced on D3562, D5010 & D3, priority appears to have been given to the shunters and then the Class 24's. A recent visitor to the Works was 15000 which was outshopped in green livery.

Fell locomotive 10100 returned to Derby Works for the last time during November 1958. A train heating boiler had caught fire at Manchester Central on October 16th 1958 causing serious damage to other parts of the locomotive, sadly ironic that the locomotive would be retired by a component in no way related to its very unusual engine/gearbox set up. And also ironic that the heating boiler would become the achilles heel for many of BR's modernisation fleet locomotives. The Fell locomotive was withdrawn after reaching Derby, with no future it would be slowly stripped of parts.

Elsewhere in the Works shunter construction had reached the last of the present order, D3572 whilst no new construction had occurred on the Class 24/44's.

Little change was noted in December on locomotive construction with the shunters moving along the fastest.

Details from a Derby Locomotive Works publication prepared for the visit of the Chairman & Members of the London Midland Area Board on Thursday November 5th 1959 2.45pm to 4.15pm. Cars from the Mifdland Hotel were to go direct to the Boiler Shop Entrance (Bottom Yard).

Introduction.
The main activity of the Locomotive Works, Derby, is to build a proportion of the new locomotives required by the British Transport Commission, and to maintain in good repair a large number of the locomotives in service, both steam & diesel. Comprehensive facilities are also provided for the repair and testing of all types of diesel engines used as the propulsion units for two-car and multiple railcar units. In addition a considerable amount of work of great variety is performed on behalf of the Outdoor Machinery and other Departments, since the latter do not possess facilities for the execution of heavy work of which the Works is capable.

General Information.
Total area of Works: 47 acres
Area occupied by Shops: 13 acres
Total number of Wages Staff employed: 3,526
Average weekly wages bill: GBP38,600
Number of Salaried Staff in Shops & Offices: 303

Output of Repaired Locomotives during 1958:
General repairs:
Steam: 277
Diesel: 7
Heavy Intermediate Repairs:
Steam: 107
Diesel: 11
Light Intermediate Repairs:
Steam: 154
Diesel: 0
Heavy Other Repairs:
Steam: 4
Diesel: 6
Heavy Other Repairs:
Steam: 85
Diesel: 20
Totals:
Steam: 627
Diesel: 44

Output of New Locomotives 1958
Diesel Electric Shunters: 81
1,100hp Bo-Bo Type 2 D.E.: 7

Number of Diesel Railcar engine units reconditioned during 1958: 220

Scheduled output of New Locomotives 1959
Diesel Electric Shunters: 40
2.300hp 1-Co-Co-1 Type 4 D.E.: 10
1,100hp Bo-Bo Type 2 D.E.: 35
Planning and initial manufacture of items for Main Line Diesel Locomotives for 1960

Works Organisation & Administration
The Works is controlled by a Works Manager, an Assistant Works Manager and a number of Assistants eg. Production Engineer, Assistant for Locomotive Repairs, Plant Engineer.

The Production Office comprises the following sections:
Estimating, Ordering, Progress, Ratefixing and Jig and Tool, each Section being controlled by an Assistant responsible to the Production Engineer.

The Organisation controls the manufacture of all types of work., whether it be for new locomotives, stock replenishment or work of a miscellaneous nature. Operation layouts are compiled by the Estimating Section for all details and these indicate the machines to be used, feeds, speeds etc. Estimates for new work and modifications to locomotives are also prepared and the actual expenditure is controlled by the Section. Special tools and fixtures are designed by the Jig and Tool Section, whilst the progress of material delivery and manufacture is pursued by the Progress Section, who also prepare the prospective dates on which material should be to hand so that all machine and fitting groups can be loaded with their proportion of work. Extensive use of 'Kardex' slotted charts enables the Progress Staff to tell immediately when and where delay is imminent so that pressure can be exerted where necessary.

Time Studies are directed from the Ratefixing Section by Staff designated as Ratefixers, who observe and register piecework prices. Concise records are kept by this Section of all operating times and prices. Production within the Works is assisted by well established Incentive Schemes, and their value has been proved over a number of years.

The Locomotive Repair Organisation controls the shopping of locomotives for repairs, the provision of an economic stock of boilers, the repair methods and the authorisation by Initial Examiners of all repair work to be carried out on locomotives, tenders and boilers. Responsibilities embrace the progressing of material for locomotives on the Works and also for those awaiting components at Motive Power Depots. Forecasts are made for the future requirements of major components such as cylinders, tyres, crank axles, wheels etc which ensures their availability when the locomotives are received on the Works for repair. The progressing of special fitments and modifications to locomotives is also undertaken.

The Plant Engineer is responsible for the purchase, installation and modification of all Works Plant and Machinery. Life expired and obsolete machines are earmarked for replacement and competitive quotations are obtained for equipment of modern design before orders are finally placed. Layouts of the new schemes and the design of specialised machinery are carried out in this Office which also controls and follows up their installation. Close co-operation between this section and the Millwright's Shop ensures that a strict schedule is maintained for the repair and overhaul of machinery and plant on the Works.

The Works Inspection Department ensures that components are machined within drawing tolerances which guarantees interchangeability and easy assembly. The Department is responsible to the Works Manager through the Chief Finished Work Inspector.

Works Surgery
All the first aid appliances with which the Works Surgery is equipped are of modern design, and a qualified Doctor together with Nursing Sisters are in attendance. In addition to the attention given to personnel involved in accidents, minor ailments are also treated. It is not intended that the Works Surgery should surplant the General Practitioner but that it should assist Staff with minor illnesses to remain at work. A supplementary service to the Surgery is the First Aid practised by Works personnel trained at the Railway Ambulance Classes who use the kits which are widely distributed throughout the Workshops. Adjoining the Surgery is a garage which houses the Works Ambulance.

Canteen Facilities
The Works Canteen is a building modernised at a cost of GBP20,000, which was officially opened in March 1943. It covers an area of 15,400 square feet and is one of the finest Works Canteens in the Midlands. 960 persons can be accommodated in the Main Hall, the meals being supplied fram an up-to-date kitchen. At one end of the Main Hall is a stage complete with property and dressing roms. The Canteen is directed by a Committee under the Chairmanship of the Works Manager, and a Manageress is responsible for the day to day business of the Canteen. A Mobile Canteen is in operation which supplies tea, biscuits, cakes and other refreshments to the individual Workshops at a fixed time during the morning.

1959
The 1959 building programme called for Derby to handle D5066 - D5075 for the Eastern Region & D3763 - D3802 for the London Midland Region.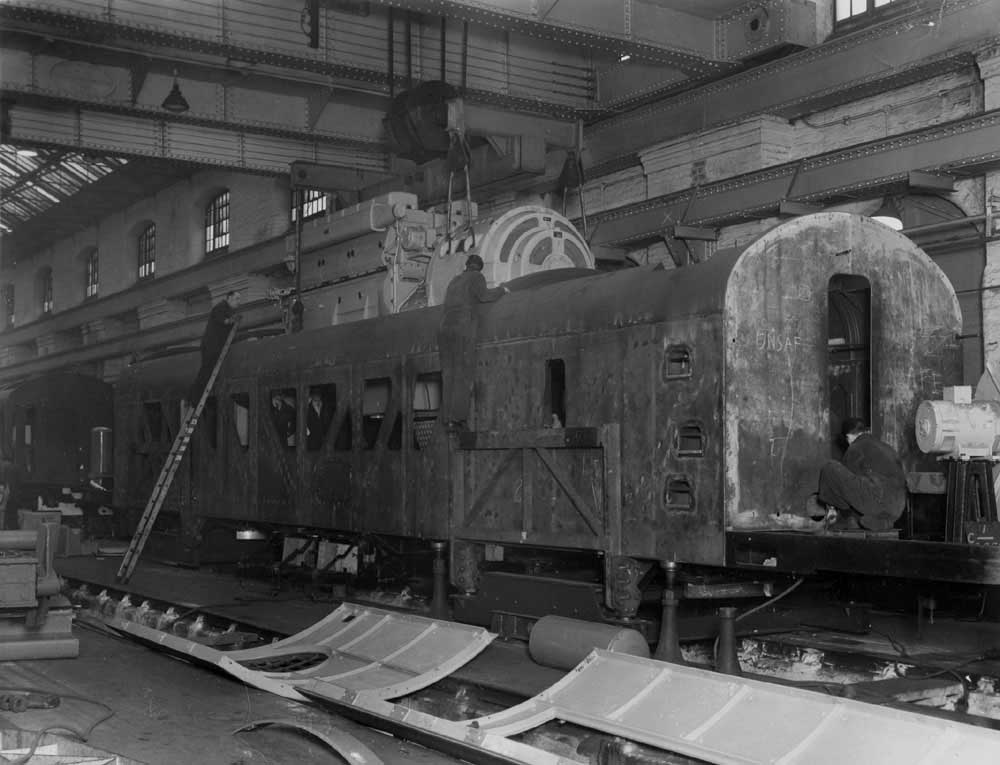 Photograph courtesy BR, Derby Negative 59/40.

The 12LDA28 power unit is lowered into the partially constructed body of D1 'Scafell Pike'. A BR/Sulzer Type 2 also under construction is just visible behind the D1.


The New Year brought new construction to the Works with work taking place on D5011 - D5013 and D4, whilst a new order of shunters (order D1400) started with D3763 & D3764. Under repair in the Works included 10000, 10800, 12000, 15004, D8014, ED2 & ED7. Also accumulating in the Works were a growing number of stored steam locomotives, others could also be found around the station area and at St Mary's goods yard.

Even though D1 was still months away from completion an order was confirmed for 137 further locomotives of the Type similar to D1-D10, currently under construction at Derby. This new order would be split between Derby & Crewe.

During February the shunter construction had advanced to D3765 and the Class 24's had reached to D5016. It was at that this time the D1 - D10 locomotives would receive names of mountains within England & Wales. Visitors to the Works included 10001, 10203, 10800, 12000, D8001 & D2910. The withdrawn Fell locomotive had now migrated from the depot to the Works.

By March the shunter construction had reached D3767 and D5017 had been started. Diesels under repair included 10202, 10800, 11127 & 12001.

Another order for the BR/Sulzer Type 2 was placed, a further 37 went into the order books, nineteen for the Scottish Region, fourteen for the London Midland Region and four for the North Eastern Region. They would be numbered D5114 - D5150 and were scheduled to be built at Derby.

April construction had reached D3771, D5019 and D5 and the names for D1 - D10 had now been published, this Class of ten would quickly become known as the Peak class. In the Works were ED4, ED5, 10202 & D5714. Moved to the Klondyke sidings were 10100 & 10800.

During May the shunter construction had reached D3773, frames were laid for D5 & D6, D5019 was still the highest numbered Class 24 on the Works. The first of the Peak's, D1 was now complete. Locomotives under repair included ED4, ED5, D5702 & 10202.

By early July shunter construction had reached D3783 and Derby's second order of Class 24's had reached D5023. Some of the stored steam locomotives on the Works premises had been there for over a year whilst most sidings around the Derby area were host to many other withdrawn steam locomotives. And gradually these locomotives were towed away to private breakers.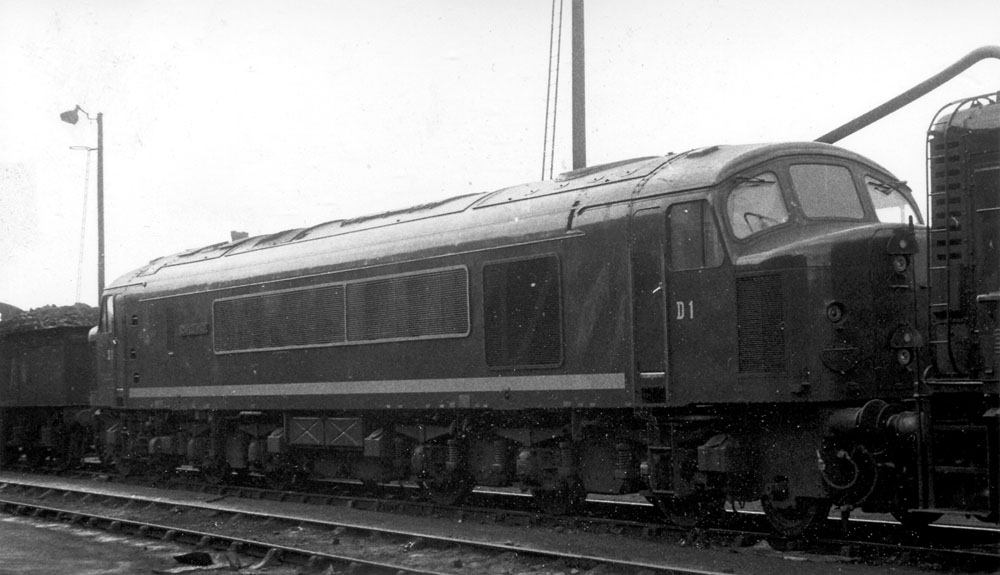 D1 'Scafell Pike' was painted during April 1959 and officially entered traffic in September 1959. Seen here somewhere at Derby on August 30th 1959 D1 looks striking in its lined green livery, soon to be running over WCML metals for a short while. The previous day (29th) D1 was noted stabled on the London Road curve, Derby.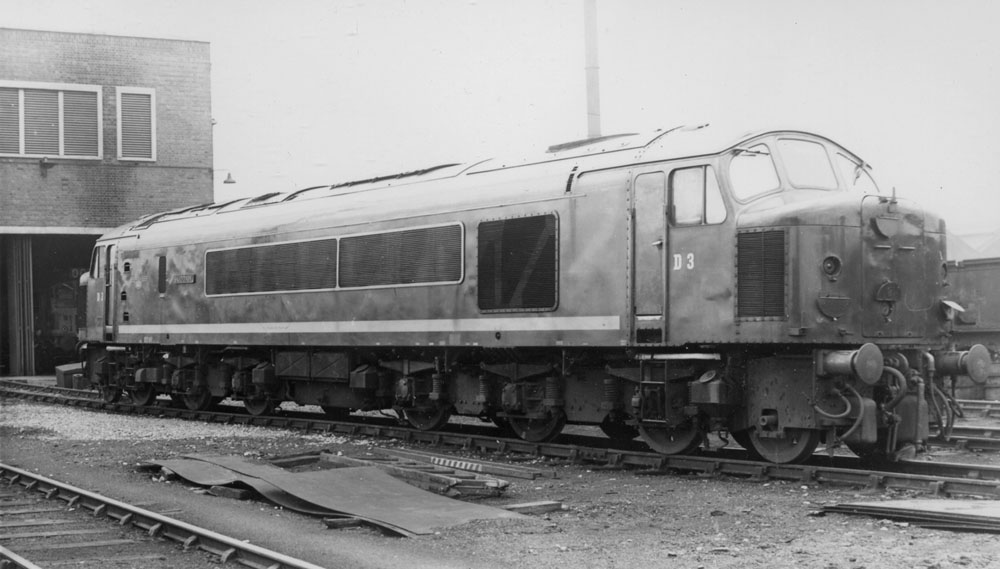 Photograph collection of webmaster.
After the first twenty Class 24s were built Derby allocated resources for the building of Derby's first Type 4s, D1 - D10. Seen here by the Test House D3 Skiddaw reveals its as-built condition. After a brief period on long distance expresses out of Euston & St Pancras the first ten Peaks were sent to Toton to spend the rest of their lives on coal and other freight traffic.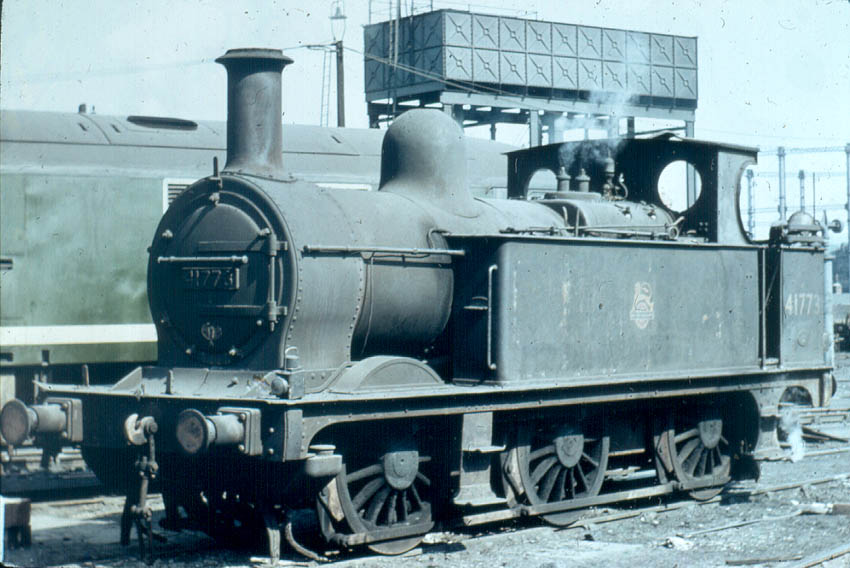 Photograph collection of webmaster.

The shiny paint on the brand new MetroVick diesel contrasts with the faded paint on Works pilot 41773 photographed between shunting duties sometime during 1959.


There was little change in the Works production as August began, possibly due to the Works holiday break in July. The shunters had reached D3786, the Class 24's to D5025 and D6 was still the latest Class 44. 10800 which had been dumped at Derby Works for a while was withdrawn at the beginning of August.

The Works Open Day on August 29th featured the following locomotives on display in front of the office block: 70004 William Shakespeare, 92165, D2 Helvellyn, D5021 & D3782. Diesel production still consisted of three types, the Class 08 shunters, the Class 44's and the Class 24's. Derby had just completed its initial Modernisation Plan order of twenty Type 2's, being built now were the next ten D5020-D5029. The Works were still heavily involved with steam repair, but as a sign of the times long lines of withdrawn steam locomotives could now be found not only on the Works premises but also alongside Derby Midland station, in St Andrews Goods yard, at Chaddesden and Spondon Jct. In all almost one hundred steam locomotives could be found at these locations, and the vast majority would be towed away to other locations for scrapping.

September saw shunter construction up to D3792, Class 24's as far as D5027 and work on D7 was well underway.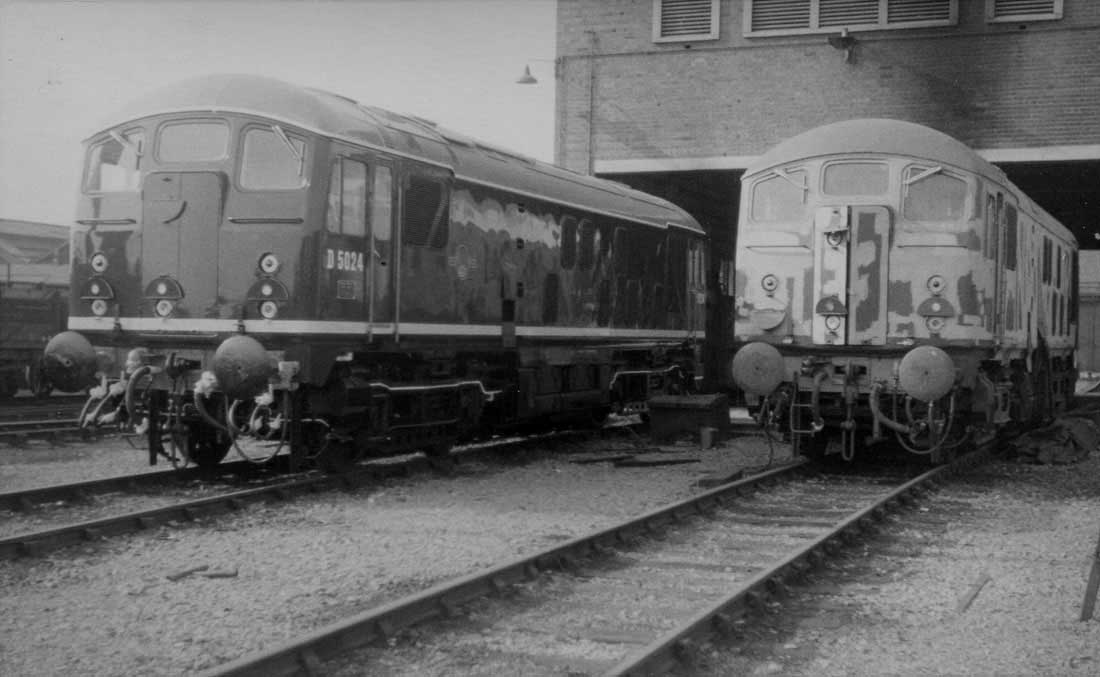 Photograph collection of webmaster.
Sunday October 4th 1959 finds D5024 & D5025 at the Test House. D5024 is ex-works and looks like it is ready to enter service whilst on the right D5025 is in pink primer and has a number of cables running into the engine room.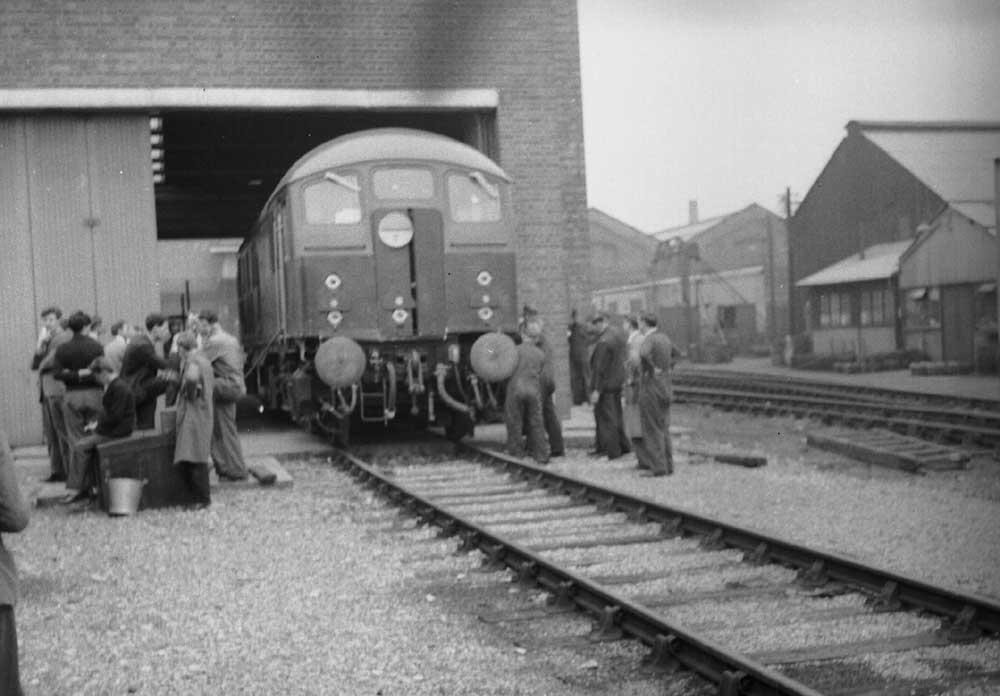 Photograph collection of webmaster / F Orme.
An unidentified Class 24 receives attention from Works personnel as a group of enthusiasts wait alongside the Test House for their tour to move on, date unknown.
By October Derby's second order for Class 24's was complete with construction underway on D5029, the shunters had reached D3796 and work on D8 was progressing well. Visitors to the Works included D5719 & D8210 on test.
During November Derby was well into its third order of Class 24's with D5066 - D5068 under construction, elsewhere work had already started on the last of the Class 44's, D10. Additionally Derby's shunter order ending with D3802 was complete with the laying of the frames for the last of the batch followed by several for the next order numbered D2277 starting with D3937. Repairs included ED6, whilst D8211 had arrived for acceptance testing.
December saw the Works moving along with its third Class 24 order, construction had reached D5070, whilst D10 was almost complete, but there was little change with the shunter order. The variety of diesels under repair continued to grow, those present included ED6, 12093, D5705, D8002 & D8209 to mention afew. The great variety of locomotives under repair continued with the likes of 10000, D2220 & D2901 during February.

Principal Sources Used in no particular order:
Diesel & Electric Disposal; A Butlin, Coorlea Publishing 1987
Diesel Locomotives of the LMS; JWP Rowledge, The Oakwood Press 1975
LMS Diesel Locomotives & Railcars; EV Richards, RCTS 1996
BR Locomotives & Other Motive Power (Combined Volume); Ian Allan - various years
Page added October 22nd 2007
Last updated June 29th 2016
Derby Works 1932 - 1950
Derby Works 1960 - 1969
Derby Works 1970 - 1980
Derby Works 1980 - 2007