Derby Through the Diesel Years

1981 - 1983

The material on this page represents a walk through the years at Derby during its diesel days, though obviously with a bias to the post-Modernisation years! This is most definately a work-in-progress so please bear with me as new material is added, old material is rescanned and the captions updated.

1981
During January four locomotives left the Works after receiving Classifieds, Generals had been given to 25278 & 45126, with Lights to 45055 & 46011. Three Class 45's were received in for Classifieds. It is presumed that the departure of 25278 & 46011 was without fanfare.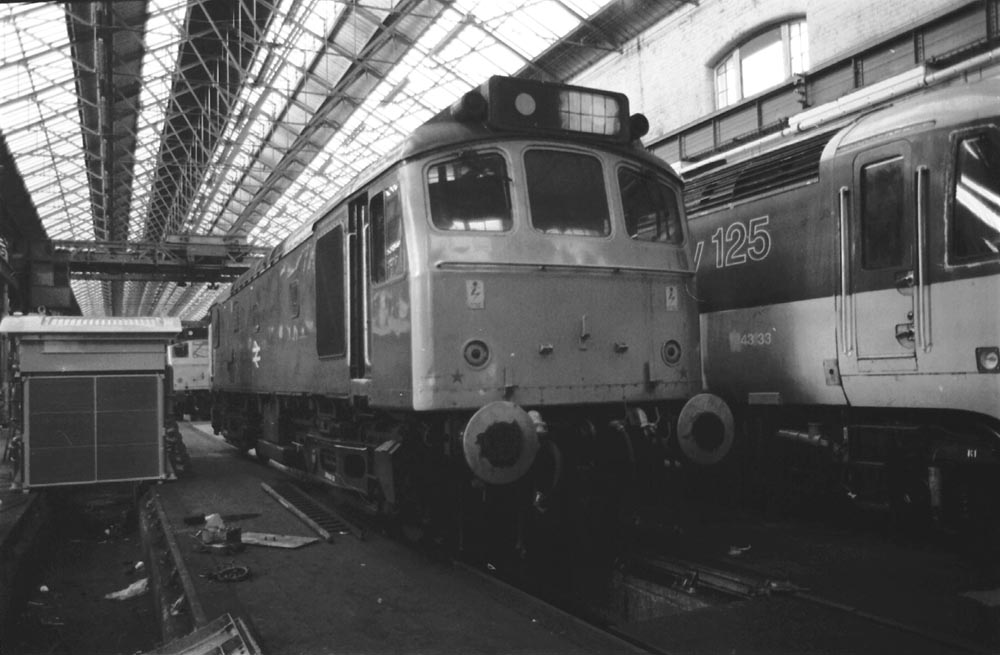 Photograph courtesy Barrie Watkins.
25200 in No.8 Shop at Derby Works on January 24th 1981 undergoing N4 repairs. To the right is HST power car 43133.
Volumes continued to remain low in February, 45116/119/122 were released after Heavy Generals whilst 45064 & 45111 were received. The Eastern Region shopping program for 1981 included no Class 45/46's, the latter not surprising since half the Class were in store at Swindon and Gateshead could pick and choose the best machines to keep running, and of course assisted by Stratford Works. Withdrawn locomotives present were 25092, 25295 & 45030 with 40042 & 45047 being broken up. Six HST power cars were under repair and APT power cars 49001/03/05 were in the shunter shop.
In March only 45127 was released after a Heavy General overhaul, whilst 45120/132/136 were received. Derby's workload for 1981 was thirteen Heavy General Repairs for Class 45/1's. Unfortunately at the end of 1980 Derby had not met their quota of twenty four, thus by March 1981 they were in arrears by six Class 45/1's. In the middle of March the Works held just eighteen locomotives, all were Class 45's. The recent huge inroads made into the Class 25 fleet had seen some of these withdrawn locomotives reach Derby. Present at this time were 25043/092, 25295, 44007, 45030 & 46053.
Early in April several Class 25's were noted in the Works for casual repairs, this would be an occurrence at Derby until the very end of the Class 25's, in some cases locomotives received for minor repairs would be found to have more serious work required, which would be outside of the cost estimates, this would then lead to withdrawal! But these machines would provide valuable spares to keep more fortunate members running a little while longer. Received for N4 repairs in April were 25054 & 25058. Eight Class 45's were in the Works, all were Class 45/1's apart from 45038 receiving a General. The number of withdrawn locomotives in the Works almost equalled the number under repair, not a good sign. Withdrawn locomotives were 25043/92/94, 25217/295, 44007, 45030, 46053 with bits of 40042 still recogniseable. Ten HST power cars were on the Works as were APT power cars 49001/03/05.
During May 45111 was outshopped after a Heavy General whilst 45148 was received for a Classified repair. The remnants of recently cut up 45030 were still visible in the scrapyard area.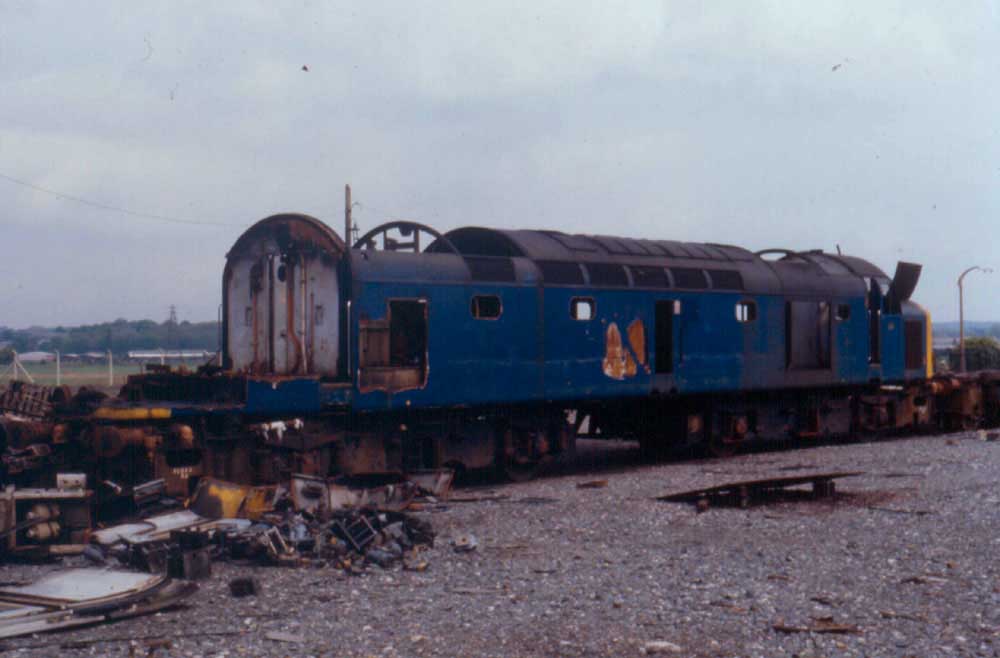 Photograph courtesy John Glynn.
Over the years Derby Works carried out repairs to many Class 40's, but only scrapped two of the fleet: 40042 & 40045. In this view from May 21st 1981 cutting has recently started on 40042.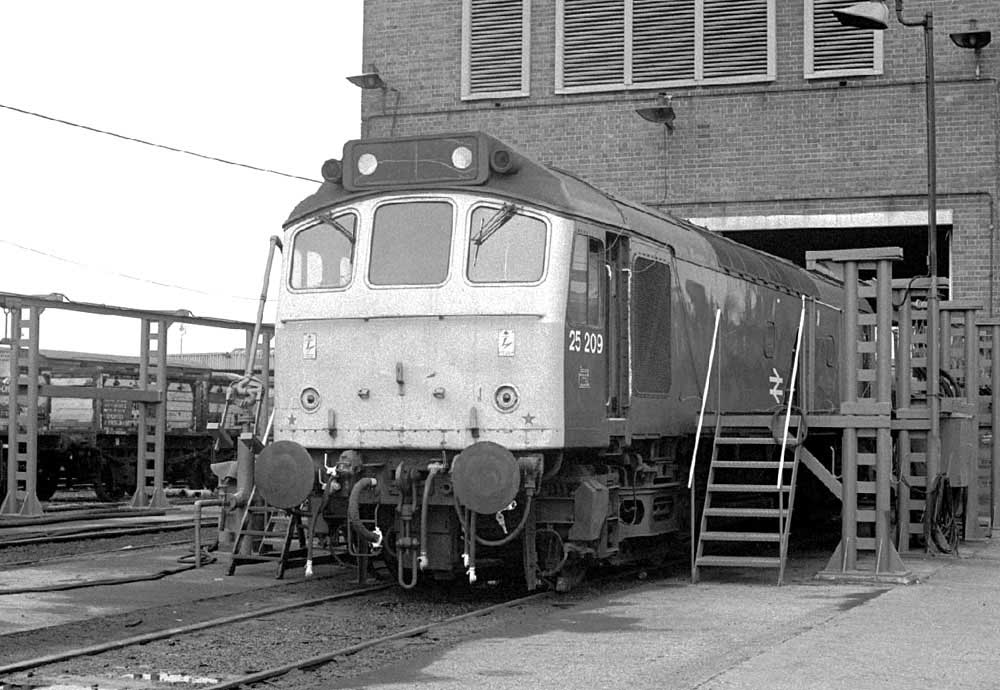 Photograph courtesy Tony Sayer.
25209 at Derby Works Test House on May 9th 1981.
Thirteen locomotives were under repair early in June, 25036, 25178, 25250 & 25311 for casual repair, the rest were Class 45/1's except for 45005 in for a Light repair. Eight HST power cars were under repair including early builds 43004 & 43005.
45130 was the only locomotive outshopped from Derby during July, having received a Heavy General. Arrivals at Derby in July were withdrawn 45011/25/31/35 from Tinsley, all were retired in May. Class 25's present at the end of the month for casual repair were 25044, 25136, 25202, 25312 & 25316, the latter with substantial collision damage to one cab.
Classified repairs completed during August was 45130, whilst 45121 & 45145 were received for repairs. However the number of HST power cars in for repair had increased with fourteen examples in the Works, along with APT power cars 49003/05.
September's output was little better than that of August with only 45133 released after a Heavy General, and 45137 & 45140 received for Classifieds.
A surprise arrival in October was withdrawn 25216 sent up from Swindon Works. Equally suprising was the approval given to repair collision damaged 25316, noted in the erecting shop in October. Recently scrapped were 45011 & 45031. Outshopped in October was 45135 whilst 45143 was received. Ten HST power cars were present, as was APT power car 49005.
Late in November the Works could must no more than ten locomotives under repair, four of which were Class 25's in four casual repair. However the scrapyard had been busy having taken care of 44007, 45025 & 45035. Locomotives awaiting scrapping were 25092/94, 25216/17/67 with collision damaged 25148 in the Works arrival sidings. Nine HST power cars were in the Works along with two APT power cars. Information released at this time suggested that a number of Class 45/1 overhauls might be transferred away to Crewe during 1982.
Outshopped in December were 45137/40/43/45 after completion of Heavy Generals. No locomotives were received, Derby having completed its current contract for Class 45/1 Heavy overhauls. Elsewhere in the Works were 45003/41/43/58/60 receiving casual repairs. The recent reinstatement of many Class 46's back into service would no doubt provide Derby with some work. Nine HST power cars were in the Works as well as the two prototypes in the yard. In the scrapyard work had commenced on breaking up 25217.

1982
If bad weather in Scotland could ever be a blessing, it was to Derby during January as a number Class 27's would be sent south to Derby to assist Glasgow in clearing up a backlog of weather related damage. Which was perhaps fortunate since apart from the average ten or so HST power car repairs, the other activity at Derby was a sorry sight. During the first week of January repairs were limited to 25262, 45003/41/43/58, 45144, whilst recently reinstated 46032 was in for power unit repairs. 46040 had been sent up from Swindon to assist with the repairs to 46032.
By February 25072, 27003/21 & 27203 had been received from the Scottish Region for power unit repairs. Withdrawn locomotives present were 25038/66/92/94, 25216/271/299, 45073, 46040, with 25217 now completely cut up and work was starting on 25267. Ten HST power cars were on the Works, as were the two prototypes and APT power cars 49004/05.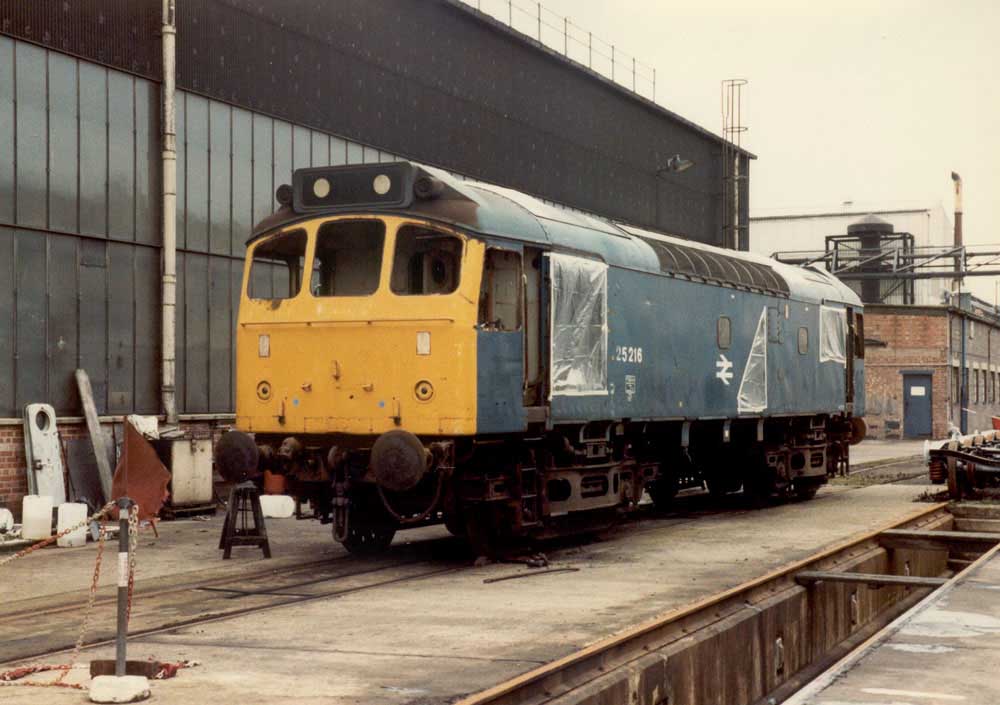 Photograph courtesy Jerry Glover.
25216 on February 6th 1982 in the asbestos removal area. Derby would receive a number of withdrawn locomotives for the purposes of asbestos removal. 25216 would remain in the Works until December 1982 when it would be broken up.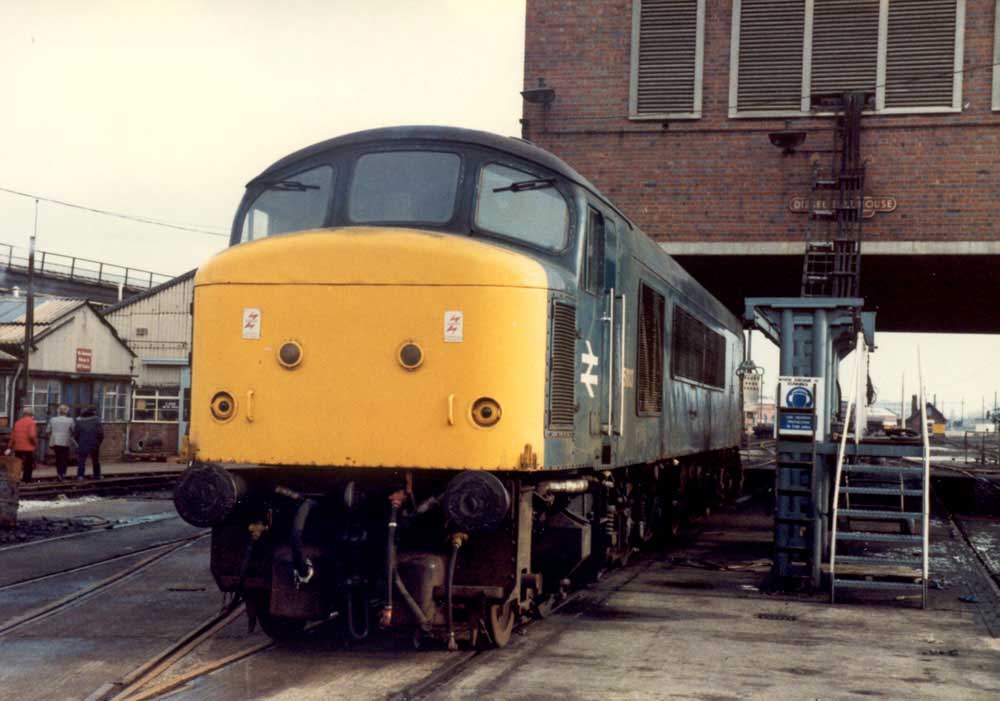 Photograph courtesy Jerry Glover.
A hazy sun catches 45003 by the Test House on February 6th 1982. 45003 had been received for power unit repairs. In years gone by the view behind the Test House would have revealed at least one line of locomotives awaiting entry into the Works buildings, not today though.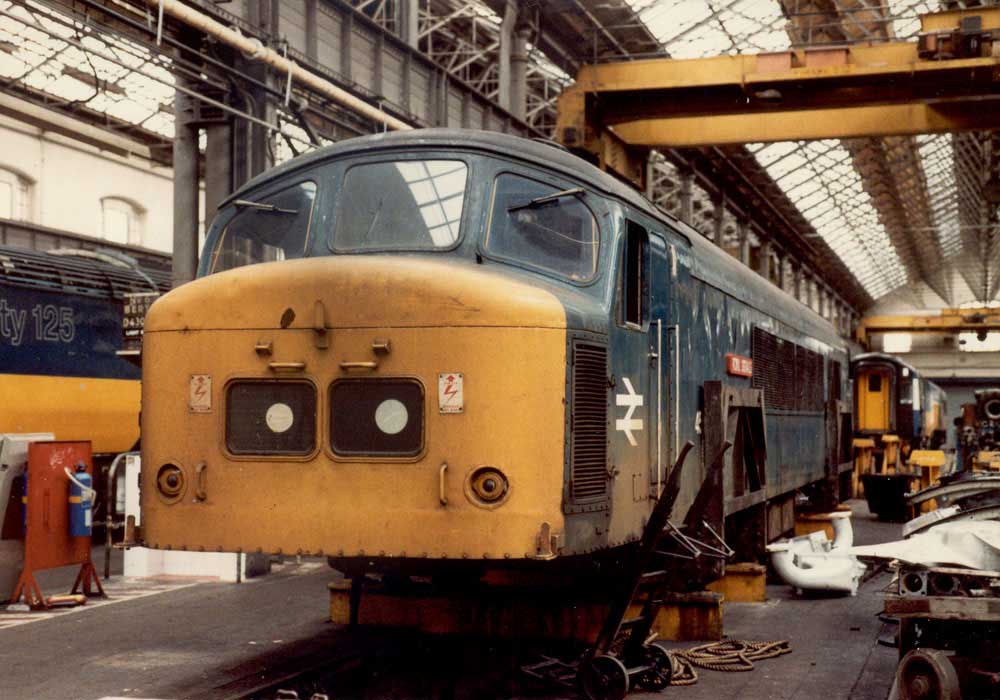 Photograph courtesy Jerry Glover.
Surrounded by the HST power cars that had taken away much of its work 45144 'Royal Signals' receives power unit repairs.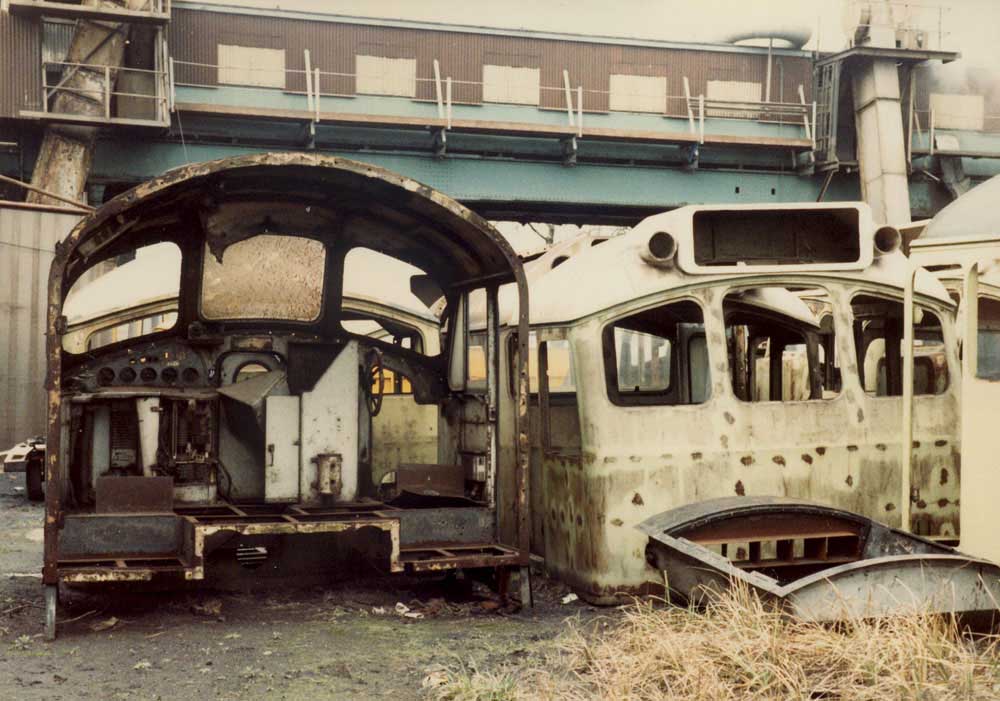 Photograph courtesy Jerry Glover.
Various Class 25 & 45 cabs. Not too sure of the date on this one, but if it is also February 1982 then the chance of the Class 25 cabs seeing any use are almost nil! One of the painted cabs just visible behind the new cabs belonged to 25165.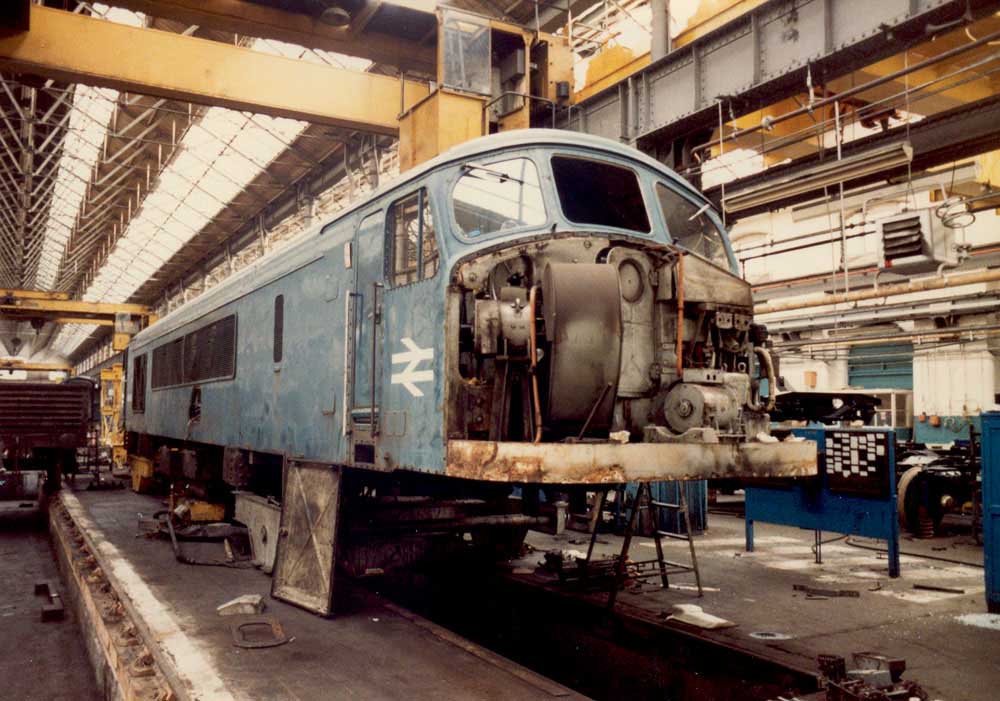 Photograph courtesy Jerry Glover.
Withdrawn 46040 stands in the main erecting shop on February 6th 1982 surrendering parts for reuse by recently reinstated 46032 and others. For this purpose 46040 had been sent up from Swindon Works. By April 46040 would be broken up.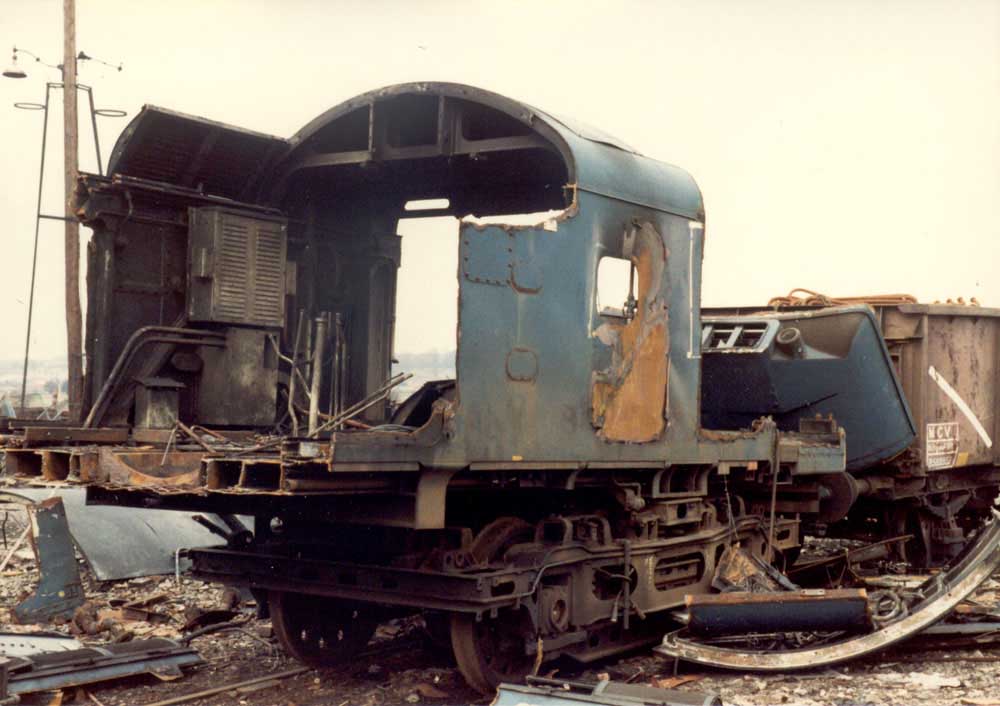 Photograph courtesy Jerry Glover.
The scrapyard on February 6th contained the remnants of 25267, seen here in its final hours. The destruction of 25267 reveals a little of how it was all put together sixteen years earlier at the Beyer Peacock workshops. It had been withdrawn from Toton during February 1981.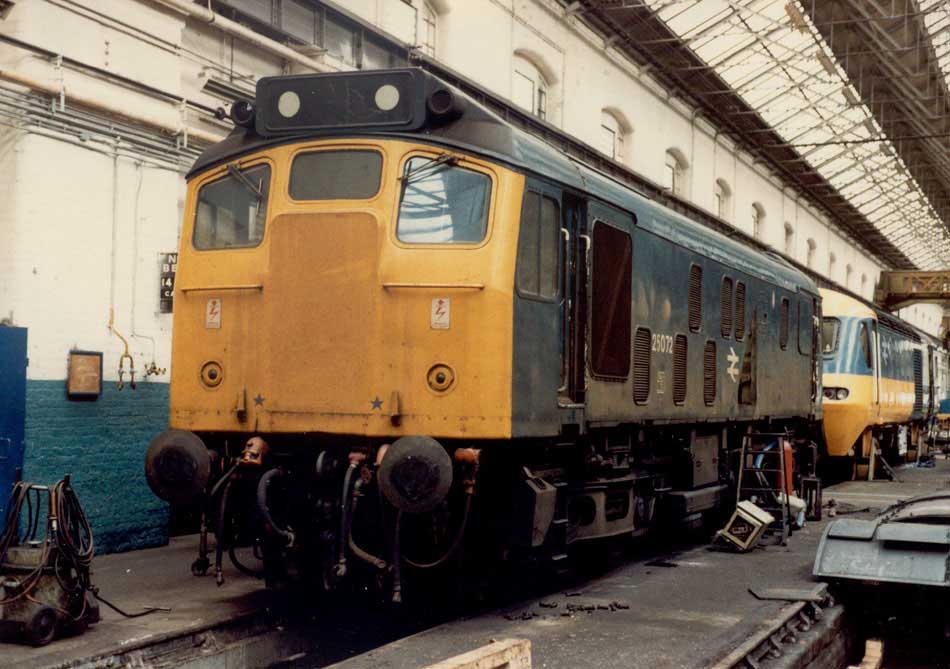 Photograph courtesy Jerry Glover.
Haymarket allocated 25072 receives attention on February 6th 1982. It had been sent down from the Scottish Region with a handful of Class 27's to receive repairs caused by extreme wintry weather north of the border. Behind the Class 25 is 43037.
During March Crewe Works received the first of its order of Class 45/1's for a Heavy General: 45146. Meanwhile back at Derby an increase in casual repairs had boosted the locomotives in the Works to almost twenty with another nine awaiting scrapping. Also sent down from Scotland was withdrawn 27011, presumably as a parts source. Another Class 46 accepted for repairs was 46045.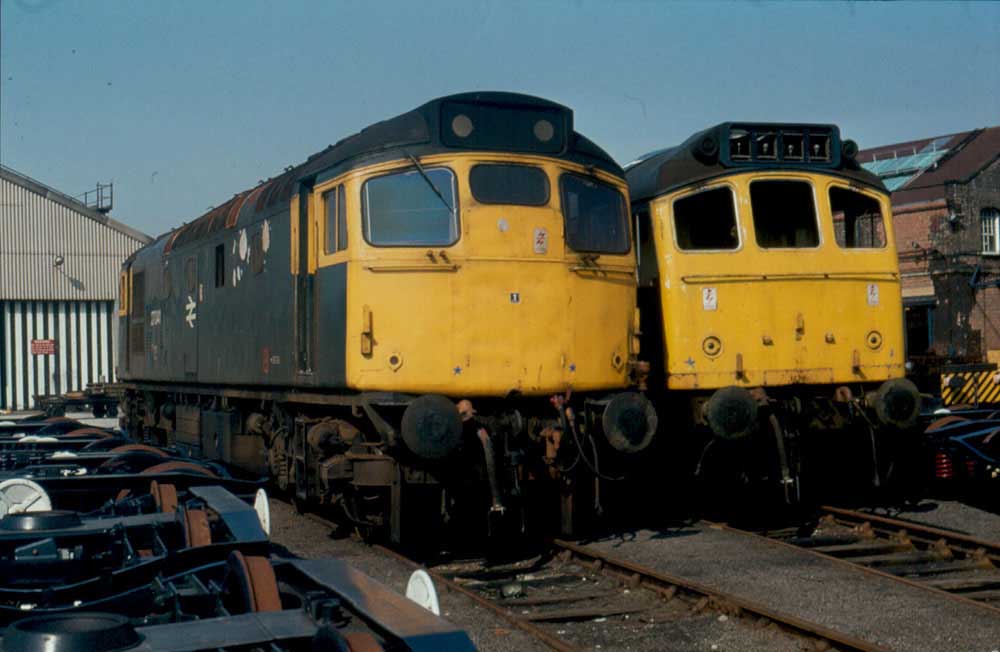 Photograph courtesy Adrian Healey.
Fire damaged 27041 and withdrawn 25271 strike an interesting pose at Derby on March 24th 1982. The pair provide some insight into how two sets of designers met BR's Type 2 specifications, in particular the treatment of the cabs. 25271 will be scrapped in September, the overhaul given 27041 will keep it in service for just over three more years, before endings its days at Vic Berry's, Leicester.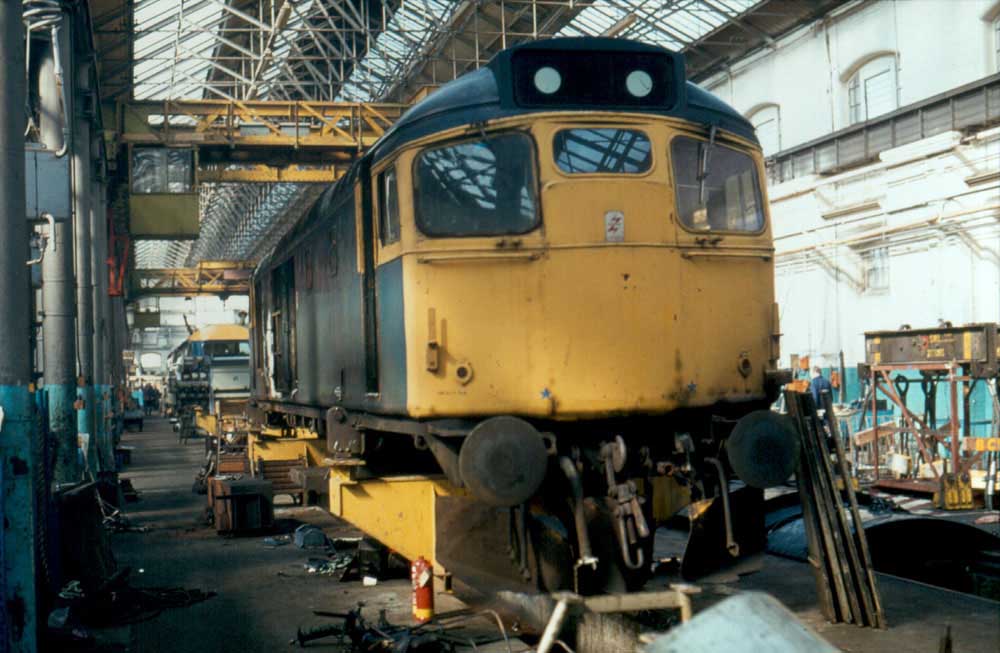 Photograph courtesy Adrian Healey.
During 1982 a number of Scottish Type 2s were sent to Derby for repair due to a backlog at Glasgow. On March 25th 1982 fire damaged 27011 sits in the erecting shop, sent by Glasgow as a source of spares for the other Class 27's received here. It had been withdrawn from Eastfield one year earlier and would be broken up at Derby during September 1982.
By April the withdrawn locomotive situation at Derby was growing, now present were 25038/66/85/92/94, 25129/184, 25216/261/262/271/272/299, 25308, 27011, 45073 & 46040. Of these locomotives 46040 was soon moved into the cutting up area and would be broken up by month end. Repairs would be sanctioned for 25262 & 25308.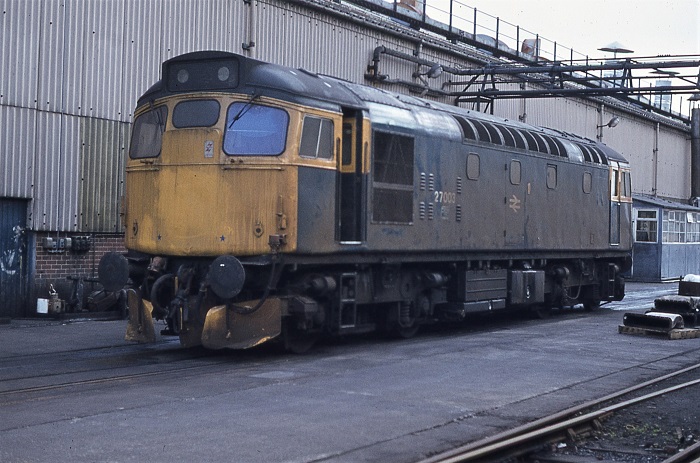 Photograph courtesy John Glynn.
A grimy and work worn 27003 waits in the Works for attention, April 8th 1982.
Also during April announcements were made to close Horwich & Shildon Works as well as substantially reduce the workload at Swindon beginning in 1983. The necessary changes to shift these workloads did not impact Derby Locomotive Works at all, which clearly did not bode well.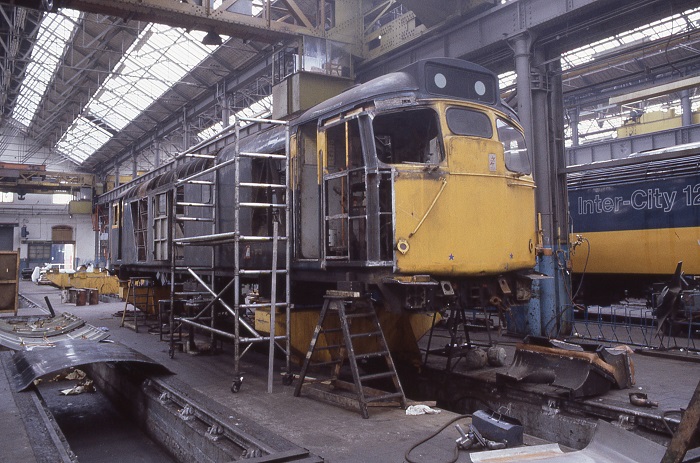 Photograph courtesy J Glynn.
27041 under repair at Derby Works on May 20th 1982.
Arrivals in May for cutting were 25105, 25274 & 40075. In the latter half of the month present for repairs were 25184, 25262, 25308/325, 27041, 45075, 45120/135. Of the Class 25's 25184/262/308 had previously been stored unserviceable, whilst 25325 and 45135 had sustained collision damage. 25094 was the latest locomotive to be cut up followed by 25299 whilst a surprise arrival was 40075.
Seven Class 25s received repairs during July. Late June and the first half of July proved to be a time of challenge for the railways as the NUR and then ASLEF went on strike.
By mid-August there were about thirty five locomotives on the Works of which twenty were awaiting scrap. Newly arrived withdrawn locomotives included 40132 & 40140, whilst waiting in the arrival sidings were 27014 & 27104, just sent down from Scotland. Locomotive recently cut up were 25092 & 25272.
September 4th was the date for the 36th Annual Horticultural Show and Open Day at Derby Locomotive Works, admission was 50p. 25036 was one of the locomotives on display in front of the office block. Also on the Works receiving repair was the first production HST power car, 43002.
Photograph collection of webmaster.
The crowds are out in force for the 1982 Works Open Day. The two prototype HST Power Cars head a line up of condemned locomotives of which heavily stripped 25216 & 25129 are visible. 25216 would be broken up at Derby during December 1982 whilst 25129 ended its days at Swindon in March 1985. Any familiar faces in the crowd?
Fourteen locomotives were present for repair in the middle of September and as such it provided a little variety. Class 25's under repair were 25036/51, 25175, 25247; Class 27's 27014/41/42, 27104; Class 45's 45063/72, 45103/107/108/145. Stored unserviceable was 45037, awaiting next year's funding for a Heavy General. Also just arrived in the Works arrival sidings were six Class 25's for minor repairs and withdrawn 40163.
Eighteen locomotives were under repair at the beginning of October including the numerically similar 27014, 27041 & 27104. Ten HST power cars were under repair, whilst prototypes 975812/13 were in the yard. APT power cars 49001/004 were also present.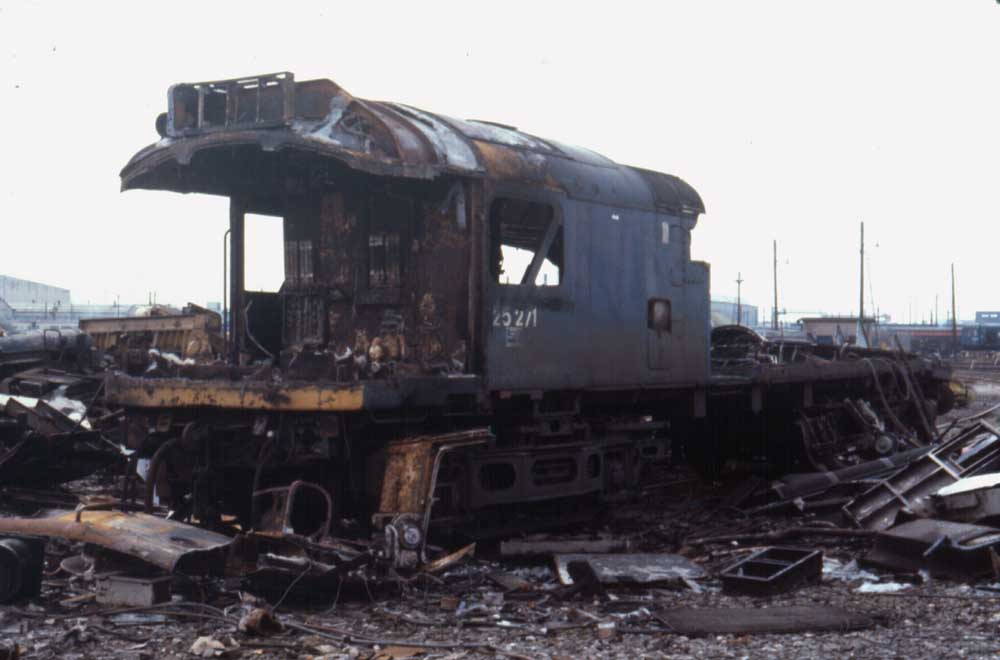 Photograph courtesy John Glynn
Scrapping of locomotives at Derby was handled by a small team of men, who judging by this view of 25271 had an 'artist' among them who seemed averse to cutting in straight lines. Here in this September 29th 1982 view the partially burned/dismantled remains present some grotesque, almost gothic image amongst the piles of scrap metal.
Withdrawn locomotives present in November were 25066/85, 25105/129/150/170, 25216/220/261/274/290, 25312, 40018/75, 40132/140/163, with 45073 partially dismantled in the scrapyard area.
At year's end the following locomotives were under repair: 25033/35/76, 25200/212/247/297, 27014, 27104, 45014/63, 45109 & 46046. 45037 had just completed its General leaving 27014 as the only locomotive in the Works receiving a Classified Intermediate repair. In the scrapyard 45073 was finally broken up after a long time spent in the cutting area.
Photograph courtesy A Healey.
December 22nd 1982 finds damaged 27203 awaiting entry into the Works. It had just arrived from Scotland behind 37188, having been involved in a collision at Dalmuir on Septemer 14th 1981. Derby were reluctant to carry out the repair, the locomotive eventually being condemned during May 1983, its final demise was left to Vic Berry's men at Etches Park in February 1986.

1983
Arrivals in January included 45049 for a Classified repair and a significantly damaged 27203 from Scotland, allegedly for repair. 25066 & 25216 were broken up during January.
The previously announced plans to close Horwich & Shildon Works which had been put on hold, were revived in February and now included those at Temple Mills.
Early in February there were just eleven locomotives receiving casual repairs, with 45049 and 27014 with the only Classifieds, progress on several of the locomotives appeared to be very slow. Twenty locomotives were awaiting scrapping.
45049 left Derby in March after completion of its General repair.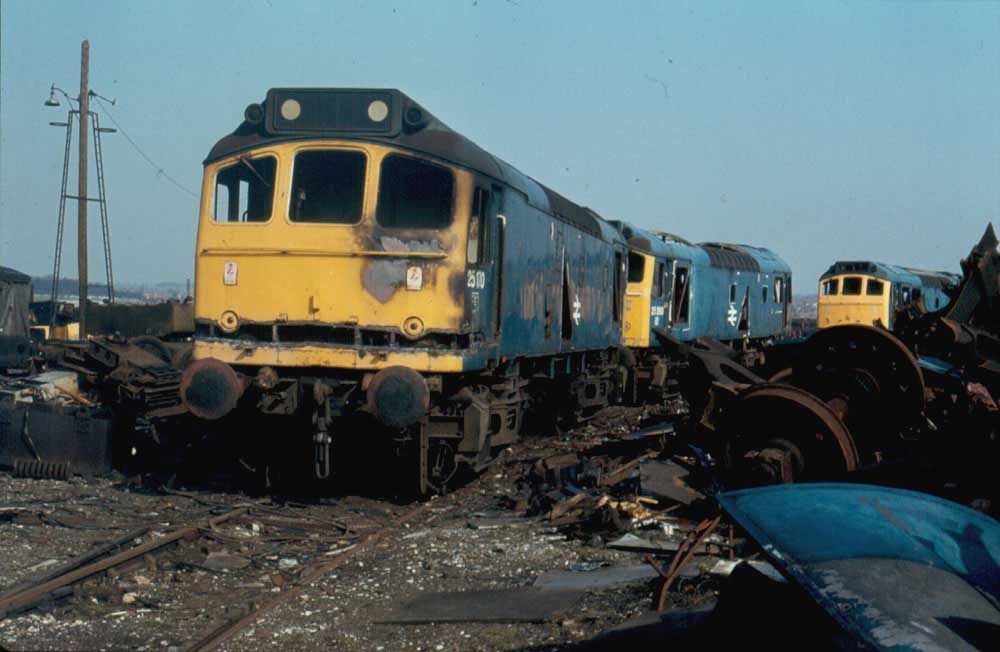 Photograph courtesy A Healey.
25170 had been stopped at Reddish because of generator problems in March 1982, sent to Derby Works during April for repair, it was discovered that more work was required, so the locomotive was condemned. Seen here on March 8th 1983 the final cutting of 25170 is underway.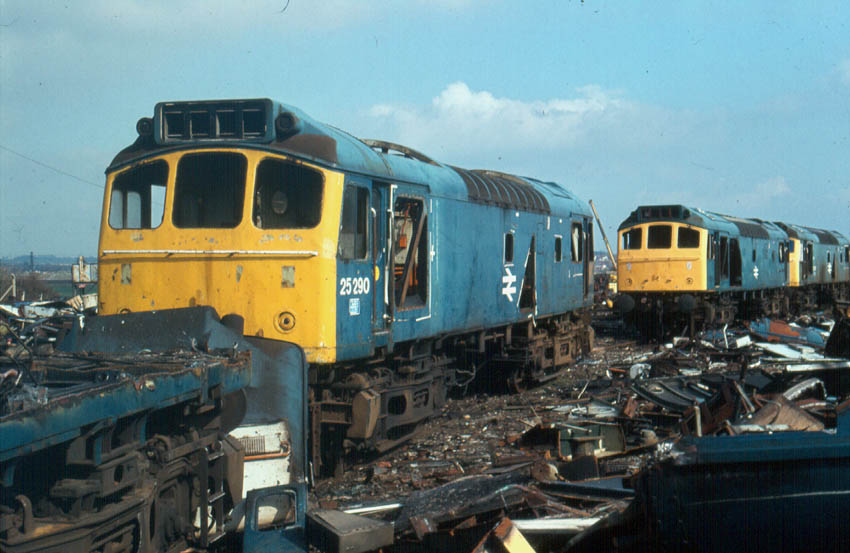 Photograph collection of webmaster (ADH).
Withdrawn during October 1981 and dumped at Tyseley 25290 initially moved to Swindon Works during March 1982 but was quickly returned north, being held at Crewe for several months, reaching Derby during June. In this March 15th 1983 view 25290 appears to be the next machine in line for breaking up. By the end of May 25290 was no more.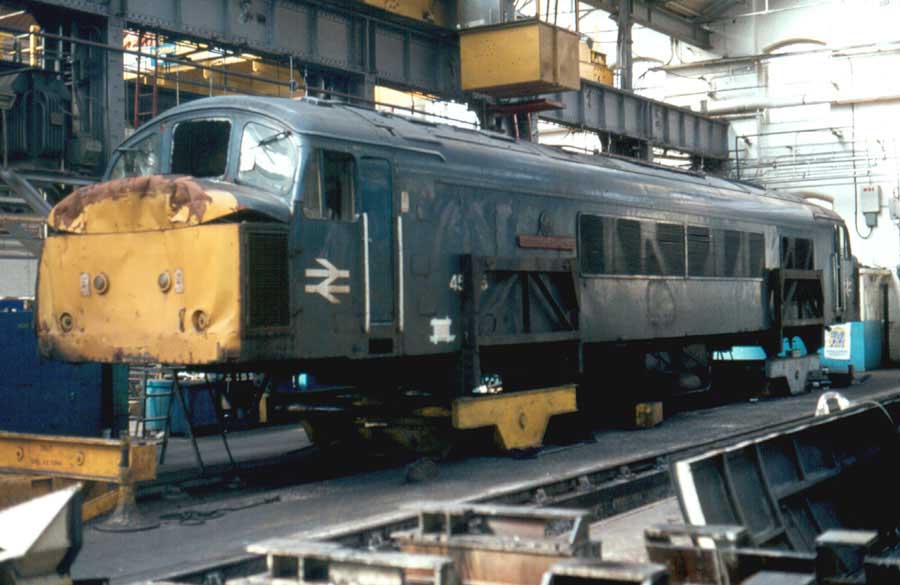 Photograph courtesy A Healey.
Collision repairs were part and parcel of the routine of the Workshops, though finding a slot in the Works planned repair schedules was not always easy. In this view of 45045 on March 28th 1983, repairs will not be effected, the rundown of the Class had begun and locomotives sustaining accident damage were more than likely to be quickly withdrawn.
Broken up in April was 25170.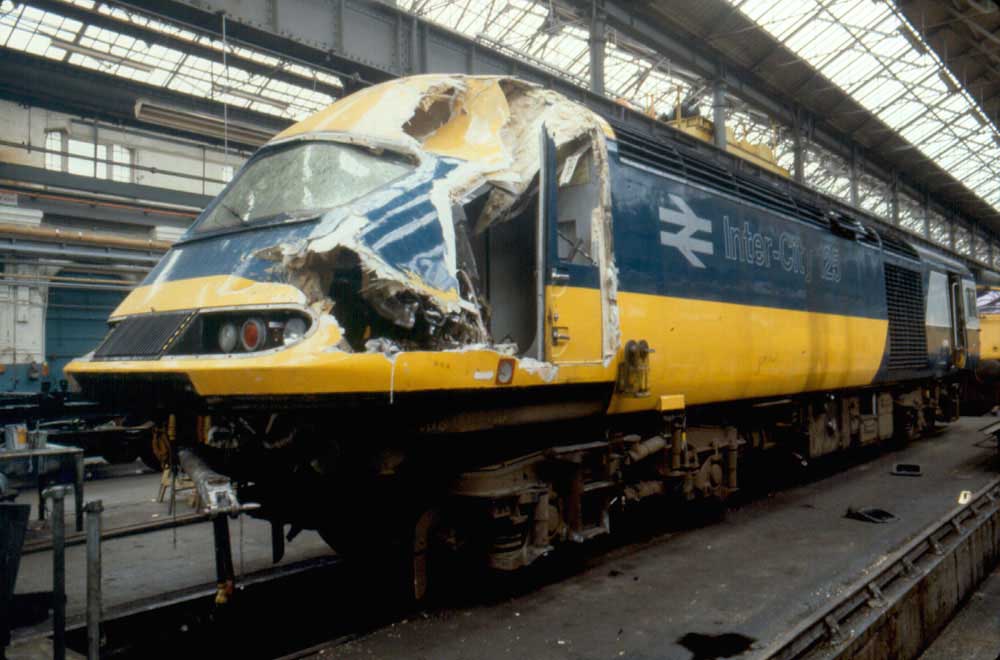 Photograph courtesy Adrian Healey.
April 28th 1983 finds HST power car 43118 in the main erecting shop receiving attention to a seriously damaged cab. Because the of high demand placed on the HST power cars it was very rare to find them lingering in the deadlines at Derby.
During May ten locomotives were under repair, all casuals except the ever present 27014 with its Intermediate - it was now in the paint shop. Recently arrived were collision damaged 25050 & 45045, both would be withdrawn. 25085 was broken up in May with 25261 next in line.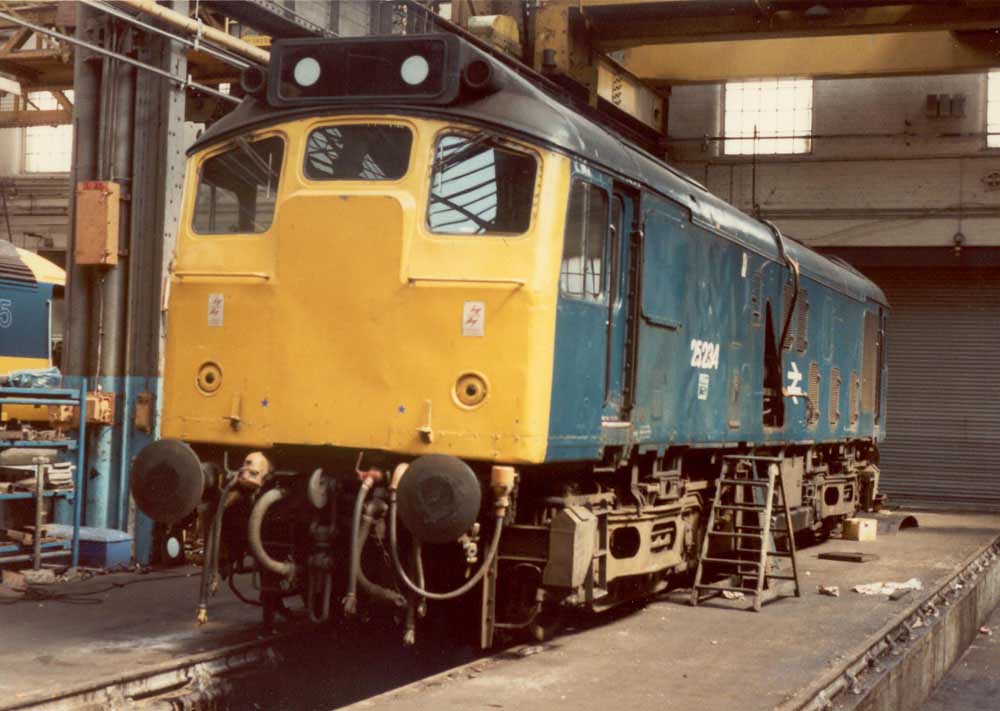 Photograph courtesy Jerry Glover.
In the latter part of May 1983 25234 paid a brief visit to the Works, it is seen here on May 21st catching the light quite nicely. It would remain in service until February 1985.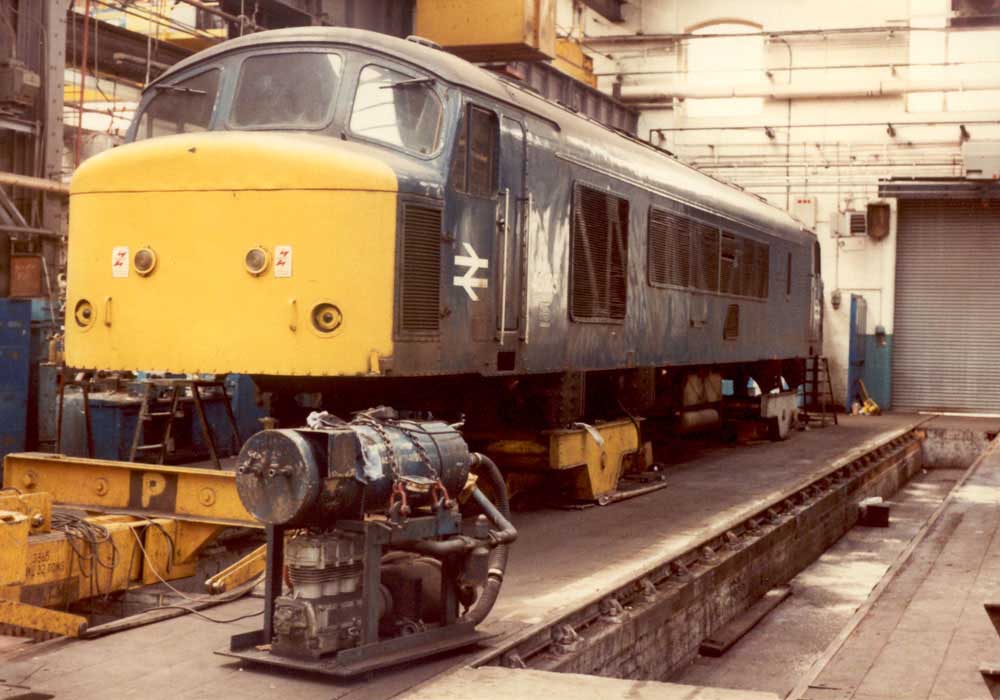 Photograph courtesy Jerry Glover.
45105 has arrived for 'N6' repairs which presumably relate to bogie repairs and is seen here on May 21st up on jacks. It would operate almost to the end of the regular service for the Class 45s, being retired in May 1987. (See note below).
In the view above in front of the locomotive is one of many specialised bits of equipment that could be found in the Workshops. This item is a portable vacuum exhauster and vacuum chamber, which would be plugged into the mains (110 volts in this case) and connected to a locomotive. A vacuum would be created (21" of mercury) so that brake system checks and tests could be carried out without the need to run the engine. Should a leak be recorded one tried and tested method of locating it would be the use of a paraffin lamp and watch where the fumes get sucked in!
Air system testing was far easier, a suitably adapted compressed airline was connected to the main air reservoir pipe on the locomotive buffer beam, to 'blow' the locomotive up before testing. A list of readings needed to be achieved, depending on the position of the brake handle. And of course the meter reading on the test equipment had to agree with what was showing on the cab gauges.
Two arrivals late in June from Crewe were 25314 & 25319, both intended to be converted to ETHEL units for the Scottish Region. In reality only 25314 was converted, after receiving remedial work at Derby.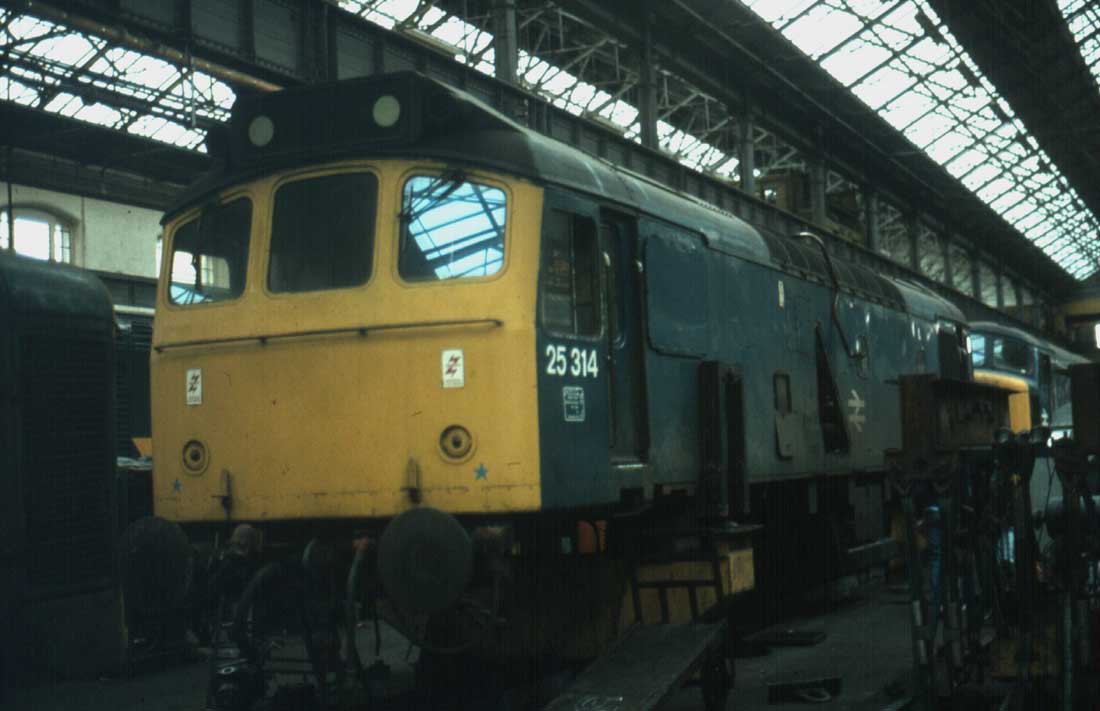 Photograph collection of webmaster
25314 receives attention sat Derby Works sometime during June/July 1983 prior to its movement to Aberdeen.
Regular Classified repairs recommenced at Derby with authority received to restart Light repairs on the Class 45's, the first called were 45044 & 45105. Approximately fifteen locomotives were receiving repairs during the middle of June, including Scottish long stayers 27014 & 27104. In the scrapyard work had started on cutting up 25261, however a dispute halted this work and no further locomotive would be cut up here by BREL staff. The partially dismembered 25261 would remain in this state until December 1985 when Vic Berry was called in to finish the job.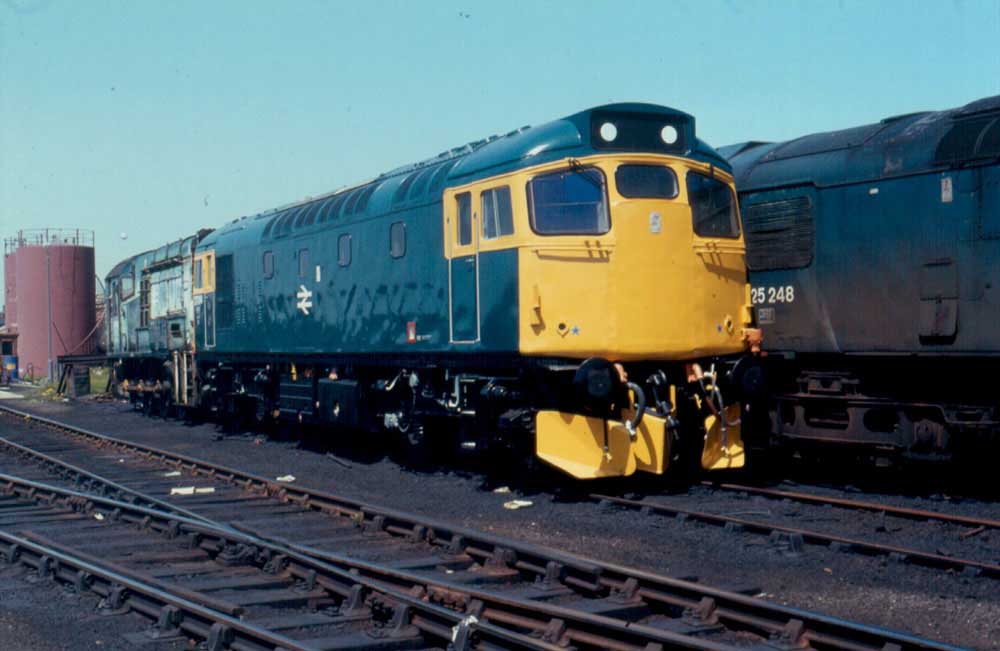 Photograph courtesy Adrian Healey.
There was probably no finer sight at the Locomotive Works than that of a locomotive just outshopped, having recieved a complete repaint, and before the immaculate finish begins to take a beating. Seen here in just such a condition is 27014 on June 6th 1983 awaiting movement back to the Scottish Region.
Late in July there were fifteen locomotives under repair including withdrawn 25314 prior to its movement to Aberdeen for conversion to an ETHEL.
During August 27014 finally left the Works after completion of its Intermediate repair. 45006 was received for a Classified.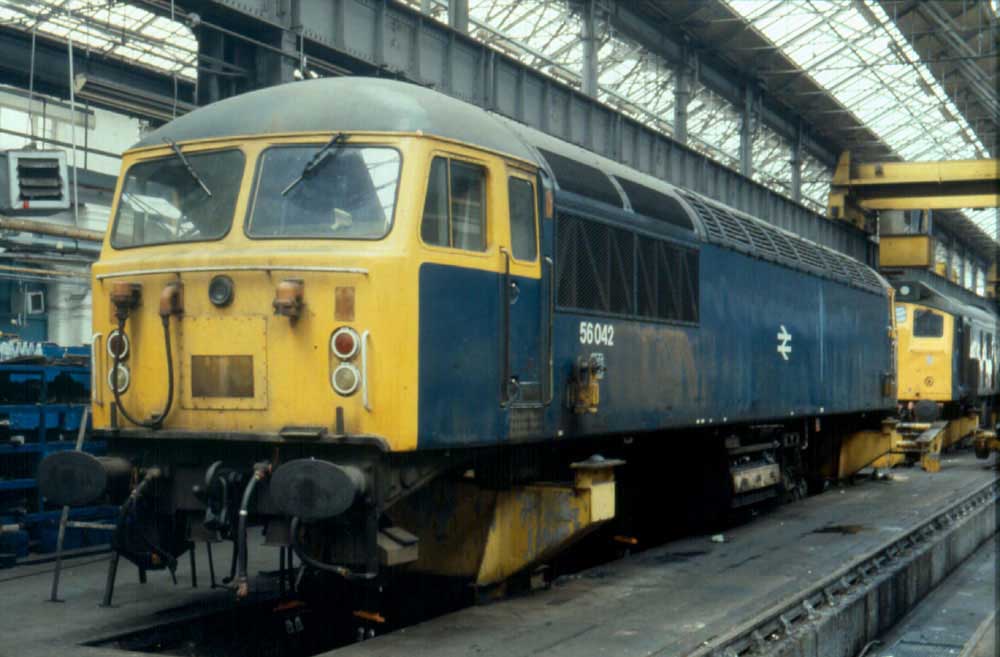 Photograph courtesy John Glynn.
The Class 56s were occasional visitors to Derby Works, especially when the first examples were delivered from Roumania. On September 27th 1983 56042 was in the erecting shop for attention to its bogies.
At the end of September the Department of the Environment ruled that historic facade of Derby station would not be granted listed status because not enough of the original building remained. This opened the way for demolition of the station's frontage.
Outshopped after Classified repairs in October were 45044 & 45105 whilst received was 45150 was received for a Heavy General. Locomotives under repair were 25034/64, 25181/182, 25208/218/283/298, 25320, 45002/06/16, 45105/108/124/132/134/136/150. Twenty six withdrawn locomotives were scattered about the Works.
Early in November there were nineteen locomotives under repair, 45150 was receiving a Heavy General, the remainder were casual repairs, ten of which were Class 25's, three Class 45/0's and five Class 45/1's.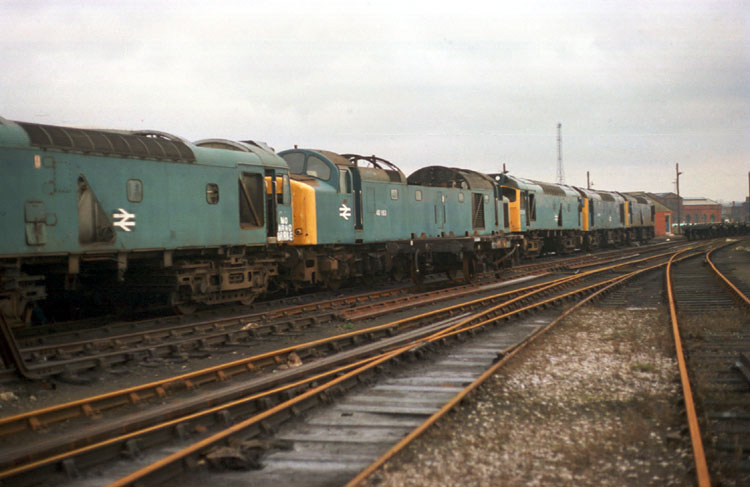 Photograph courtesy Phillip Moore.
Its November 26th 1983 and withdrawn 25129, 40163 & 25274 await an uncertain fate. The two Class 25s will eventually be moved to Swindon and broken up there, whilst the Class 40 will be taken to Leicester and broken up at Vic Berry's yard. In this view the Class 40 was just an empty shell, even missing its leading pony wheels from each bogie.
By year's end two more Classified had been completed at Derby, 45044 having received an Intermediate and 45006 a Light, whilst received in the Works for a Classified was 45069.
Present at year's end were 25034/49/51/78, 25176, 25206/218/235, 45051/077 & 45132 receiving casual repairs whilst 45069 was receiving an Intermediate and 45150 a Heavy General. there were twenty seven withdrawn locomotives scattered about the Works of which the greater majority were Class 25s.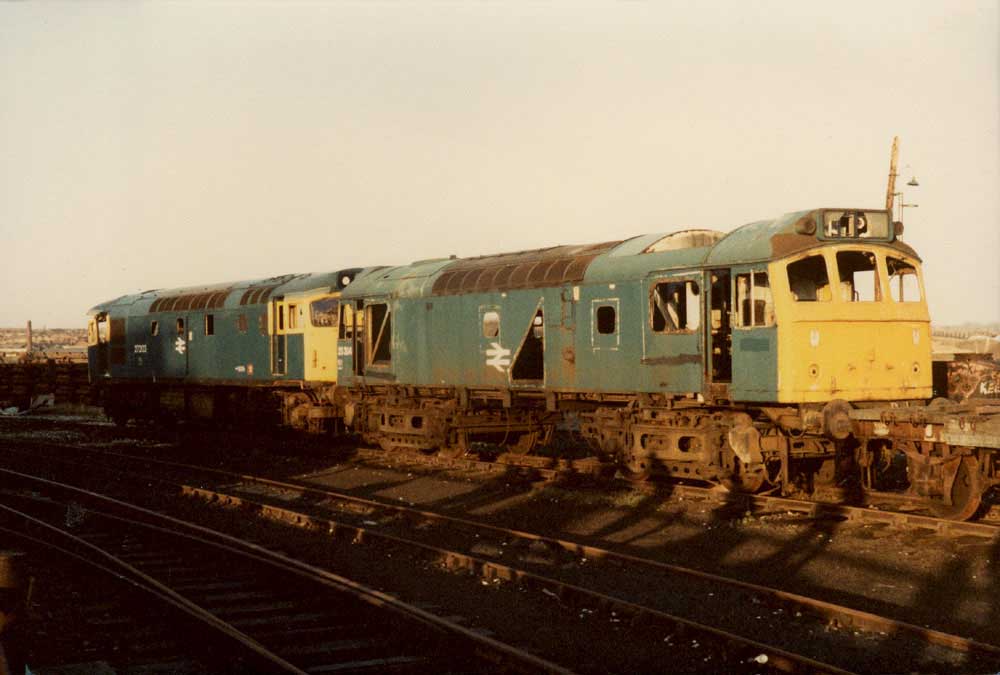 Photograph collection of webmaster.
Not quite sure on the date for this view but it shows 27203 and a heavily stripped 25304 near the cutting up area. After withdrawal 25304 had surrendered its bogies to 25305 and its power unit to 25288. Now it just awaits a tow to Swindon where it will be finished off during June 1985.

Page added October 22nd 2007.
Last updated July 18th 2019.
Derby Works 1932 - 1950
Derby Works 1950 - 1959
Derby Works 1960 - 1969
Derby Works 1970 - 1975
Derby Works 1976 - 1980
Derby Works 1984 - 2007