Derby Through the Diesel Years

1970 - 1975

The material on this page represents a walk through the years at Derby during its diesel days, though obviously with a bias to the post-Modernisation years! This is most definately a work-in-progress so please bear with me as new material is added, old material is rescanned and the captions updated.

1970
Early in the New Year there were just over thirty locomotives in the Works. Repairs were now underway on more of those early Class 24's that had been taken out of service early in 1969, noted were 5000/03/12/19 and accident damaged 5090. When outshopped 5000 would be repainted into blue/yellow livery whilst 5090 would re-enter service still in green livery! There were no Class 27's in the Works.
Visitors to the Works during February included shunter 12098 and a coach from Eastern Region EMU set E302.
The remaining LMR allocated Class 27s were transfered to Scotland, it would now be very rare to find these locomotives visiting Derby Works. This would now leave the Works providing repairs to just three principal types of locomotives: the Class 08 shunters, the Class 24/25 Type 2s and the Class 44/45/46 Type 4 Peaks. For the number collectors the Class 08's probably provided the most variety with the possibility of shunters being received from far away depots, particularly if they were on transfer. The Class 25's might also provide a little variety if Scottish Region examples were sent down for repair.
During July Stoke Division (D05) allocated 5088 was withdrawn following fire damage sustained between Chester & Crewe sometime in May. It was quickly removed to Derby Works, noted there early in June for evaluation. Another withdrawn locomotive at the Works would be 12062.
The 24th annual Works Open Day took place on August 29th, programmes still cost six old pence. Inside the main repair shop 5061 was being used to show visitors how the power unit was removed/replaced in the locomotive. Class 44 No.5 was ex-works in blue/yellow in the display area. At the back of the Works were three green Class 24 cabs belonging to D5004, D5029 & D5031.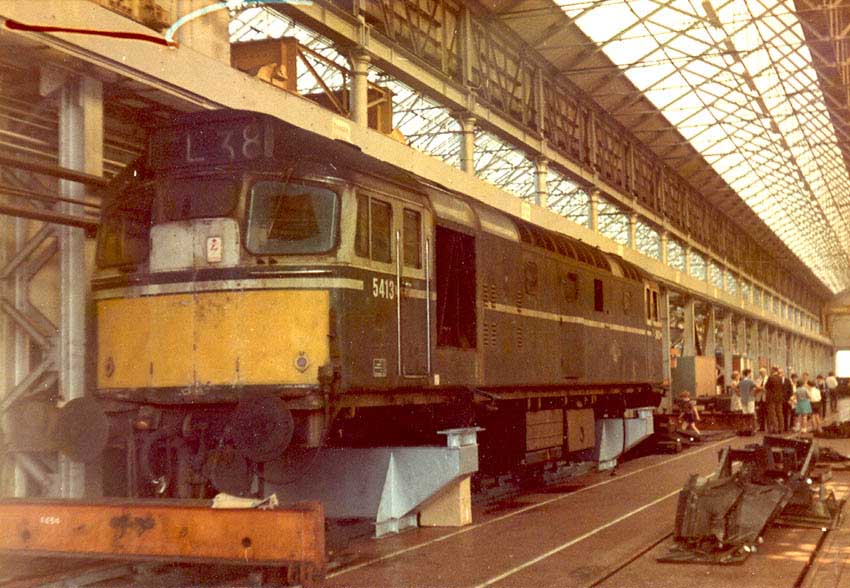 Photograph collection of webmaster.
The Midland allocated Class 27s were overhauled at Derby until their transfer north to the Scottish Region. In this Open Day view from August 29th 1970 a rather work stained 5413 awaits attention. On outshopping the locomotive carried blue livery, was dual braked & push pull equipped, eventually to become 27118 & later 27212.
Visitors to the Works during October included Scottish Region allocated 5409/13 for conversion to push-pull operation whilst amongst the regular diet of Class 08 shunters for repair was 12089.
Christmas week at the Works found just over sixty locomotives present. Scottish Class 27s present were 5404/07/08/09/11/13, sent down south for the fitting of push/pull equipment prior to replacing the aging DMU's on the Edinburgh - Glasgow service. Withdrawn locomotives included 5088, 12062/89/91, whilst the Research Center's Clayton D8521 was also present, at one point being noted in the Works with its bogies removed. The Midland Railway Trust's three 0-6-0T Jinties 47327/357/445 were now in the Works.

1971
By February two more Class 27s had been received by Derby; 5403/10, progress on the others was slow, 5404 had only just been repainted. Whilst in Works these Class 27s were equipped with dual brakes, fitted with BR AWS equipment and released in blue livery if they weren't already carrying it.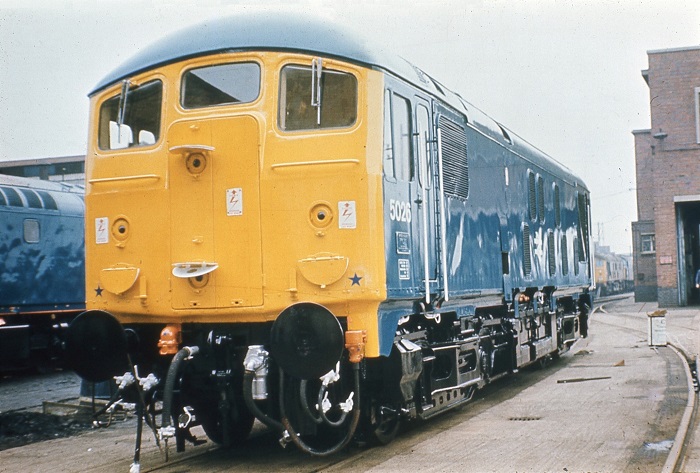 Photograph courtesy John Gilbert.
An ex-works 5026 stands by the Test House on February 27th 1971. To the left is just visible an ex-works Class 27, possibly 5404.
Clayton 8521 was back at the Research Center by June, now repainted in blue livery and renumbered S18521.
By July (but posssibly earlier) the last of the Scottish Class 27s, 5407 had returned north of the border, but interestingly two Inverness Class 24s, 5119 & 5127 had reached Derby for repairs, the Inverness allocated examples were rare visitors to Derby.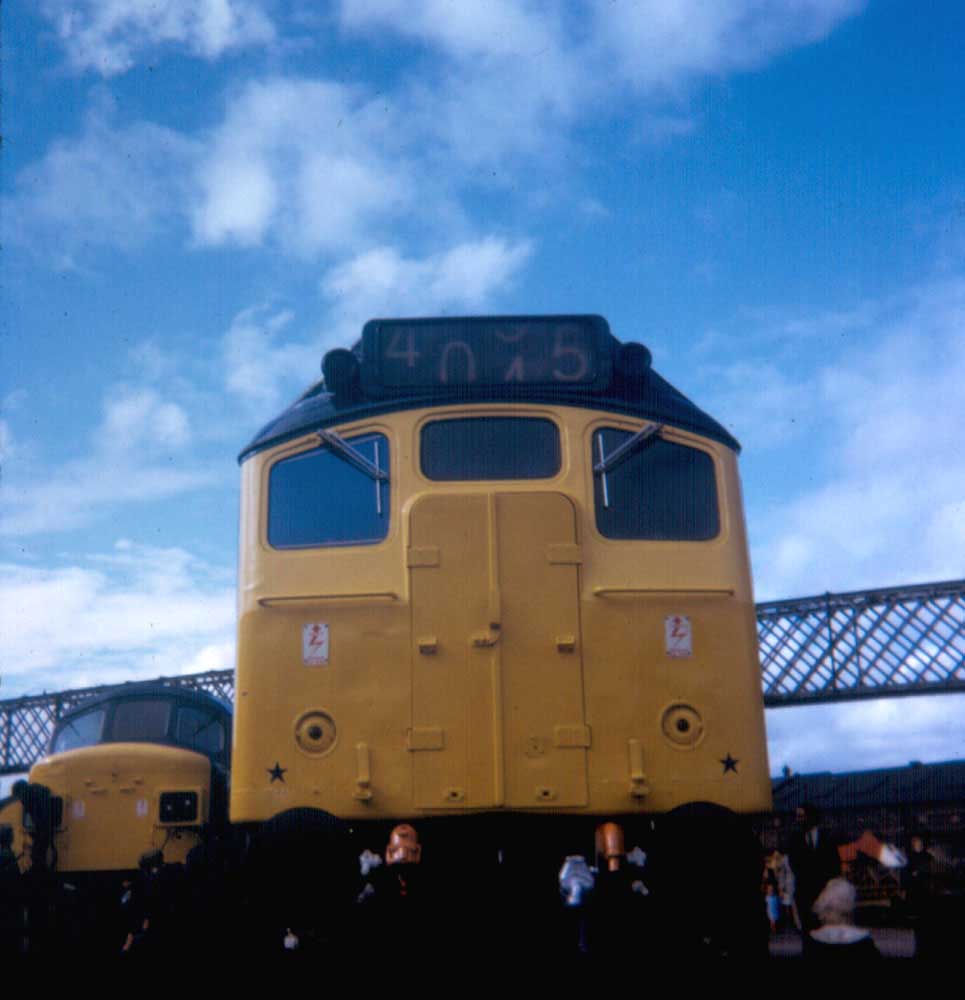 Photograph courtesy John Gilbert.
The August 1971 Works Open Day was visited by your webmaster shortly after returning from the family's annual holidays on the south coast. It appears that this may have been my first visit to Derby Works with a camera, possibly a small Afga pocket camera. The only slides that survived from this day featured the locomotives in the display area. Seen here front and center is recently repainted 5223, one of Cricklewood's finest. Just visible on the lower half of the right gangway door is the access panel used for the cabling required when this locomotive went out on Royal Train duty. Visible to the left is Class 45 No.23.
The locomotives present at the 25th annual Works Open Day totalled about fifty (using my notes as source material I'm uncertain of which locomotives were recorded as on Works and which were on the refuelling depot alongside). For certain in the display area were 23, 1830, 3371, 5223 & 8135 (still in green with small yellow warning panel). Under repair was a well balanced mix of Classes 24/25/45/46, it appears a Class 44 was not present at this time. Class 24's present were 5004/16/55 & Inverness allocated 5119. Elderly shunters present were 12062/89/91 as was condemned Class 24 5088. My notes indicate 7654 was present with collision damage. Fortunately my notebooks have survived and they indicate this was my first visit to a Derby Works Open Day where I recorded the locomotives on show and undergoing repair.
There were about forty locomotives present on the Works during the middle of September, including another Class 27 from Scotland, D5391, this locomotive having received for the fitting of electric train heating equipment. The Works were still not interested in cutting up locomotives, stripped 5088 was noted on the depot, having been purchased by George Cohen's Kettering for scrap.
D5391 was still on the Works during October. Two unusual shunting locomotives also at the Works were NCB shunters 5 & 7 from Aberaman (NCB No.4 area).
During Christmas week there were about forty locomotives in the Works, D5391 was still present as was NCB Aberaman N.7, but now lettered for Mountain Ash. Locomotives under repair was divided up almost equally betweeb Classes 08, 24/25 & 45/46, no Class 44 was present at this time. Also at this time withdrawn shunters 12062/89/91 were broken up at Derby Works!

1972
At the end of January Derby contained two seriously damaged Class 25's, 5250 from the collision at Sharnbrook in November 1971 and 7605 from the head on collision at Lenton South Jct in December 1971. Of the two 5250 would be repaired, 7605 would be withdrawn and become the first Class 25 to be broken up at Derby Works. 5391 was still present whilst a new arrival was Class 20 8155, this class having been absent from the Works for many years. The last Class 25 built, D7677 was also undergoing repair.
During March there were almost fifty locomotives at the Works. Heavily damaged 7605 had been almost completely broken up, 5391 was still present as were three other Scottish items, retired DMU's 79150/89/90 were in the Works yard.
Class 20 8157 was noted under repair during April. Several sidings at the Works had been set aside for the three Derby Museum project Jinties 47327/357/445, progress on their restoration was continuing. A surprise visitor at the end of April was Class 47 1682, so noted in the erecting shop.
A remarkable arrival at Derby Works during May (?) was Jubilee Class 4-6-0 No. 45690 Leander, rescued from Barry and received at Derby for repair. By early June 5391 had gone from the Works, whilst another Class 20 8186 was undergoing repair.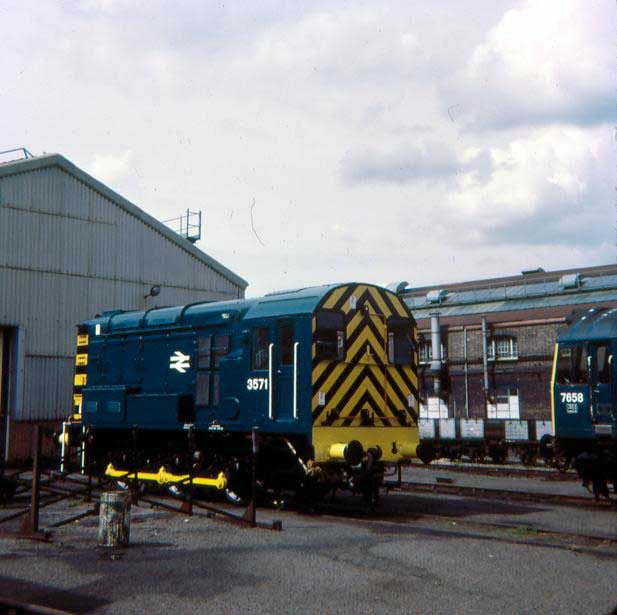 Photograph courtesy Steve Marshall.
Derby Works had a very long association with the Class 08 shunters and their predecessors. As well as building a great number they would also return to Derby for a variety of repairs, which for the enthusiast was of great interest when shunters were called to the Works from distant depots for repair. Not so for Class 08 No. 3571 seen here on June 3rd 1972 in pristine condition - this is a Derby allocated shunter and was a familiar sight at Derby as either 3571 or 08456.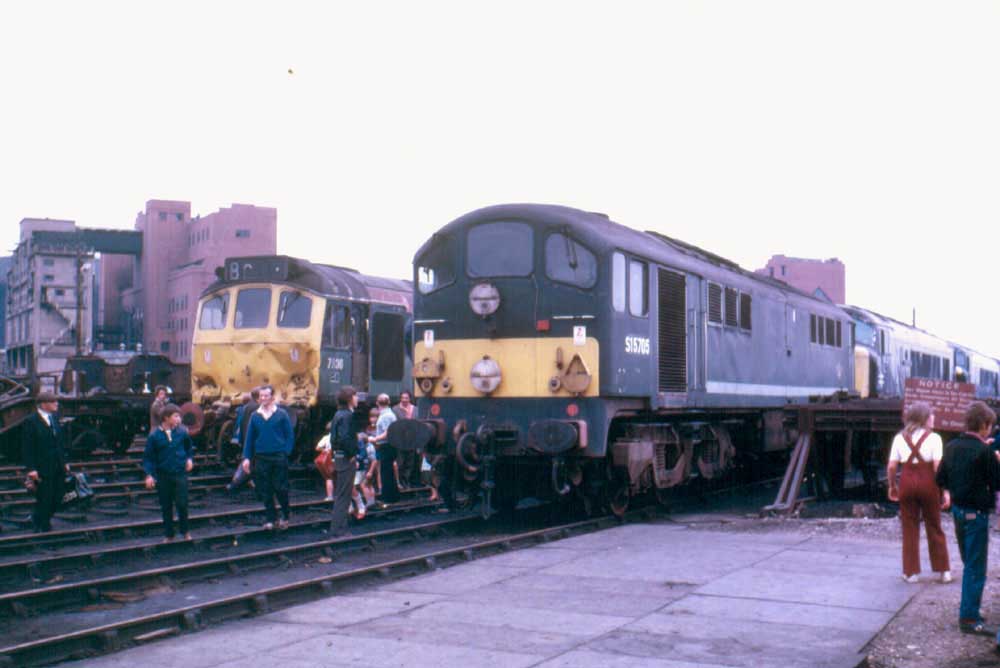 Photograph collection of webmaster.
On August 26th 1972 the annual Works Open Day occurred under cloudy skies, as seen here in this view of accident damaged 7636 and Research Dept locomotive S15705. 7636 & 7635 had derailed on August 3rd 1972 at Winsford whilst hauling empty 100ton bogie oil tanks. 7636 hit an overhead gantry, the crew escaped serious injury and the Class 25 remained on railway property.
On August 26th the annual Locomotive Works Open Day included ex-works Class 08 3570 as one of the exhibits.
Another Class 47 to visit the Works was 1635, noted in the erecting shop early in September. Elsewhere in the Works were 8166 & 8180, Research locomotive S15705 and a fourth Jinty believed to be 47564. Early build Class 08 D3052 was present sporting a small 'D' and large numerals and the pre-1957 lion & wheel emblem.
By the end of October the repair of Class 20's at Derby had dramatically increased with 8068, 8134/143/160/194 under repair.

1973
At the end of January there were about fifty locomotives, steam & diesel in the Works. Class 20's included 8192 & 8314 whilst larger sister 308 was in the Works yard. Another steam locomotive to enter the Works for repair was 73129 recently recovered from Barry.
Photograph courtesy Peter Lovell.
You never quite knew what to expect when going round the Works, maybe a stranger visiting the Works for repairs, or something sent over from the Research Dept for modifications. In this case it's the damaged cab from 5158, which was on Works from January to March 1973.
A surprise arrival on February 19th at the Works for attention was 4472 Flying Scotsman. The locomotive had run under its own power from Edge Hill after spending four years in America. The works was also receiving more Class 40's for repair, 235 & 242 so noted early in March, also present were 8063, 8123, 8135 & 8315 whilst 5391 had come south from the Scottish Region. Also noted next to the Works opposite the station were withdrawn shunters 3034/92/94 & 3100.
During April Derby Works started to release overhauled Class 45's with the new five digit TOPS numbering. This numbering had so far only been applied to the LMR AC & DC electric classes. The Class 45's were the first of the diesels to be renumbered, and unlike most of the classes, their renumbering would be random. 45101/102/103 (old identities were 96, 51, 116!) were the first examples seen, the Class 45/1's were now equipped with electric train heating equipment, the old steam heating boilers being removed whilst in the Works.
At this time there were approximately sixty diesels on the Works. Early build Class 08 3009 was in the erecting shop as was the numerically interesting 4000. Joining 5391 in the Works was the first of the class 5347, whilst in the Works sidings was Clayton 8598.
Derby finally released D5391 during June under its new guise of 27119. By June 27th it was in service on the Glasgow - Edinburgh push-pull service, initially with several fitters on board to monitor the the new electric train heating equipment. The shunters stored opposite the station had now started to enter the Works for overhaul, having been sold for export to a Liberian company. Apart from the Class 27 & 45's no other classes had been renumbered so far whilst in the Works. 45690 Leander was set for running-in trials in the last week of June.
4472 Flying Scotsman left the Works during July, it was given a send-off by then BR chairman Richard Marsh and for a fee of 10p the public could visit the locomotive on the Saturday prior to its departure the next day.
In the Works at the beginning of August were almost sixty diesel locomotives either for repair or withdrawn. 5349 was still present and the only Class 40 in the Works was 307. Steam locomotive 45690 Leander received LMS red livery prior to moving to Dinting by the end of the month. Sometime in August 3051 was cut up after being a source of spares for the LAMCO shunters.
September saw Derby outshopping other classes with the new five digit TOPS numbers, so noted were 08617 (3784), 24041 (5041), 25208 (7558) & 25282 (7632). If it had been thought that the Workshops would be the only source of renumbering for the fleet it was patently obvious that this would take a great deal of time so it would be left for the depots to assist with the renumbering process and get the fleet renumbered as quickly as possible.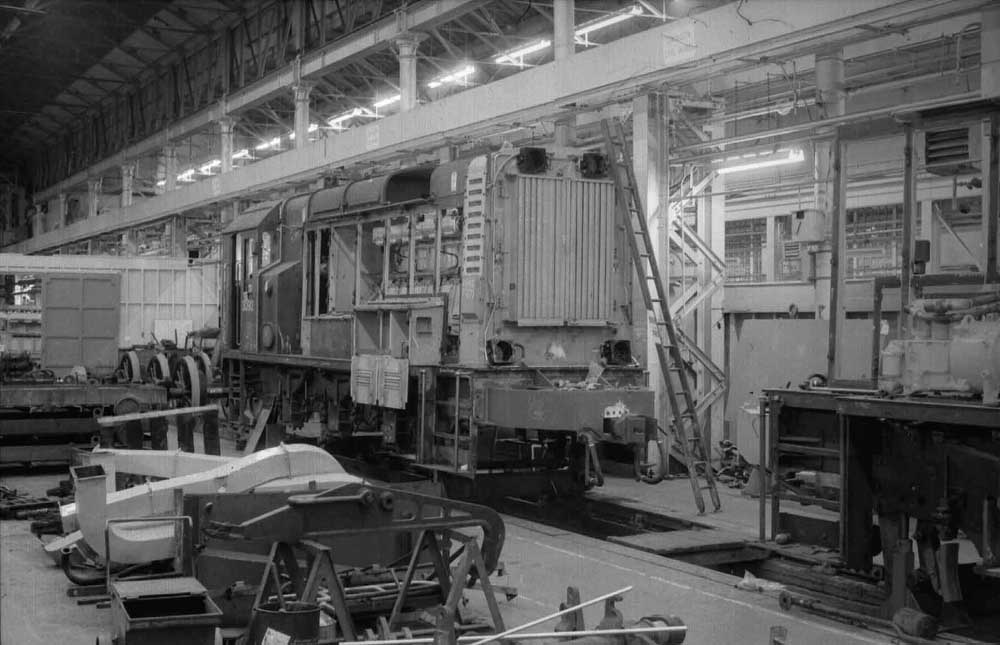 Photograph collection of webmaster.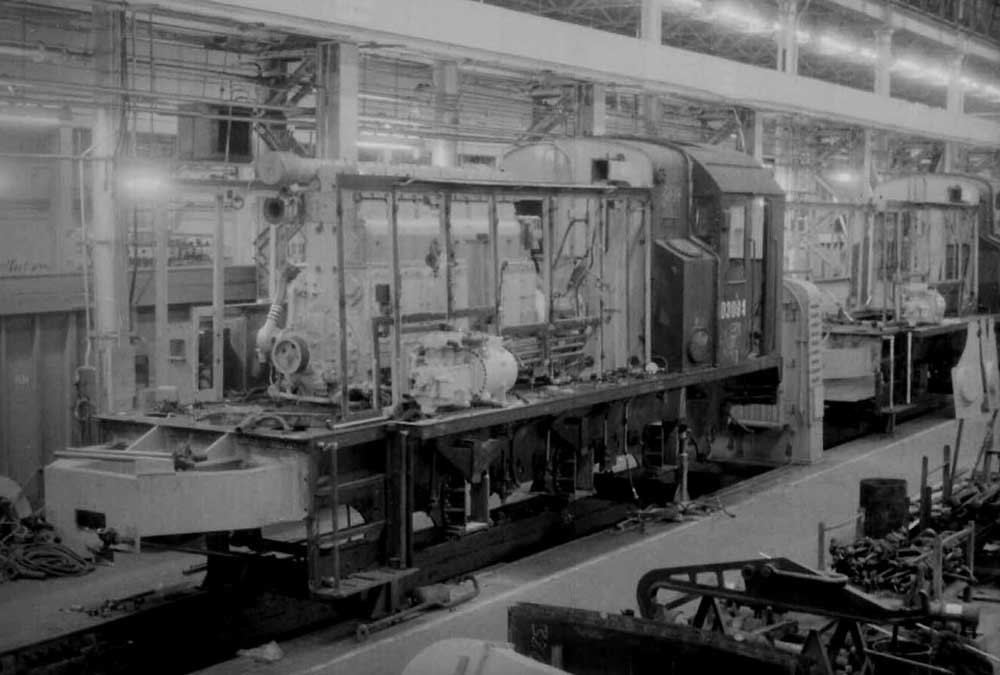 Photograph collection of webmaster.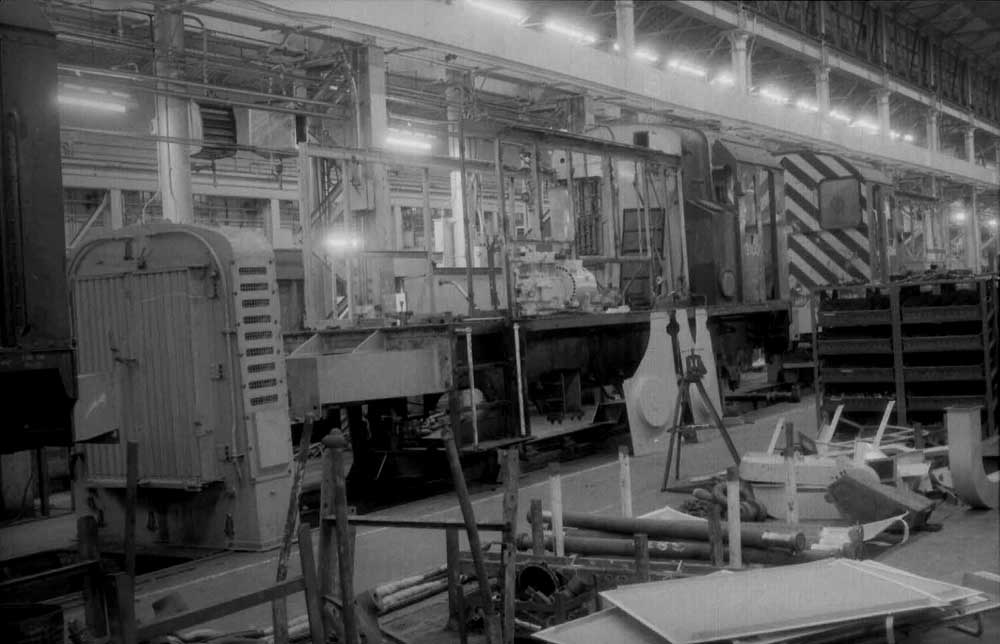 Photograph collection of webmaster.
Three BR Class 08 shunters Nos 3092, 3094 & 3100 are shown under repair at Derby, sometime during 1973. They are also undergoing modifications for their new home in Liberia. They were not the greatest success in Liberia, being underpowered and too light for some of the work.
The modifications to the Class 08 shunters destined for Liberia included:
Buckeye couplers fitted.
Vacuum brake removed, air brakes fitted.
Air pipes for the train brakes.
Four headlights fitted (front & back).
Air horn (replacing the whistle).
Cab controls revised to accommodate the air brakes.
Two-way radio installed.
Fuel transfer pump handle removed from inside the cab and placed next to the pump below the cab.
Side mirrors fitted to each cabside.
Substantial roof extension to provide extra shade to the cab.
Extended front and rear platforms, with footsteps, at each end of the locomotive.
In mid-November there were about sixty diesel locomotives at the Works, including 5349 & 8598 and shunters 3092/94/98 & 3100 bound for Liberia. The cabs from withdrawn Inverness Type 2 5114 had been sent down from Glasgow for reuse by Derby, at least one would be fitted to 5055. The increased number of Class 08's in for repair suggested that Derby was taking over some work from Swindon. Class 40's noted were 293 & 40107, the latter would be the first Class 40 renumbered at Derby. For awhile the repair of the Class 20's & 40's would cease at Derby. Also disappearing at this time was 3034 to the scrappers at Derby.

1974
Shunters under repair during March including Southern Region allocated 09011/14. Class 27 5349 had returned to Scotland. Class 24's under repair included 5145, 24014/029/034/044/049.
The four shunters destined for Liberia left the Works in mid-April, their journey was not a success, being turned around at Rotherham and returned to Derby for further attention. They were later shipped from Middlesborough Docks by the MV Avafors during May. There were about fifty diesels in the Works during April along with steam locomotives 47327/357, 47445, 47564 & 73129, the latter was awaiting repainting. 24110 was a stranger in the Works, normally Glasgow would handle repairs for the Gateshead based machines.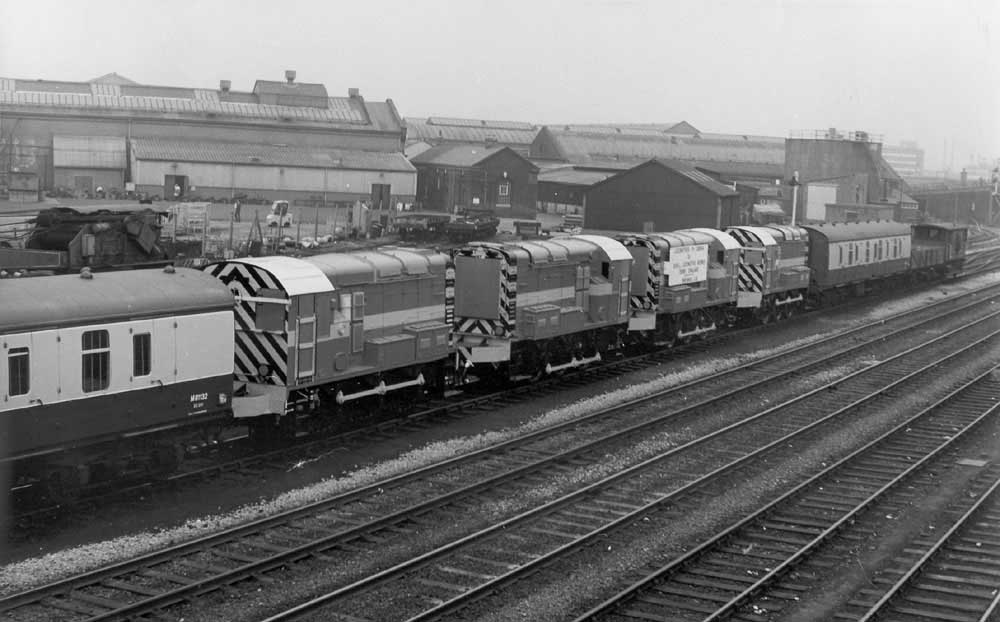 Photograph collection of webmaster.
The four Class 08s sold to a company in Liberia are marshalled in a train for transhipment to Hull (?) after Derby Locomotive Works had reconditioned and made alterations for their service overseas. Clearly visible is the modified buffer beam.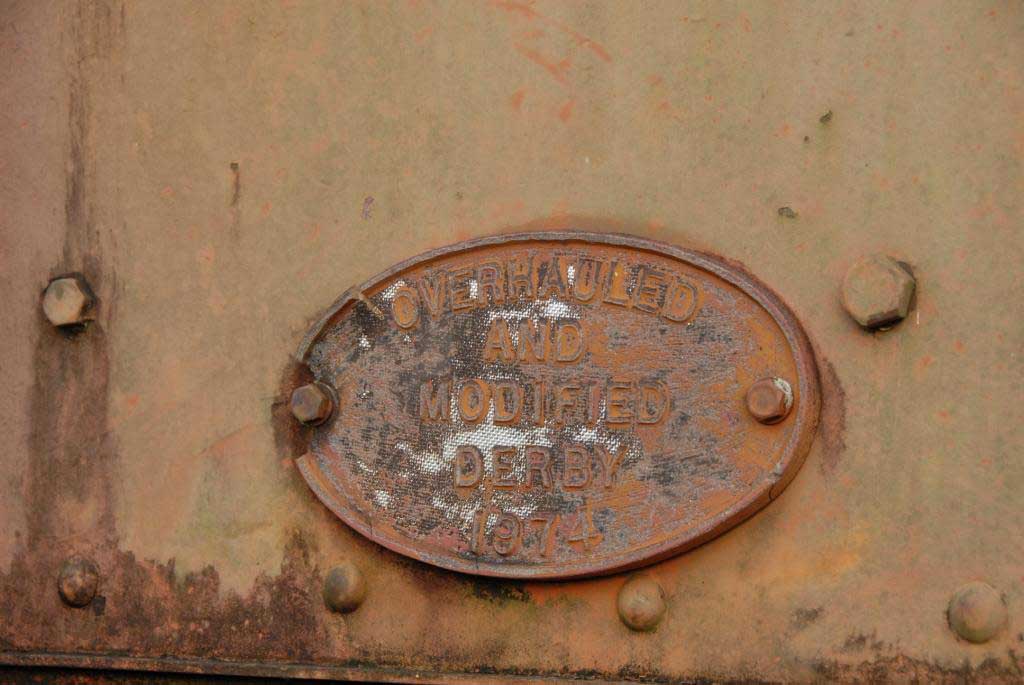 Photograph courtesy John Middleton.
The Class 08 rebuilds for use by LAMCO were fitted with plates which indicated the work carried out at Derby. This view from 2011 shows one of the plates more or less intact on the remains of one of the Class 08's still present in Liberia.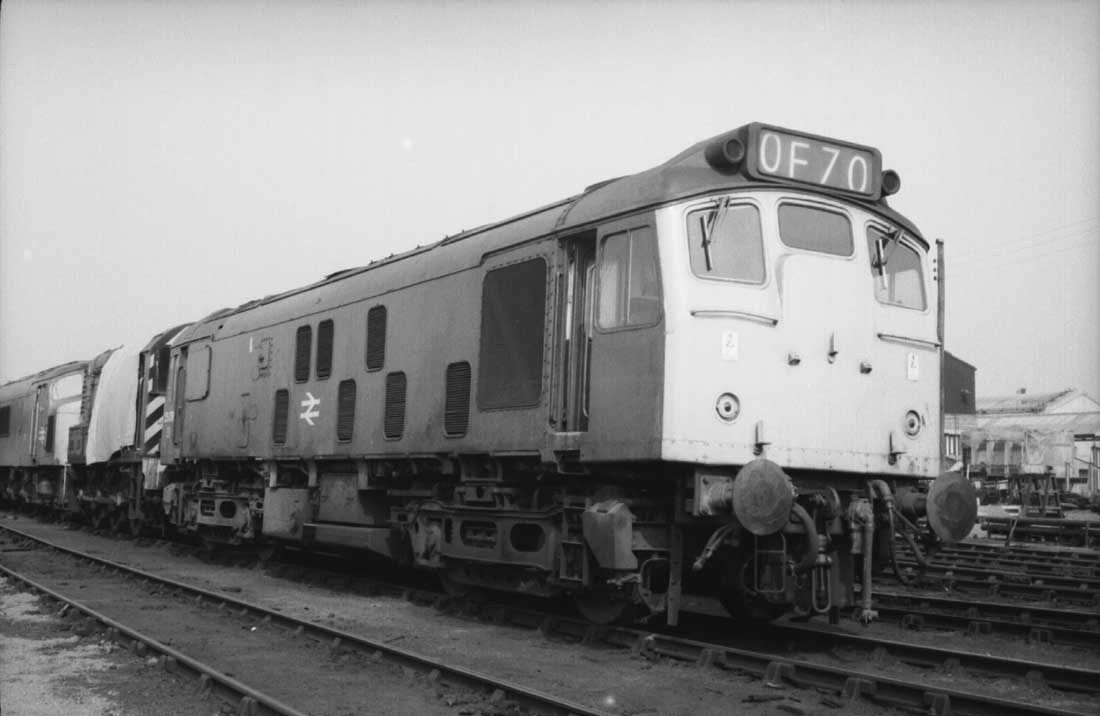 Photograph collection of webmaster.
A typical line-up in the yard at Derby Works, a Class 45, Class 08 and 25076, probably during April 1974.
By the middle of May the Works was host to Claytons S18521 & 8598, also present was 44001 and Class 24s 5030/79 & 24033.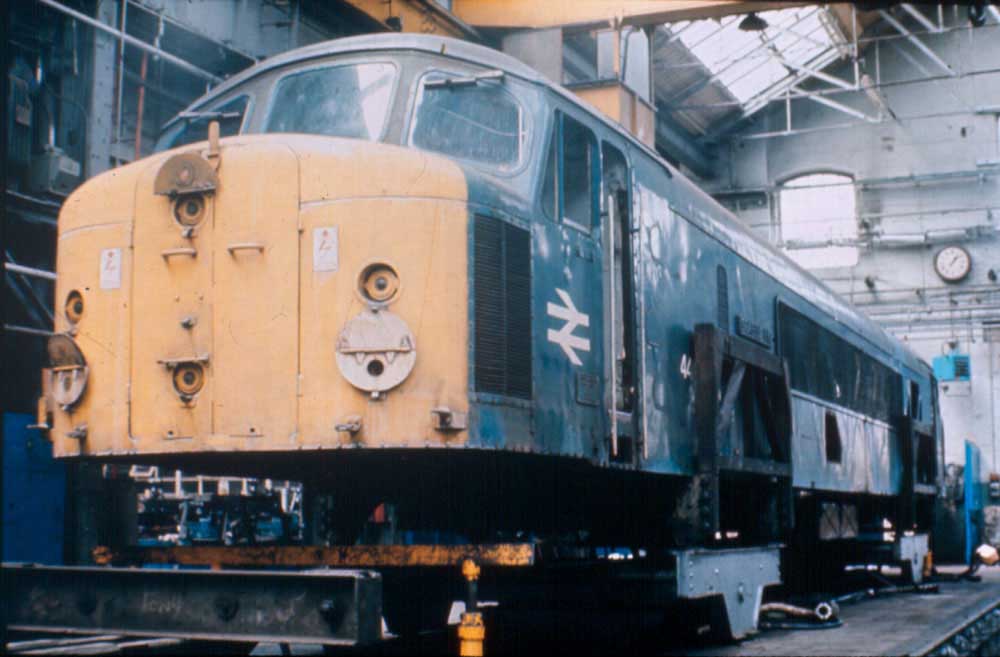 Photograph courtesy John Gilbert.
44001 stands in the erecting shop minus its bogies on May 4th 1974. The builders plate and nameplate are still attached, at a later date these would be removed by Toton staff for safekeeping. Also just visible below the driver's side window is the driver's nameplate holder, a steam era feature which has somehow survived on 44001 through several major overhauls. 44001 has just over two years of service left prior to withdrawal from Toton during October 1976.
During June the Works continued through its steady diet of Classes 08, 25 & 45/46. The volume of repairs to the Class 24's had been decreasing, noted were 24054/84. Withdrawn locomotives on the Works were 3020 & 3047.
By early August there were only three Class 24's in the Works, 24061/84 & 24142. D3003 had been recieved for a general repair, this Class 08 had been sold to Foster Yeoman, Merehead a year previously. The only un-renumbered locomotives in the Works were the two withdrawn Class 08's and about ten Class 45's.
Visitors to the Works could not help but notice the occasional visits by the Research Department's fleet of secondhand locomotives. Frequent visitors were Claytons 8598 & S18521, Baby Deltic 5901, MetroVick S15705 and other short term loaned locomotives that would briefly visit the Research Department. During August Class 35's 7076 & 7096 arrived whilst Warship 832 had been parked on the diesel stabling point for a while.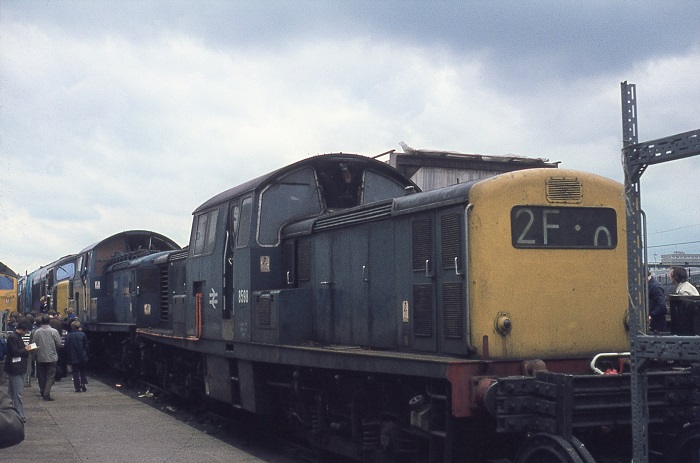 Photograph collection of webmaster.
Claytons Class 17/1 No.8521 & Class 17/3 No 8598 at Derby Works on August 31st 1974. 8521 had been withdrawn during October 1968 from the Preston Division (D10) whilst 8598 lasted until December 1971 when withdrawn from Polmadie. Both were utilised by the Research Dept at Derby but neither would reach preservation, by April 1979 both had been scrapped at Glasgow Works.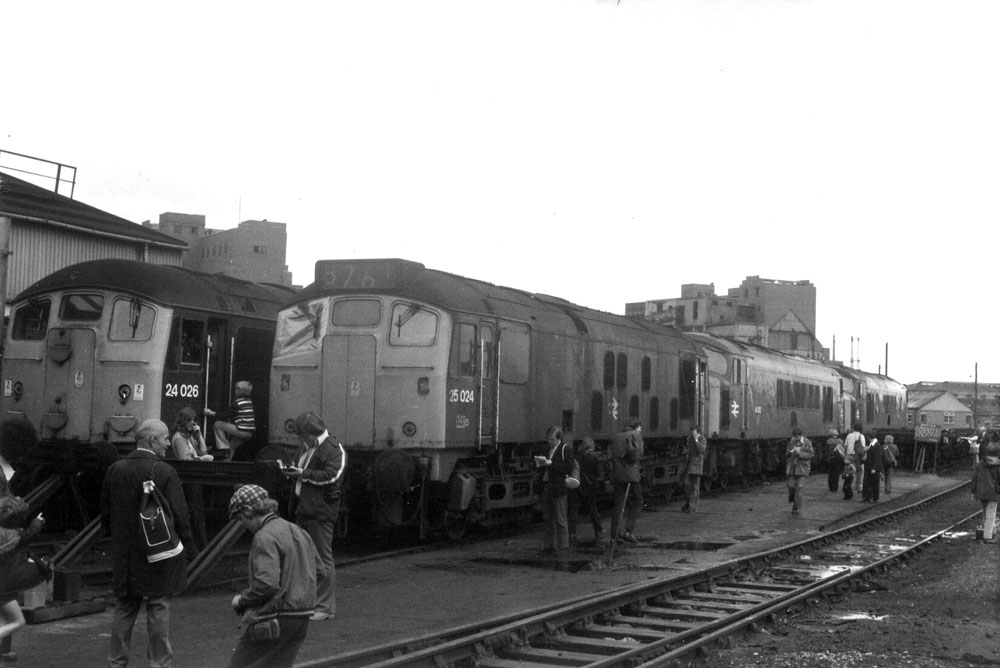 Photograph collection of webmaster.
It looks like the August 30th 1974 Works Open Day was a cloudy affair as seen in this view of the deadlines with 24026 & 25024 closest to the camera. Look at all those duffel bags, 'Adidas' bags and the clothing of the visitors.
Other locomotives on display at the Works Open Day included 46011, restored Jinty 3Fs No. 47357 & 16440 and BR Standard 4-6-0 5MT 73129 awaiting repair after its rescue from Barry. Damaged cabs removed from Classes 24 & 25 included 5026?, 5030, 5038, 5053, 5158, 25173, 25199 & 25205.
At the end of August 3047 had received attention, most noticeable were its extended buffers, similar to the shunters recently shipped to Liberia.
Class 20's returned to the Works in October with the arrival 20008. The number of Class 24's present increased with 24026/30/32/87. The paint shop was occupied by 25303 whilst freshly painted outside was Jinty 16440 (formerly 47357).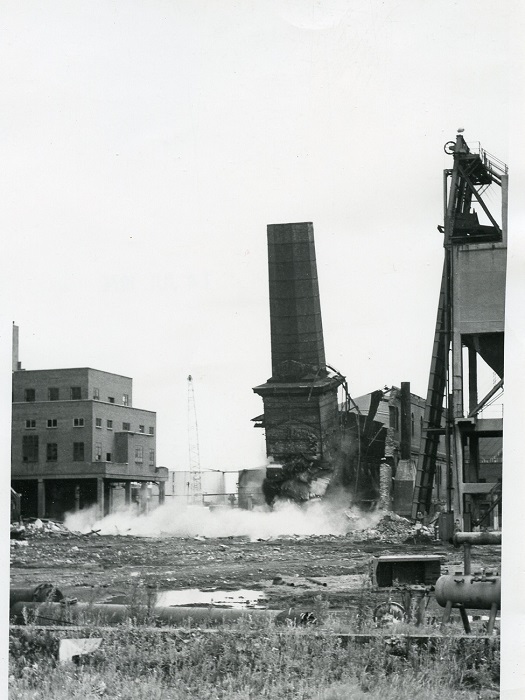 Photograph collection of webmaster.
The gasworks that stood to the east of the Locomotive Works features prominently in many views, particularly those showing locomotives being broken up. In this view, believed to be from July 1974 parts of the boilerhouse and chimney are headed for the ground following the use of some explosives.

1975
At the beginning of the year there were about sixty diesel locomotives on the Works, with of course the Classes 08, 25 & 45/46 predominating. Class 09's for repair were 09005 & 09026. Un-renumbered Class 45's on the Works were 63/91, 125/135. Class 24's included 24063 & 24134. Withdrawn D3047 was now liveried for LAMCO and was waiting movement to Liberia. It would make a test run to Syston early in February, no doubt to avoid the problems sustained by movement of the original four shunters shipped to LAMCO. With this test successful it was hauled on February 17th via Stoke & Crewe to Liverpool for shipment.
By the end of February Derby held only two Class 24's 24034 & 24064. The only withdrawn locomotive on the Works was 3020, although for a long time the fate of 125 hung in the balance. it had been seriously damaged in a rear end collision at Bridgwater. Another recent steam locomotive arrival at the Works was 1F 0-6-0 1708 from the Keighley & Worth Valley Railway, at 95 years of age it was must have been one of the oldest objects then in the Works.
The Works was quite full during April with at least fifty five locomotives present during the middle of the month. 95, 118, 125 & 3020 were the only un-renumbered locomotives present, Class 24's in for repair were 24022/39/40/47/57/89, time was now short for this class, the summer would see a massive reduction of the Class 24 fleet. 3020 was the only withdrawn locomotive on the Works, sometime during the month it was scrapped here, the earliest numbered of the Class 08's to be cut up here.
A visit in May found thirty Class 08's on the Works which included early build 08005 and Southern Region allocated 09024. Class 24's under repair were 24036 & 24133.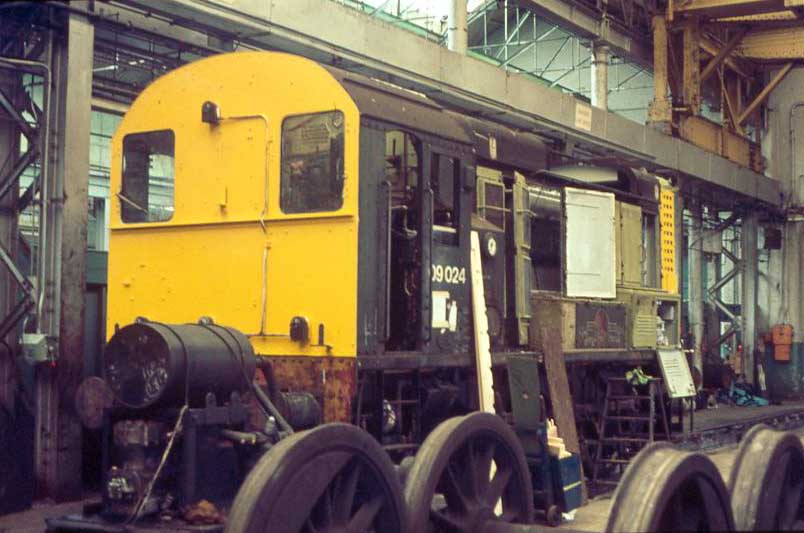 Photograph courtesy Steve Marshall.
Class 09 shunter 09024 is slowly put back together during its visit to Derby Works, seen here on May 10th 1975. Its fading green livery is slowly disappearing and will be completely gone after the upcoming visit to the paint shop.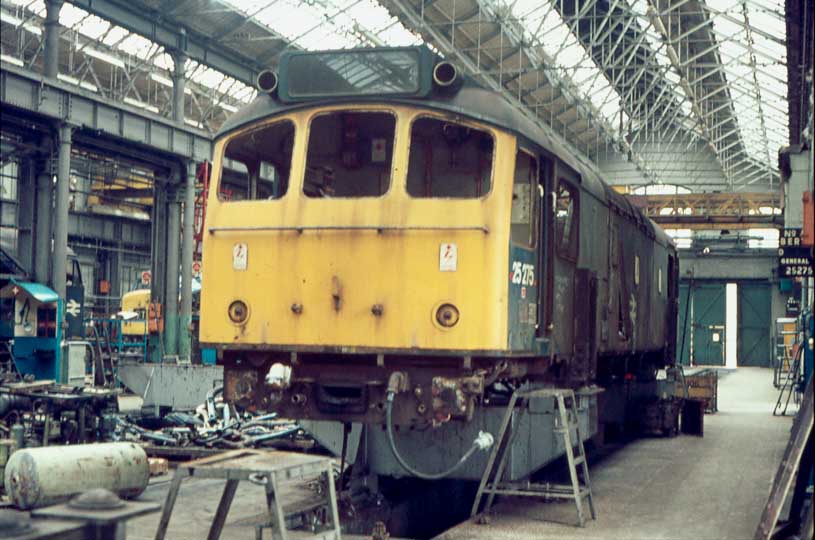 Photograph courtesy Steve Marshall.
Another view from May 10th 1975 finds 25275 undergoing a general repair. Judging by the condition of the locomotive it is definately in need of this repair.
By the middle of June 125 was the last un-renumbered locomotive in the Works. The volume in the Works still remained at a high level, Class 24's under repair were 24023/35/36/81/91.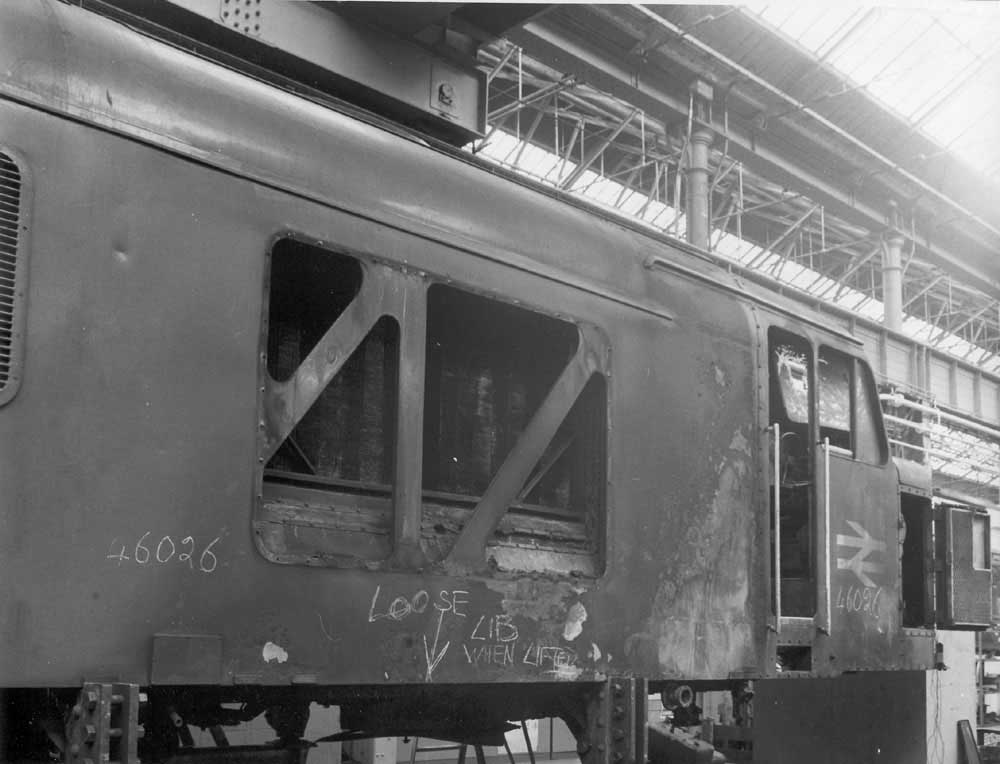 Photograph courtesy BR/CPU.
46026 displays signs of fire damage as it receives attention at Derby Works, believed to be in the summer of 1975.
During August Derby released freshly painted 24023 back into traffic at a time when large portions of this Class were being stored or withdrawn on the LMR & ScR. Other Class 24's on the Works were 24035/52/54/83. The only withdrawn locomotive on the Works was 08179 which had sustained collision damage after being run into by 84005 at Stafford.
Class 44 No. 44004 was received at the Works for its last Classified repair.
Visitors to the 29th annual Works Open Day on August 30th, entrance fee 10p, found almost sixty diesel locomotives either under repair or withdrawn. 24052 was in the paint shop whilst 24086 was the only Class 24 present. After quite an absence a Class 20 was in the Works with 20029 receiving repairs. Locomotives with collision damage included 25045 & 25064. In the yard was steam locomotive 46203 Princess Margaret Rose, whilst on display by the Works offices was 45075.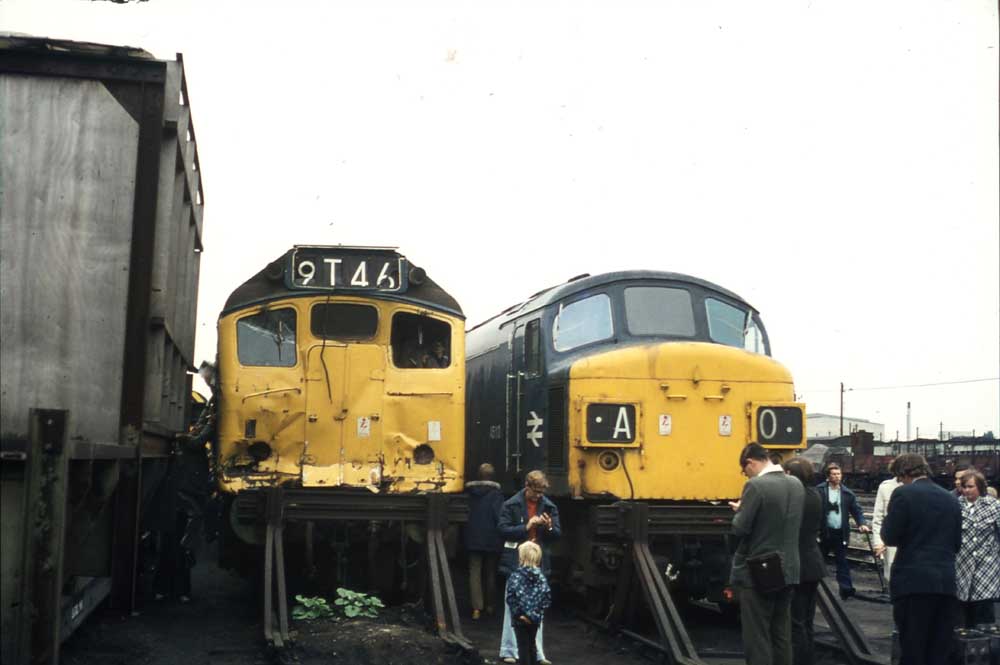 Photograph courtesy Keith Long.
25045 & 45110 draw the attention of visitors to the Works Open Day on August 30th 1975. The working days of 25045 are over, but 45110 will remain in service until July 27th 1988 and would become the last mainline locomotive built at Derby Works to remain in service.
After the outshopping of 24086 the Works would handle no more classified Class 24 repairs although withdrawn 24042/45/48/61 would spend a short time dumped in the Works yard, being noted there during October. Two more Class 20's 20021/53 were received for repair, being lost somewhat amongst the thirty plus Class 08 shunters in the Works. Un-renumbered 125 was still receiving accident repairs. For quite a while the Works had avoided a build up of withdrawn locomotives, that was about to change as Derby would become host to quite a variety of retired machines.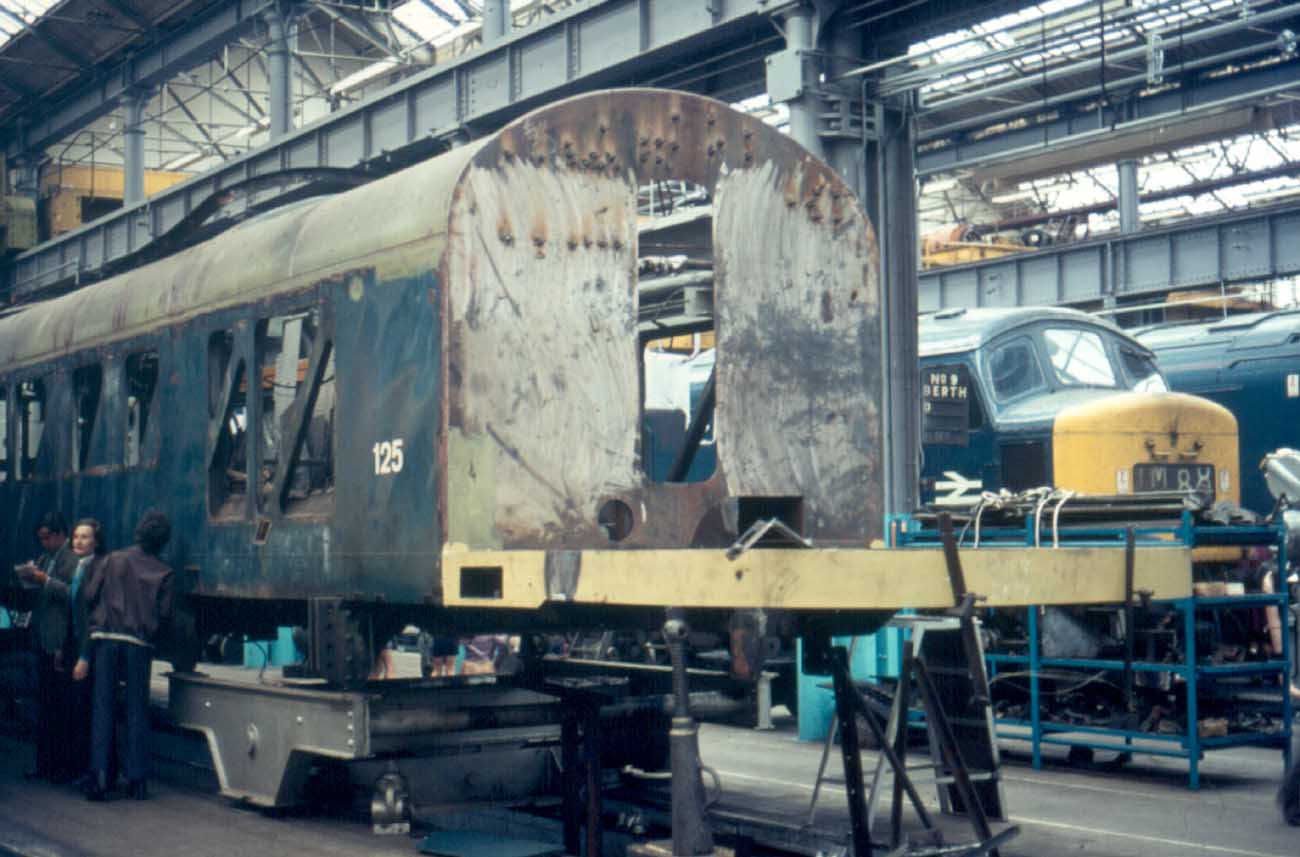 Photograph collection of webmaster.
The No.1 end of still un-renumbered 125 reveals the amount of work required to get the Class 45 back into working order. As 45071 it would remain in service until July 1981. Several other Peaks recieved substantial cab repairs following collisions, including D9, D94 & 46036.
November brought more withdrawn locomotives on to the Works, joining 08074 & 08179 was 08236. Withdrawn 24061 was chosen to replace Research locomotive 5901, the Class 24 awaiting Works attention. Two other Class 24's were in the Works yard, 24036 & 24050 presumably received for minor repairs. 20003 was the only Class 20 on the Works.
The four withdrawn Class 24s; 24042/45/48/50 had received attention to the asbestos cladding contained within the locomotives, once this had been dealt with the Type 2's were sent down to Swindon for scrapping leaving Derby early on the morning of December 18th. During December 125 was finally renumbered 45071, the last locomotive on BR to be renumbered with the exception of the Class 52's. It had also received modified nose ends, the headcode panels being sheeted over and two headlights fitted.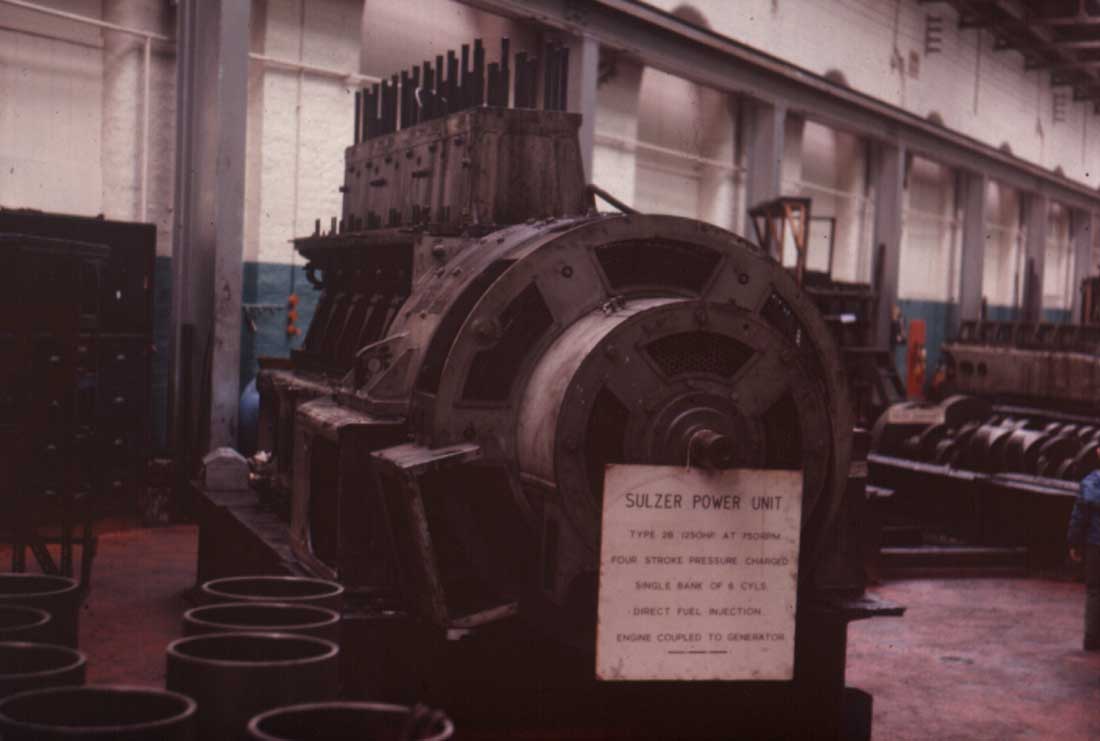 Photograph collection of webmaster.
A 1,250hp 'B' series 6LDA28 power unit undergoes repair in Derby Works.

Page added October 22nd 2007.
Last updated July 18th 2019.
Derby Works 1932 - 1950
Derby Works 1950 - 1959
Derby Works 1960 - 1969
Derby Works 1976 - 1980
Derby Works 1981 - 1983
Derby Works 1984 - 2007